No time to read now? No problem, save a pin to your Pinterest board for later!
Loch Lomond Holiday Park Lomond Royal Platinum Lodge - A Complete and Personal Review
In this post, we will be going into further detail of our stay in the Lomond Royal Platinum Lodge at the Loch Lomond Holiday Park to help you plan for your trip. 
Loch Lomond Holiday Park

Relax in the Lounge

Get Comfortable in the Bedroom

Scrub up in the Bathroom

Cook up a Meal in the Kitchen
Soak up the Views in the Hot Tub
Local Food and Activities
Overview of our Stay at Loch Lomond Holiday Park

Preparing for your trip to Loch Lomond.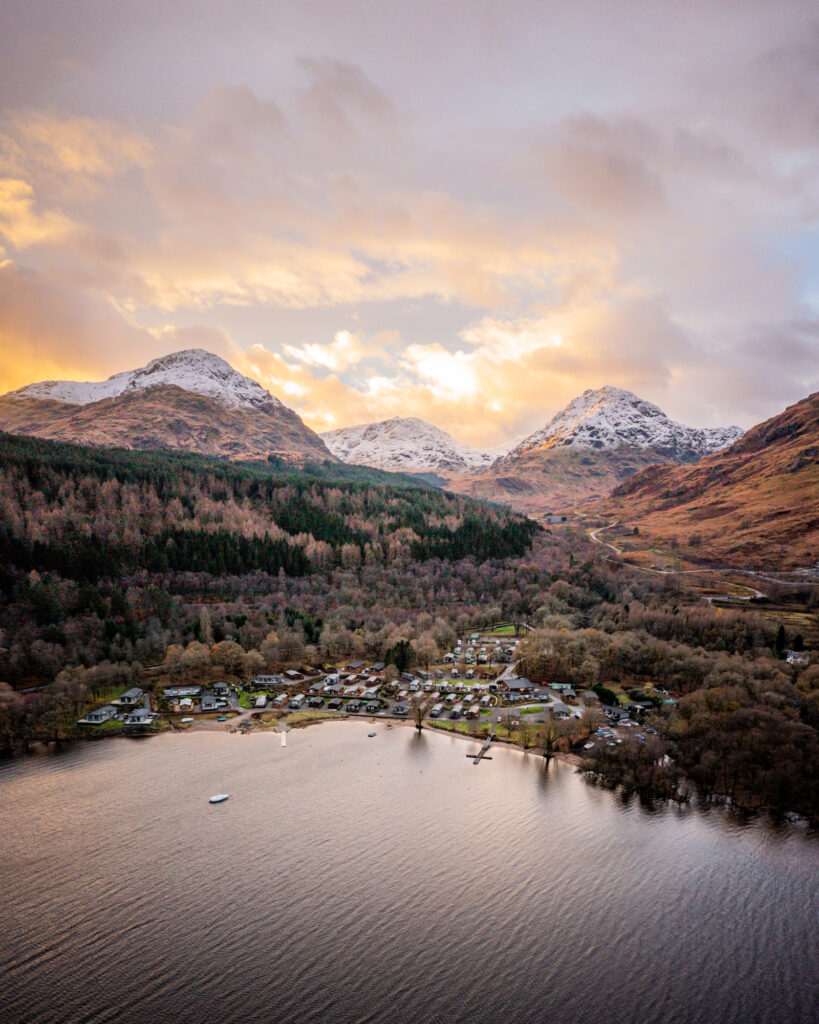 Loch Lomond Holiday Park 
Loch Lomond Holiday Park sits just outside of Inveruglas on the banks of Loch Lomond. Onsite there are stunning luxury lodges as well as glamping pods and touring pitches. Why not book one of the premium lodges to relax in a luxurious hot tub? The site overlooks the loch with views of the mountains as well. 
The Park is suitable for children and there is a children's play park. The lodges are also dog friendly and there is a dog walking area and dog shower area in the reception. 
If you are wanting an alternative place to relax, there is also a lounge area in the reception with a pool table and TV. With tables and chairs outside in the garden this is a beautiful little spot in the summer months when the weather is dry.
In the lodge there is a washing machine and an iron and ironing board. There are no facilities to dry in the lodge, however, so you will need to bring your own rack if you wish to use this.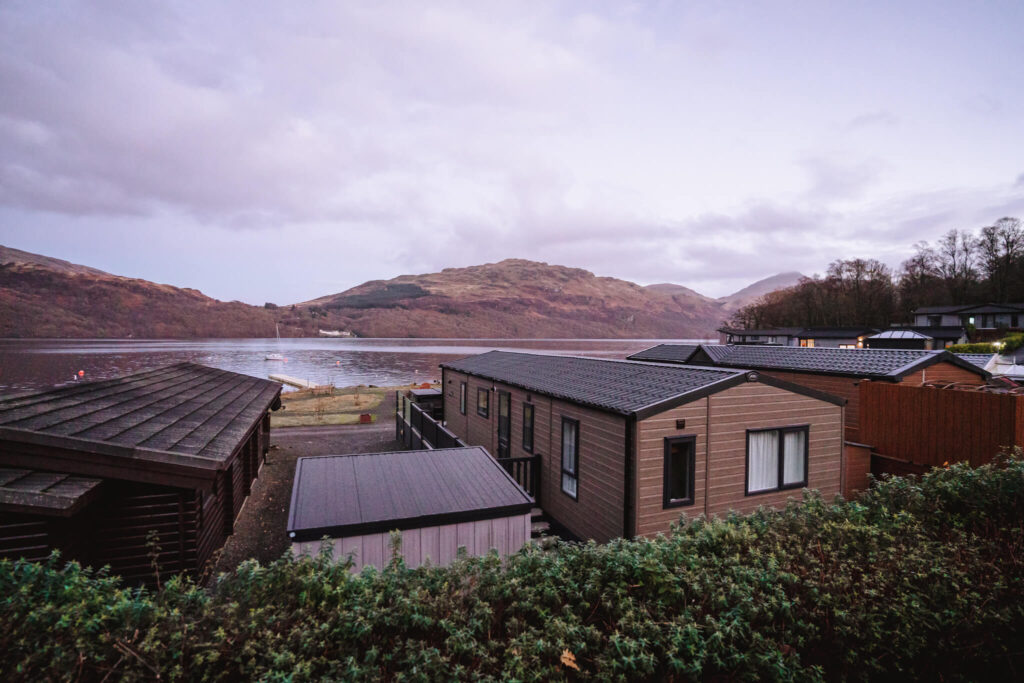 Relax in the Lounge
The Royal Lomond Platinum Lodge has a large open plan seating area with plenty of room for 6 guests. There is a large flat screen TV and satellite box for additional channels. The floor length glass patio doors open out onto the decking with fantastic waterfront views.
Underneath the TV is an electric fireplace which is the perfect addition to a cosy winter stay in this luxury lodge.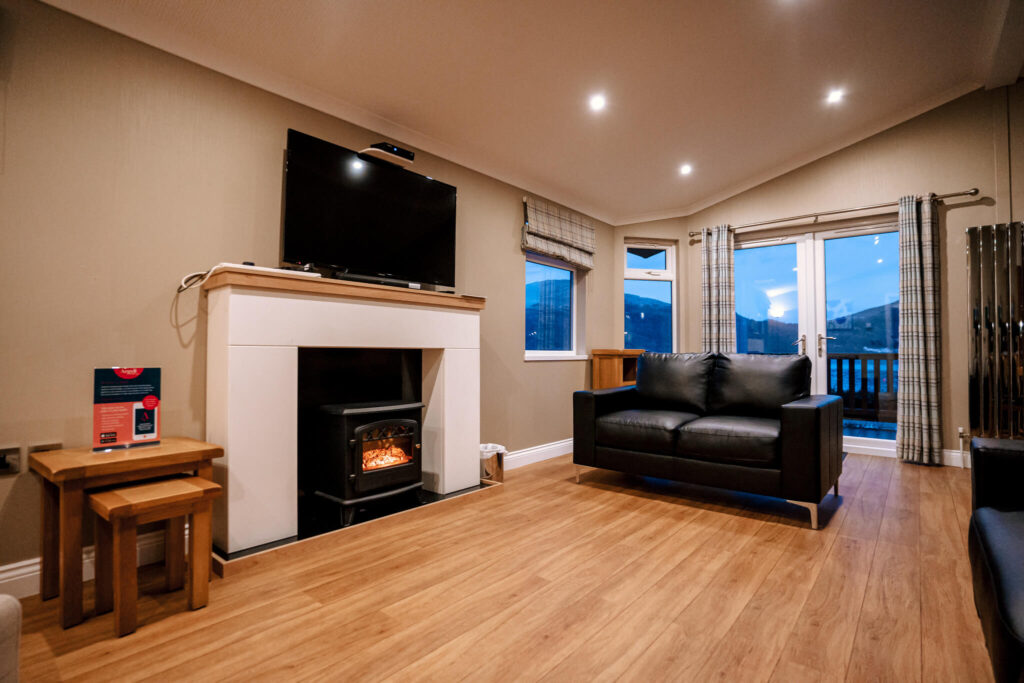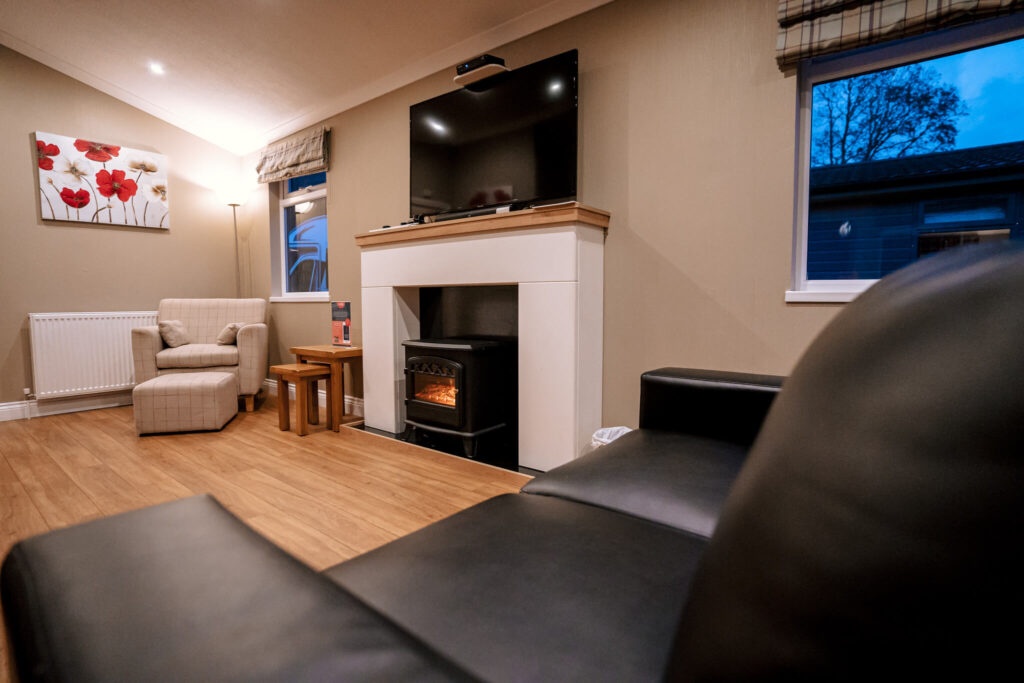 Get Comfortable in the Bedroom
There are 3 en suite bedrooms in the Lomond Royal Platinum Lodge, 2 double bedrooms and one twin. These are reasonably spacious with a desk and mirror area in each bedroom, as well as cupboards and wardrobes to store your belongings. 
In each bedroom there is a flatscreen TV and satellite box for you to unwind in bed and watch.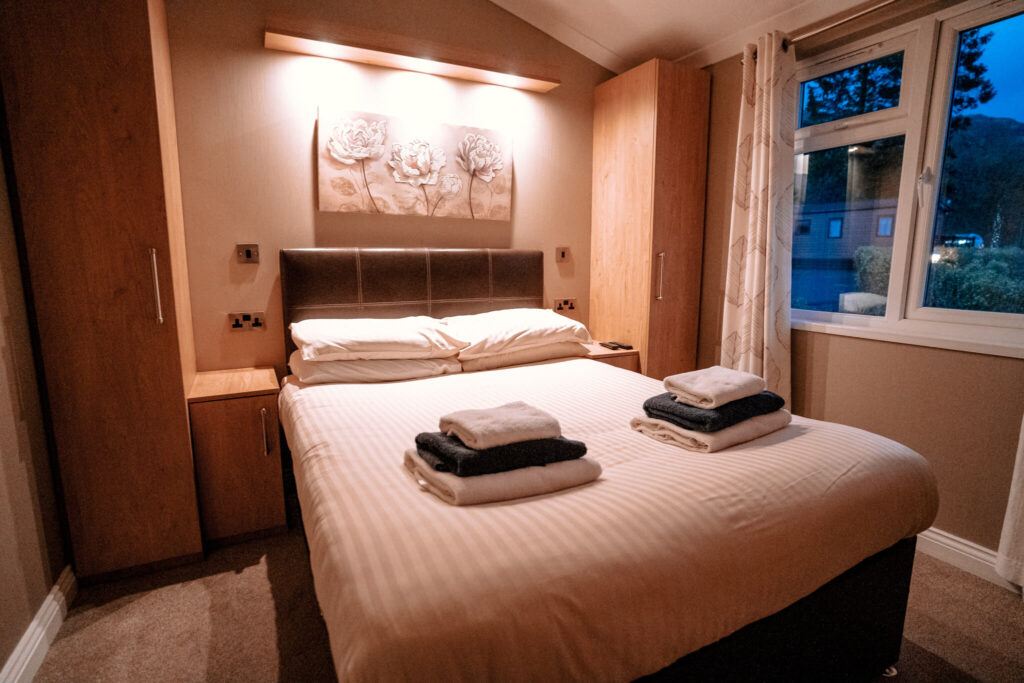 Scrub up in the Bathroom
Each en suite bathroom has a waterfall walk in shower and a toilet and sink. There is also a heated towel rail. You will need to bring your own toiletries as well as hand soap as there isn't any provided. There are also no hair drying facilities so you will need to bring your own.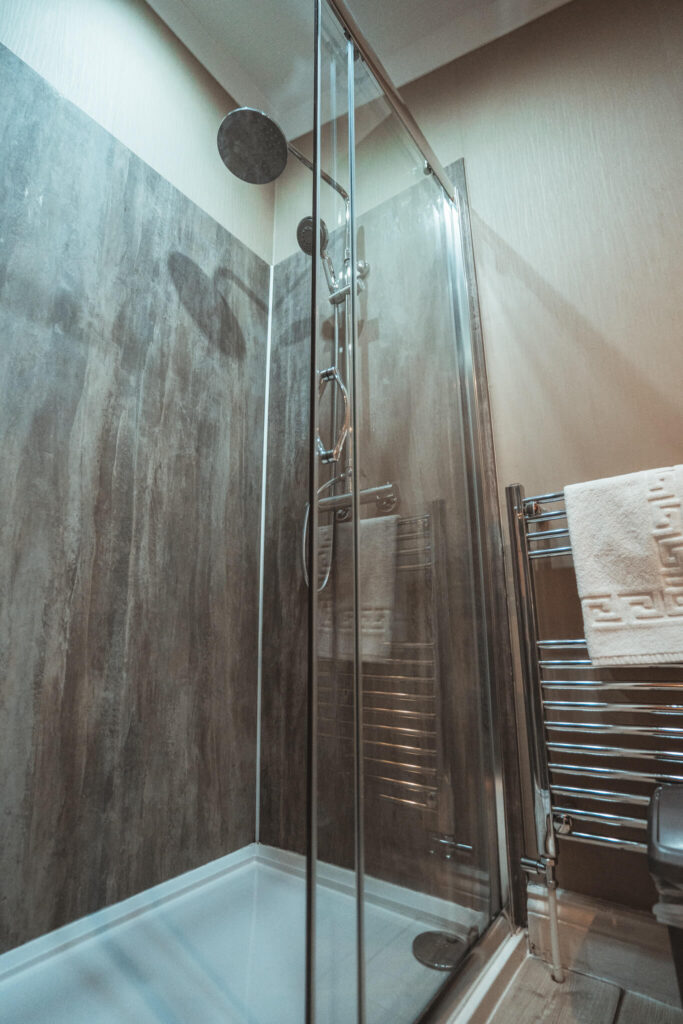 Cook up a Meal in the Kitchen
There is a reasonably spacious open plan kitchen area in the lodge with a full cutlery and crockery set as well as pots and pans and other kitchen utensils.
There is also a dishwasher, microwave and large fridge freezer. There is plenty of space to store your food in the lodge. Argyll Holidays provide a single dishwasher tablet and dishtowels. Wrapped up inside you will find a cloth and washing up liquid to wash the dishes. 
You will need to bring your own salt, pepper, oil and other cooking essentials to the lodge as these are not provided. 
There is also a large circular dining table that seats 6.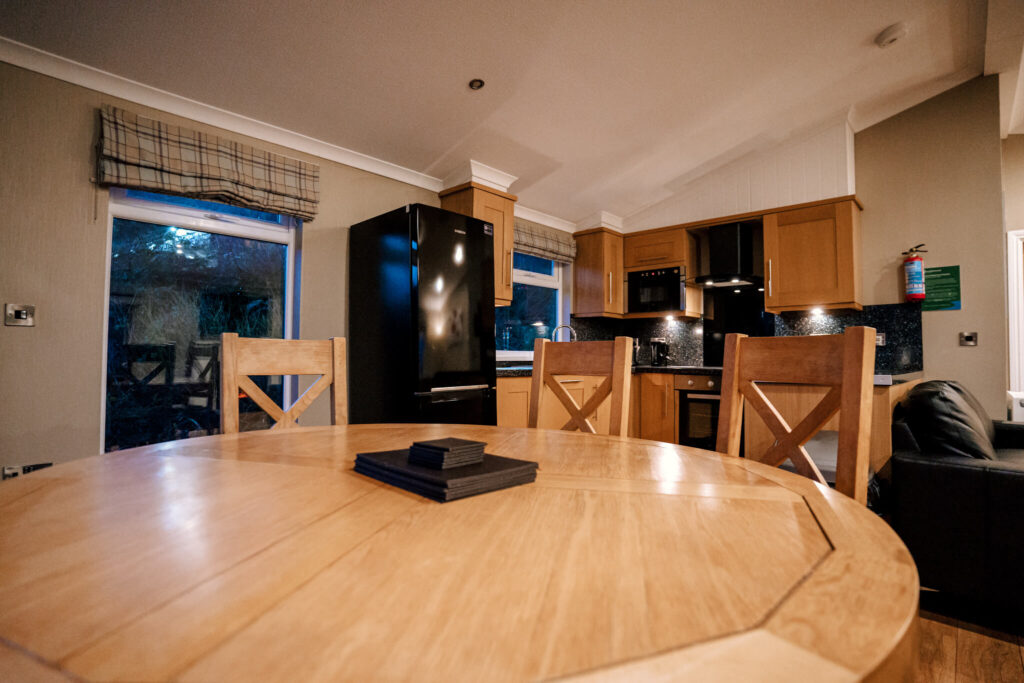 DON'T FORGET
Your trip to Scotland will be a lot more comfortable with a midge net and midge spray. These little biting bugs can be enough to ruin a trip if you don't have the equipment to protect yourself from them. A repelling candle can also be helpful if you are sitting oustide.
Soak up the Views in the Hot Tub
The Lomond Royal Platinum Lodge comes complete with a luxury hot tub overlooking Loch Lomond. Robes and slippers are provided along with additional towels for the hot tub as well as the shower. This was definitely a highlight of our stay at the Loch Lomond Holiday Park.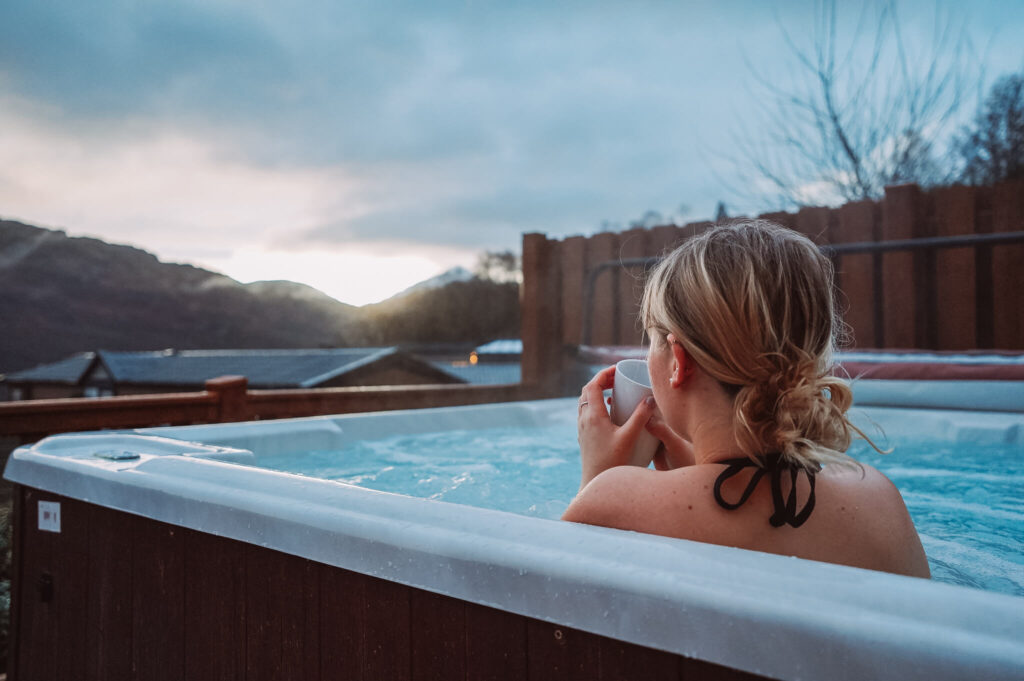 Local Food and Activities in the Area
Due to the location of the Loch Lomond Park, it is best if you have a vehicle. The main road is very windy with no street lights and would be dangerous to walk along. Kayaks are available to hire to take out on Loch Lomond, if you enjoy cold water swimming you could also brave a dip with a stunning backdrop.
If you enjoy hiking, there are plenty of hills and Munro's in the area, including Ben Lomond, Ben Vorlich, Ben Ime and Beinn an Lochain.
The Inveruglas Pyramid is nearby and has stunning views down the loch towards Ben Lomond. 
Nearby restaurants are the Tarbet Hotel and Slanjj.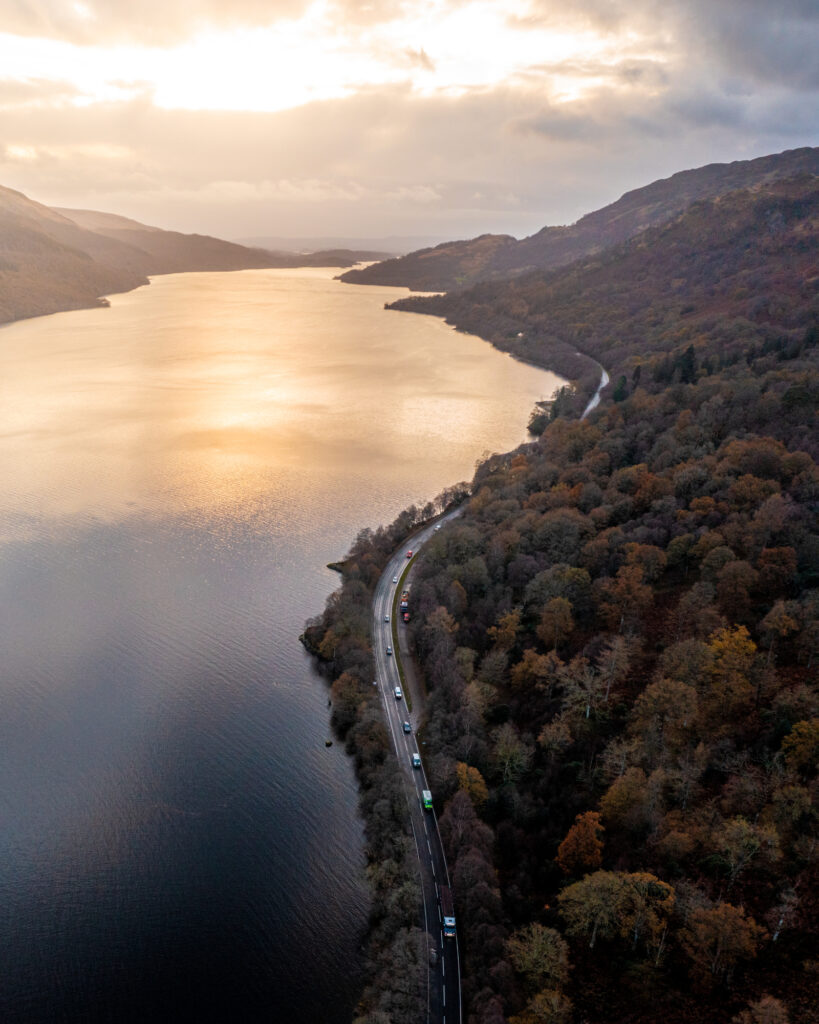 Overview of our Stay at Loch Lomond Holiday Park
The Loch Lomond Holiday Park is a very peaceful place to stay. The lodge itself feels incredibly luxurious and so spacious inside and would be very comfortable to stay in all year round. Perfect for a family get together or a romantic weekend break.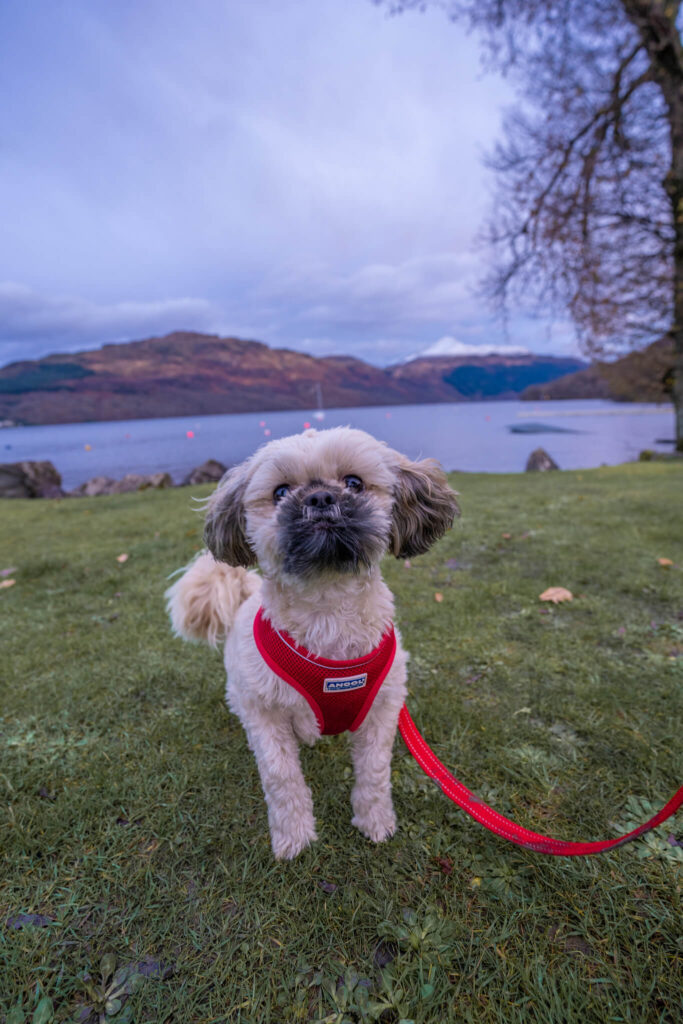 How to Prepare for a Visit to Loch Lomond
Before you set off on your adventure around the Scottish Highlands there are certain things that you need to prepare to ensure a smooth and enjoyable journey. These include what insurance is the best insurance to get and what to pack for a trip to Scotland, all of which is discussed in more detail below.
What is the Best Travel Insurance for Scotland
Without a doubt the least enjoyable part of preparing for any adventure is purchasing travel insurance, however, it is something you do not want to be without. Accidents happen to everyone and unexpected medical bills will ruin your trip if you are not covered.
To ensure you have a stress-free trip with no worries about potential medical bills, make sure you cover yourself when you travel. We recommend using Safetywing, a backpacker-friendly and cheap insurance company that provides good coverage and support.
Get a quote for your travel insurance right here and get covered.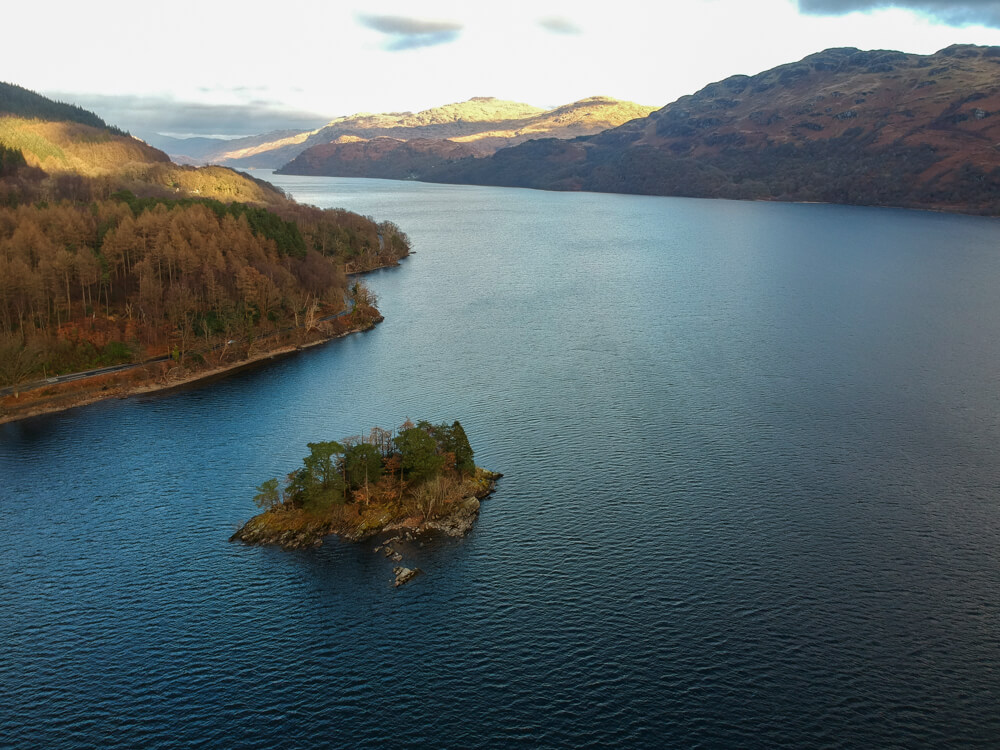 What to Pack for a Trip to Scotland
When it comes to packing for a trip to Scotland there is one item of clothing that you are going to need all year round: a waterproof. It rains in Scotland on average 250 days a year, meaning that during your Loch Lomond road trip you will probably experience at least a drizzle of rain. Due to this, the number one item on any Scotland packing list is a good waterproof jacket.
As for the rest of the year, the temperature in Scotland and the central heartlands is reasonably mild for most of the year. During the winter months, you will most likely experience snow, however, temperatures usually sit around freezing, so it is not too cold. For your reference, the average temperatures in Scotland are listed below during each season.
Spring (March, April, May) – 5-10 degrees C
Summer (June, July, August) – 15 degrees C
Autumn (September, October, November) – 5-10 degrees C
Winter (December, January, February) – 0-5 degrees C
As you can see, the weather never really gets above the teens, with anything over 25 degrees C considered a heatwave. The best way to pack for your trip to the highlands is with layers that can be added and removed as you need them. You will definitely need a hat and gloves during the colder months and will most likely need sunscreen to protect you on the long days in the open.
For our full list of items that we pack no matter where we go in the world, check out our full packing guides over here.
Given the beautiful sights and scenery that you are no doubt going to see around Scotland, we highly recommend packing a good camera for your trip. If you want to read more about the cameras we use and why we love them, check out the link below.
You can read what else we keep in our camera bag over here.
Photography Equipment
Main Photography Camera – Sony A7v Mirrorless Camera and  Sony A7iii Mirrorless Camera
Microphone – Shure VP83 Condenser Shotgun Microphone
Main Lens – Tamron 17-28mm f/2.8
Zoom Lens – Tamron 70-180mm f/2.8
Camera Tripod – ZOMEI Z669C Camera Tripod
Gorilla Pod – JOBY JB01507-BWW GorillaPod
Action Camera – GoPro Hero 9 Black and Insta 360 One RS
Drone Camera – DJI Mavic Pro 3
Camera Bag – Wandrd PRVKE 41L and The Nest by Tropicfeel
Phone Tripod – Manfrotto MKPIXICLAMP-BK, Mini Tripod with Universal Smartphone Clamp
Sturdy Phone Tripod & Selfie Stick – ATUMTEK 61″ Selfie Stick Tripod, Sturdy Phone Tripod Stand with Wireless Remote
Hard Drives – LaCie Rugged Mini, 5TB, 2.5″, Portable External Hard Drive
SSD – SanDisk Extreme Pro 1TB Portable NVMe SSD
Travel Adapter –Worldwide Travel Adapter Universal Travel Plug with 4 USB Ports+Universal AC Socket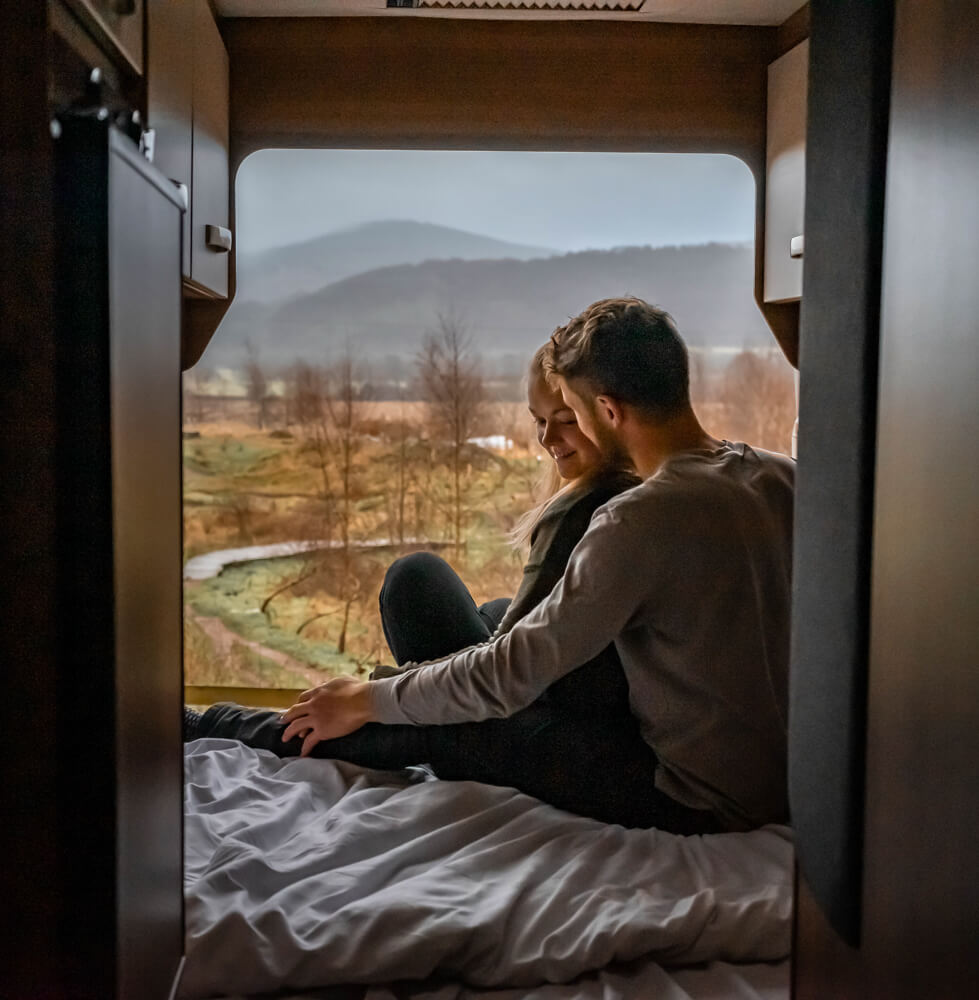 So there you have it, your complete guide to the Loch Lomond Holiday Park. If you are visiting this incredible part of Scotland and have any other questions on what to expect, leave us a comment down below. We love to chat about this stuff! If you have already been, let us know how it was! What sight was your favourite? Do you have any other recommendations for us? Let us know in the comments below!
Also remember to share this with your friends and family that you are going to share this trip with. Sharing is caring and we want to ensure that everyone is fully prepared to and knows what to expect on the banks of Loch Lomond.
If you are planning a Scotland trip soon then check out our other Scotland content right here. Come and find us on social media to see where we are currently exploring. Tag us in your photos from your trip to the Loch Lomond and we will share them with the rest of our community of explorers and backpackers.
Read Now:
This article may contain affiliate links that provide us with a small income. For more information read our Affiliate page.
---
Pin it for later!