Loch Lomond and the Trossachs National Park is one of Scotland's most beautiful parks and it is popular among both tourists and locals throughout the year. The park is located in the heart of Scotland and not far from Glasgow or Edinburgh, yet it still feels like a whole other world away from civilisation.
Camping at Loch Lomond is extremely popular and is a great way to enjoy the nature of the National Park. There are plenty of campsites in the National Park and for those who dare to wild camp, we will share with you exactly how you can make the most of this experience.
Save this picture to your Scotland Pinterest board for later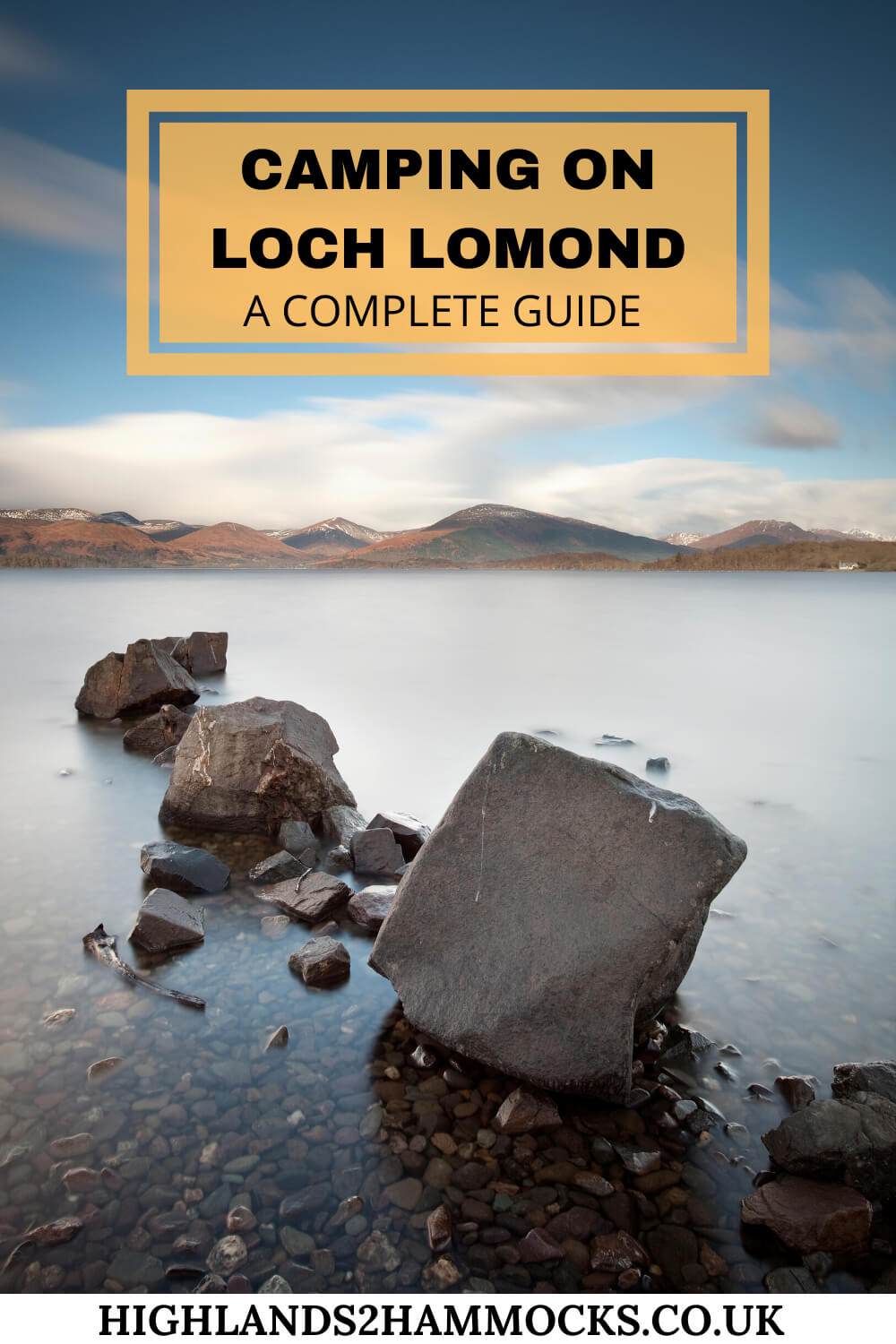 Download a FREE packing checklist for your next camping adventure to ensure you don't forget anything important. Download it for FREE right here.
Come along on our road trip with us on our Loch Lomond adventure. Make sure you subscribe to our Youtube channel for more by clicking right here!
Loch Lomond Camping – Everything You Need to Know
Loch Lomond is the perfect place to explore and connect with your surroundings as you venture around some of the most beautiful scenery in Scotland. With mountains all around to explore and Scotland's largest loch right there for all the watersports, you can imagine, it is no secret why it is such a popular part of Scotland.
Why Should I Camp at Loch Lomond?
Although it is not everyone's first choice of accommodation, camping is (in our opinion) the best way to explore the beautiful landscape of Scotland. The further north you travel in Scotland, the more remote the landscape becomes, which not only makes finding housed accommodation harder to find, but it makes it much more expensive too.
The cheapest, easiest and most liberating way to explore this incredible country is with a tent and a sleeping bag. These simple items grant you a lot of freedom when it comes to choosing where you will sleep for the night. They allow you to choose between the luxury of a paid site with hot showers and electricity and the remoteness of a wild camp in the middle of nowhere.
Our best recommendation is to balance both wild camping and campsites throughout the duration of your adventure in Scotland. This way you will be able to keep your costs down, whilst also enjoying the luxury of a hot shower every now and again. It also means that you are able to support the local economy and ensure these facilities remain here for future generations.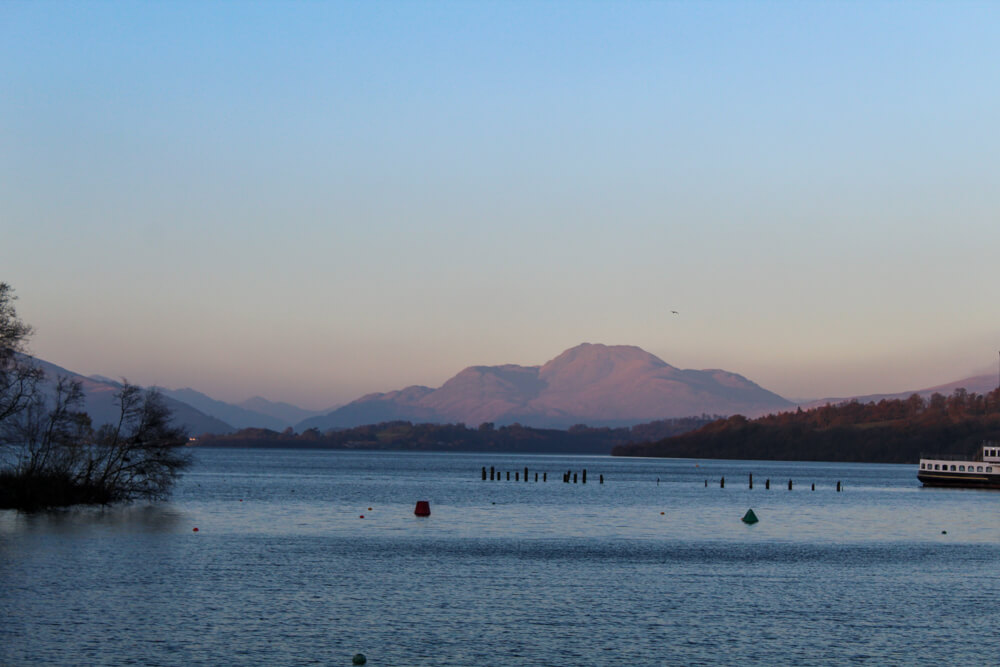 What is Wild Camping?
By definition, wild camping is the act of sleeping in a remote location, whether it be in a bivvy bag, tent or campervan. There is a to of discussion as to what the "true definition" of wild camping is, but to us, that is not important. What is important is HOW we wild camp.
Wild Camping in Scotland is completely legal in Scotland, aside from certain areas of the country (such as Loch Lomond and the Trossachs), where permits are required in order to camp wild. This slight tightening of restrictions is a result of too many people camping wild and not respecting the environment, littering and damaging lands, and preventing others from enjoying the natural beauty they took advantage of.
In order to ensure that everyone can enjoy the great outdoors and natural landscape of Scotland, there are certain guidelines that we all must follow when wild camping. These are highlighted in the next section, however, they all relate to one main point – respect the environment and leave no trace.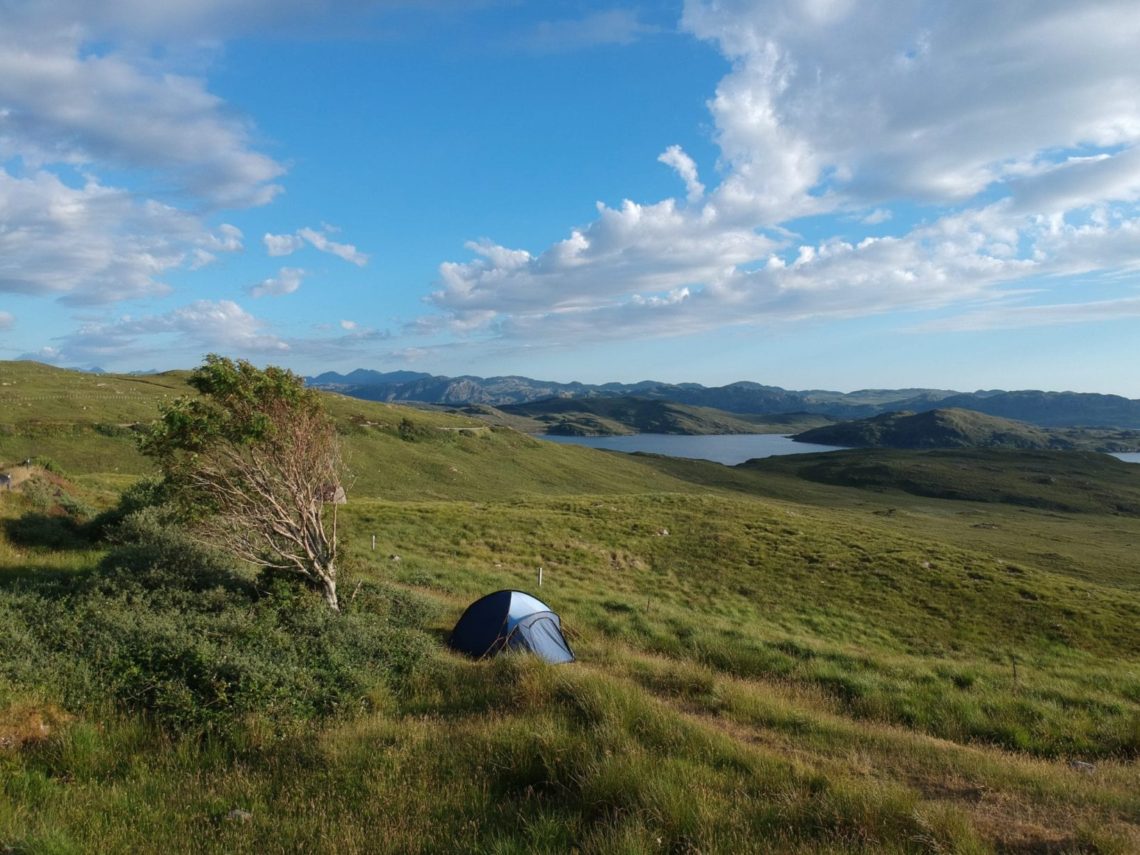 Wild Camping Good Practice
When you are looking for a spot to pitch up for the night, you cannot just choose anywhere you wish. Some people might not take too kindly to waking up to discover you pitched up in their back garden.
The rules we follow are as follows:
Ensure you're out of sight of any residences, or at least 200m away from them.
Choose a spot that is that isn't going to have people walking past your tent regularly.
Use a gas stove rather than a wood-fired cooker. This prevents the overuse of natural materials and leaves the landscape undisturbed.
Don't pitch up right beside a campsite, this is seen as quite rude. If you find an ideal spot, head around the corner out of sight of the campsite and you will be fine.
When you leave the camping spot as you found it. There should be no evidence that you were there, apart from footprints and good memories!
Arrive after dark and leave before light. Do not overstay in one spot, or if you wish to use the same site make sure you leave and return to prevent the beauty of the highlands being ruined.
Around the NC500 you will see many campervans pulled over in various locations. This is proving to be quite a problem along the North Coast 500, as popularity increases. Our last piece of advice is the most important to ensure everyone can continue to enjoy the beauty of the highlands: Don't overstay your welcome. If you find a spot and there is someone else there, move onto another location and leave this one for the night.
Read more about the best guidelines and practices for wild camping before your trip and get wild camping savvy.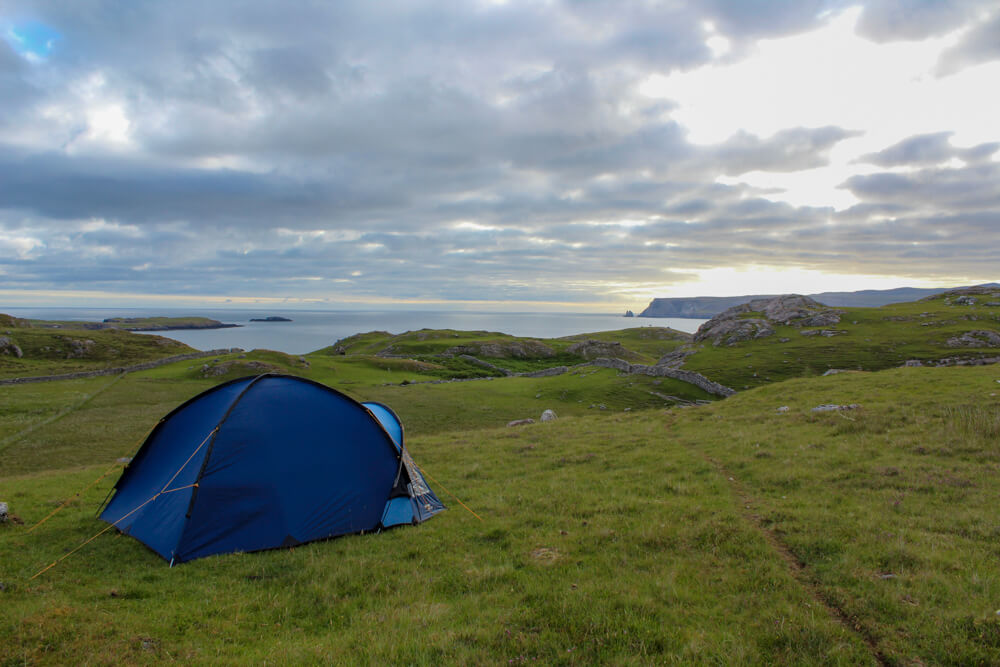 Is Wild Camping Allowed at Loch Lomond?
At certain times of the year, the answer to this is yes, however, due to the high popularity of Loch Lomond, local bye-laws now exist preventing unregistered wild camping. The good news is that "wild camping" is still allowed all year round, it just means that during certain months of the year you will need to purchase a permit to camp at a specific spot in the national park and register your details.
The permits are very reasonable in price and are very easy to obtain, costing just £3 per tent and found on the National Parks website. The justification for the use of permits during the busy season is also very fair, as it prevents too many people camping in a concentrated area and also ensures that the camping spots have been looked after as they will have your contact details.
When Do I Need a Wild Camping Permit at Loch Lomond?
Permits for wild camping on the shores of Loch Lomond are required between the months of March and September. This system has been introduced to prevent overcrowding and unrestricted camping on the shores of Loch Lomond, in order to protect the natural beauty of the national park.
Where Will I Need a Permit to Camp at Loch Lomond?
You will need a permit in order to camp in certain areas along the shores of Loch Lomond and its neighbouring lochs in the Trossachs National Park. These areas are referred to as Camping Management Zones, each of which has a certain number of allocated permits.
The exact locations of these Camping Management Zones can be found on the National Parks website.
How to Apply for a Wild Camping Permit
It is very simple and easy to apply for a camping permit for Loch Lomond's Camping Management Zones. All you need to do is head over to the National Parks website and select the duration and size of your party.
Book your permit for camping at Loch Lomond right here.
Things to Know About Wild Camping at Loch Lomond
Before you set off on your camping trip at Loch Lomond, there are a number of points highlighted by the National Park about camping in the Camping Management Zones.
You are only allowed to camp in one area for three nights at a time.
You can book a permit up to 8 weeks in advance.
You can arrive at 1pm on your first day and must depart by 11am on your last day.
Make sure you leave no trace upon your exit as fines can be issued to campers violating the natural beauty of the environment.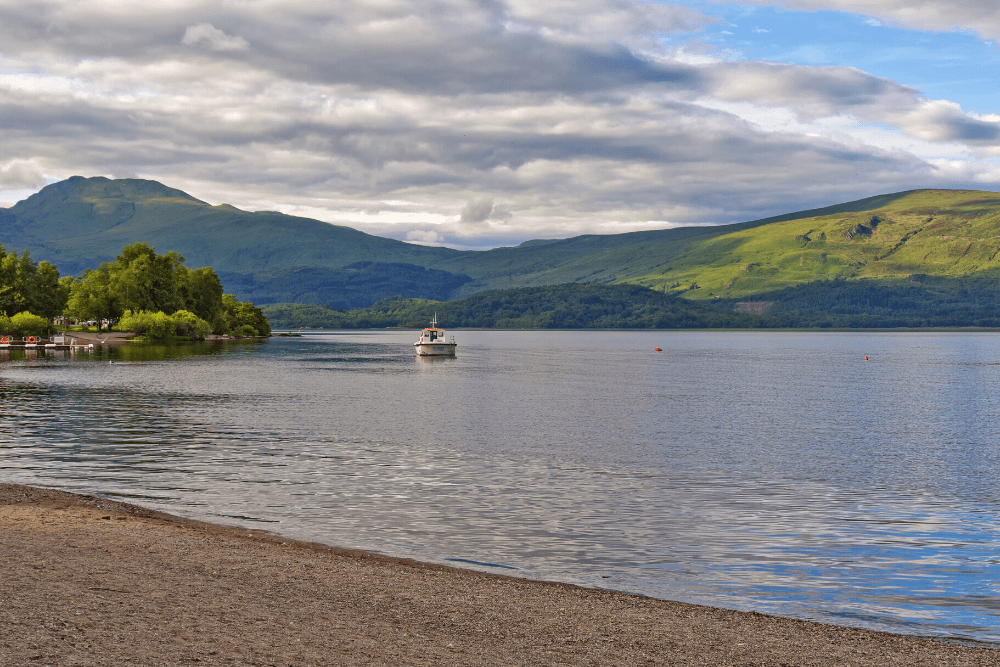 What Are the Best Places to Camp at Loch Lomond?
Aside from wild camping, there are a load of options for camping at Loch Lomond including basic campsites and more luxurious glamping sites.
Loch Lomond Campsites
Lomond Woods Holiday Park
Sitting right at the southern end of the loch is the most urban campsite you will find at Loch Lomond. Located just outside the town of Balloch, this campsite is a popular choice of accommodation for those reaching Loch Lomond by bus or train, as it is just a short walk away from these stops.
Although this site does not offer tent pitches, you can stay here in your caravan/campervan, as well as in the glamping and self-catering facilities that this campsite offers. The Lomond Woods Holiday Park has won awards for its comfort and hospitality and is recognised as a 5-star site. It features laundry and dishwashing facilities, as well as a playground and wifi.
Book your stay at the Lomond Woods Holiday Park here.
Luss Caravan and Camp Site
Halfway up the western shore of Loch Lomond lies the quaint town of Luss. It is here that you will find the peaceful Luss Caravan and Camp Site, one of the most beautifully located campsites on Loch Lomond. Just a short walk from the cute street of Luss, this campsite is very popular for those wishing to escape the hustle and bustle of city life.
Although it is not as luxurious as the campsite in Balloch, the Luss campsite has showers, a laundry, a playpark and a nearby pub. Something for the whole family!
Milarrochy Bay Camping and Caravanning Club Site
Across the water from Luss, located halfway up Loch Lomond's eastern shores, lies the Milarocchy Bay campsite. Ideal for members of the Camping and Caravanning Club, this campsite offers spectacular views over Loch Lomond, with the seclusion of Loch Lomond's eastern banks.
This campsite is ideal for those braving the famous West Highland Way hike, sitting right on the track and offering a courier service to drop off bags at the next camping spot.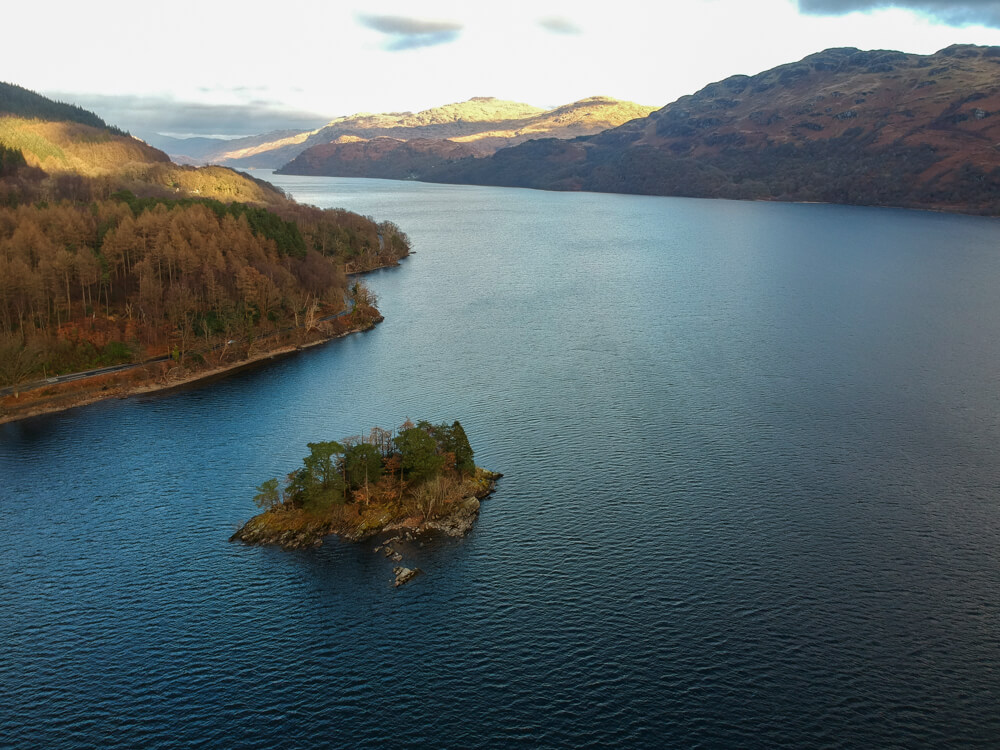 Cashel Campsite
Sitting just to the north of the Milarrochy Campsite is the Cashel Campsite, another beautifully secluded spot on Loch Lomond's east bank. This campsite is located in the Queen Elizabeth Forest Park and has stunning views up and down the length of Loch Lomond.
Once again, this campsite sits right on the route of the West Highland Way, so it is the perfect resting spot for hikers completing this 96-mile trek.
Loch Lomond Holiday Park
The most northerly campsite on Loch Lomond's shores is the splendid Loch Lomond Holiday Park. Another 5-star holiday park on Loch Lomond, this campsite guarantees a holiday you will remember, with an immaculate shower and toilet block, communal BBQ area, children's play park and a private jetty for sailing and swimming.
This campsite is also just a short drive from the famous Drovers Inn, one of Scotland's most haunted pubs.
Glamping at Loch Lomond
As well as comfortable campsites, Loch Lomond has a number of more glamorous camping options that are very popular with visitors to Loch Lomond. Holiday cottages, glamping pods and static caravans are all an option for those travelling to Loch Lomond, and most of these even come with a hot tub to relax in!
Lomond Woods Holiday Park
As well as an award-winning campsite, the Lomond Woods Holiday Park also has a range of luxurious lodges and static caravans for those wanting to treat themselves. All with their own full equipped kitchen and private bathroom, these lodges and caravans also come with the option of a hot tub to relax in after a day out on exploring Loch Lomond.
Book your stay at the Lomond Woods Holiday Park here.
Inverbeg Holiday Park
Continuing north up the west coast of Loch Lomond, you will soon reach the refuge of Inverbeg Holiday Park. This popular campsite features its own private jetty and boat, as well as a host of hiking trails taking you into the hills above Loch Lomond.
The glamping options available at this holiday park include lodges and static caravans, each with their own verandah. Each of these options has its own private bathroom and kitchen, and even comes fitted with a tv.
Book your stay at the Inverbeg Holiday Park here.
Top Sights to See Along Loch Lomond
Along the length of Scotland's greatest loch, there lies a whole host of beautiful and enchanting sights to see. From crashing waterfalls to peaceful lookouts, this is a short list of all the top sights along Loch Lomond.
Inveruglus Pyramid
Inveruglus is an underrated spot in Loch Lomond and one that we have spent many days and nights at over the years. Halfway down the western banks of Loch Lomond, there is a rocky outcrop of land, upon which you will find the Inveruglus visitor centre and the Inveruglus Pyramid.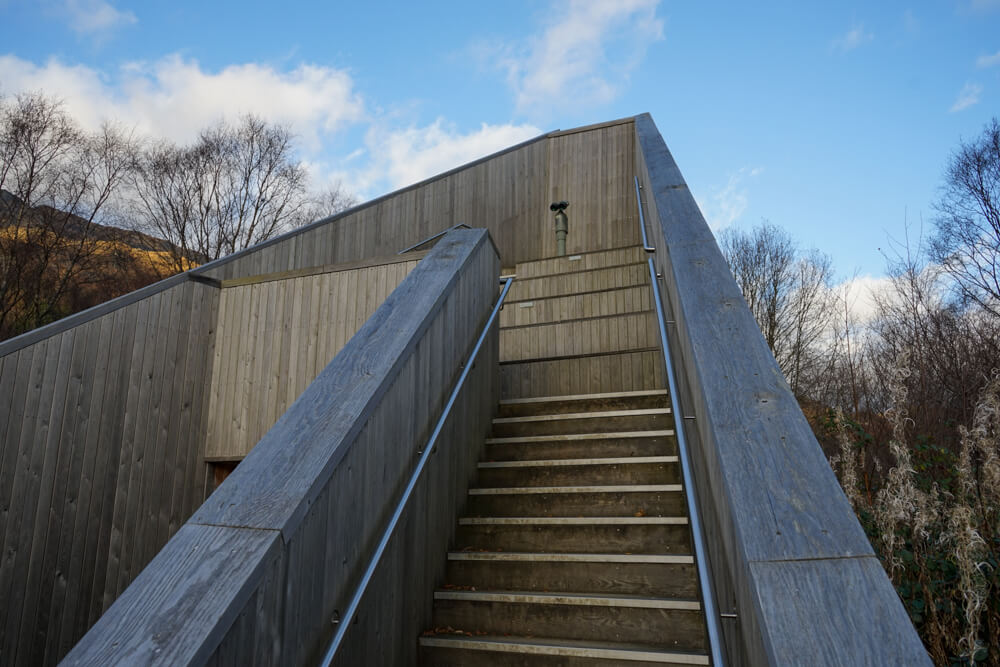 Conic Hill
This incredibly popular hill-walk begins at the southerly town of Balmaha and is one of the best hikes in Scotland for beginners. Starting in the town centre of Balmaha, the walk up Conic Hill begins gradually and eventually becomes quite steep, however, it is still manageable at most fitness levels.
Unfortunately, the path can become muddy and slippery, so we do not recommend this hike if you find walking difficult.
The hike to the top will take you roughly one hour and the view when you reach it is simply breathtaking. On a clear day, you will be able to see the entire length of the loch, including the towering peak of Ben Lomond.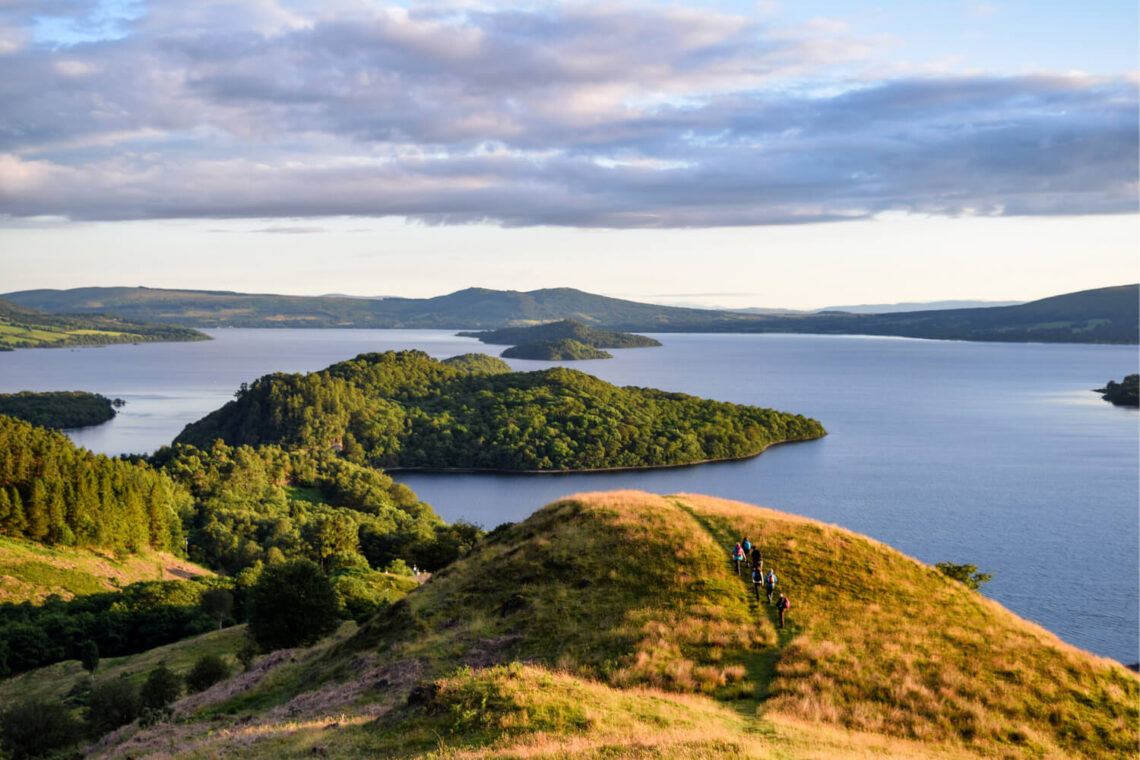 Falls of Falloch
The Falls of Falloch lies a very short walk along a path from the car park and is an extremely impressive waterfall in this part of Scotland. There is a viewpoint out to the waterfall or you can view from the edge. If you are feeling brave, pack your swimsuits and get ready for some rock pool swimming. This is a very popular watering hole during the warm summer months in Scotland.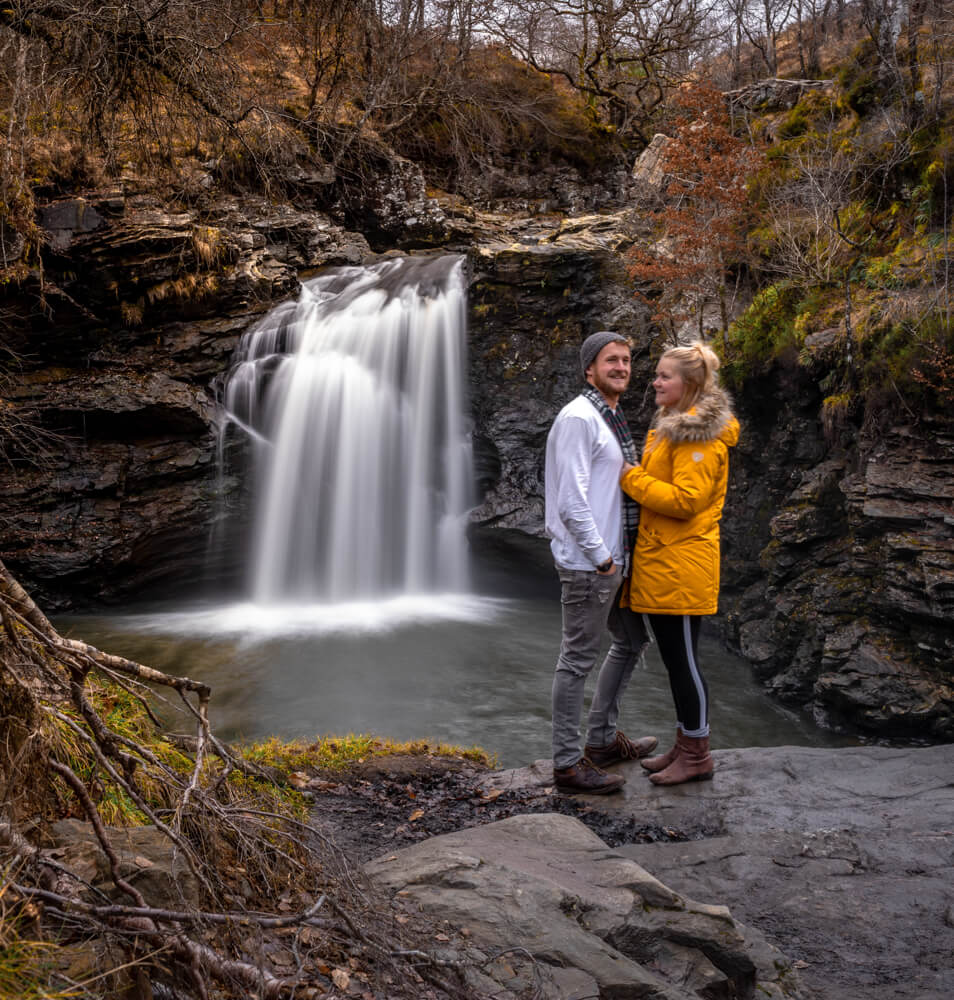 Loch Lomond Shores
Loch Lomond Shores is at the South of the National Park and is one of the most popular tourist spots due to its close proximity to Glasgow. There are restaurants and cafes here as well as a small shopping centre. Loch Lomond Watersports are also based here who provide a wide range of water sports equipment to hire, suitable for all ages and abilities. There are seasonal markets on along the Loch and children's amusements to keep the little ones entertained too.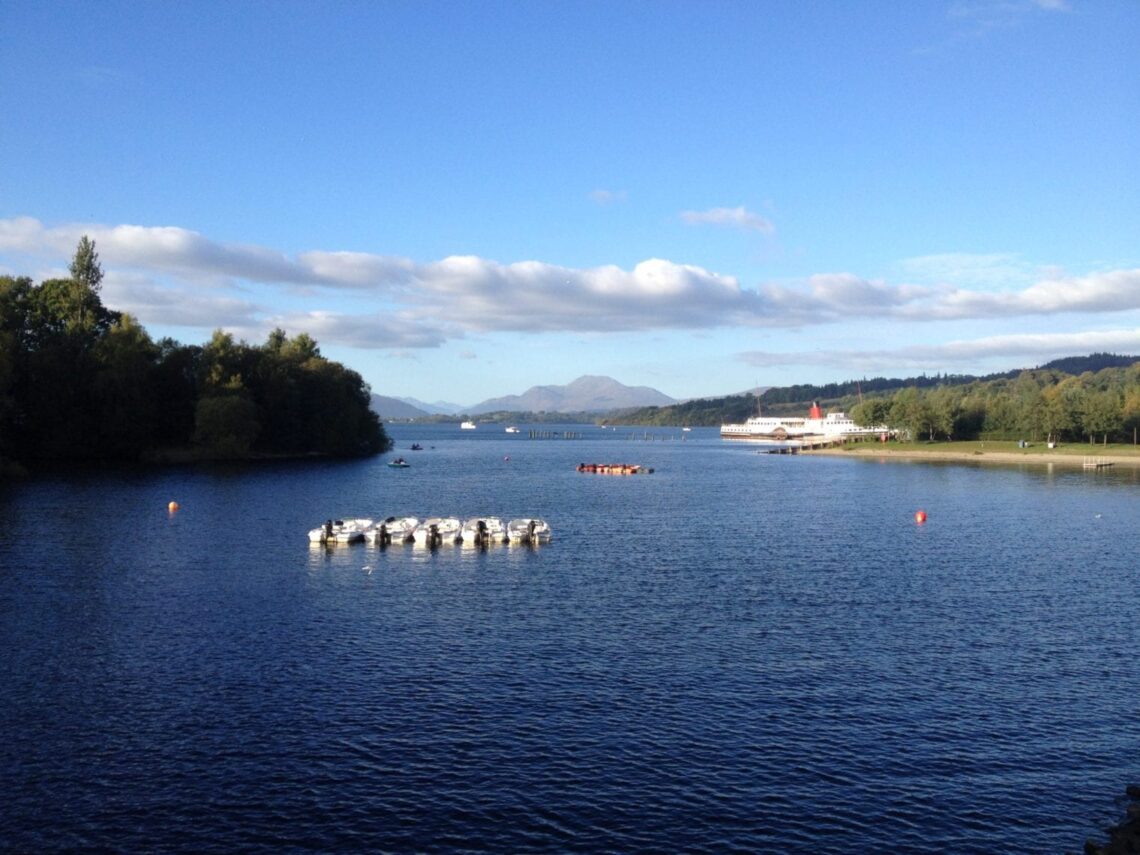 How to Prepare for Your Trip to Loch Lomond
Before you set off on your trip to Loch Lomond, there are a number of things you will need to get organised to ensure a smooth and enjoyable journey. These include what to pack, where to stay and what is the best insurance for your trip to Scotland. All of this is discussed in detail below.
How to Get to Loch Lomond
If you are planning to camp around Loch Lomond then your two easiest options are driving or walking. Public transport is hard to come by around this area and is very infrequent. If you have a car, perfect you can chuck everything into the back and you're good to go.
If you plan on hiking your way around the camping spots in Loch Lomond then you are in for a fantastic adventure along the pretty banks of this loch. There is a popular walking route along the eastern banks of the loch that is part of the West Highland Way. This will take you the length of the loch and will continue all the way to Fort William.
Drive – Loch Lomond is around a 40km drive from Glasgow taking around 45 minutes to get to. You can either follow Great Western Road or the cross over the Erskine Bridge. From Edinburgh, the journey will take an hour longer than from Glasgow.
Bus – First bus 1, 1A and 1E leave from Glasgow to Balloch and depart roughly every half an hour from Buchanan Bus Station.
Train – Leaving from Glasgow Queen Street you can get the train to Balloch in less than an hour, which will be the closest train to Loch Lomond. However, if you are travelling from Edinburgh, the train will leave from Edinburgh Waverly and will take 1 hour 45 minutes.
What to Pack for Your Trip to Loch Lomond
When it comes to packing for a trip to Scotland there is one item of clothing that you are going to need all year round: a waterproof. It rains in Scotland on average 250 days a year, meaning that during your trip to Loch Lomond and the Trossachs, you can expect rain at some point. Due to this, the number one item on your packing list is a good waterproof jacket.
Second to that, another item to not leave home without is a good pair of warm and, if possible, waterproof boots. A lot of the best sights along Loch Lomond require a bit of walking to reach them and the conditions underfoot can become very muddy. You do not want to ruin a good pair of white trainers so pack some sturdy boots.
You will definitely need a hat and gloves during the winter months as the wind chill can be bitter.
For our full list of items that we pack no matter where we go in the world, check out our full packing guides over here.
Given that you are camping around Loch Lomond, you will also need to pack some gear to keep you warm, dry and comfortable overnight. A good tent sleeping bag and roll matt are must-haves for this adventure. For more inspiration and ideas of what to pack, check out our full camping packing list here.
Given the beautiful sights and scenery that you are no doubt going to see around Loch Lomond and the Trossachs, we highly recommend packing a good camera for your trip. If you want to read more about the cameras we use and why we love them, check out the link below.
You can read what else we keep in our camera bag over here.
What is the Best Travel Insurance for Scotland
I know travel insurance is the least enjoyable thing to purchase and look at when you're planning a trip, however, you wouldn't want to be without it in the event that something happened. Accidents can happen anywhere and the extortionate medical bills will ruin your trip if you are not covered.
To ensure you have a stress-free trip with no worries about potential medical bills, make sure you cover yourself when you travel. We can recommend using World Nomads, a backpacker-friendly and cheap insurance company that provides good coverage and support.
Get a quote for your travel insurance right here and get covered.
So there you have it, your complete guide to camping at Loch Lomond. If you are visiting this incredible part of Scotland and have any other questions on what to expect, leave us a comment down below. We love to chat about this stuff! If you have already been, let us know how it was! What sight was your favourite? Do you have any other recommendations for us? Let us know in the comments below!
Also remember to share this with your friends and family that you are going to share this trip with. Sharing is caring and we want to ensure that everyone is fully prepared to and knows what to expect on the banks of Loch Lomond.
If you are planning a Scotland trip soon then check out our other Scotland content right here. Come and find us on social media to see where we are currently exploring. Tag us in your photos from your trip to the Loch Lomond and we will share them with the rest of our community of explorers and backpackers.
Read Now:
This article may contain affiliate links that provide us with a small income. For more information read our Affiliate page.
---
Save this image to your Scotland Pinterest board for later!