Disclosure – These shoes were gifted to us by Tropic Feel. We were not paid to write this article and all views are our own.
An all-terrain sneaker, perfect for travellers who are looking for versatile footwear suitable for life on the road. The Tropicfeel collection covers backpacks and clothing as well as footwear. The Monsoon Sneaker was the first of the Tropicfeel footwear to brace the market and has been adapted over the years to become the 'Ultimate travel shoe'. In this post, we review the Monsoon, a lightweight and quick drying shoe by Tropicfeel.
No time to read now? No problem, save a pin to your Pinterest board for later!
In this post we discuss the following in more detail. 
Why did I Choose the Monsoon Sneakers from Tropicfeel?

The Monsoon Sneakers from Tropicfeel Overview

Features of Monsoon Sneakers from Tropicfeel
Colours
Sustainability
Pros
Cons
Are the Monsoon Sneakers for me?
Conclusion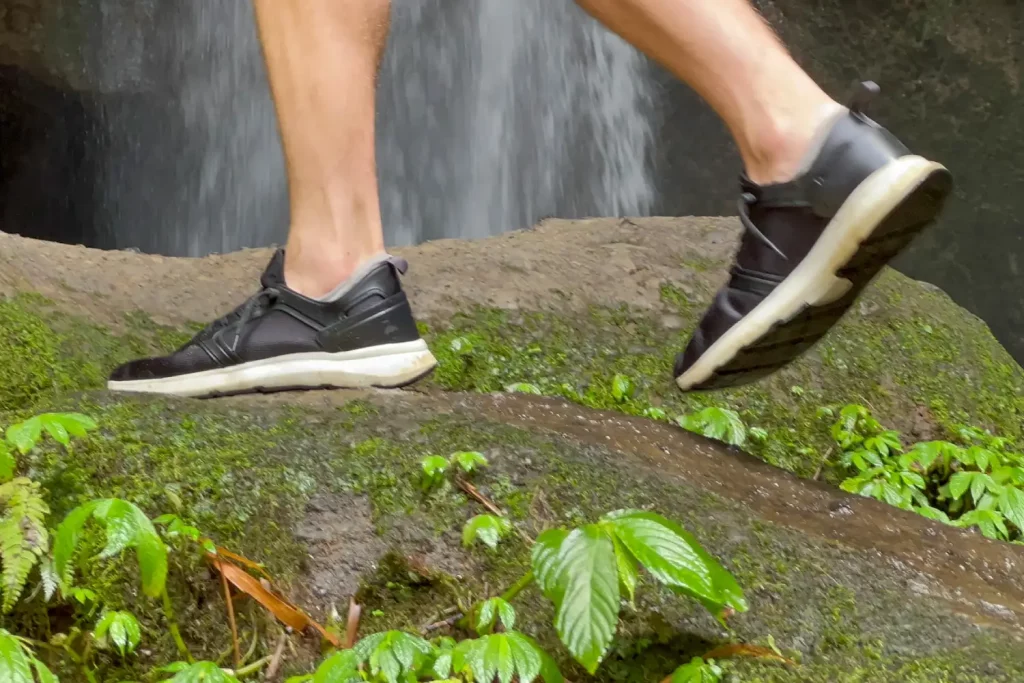 Why did I Choose the Monsoon Sneakers from Tropicfeel?
As we travel so much, I needed a lightweight pair of shoes that are comfortable and versatile to minimise my luggage. I was also looking for something that was stylish and functional so that I could wear them in any situation I find myself in whilst travelling and bring them as my only pair of shoes.
When Tropicfeel offered me a pair of the Monsoon Sneakers to review, it was a no-brainer for me to give these shoes a shot on my upcoming adventures to cities and waterfalls.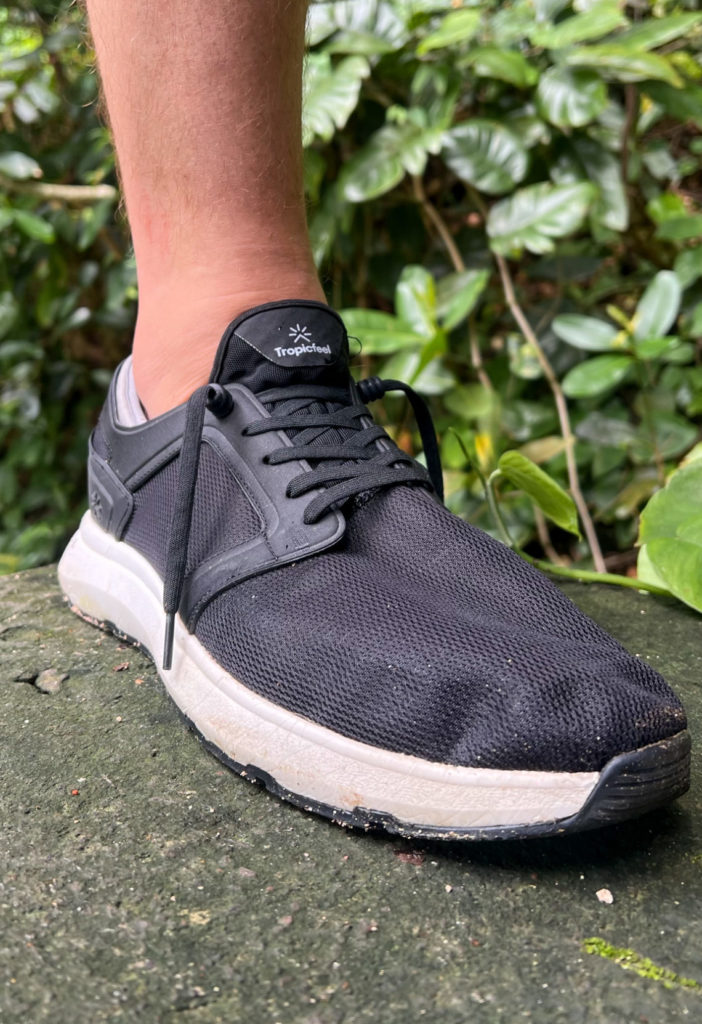 The Monsoon Sneakers from Tropicfeel Overview
Tropicfeel is one of the most funded brands in the world that have an aim to disrupt the way that people engage with the fashion industry by creating sustainable options. It is evident that the owners of Tropicfeel, Albert Espinós and Lucas De Gispert are travellers themselves as the products are very suitable for travellers.
The Monsoon sneakers are perfect for day to day adventures on the road as they are lightweight and waterproof meaning that you can wear them whilst chasing waterfalls in Bali as well as exploring a new city. They are quick drying as well as breathable therefore they work well in warmer climates. Shoe sizes range from a size 36-47 EU size and I sized down and they fit perfectly.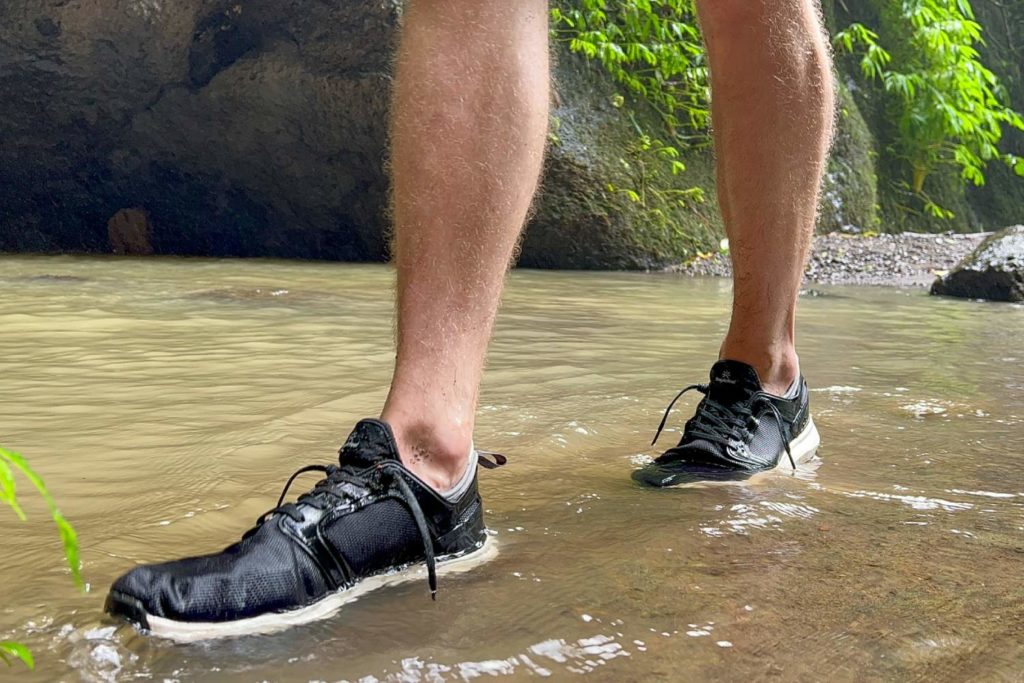 Features of Monsoon Sneakers from Tropicfeel

 
Weighing in at only 300g, Monsoon are a perfect light-weight, slip-resistant design for travellers, also featuring an engineered 3D mesh and a drainage system making the shoes waterproof and quick-drying. The drainage system allows for water in the shoe to be drained out but it doesn't allow water in. It also makes the shoes odourless. 
They are designed to be worn in all terrains with an extra cushioning soiled with an adapted neckline and tongue making it easier to slip on and off. The so called sprint laces, which is a knot-stopping, shoe-tightening mechanism makes the Monsoon convenient and comfortable. The sole of the shoe is full grip rubber and it is great for impact absorption 
The shoes are machine washable however they should not be tumble dried.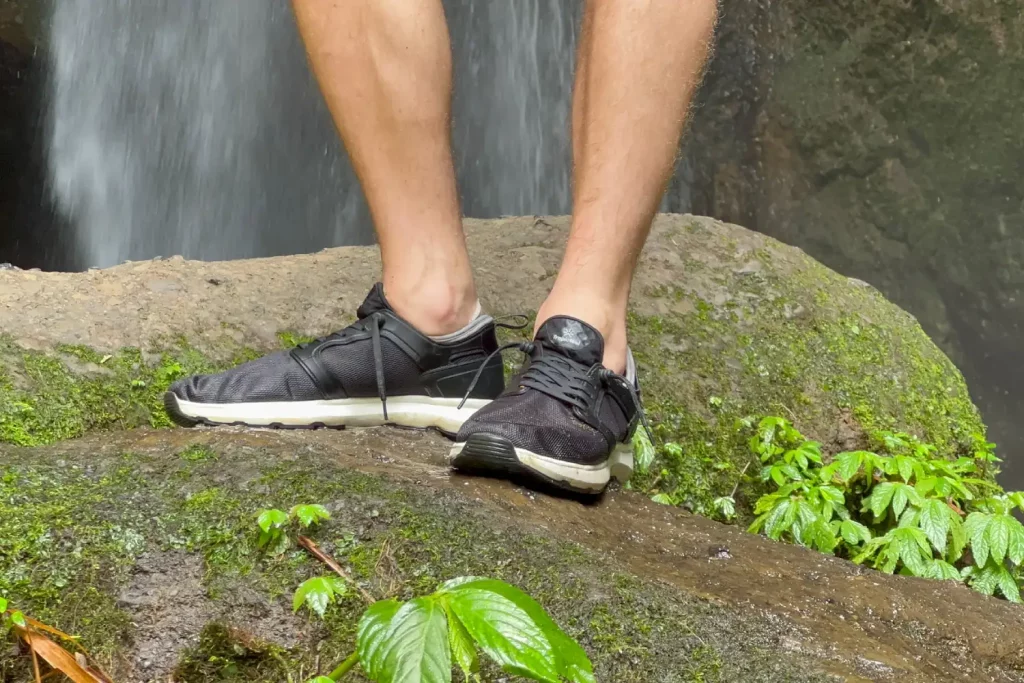 Colours
The Monsoon sneakers come in a range of 4 different colours all of which are neutral in tone. 
Monsoon Orion blue
Monsoon Thyme green
Monsoon Core black
Monsoon Almond white
Sustainability
Tropicfeel are very transparent on their website about their sustainability focus and what their products are made from. For every pair of Monsoon, 5 recycled plastic bottles are used and 20% recycled EVA. The materials used are also vegan. Tropicfeel is climate neutral certified meaning that the carbon emissions that are produced during the production of products and the shipping of the goods is measured, reduced and offset.
Pros

 
Can be worn in water

 

Don't need socks – saves space in your bag
Simple design
Convenient to slip on
Cons
Price may be inaccessible

 

Can't try them on as they can only be bought online
Lace flaps against each other as you walk and not being able to tighten the shoe could be an issue

 

Not suitable for cold conditions due to the breathability.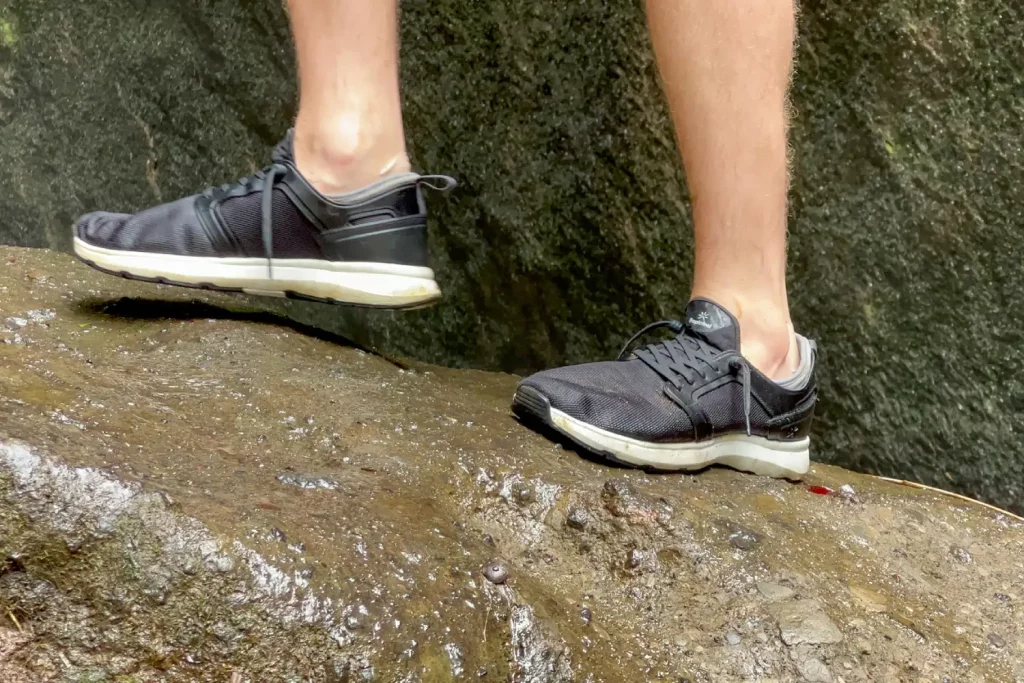 Are the Monsoon Sneakers for me?
If you are looking for a pair of shoes that will cover you for water activities, outdoor activities, and more formal events in warm weather, the Monsoon sneakers would suit you. 
At present, I have only tried the Monsoon trainers for a city break however I have worn them every day over a week walking 20k steps per day and they have been extremely comfortable and felt well ventilated. I haven't felt the need to carry another pair of shoes due to the versatility of the Monsoon which has been great to avoid me overpacking.
Conclusion
The Monsoon sneakers are very comfortable shoes that are suitable for a range of activities whilst travelling. If you are not wanting to overpack, these shoes are lightweight and can be packed as the only sneakers you will need. They are designed with travellers in mind the fact that they can be worn in any situation.