The USA is home to some of the most spectacular nature spots in the world. Between National Parks, Grand Canyons and deserts, there is a lot of exploring to be done. Come and explore this incredible place and find to see the most beautiful places in the USA. Here are just a few of the many, many sights to see!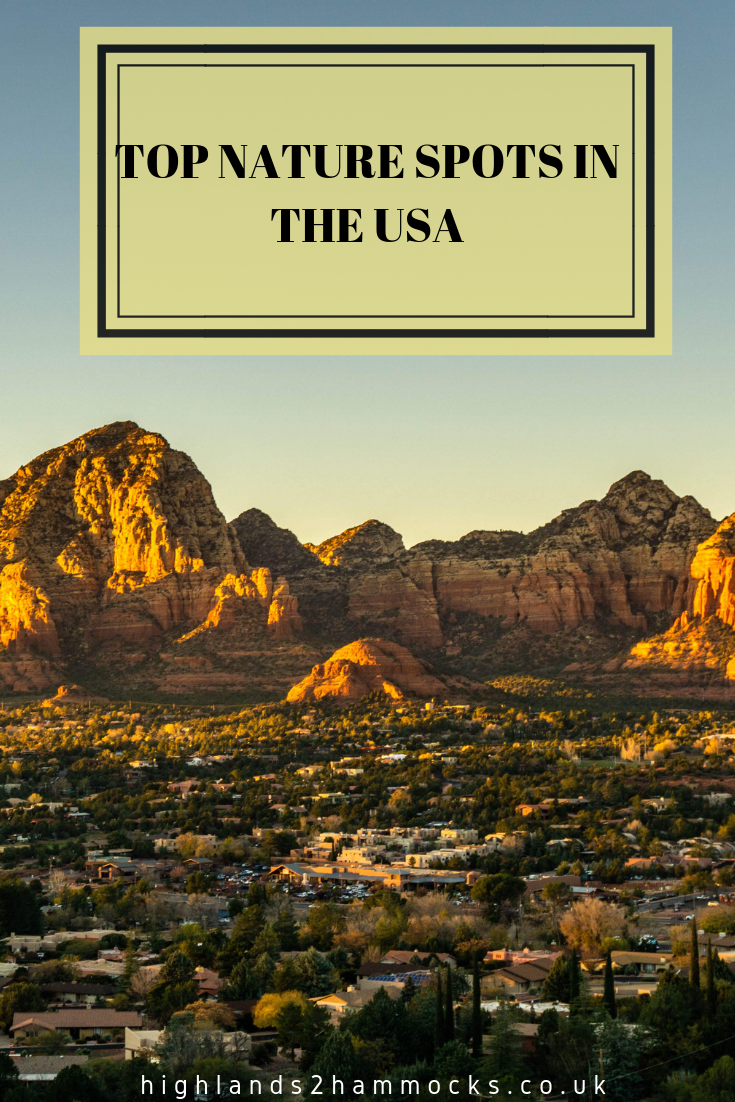 Joshua Tree National Park
When it comes to cheap places to travel in California, Joshua Tree National Park in California is a place in the USA that can't be missed. This unique desert ecosystem is a combination of both the Mojave and the Colorado deserts. This means that it is the perfect environment for the unique Joshua Tree to be scattered around giant rocks that is ideal for any rock climber or explorer.
One of the best parts is that you can stay the night in the wilderness of Joshua Tree. There are designated camping and RV spots scattered around the Park that allow you to be immersed in nature but make sure you get in early (especially on the weekends) so you don't miss out!
There is an abundance of hiking trails that will entertain everyone from couples, groups of friends, families with young kids to the solo adventurer.  You can easily spend a couple of days exploring the wildland in an attempt to spot all of the unique desert wildlife.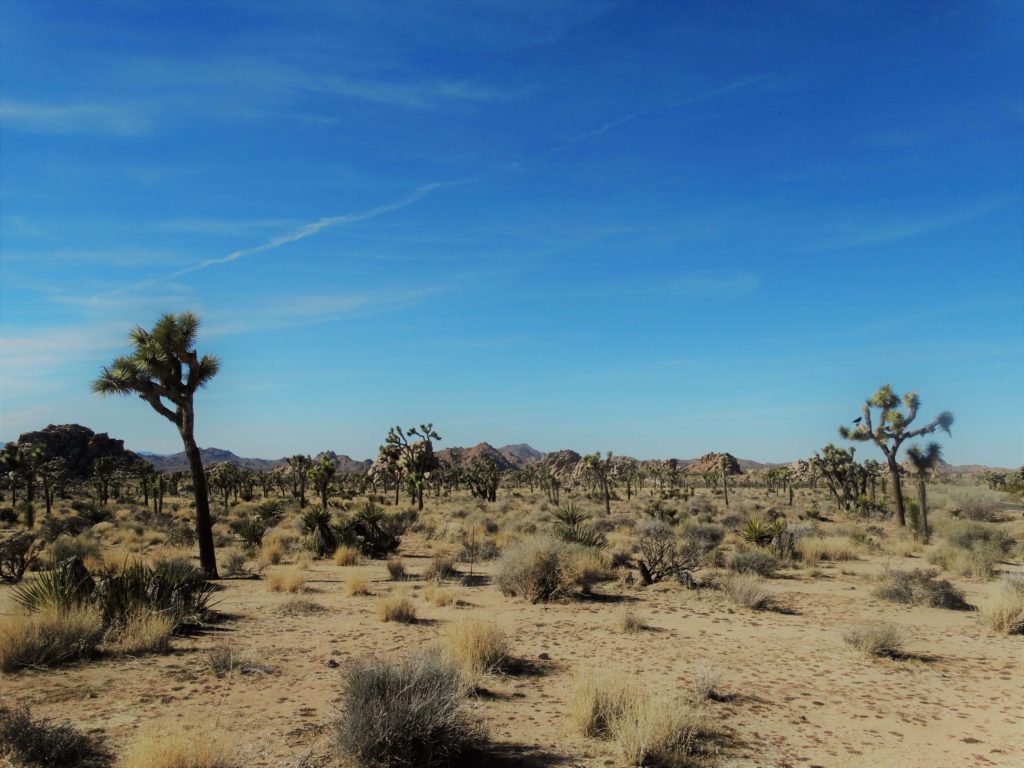 Helena – Through an Aussies Eyes  
Alabama
Alabama is a state rich in history, culture, and natural beauty. Known as the "Heart of Dixie," due to its central location in the group of states in the Deep South,  Alabama has a diverse landscape that includes mountains, forests, and some of the most stunning beaches in the country. In particular, the beaches in Alabama with clear water are a major attraction for those visiting.
The Gulf Coast is home to these pristine beaches, where the soft, sugar-white sand meets the warm, emerald-green waters of the Gulf of Mexico. These waters are not only crystal clear but also teeming with marine life, making them an ideal destination for swimming and snorkeling.
One of the most popular beach destinations in Alabama is Gulf Shores, a family-friendly resort town that offers a wide range of activities and accommodations for visitors.
Aside from its beautiful beaches, Alabama is also known for its rich history and cultural heritage. The state played a significant role in the Civil Rights Movement, and landmarks such as the Rosa Parks Museum and the Birmingham Civil Rights Institute provide valuable insights into this important period in American history.
The Niagara Falls
The Niagara Falls was on our family's bucket list when we went on a road trip to the US and it was well worth it. The US side of the falls is made up mostly of a national park so the land is preserved with lovely parks, walkways and bridges. You are able to get right up to the edge of the falls, surrounded by the noise and mist – it's awesome and amazing all rolled up into one terrifying bundle as thousands of gallons of water plunge their way down into the gorge below.
With the time we had, we had to make the choice between visiting the Cave of the Winds – a cave at the foot of the falls, or of going on the Maid of the Mist boat. We chose the boat as it is more suited for younger children and we were not disappointed. The boat makes a trip right up to the base of the Horseshoe Falls where the sound of the water is so loud you have to shout to be heard.
They say Niagara can be crowded in summer but we were there in August and the queues were fine, we also managed to find parking without too much trouble.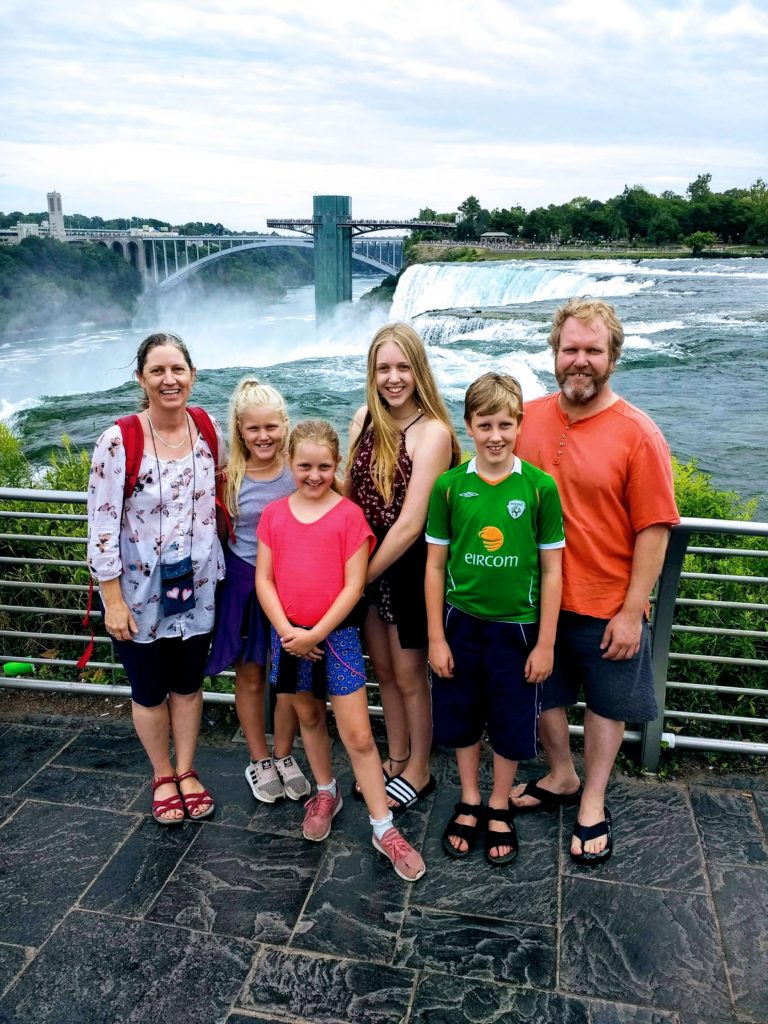 Liberty – Libertyonthelighterside
Sedona
One of the best places to visit in the USA and a must stop if travelling in Arizona is the town of Sedona. Located about a two-hour drive north of Phoenix, Sedona is an outdoor lover's paradise and there are a huge number of amazing hikes where you can enjoy the unique red rock landscapes. One of the best hiking trails is the Devil's Bridge Trail which is moderately difficult and takes you through some stunning red rock formations. The West Fork Trail is also a fantastic hike that exposes you to tall canyon walls, creek crossings and beautiful woods.
Sedona is also uniquely known for its New Age and spiritual lifestyle. This had led to a number of shops selling things such as healing crystals, past life readings, and aura photos.  You can also hike to vortexes such as Cathedral Rock which are special areas believed to be some of the most spiritual in Sedona.
If you're not interested in the spiritual or outdoor aspect of Sedona then there are also a number of great art galleries, artisan shops and cool cafes and restaurants to explore making Sedona a fantastic place to visit for anyone!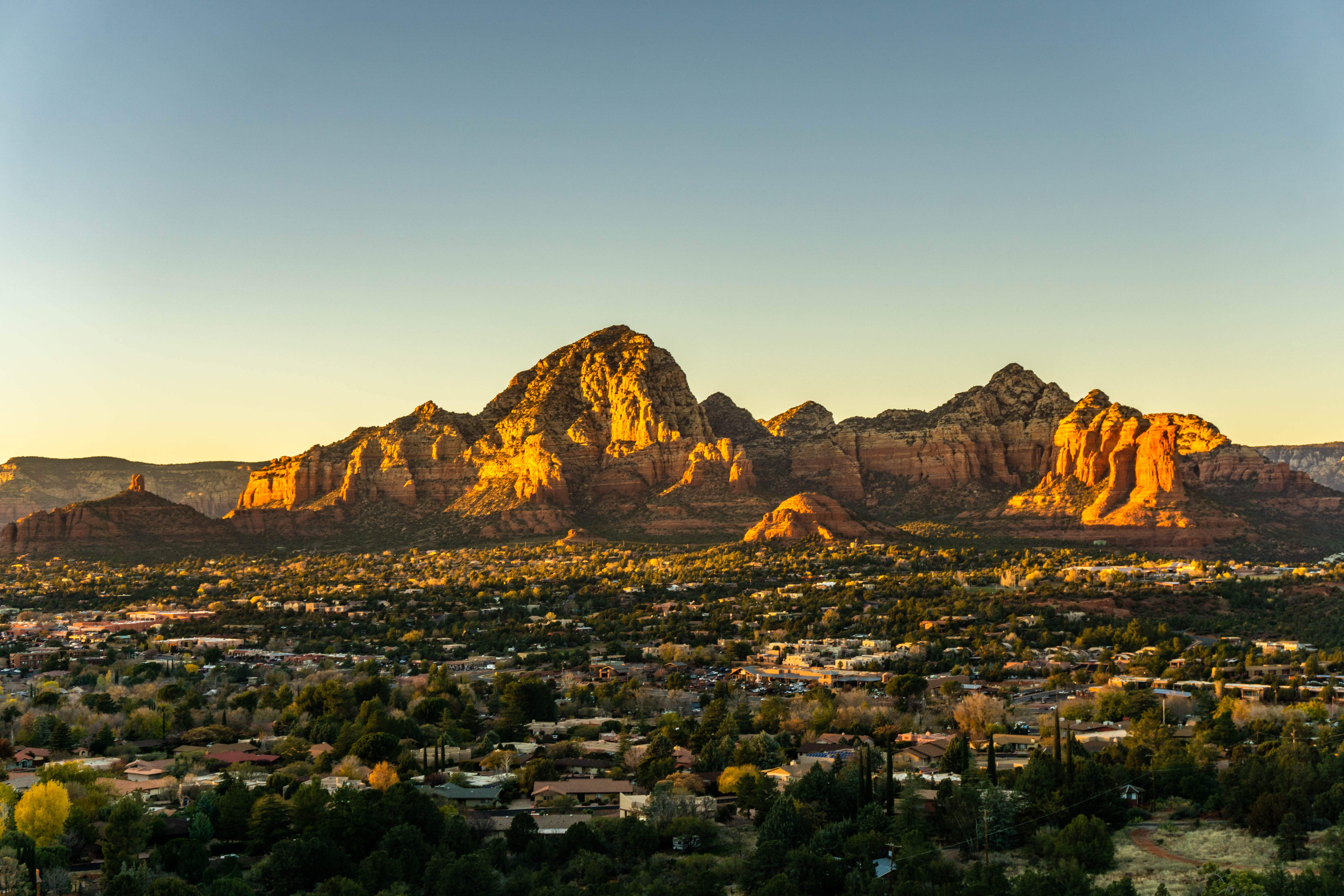 Michael – The World was Here First
Yellowstone National Park
By far, one of the best places to visit in the USA is Yellowstone National Park. While we've visited a few different places throughout the States, Yellowstone stands out for us. During a two-week road trip in the northwest, we visited this amazing National Park and were spell-bound by it. We had longed to visit Yellowstone for years and couldn't believe we were there.
Nowhere else on the earth will you find bison grazing on grass near volcanic springs. Nowhere else on earth can you hear the roar of two waterfalls within spitting distance of one another in the most amazing canyon to rival the Grand Canyon. This amazing landscape has something for everyone who visits. From geysers and springs, to herds of bison, a huge lake and more, Yellowstone will capture your heart like no other. Whether you choose to stay within the park or outside, whether you choose to hike or simply drive around the USA's first National Park, you will come away with memories you will treasure for life. We loved it so much we cannot wait to return in the future.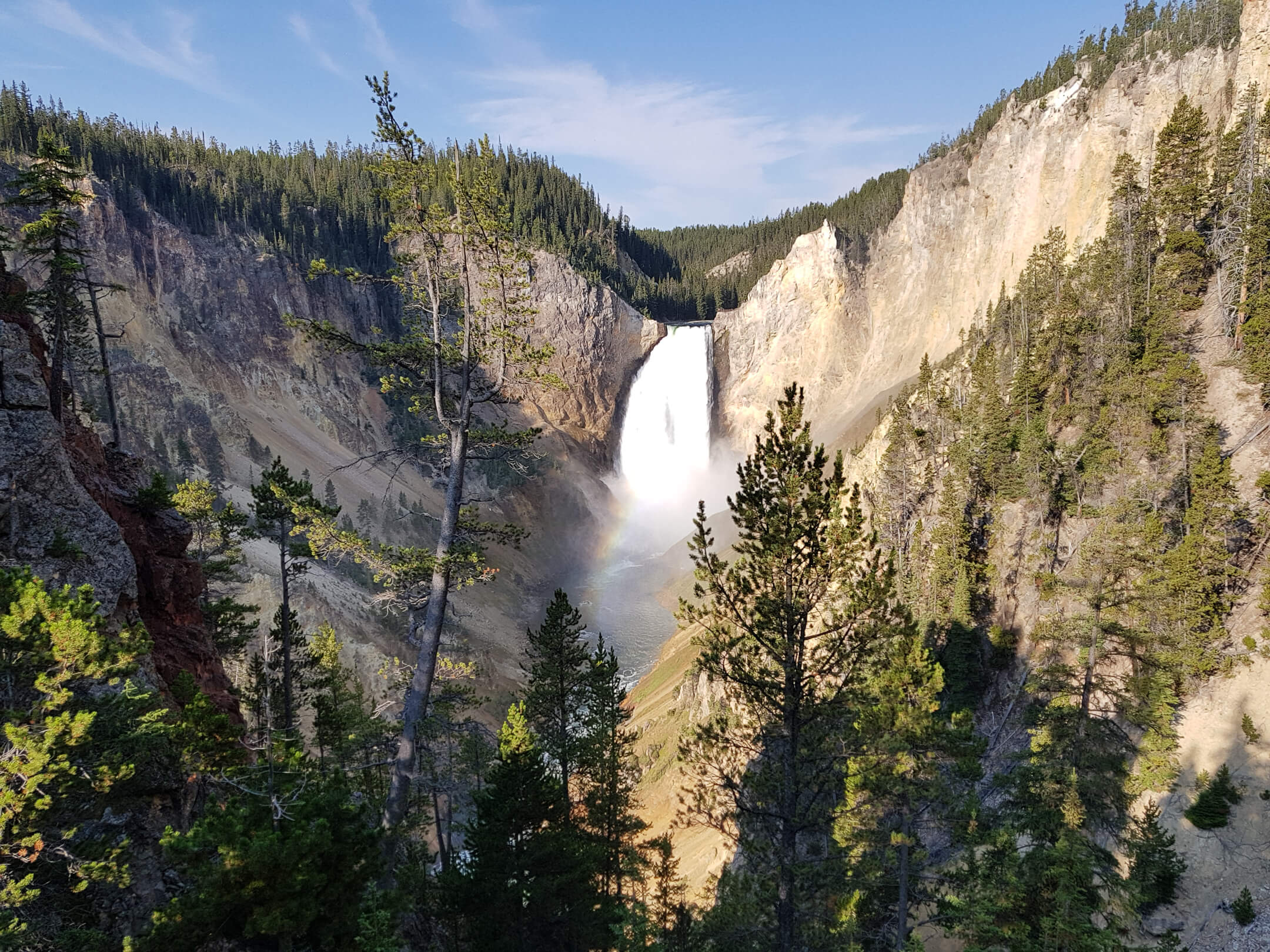 Cath – Passports and Adventures
California Coast
The California coast is a beautiful place to visit in the US. There is so much to see and do along the coast of the Pacific Ocean. The best and most scenic road trip in California is to head from North to South of the entire state. We recommend starting in Northern California, so when you're traveling, the ocean will always be on your side of the road, so you'll have the best views.
You'll see the famous and huge redwoods up north, pass by San Fransisco and all the beach towns, drive through the amazing cliffs and over looks in Big Sur, spend time in the beautiful beaches all along the coast, and end up in sunny San Diego. Every city along the coast has something new to offer. You can't go wrong with any stop along the Pacific Coast Highway in California. If you're looking for a great trip with amazing views, the California coast is where you want to be!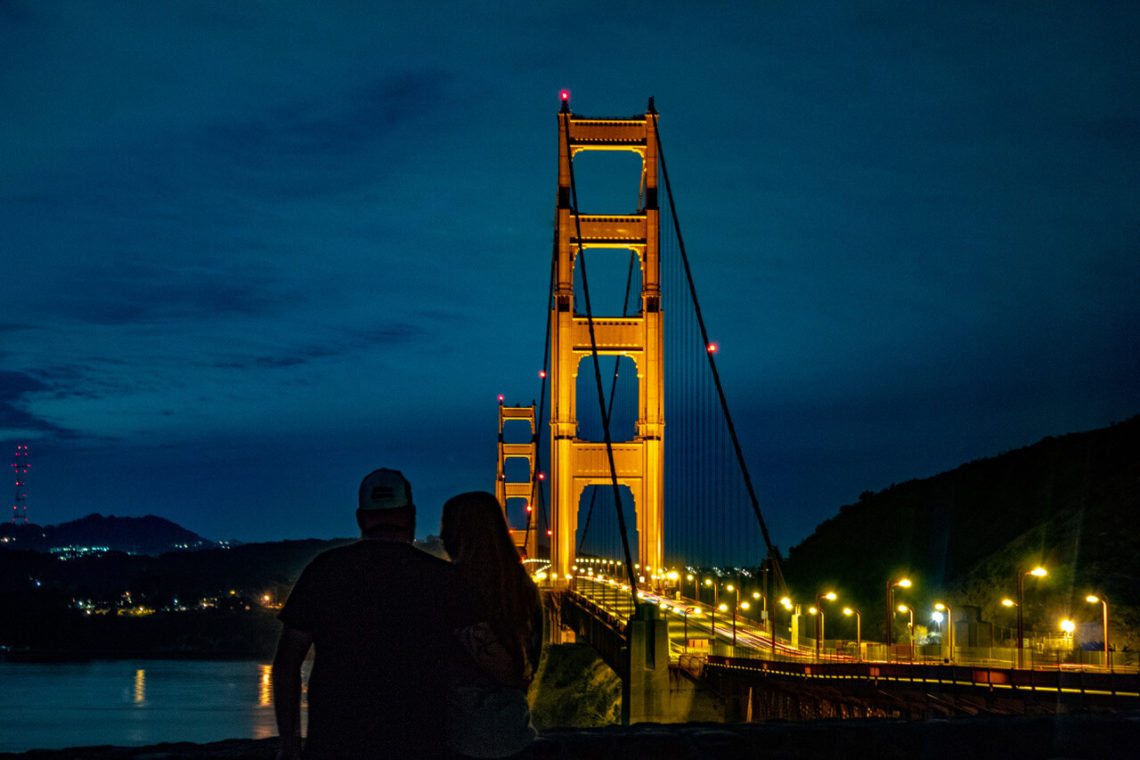 Sara and Bart – OurKindofCrazy
Glacier National Park
Glacier National Park is one of my favourite national parks in the USA. It's an absolute paradise for outdoor enthusiasts due to the abundance of nature and activities to do there. The park boasts over 700 miles of trails to explore with plenty of accessible day hikes. After a day of hiking, relax by one of the park's five stunning lakes. The mountains reflect in the water creating a beautiful setting to watch the sun go down.
Overnight, you can camp at one of the park's 13 front-country camping sites or relive history in the historic chalets and lodges inside the park. While visiting Glacier National Park, a drive through the world famous going-to-the-sun road is an absolute must. This road spans 50 miles and crosses the Continental Divide at Logan Pass. On the drive, you will pass through massive glaciers, colourful valleys below, and cascading waterfalls on the side of the road. There is also a high chance of spotting wildlife on the drive!
Glacier National Park is located in Northwest Montana in the Rocky Mountains. It borders with Alberta, Canada so it makes a great road trip not only for Americans but for Canadians too.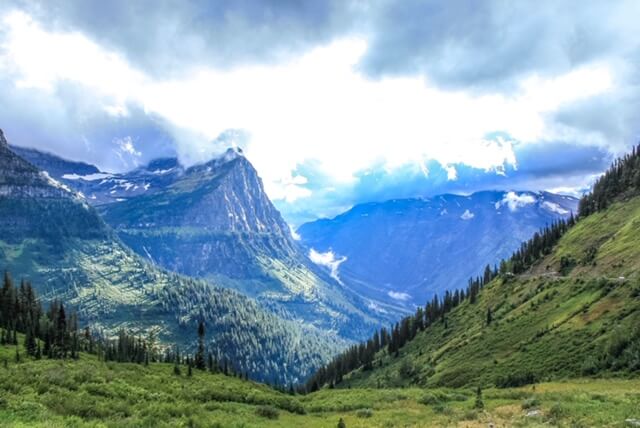 Lora – Explore with Lora
Kauai, Hawaii
The island of Kauai is a lush, beautiful destination located in Hawaii and is a nature lover's dream destination. The shades of green in the gardens and trees, and the blues of the skies and ocean will leave you speechless in every direction.
The North Shore offers countless small beaches; Anini Beach and Secret Beach are two of our favourite spots for snorkelling, sea turtle viewing, and sunsets. On the West side of the island, Waimea Canyon is a true highlight with its red dirt hiking trails available for all skill levels. The Cliff Trail is a popular choice that includes a waterfall and takes a few hours round trip. The Pihea Trail is a shorter option but just as beautiful.
The Na Pali is the rugged and beautiful coastline stretch of cliffs that proves to be the jewels in Kauai's crown. It cannot be accessed by car, so visitors are left with more adventurous options. The Hanakapi'ai Trail is the most popular hike for perfect vistas, but is currently closed due to flood damage. One can also experience beautiful vistas from the Kalalau Lookout in Waimea Canyon, as well as by catamaran tour, or by helicopter ride. There are also many great things to do in Hawaii with kids.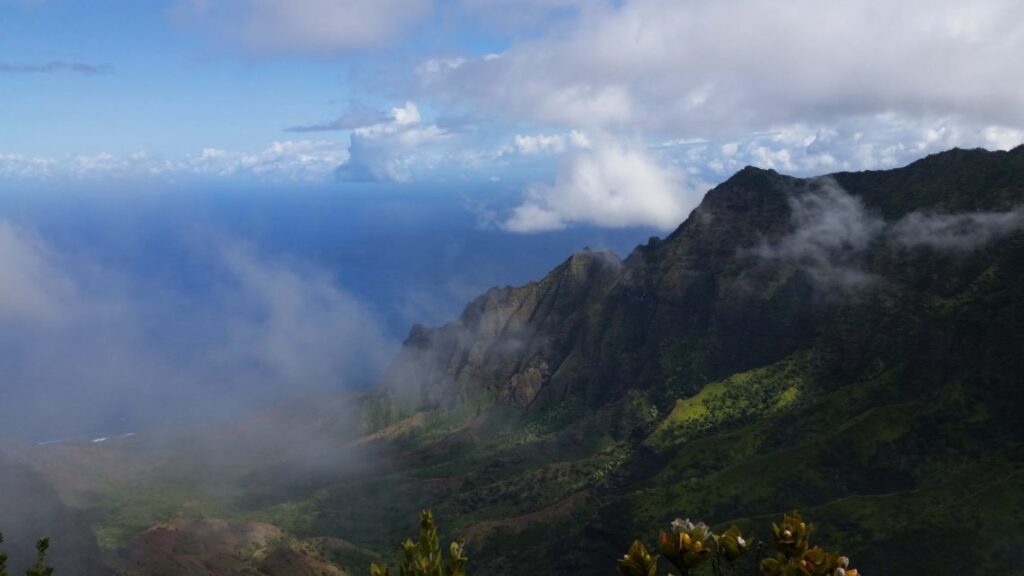 Grand Circle Road Trip
One of our favourite places to visit in the US is the area along the border of Nevada – Utah – Arizona in the Grand Circle. This area contains dramatic American southwest landscapes, some of the best known National Parks in the country, and unique cultural attractions. We recommend starting your trip in Vegas, then traveling to Zion National Park and hiking Zion's famous Narrows. After spending a day or two in Zion, you can either visit Bryce Canyon National Park to see the beautiful hoodoo formations or if you have less time, drive straight to Page, Arizona. Page is the home of the famous Antelope Canyons which you can easily explore in a day on guided tours.
While choosing between upper and lower Antelope Canyon is tough, you will have a great time wherever you go. From Page, drive to Grand Canyon National Park (GCNP) South entrance and see the majestic views from Mather Point. Spend a day or two driving around the rim drives and visiting the Desert Watchtower. We also recommend hiking a bit in the Grand Canyon to see the natural wonder of the world from a different viewpoint. From GCNP, drive westwards towards Las Vegas. On the way, you can see the magnificent Hoover Dam and have a relaxing day on Lake Mead.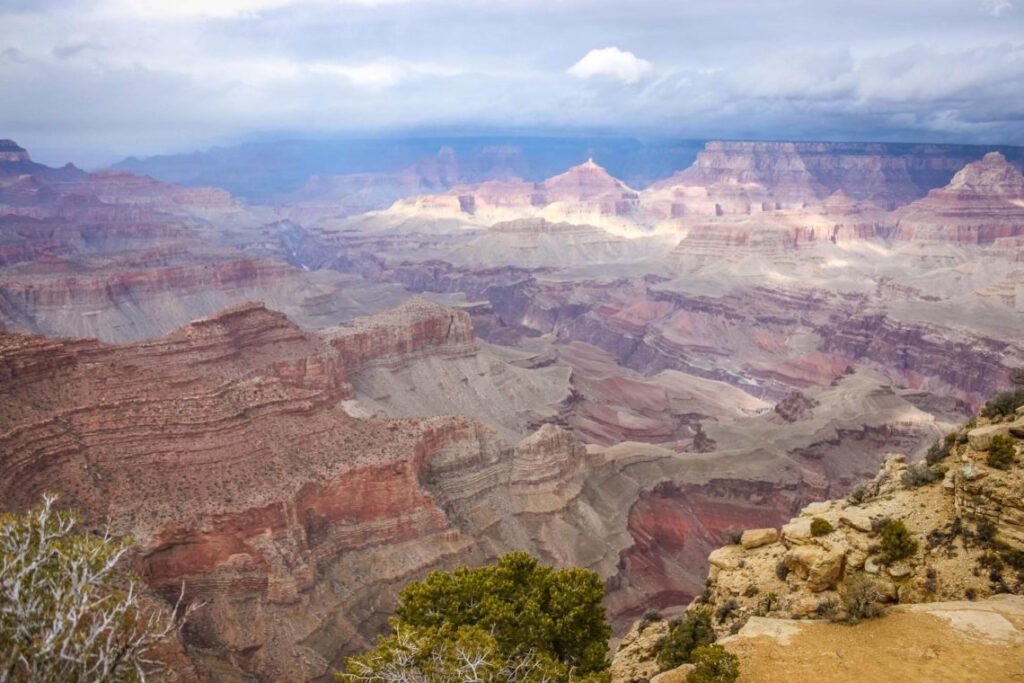 Ketki – Dotted Globe
Yosemite National Park
 Yosemite National Park is located in Central California and is one of the most iconic national parks in all of the USA and should be high on everyone's lists of places to visit when traveling to America. The most popular season to visit Yosemite is during its summer and fall months, July to October, as the weather is optimal during this time for excellent camping and hiking throughout the park.
People flock from all over the world to gaze up at the iconic, tall granite walls of El Capitan and Half Dome, and hikers and backpackers long for the warmer summer season to hike some of the best hiking trails in Yosemite. You could spend an entire week in Yosemite National Park and still only barely scratch the surface of everything it has to offer. Many visitors will spend most of their time camping and exploring the trails close to Yosemite Valley, such as the Half Dome Hike and Yosemite Falls Trail. But others will choose to wander further from the Valley and explore other beautiful hiking areas such as the Tuolumne area.
If your open to experiencing everything the park has to offer, your visit to Yosemite is bound to be full of jaw-dropping views, exciting adventures, and peaceful evenings around a campsite fire. No matter how you choose to spend your time in Yosemite though, it is bound to be a National Park visit you'll never forget. There is something magical and unforgettable about Yosemite, and you just have to visit to experience it for yourself.
Maine
Maine's allure captures everyone in a different way, but one thing is for sure: its nickname "Vacationland" is well-earned. It doesn't take much convincing that this beautiful state should be on your travel dream list, but what you might not know is that the renowned Acadia National Park is just one tiny slice of Maine life.
I grew up in Maine, traipsing around on back roads with my family in search of all the best spots. And I like to say that Maine is the best of New England all wrapped up into one state: stunning mountains, lovely coastal villages, wide open farm country, pristine lakes, rugged coastline, general stores, dark night sky, and historic covered bridges.
There are endless things to do here, especially if you love nature.For a coastal road trip, I recommend driving past Acadia and exploring the many peninsulas and villages along the way to the Canadian border. And if you prefer more outdoor adventure, head inland to paddle your way down the Kennebec River, go camping under the towering pines on the shores of Flagstaff Lake, or tackle Maine's highest peak in Baxter State Park.
Whether you're dreaming of a fall road trip, summer vacation, or off-season winter trip, these lesser-known areas of Maine have so much to offer–and way less crowds!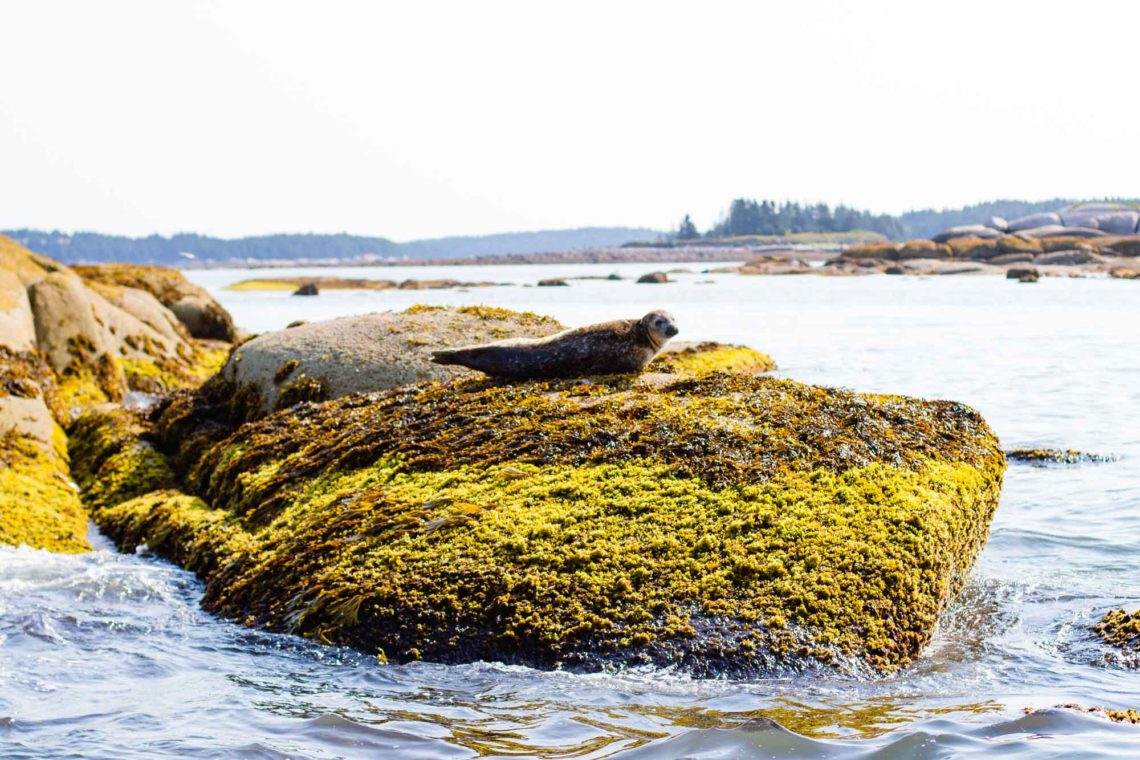 Santa Ynez Valley
The Santa Ynez Valley in southern California, is a fantastic travel destination. It's tucked away, inland of Santa Barbara, about 40 minutes by car northwest of that Mediterranean-esque city. It's a beautiful region that's warm and sunny for much of the year; summer is long and winters tend to be short and mild. The landscape is gently rolling and dotted with vineyards, ranches and fields. The roads are wide and quiet, looping around fields and gently meandering alongside rows of vines. It's these vines that are the big draw for most people that head to the Santa Ynez Valley.
The 2004 film Sideways was filmed here and the region is well known for its chardonnay and pinot noir grapes. There are around 120 wineries, clustered around the pretty towns and villages of Solvang, Los Olivos and Santa Ynez. Many of the wineries open their doors to the public for wine tastings, so why not find yourself a designated driver and head out to the Santa Ynez Valley for a relaxing long weekend!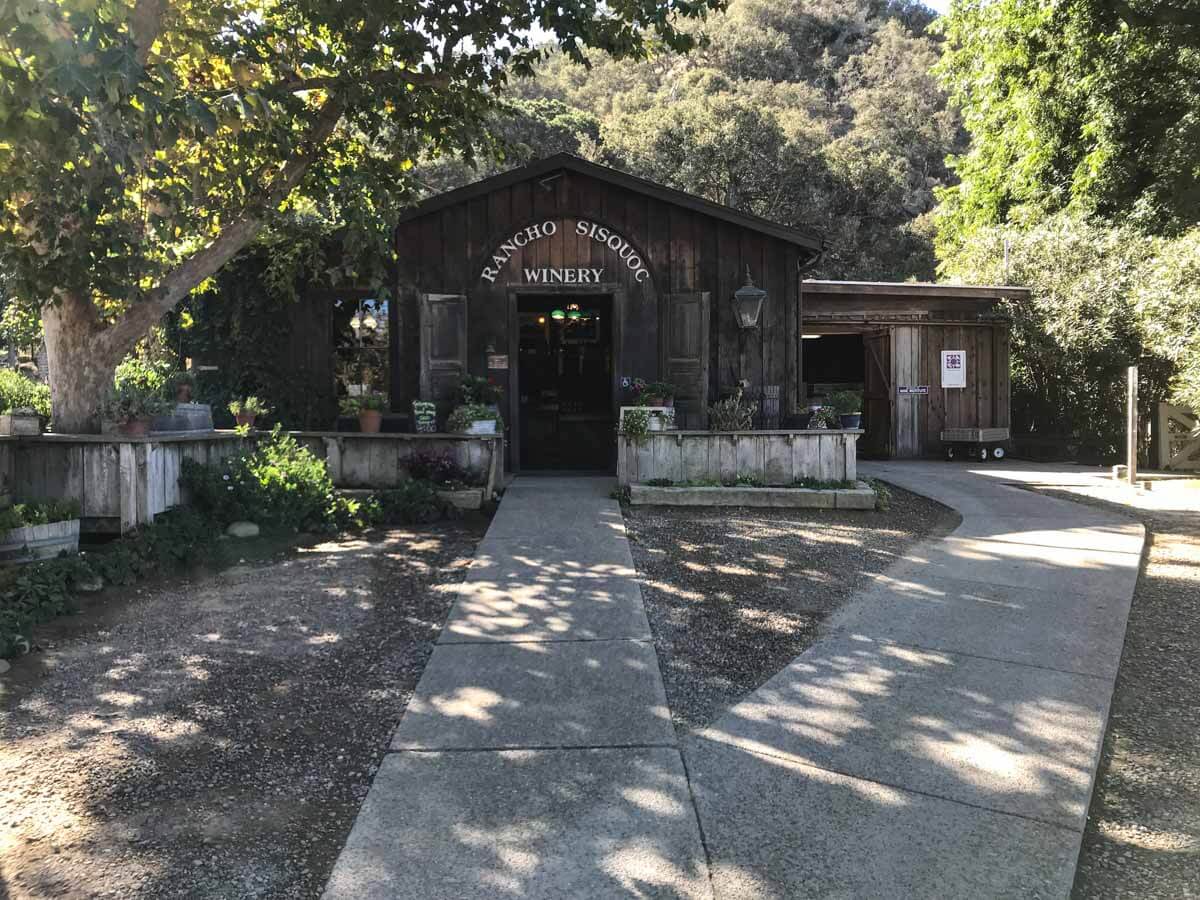 Clare – Epic Road Rides
Bend, Oregon
If exploring the outdoors, drinking good coffee, tasting local beer, and eating good food is on your daily agenda, then Bend, Oregon ticks all those boxes as there are plenty of Bend Oregon restaurants to choose from. Situated on the western planks of the Cascade Range Bend's climate and proximity to the mountains have made climb the ranks of the best mountain town in the USA.
Many locals will tell you that Bend has more than 300 days of sunshine a year and while it's hard to find the source of this claim, you're almost guaranteed to have great weather in Bend during the late spring, summer and fall months. The winter brings snowfall that turns the cascade mountains into a winter playground for skiing, snowshoeing and other snow sports.
When you're visiting Bend you'll want to take advantage of the outdoors. Some great options are hiking to Tumalo Falls, mountain biking Phil's Trail, floating the Deschutes River, or skiing Mt Bachelor. After your daily adventure, you can kick back at a local cafe or brewery and then enjoy some great food in Bend's cute downtown. There are some great resorts in Bend Oregon that you can enjoy during your stay here.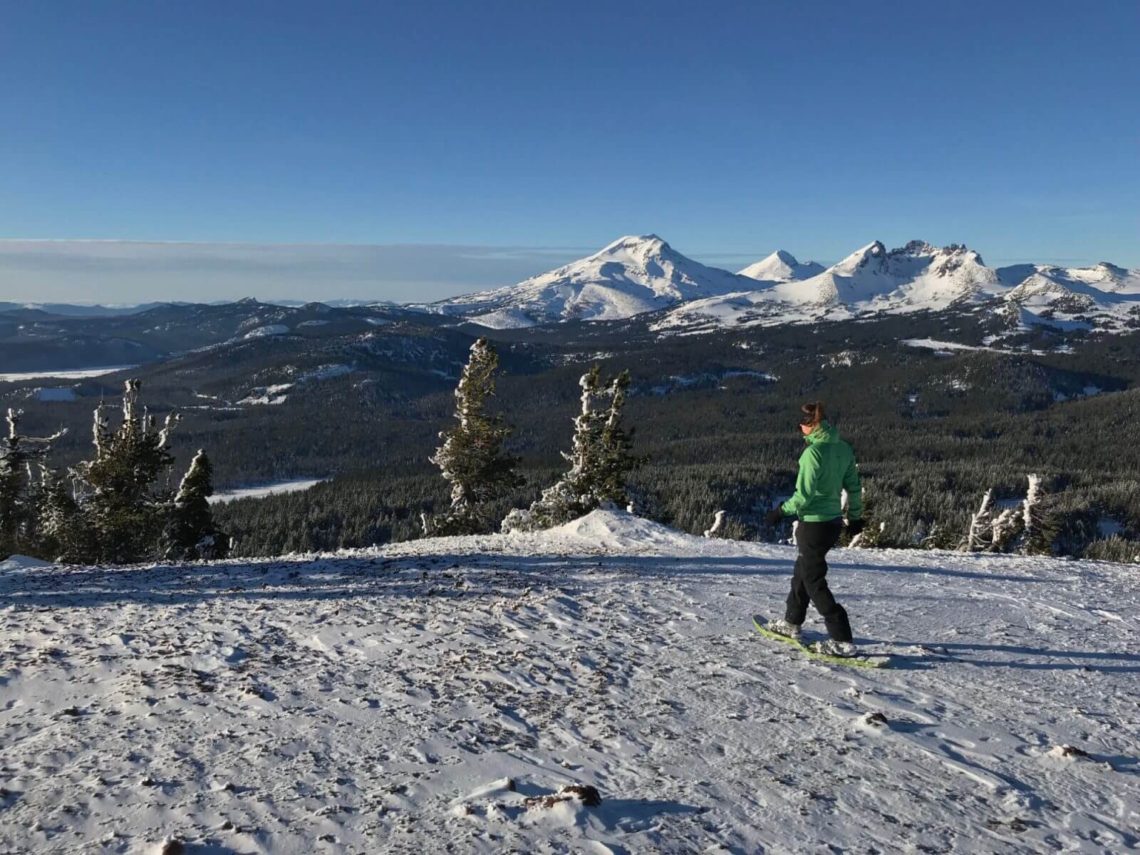 Rand – Bend Explored
Read Now:
This article may contain affiliate links that provide us with a small income. For more information read our Affiliate page.
---
Pin it for later!