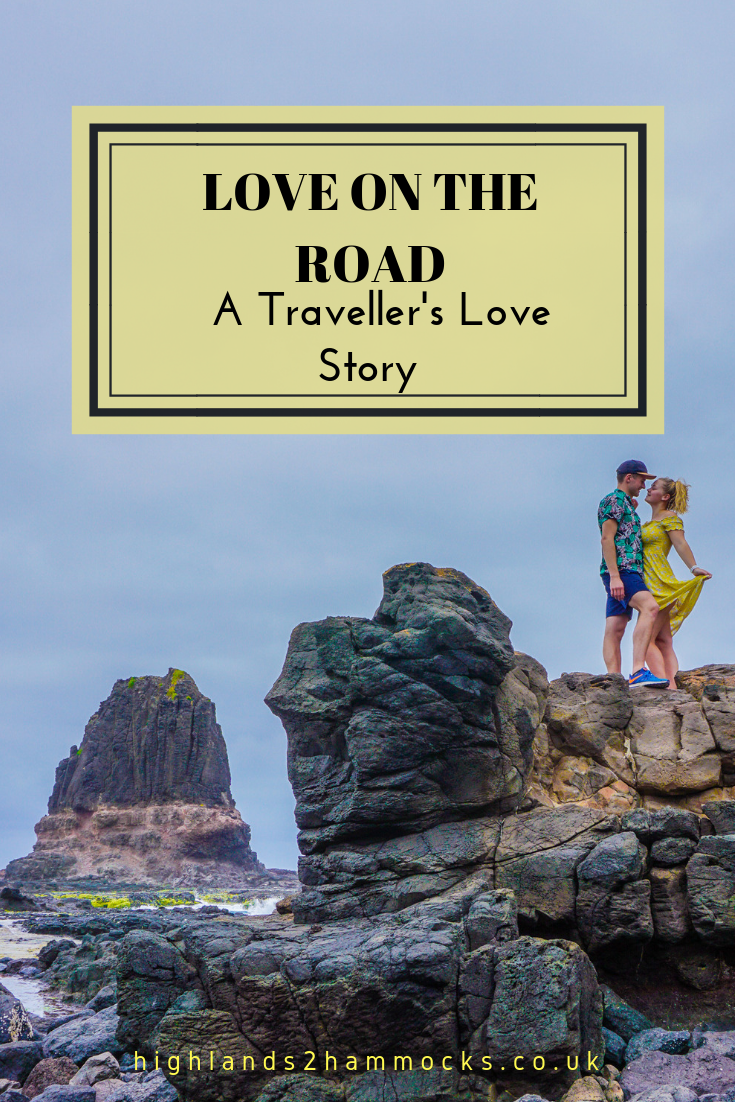 As a story is told time and time again, it becomes increasingly rehearsed and refined. The more it is told, the more passion soaks through its words, staining the letters a deep mahogany, preserving the love that was felt that night for eternity. For any couple, the question "So how did you guys meet?" is exactly this story. The most wonderful story lovers have to tell. This is a traveller's love story.
What is it that brings two people together? A shared interest? A friendly introduction? A happy accident?
The answers to these questions tell you everything you need to know about the couple and where their passions lie. After meeting an incredible number of new friends over the past year, we fell in love with these questions. So much so that we decided to share them with you, so you too can relive the joy of finding a travel partner.
Lets dive in.
Backpacks and Bicycles
Jen and Mel
Mel and I first met at a selection weekend for a job I was applying for in France. I was hoping to get away after a really hard year. Mel approached me over the weekend after hearing my Scouse accent, asking if I was a red or a blue (Liverpool or Everton football fan). Turns out we both supported Liverpool, our first thing in common, followed by many, many more.
Mel worked in the centre in Scotland working and living there. He asked me if I was dead set on going to France, as they would like me at their centre. After meeting him and thinking he was gorgeous we got on so well,  and I said I would be happy to work in Scotland alongside him. Well, the rest is history.
I ended up working with him and we quickly became an item and realised we both had dreams of travelling the world. Fast forward 2 years and we have done just that, got married and just settled into our first home in the form of a caravan!  We seem to be a perfect match and he turned out to be the one to help me more than anything.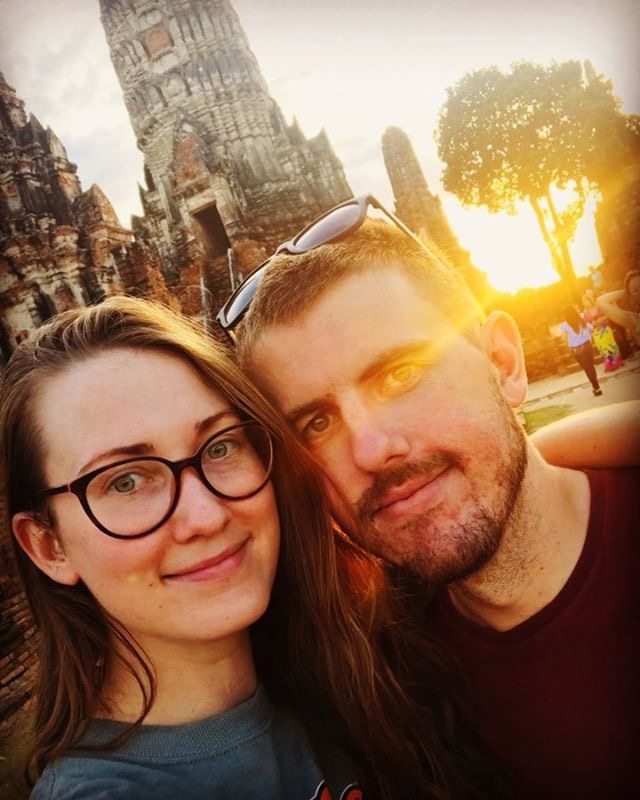 Jen and Mel – backpacksandbicycles.com
The Hunt for Views
Sadie and James
James was a close friend of Sadie's sister in college and came to a Halloween party at their farm. The party was in an outdoor barn decked out with Halloween decorations with a small metal door as the entrance/exit. Sadie is a couple of years older and joined in the fun at the party. James had a Santa onesie on, a left over from last Christmas, and Sadie dressed up as the classic Halloween cat.
A couple of hours into the party, and more than a few drinks later, James came barreling out of the barn. On his hasty retreat, he didn't quite duck low enough and cracked his head on the 5-foot frame (at 6′ 2″, he's pretty tall)!
The cut on his head was quite big with blood pumping out of it. James and some of his friends were brought into the house to clean up the wound and make sure he didn't have a concussion. Being the only only sober person at the party, Sadie offered to take him to the hospital to get it stitched up. It didn't quite come to that, however Sadie did spend the night in the living room with James and his friends, talking and laughing.
After that night the pair of them spent a few weeks meeting up in secret, trying to hide it from Sadie's sister. Eventually it all came together, and seven years later Sadie's sister has just about gotten used to them being together.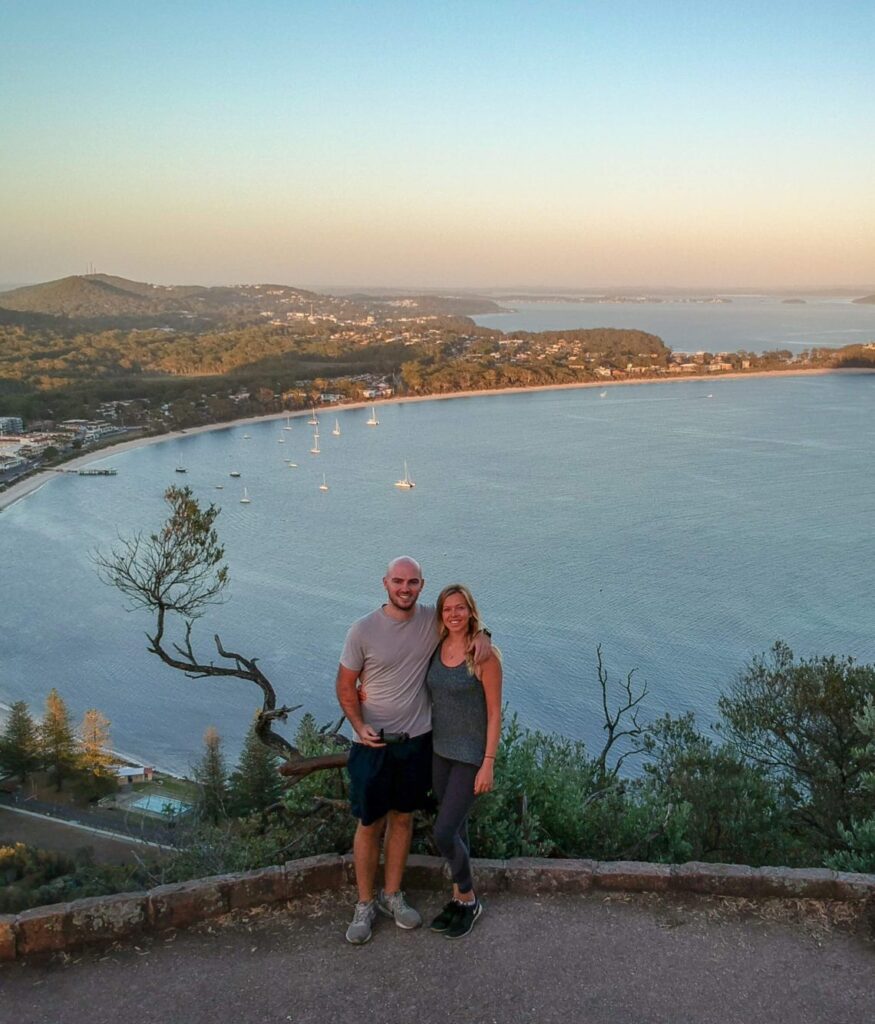 Sadie and James – thehuntforviews.com
Wander In Two
Jamie and Ivana
Our story began in October 2015, whilst we both worked and lived in London. Like every modern day fairy tale our first encounter was when we both swiped right and matched on a dating app, Bumble. The concept of Bumble is when a couple match, the girl has to speak first or the match disappears within 24 hours.
23 hours later, Ivana still hadn't spoken to Jamie..
Not to worry, as Jamie had one last trick up his sleeve. Bumble grants the guys one 24 hour extension, to be used if they feel like this is the one. Jamie decided Ivana was just that, and Ivana finally decided to begin a conversation. That weekend, whilst both out separately with friends on a boozy weekend for the football and rugby world cup, we decided it seemed a great idea to meet up as a foursome.
Some Boris Bike adventures, too much alcohol, some dancing to Justin Timberlake and an after hours chicken shop takeaway later the night was ended as everyone headed back to Ivana's. Thankfully we had seen each other at our worst, and decided it must happen again. After a successful sober date to an Indian restaurant, we decided that our shared love of life, laughter and travel would now be conquered as a couple.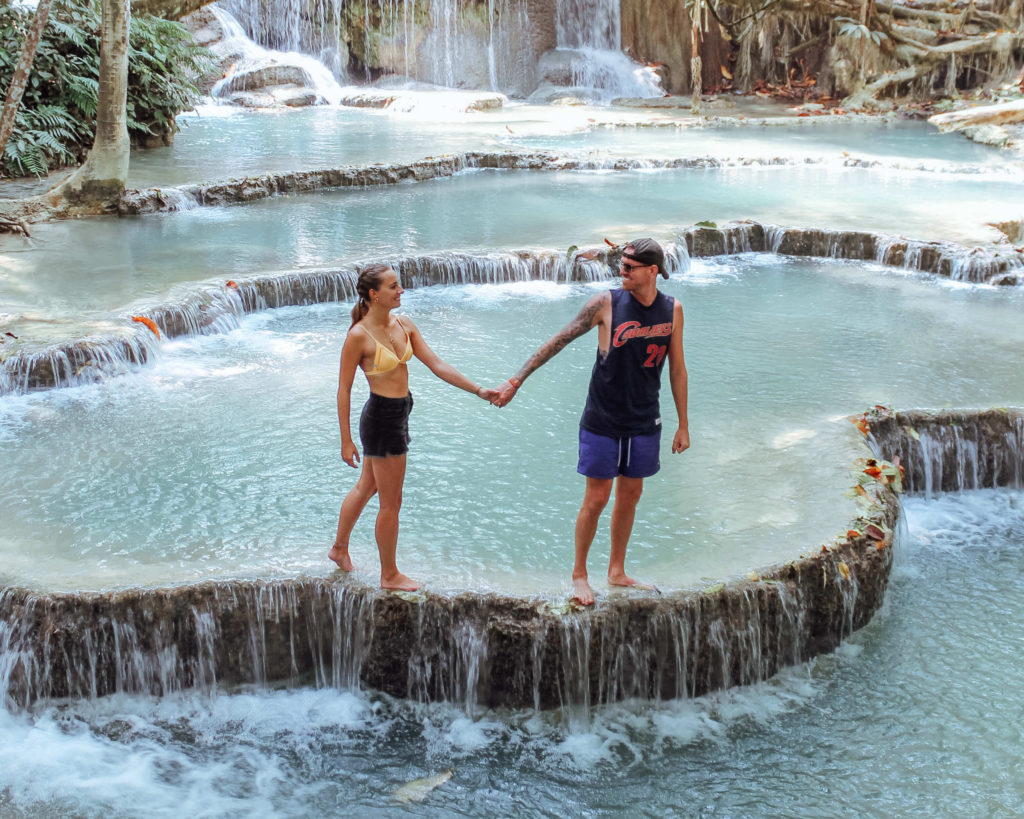 Jamie and Ivana – www.wanderintwo.com
Cultura Obscura
Dagney and Jeremy
by Jeremy
In my twenties I worked in a cinema in England as an assistant manager. Employees often came and went, and we hired a fair amount of different kinds of people. Today, however, was more international than usual.
"Andréas and Dagney?" I asked my boss, as I checked the day's staff list. "Those aren't Norfolk names…"
"Yep," he said. "Lithuanian and American. They're out on the popcorn stand now. Go say hi. I have high hopes for the American. Should have great customer service!"
I made my way out to the foyer.
It's fair to say that I probably couldn't be presented with two more different-looking people. One was the tallest, thinnest man I've ever met, easily almost seven feet tall. Actively moving my neck I was then presented with a four-foot-nine dark haired girl who could barely see over the counter.
They made quite a pair. But which was which?
"Hi, I'm Jeremy," I smiled. "How are you two getting on?"
They looked at each other. She shrugged.
"He does what I tell him," said the now-revealed Dagney.
"Good job. Keep it up," I said. She seemed nice, I thought.
Two years later, we were married.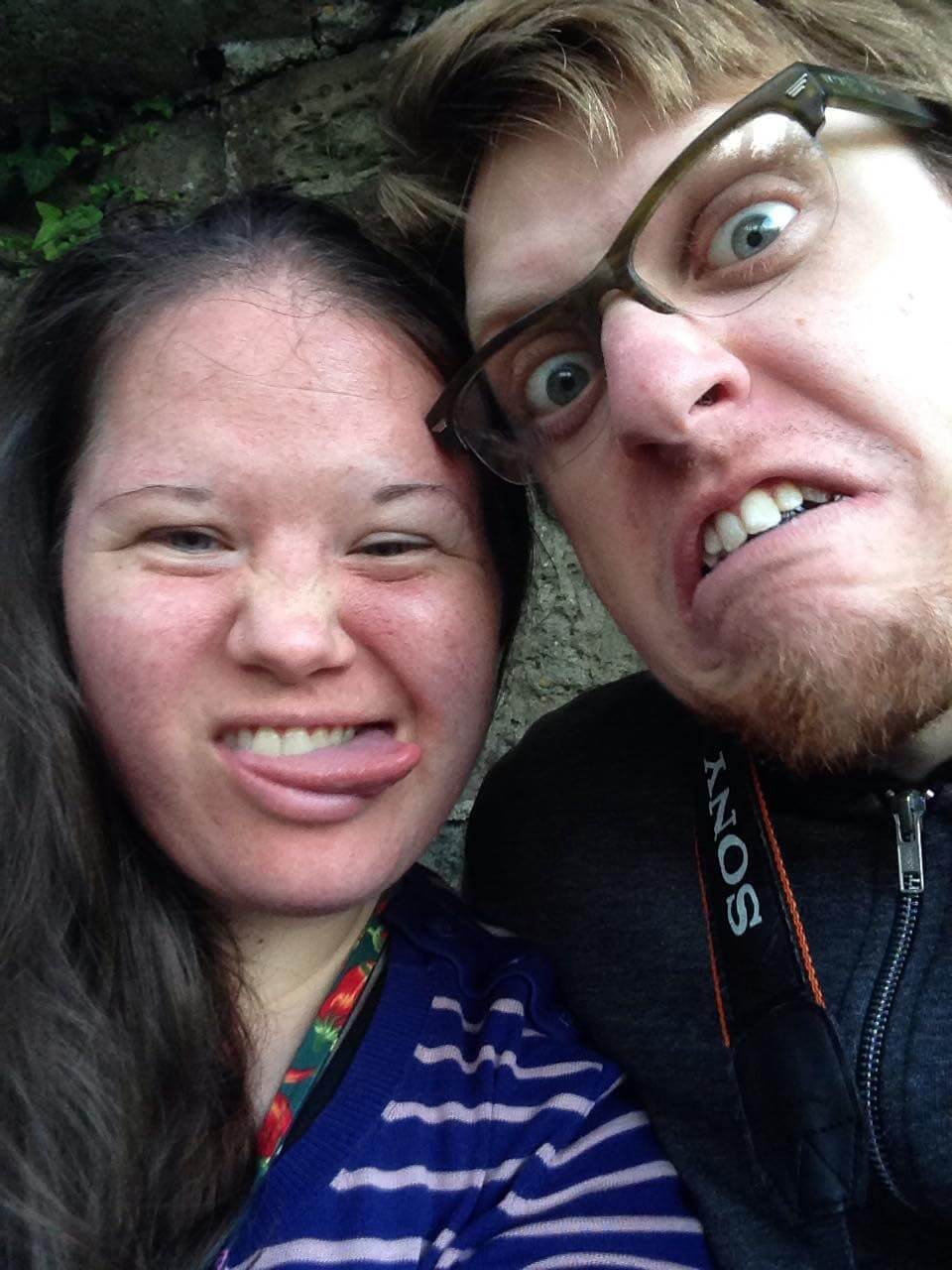 These Foreign Roads
Mark and Kylee
How we actually met isn't nearly as interesting as what happened when we finally got together. However, to tell the story, I might as well start at the beginning.
Kylee and I met at school while we were both studying Culinary Arts. Though we shared very few classes, we had many mutual friends. While occasional flirting would happen, neither of us displayed serious interest or made any advances. It wasn't until one night, several weeks after the flirting began and mutual interest was clear, that something finally did. We were out for a classmates birthday, and a friend and I were chatting over some beer. Kylee casually walked up, with a pitcher of beer and one glass for herself, and sat down next to me.
Fast forward a few weeks
We'd been dating casually since that night at the pub, and Kylee mentions that she has a summer job at a winery, in a different city, ten hours away. She would be going regardless, but asked if I wanted to join her. Even though it had only been a few short weeks, I agreed. Two months later, we hopped in my truck and moved out together.
Since neither of us did the research of finding a place to live prior to moving, we ended up spending the first week or so living in a tiny, two-person tent; in a treeless campground under the sweltering Okanagan sun.
That was 14 years ago. Now we travel the world together.

Mark and Kylee – TheseForeignRoads
Divert Living

'American and Thai fell in love in South Korea'
Jimmy: It all started outside Osan Air base in South Korea. As many single guys do in the army, we avoid cooking at all costs. Every couple of nights my friends and I would get together and choose a new place to go eat. It just happen to be that night would be the start of something new, as we went to Thai restaurant nearby. That is where I met Tah for the first time.
Tah: It all started when I was in South Korea for university. I will be the first to say, I did not really expect to fall in love, especially with an American here in South Korea! It happened in my last semester, I had part-time job during summer break at Thai restaurant near Osan air base and that is where we met! He looked pretty cool, especially in that army uniform.
On that day, I hit on him first by continuously asking him to stop by at the restaurant for some food with me. Food literally connected us and we started to hang out more often.After Jimmy left South Korea to base in America, I had to be in South Korea for my last semester and graduation. It was rough. We endured our long distance relationship for months before finally seeing each other again.
The funny part of our relationship is that we don't have an official date as an anniversary. We don't know exactly when we officially become a couple, it all developed quite organically. For us, love truly comes when we least expect it.
Jimmy and Tah – Divert Living
Touring Tastebuds
Stef and Chad
Chad and I first met in high school, but we never dated until after!
We both transferred from different high schools our junior year, and ended up in every class together. Our first encounter was when Chad asked me what my name was after already having added me on Facebook the night before. I made fun of him and we were friends from the beginning. We got to know each other through group projects, weekend bonfires and football games and stayed friends through the rest of high school.
It wasn't until we were moving hours apart to go to different colleges that we decided to start dating! Absence makes the heart grow fonder! But it's worked out pretty well for us, because It's pretty great to be dating your best friend, that's for sure! Especially when you lived in 180sqft together!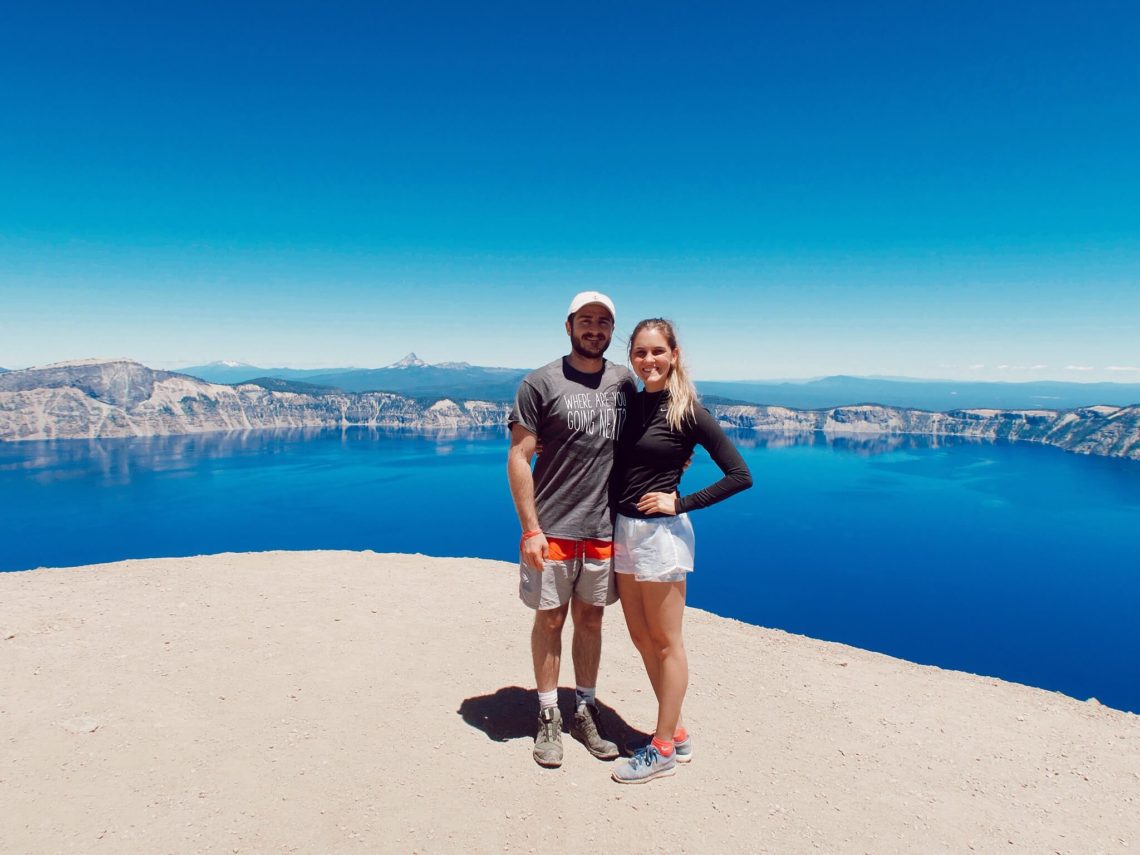 Stef and Chad – Touring Tastebuds
highlands2hammocks
Gemma and Campbell
by Gemma
Prior to even meeting, our entire lives seem to have been intertwined. As kids, we grew up only a mile away from each other, attended the same school (Campbell was a year older) and had many mutual friends. We both grew up competing in sport, camping in the same places, attending the sports clubs in the same centres and pools.. A constant criss-cross of paths, only differentiated by time. It was surely fate that one day our paths would collide.
It would be January 2013 when this would happen.
Doing as students do, we were finding any excuse we could for a night out, and a bevy. It all began in Kushion, Glasgow, a not so regular nightclub for either of us. We were attending as friends of friends, having never held a full conversation with each other before.
Midway through the night, my friend stumbled out of the club, on an adventure of her own. However, apparently it was not such a good one. Soon after she text me, explaining she was lost and needed my help. Standing in the corner on my phone, Campbell saw me and came over to ask what was wrong. After explaining the situation, he asked if I wanted him to come with me. Of course I accepted.
Little did we know, this was our first adventure together, not a glamorous one, but possibly the most important. We wandered the streets for a while before we eventually found my friend and took her home. Although the night was over, a seed had been planted in our minds, one which would change our lives forever.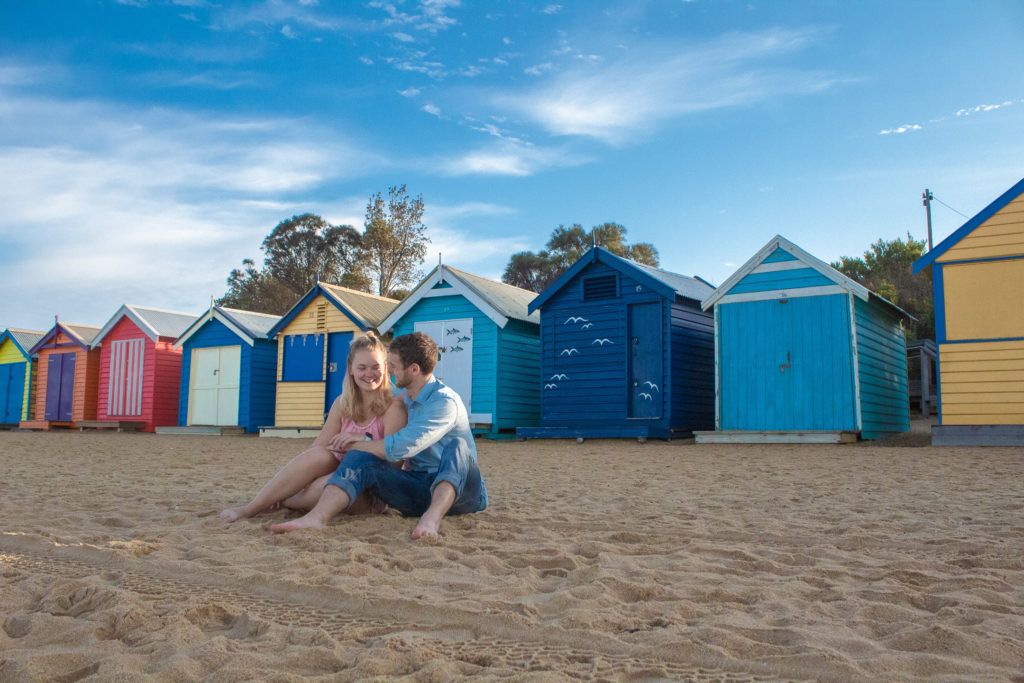 Gemma and Campbell – highlands2hammocks
I guess that is one of the most beautiful things about this life we live. Every path we walk down leads us to a new opportunity, a new choice and a new life. A butterfly flaps its wings and our lives change forever. Who knows where the next love story will come from.
Make the most of every opportunity!
Now Read:
Cheap Date Night Ideas – Romance on a Budget
Europes Top Destinations for 2019
London's Ultimate Full Day Itinerary 
This article may contain affiliate links that provide us with a small income. For more information read our Affiliate page.
---
Pin it for later!