Van life, a way of living that is like marmite, you either live for it or you hate it. Growing up with families who had us camping and out in the great outdoors all year, we weren't strangers to the idea of not having our own toilet or washing with a portable shower. We were always ones to get a little bit grubby in the name of adventure and actually often find ourselves feeling lost without it.
Many of you may have followed our aventures on social media with our converted campervan Roxy in Australia, if not, then we will fill you in on that below. We are currently back home in Scotland and are so happy to announce that we are back to van life! 
No time to read now? No problem, save a pin to your Pinterest board for later!
A little back story..
In 2013 we backpacked Australia together and rented a campervan to drive up the east coast. Ever since, we had a really strong desire to convert our own campervan and travel around Australia.
Fast-forward 6 years to 2019 when we purchased our own Toyota Hiace van to live in whilst we travelled around Australia and convert into our own. Being in Australia with no real base for tools and with the plan to make a quick 3 month trip back home to visit family in Scotland, we were lucky to have help from Gemma's family in Australia to help us convert Roxy.
We left Roxy with a friend in Melbourne as we travelled home to surprise our families for Christmas not knowing that the world would change and we wouldn't be able to get back to Roxy.
Going on another two years to 2021, it still isn't clear when Australia will open up for international travel again and we are itching to get back on the road, using the lack of international travel as the perfect excuse to explore our beautiful home country in a way we have never done before.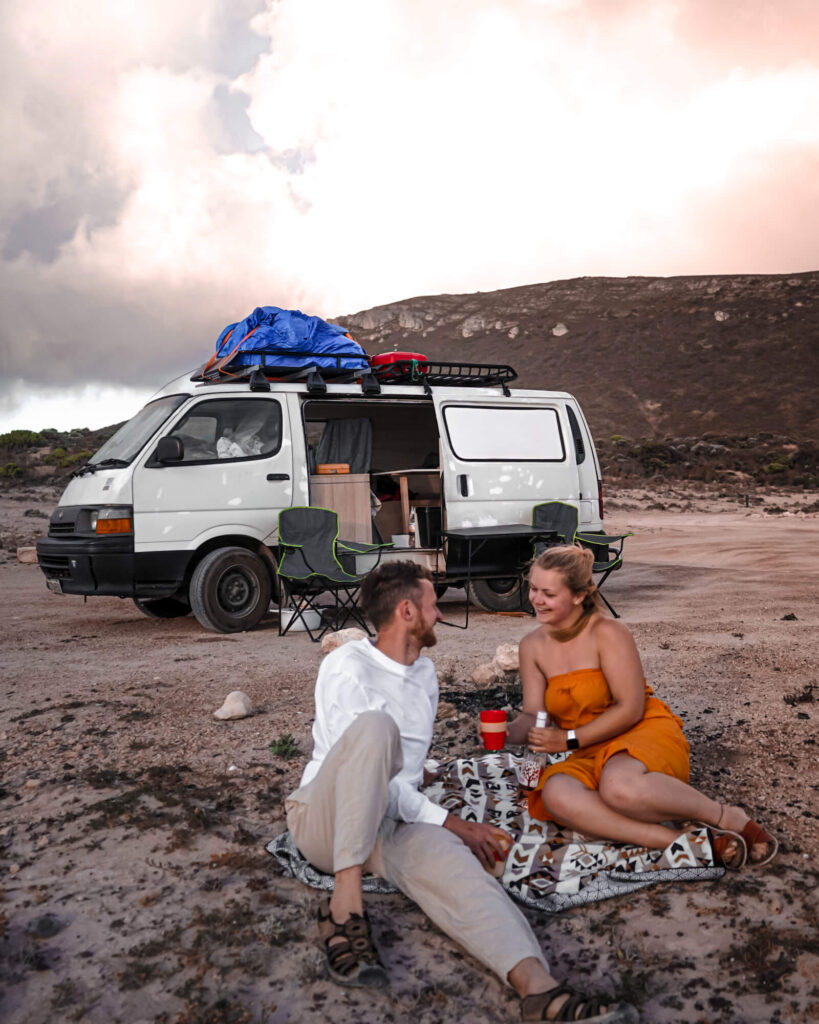 What have we been thinking?
Our favourite way of travelling if definitely by van. We just love that we can't leave the house without anything because we always have our house with us! So it was a no brainer that whilst we were in Scotland, we wanted to get a van.
If you have had a conversation with us in recent months about buying a van, then you are most likely shocked by our decision to buy a motorhome. We have been round and circles so many times over the past few months about what we wanted. Ideally, if we had all the time in the world and the space to do it, we would love to have converted a van and this was something we were still considering until recently. 
Due to summer quickly approaching and us wanting to be on the road by then, we started to look into pre-converted campervans, trying to find a layout similar to what we would have created ourselves. Converted campervans are typically more aesthetic have have the big doors that open out to amazing scenery.
Due to staycations being advised this year, it seems that everyone and their nan has chosen van life as the way to holiday in 2021, meaning the market for vans was extortionate! 
The story behind the motorhome
On our travels back north to Scotland from Guernsey, where we lived for the past 16 months, we met up with our friends Kelly and Adam from The Wilder Route who have been living in their motorhome for 3 years. And just like that, we were instantly converted.
Meet Ellie
Ellie the Elddis Autoquest, our new home on wheels. After spending time with Kelly and Adam in their motorhome we could just see so many advantages of this way of living already, especially as we were planning to living in the van full time and work on the road.
We plan to live in Ellie for the foreseeable future, until we can easily travel internationally again. In that time we hope to turn the UK inside out, exploring some of the most scenic places as well as places off the beaten track. Then who knows, we may even take her across the water with us!
Over the past month we have looked high and low across the country for the ideal van. Looking at certain layouts that we preferred. We decided to take a little break from looking and head up north for a little retreat in Aviemore more when bam, we were notified of the perfect van becoming available only an hour away from Aviemore. 
This van was located in Inverness, it just seemed like the stars had aligned and we had to go and view it.
We viewed the van that day and fell in love. There was a couple of things that didn't meet our list of would liked, however, the alternative layout had us sold. We were excited to say we would put a deposit down and painfully waited 6 days to hear back! 
The van had to have some repairs before sale meaning that we were hanging around with no collection date and just eager to pick up our new baby!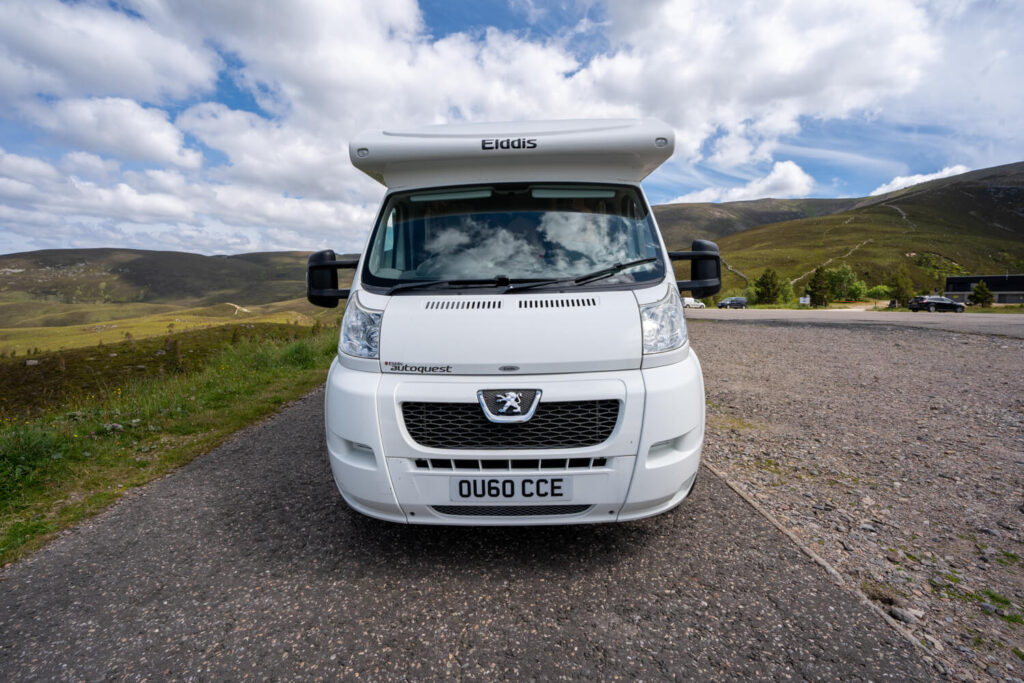 Why a Motorhome?
The question on everyones lips.. when we could have converted a van or bought a converted van, why did we choose a motorhome?
Flexibility
We were desperate for a van to get on the road this summer. When we left Guernsey we had great intentions of buying an empty van and converting it ourselves. Due to the high demand, converted vans were so expensive and so many of them charging a fortune when it didn't even have the amenities we would like.
Realistically we would not have had the time to convert a van ourselves in time to hit the road this summer.
Amenities
Living in Scotland's temperamental weather, we wanted an indoor toilet and hot shower. Both of these were a priority for us.
Mobile Office
Another priority was for us to have a fixed bed and a separate work area. Living in Roxy in Australia, we soon learnt that needing to build the the seating area up everyday meant that  somedays we just left the bed out all day.
Kitchen Space
We also wanted the space to cook and store food as we know that we might want to head off grid for a few nights. An oven also became a priority for us and not many converted vans that we saw had this.
Storage Space
We like to think we're minimalistic, but in reality we still carry a lot of stuff. I use the word stuff as I am not sure it's all completely necessary but anyway. We needed a lot of storage to store everything we needed to head off grid and live in our van.
It was also key that we had the room to move around in the van and that we had plenty of windows to make the space nice and bright. 
Other Van Accessories
Whilst talking about the windows, it was also important for us to have good mosquito nets to keep the crazy midges out. All of our windows have roller mosquito nets and blinds.
We would have loved the big rear door that a camper van offers, however when comparing everything that we wanted, the motorhome stole the show for us. 
We have spent the last week planning some alterations we want to do to the van and packing up our lives into this tiny home on wheels. We are moving into Ellie full time this week and we are so excited to take you along on the ride with us, the good the bad and the ugly, we will be sure to share it all!
Make sure you stay tuned on our Instagram and Youtube so you don't miss out on the action! See you on the road!