Road trip Essentials that you cannot live without when living the van life. After living in our low-roof Hiace campervan for over 6 months, working farm jobs and exploring the remote and desolate Australian countryside, we know what is required for a van road trip.
Don't get caught out on your next adventure. Don't find yourself in the middle of the outback without the proper equipment. This checklist of items will help you to ensure that things run smoothly and comfortably on your next epic adventure.
Save this picture to your Vanlife Pinterest board for later!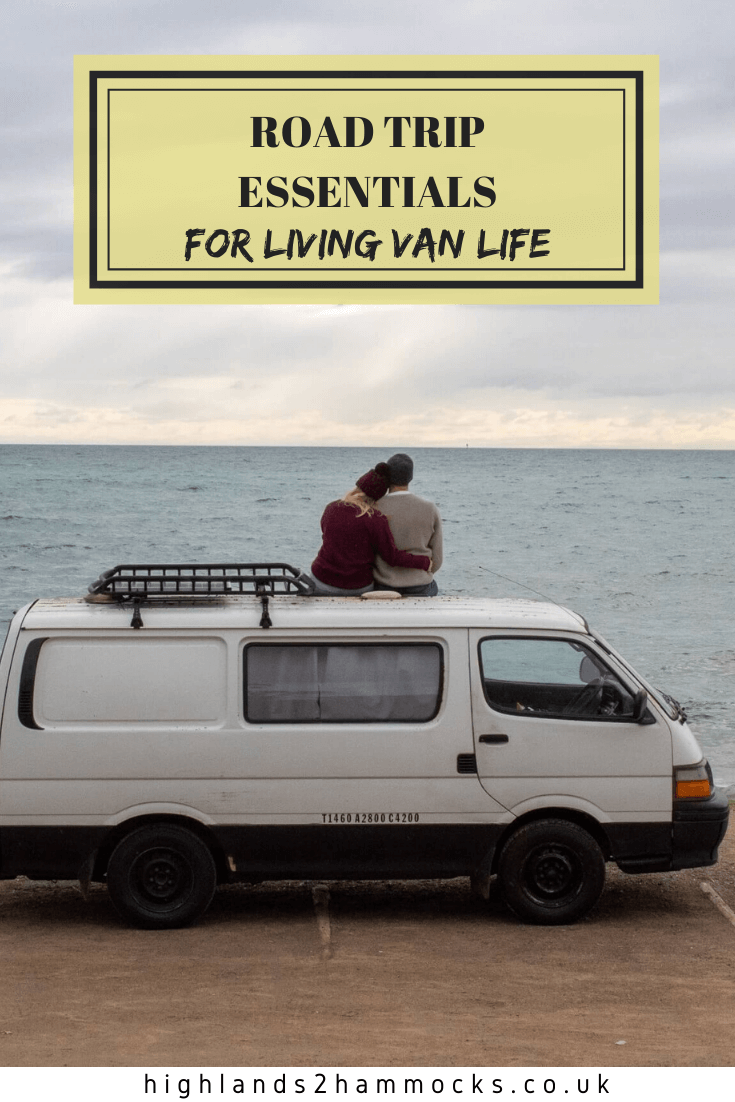 Come along on our beach tour of Guernsey in this video. Make sure you subscribe to our Youtube channel for more by clicking here!
Roadtrip Essentials for Van Life – The Things You CANNOT Live Without
Portable Shower and Bucket
If you are wanting to explore off the beaten path, this is something you won't be able to live without. Fill up a bucket with some cold water and add a pot of boiling water. If you are touring when the weather is warm, perfect, you can shower outside and you might not even need that pot of boiling water.
If you are road tripping in the cooler months of the year then this can be more challenging, however, it is certainly not impossible. Many toilet cubicles at the side of the road have concrete floors and gaps at the bottom of the door. If this is the case, take a quick shower and sweep the evidence of your water out the door. Make sure you have a nice warm towel for after if you do this in winter.
Mosquito Nets
If you don't want to get bitten alive when you are travelling, you are going to want to get enough mosquito nets to surround your van. In the warm weather, they will come out in full force and enjoy hiding out in your van as much as you do. Make sure you also have some mosquito repellent to keep the mozzies even further away.
Razor Kit
This might sound like a strange essential, however, if you are on the road long term, cutting your own hair is a great money saver. Hair trimming kits are cheap to buy and after a few YouTube tutorials, you'll make an excellent barber. If you do not have a leisure battery to run the electric clippers then the best thing to get is an inverter that plugs directly into the cigarette lighter.
For 6 months, we cut each others hair whilst we explored the abandoned outback and coastal regions of Australia, where the nearest barber was hours away. It is a liberating experience, being in control of your own haircut!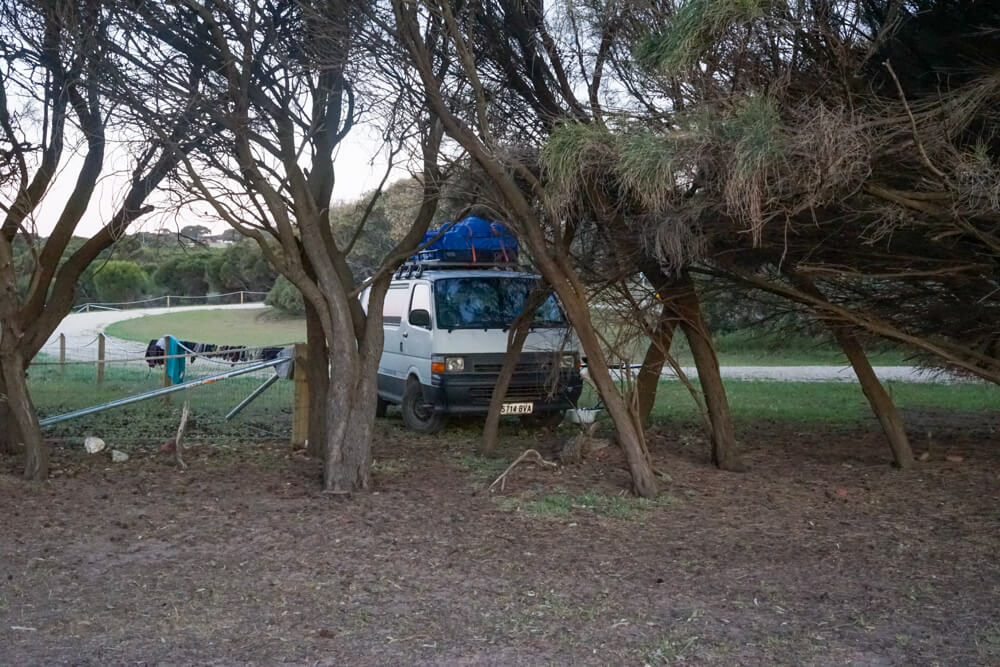 Jerry Can for Fuel
When travelling a large country, such as Australia, it is always useful to carry a jerry can for extra petrol. You never know when you will come across the next garage for fuel, so it is always a good idea to have an emergency supply and to also know how far that can take you.
If you are reading this whilst travelling Australia, check out the app Petrolspy. This app has helped us find the cheapest fuel around the country and saved us from paying a lot of extra dollars.
Extra Water Can
The same thing can be said for water, you never know when your next water stop will be and finding water in Australia can be quite a difficult task. It's always a good idea to carry around 25 litres of water, as well as additional for washing dishes and showering. This will ensure you have at least a few days supply of drinking water in case you become stranded.
If you are in Australia, you can use an app called WikiCamps which will tell you where you can find drinking water, as well as camping spots and other amenities. It is well worth the $5/year.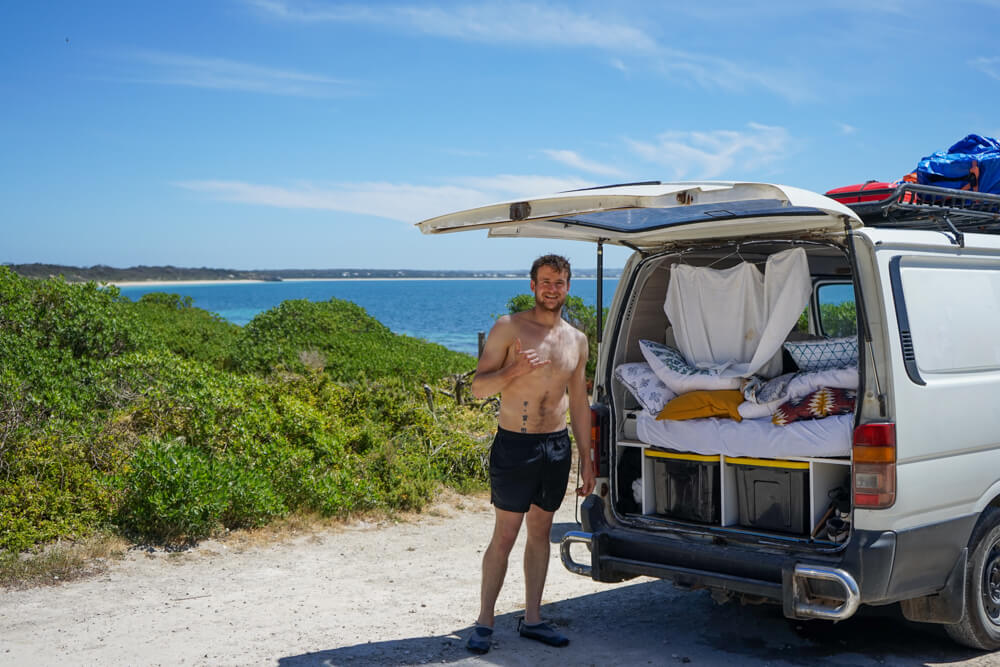 Sewing Kit
Living off-grid means getting down and dirty with nature. It can also mean having a limited supply of clothing and nowhere to get new clothes. For this reason, it is always a good idea to carry at least a needle and thread around to repair clothing.
The number of clothes we've had to sew and repair since living on the road is crazy and by having a sewing kit, this has saved us a lot of money.
First Aid Kit
An obvious necessity for any adventure is a basic first aid kit. If you are travelling far from civilisation, you could be miles away from the nearest hospital. With a first aid kit, you can attend to basic first aid whilst you wait for help.
This first aid kit should be tailored to the type of trip you are heading off on, such as types of bandages, medicines and possibly anti-venoms. Research the area you are intending to visit for the possible dangers and stock up on the necessities.
A very basic first aid kit should always contain:
Pain relief
Plasters (normal)
Blister plasters
Triangle bandage
Thermometer
Antiseptic cream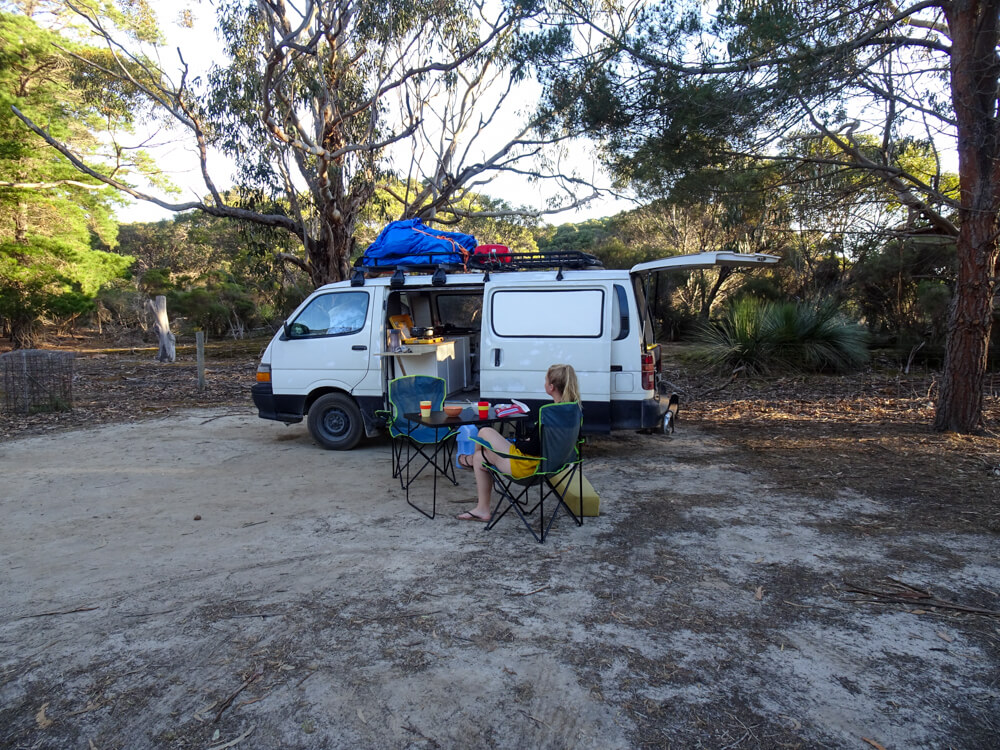 Phone Holder
A phone holder is a lifesaver for a road trip. When you don't know where you're going, maps are a must-have and with a phone holder, this will make your drive a lot more comfortable.
The best phone holders we have found are one that suction onto the windscreen and are easily adjusted.
Rechargeable Battery Pack
When you head off on a road trip, don't forget to pack a battery pack. Most vans will have a port of some sort to charge with a USB, however, having a battery pack for power when you park up is a must. Even if your van has a leisure battery, a battery pack will come in handy when you leave your van for a day trip or in case the battery dies.
Hand Sanitiser
We always carry hand sanitiser with us and going on a road trip is no different. Easy way to clean your hands when you are not near a tap.
Toilet Supplies
Road tripping can mean that you may not always be able to find a toilet. If you are in the middle of nowhere there are a few things you will need to carry to make sure you leave your surroundings how it looked before you arrived. It is recommended that you bury your waste at least 50m from any drinking source and dig at least 20cm deep.
toilet paper
shovel
hand sanitiser
Picnic Rug
How else can you have a picnic without something comfortable to sit on? If you don't plan on using it for that then at least you've got it for an extra layer on those cool nights.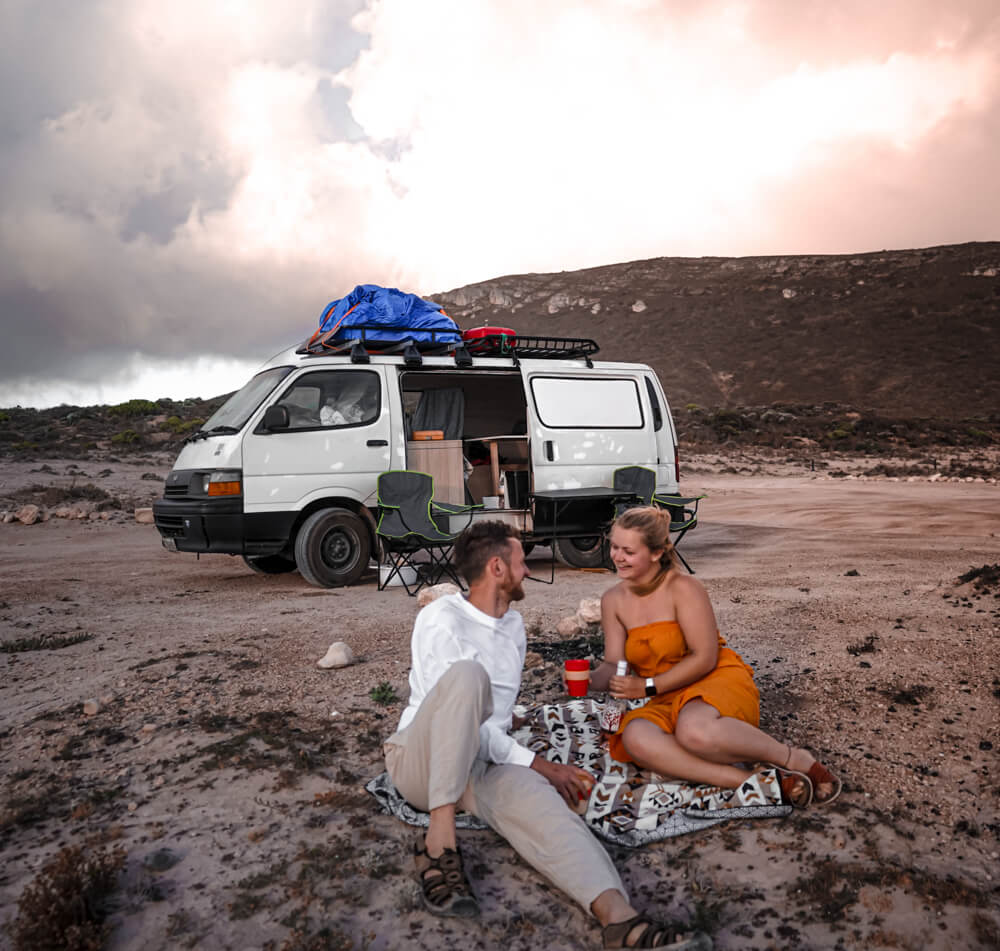 Mosquito Repellent
Travelling in the summer months? You will be quickly turning back and heading home if you forget this bad boy. I'm sure if you have been outside in the country during the summer evenings then you will know exactly what I am talking about.
If you are travelling to a hot country, you will definitely want to leave the doors open when you can. In this case, a mosquito net is also a good idea, to prevent any unwanted visitors during the night. I'm itching just thinking about it..
Jump Leads
We learned the hard way with this one, carry jump leads with you. Some old vans will leave lights on when you turn your engine off and it can be so easy to make that mistake when you're tired and then return to a dead battery. By then it's too late and you just need to hope that someone else has some.
Or even better, it is possible to buy a self-starter kit that plugs directly onto your battery and gives your van a jump without another person. This is obviously the preferred option for exploring more isolated regions when you don't see other people for hours at a time.
Reusable Water Bottle
On a long drive, you must have a Reusable water bottle with you. This is key for hydration and if you have a Water-to-go bottle, then you can fill up from anywhere you like as long as you use your filter.
With WatertoGo, it doesn't matter where you get your water from, as thanks to the advanced carbon filtration system, water drank through the bottle is as clean and as fresh as treated bottled water. We used this bottle during our two-month trip to Indonesia, drinking directly from the tap and even from local streams with no issues.
Read our full review of the bottles over here for all the information you will need on these bottles.
Use our discount code HH15 for 15% off your purchase.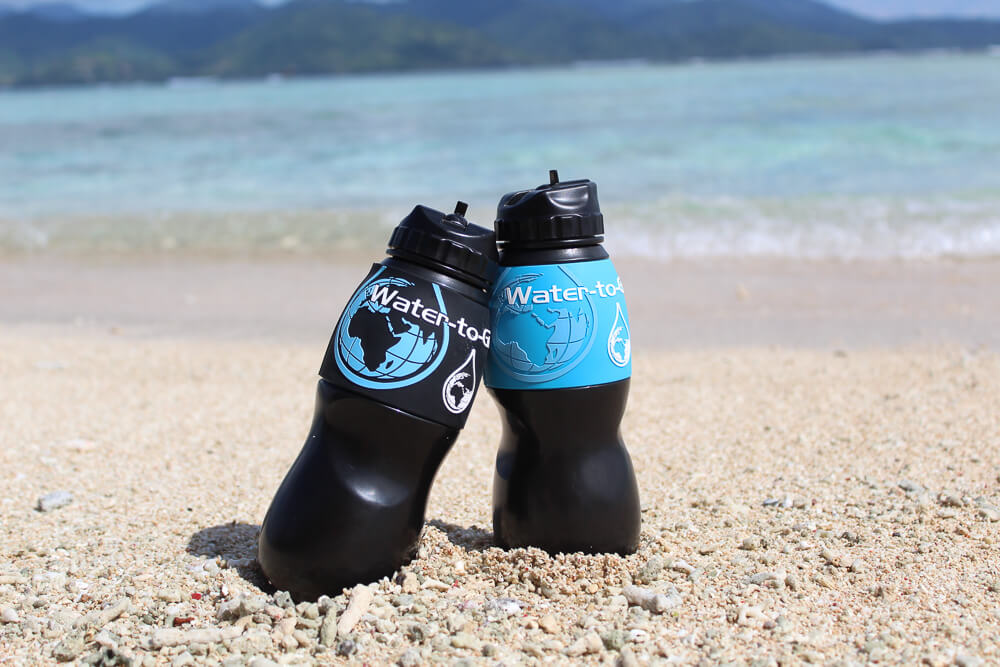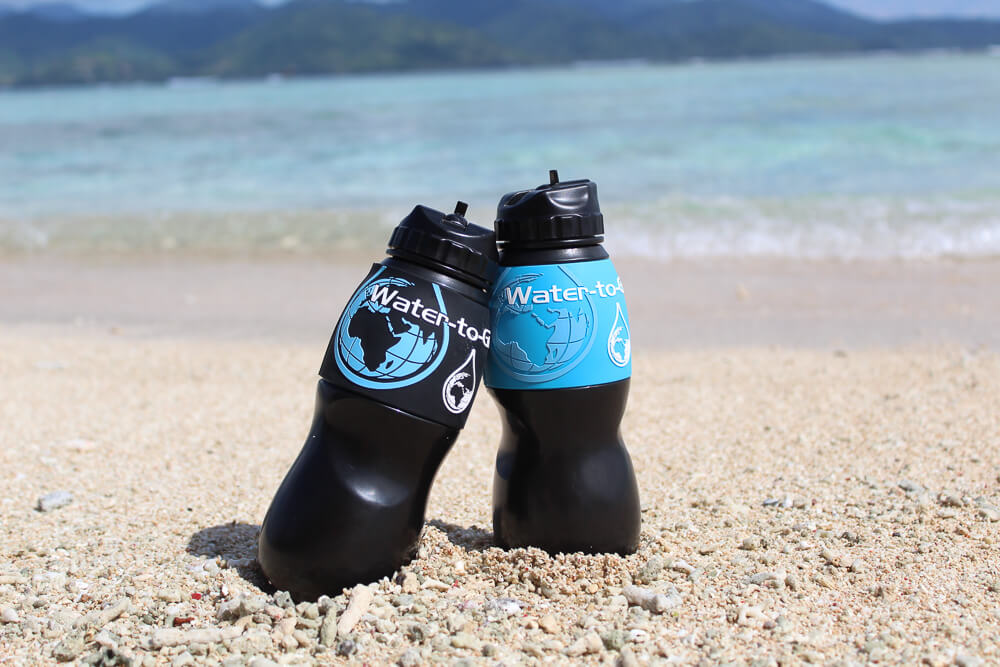 Spare Tyre
We learned the hard way with this one too after our tyre randomly exploded on the road whilst in the middle of nowhere in South Australia. Thankfully we had road cover and they could help us fit our spare tyre, but always very handy to have one in case something like this happens to you.
Headtorch
When you find yourself faffing about in the dark with a torch on your phone that's quickly running out of battery, you will realise why it's so important to carry a head torch. A cheap and easy piece of equipment that will make cooking in the dark a much easier activity.
Head torches are also perfect for any night time adventures that you might want to do. We personally use a basic head torch that takes batteries, with most modern LED head torches lasting months before running flat.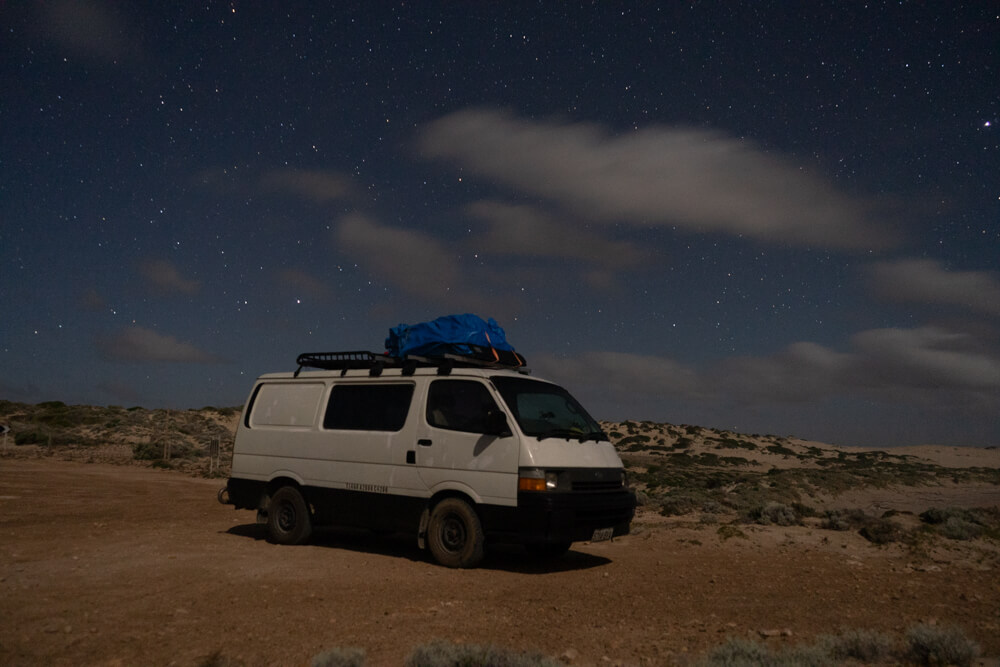 There you have it, the road trip essentials you must pack when living the van life. Some of these items you may think aren't that important, however, it's always better to be safe than sorry and have them anyway. Where are you planning on road tripping? Let us know in the comments below and fill us and others with more road trip inspiration. We love to chat!
If you enjoyed reading this and think your friends and family would too, please make you sure you share it with them, sharing is caring.
Come and say hey to us on social media and see where we are in the world. Feel free to tag us in your photos so we can share them with our community. If you are looking for some road trip inspiration, be sure to check out the rest of our Australia content before you leave.
Now Read:
This article may contain affiliate links that provide us with a small income. For more information read our Affiliate page.
---
Save this picture to your Vanlife Pinterest board for later!