Situated just north-west of Glasgow is one of Scotland's most famous landmarks, Loch Lomond. Along the banks of this loch you will find breath-taking views, incredible walks and a route directly into the vast wilderness of the West of Scotland. By hitching a bus from Glasgow city centre, you can be at the foot of this beautiful loch in an hour and a half, or if you are lucky enough to have a car, you can reach it in just an hour, high road or low!
Save this image to your Scotland Pinterest Board for later!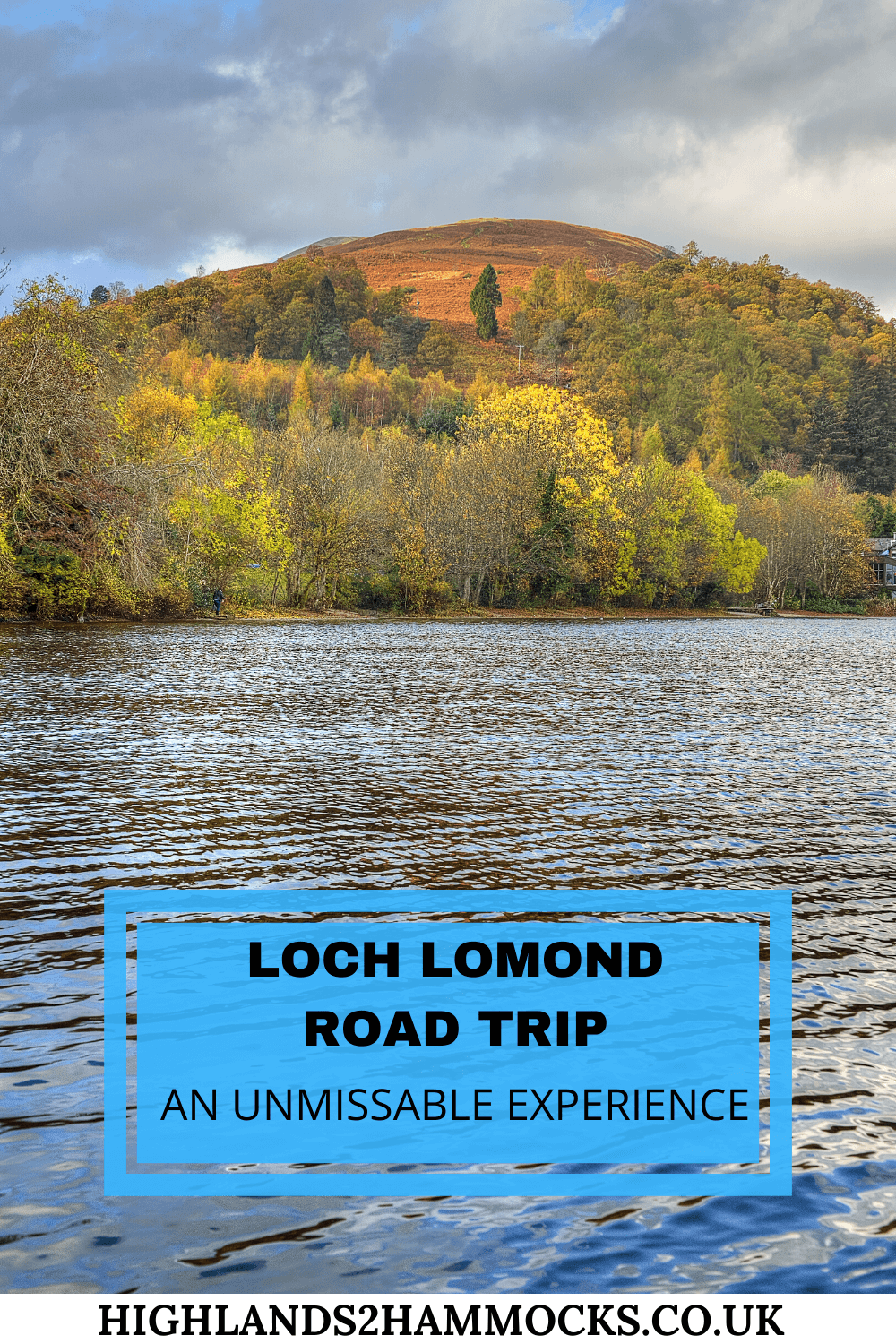 Come along on our road trip with us on our Loch Lomond video. Make sure you subscribe to our Youtube channel for more!
Loch Lomond RoadTrip – An Unmissable Trip
There are so many beautiful locations to stop off at on a Loch Lomond road trip. You will find yourself pulling over at the side of the road at any opportunity to get a photo of the picturesque views. It is one of those places that must be added to your Scotland itinerary. Below are the places we will go into more detail:
The Devils Pulpit
Loch Lomond Shores
Balloch
Luss
Inveruglus Pyramid
Falls of Falloch
Bridge of Orchy
The Devils Pulpit
The final stop of the day is perhaps the most impressive on the entire Heart 200 road trip, the Devils Pulpit. This 100ft gorge lies within Finnich Glen and is like nothing you will have seen yet on this trip. Once you are down within the gorge, you are transported to a different world, sheltered from the above weather and sounds, surrounded by thick, mossy walls of mud, the only noise being that of the blood-red river that flows through the pit.
This pit has been known to the locals for years, however, it was made famous more recently when it was used in an episode of the world-famous TV show, Outlander. Quite fittingly known as "The Liars Spring", the water gets its red colour from the sandstone of the gorge, which makes it a very photogenic and worthwhile place to stop off.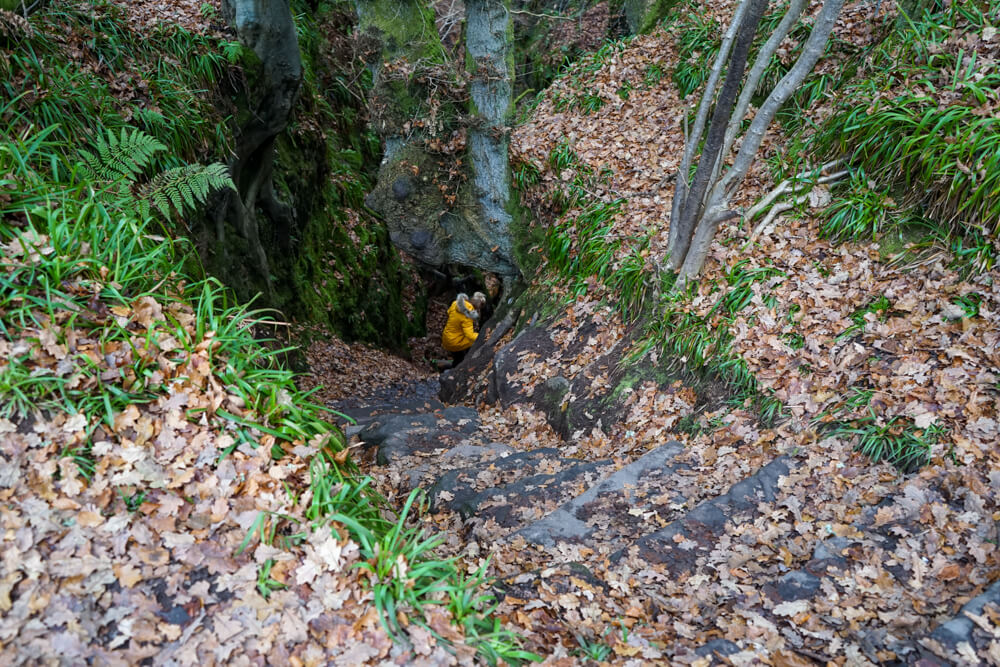 First things first, if you plan to climb down what is called the Jacobs Ladder to get into the gorge you will want to make sure you are prepared, as this spot can be dangerous, slippy and very muddy. This means wearing sturdy, waterproof and excellent gripping shoes. It also helps to wear clothes that you do not mind getting dirty, as chances are you will slip into the red mud.
To find the Devils Pulpit, you will need to look out for more natural signs, as there is not much sign postage for the Devils Pulpit. You can park up in one of the two laybys at the side of the road for free, both of which are shown on the map below. Be aware that this road can be busy and cars can come around the corner at some speed, so take your time when walking around this area.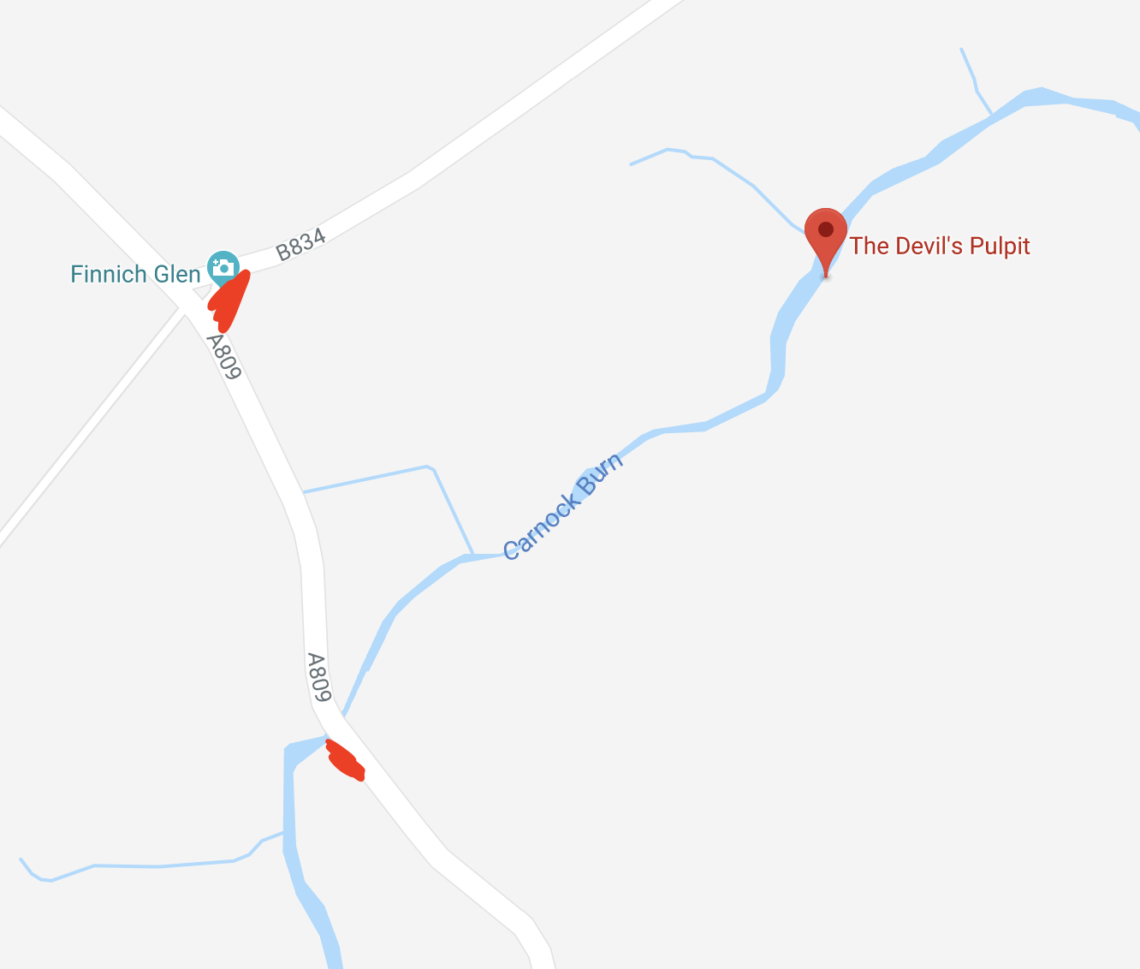 If you wish to view the waterfall, you will need to wade through parts of the water to get further upstream. We took our shoes and socks off to get through the water, however, it was freezing. If you have a pair of wellies then you would be best to wear them for this part. There are some parts of the water that are extremely deep, so please be careful if you choose to wade through the water.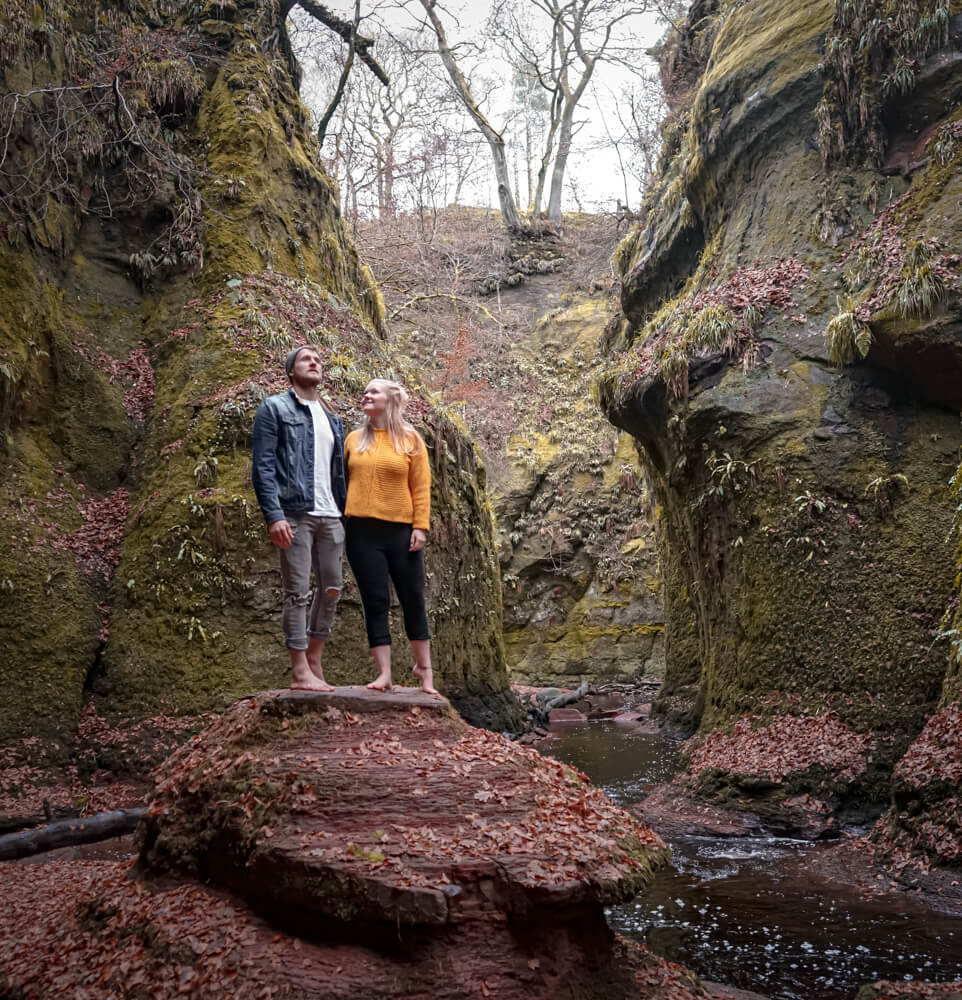 Loch Lomond Shores
After a half an hour drive southwest along the A85, you will enter into the Loch Lomond and the Trossachs National Park. Here you will find that at certain times of the year there are camping restrictions in place to prevent damage to the land and over camping.
During the months of October to February, you will be able to wild camp as you would in other areas of Scotland. However, between March and September, there are bylaws to protect the land. These camping management laws affect only 4% of the Loch Lomond & The Trossachs National Park. To camp in these areas, you must purchase a permit or stay on a campsite.
A permit will cost £3 per tent or motorhome per night. View all of the areas and purchase your permit here.
Make sure you know the rules of wild camping and what to pack for your wild camping trip.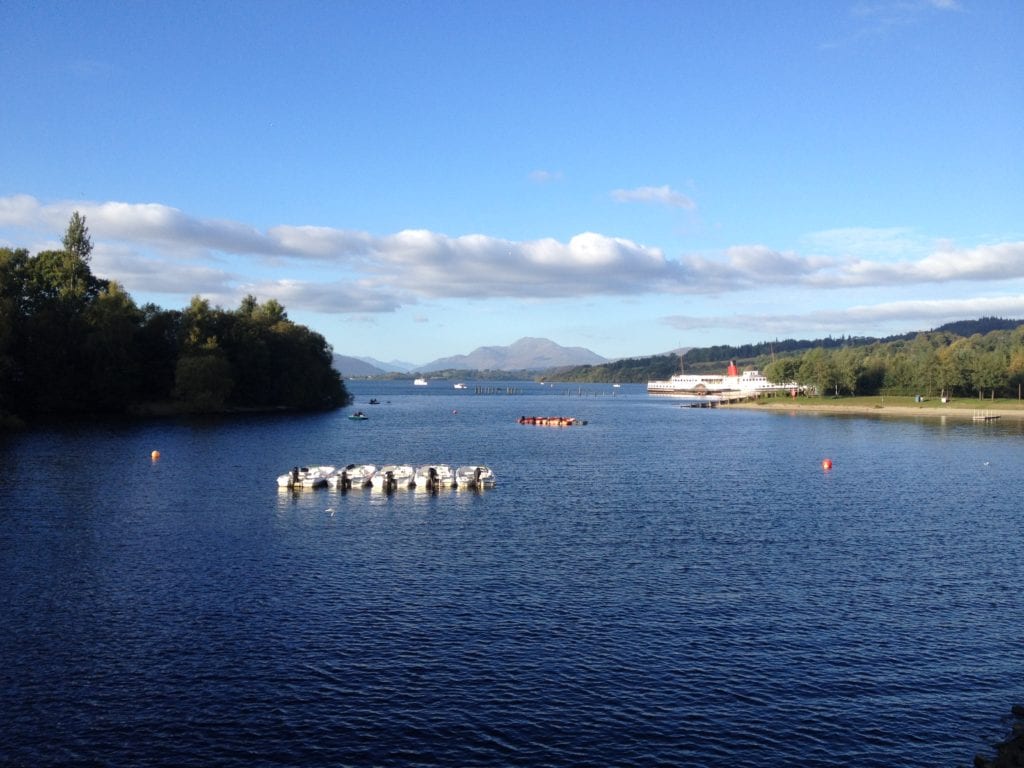 Loch Lomond Shores is at the South of the National Park and is one of the most popular tourist spots due to its close proximity to Glasgow. There are restaurants and cafes here as well as a small shopping centre. Loch Lomond Watersports are also based here who provide a wide range of water sports equipment to hire, suitable for all ages and abilities. There are seasonal markets on along the Loch and childrens amusements to keep the little ones entertained too.
Due to the number of amenities at Loch Lomond Shores, this does mean it is popular among the tour buses and it can become very busy, especially in peak season. 
Follow the path round past the watersports to find a small rocky beach. This is often the quietest spot and we have spent many hours soaking up the stunning views up the loch and watching the ducks.
Other Activities at Loch Lomond Shores are a Sea Life Centre, Loch Lomond Bird of Prey Centre and Treezone, an aerial adventure course in amongst the trees suitable for both childrens and adults.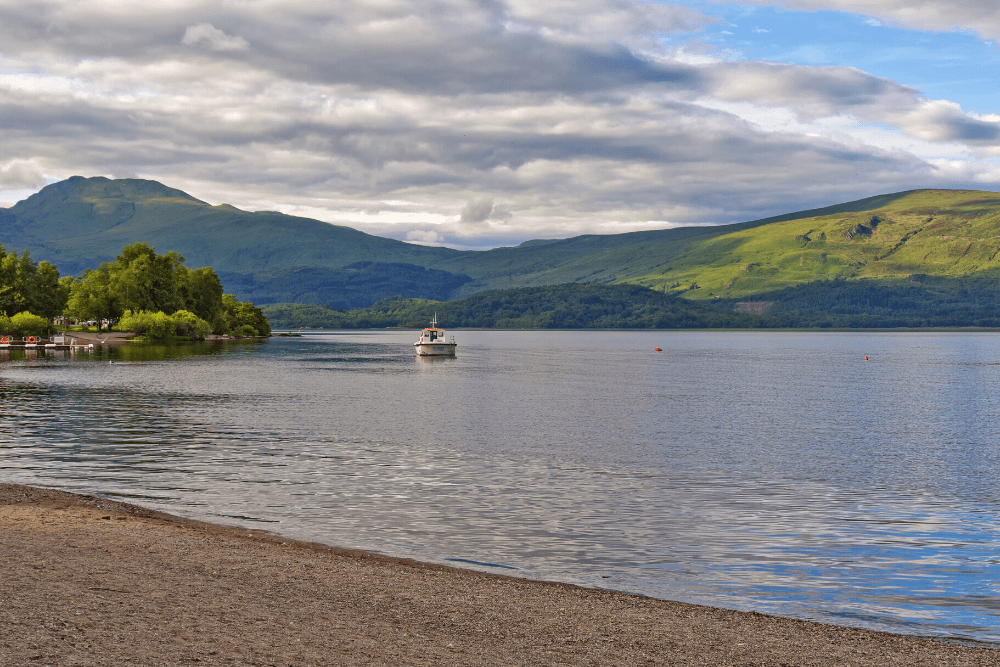 Balloch
Balloch is a small village on the south of Loch Lomond and is easily accessible from Glasgow or Edinburgh via train. There are some restaurants and small shops on the main street of the village, as well as many walks in the area. Balloch Castle country park has a tarmac path around the loch for 3.5km. This is an enjoyable walk that only takes around an hour. 
Luss Beach
Luss is a small town sitting on the Western shore of Loch Lomond. This is an incredibly popular stopping point during the summer months, with tourists piling on and off of coaches all day long. Luss has a small beach, which is a lovely place to enjoy the views of the loch, as well as for a walk to stretch your legs.
You may also need to pay for parking at Luss, depending on the season you visit.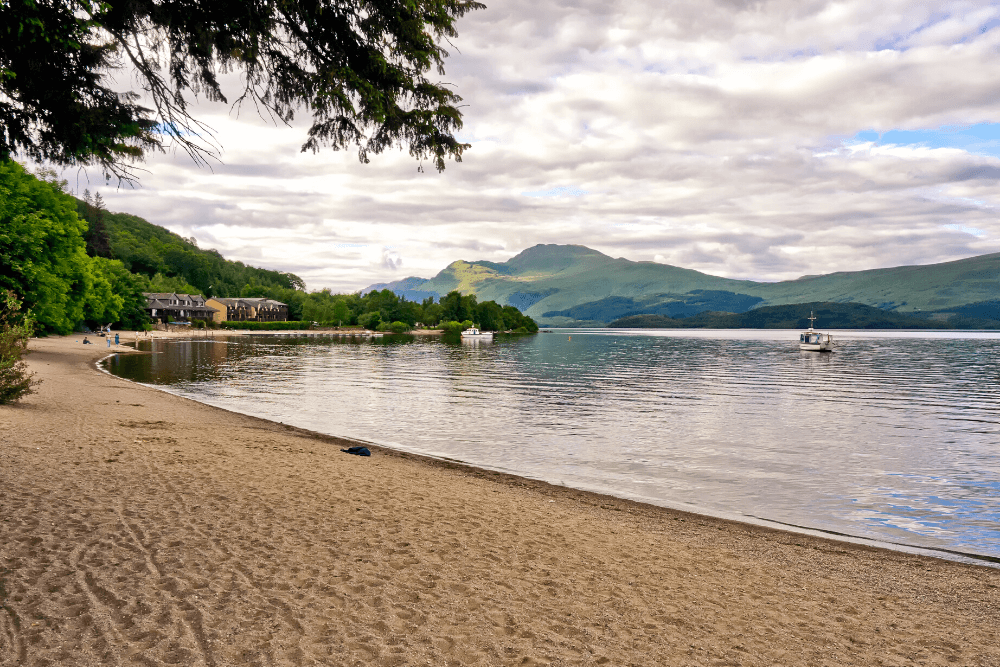 Inveruglus Pyramid
Inveruglus is an underrated spot in Loch Lomond and one that we have spent many days and nights at over the years. Halfway down the western banks of Loch Lomond, there is a rocky outcrop of land, upon which you will find the Inveruglus visitor centre and the Inveruglus Pyramid.
When you reach the hydro-station on the left and another pit stop on the right, you have reached the Inveruglus Visitor Centre. Here you can wander through the small forest until you reach the water's edge for an unforgettable view down the loch. This is one of our favourite spots in the world, with hidden paths that lead out onto the perfect spot for a BBQ on a still night; nothing but the sound of lapping water and magical views as the sunsets.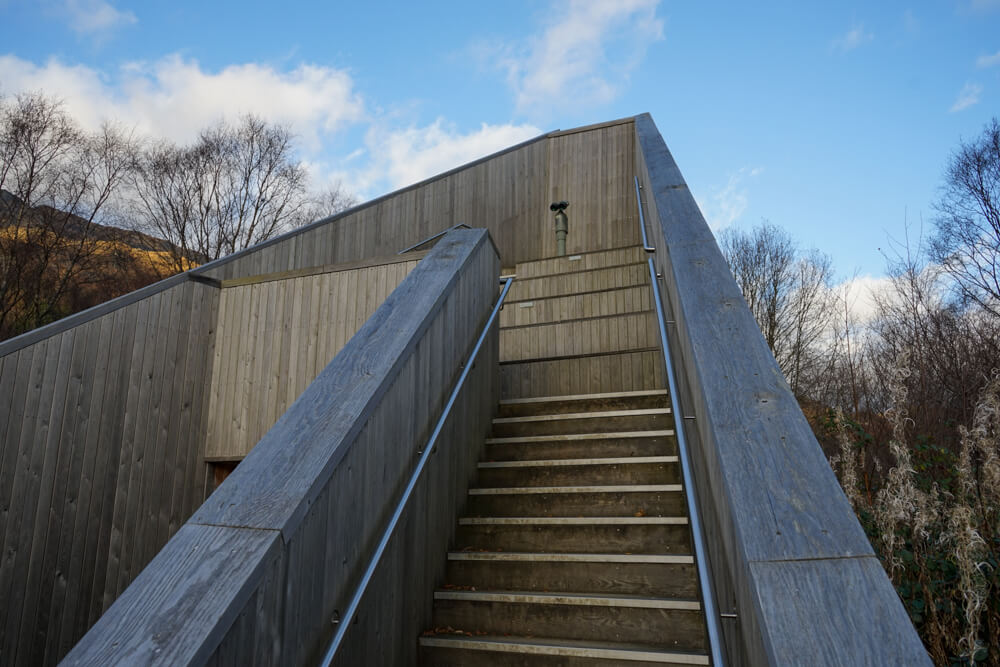 This is one of our favourite spots on Loch Lomond due to the magnificent view it has over the loch. The view here is in fact so good that there has been a newly installed viewing platform, known as the An Ceann Mor, or the Inveruglus Pyramid. This 8-metre structure has stairs and easily accessible seating on its southern side, as well as a free set of binoculars at the top allowing for a better look at the islands over the loch.
If you are up for a bit of adventure during your visit to Luss, the nearby beach is the perfect place to try out stand-up paddle boarding during the warm, summer months (or even winter if you are brave). If you are looking to buy your own SUP board, we can recommend looking at what boards and equipment BlueFinSUP have to offer.
You will need to pay for parking here if you visit during peak season. The ticket machine will display whether or not you will need a ticket to park.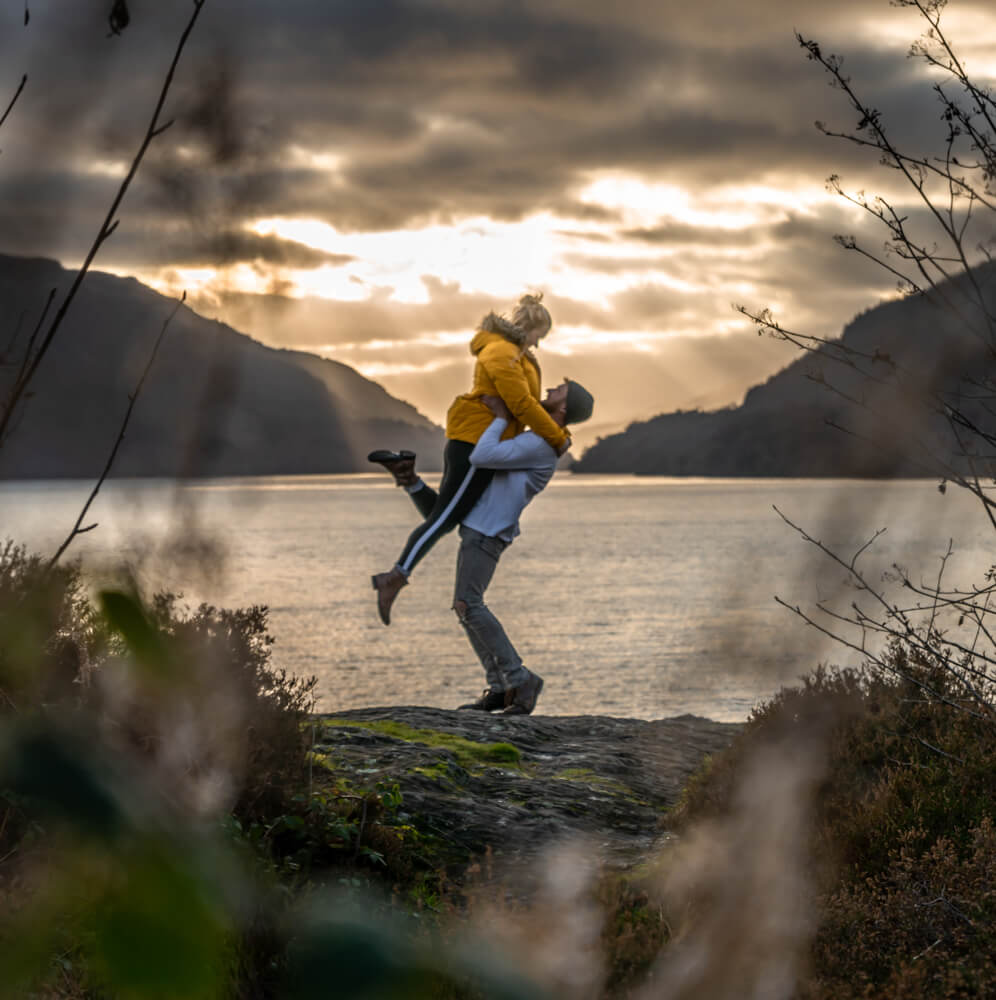 Falls of Falloch
The Falls of Falloch lies a very short walk along a path from the car park and is an extremely impressive waterfall in this part of Scotland. There is a viewpoint out to the waterfall or you can view from the edge. If you are feeling brave, pack your swimsuits and get ready for some rock pool swimming. This is a very popular watering hole during the warm summer months in Scotland.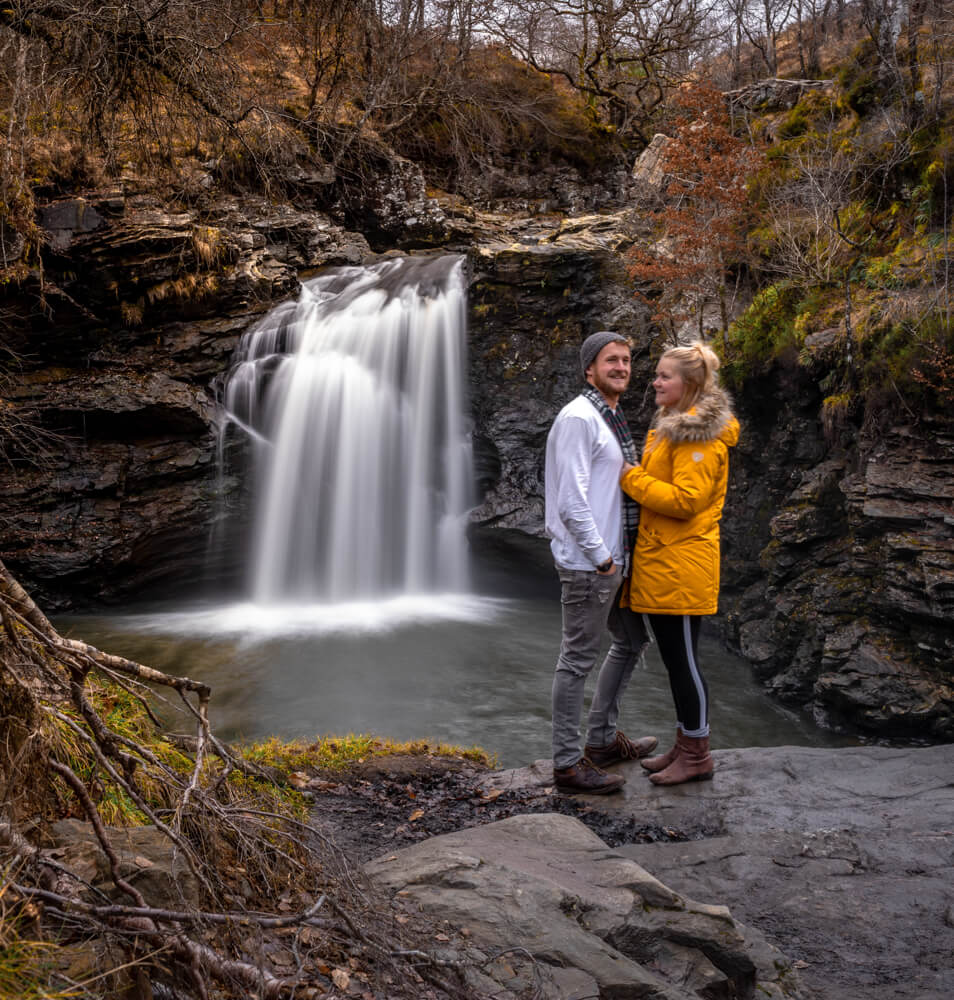 Bridge of Orchy
By carrying on to the North end of the Loch you will find small pubs, seemingly in the middle of nowhere, and cosy campsites as the West Highland Way joins the road. North of here lies Bridge of Orchy, Glen Etive's Kings house hotel and the humbling Buachaille Etive Mor. It is down the adjacent glen that James Bond's Skyfall was filmed and is the perfect place for some wild camping. The drive to Bridge of Orchy passes by the Kings House where the wild deer will come and stop in for the visitors to feed them. On a sunny day with blue skies, the drive along the road is almost life changing. Definitely one of the most beautiful parts of the world you will see.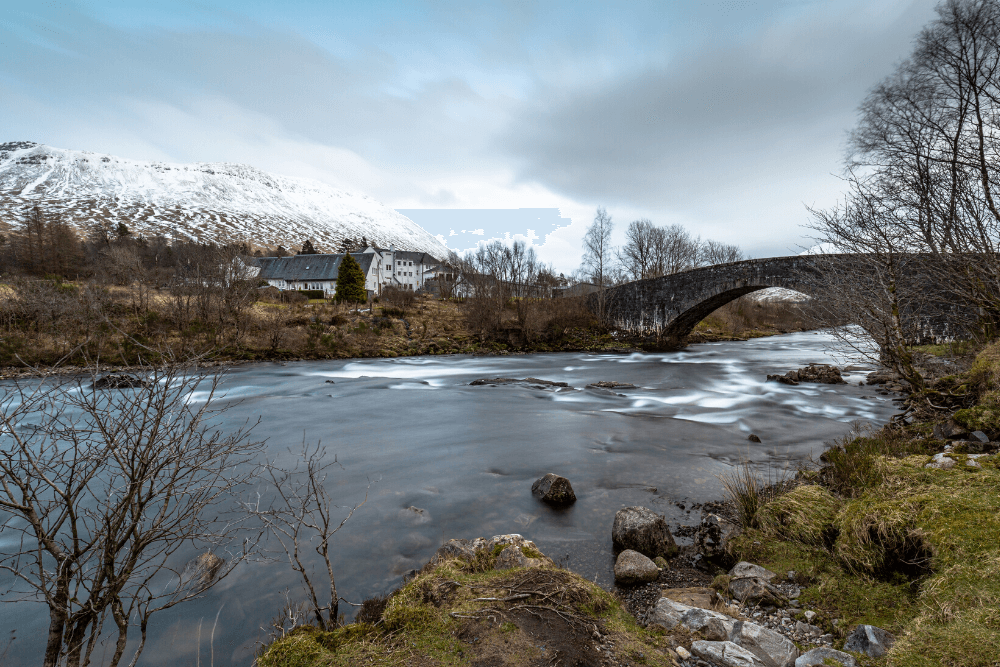 We have been lucky enough to camp in this beautiful part of the world on a couple of occasions. Clear night skies and no one around gives a spectacular view of the stars and an eerily silent nights sleep. UNLESS you happen to go camping during rutting season…
In October 2015, Gemma and I decided to go camping for a weekend to Bridge of Orchy before the winter frosts came in. We were setting up the tents and could hear the very faint calls of stags in the distance. "Awesome" we thought, having heard about the wondrous shows of nature the rutting season brings, as stags fight for dominance.
That night our tone quickly changed! What started as a faint whisper of a call turned into a fog horn all through the night. I swear the deer were fighting within 10 meters of our tent, they may as well have stuck their heads in the tent they were so noisy! Sleepless night but amazing memories!
How to Prepare for a visit to Loch Lomond
Before you set off on your adventure around the Scottish Highlands there are certain things that you need to prepare to ensure a smooth and enjoyable journey. These include what insurance is the best insurance to get and what to pack for a trip to Scotland, all of which is discussed in more detail below.
What is the Best Travel Insurance for Scotland
Without a doubt the least enjoyable part of preparing for any adventure is purchasing travel insurance, however, it is something you do not want to be without. Accidents happen to everyone and unexpected medical bills will ruin your trip if you are not covered.
To ensure you have a stress-free trip with no worries about potential medical bills, make sure you cover yourself when you travel. We recommend using World Nomads travel insurance, a backpacker-friendly and cheap insurance company that provides good coverage and support.
Get a quote for your travel insurance right here and get covered.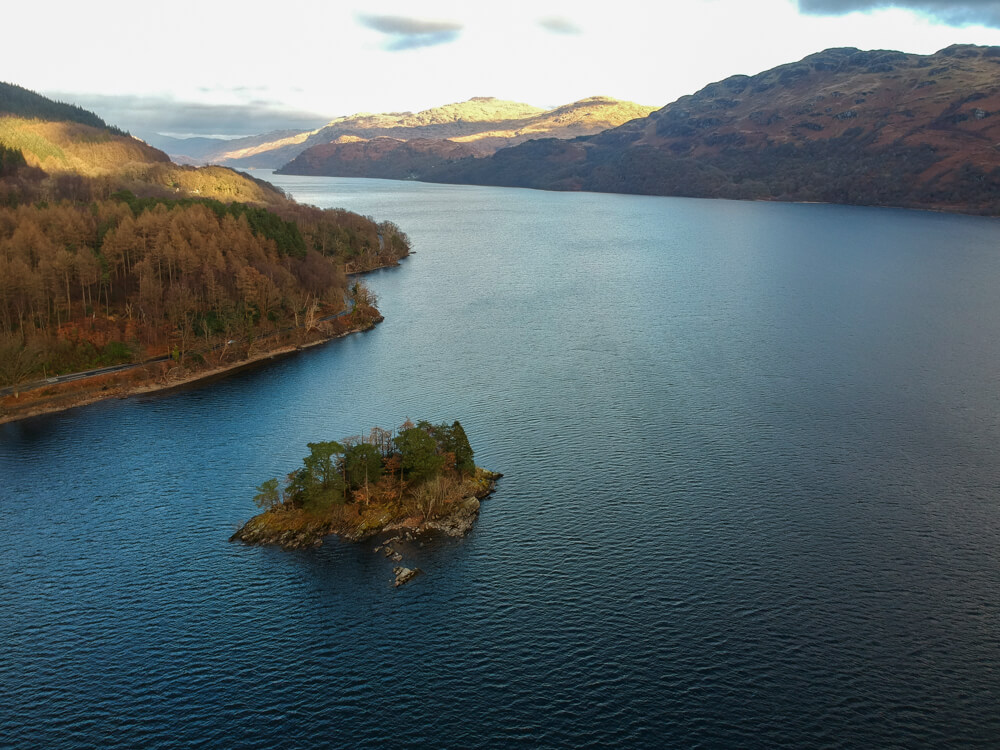 What to Pack for a Trip to Scotland
When it comes to packing for a trip to Scotland there is one item of clothing that you are going to need all year round: a waterproof. It rains in Scotland on average 250 days a year, meaning that during your Loch Lomond road trip you will probably experience at least a drizzle of rain. Due to this, the number one item on any Scotland packing list is a good waterproof jacket.
As for the rest of the year, the temperature in Scotland and the central heartlands is reasonably mild for most of the year. During the winter months, you will most likely experience snow, however, temperatures usually sit around freezing, so it is not too cold. For your reference, the average temperatures in Scotland are listed below during each season.
Spring (March, April, May) – 5-10 degrees C
Summer (June, July, August) – 15 degrees C
Autumn (September, October, November) – 5-10 degrees C
Winter (December, January, February) – 0-5 degrees C
As you can see, the weather never really gets above the teens, with anything over 25 degrees C considered a heatwave. The best way to pack for your trip to the highlands is with layers that can be added and removed as you need them. You will definitely need a hat and gloves during the colder months and will most likely need sunscreen to protect you on the long days in the open.
For our full list of items that we pack no matter where we go in the world, check out our full packing guides over here.
Given the beautiful sights and scenery that you are no doubt going to see around Scotland, we highly recommend packing a good camera for your trip. If you want to read more about the cameras we use and why we love them, check out the link below.
You can read what else we keep in our camera bag over here.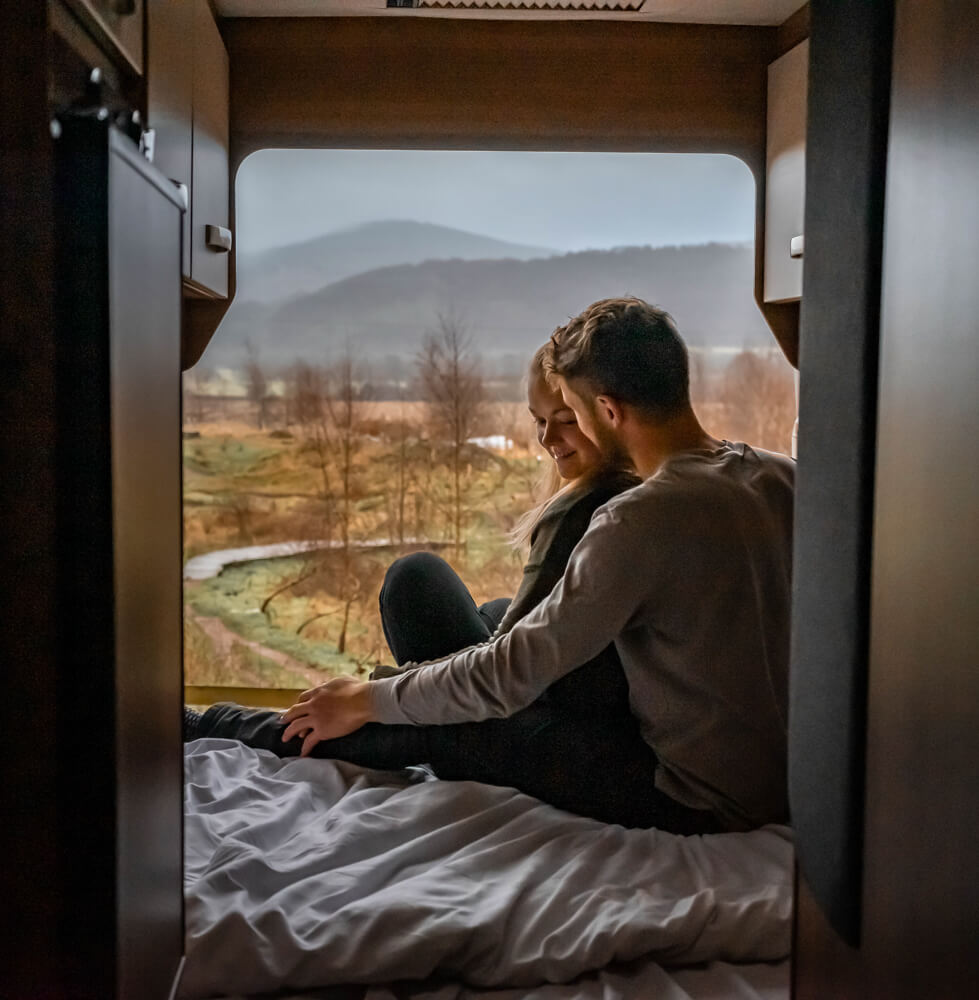 So there you have it, your the best sights to see on your Loch Lomond road trip. If you are visiting this incredible part of Scotland and have any other questions on what to expect, leave us a comment down below. We love to chat about this stuff! If you have already been, let us know how it was! What sight was your favourite? Do you have any other recommendations for us? Let us know in the comments below!
Also remember to share this with your friends and family that you are going to share this trip with. Sharing is caring and we want to ensure that everyone is fully prepared to and knows what to expect on the banks of Loch Lomond.
If you are planning a Scotland trip soon then check out our other Scotland content right here. Come and find us on social media to see where we are currently exploring. Tag us in your photos from your trip to the Loch Lomond and we will share them with the rest of our community of explorers and backpackers.
Read Now:
This article may contain affiliate links that provide us with a small income. For more information read our Affiliate page.
---
Pin it for later!