When it comes to vacationing in Europe, not many people think of Austria as an ideal destination. But in contrast, the country has everything to offer an indelible holiday experience to tourists.
From glittering lakes to snow-capped alps to verdant meadows to beautiful mountain villages, there is literally everything in Austria for a dreamy vacation. Brimming in history and culture and teaming with stunning nature, the country has numerous gems for tourists to explore.
Amongst those, one popular place in Austria is Salzburg. One of the most beautiful cities in the world, Salzburg is the capital of Austria. The city is the birthplace of Mozart and is steeped in beautiful tradition and culture.
It wouldn't be wrong to say that Salzburg is the modern cultural centre. This cosmopolitan city has plenty in its fold for its visitors to offer an unforgettable time.
No time to read now? No problem, save a pin to your Pinterest board for later!
Salzburg is a beautiful European city to visit with a huge amount of culture and history. In this 2 day itinerary for Salzburg you will visit some of the most historic sights, some of which are well known for being in the Sound of Music film. Listed below are the sights you can expect in this 2 day itinerary.
Mirabell Gardens
Salzburg Cathedral
Residenzplatz
Mozartplatz
Cafe Konditorei Furst
Mozart's Birthplace
St Erhard's Church
St Peter's Abbey
Hohensalzburg Fortress
Linzer Gasse

Preparing for your trip to Salzburg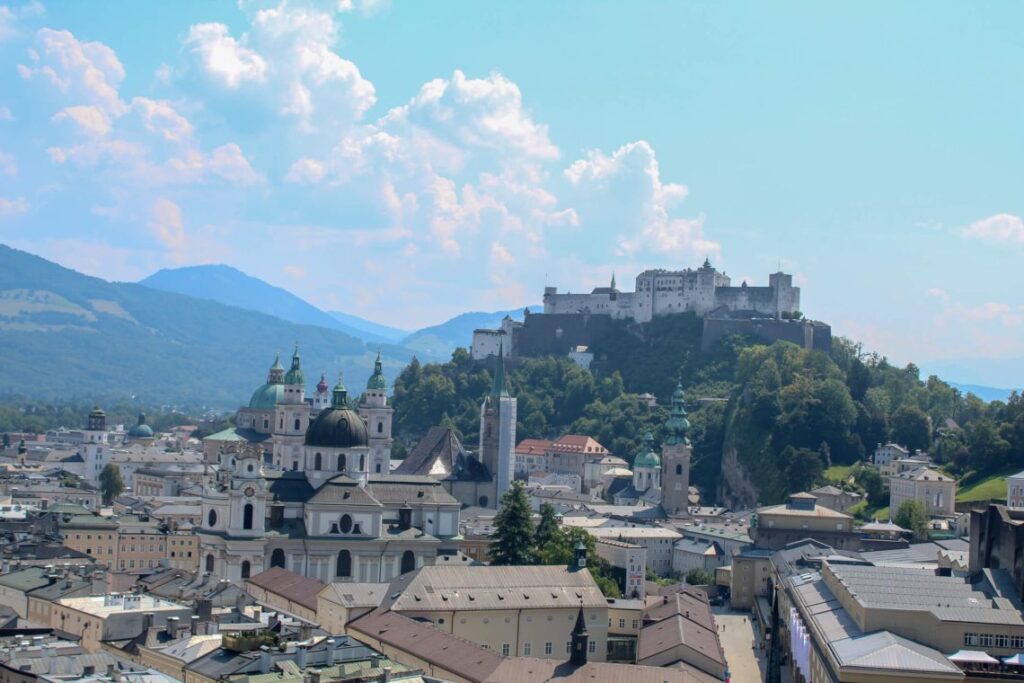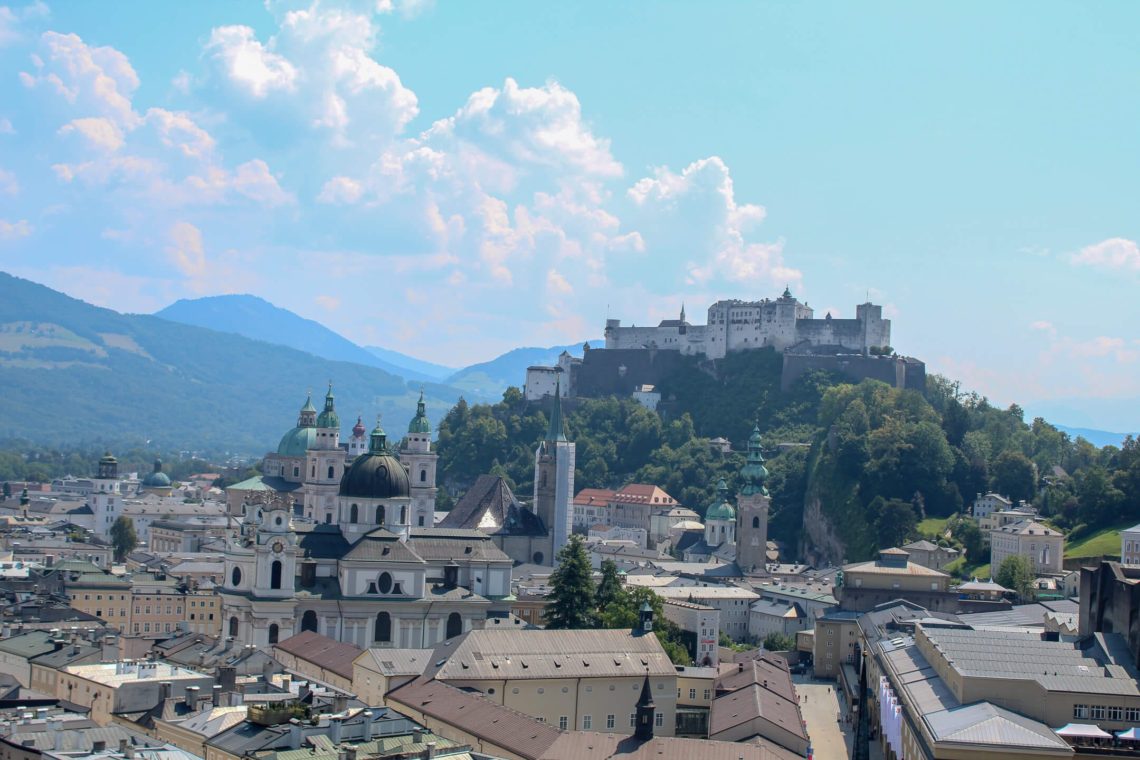 When is the best time to Visit Salzburg
The city of Salzburg sees many tourists visiting throughout the year. The best time to plan your 2 days in Salzburg, is often during Autumn as during these months, the temperature is not too hot and remains pleasant and comfortable to roam around the city. During the summer months, the city can be very busy and very hot. 
Salzburg also witnesses a number of tourists visiting in the winter months. During the festive season, the beautiful city is often lit with with beautiful lights and Christmas markets.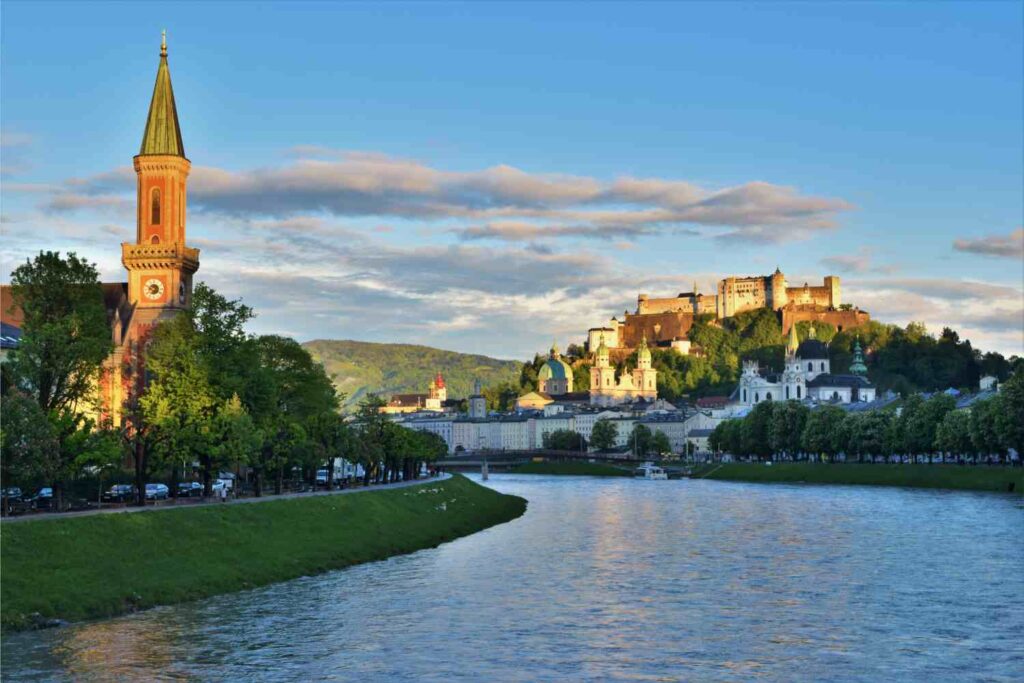 Things to Know Before You Visit Salzburg
Below are some key points that are worth noting before you visit Salzburg.
The official language of Austria is German. However, despite that, you can expect to see a lot of people speaking English as well. We recommend learning a few basic and important travel phrases in the local language.
Knowing a bit of German on your two day itinerary might make travelling in Salzburg a lot easier for you. Make sure to install Google Translate and German dictionary on your phone beforehand.
The official currency of Austria is Euro (€). Salzburg is a developed city and is card-friendly. Even at small shops and cafes, you can pay through your cards. However, it is still advisable to always carry some cash for any unprecedented situation.
Being the capital city of Austria, Salzburg is always on the go. Even though it is a bustling city, the main region is still quite compact which allows you to travel within the city without any hassle.
In fact, you don't even need to take public transport on your Salzburg 2 days tour. From the downtown where most hotels and attractions are located, the station is hardly a 10-15 minutes walk away.
However, if you still want to travel by bus or trolley system to reach the station, it will cost you €2. Your travel can be a lot easier and more convenient if you purchase the 24-hour transit pass.
Uber doesn't operate within Salzburg. You will have to go with a traditional taxi in the event you need car transport.
2-Day Salzburg Itinerary
If you only have a short time to visit Salzburg, we want to make sure you can visit all of the best sights in the city. Many people will plan a one day itinerary for Salzburg and still see a great amount of what the city has to offer. 
Day 1 in Salzburg 
Day 1 of your Salzburg itinerary will be completely dedicated to Salzburg sightseeing. This will start with a visit to Mirabell Gardens followed by other attractions such as Salzburg Cathedral, Mozartplatz, and Residenzplatz.
Mirabell Gardens
The city of Salzburg is known as the home to several filming locations for the famous movie 'The Sound of Music'. Mirabell Gardens is one of those prominent locations that you may recognise if you have seen the movie. It features in the song sequence 'Do-Re-Mi'
There is also a palace, Marble Palace, within the vicinity of the garden. Both the palace and gardens have been around since they were built in 1606 and have been deemed a UNESCO World Heritage site. As you can imagine this makes it a very popular place to visit in Salzburg.
One significant attraction here is Dwarf Garden, one of the oldest of its kind in entire Europe.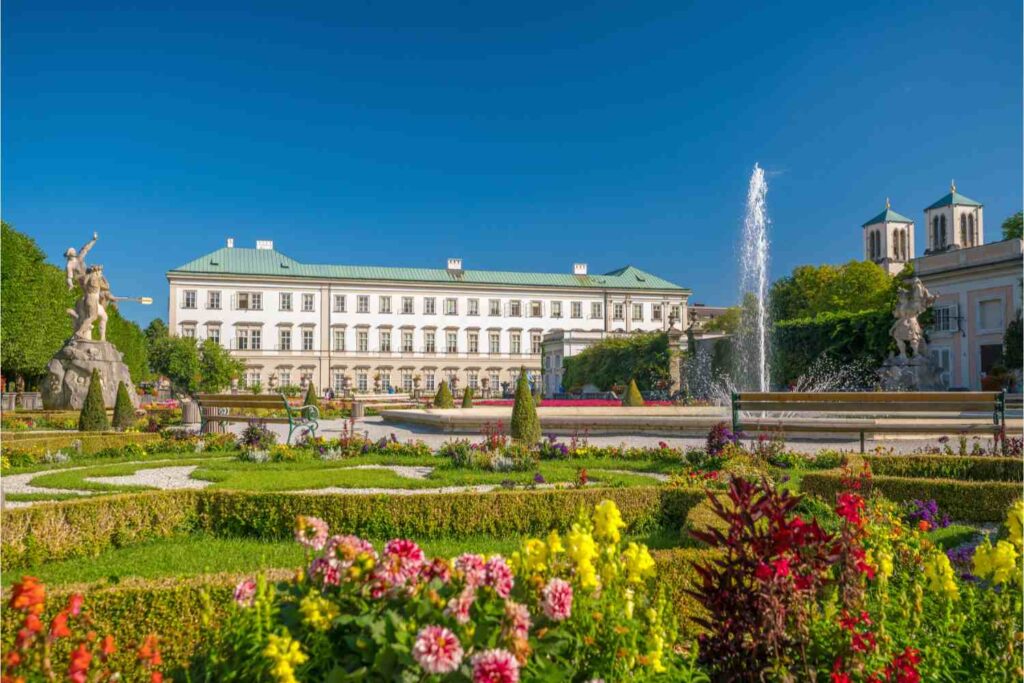 Salzburg Cathedral
Salzburg Cathedral is one of the most important and sacred buildings in the city. Salzburg Cathedral has a mighty dome and two towers and we highly recommend a visit on your itinerary.
This baroque building is quite colossal and can be seen from a considerable distance in the Salzburg skyline.
The square in front of the cathedral is known as Cathedral Square which is a famous location for different events held throughout the year.
Below is a price list for visiting the Salzburg Cathedral.
Conservation fee
Adults – € 5.00
Children under 18 – free
Audio guide (also for children) € 3.00 (in addition to conservation fee)
SalzburgCard: reduced conservation fee € 3.50
A Guided tour of the cathedral – 
Adults – € 5.00
Children under 18 – free
Individual tours: per adult € 8.00 (minimum € 70.00)


Music at lunchtime:
Adults – € 6.00
Children under 18 years – free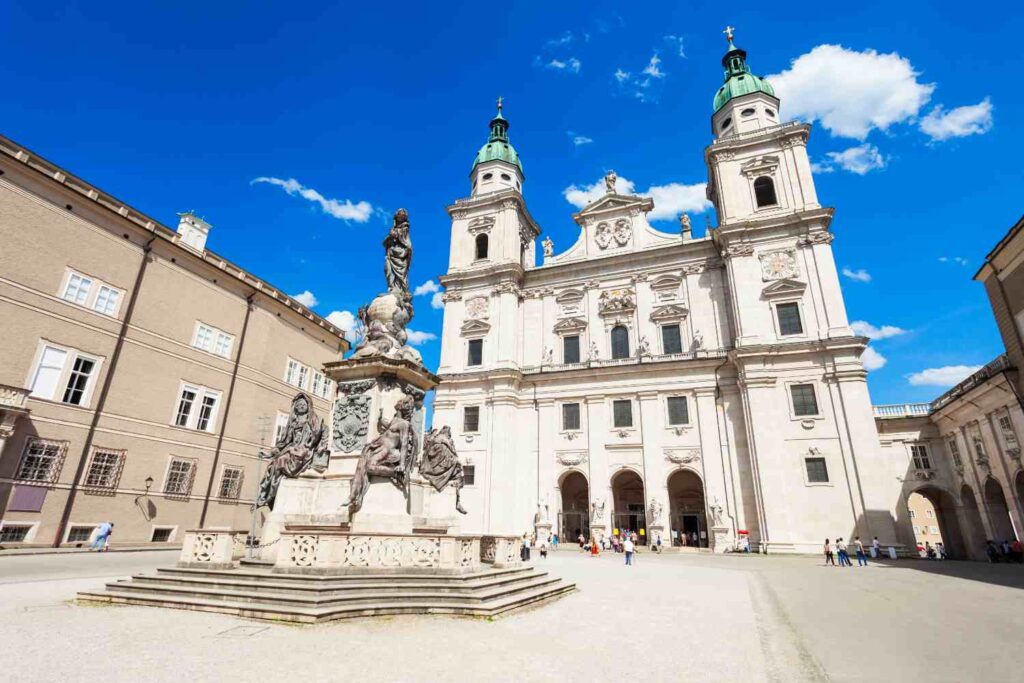 Residenzplatz
Located near Salzburg Cathedral, Residenzplatz is another popular tourist attraction in Salzburg. It is a magnificent forecourt that has a beautiful baroque fountain which is the key highlight of this place.
This is one of the largest squares in the city which is known for its amazing grandeur. Stroll around the square and witness the majestic fountain and the sculpture of four horses in the centre of the fountain.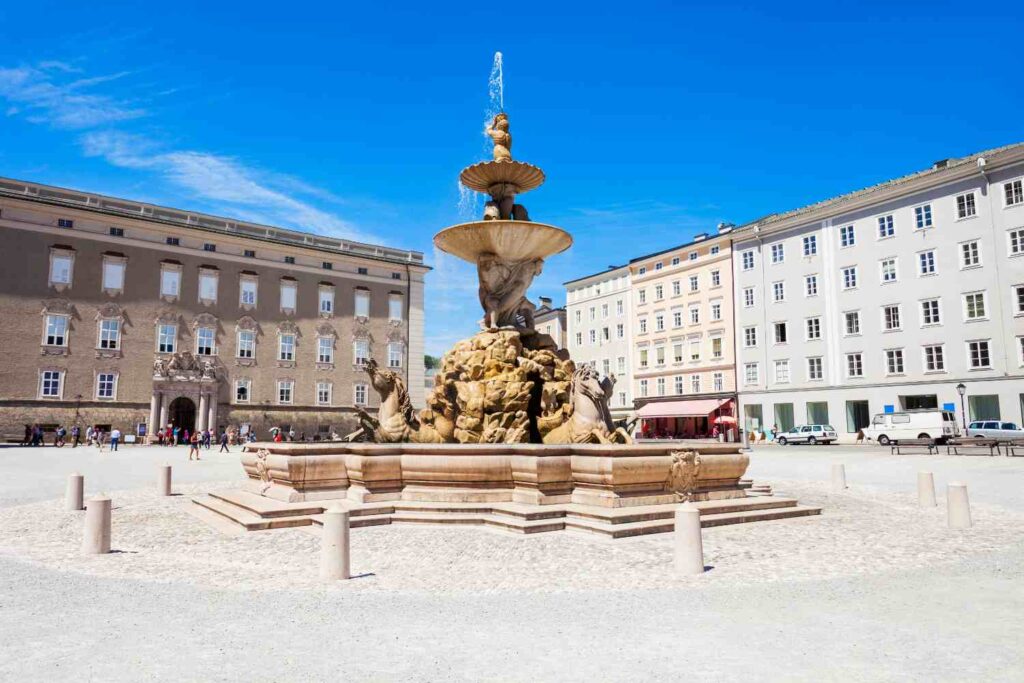 Mozartplatz
Mozartplatz is another popular square in Salzburg located near Residenzplatz. The key highlight of this attraction is Mozart's statue. It was installed in the year 1841.
Mozartplatz and the buildings around it play a crucial role in the history of Salzburg. Behind the square, there is part of the old city wall. Whereas, in the north is the tourist information centre.
Neue Residenz, located on the south of Mozartplatz, is another attraction also known as the home to the Salzburg Museum. Lastly, on the west, you will get to see Glockenspiel, a famous cafe, and the Salzburg Christmas Museum.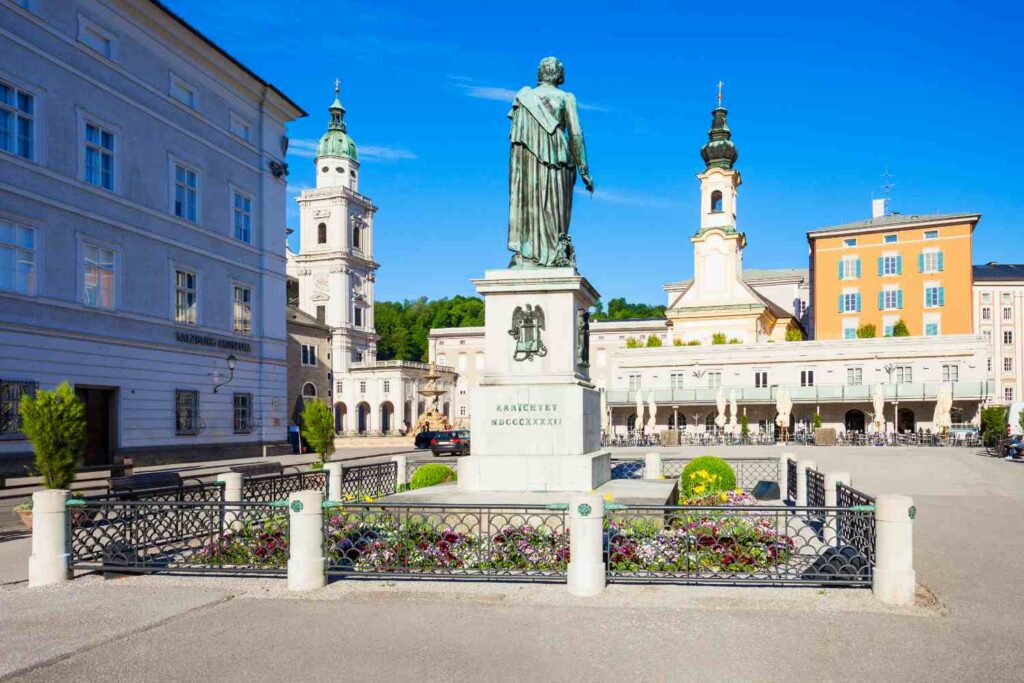 Cafe Konditorei Furst
If you are a chocolate lover, then Cafe Konditorei Furst is a haven for you. Wondering why? Well, it is a world-famous chocolate store. They are also the creator of the famous Mozart truffles.
If you haven't gotten a chance to savour the delectable Mozart truffles, let us give you an idea; made with pistachio and marzipan and coated with nougat and dark chocolate – that's Mozart truffles for you!
Don't be surprised to know that this delicious creation in the chocolate world dates back to 1890 and was created by Paul Furst, a famous chocolatier. So, this place will not just serve as an attraction to explore but also a perfect break to treat yourself with some delicious chocolate truffles.
Day 2 in Salzburg
On day 2, you will visit the old town of Salzburg where you will explore some of the top attractions of the city including Mozart Birthplace, St. Erhard's Church, St. Peter's Abbey, and Hohensalzburg Fortress. It also includes a shopping tour around the Salzburg River.
Mozart Birthplace
The city of Salzburg is known as the birthplace of Wolfgang Amadeus Mozart, a highly celebrated composer.
Located in Salzburg Old Town, house number 9 is building that lures the attention of tourists from across the globe to see where this fantastic composer was born. What once was his house is now a converted museum where you can visit and learn more about Mozart.
On display in the musem, you will find some of the original instruments that he used to play including his violin and clavichord. The one-hour museum tour takes you through the original rooms of Mozart's Birthplace and lets you have a glimpse of what his everyday life looked like. Even the furniture displayed in the museum is also original and dates back to the 18th century.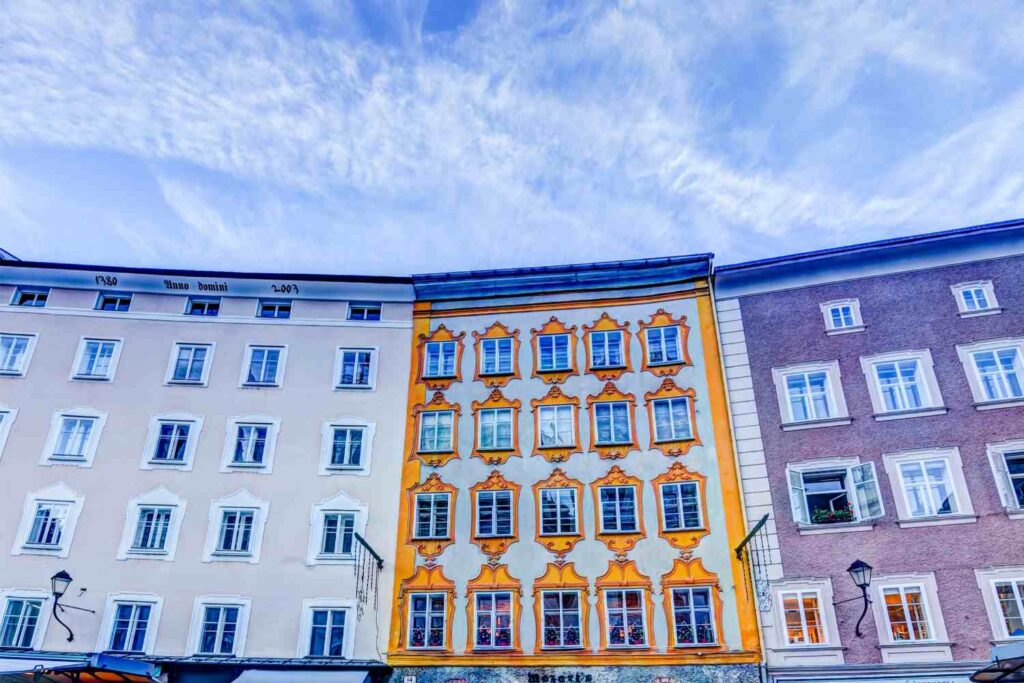 St. Erhard's Church
Another beautiful religious building in Salzburg is St. Erhard's Church. Initially, the church was built as a hospital chapel but later it was converted into a church.
The architecture is the key highlight of this church along with its beautiful interior. The beauty of the church is adorned with sublime views of the mountains in the backdrop.
If you want to capture some photos of the church with the gorgeous backdrop, we recommend you cross the bridge and enjoy the wider view.
St. Peter's Abbey
Located in the old town of Salzburg, St. Peter's Abbey is known as one of the oldest cemeteries in the world as well as being the oldest German-speaking monastry. Despite being a cemetery, St. Peter's Abbey is amongst the most-visited attractions in the city.
If the 'Sound of Music' is a favourite movie of yours, then you may want to visit St. Peter's Abbey as it has been featured in the movie. Although they didn't film the scene in the graveyard, they built a graveyard in Hollywood that was inspired by St Peter's Abbey and filmed the Nazi chase scenes there. 
However, apart from that, the cemetery is also known as the resting place of many famous personalities, scholars, and artists including Mozart's sister, Nannerl.
Hohensalzburg Fortress
 Hohensalzburg Fortress is the place to go for a fantastic sunset view. Constructed in 1077 as a protection from the enemy, it is one of the few fortresses in the world that has truly served its purpose as it was never captured.
Today, the Hohensalzburg Fortress is the largest preserved attraction of its kind in the whole of Europe. There are two entrances to get to Hohensalzburg Fortress; you can either walk all the way up to the fortress or can take the Fortress Funicular.
Although the funicular is the fastest way up, the walk to the fortress will greet you with some stunning views of the city. Once you're in the fortress, travel back in time with the incredible architecture and the museums.
Above all that, enjoy the incredible views of the city that you see from the top.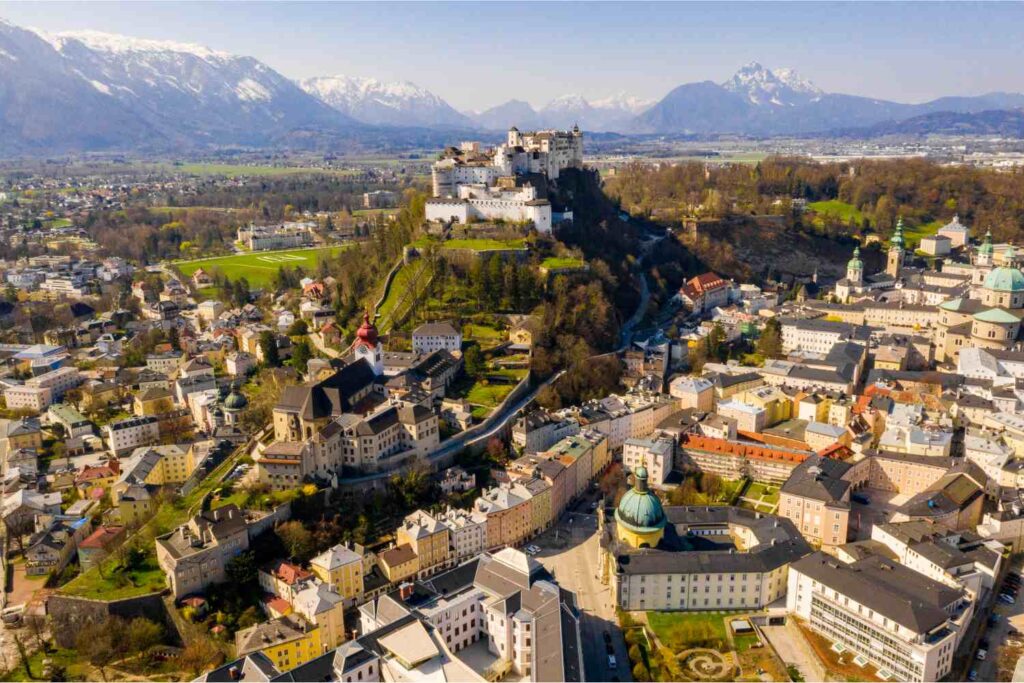 Go Shopping Around Linzer Gasse
Salzburg River is another popular attraction in the city not just for sightseeing but also for shopping around it. Each side of the river welcomes shopaholics for an ultimate shopping tour. There are shopping streets and Linzer Gasse is the pedestrian area around it.
There are many shops, restaurants, and boutiques in the area. You can also find some great artwork in the market. When you are tired of shopping, visit one of the restaurants for a much-needed break and treat yourself to some delicious food.
If you walk further walk down the road, there is Kapuzinerberg which connects to Linzer Gasse. Right after the Station of the Cross and passing a monastery and a few chapels, there is an observation point from where you can relish some stunning views.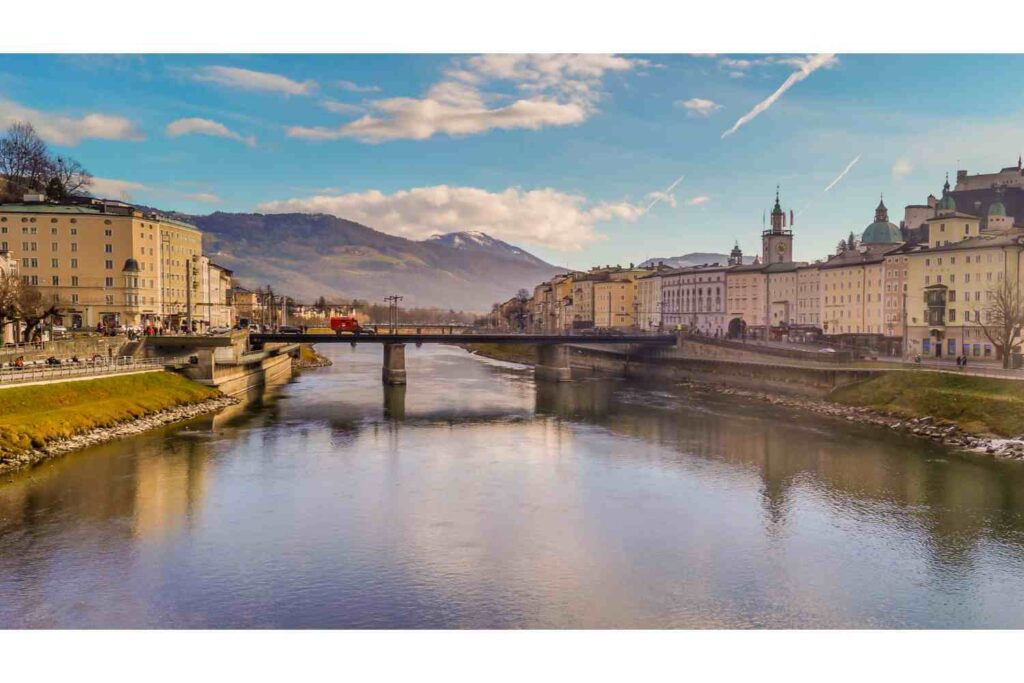 How to Prepare for your Trip to Austria
Before you head off on your trip to Austria, there are a few things to organise to ensure your trip runs smoothly and you have the best experience on your adventure in Salzburg. These include what to pack for Salzburg in winter, what insurance to get, where to stay and how to get around.
How to Get to Salzburg
Salzburg Airport is very close to the city centre. Bus number 10 runs every 10 minutes from the airport to the city centre and takes around 20 minutes.  The price of the bus ticket is roughly €2.50 for adults and €1.30 for children. 
It is also very popular to travel to Salzburg by train. We previously used interrail tickets to travel on the trains around Europe which was very straightforward.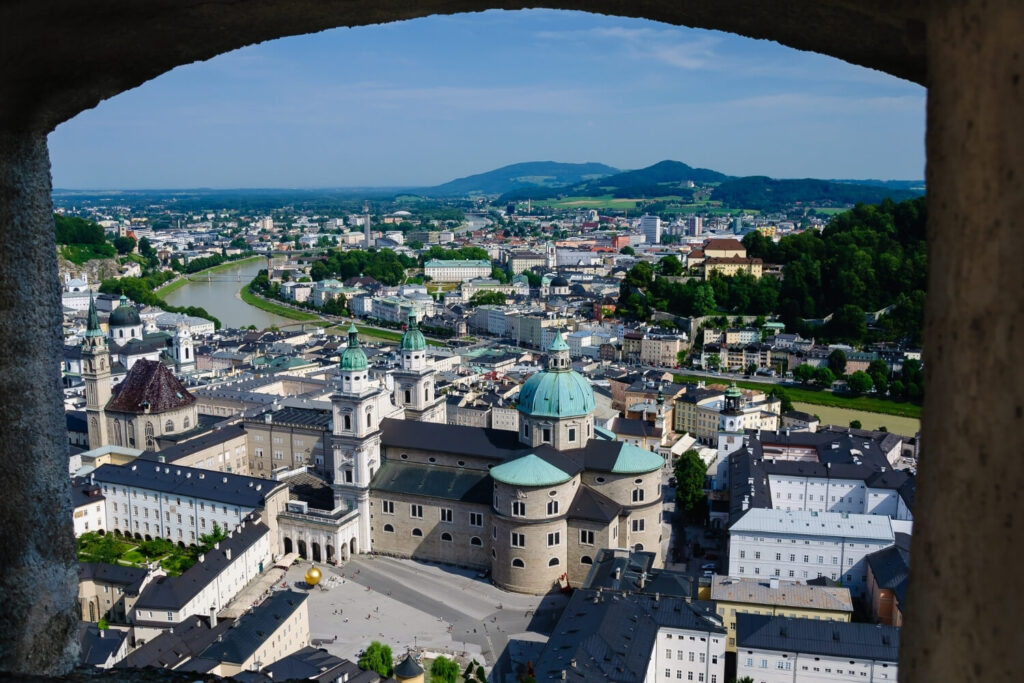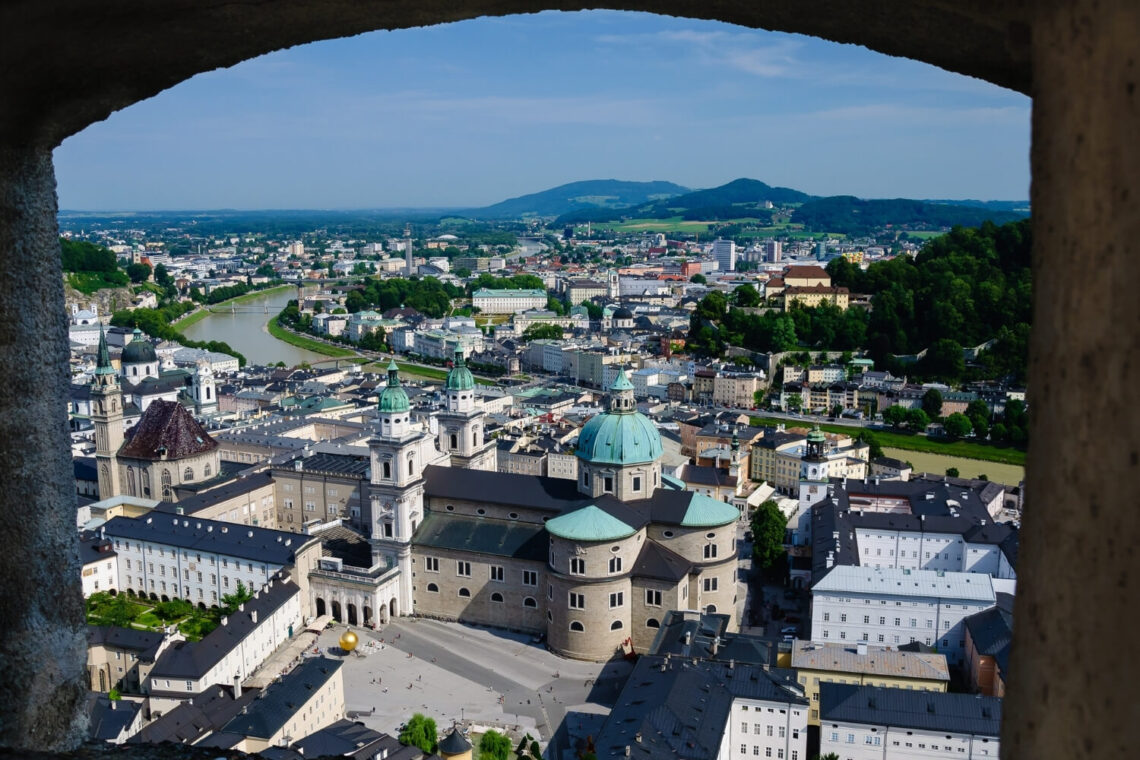 Where to Stay in Salzburg
No matter what your style of accommodation is, Salzburg has the perfect place for you. We have put together a list of the best places to stay in Salzburg, ranging all price ranges, to make your trip a little less stressful.
Luxury – For memories of your Salzburg trip that will last a lifetime, the only place to stay in Salzburg is at the luxurious Hotel Sacher in Salzburg city centre. Opened in 1866, the historical Hotel Sacher combines the high quality of service that you can expect in Austria with the traditional experience of Salzburg. From wooden panelling to silken wallpaper, this hotel is the purest definition of luxury.
Book your stay at the Hotel Sacher right here!
Mid-Range – For the perfect mix of luxury and affordability, the Pension Ballwein is perfect for an authentic, Austrian experience during our visit to Salzburg. This hotel features the traditional Austrian decoration and architecture that you would expect during your visit to the mountainous region of Salzburg. Plus, sitting just 2-miles from the majority of the top sights in Salzburg, you can relax outside of the city without being too far away.
Book your stay at the Pension Ballwein right here!
Budget – The best value bang-for-your-buck in Salzburg is the shockingly affordable Plaza Inn Salzburg City, which sits just a 10-minute walk from the central train station. The quality of accommodation for the price you pay at the Plaza Inn is very surprising for an expensive city such as Salzburg, so this is definitely a steal for your visit to Austria.
Book your stay at the Plaza Inn Salzburg City right here!
If hostels are more your social scene, Salzburg has a huge range of hostels available in all locations across the city. Make new friends and enjoy the social side of travelling with a hostel.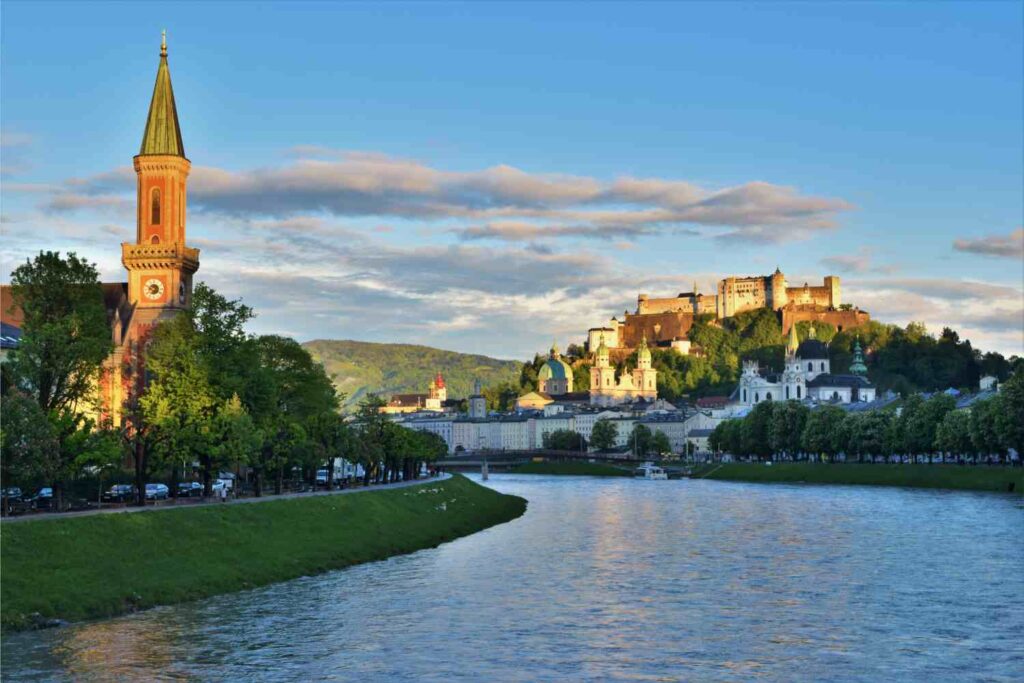 What to Pack for Your Trip to Edinburgh
What to Pack for Salzburg
You can expect the weather during your trip to Salzburg to be very dependent on the time of year that you are visiting. With temperatures during the summer months topping 30-35 degrees celsius and dropping well below freezing during the winter.
For the warmer months, we suggest you pack small, light clothes, with a couple of layers that you can put on as the day comes to an end, or when you head up the mountains. The most important part of packing light is considering the layers you will take. Try to avoid big, bulky clothing and instead opt for layers that are much lighter and smaller, but when worn together provide real heat for those cold winter days.
You will also want to make sure you have packed comfortable and waterproof shoes to keep your feet dry and warm during your trip. This day out in Salzburg will involve a lot of walking, so you do not want to be stuck with sore feet and uncomfortable shoes.
For our full list of items that we pack no matter where we go in the world, check out our full packing guides over here.
Salzburg is a truly fascinating city, with lots of stunning sights to see. With everything from stunning mountain backdrops to fairytale castles, the city of Salzburg is every photographer's daydream, so you will want to make sure you have packed a good camera.
You can read what else we keep in our camera bag over here.
What is the Best Travel Insurance for Salzburg
I know travel insurance is the least enjoyable thing to purchase and look at when you're planning a trip, however, you wouldn't want to be without it in the event that something happened. Accidents can happen anywhere and the extortionate medical bills will ruin your trip if you are not covered.
To ensure you have a stress-free trip with no worries about potential medical bills, make sure you cover yourself when you travel. We can recommend using World Nomads, a backpacker-friendly and cheap insurance company that provides good coverage and support.
Get a quote for your travel insurance right here and get covered.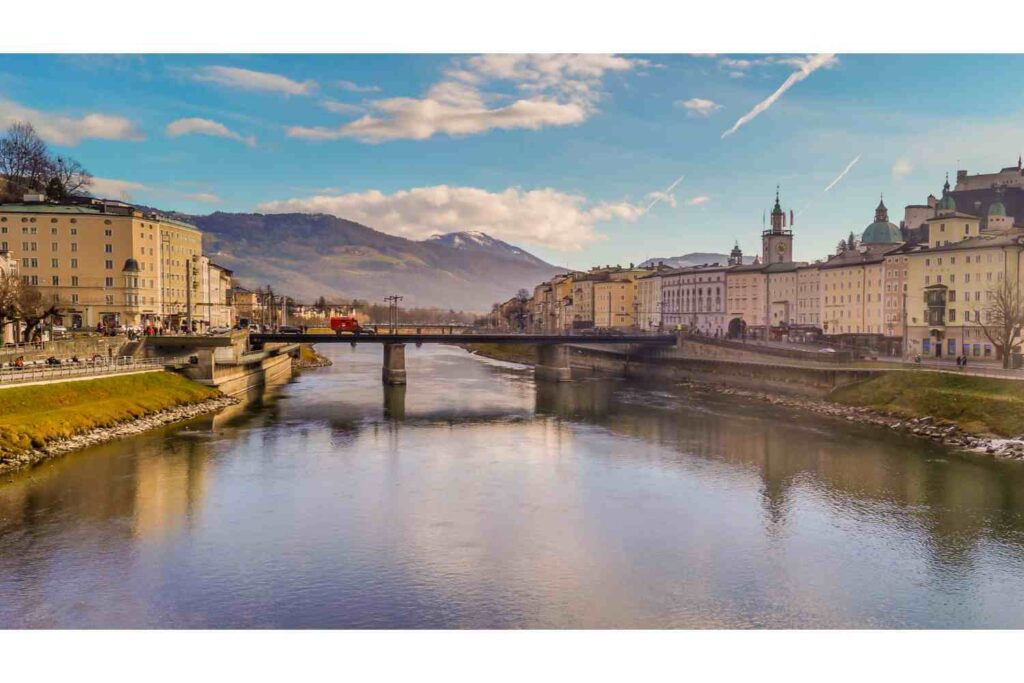 So there you have it, an ultimate 2-day Salzburg itinerary that includes that includes everything one should cover on a trip to this beautiful city. If you have visited Salzburg, Austria recently, let us know what you thought of the sights listed above, or if you have any suggestions let us know in the comments below.
As always, sharing is caring so make sure to share this photo guide with your family and friends and inspire them to head off on their own North Coast 500 adventure. If you are planning the trip for yourself, make sure you have a look at the rest of our Scotland content for more inspiration to our beautiful home country.
When you set off on your own adventure, be sure to tag us in your photos on Instagram and we will share them with the rest of our community. In the meantime, why not follow us over there to see what we are currently up to and keep up with us on our Instagram Stories.
Now Read:
This article may contain affiliate links that provide us with a small income. For more information read our Affiliate page.
Pin this image to your Scotland Pinterest board for later