The North East 250 (NE250) is a new up and coming road trip in the north east of Scotland. Taking in Aberdeenshire and the Cairngorms, there is plenty of adventures to be had in this part of Scotland. 
From beautiful beaches to historical castles and a whole lot of stunning nature, we have put together our favourite things to do on the North East 250 road trip.
No time to read now? No problem, save a pin to your Pinterest board for later!
Best Things to do on the North East 250 Road Trip
The North East 250 road trip is full of great things to do from visiting castles to cliff walks and beautiful beaches, it really has it all. In this post we will share all of our favourite things to do on the NE250 road trip.
Beaches

Castles

City Sights

Get out in Nature

Distillery Tour

Preparing for your trip to the NE250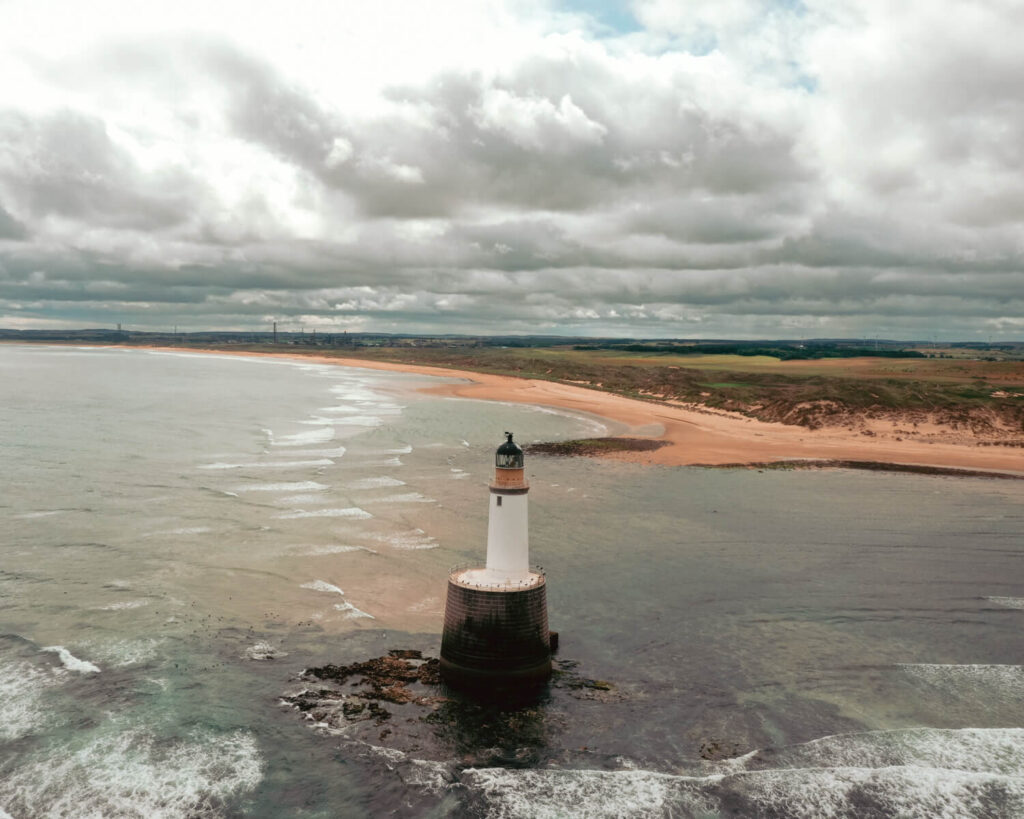 Beaches
Scotland is blessed with plenty of amazing beaches and we are so lucky that many of them are located on the NE250 road trip. Whether you are looking for somewhere to launch your paddleboard or a golden beach to sunbathe on, the NE250 has it all.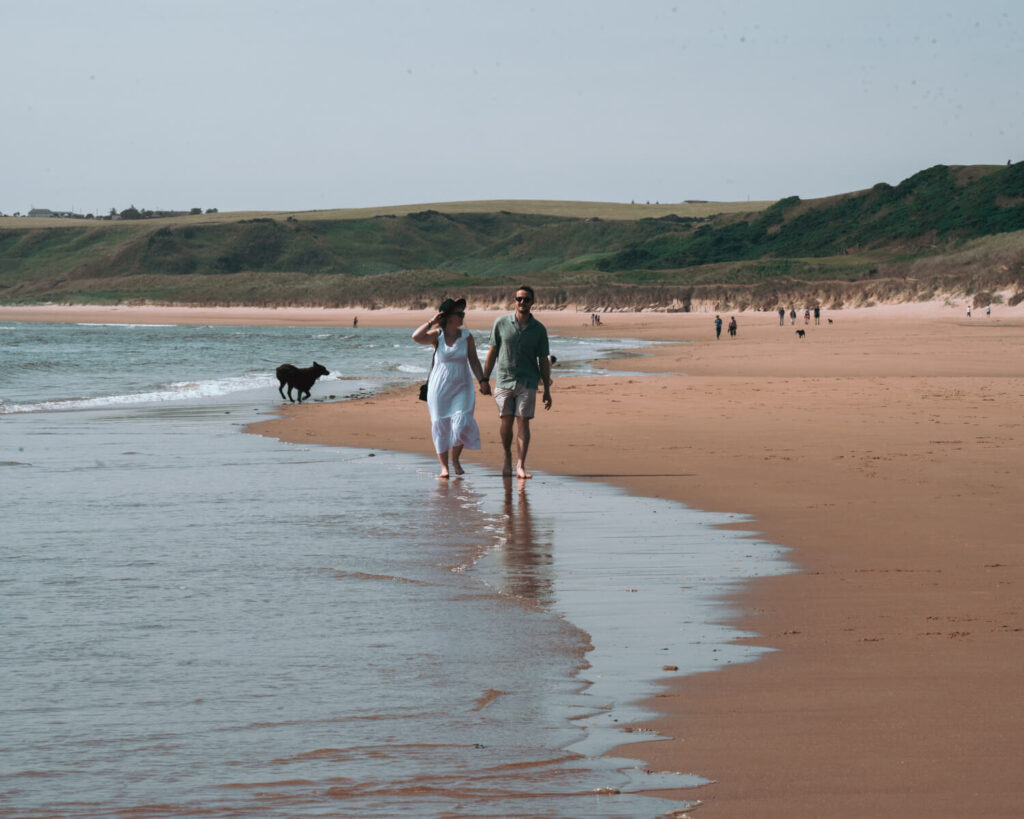 Cruden Bay
Cruden Bay is a gorgeous white sandy beach on the eastern coast of Scotland. It is very popular for tourists to visit the beach in the summer months.
The beach is 2.5km long and is accessed from a small footbridge in the village. Parking is available at the harbour, this can get very busy throughout the day if the weather is nice.
There is also a small beach at the harbour which is perfect for a sheltered swim or to launch your paddleboard or other water activity.
Toilet facilities and picnic benches are available at the harbour. If you are lucky you might even be able to see seals out at sea! 
We would recommend staying the night here, especially if you are in a van. You can stay at the harbour and have a view looking out to see and it is well worth the donation.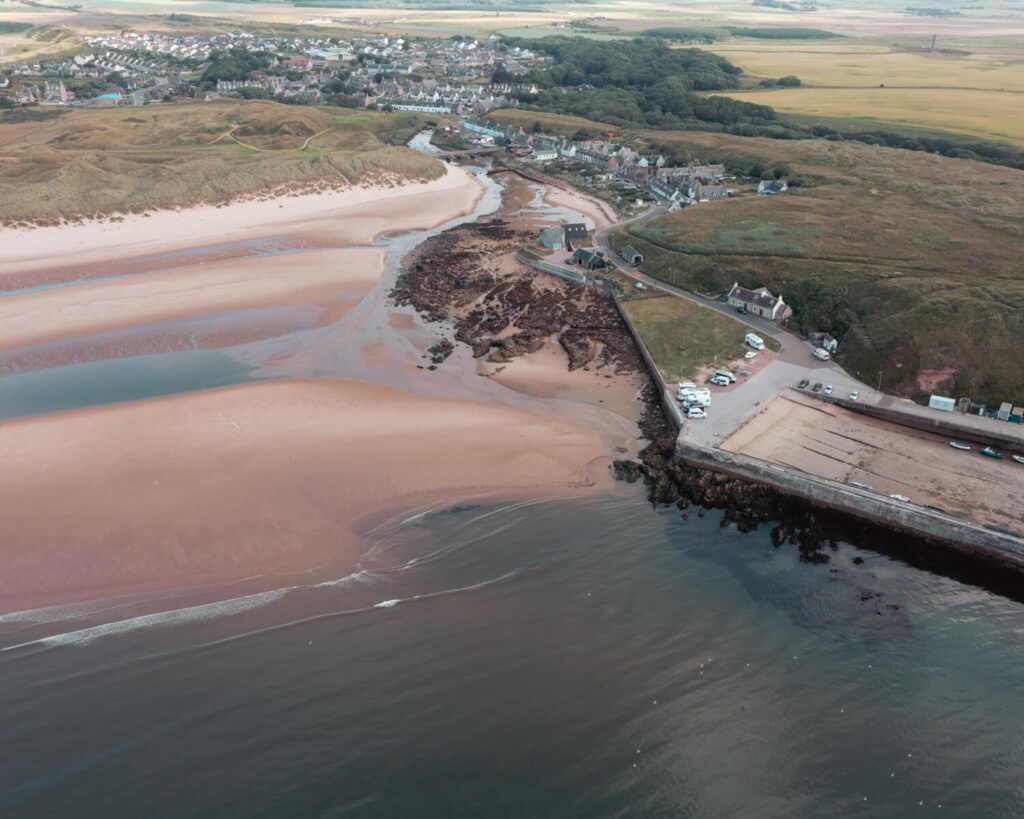 Cullen Beach
If there is one place you cannot miss visiting on this NE250 itinerary, it's Cullen. This little town was the highlight of our whole trip. We would even go as far to say it's become one of our favourite places in Scotland!
This beautiful seaside fishing village is situated on the Moray Firth and is surrounded by the Cullen viaduct which adds to the incredible scenery. Cullen beach is one of the most beautiful we have seen as well so we can't recommend enough that you visit.
The beach itself is a wide expanse of golden, soft sand sheltered by the surrounding cliffs. There is free car parking underneath the viaduct and toilet facilities beside the golf clubhouse.
Make sure you look out for dolphins too as you might be lucky to spot some.
If you are in a campervan, you can park up down at the harbour and hopefully you will be blessed with a beautiful sunset.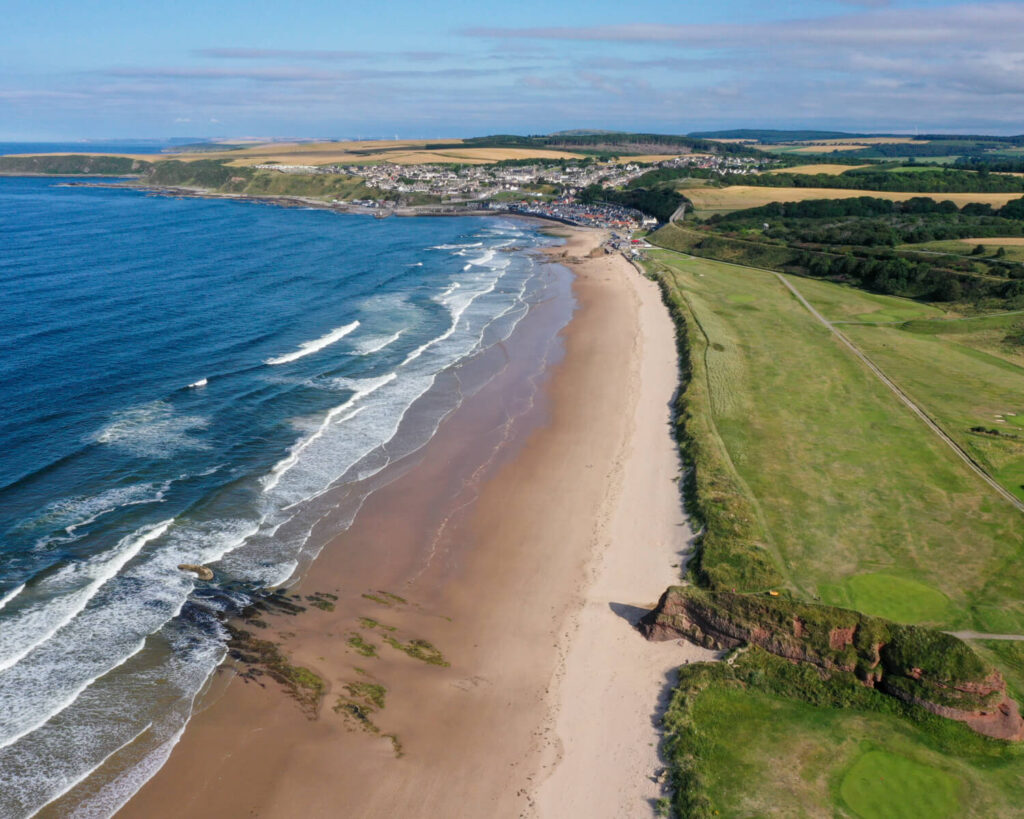 Rattray Head Lighthouse
This is one of those places that you visit not having any expectations and it just wows you. After driving down a rather bumpy off road track for around 1.5km, you will reach a small, muddy parking area.
Follow the grassy path through the gate and take the path that heads to the right. From here you will be immersed between sand dunes and walking through soft sparkling white sand. Eventually, you will see the lighthouse out at sea and an endless white sandy beach. The lighthouse, which sits offshore can be reached at lowtide.
There are no facilities at this beach.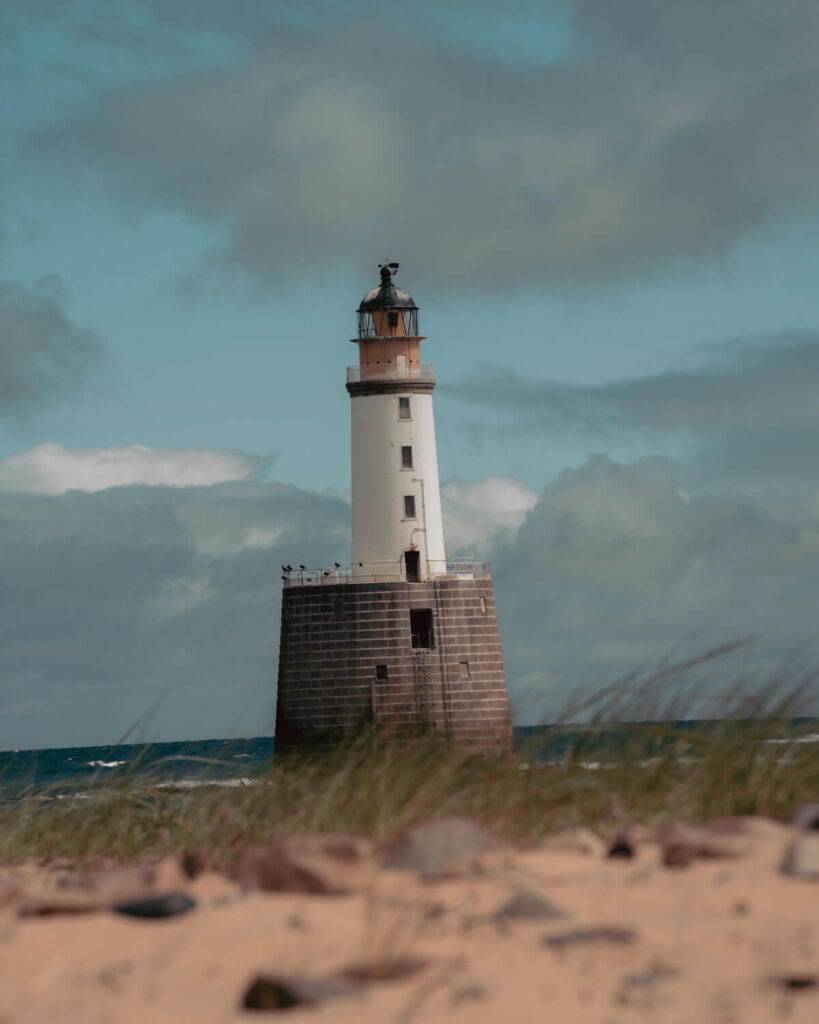 Collieston Beach
Collieston is a small fishing village located on the eastern coast just north of Aberdeen. During the 19th century, breakwaters were introduced, building up the sediment and creating Collieston Beach. 
The beach is protected by the harbour wall and is a very calm and sheltered beach. 
There is parking available along the harbour wall, however if you are in a larger vehicle, we would recommend you park on the other side of the harbour in the small car park as there is more space.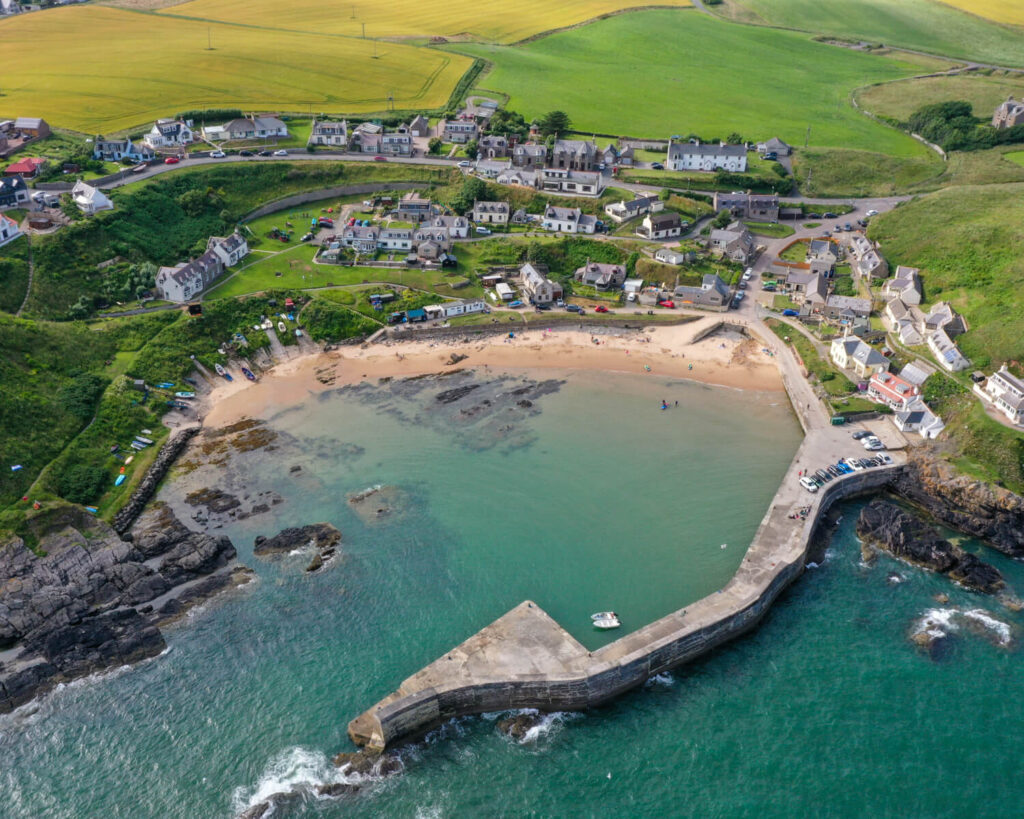 Newburgh Beach
Newburgh Beach was a real highlight on our NE250 road trip. I had heard that this beach was well known for seeing seals but I had expected this to be a "you had to be lucky to see them" experience. It is absolutely far from that.
There is a car park beside the golf course at the beach, however if like us you have a larger vehicle that won't fit through the 2metre height barrier, you will need to park in the small town and walk around 10 minutes. 
Follow the path way down to the beach and you will see a tidal river that you can walk along. We could have sat on the beach all day and watched the seals swimming up and down the tidal river, there were so many of them. 
This is definitely a stop you don't want to miss out on.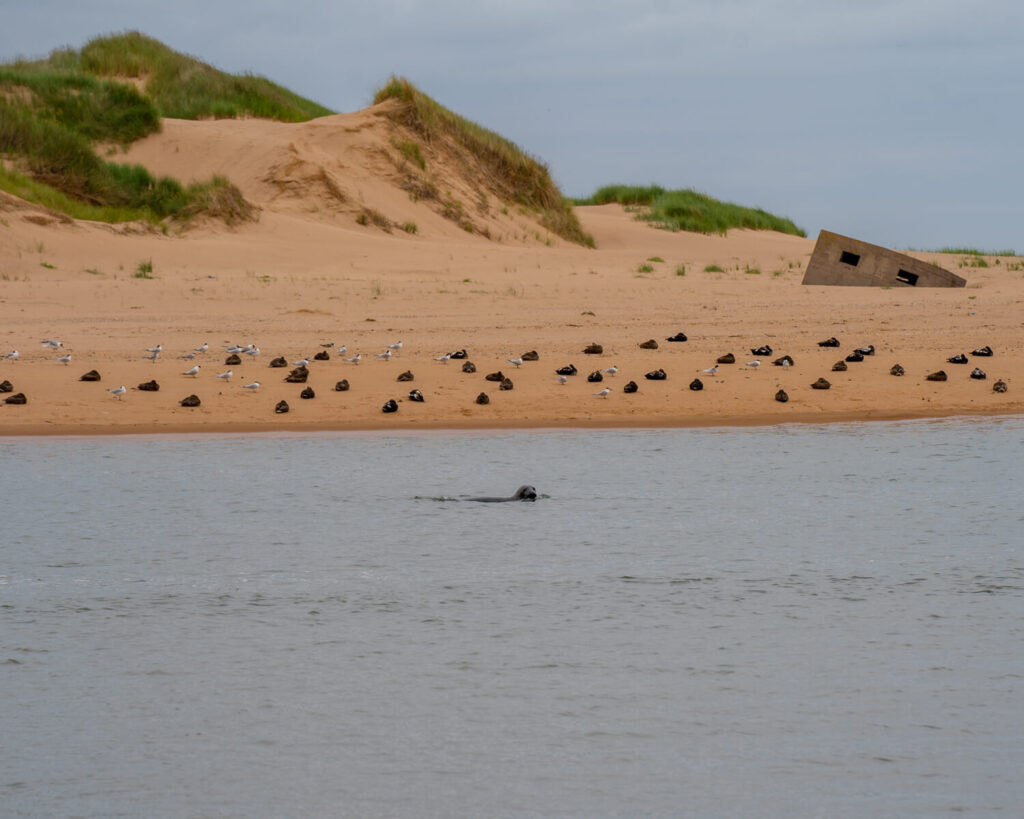 Castles 
There are over 260 castles in Aberdeenshire so there are plenty to choose from on the NE250 road trip! We visited a number of castles on our NE250 itinerary and have listed our favourites below.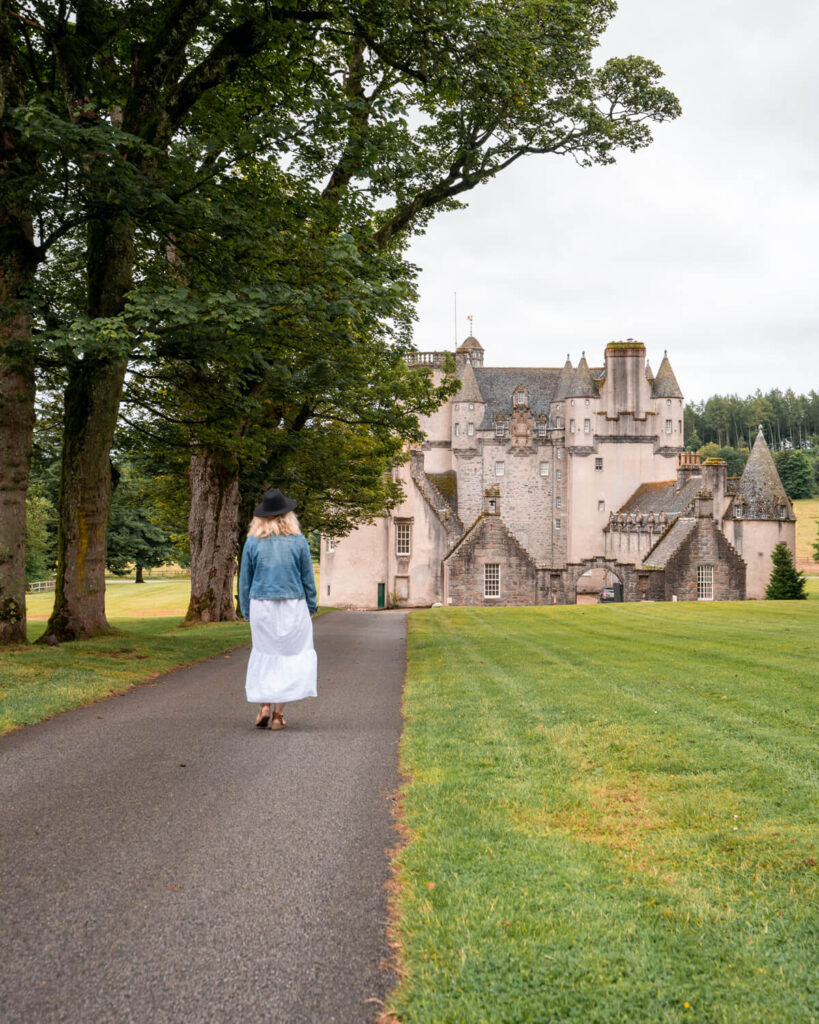 Crathes Castle
Crathes Castle, Garden and Estate, a stunning place to visit on your NE250 road trip, taking you back to the 16th century. 
Gaze at the towering turrets and towers and wander around the historic walled garden. Make sure you take a look at beautiful painted ceilings inside too.
Crathes Castle was built in the 16th century by Alexander Burnett after Robert the Bruce granted him the land. The Burnett family continued to live in the castle for over 350 years.
Located just outside of Banchory in Aberdeenshire, Crathes Castle is only a short drive from Aberdeen city. There is a large car park that is shared with Go Ape and it costs £3 to park which can be pain at the machine or online. If you are a National Trust for Scotland member then all you have to do is display your pass in your windscreen and you can park for free. If you are a member you will also have the benefit of entering the castle for free. It is free to roam the castle grounds and take beautiful photos from and of the surrounding gardens.
Tickets – Adult £14.50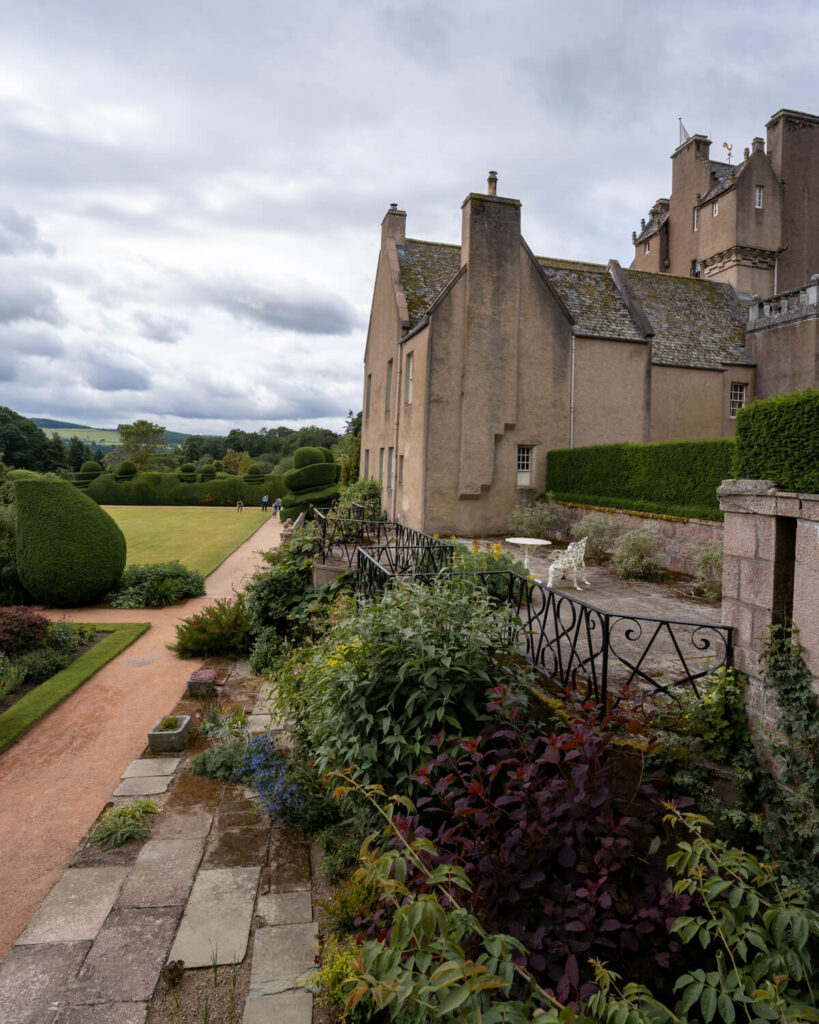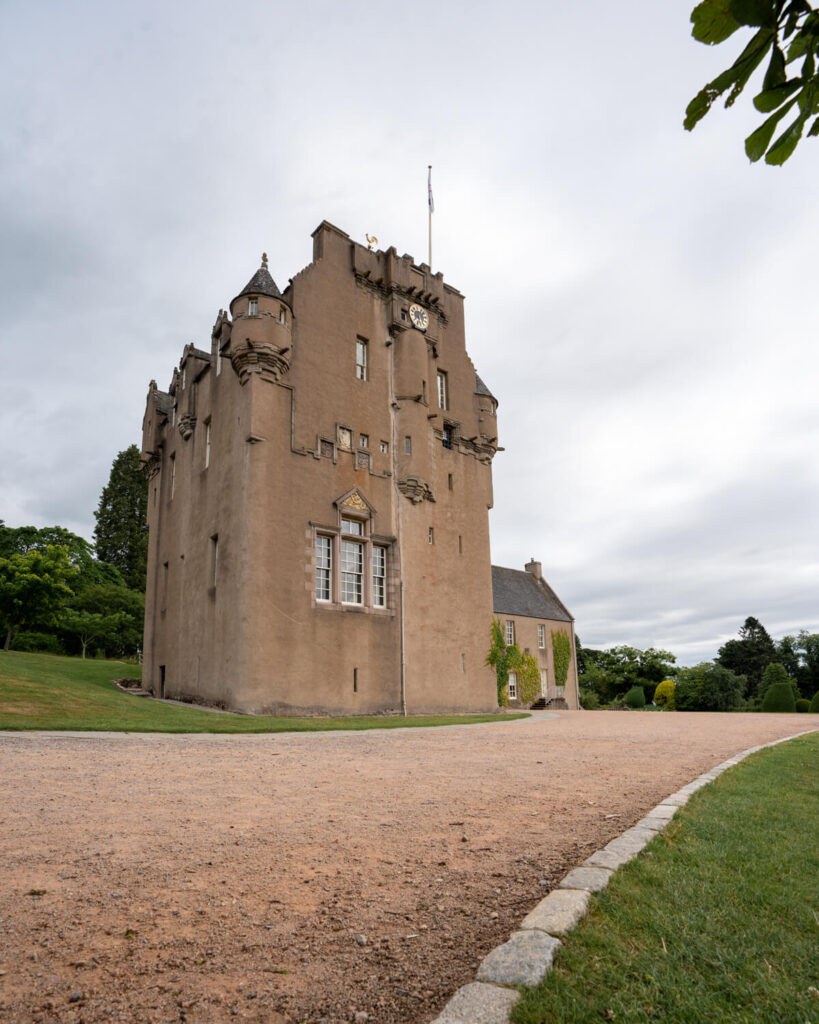 Drum Castle
Drum Castle Garden and Estate is one of Scotland's oldest tower houses. It is lies on the outskirts of Banchory and not far from the city of Aberdeen.
Robert the Bruce granted William de Irwyn the castle and its grounds in 1323 and the castle remained in the Irvine clan until 1975. Later, a Jacobite mansion was added and in the Victorian era the lower halls was converted into a library. This is now home to over 4,000 books!
It is free to roam around the grounds of the castle where you can take some great photos of the castle.
The property is owned by the National Trust for Scotland, therefore if you are a member you will have free entry and parking. There is a small car park and overflow parking, costing £3.
Tickets – Adult £14.50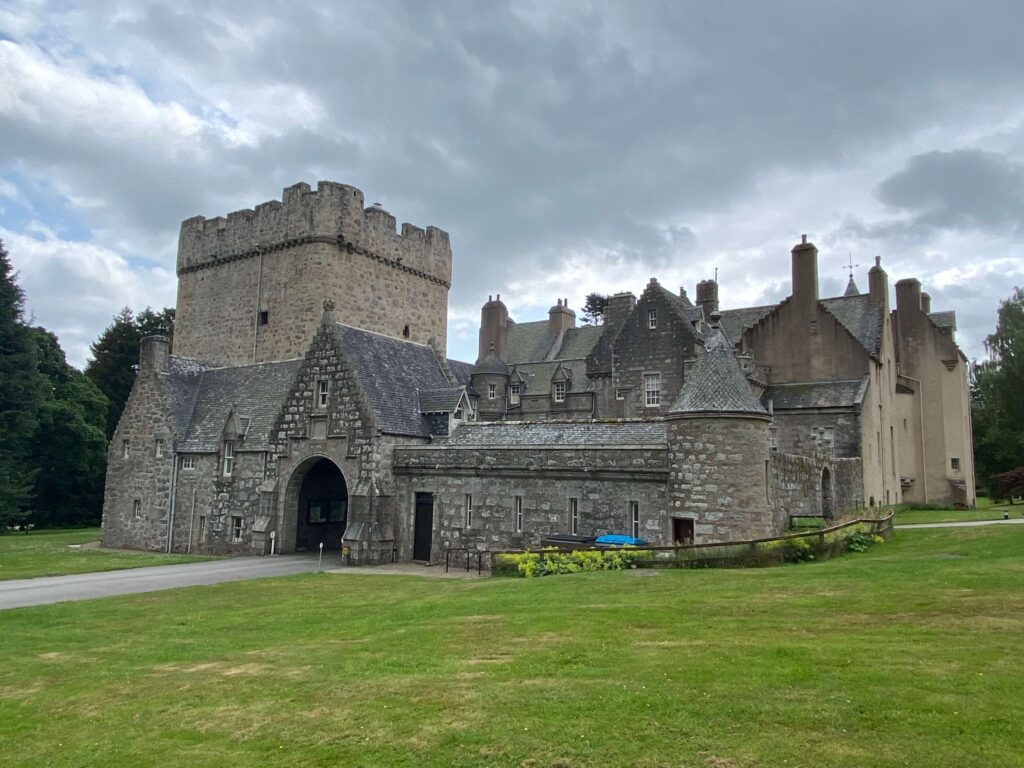 Craigievar Castle
Craigievar Castle quickly became one of our favourite castles on our NE250 itinerary. The gorgeous pink colour is said to have been the inspiration for Cinderella's castle and we can see why! Craigievar Castle is one of the most loved and well kept castles in Scotland and the exterior remains pretty much unchanged since it was built in 1626.
The castle is open to visitors on a first come first serve basis at the moment. We would recommend arriving early to avoid disappointment as when we visited, there was a 2 hour wait to enter inside the castle. There is also a kiosk and toilet facilities
The property is owned by the National Trust for Scotland, therefore if you are a member you will have free entry and parking. There is a small car park and overflow parking, costing £3.
Tickets – Adult £14.50
Castle Fraser
Castle Fraser is one of the largest tower houses in Scotland and is a castle we would definitely recommend visiting on the NE250 road trip. It is part of the National Trust for Scotland therefore if you are a member, you will get entry into the castle and parking for free. If you are not a member then you will need to pay £3 for parking.
Within the castle grounds there are some beautiful walks as well as the walled gardens and a children's play area. You don't have to pay to access these areas and if you are short on time it is even just a beautiful place to stop and take some photos. There is also a tearoom in the castle and toilet facilities.
Tickets – Adult £14.50
Braemar Castle
Braemar Castle is located near the village of Braemar and is open to the public Wednesday- Sunday. The grounds were first built on in the 11th century, however the castle we see today was constructed in 1628 by John Erskine and has since been a hunting lodge, fortress, garrison and family home.
Braemar is the only castle in the UK which is under community management, therefore funds raised go towards preserving the castle. Unfortunately, due to steep winding staircases a tour of the building is not suitable for those with impaired mobility.
Tickets – Adult £10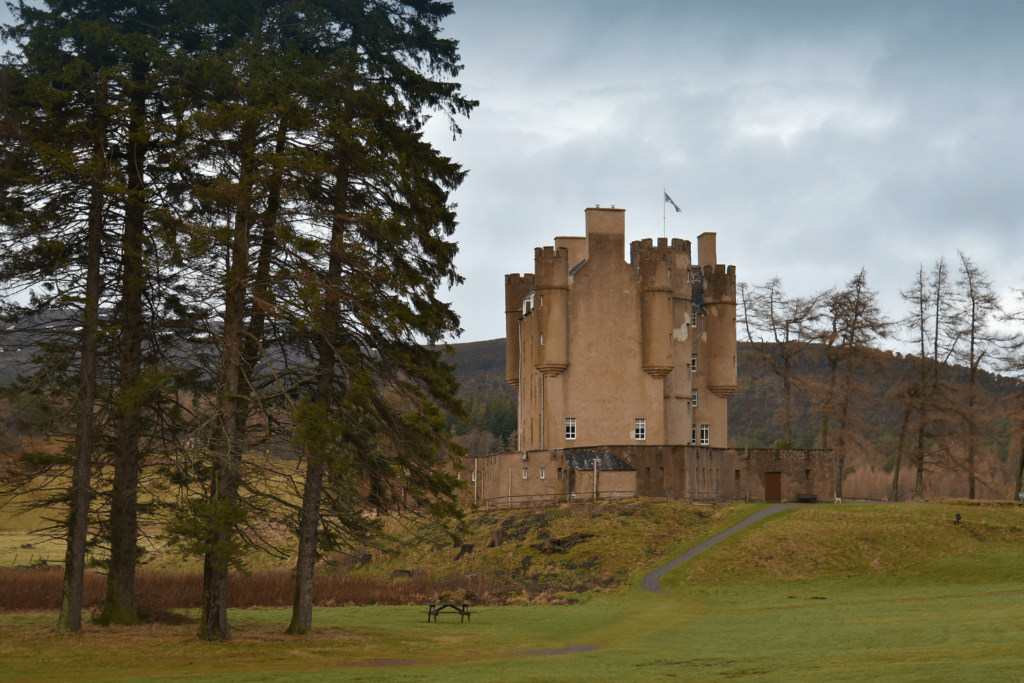 Balmoral Castle
Balmoral Castle is the Scottish holiday home to the Royal Family and has been in the family since 1852. It is open to the public between April and July every year and it has been said that the Queen and other members of the Royal Family spend time in the castle every August when it is closed to visitors.
Balmoral castle is located in Crathie, 14km west of Ballatar.
Tickets – Adult £15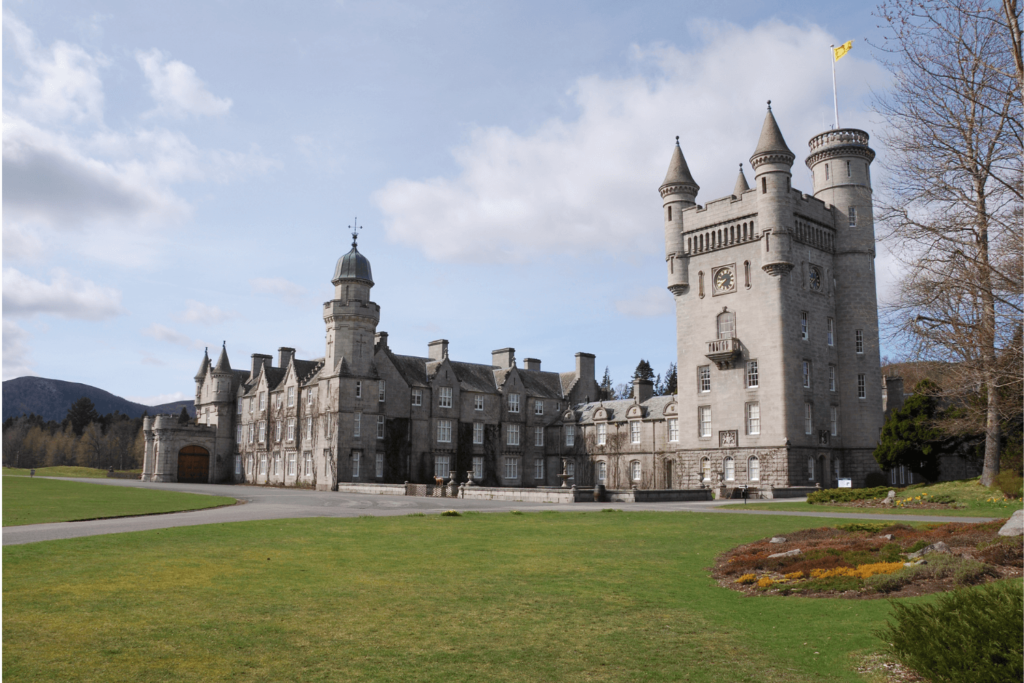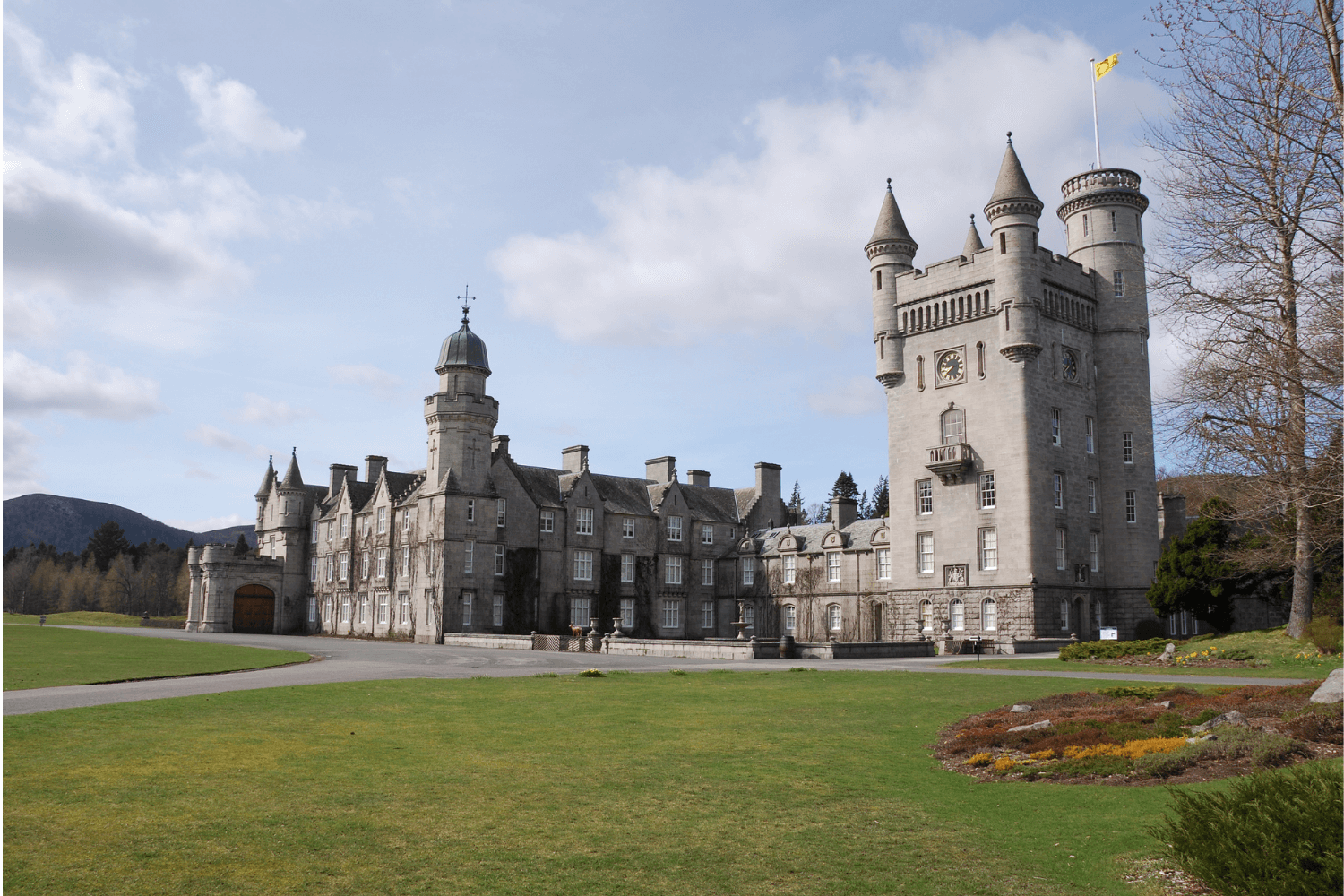 Slains Castle
The phenomenal ruins of New Slains Castle lie on the east coast, just outside of Cruden Bay. There is a small, free car park at the side of the road and the walk to the castle is around 1km on a flat path. 
New Slains Castle was built in the 16th century, however, there has been significant reconstruction to the castle over the years.
The ruins are large with many beautiful views looking out to see. You will be able to see that one day there was a second floor in place, however this is not in place today and it is only possible to explore the ground floor. 
Tickets – free.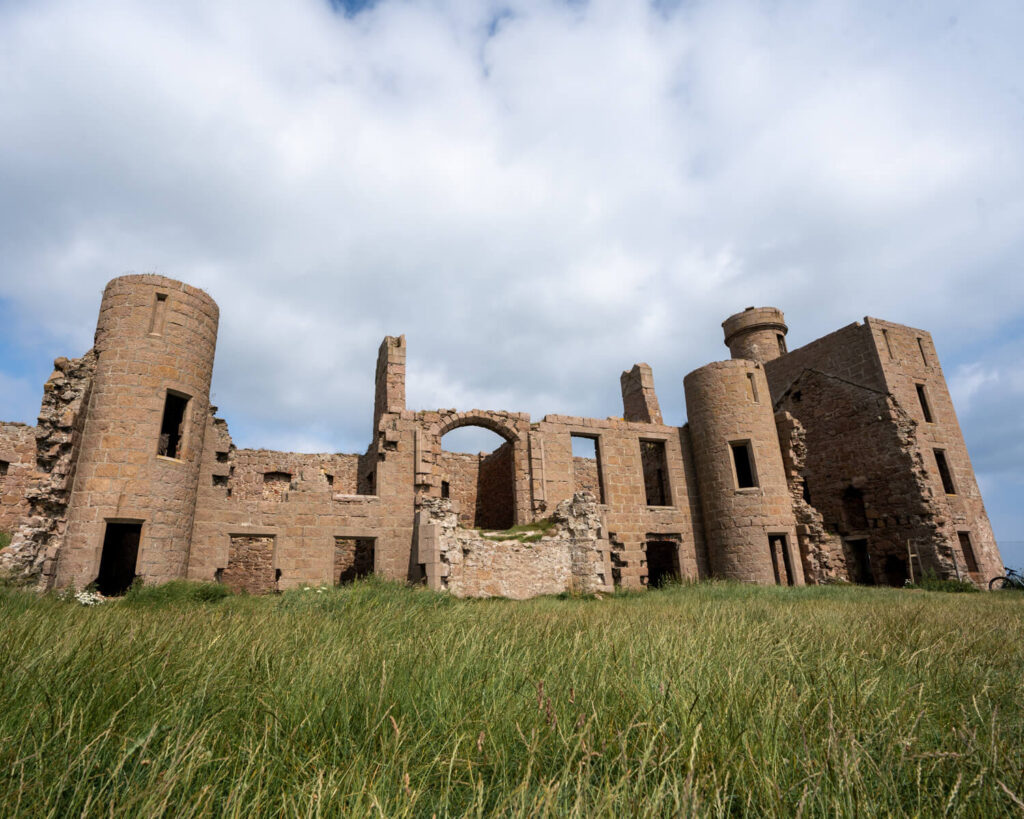 Fyvie Castle
Located in the heart of Aberdeenshire, Fyvie Castle is a fine example of Scottish Baronial architecture. The earliest information about Fyvie Castle dates back to the 13th century when it was the site of an open-air court held by Robert the Bruce.
The castle grounds are extremely picturesque and there is even a beautiful lake and gardens that are very pleasant for a walk around. 
Fyvie Castle is part of the National Trust for Scotland therefore if you are a member, you will get entry into the castle and parking for free. If you are not a member then you will need to pay £3 for parking.
Tickets – Adult £14.50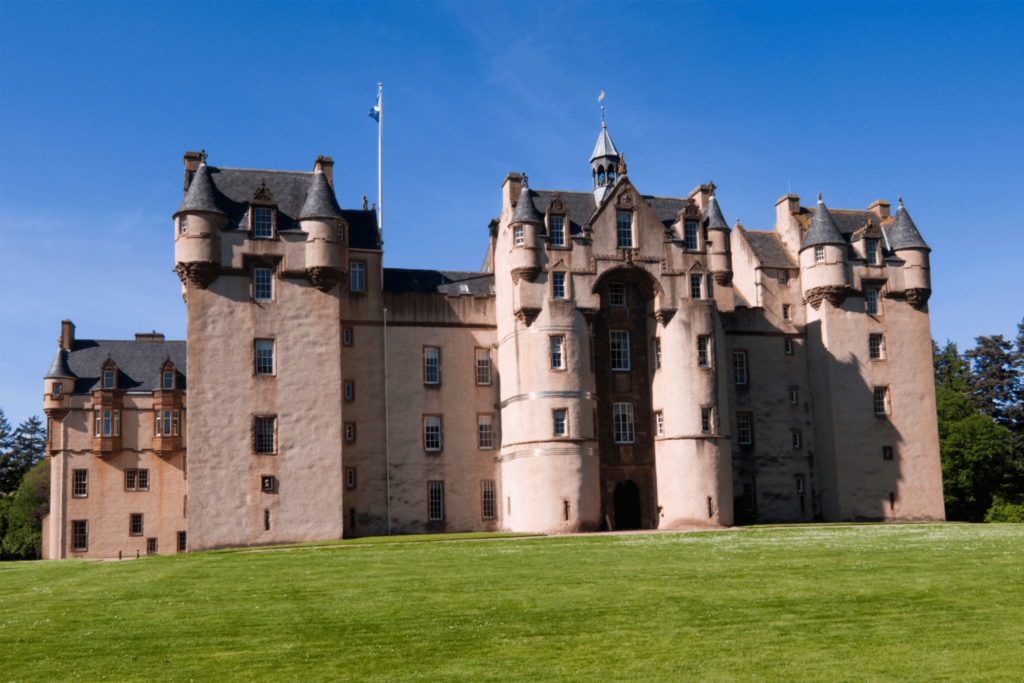 City Sights
The main city on the NE250 road trip is Aberdeen. You will drive through some other larger towns and tiny fishing villages as well but Aberdeen will be your main city. We recommend visiting the city for a day to see some of the great sights.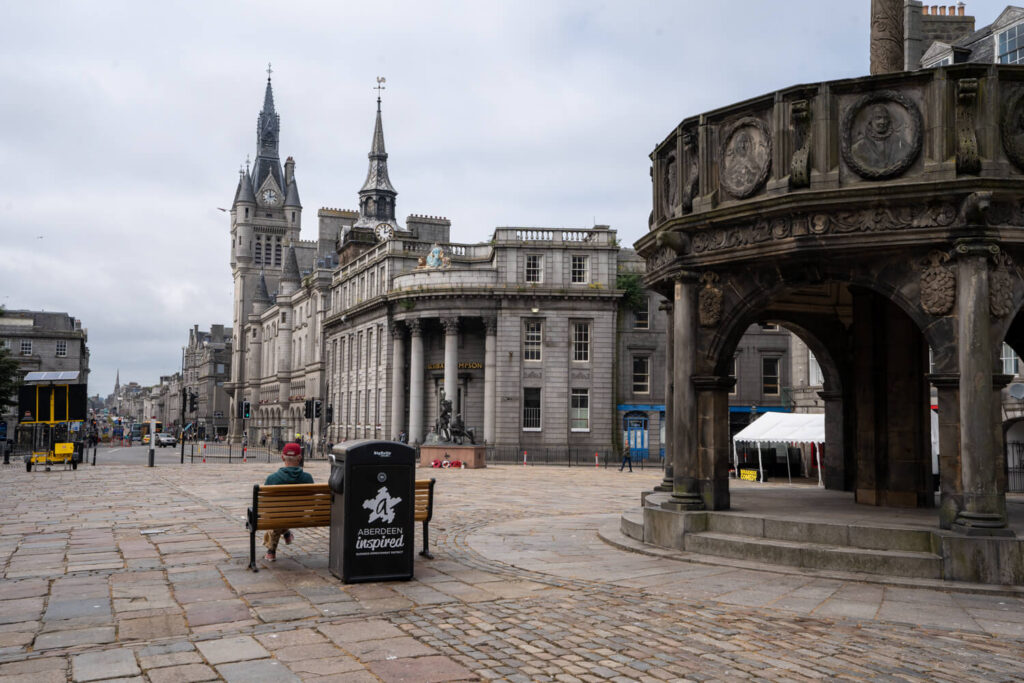 St Machar's Cathedral
St Machar's Cathedral is a Church of Scotland church located in Old Aberdeen in the north of the city. It hasn't had a bishop since 1609, therefore it is only a cathedral by name and more of a high kirk. It is free to enter the cathedral and lovely to have a look around the very impressive architecture.
Marischal College
Marischal College is one of the most eye-pleasing buildings in the city of Aberdeen. The building was previously constructed for the University of Aberdeen, however it is now used by the Aberdeen City Council. Construction on this building began in 1837 and it was recently renovated in 2011. It is located on Broad Street in the city centre of Aberdeen.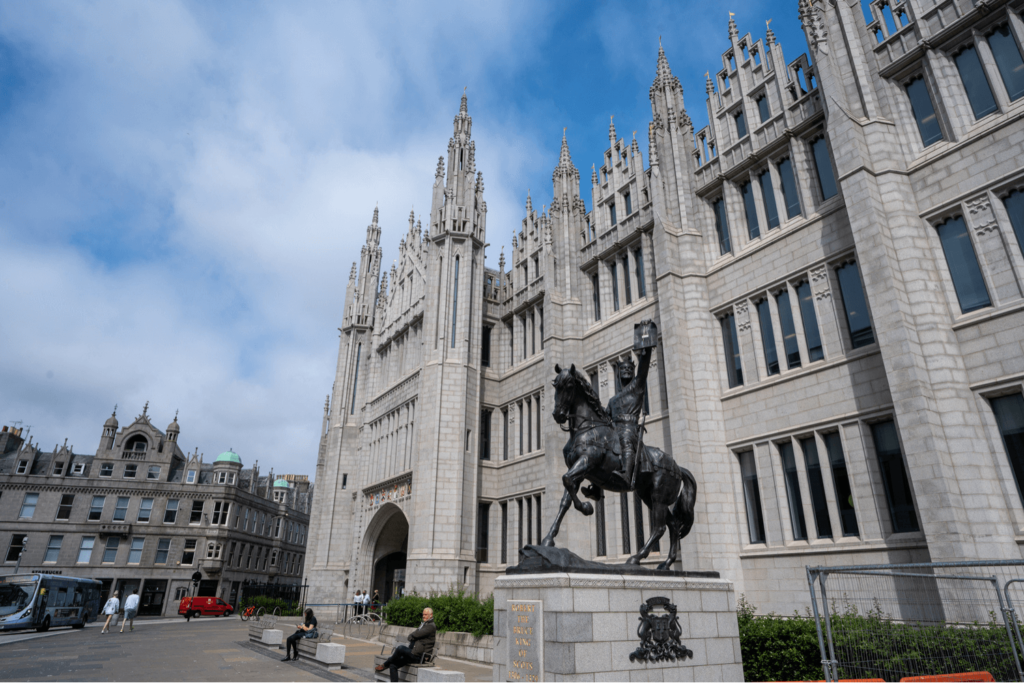 Seaton Park
Seaton Park is a beautiful place for a walk in the north of Aberdeen. There are also grassy areas, perfect for a picnic and a garden area with stunning plants, especially in the summer months. There is also a children's play area, public toilets and parking available.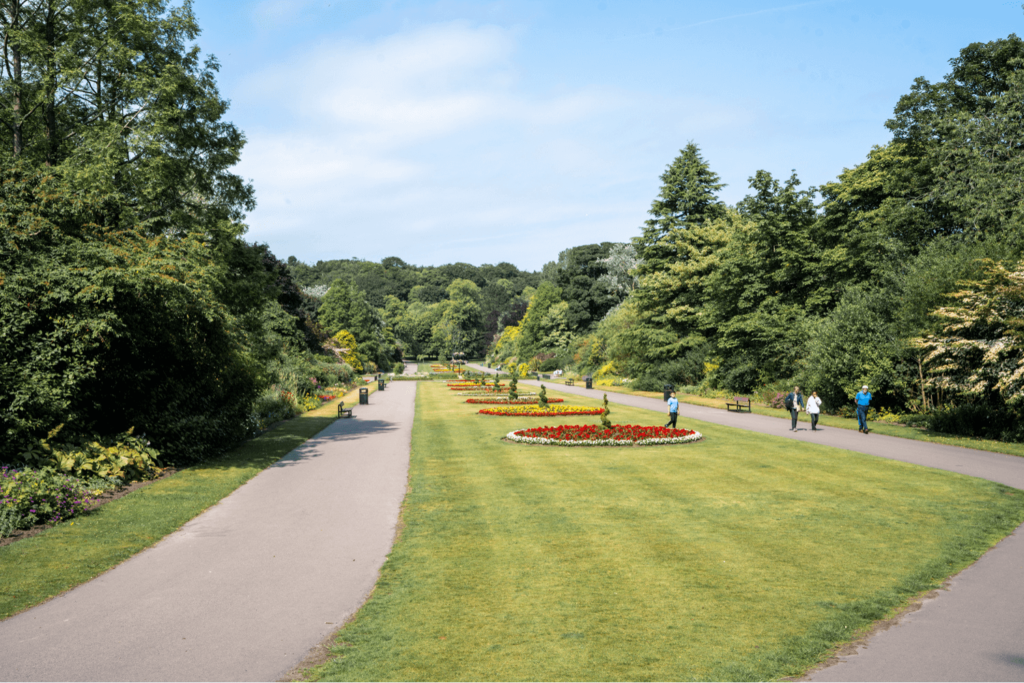 Footdee
Whilst you are in Aberdeen you must visit the small harbour village of Footdee. This old fishing village is lined with quaint houses. It is tucked away at the end of the esplanade and if you weren't looking for it, it is unlikely you would find it.
It was built in the mid-19th century with the intention of re-homing the cities fisherman, however today it is a vibrant little village with quirky houses and decorations. Lovely for a wee walk around.
Get out in Nature
Scotland is full of adventure and on the NE250 road trip, there are plenty of opportunities to get out and about and explore nature.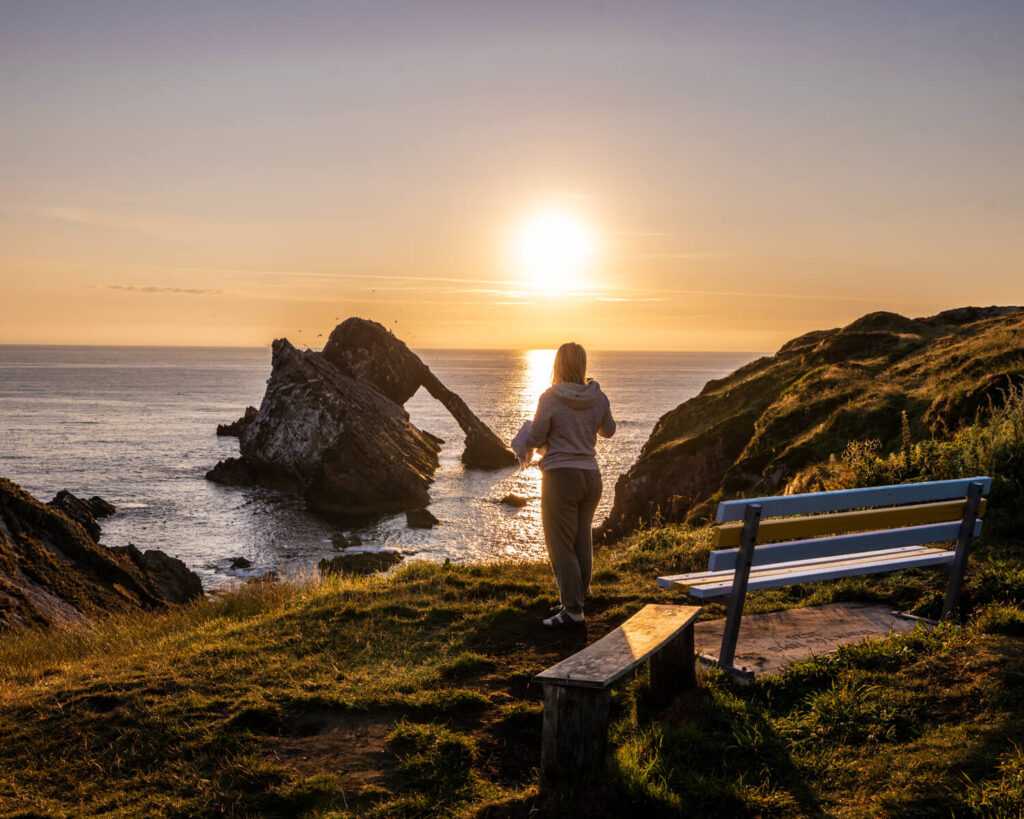 Ben Rinnes
Located just outside of the small town of Dufftown is the tallest hill in the Moray region, Ben Rinnes. There is one main path up the mountain, leaving from a small car park. You will climb 3 peaks until you reach the top of Ben Rinnes at 841 metres.
The total walk is 8km and the ascent is 548 metres so it will take roughly around 3 hours to walk, depending how long you spend at the top. The views from the top expand over the Cairngorm National Park and surrounding areas.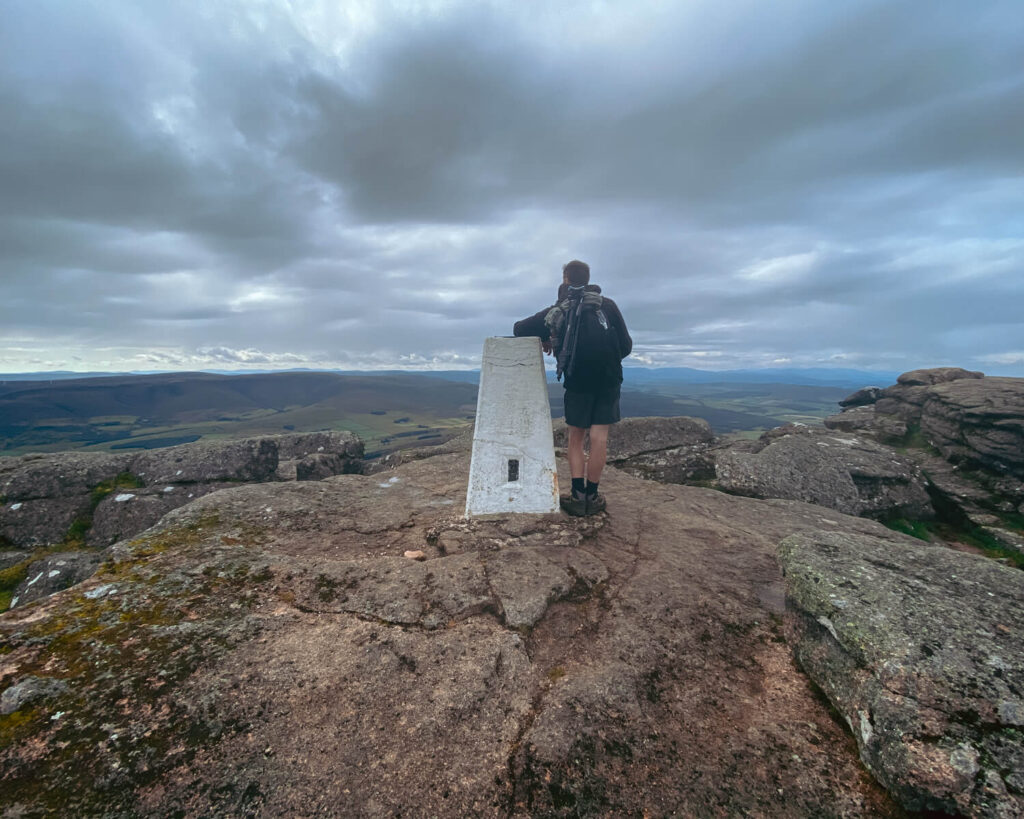 Linn Falls
Linn Falls is a spectacular waterfall located in Aberlour. It is only a short walk through the woods from the town of Aberlour. It takes around 15 minutes with no incline. 
The waterfall in on the pathway so it is easy to find. It is also accessible and would be a great waterfall for a wild swim.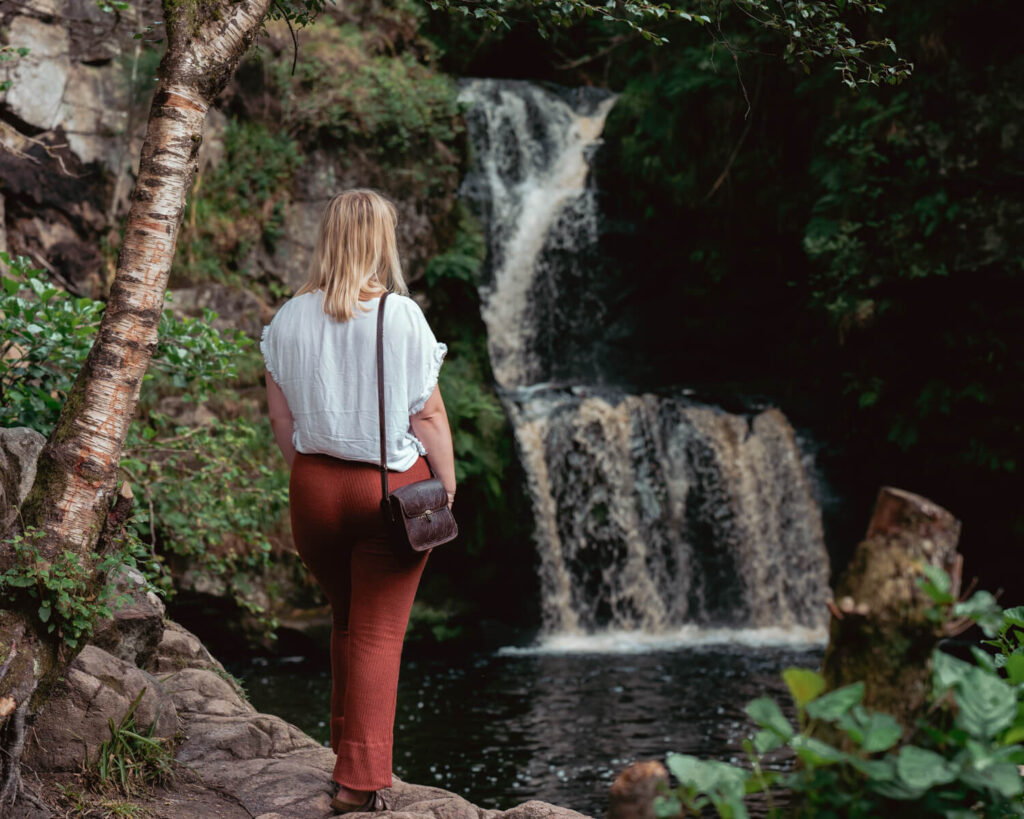 Bullers of Buchan
Another place worth stopping at before you settle in for the night is the Bullers of Buchan. There is a small car park and a path leading down to the sea, the walk is flat and takes around 10 minutes. Watch your feet carefully around here as there is a 30m drop from a very thin grassy path. Soon you will see a collapsed sea cave and natural archway that the waves come crashing through. The coastal scenery around this part of the cliffs is absolutely breathtaking.
The cliffs at the Bullers of Buchan provide a nesting site in spring for colonies of seabirds and puffins can often be spotted here. 
Warning – just be prepared for the smell!
Bow Fiddle Rock
Bow Fiddle Rock is a unique rock feature just off the coast of Portknockie. It is named the Bow Fiddle Rock as it looks like a bow. This natural formation was created by the pressure of the waves coming in from the North Sea. 
It is a great spot for a photo. especially at sunrise. You can either view if from the top or walk down to the beach.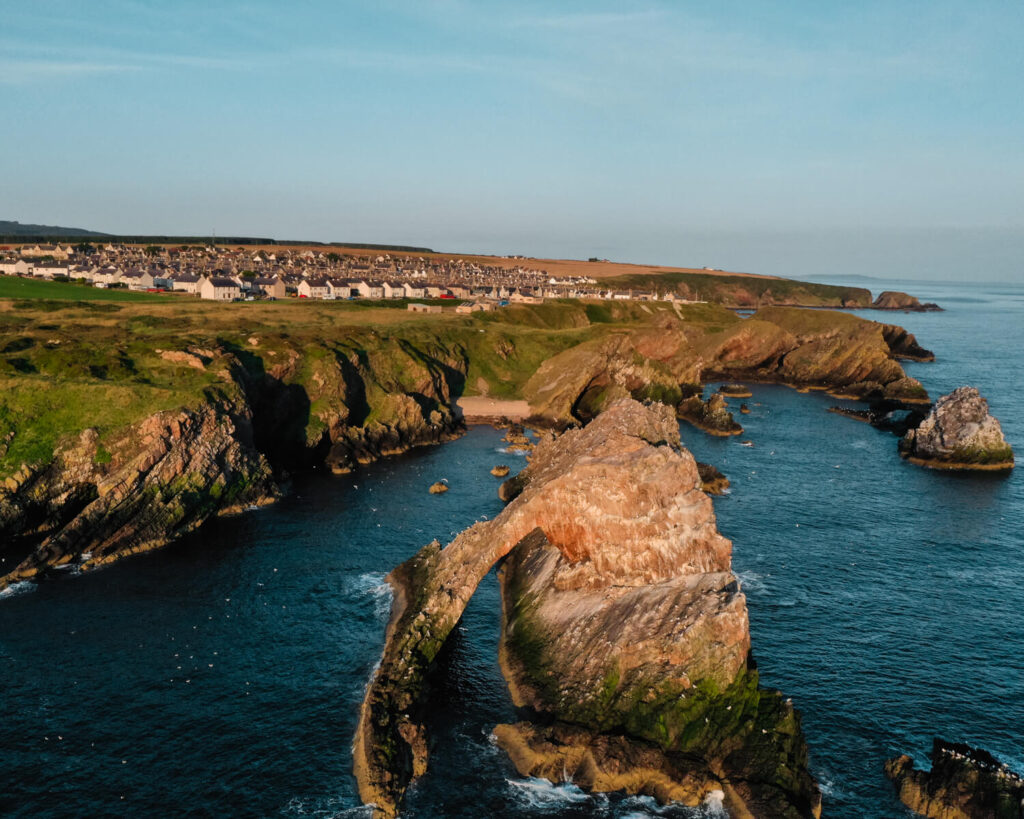 Distillery Tours
If there is one thing that you must try on your NE250 itinerary, it's some whisky. There are plenty of distilleries around but we can highly recommend Glenfarclas Distillary.
Glenfarclas Distillery
Glenfarclas Distillery is a family owned distillery and has been in the family since 1836. The offer friendly tours around the distillery with a tasting session at the end. The tour is free and very interesting learning about the process of how the whisky is made.
Now it's time to fight over who will be the designated driver!
Before You Leave on the North East 250
Before you head off on your trip around the NE250, there are certain things you will need to get organised to ensure a smooth trip. These include how to get around the route, including being aware of single track roads, etc., what to pack for Scotland, where to stay along the route and what travel insurance to book.
How Do I Get Around the NE250?
Given the reasonably remote location of the NE250 and the majority of the sights along the route, the best way to get around this road trip is by driving. There are of course other methods that are still popular, such as cycling and hiking, however, if you have a short amount of time on the route, neither of these are very suitable.
As for public transport, this isn't completely impossible, it is just a lot more difficult.
If you are looking to rent a cosy, reliable and luxurious campervan for your trip around the NE250, we highly recommend hiring through Bunk Campers. We toured with these guys around the up-and-coming Heart 200 road trip in Scotland's central highlands and could not believe the comfort and customer service we experienced with their vans.
Browse the full range of vehicles on offer at Bunk Campers over here.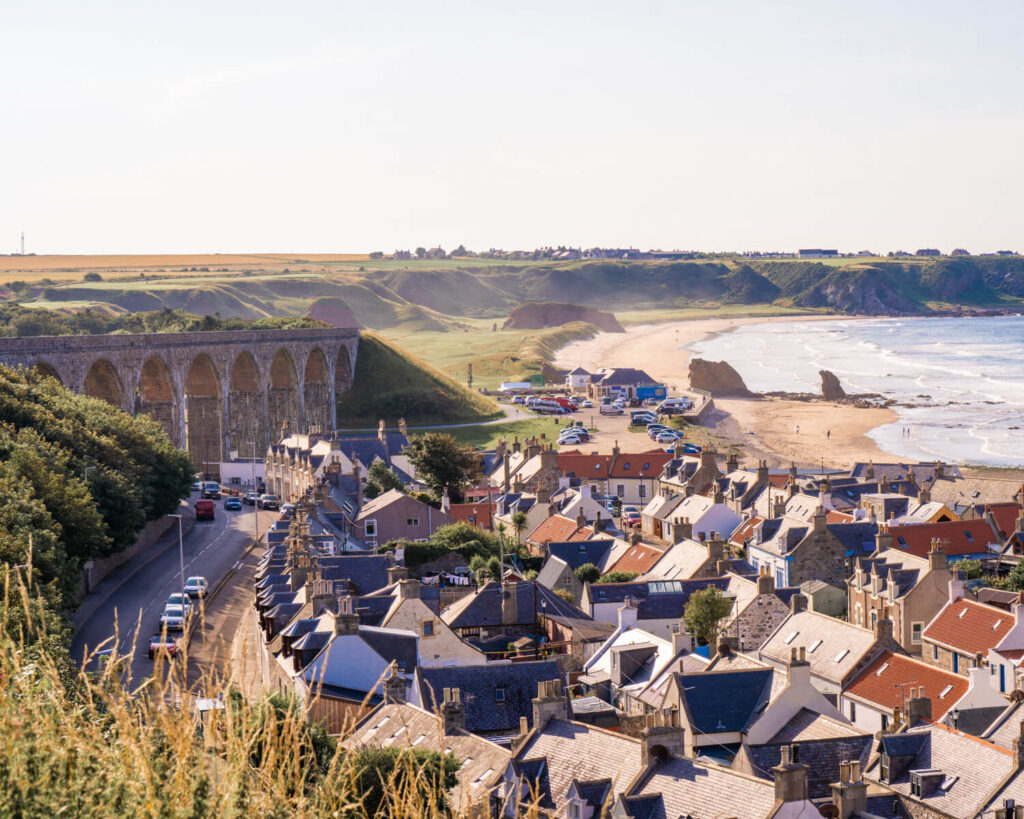 What Should I Pack for the NE250?
When it comes to packing for a trip along the NE250 there is one item of clothing that you are going to need all year round: a waterproof. It rains in Scotland on average 250 days a year, meaning that during your 7-day NE250 road trip you will probably experience at least a drizzle of rain. Due to this, the number one item on any Scotland packing list is a good waterproof jacket.
As for the rest of the year, the temperature in Scotland and the central heartlands is reasonably mild for most of the year. During the winter months, you will most likely experience snow, however, temperatures usually sit around freezing, so it is not too cold. For your reference, the average temperatures in Scotland are listed below during each season.
Spring (March, April, May) – 5-10 degrees C
Summer (June, July, August) – 15 degrees C
Autumn (September, October, November) – 5-10 degrees C
Winter (December, January, February) – 0-5 degrees C
As you can see, the weather never really gets above the teens, with anything over 25 degrees C considered a heatwave. The best way to pack for your trip to the highlands is with layers that can be added and removed as you need them. You will definitely need a hat and gloves during the colder months and will most likely need sunscreen to protect you on the long days in the open.
For our full list of items that we pack no matter where we go in the world, check out our full packing guides over here.
Given the beautiful sights and scenery that you are no doubt going to see around Scotland, we highly recommend packing a good camera for your trip. If you want to read more about the cameras we use and why we love them, check out the link below.
You can read what else we keep in our camera bag over here.
Where Should I Stay in Aberdeen?
Luxury – Residence Inn by Marriott Aberdeen is a luxury hotel in the city of Aberdeen. It is within 20 minutes walk of the beach front and has free wifi, a gym and laundry facilities on site. The best things about this hotel might just be that it was rated highly for the comfort of the beds!
Book your stay at Residence Inn by Marriott Aberdeen here.
Mid-range – The Jurys Inn Aberdeen is located a stones throw away from the city centre shops, bars and restaurants. All rooms have air conditioning, a TV, hairdryer and most importantly, a comfortable bed.
Book your stay at the Jurys Inn Aberdeen here.
Budget – The Station Hotel sits opposite the train station in Aberdeen and is a fantastic budget option for your trip to the city. Each room is equipped with a TV and tea/coffee making facilities as well as having it's own private bathroom.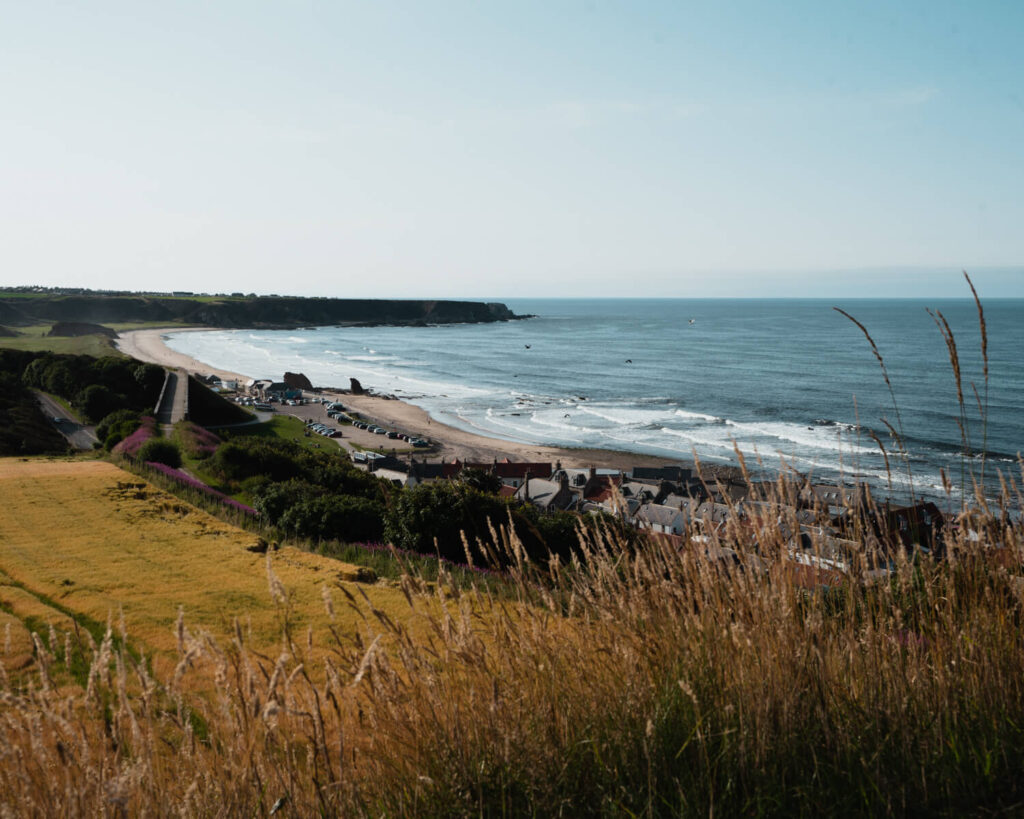 What is the Best Travel Insurance?
No matter what type of adventure you are heading on, whether it is a mountain adventure or a relaxing beach destination, one thing we all need to be aware of is that accidents can happen. The last thing you want is for an unexpected medical emergency to ruin your trip of a lifetime. Luckily, that is what travel insurance is for.
Whenever we travel abroad, we get covered with World Nomad's Travel Insurance, a reliable, friendly and extremely affordable method of covering yourself on any adventure. With years of experience working for backpackers around the globe, the service they provide is perfect for whatever type of trip you have planned.
Get covered for your next trip and get a quote from World Nomad's right here.
So there you have it, all of the best things to do along the North East 250, including castles, cliff views, and beaches. If you have visited the NE250 recently, let us know what you thought of the sights listed above, or if you have any suggestions let us know in the comments below.
As always, sharing is caring so make sure to share this photo guide with your family and friends and inspire them to head off on their own North East 250 adventure. If you are planning the trip for yourself, make sure you have a look at the rest of our Scotland content for more inspiration to our beautiful home country.
When you set off on your own adventure, be sure to tag us in your photos on Instagram and we will share them with the rest of our community. In the meantime, why not follow us over there to see what we are currently up to and keep up with us on our Instagram Stories.
Now Read:
This article may contain affiliate links that provide us with a small income. For more information read our Affiliate page.
Pin this image to your Scotland Pinterest board for later