The North Coast 500 is one of Scotland's most spectacular attractions, showcasing the absolute best that this ancient landscape has to offer. From rugged cliffs to rolling glens, towering mountains to flowing waterfalls, tranquil rivers, and adrenaline rushes, Scotland has it all. Many visitors to Scotland all dream of touring this fantastic road trip around the north coast of Scotland, however many are not sure what to pack when they do.
This guide will list what to pack for the NC500, including everything you will need for a comfortable road trip and camping trip around Scotland's north coast.
This is your ultimate North Coast 500 Packing Guide for your next adventure to the rugged north. A quick summary of the most important items to pack for the North Coast 500 is shown below. All of these and more are discussed in greater detail later in the article.
Get planning your ultimate Scotland Road Trip with our 7-day North Coast 500 itinerary
Download an easy to use, NC500 map and North Coast 500 Itinerary right here. Complete with pictures, stopping points and highlights along the way, this guide is a must-have for your next trip!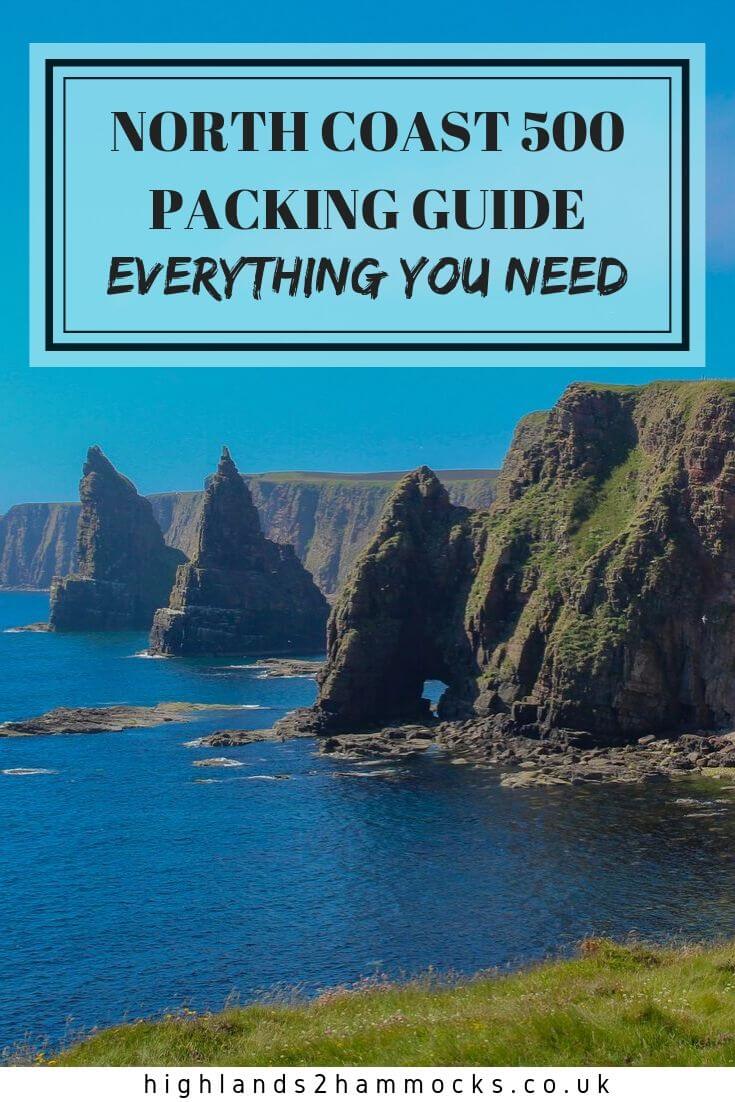 See the beautiful Corpach Shipwreck for yourself in our Best Road Trips in Scotland video. Make sure you subscribe to our Youtube channel for more by clicking here!
Listed below are all of the areas of packing we will discuss in this article. Each of these items will be explored in further detail later on.
General Equipment
Clothing and Backpacks
Camping Equipment
Cooking Equipment
Also Read – Wild Camping Essentials – A Complete Guide to Wild Camping
North Coast 500 Packing Guide – What You Will Need for the NC500
What is the North Coast 500?
The North Coast 500 is an epic, 500-mile itinerary around the furthest reaches of Scotland. It is usually driven in a clockwise fashion, beginning in Inverness and heading west to the coast before turning north and completing a full circuit. The route of the North Coast 500 will take you through blissful glens, past ancient castles, along knee-wobbling cliffs and many winding roads.
If you enjoy a raw, natural landscape, untouched by mankind, then the NC500 rod trip is the one for you. At least once during your adventure, you are going to find yourself admiring the view of a loch, the wind will die off and the birds will stop singing, leaving you in absolute silence. These are some of the most peaceful times you will experience in your life.
Come along on our roadtrip with us on our NC500 compilation video. Make sure you subscribe to our Youtube channel for more!
How Long Does it Take to Drive the NC500?
This is one of the most common questions about the North Coast 500 when it comes to planning the road trip, however, it is one without a real answer (unfortunately). The basic answer is "it can take however long you want it to".
There are people who race around the NC500 in one day, making the most of the beautiful scenery, winding roads and white-knuckle driving conditions in certain areas. There are also people who slow travel around the NC500 for months at a time, making the most of every beach and soaking up the history at every stop.
How Long SHOULD you spend on the NC500 is the better question to ask, and to that my answer is between 7-14 days.
What are the Rainiest Months in Scotland?
When it comes to packing for a trip along the NC500 there is one item of clothing that you are going to need all year round: a waterproof. It rains in Scotland on average 250 days a year, meaning that during your 7-day NC500 road trip you will probably experience at least a drizzle of rain. Due to this, the number one item on any Scotland packing list is a good waterproof jacket.
On average, the rainiest months in Scotland tend to be from August through to February.
Download a FREE packing checklist for your next camping adventure to ensure you don't forget anything important. Download it for FREE right here.
General Equipment
When it comes to the average traveler of the North Coast 500, there are a certain number of items that everyone can pack to ensure a smoother journey. These are for anyone either driving the North Coast 500 and staying in hotels or tripping around and wild camping on the North Coast 500.
This mandatory equipment is listed below, alongside suggestions of the best equipment on the market.
Refillable Water Bottle
To save money and reduce your plastic consumption, a refillable water bottle is something you should pack for your trip. Scottish water is some of the purest and most refreshing in the world, with a host of burns and waterfalls to refill and refresh straight from the source.
Tap water in Scotland is not only drinkable, but it is among the cleanest water in the world. There is nothing more refreshing than drinking straight from a trickling stream after a heavy hike up a mountain. Just be sure to follow these drinking water guidelines before filling up from a natural source.
Our bottle of choice for hiking in Scotland is the WatertoGo filtration bottles. These bottles can be used without a filter for natural, spring sources or with a carbon filter for sources where the water may be contaminated. These filters will remove all forms of bacteria, fungi, and even viruses, using a nanoporous, activated carbon filter.
These bottles especially stood out for us as they not only reduce our use of plastic consumption whilst travelling around the world, but the filters themselves are made from recyclable plastic and biodegradable components.
Purchase your WatertoGo bottle and use the discount code "HH15" for 15% off.
Head Torch
Regardless of your kind of trip, in the highlands of Scotland, a head torch is always a good thing to have. If you are visiting Scotland in the summer, the northern coast is blessed with late nights and early mornings. so you may not need it during these months. However, in the winter and spring months, the evenings are dark and long, with little to no street lighting to help you.
Head torches are great for anything from a sunrise mountain hike to a late-night walk home from the pub. The head torch you decide on doesn't need to be expensive or fancy, just a simple, on-and-off source of hands-free light is perfect.
Below is our best recommendation for a head torch for your trip around the North Coast 500.
Roadtrip Playlist
During this road trip you are going to be doing a lot of driving (go figure). Although 500 miles may not seem like a lot if you are wanting to truly appreciate the journey it is going to take you a good few days of driving. The roads are narrow, twisting and difficult to drive at high speed, so it is going t take you a while.
To add to the experience,  make sure you sort out your Scottish music playlist with the best of the best from this bonnie land.
Camera
Perhaps the most important item for any adventure, the camera. With so many beautiful sights and memories around this northern coast, capturing these and taking them home is going to be a high priority for you.
Some good beginner cameras that we can recommend from personal experience are the Canon 1300D DSLR camera and the Sony HX90 compact camera. These are both great budget cameras that produce some stunning results and are both a great choice for anyone looking to either take up a hobby in photography or just capture stunning memories.
Click on the image to browse the entire range.
Whatever adventure we go on, we always pack our camera bag to the brim with gear. This includes our GoPro, Drone, camera, and tripod for all the different styles of photos we take. The camera we are using at the moment is the Sony A7 mirrorless camera. This is an excellent, mid-range camera with a fantastic, wide-angle frame, which is perfect for landscape photography.
Read more about what is in our camera bag right here.
WATCH BELOW

Don't forget to subscribe and follow our journey on Youtube. 
Navigation Equipment (And Backup Map)
If you are planning on heading off the main road at any point (even if it is a casual walk along a dirt track), it is incredibly important to be prepared to get lost. In the highlands of Scotland, even well-trodden paths can be remote. Do not rely on having other people to help you out in case of accidents or bad weather.
Before I hit the hills, I always ensure I have a compass, an Ordinance Survey map of the area and a waterproof map cover. Reading a map is incredibly simple and easy to get the hang of.
Swiss Army Knife
A tool that is lightweight and useful in all situations. My swiss army knife is a 50 tool version, however, you will only need the most basic for your trip. I suggest you buy one with a large knife, tweezers for ticks, a tin opener for food tins, and a bottle opener for obvious reasons.
Click here to browse the huge range of swiss army knives available.
Duct Tape
Useful for any and all camping trips, duct tape is something I never leave the house without. Whether it is for a quick tent repair, a camera stand malfunction or a first aid emergency, duct tape is always good to have to hand.
Click here to buy duct tape for your next trip.
Rope
Mostly for camping trips, however, a rope is useful for a lot of things in everyday life too. I always pack 5m of a reasonably thick rope (5-10mm), just in case of an emergency.
The rope can be used for hanging up washing, securing loads to your backpack or car and loads of other things.
Click here to buy rope for your next trip.
Clothing
When it comes to exploring Scotland, the best advice I can give you is simply be prepared. The Scottish climate is an incredibly unpredictable thing, with the weather growing more temperamental the further you travel north.
For the NC500, I would suggest packing the following regardless of the time of year or predicted weather forecast, as even the sunniest day can change to rain in an instant.
Download a FREE packing checklist for your next camping adventure to ensure you don't forget anything important. Download it for FREE right here.
Rucksack
Perhaps the most important piece of kit, the backpack. Even if you are touring the NC500 by car, you will want to have a good day bag to carry essentials in when you are out exploring.
We currently use two different bags, one for all of our essential clothes and one for our camera equipment. Our North Face Duffel Bag is our go-to day bag, perfect for hand-luggage trips and hiking day trips alike. We used this bag for two months when we visited Bali and even used it for one week in Canada during winter.
The North Face Duffel Bag is large enough to fit all the clothes and equipment you will need for your trip and is also fully waterproof and very secure to theft.
Read our full review of the bag over here to see why it is so good.
Click on the image to browse the entire range.
The camera bag we use is the YuHan large camera bag. This is perfect for keeping your camera equipment safe and secure, with its hidden camera compartment and extra padding. It also has a 15″ laptop compartment that is very secure and hidden in the main pouch.
Click on the image to browse the entire range.
Hiking Boots
You will most likely be doing a bit of walking on your NC500 road trip, with many of the sights sitting away from the road and into the forests. You will, therefore, be needing a good pair of comfortable, waterproof walking boots to carry you to these sights.
These may not need to be heavy-duty, hiking boots, but can simply be sturdy outdoor shoes with a good grip on the soles. I use Mammut hiking boots, which have lasted me over 6 years now.
Browse all of the best hiking shoes over here.
Click on the image to browse the entire range.
Gators
A very important item of clothing if you are planning any form of walking off the beaten track. Gators will help keep your feet dry in the wettest and muddiest of conditions.
Click on the image to browse the entire range.
Waterproof Jacket
For any trip to Scotland, the one piece of clothing you are going to need is a waterproof jacket. The weather in Scotland is incredibly temperamental, switching from Spring sunshine to Winter hail in a heartbeat.
For your trip to the northern coast of Scotland, you will want to invest in a reliable and warm waterproof jacket. This is not to say you will have to spend a fortune to find one, however, as there are plenty of reasonably priced jackets available.
Click on the image to browse the entire range.
Waterproof Trousers
Another item of clothing I highly recommend for your North Coast 500 packing list if you are going to be doing any walking is waterproof walking trousers. These will not only keep you dry, but they will also shield you from the bitter arctic winds coming in from the north.
Click on the image to browse the entire range.
Hat and Gloves
An obvious choice of clothing for the winter, however, we would still recommend packing a hat and gloves for a summer trip as well. The temperature can drop once the sun sets on the north coast of Scotland and a hat and gloves will be nice to keep warm by the campfire.
Also Read – North Coast 500 Castles – The Ultimate Guide to Scotland's Historical Castles
Camping Equipment
If you plan on camping on the North Coast 500 we did, there are a few items that you will need to ensure you pack to have a smooth journey. We highly recommend camping in this part of the world, regardless of your experience with camping, as it one of the best ways to experience Scotland possible.
If you are used to a more glamorous type of adventure, camping can still be as comfortable as any 5-star hotel and can offer a view like no other. Read our full guide to Glamping to see how you can make any camping trip luxury.
Camping
Tent
Your palace for the night and 5million-star hotel, a tent is the best place to rest your head after a hard day of exploring the NC500. With regards to size of tent, you can choose from a huge range for what will be most suitable to you.
If you are planning on wild camping on the NC500, we recommend you do not get a tent that is larger than 4-man, or one that is tall enough to stand in. This is purely for discretion, as a smaller tent is easier to go unnoticed in and it will be easier to find a place to pitch it up.
Our favourite brand of tent is Vango, who have a range of sizes, designs and prices that are suitable for everyone. We use a Sigma 300 tent, which features a main compartment large enough for a double airbed, and a porch large enough to store our portable fridge and shoes.
Click on the image to browse the entire range.
Roll Mat
The rock-solid roll mats of yesteryear are dead and gone when it comes to camping today. Roll mats are lighter, comfier and more robust than ever before. Inflatable roll mats are not only compact, lightweight and extremely luxurious, but they are also so cheap!
During our 3 month trip around Europe, we slept on our roll mats more than on a solid mattress, and I have to say they were the comfiest bed we had. Folding down to a pouch that is smaller than a summer sleeping bag, these roll mats are a must-have for your next camping trip.
Click on the image to browse the entire range.
Sleeping Bag
Depending on when you decide to visit the North Coast 500, your choice in the type of sleeping bag you pack may change. In the Summer months, you will probably need a lighter sleeping bag, possibly one rated for above 5°C. This type of bag is comfortable for temperatures above 10°C all the way to about 35-40°C.
In the event that the temperature drops to below 10°C, it is handy to pack a sleeping bag liner or even more layers to wear at night.
If you are going in other seasons, such as Autumn, Winter or Spring, you will need a thicker sleeping bag in order to sleep comfortably. My winter sleeping bag is rated to -5°C  for a comfortable sleep. Once again, you will definitely need extra clothes to wear at night.
Click on the image to browse the entire range.
Cooking
Whilst on your NC500 journey, you will, of course, want to try some of the amazing pubs and restaurants along the route. However, to save some money and make cooking up an early, sunrise breakfast possible, we recommend also packing some equipment to cook your own meals.
Cooking whilst camping has a bad reputation for being difficult, boring and rather tedious, however, it really doesn't have to be! Whether you are sleeping in a tent or a campervan, it is possible to rustle up some seriously delicious, nutritious and hearty meals from a simple camping stove.
Read our full guide to camping and cooking, with loads of tricks and hacks to make it as simple as cooking at home. We also list our favourite meals to cook in a campervan from our Australian adventure.
Camping Stove
The most important item for cooking on your NC500 road trip, selecting the right camping stove for you can be a daunting decision. You have a choice of either a small, portable, single burner cooker or a larger dual-ring burner that makes cooking easier.
This decision will, of course, be influenced by how you plan on getting around. If you are carrying around a backpack for hiking trips, you will want to limit your pack weight and opt for a smaller camping stove. These can be as small and as simple as one that mounts directly on top of the gas bottle, however, we recommend you only use short gas bottles for these to prevent your dinner tipping over.
Click on the image to browse the entire range.
If you are bringing your car on your trip, as we did, you can afford to splash out on the size of your cooker a little more. We recommend getting a two-ring burner for your trip, as it makes cooking meals a lot easier.
Click on the image to browse the entire range.
Gas Canister
Again, this will depend on the size of the pack that you will be carrying. You can either use a small, butane cannister, or you can pack a large propane tank. If you decide to bring the former, we highly recommend that you carry at least one additional, full cannister as a spare.
Large propane tanks can be purchased at most petrol stations across the country, and you can buy the small butane cannisters here.
Camping Crockery (Plates and Bowls) and Cutlery
The best type of plates and bowls you will need for your trip will be hard and robust plastic. There are many camping sets that are made of lightweight metal, however, these are an awful choice for one simple reason. They act as a radiator and rapidly remove the heat from your food. In the slightest of winds, your dinner will cool to freezing in around 5 minutes. Avoid these materials!
Plastic plates, bowls, and cutlery are all lightweight, durable and cheap to get for your NC500 road trip. If you are short for space in your backpack, you can purchase complete sets that fold away nicely, as well as an all-in-one spork.
Click on the image to browse the entire range.
Portable Electric Fridge
An item that we cannot recommend highly enough if you are taking a vehicle on your road trip. A portable electric fridge will make your life very easy whilst on the road, allowing you to store perishable items and even chill a beer or two for the cracking sunsets that await you.
Plugged into your 12v cigarette lighter, these fridges will run whilst you are driving and then keep cool when you stop and unplug them. This is perfect for the North Coast 500 as you will find that at some points along the route you will have to wait 2-3 days before finding another supermarket.
Check out the full list of our favourite camping recipes that are not only easy to make but also very nutritious! For all of your camping food inspiration, click here.
So there you have it, the ultimate North Coast 500 packing guide, complete with everything you will need for an unforgettable trip. If you have visited the NC500 yourself, let us know how you enjoyed it in the comments section below. What packing tips do you want to share? Is there anything that we forgot to mention? What were your favourite sights along the North Coast 500? Let us know in the comments below.
If you enjoyed this article and are preparing for your own camping adventure, make sure you check out the rest of our Scotland content here, as well as all of our Camping Tips and Guides over here. Remember, sharing is caring, so if you enjoyed this article then share it with your friends and family so they too can learn everything they need to about the NC500.
If you used this guide to help you plan your NC500 road trip, let us know how you found it. You can catch up with us over on our social channels to see where we currently are, and tag us in your photos to show us you enjoying your own camping adventure for us to share it with the rest of our community!
Now Read:
This article may contain affiliate links that provide us with a small income. For more information read our Affiliate page.
---
Pin it for later!