Happy Saturday guys!
First of all, apologies for the delay in getting this weeks newsletter out. Our mail server went down and then we were out of signal for a while. Better late than never though! We hope you are all having a fantastic week! We have been released from the hibernation of isolation and it has been all systems go this past week as we catch up with the time that we missed out on.
This past week, we have been searching for what we believe is one of Scotland's most impressive waterfalls, historical caves where the bones of a polar bear were found and more epic scenery around the west coast.
If you're not already make sure you head over to our Instagram or Facebook page to follow our stories and see what we get up to on a day to day basis.
Instagram – www.instagram.com/highlands2hammocks
Facebook – www.facebook.com/highlands2hammocks
We have also recently joined Patreon, where you can sign up to receive discounts, monthly live chats and more! This support helps us out a lot with the daily running costs of highlands2hammocks and we would love to have you join the tartan clan over there for more exclusive content.
For the full details, check out our Patreon by clicking here.
Highlights of the Week
Wailing Widow Falls
In our opinion, this is one of the most impressive waterfalls in Scotland. The water falls from Loch Gainmhich and when there has been a lot of rain, these falls are a must see! The Wailing Widow Falls is 50ft tall and can be viewed from as path at the top of the loch or from the bottom.
The Bone Caves
The Bone Caves are another amazing place on the west coast of the NC500. A walk through the hills and you will arrive at 3 caves on the side of the cliff. Animal remains were found in these cliffs many many years ago of brown bear, polar bear, arctic fox and northern lynx. The walk took us around 2 hours in total with photo stops and looking out for the deer watching us from the hills above. The walk is 4.5km along a muddy track but well worth it.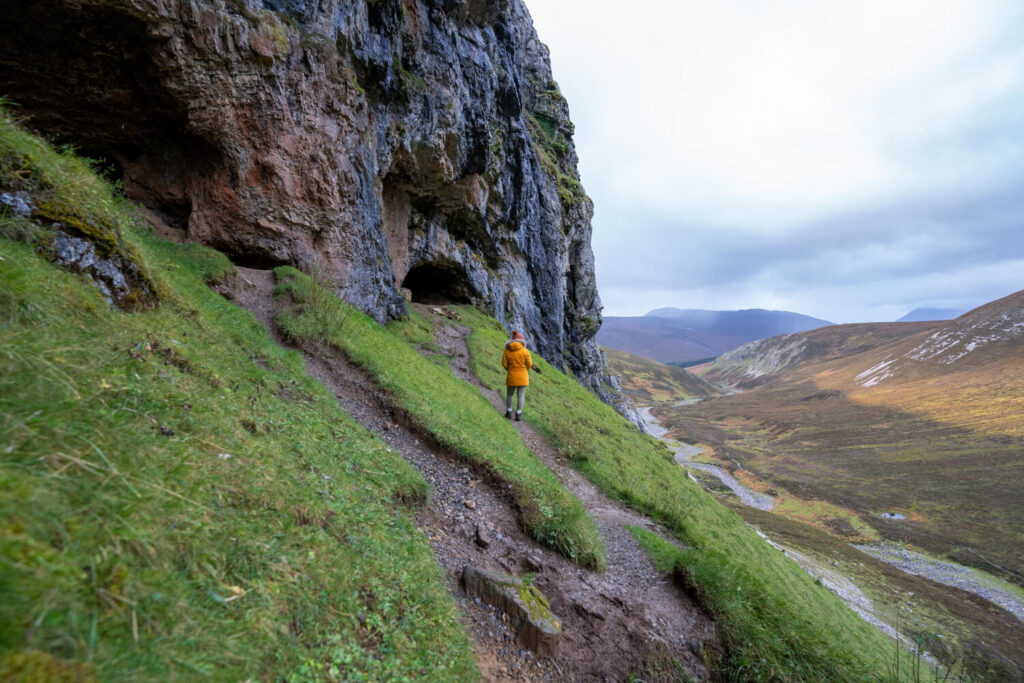 Assynt Viewpoint
One of the most beautiful views on the west coast of Scotland. This spot is located near Achmelvich and is 360 degrees of beauty. The mountains from left to right are Canisp, Suilven, Cul Mor, Cul Beag and Stac Pollaidh. There is a little car park area that you can park in to admire the view.