Scotland is one of the most scenic countries in the world, especially in winter when the mountains are covered in snow and the lochs are frozen over. The Scottish highlands is a popular holiday destination during the winter months as many visit to enjoy the many ski slopes or hills for sledging.
No time to read now? No problem, save a pin to your Pinterest board for later!
Visiting Scotland during winter isn't for everyone so to give you the best shot at enjoying your experience in this beautiful country, it is important to have an idea of what to expect. In this guide, we will discuss the following
Prepare for the Weather

Driving in Scotland in Winter

Hours of Daylight in Scotland in Winter

Winter Colours in Scotland

Activities in the Scottish Highlands in Winter 

Preparing for your trip to the Scotland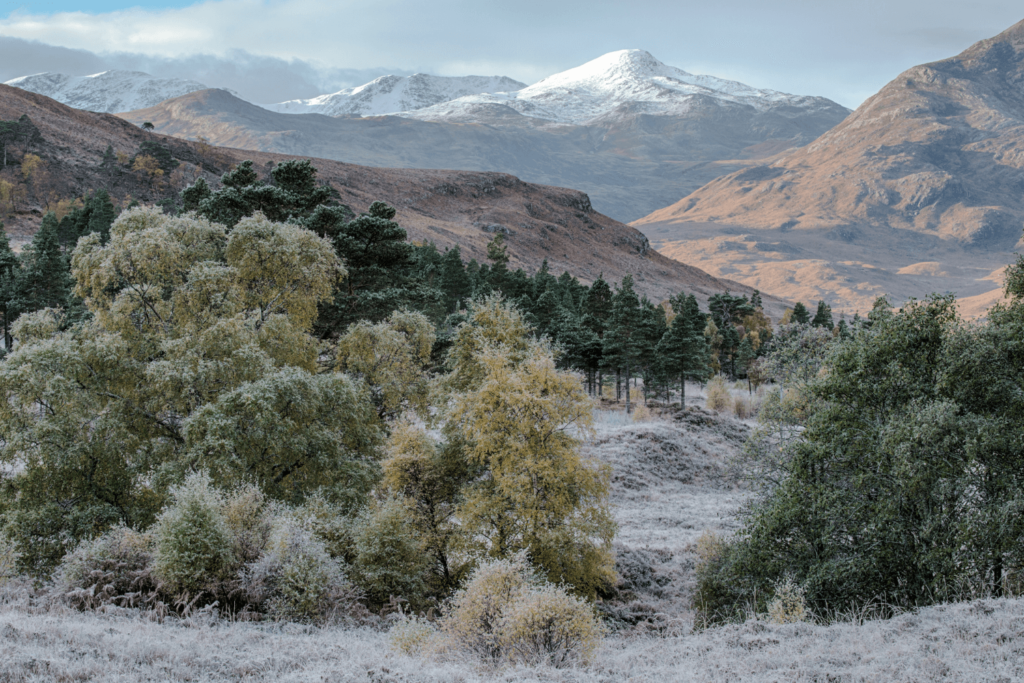 Prepare for the Weather 
Due to the wet weather that Scotland experiences in winter, you can expect to need to bring a waterproof jacket to keep you dry on your trip. If there has been a lot of rain, there will be boggy and marshy conditions underfoot when visiting some of the popular tourist spots. For comfort and warmth, we would recommend you pack a good pair of boots to keep your feet dry and warm if you head off the beaten path or get caught in a rainstorm.
In addition to the boots, a pair of waterproof and comfortable walking trousers will also come in handy. You are going to be out and about a lot during your trip, so you should not let a little rain get in the way of exploring Scotland's beauty.
It is also common for the highlands of Scotland to experience snow during the winter months. Bring warm clothes to get out and explore the highlands in all their beauty.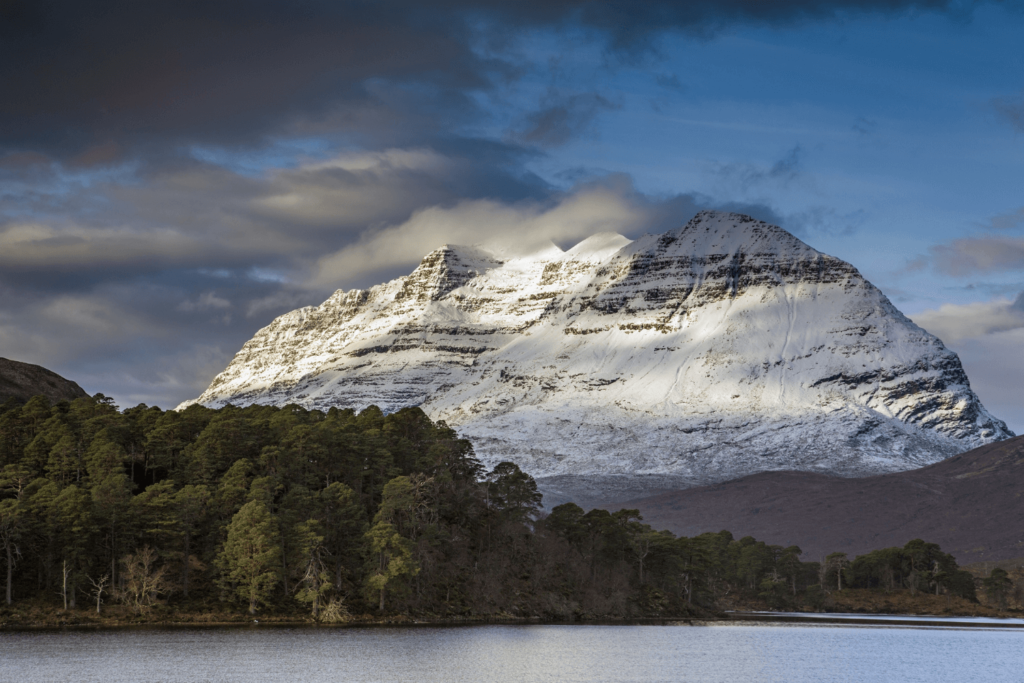 Driving in Scotland in Winter
Driving during the winter months in the highlands of Scotland, requires full concentration due to the changing weather conditions. 
We would recommend making sure you have all season tyres on your vehicle to help you drive comfortably.
Due to the wet weather that the Scottish highlands can experience during the winter months, frozen roads are no uncommon when the temperature drops. Not all paths are going to be treated with salt to prevent freezing either, so it is up to you to take care during these icy conditions.
During some of the heavier rainfalls, some of the roads in the highlands may experience flooding. This can mean some roads will become inaccessible if you do not have a larger car, so take care when you are driving around so as not to become flooded in.
This also goes for snow. We recommend having an emergency bag in your vehicle with warm blankets in case you become snowed in.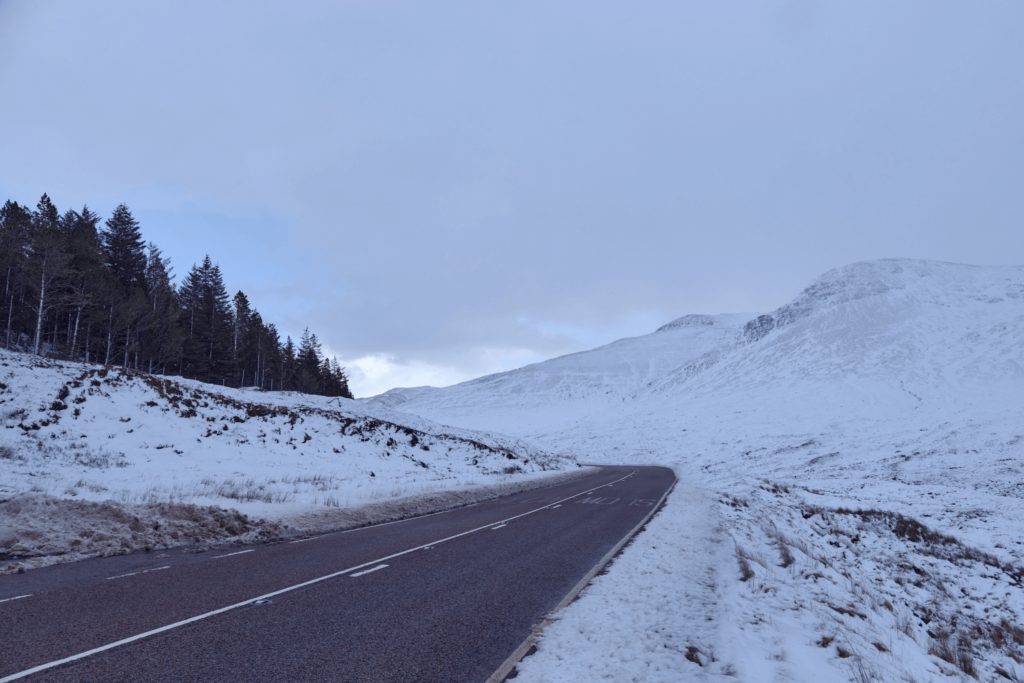 Hours of Daylight in Scotland in Winter
Due to how far north the Scottish highlands are, the daylight hours vary drastically from summer into winter. In the peak of summer, there will be nights when it does not seem to get dark at all, with a constant twilight sitting on the horizon. In contrast, during the winter months, the daylight hours are very short, some days only have 5 hours of sunshine. It is important to bear this in mind when you visit during winter and remember that you do not have as much daylight to see as many sights as in the summer.
If you get a clear night, the benefits of the early sunrise is that there are more hours of possible northern light sightings!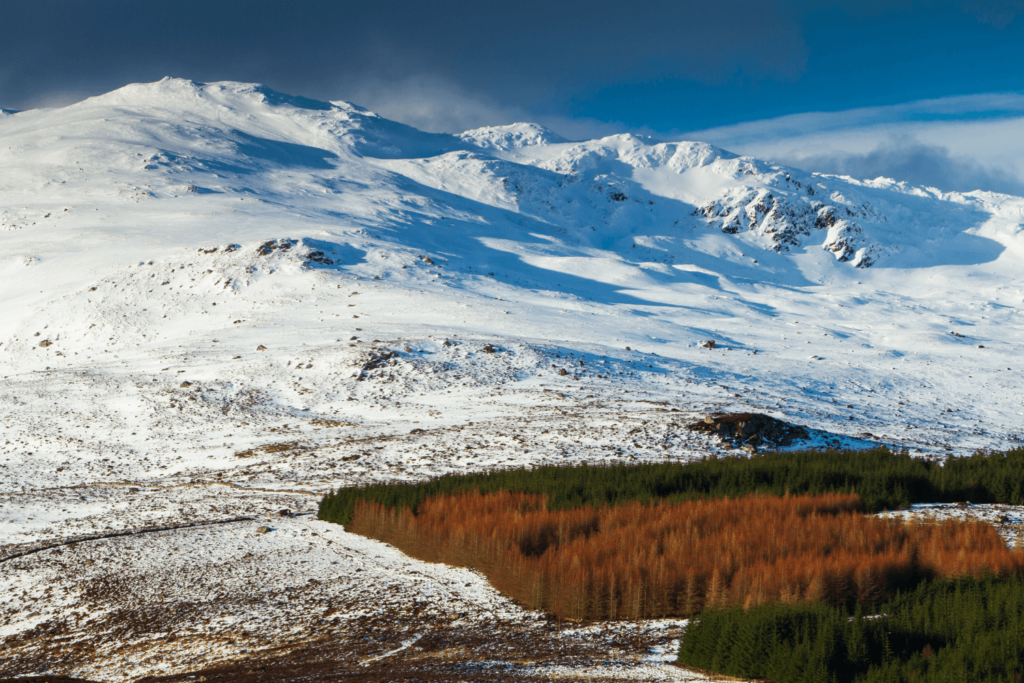 Winter Colours in Scotland
Winter may not be the brightest time to visit the Scottish Highlands, the flowers are not in bloom and the trees have been laid bare. However, perhaps the most beautiful characteristic of the Scottish Flora is the colour it produces across the hills during the winter.
The heather turns a magnificent orange/brown and, when paired with a dusting of snow on the tops of the mountains, as well as a golden sunset, it creates a sensational palette of warming golds, reds, browns, and oranges across the hills. Winter in Scotland is arguably the most spectacular time of year for photographers and nature lovers alike.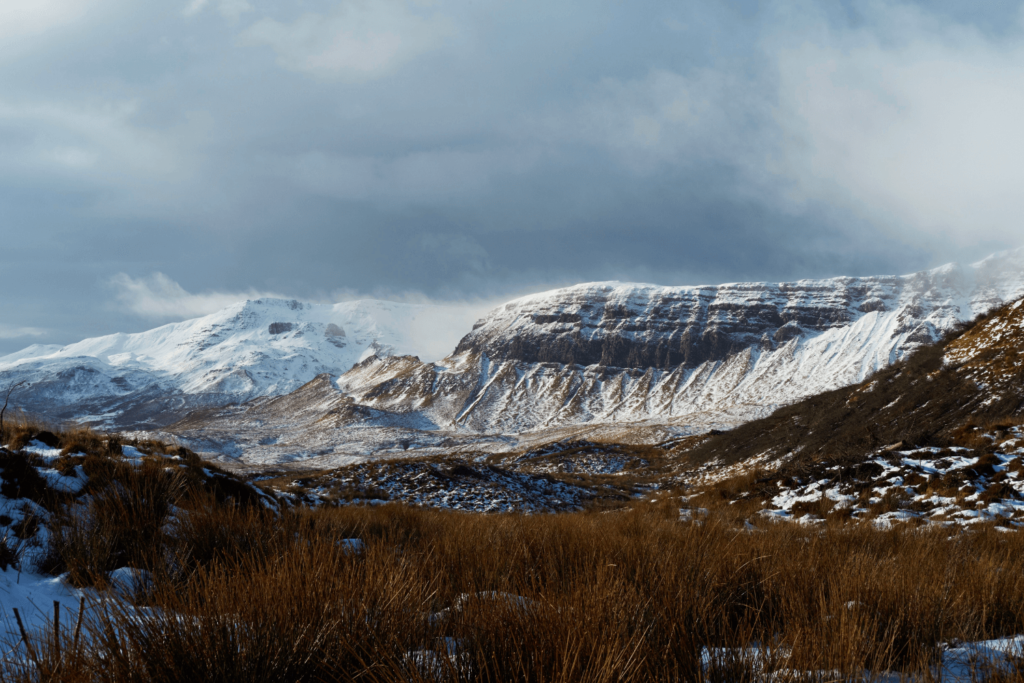 Activities in the Scottish Highlands in Winter
The Scottish Highlands are very popular during the winter months and over the Christmas period as this is when there is likely to be snow. The Cairngorms National Park is home to 3 of Scotland's ski centres, Cairngorm, Glenshee and Lecht. Another popular ski resort in Scotland is Glen Nevis.
If you are new to skiing or snowboarding, there are plenty of opportunities for beginners on the slopes either by purchasing packages that include tuition or lessons.
If skiing and snowboarding is not for you, there are many great hills to go sledging on in the Scottish Highlands.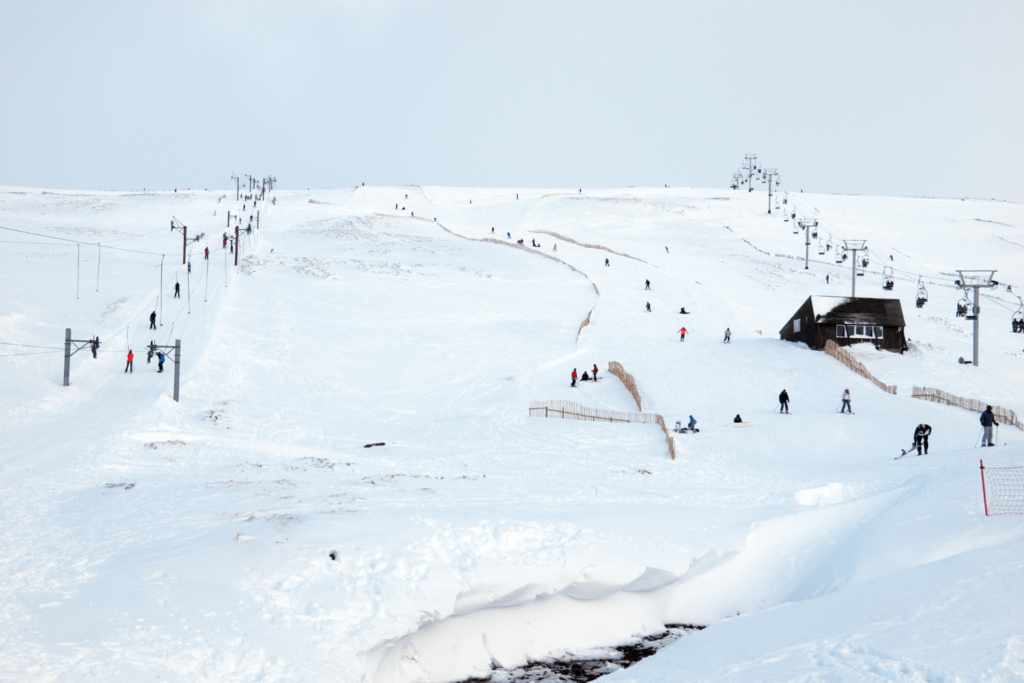 Before You Leave for Scotland
Before you head off on your Scotland trip, there are certain things you will need to get organised to ensure a smooth trip. These include how to get around the route, including being aware of single track roads, etc., what to pack for Scotland, where to stay along the route and what travel insurance to book.
How Do I Get Around Scotland?
Given the remote location of many of the incredible sights in Scotland, we would recommend driving, or even better in a campervan! 
As for public transport, there are trains and buses around Scotland but they can be few and far between the more remote you go. However there are tour companies that you can book onto that tour around Scotland. 
If you are looking to rent a cosy, reliable and luxurious campervan for your 5 day itinerary in Scotland, we highly recommend hiring through Bunk Campers. We toured with these guys around the up-and-coming Heart 200 road trip in Scotland's central highlands and could not believe the comfort and customer service we experienced with their vans.
Browse the full range of vehicles on offer at Bunk Campers over here.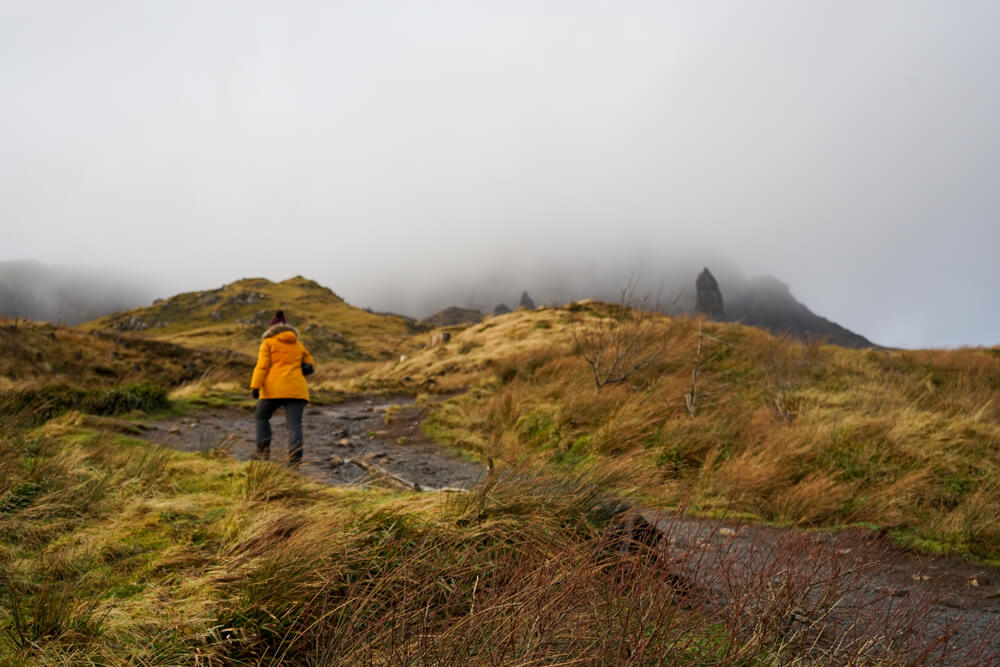 What Should I Pack for Scotland?
When it comes to packing for a trip to Scotland there is one item of clothing that you are going to need all year round: a waterproof. It rains in Scotland on average 250 days a year, meaning that during your 5-day Heart 200 road trip you will probably experience at least a drizzle of rain. Due to this, the number one item on any Scotland packing list is a good waterproof jacket.
As for the rest of the year, the temperature in Scotland and the central heartlands is reasonably mild for most of the year. During the winter months, you will most likely experience snow, however, temperatures usually sit around freezing, so it is not too cold. For your reference, the average temperatures in Scotland are listed below during each season.
Spring (March, April, May) – 5-10 degrees C
Summer (June, July, August) – 15 degrees C
Autumn (September, October, November) – 5-10 degrees C
Winter (December, January, February) – 0-5 degrees C
As you can see, the weather never really gets above the teens, with anything over 25 degrees C considered a heatwave. The best way to pack for your trip to the highlands is with layers that can be added and removed as you need them. You will definitely need a hat and gloves during the colder months and will most likely need sunscreen to protect you on the long days in the open.
For our full list of items that we pack no matter where we go in the world, check out our full packing guides over here.
Given the beautiful sights and scenery that you are no doubt going to see around the highlands of Scotland, we highly recommend packing a good camera for your trip. If you want to read more about the cameras we use and why we love them, check out the link below.
You can read what else we keep in our camera bag over here.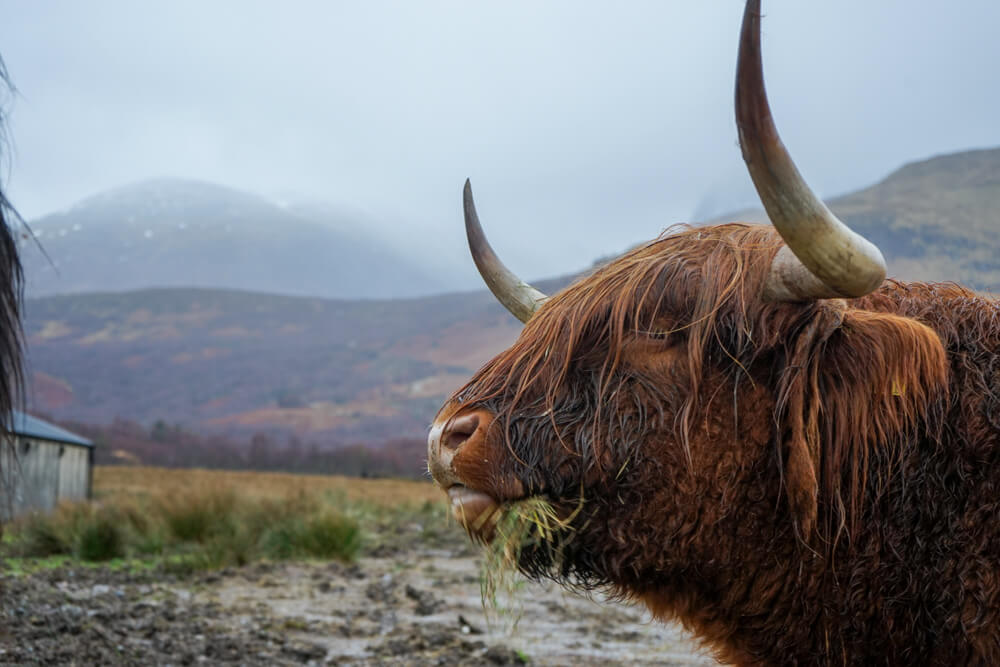 What is the Best Travel Insurance?
No matter what type of adventure you are heading on, whether it is a mountain adventure or a relaxing beach destination, one thing we all need to be aware of is that accidents can happen. The last thing you want is for an unexpected medical emergency to ruin your trip of a lifetime. Luckily, that is what travel insurance is for.
Whenever we travel abroad, we get covered with World Nomad's Travel Insurance, a reliable, friendly and extremely affordable method of covering yourself on any adventure. With years of experience working for backpackers around the globe, the service they provide is perfect for whatever type of trip you have planned.
Get covered for your next trip and get a quote from World Nomad's right here.
So there you have it, your complete guide to visiting the highlands of Scotland in winter. If you are visiting this incredible country and have any other questions on what to expect, leave us a comment down below. We love to chat about this stuff! If you have already been, let us know how it was! What spot was your favourite?  Let us know in the comments below!
Also remember to share this with your friends and family that you are going to share this amazing adrenaline experience with. Sharing is caring and we want to ensure that everyone is fully prepared to maximise their experience completing this bucket list activity.
If you are planning a Scotland trip soon then check out our other Scotland content right here. Come and find us on social media to see where we are currently exploring. Tag us in your photos from your Scotland itinerary and we will share them with the rest of our community of explorers and backpackers.
Read Now:
This article may contain affiliate links that provide us with a small income. For more information read our Affiliate page.
---
Pin this to your Scotland Pinterest board for later