This week I am writing to you from a very busy beach in Positano, it's clear to see that the summer holidays have started! It is CHAOS!
We made it to Italy last week and in amongst the stress of travel (some SERIOUS stressful travel..) we missed out on our weekly newsletter. So we have lots to catch you guys up on.
ALSO IT IS TIME FOR OUR SUMMER SALE! Not only are we offering 20% off Destination NC500, for all of July we are also going to give a FREE ebook (worth £15) with your order. Get yours today by clicking right here!
If you're not already make sure you head over to our TikTok, Instagram or Facebook page to follow our stories and see what we get up to on a day to day basis.
Instagram – www.instagram.com/highlands2hammocks
Facebook – www.facebook.com/highlands2hammocks
TikTok – www.tiktok.com/@highlands2hammocks
If you are interested in joining our Patreon community, where we have live calls and share some more behind the scenes, you can read more about it at the link below 😊 Our next live call is tomorrow 😁
For the full details, check out our Patreon by clicking here.
Stranded in Naples
As we waved goodbye to Greece and landed in the city of Naples, our first experience of the country went far from swimmingly. It just so happened that the day we arrived was the day that all taxi drives in the city decided to strike. Our Airbnb was not on any bus routes and we had booked it due to it being so close to the airport.. by car.
Rather than mope around, we decided the best thing to do would be to start walking as it was only 40 minutes to our beds for the night. After about 15 minutes, the streets got quieter, the rubbish started piling higher, and the cars driving past us started to give us more and more funny looks.
Something wasn't right.
We finally decided to stop and change our phone from our Greek SIM cards to our UK sims so see if we could use some data abroad, which (lucky for us) worked in Gemma's phone. As we were chatting to our Airbnb host on the phone, a car pulled over with a friendly looking man who went on to explain to us that this area was very dangerous and we should not be here.
We decided that the best course of action was to walk back to the airport and wait there as our hosts friend had agreed to do him a favour and come and pick us up. What a gentleman!
Fifteen minutes later and plenty more funny looks, we were right back where we had started, however, by now the sun was setting, and we were very tired and ready for bed. Our ride finally arrived and dropped us at our home for the night, where we unpacked and wandered down to the local pizzeria for dinner before we called it a night.
When we arrived at the pizzeria, who did we meet? The lovely gentleman who stopped to warn us of the dangers of Naples and made sure we turned around before getting into trouble. What are the chances?!
We never had any bad experiences when we were in Naples, but one thing we can attest to is just how friendly and helpful everyone we met was. So far, we were falling in love with Italy all over again.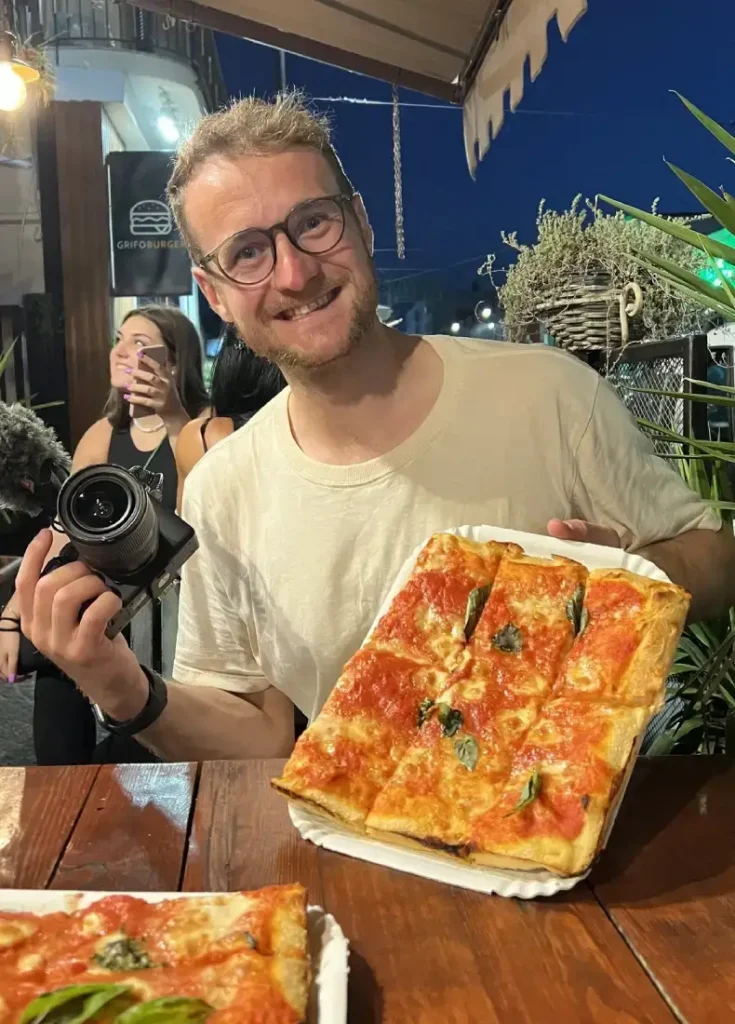 Touring the Amalfi Coast
From Naples, we caught a train, ferry and bus all the way along the Amalfi coast to our home for the next two weeks in Maiori. For the last week or so we have been exploring the AMALFI Coast (and beyond), from Pompeii to Sorrento, working and exploring this beautiful part of area.
Highlights so far have involved the cute and cheap restaurants that are just a 30s walk from our hotel in Maiori. The fascinating Amalfi Cathedral and the history it has to behold. The crazy coastal route that the buses take between the towns, as well as the cheap tickets you can buy (like 2€ for a stunning 30min coastal tour). A sunset over Positano and the iconic houses on the hill.
Tomorrow we leave for our next destination, our last stop off before we head home next week.
Can you guess where it is?! Will be updating our adventures live on our Instagram stories, so follow us on FB or IG of you want live updates.