As I am writing this to you, I am sitting on the back of our 50cc scooter as it struggles up the steep hills of Kefalonia. The sun has just set to the west, lighting the hills around us with a magnificent glow of orange. Our bellies are both full of the best Greek souvlaki platter we have had since arriving, and there isn't really any way to describe how content we are feeling.
The last week has been an absolute whirlwind for us (as we always knew it would be). Between racing around the island to try and see and do as much as we can, keep up with our usual work, such as social media, content creation, and video production, and, of course, writing our next NC500 book (which was the main reason we actually came here), we have literally not stopped.
Nevertheless, our hearts have not felt this full of adventure in a long, long time, and we have not felt this inspired for what lies ahead in even longer.
We cannot wait to show you around this beautiful island in our upcoming YouTube series, but for now, here is a quick run through of the highlights so far from beautiful Kefalonia.
ALSO IT IS TIME FOR OUR SUMMER SALE! Not only are we offering 20% off Destination NC500, for all of July we are also going to give a FREE ebook (worth £15) with your order. Get yours today by clicking right here!
If you're not already make sure you head over to our TikTok, Instagram or Facebook page to follow our stories and see what we get up to on a day to day basis.
Instagram – www.instagram.com/highlands2hammocks
Facebook – www.facebook.com/highlands2hammocks
TikTok – www.tiktok.com/@highlands2hammocks
If you are interested in joining our Patreon community, where we have live calls and share some more behind the scenes, you can read more about it at the link below 😊 Our next live call is tomorrow 😁
For the full details, check out our Patreon by clicking here.
Assos village
On the northern end of the island of Kefalonia sits the colourful and quaint village of Assos, one of the islands hidden gems and most beautiful locations. Just imagine an array of incredible pastel colours splashed along the shoreline of torquoise blue water, and dot amongst it some friendly and smiling faces just for good measure. That is Assos for you.
Not only is this seaside village one of Kefalonias most beautiful locations, it is also home to one of its most touching stories. After the devasting earthquake that flattened almost all of the island, driving around 80% of its inhabitants to leave the island and seek a future elsewhere, the town of Assos was rebuilt from the rubble by a collection of French investors. This generosity can be seen today by the beautiful redesign of the village, as well as the resulting commemorative plaque in the square that was named in honour of the French "Paris Square".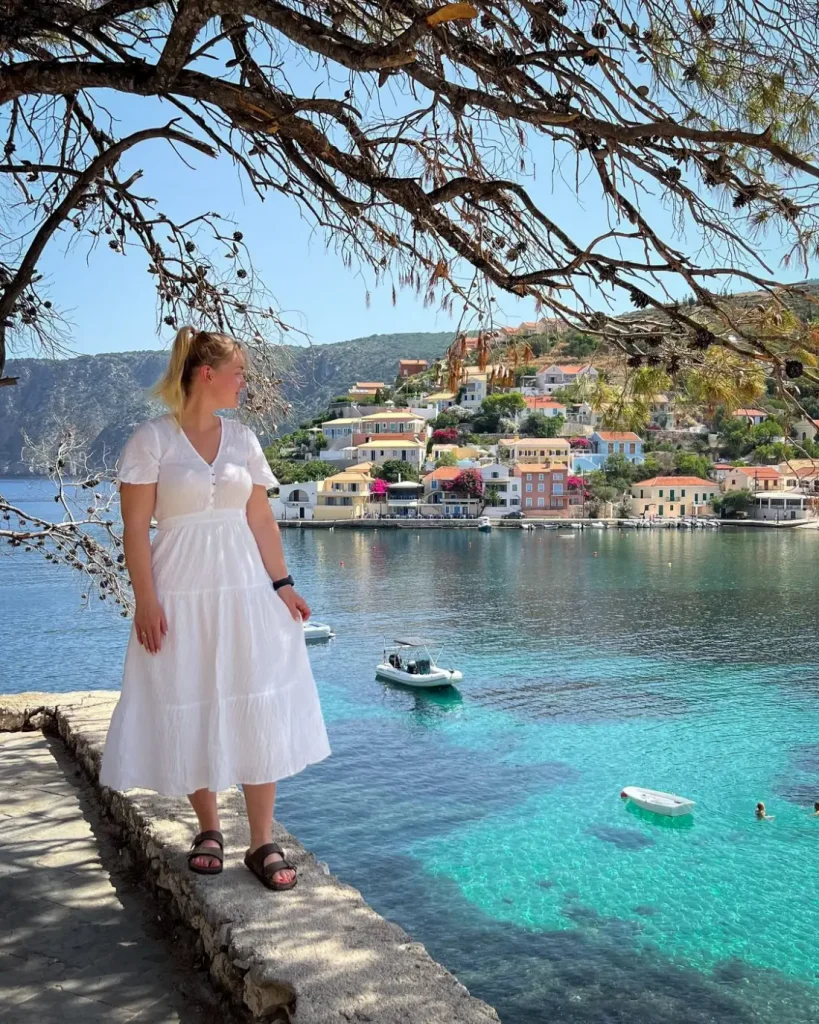 Melissani Cave
Melissani Cave is an underground phenomenon that was discovered following the 1953 earthquake that destroyed Kefalonia. For €8 you can enter the cave and be guided around the lake inside the cave in a small rowing boat by a local guide.
The deep blue water is lit up by the sunlight that pierces through the top of the cave during the heat of the day. You will pass through two limestone chambers on this tour. The first one being open to the sunlight and the second being darker and closed overhead with a high roof. The tour lasts around 15 minutes and there is plenty of opportunity to take photos and videos of your surroundings. Melissani Cave is extremely picturesque and will be a highlight of your Kefalonia trip.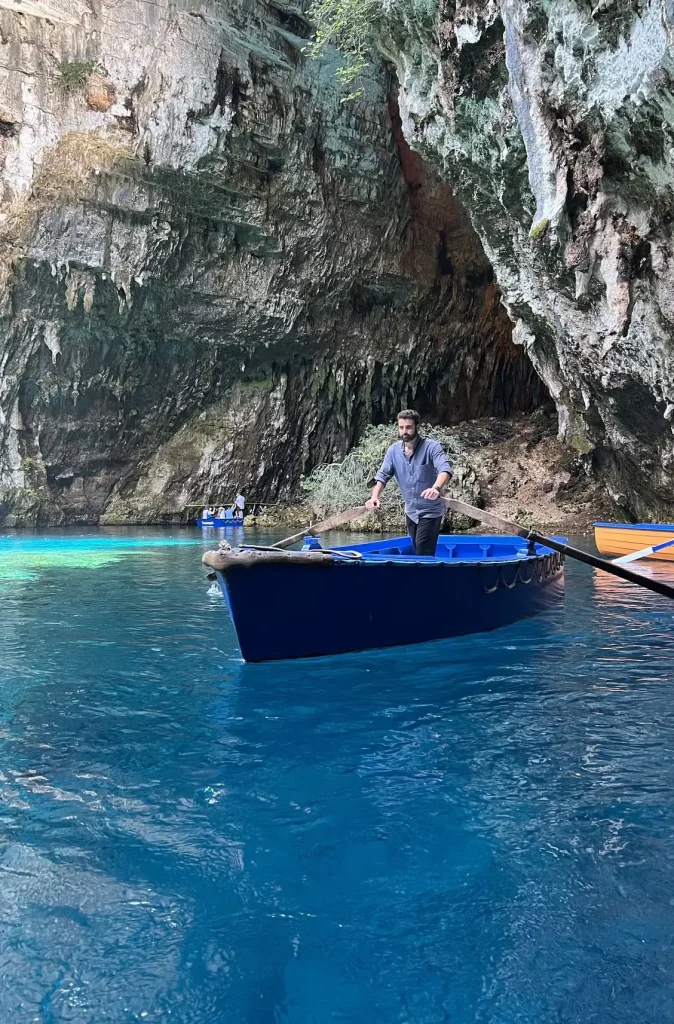 Poros
This gem of a town sits on the south eastern coast of Kefalonia and straight away became our favourite spot. Being a little further away from the capital, we noticed a significant reduction in traffic, people and prices.
We also ate the most incredible vegan souvlaki on the beach which made our night!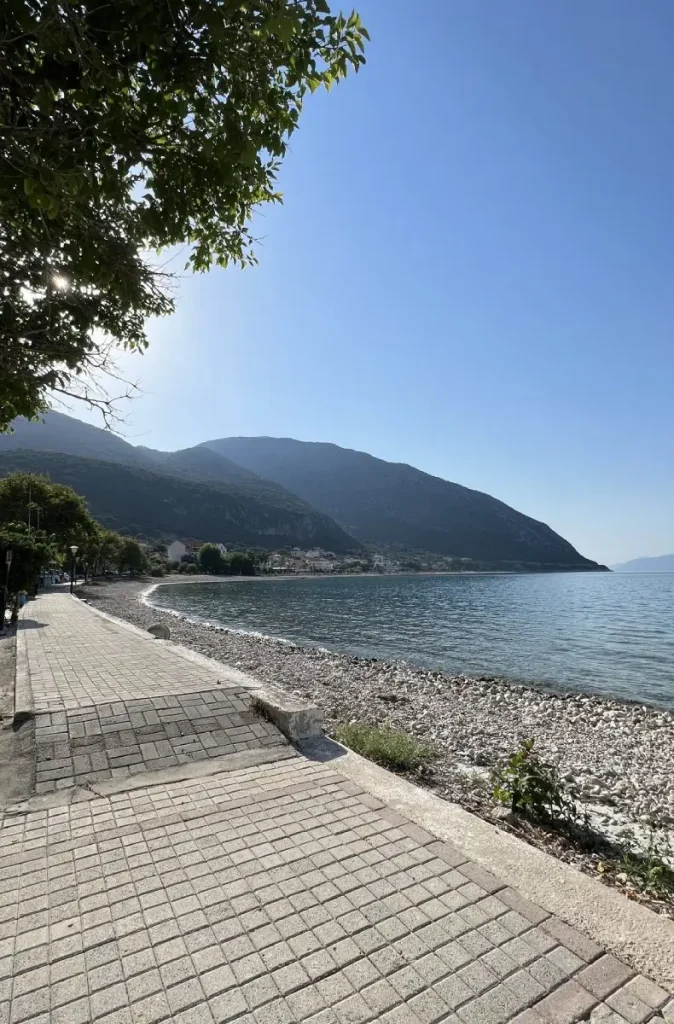 If you want to see a bit of Kefalonia, our first video goes out tomorrow evening at 6pm. Next week, we'll be writing to you from a new country, any guesses where?!