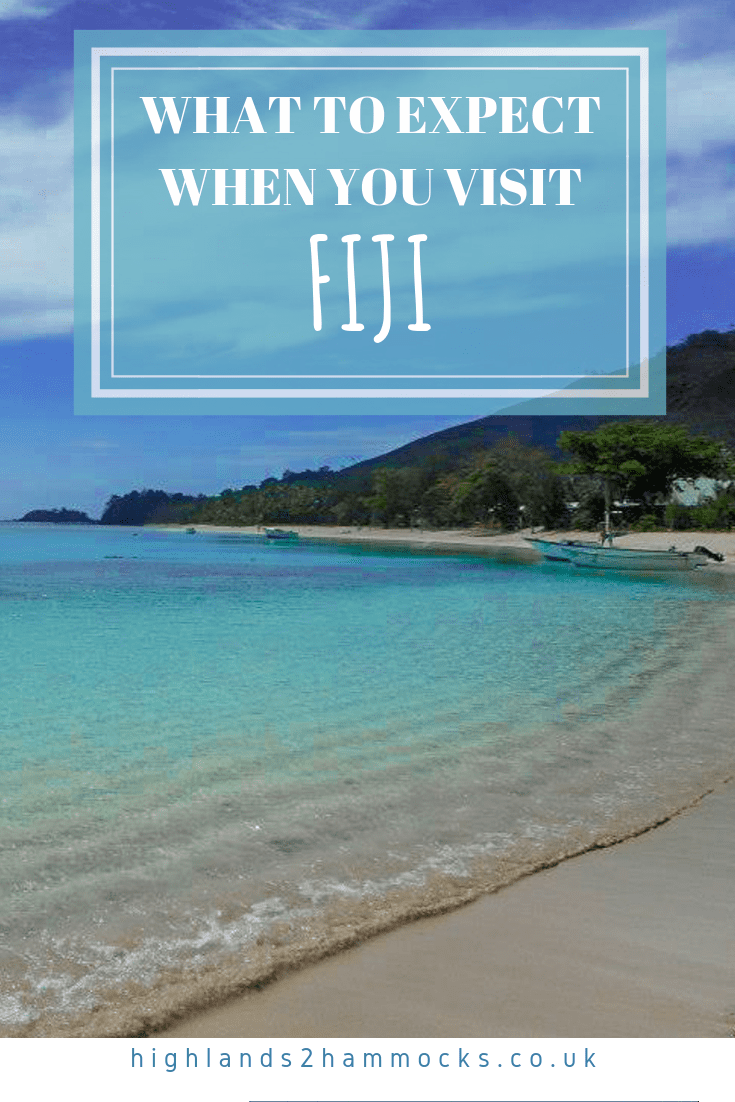 Fiji is an island located in the heart of the South Pacific, and has an archipelago of 333 islands, each unique in their own way. This country is one that is well known for the crystal-clear, sparkling water and white sandy beaches, not to mention the tropical weather and palm trees. If you are ever in this part of the world, make sure you visit Fiji. Four years ago, we took a trip to this beautiful country with our friend Kirstie, visiting Nadi on the mainland and three of the smaller islands; Oarsmans, Korovou and Southsea Island. Our first impression was that we fell head over heels in love with this country. We were greeted into the airport by a small band of Fijians, singing, dancing and smiling. This left us feeling in awe at how friendly and welcoming of us they were into their country.  
Nadi
We booked this trip through STA Travel as a week of chilling out, between our manic few weeks exploring Australia and our short but busy time week Asia. Our first night was spent in a 34-bed hostel dorm in Smugglers Cove, Nadi. This was like no other hostel we had ever experienced. As we walked out of the dorm onto the decking by the pool, the white sandy beach was only a few steps away. With a cheap bar on site and the area decorated with hammocks, we were in heaven within moments of setting foot in this place. Our first evening in paradise was spent watching the sunset on the beach with a cocktail in hand. How perfect!  
Nadi is also the perfect place to set sail from on a liveaboard scuba diving trip. Check out all of the best options for you and discover what lies beneath that beautiful, blue water.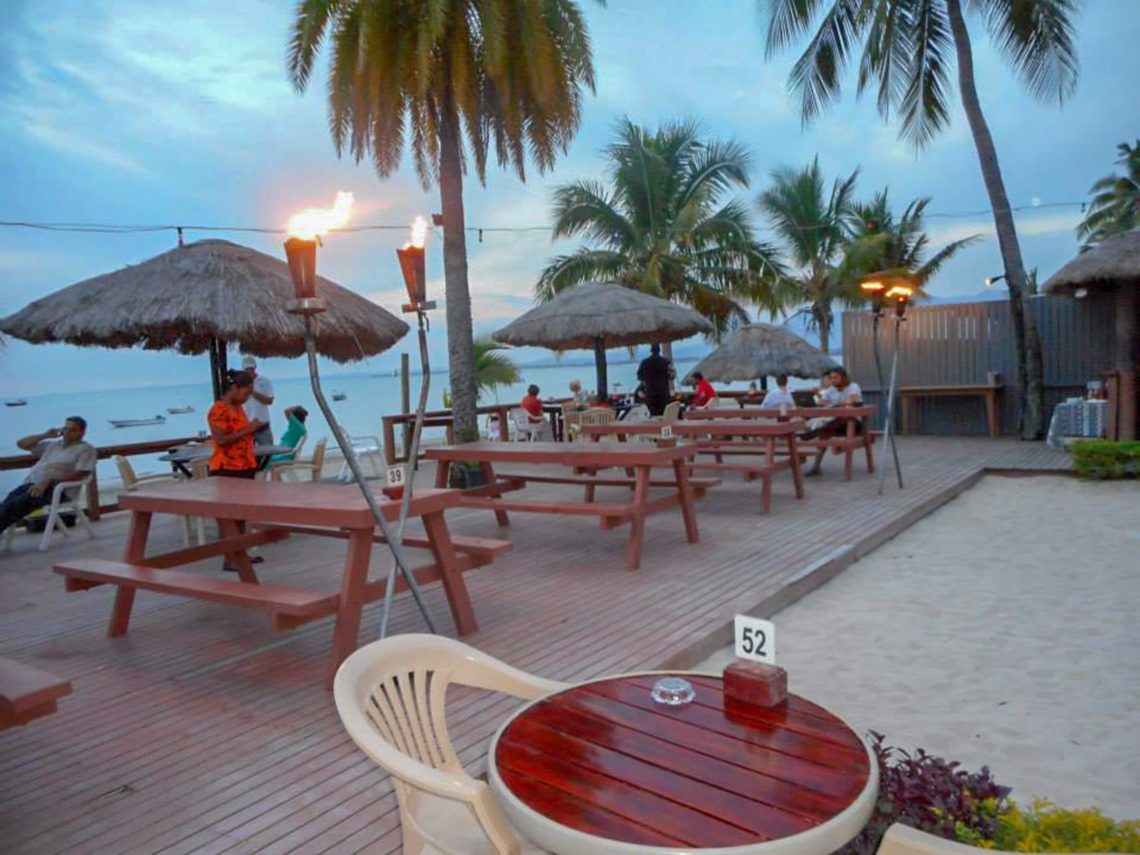 Oarsmans Hostel
The following morning, we left the hostel to start our Island Hopping trip with Awesome Adventures. If you plan to visit Fiji and the islands, make sure you buy as many snacks as you can, as there aren't any shops when you get there.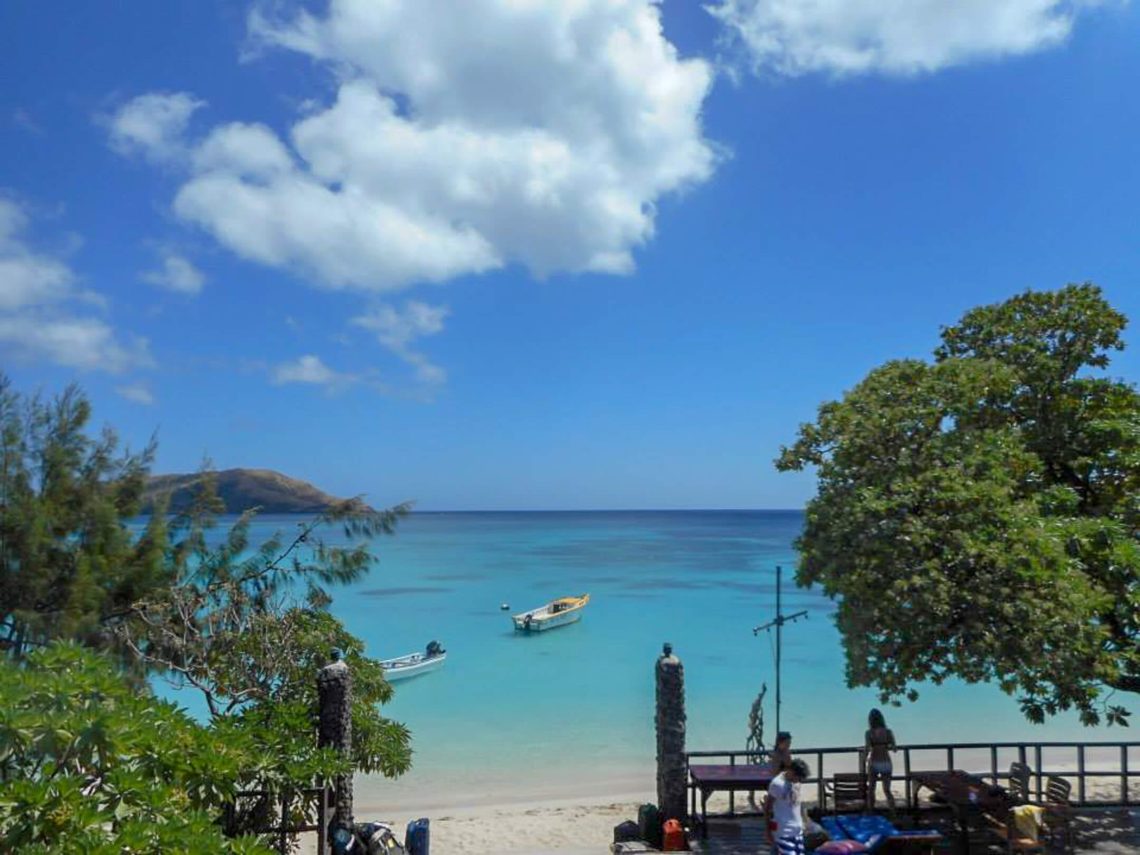 We were onboard the ferry for 4 hours, passing tiny sand islands no more than 100m long, and giant rock mountains sprouting out of the sea. Our stop was the last stop. We arrived at Oarsmans, greeted by the locals singing songs and welcoming us with a drink onto the island. This island is one of the top 10 in the South Pacific and we could see why! We stayed in a 17-bed room with a view over the beach. The next few days were spent chilling in a hammock and dipping in and out the warm, crystal-clear sea. We made good use of the snorkelling equipment available to us and explored the bay, watching many different fish in their natural habitat. In the evening, we were brought a 3-course meal and the locals sang to us and played music. It was beautiful and everyone was so friendly.    
Sawailau Caves
The following day we were taken out on a small fisherman's boat to the Sawailau Caves. The water was extremely choppy and there were many times that we thought we would be overboard, but of course, these guys are used to it and knew what they were doing. We were guided into the limestone cave, full of fresh water and very little light. It was like we had entered a cathedral of rock; tall pillars surrounded us, illuminated with light dancing from the water around us. After swimming and free diving in this beautiful pool, we followed the guide through to the second cave. To do this we were required to swim through a metre wide tunnel. Feeling a bit claustrophobic at the thought of this, I was extremely apprehensive, however, it was so worth it. It was pitch dark on the other end, so much so I couldn't see my hand in front of my face. There was a pipe buoy for us to swim alongside and guide us further into the cave. Around 20m in, we reached the spitting hole, which is where the water splashes over and into the cave at high tide. We all explored the echoic sounds of the cave, before swimming back to chill in the main cave. There were some souvenir stalls set up outside on our departure by the talented locals allowing us to purchase a few gifts to take home. When you do visit Fiji, make sure you add the Sawailau Cave experience to your list!  
Blue Lagoon
Later that afternoon, we went snorkelling at Blue Lagoon island. This incredible experience allowed us to see a huge variety of fish and even an electric blue starfish, chilling on a stone below. After exhausting ourselves in the water, we explored the beach and found some coconut shells. We used these to entertain ourselves playing coconut bowls until we were collected by our guide.    
Coral View
On the return boat, back to Oarsmans, we stopped off at another island called Coral View, where we had some ice cream. This is the only mistake we can think of that contributed to what felt like food poisoning that night. Potentially melted and refrozen ice cream.. Myself feeling slightly better the following morning, Kirstie not so much and Campbell not feeling the effects of the ice cream whatsoever, we decided to head out on a kayak. We kayaked our way to a beach where we explored the rock pools full of crabs and fish. In the afternoon we were sung off the island as the boat collected us to sail to our next island, Korovou.    
Korovou
We were greeted onto Korovou with a welcome song and a drink by the lovely locals. This resort was slightly bigger as we were staying in a 20 bedroom. Our first evening was spent watching an incredible sunset and learning the Fijian Bula dance. The hosts had a full night of entertainment planned for us so it was safe to say we were exhausted by the time bedtime arrived!  
Swimming with the Manta-Rays
The next day was the one we were most excited for. We were heading out on a boat to swim with the manta-rays. With our snorkels on, we dived off the boat in search of these beautiful creatures. We were dropped off at one side of the channel and the current pulled us along where the boat would pick us up and repeat. This was such a surreal experience to swim with these majestic creatures, one we will be sure to never forget.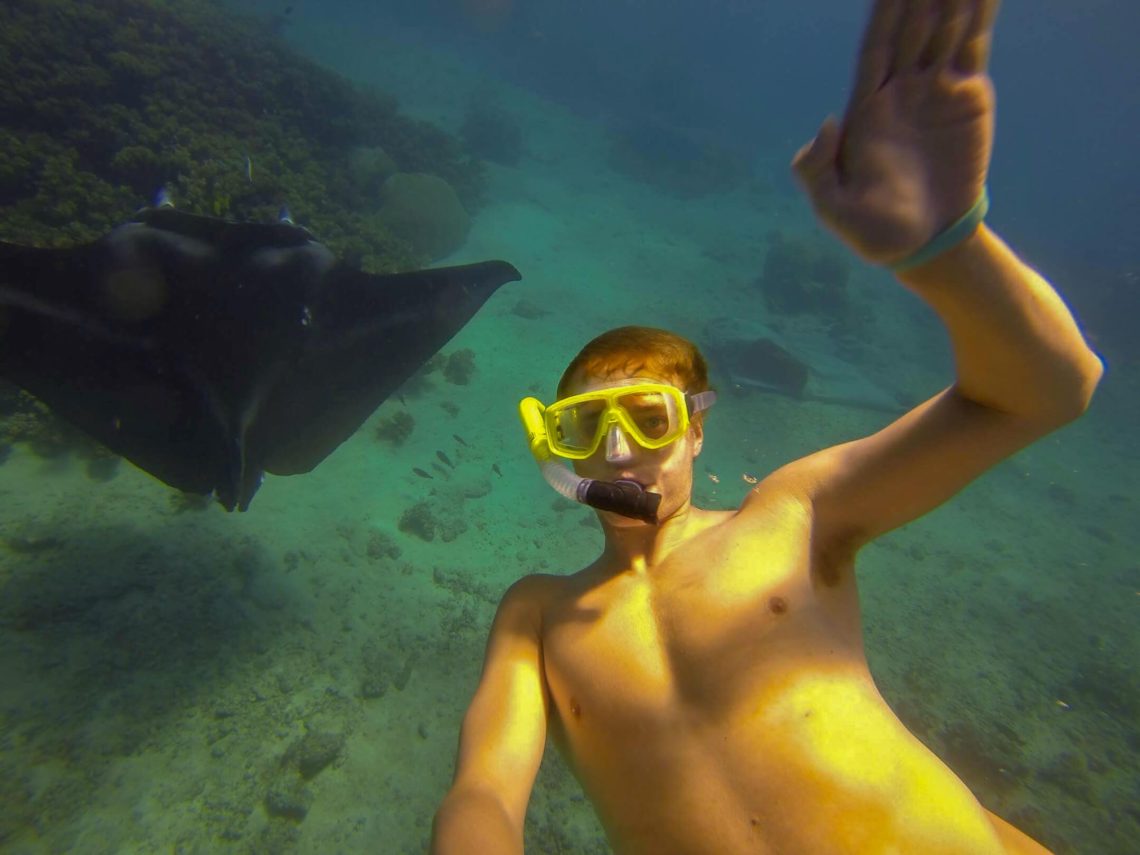 We were exhausted on return to the island after all the excitement. The rest of the day was spent chilling and jumping in the pool to cool down! There was another beautiful sunset from the island and we were given another amazing night of Bula and fire dancing entertainment.  
Fijian Cooking Lesson
The following day, we went for a walk along Honeymoon Beach before attending a Fijian cooking lesson. Here we were shown how to crack and shave a coconut, as well as how to marinate raw fish in lime. Our time at Korovou came to an end, so we wished goodbye to the lovely staff and boarded the boat. We were on the boat for 2½ hours to our next stop. The water was extremely choppy, however, we did see a shark dive out the water to catch it's prey! Glad it wasn't us in there!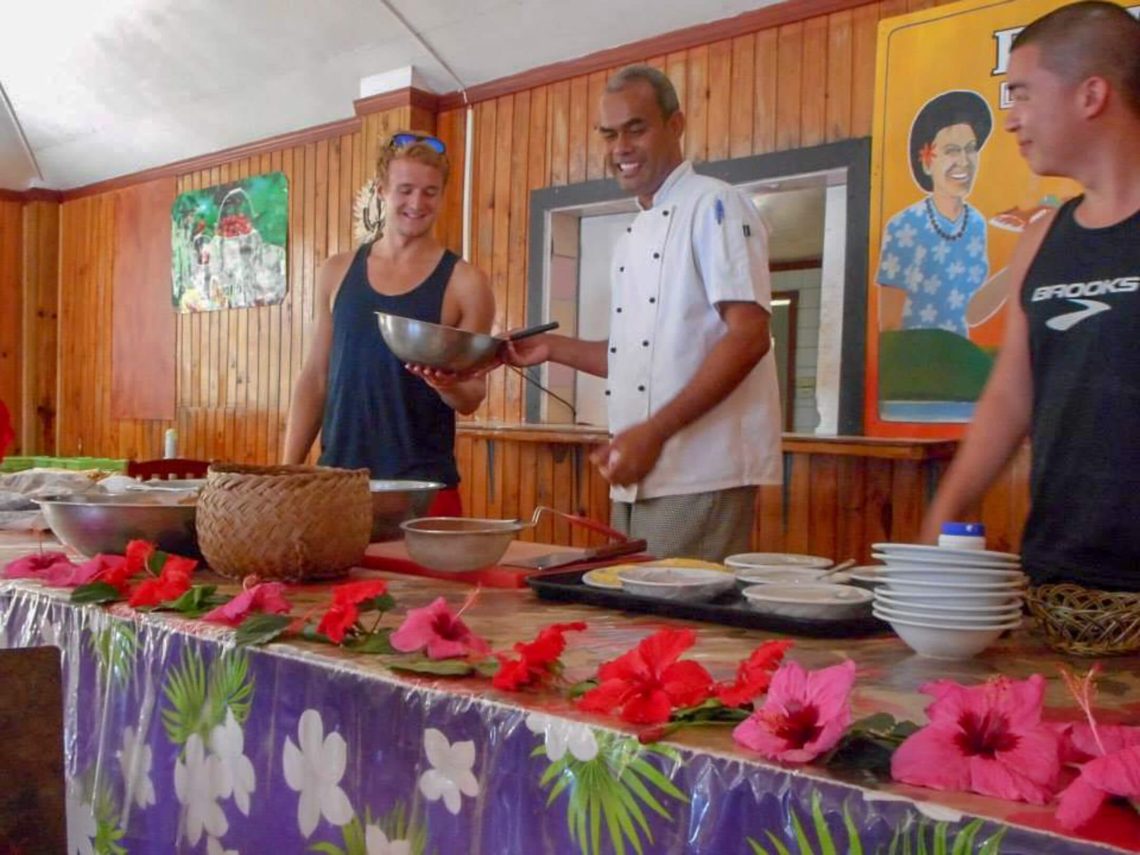 South Sea Island
Our final island stop was South Sea Island. A tiny island located in the Mamanuca islands. We stayed in a larger dorm on this island, this time with bunk beds. It takes no more than 5 minutes to explore around South Sea Island as it is so small. As we arrived here in the evening, we were welcomed with a romantic candlelit dinner on the beach on our first night. The following morning we boarded the Seaspray Adventure Boat where we were welcomed aboard with champagne, fresh food and cakes. It was a really hot and sunny day so we spent our time sunbathing in between the island stops!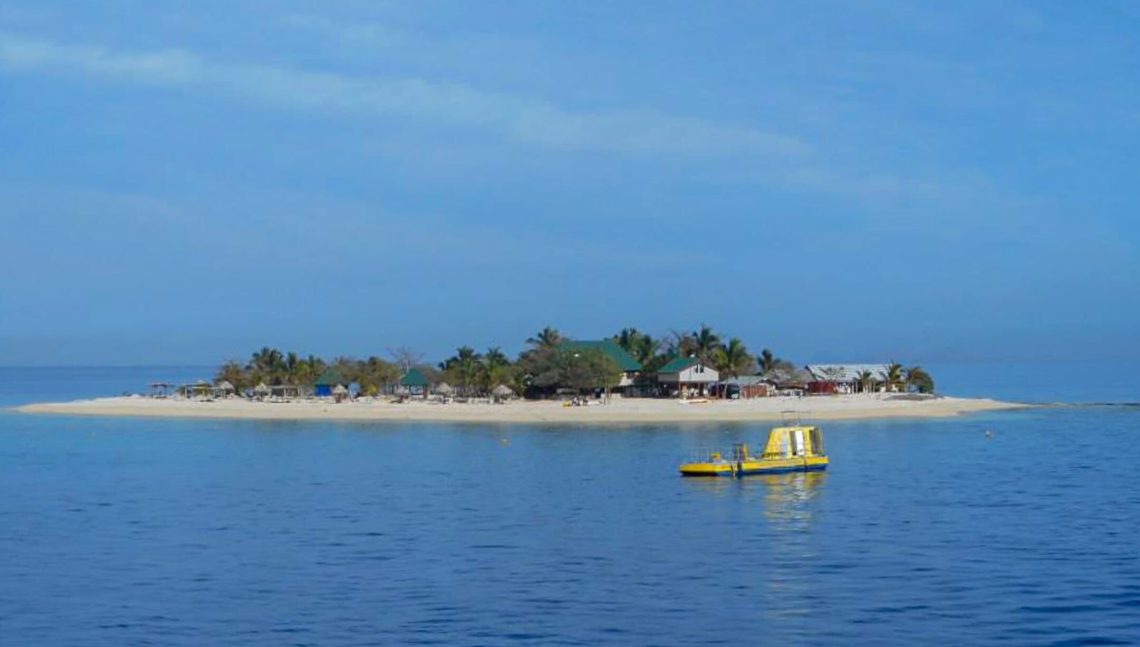 Modriki Island
The first stop was Modriki island, where the Tom Hanks movie Castaway was filmed in 2000. After jumping off the boat into the crystal-clear water again, we did some snorkelling before entering the island. The shore was so rocky and the waves really strong so when we finally managed to drag ourselves onto the beach, we arrived full of cuts! We took short walk around the island and got a photo with the famous "
Help Me
" sign on the beach. The sand was burning our feet by the second, so we swam back to the boat and had a barbecue for lunch.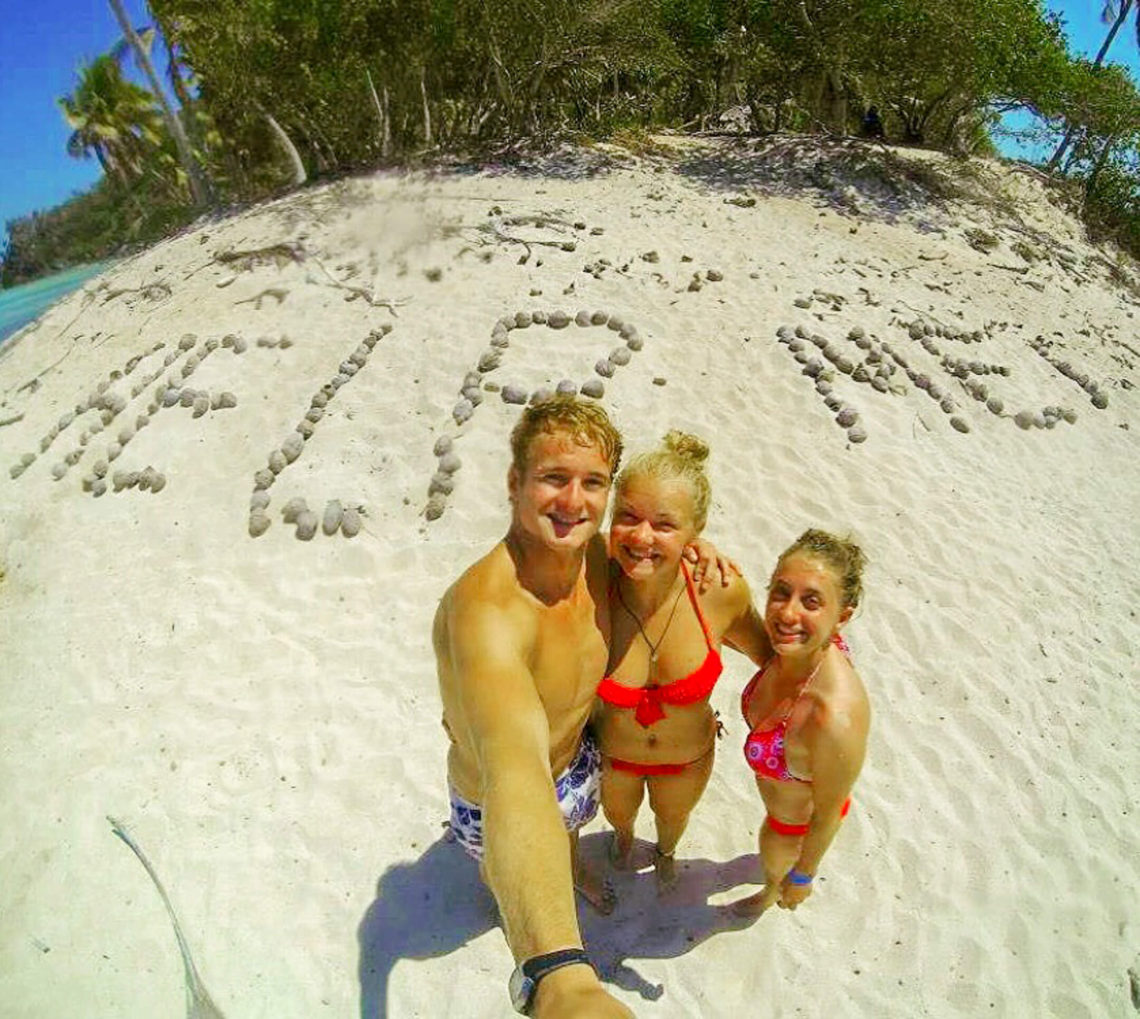 Yanuya Island
Yanuya Island was next on our itinerary where we hopped off and explored the village. We were warmly welcomed by the lovely locals, who despite living in basic accommodation, were extremely happy. It just goes to show, happiness is not created by material goods, but from the happiness you bring others.    
Nadi
That evening we headed back to the mainland where we would be staying in the hostel again. We spent another lovely evening and day here, chilling by the pool and sipping on cocktails. Campbell and I decided it would be a fun experience to go horse riding whilst we waited for our flight. I spent a good 10 years of my life enjoying horse riding. For Campbell, this was his first time on a horse as an adult. Over the years of going horse riding, I find I normally end up on a more challenging horse if I let slip I have experience. My first concern was that we mounted the horse with no helmet. After being given the information that my horse would regularly buck me, I was feeling slightly apprehensive. Campbell's horse was dragging him through the bushes to eat his lunch. When we eventually made it to the beach, our guide left us to it. After my horse almost rolling me into the sea I asked to change and swapped horses with our guide. This was a much more pleasant experience, we strolled along the beach and then ended back at the hostel. Fiji was a magical experience, one that now seems so surreal. We can highly recommend it as a destination to travel to, especially if you like the sea!  
Vinaka Vakalevu Fiji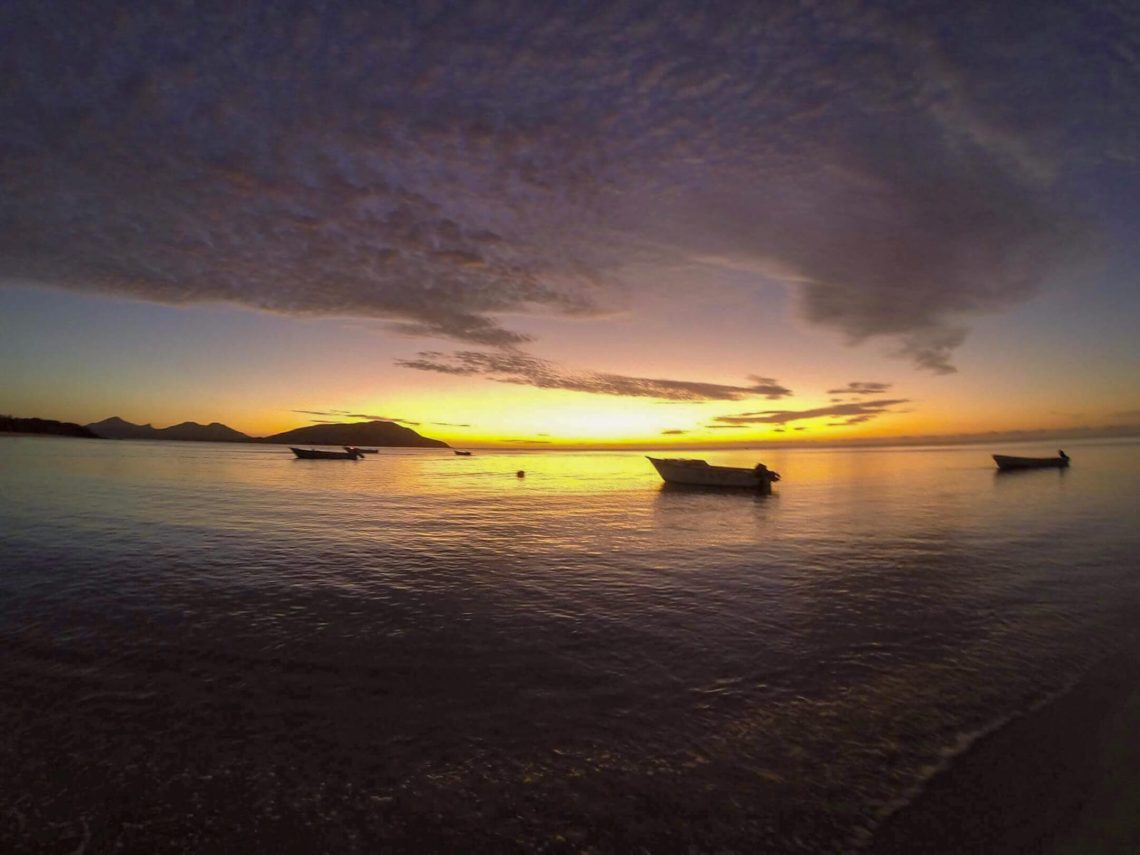 This article may contain affiliate links that provide us with a small income. For more information read our Affiliate page.
---
Pin it for later!