Hope you are having a lovely weekend!
We are writing this to you are you opted into our mailing list recently and we are so happy to have you here with us.
This week we will be sharing our visit to the most beautiful park ups that we have found across Portugal, as well as sharing the secret of how we found them and how YOU can too!
As we made our way south through Portugal to the stunning coastline of the Algarve, we have been hop-scotching our way through some truly idealic places to rest our heads, as well as some rather sketchy places that we would NOT recommend.
The main problem we have found when finding a park up, however, is knowing which way it is going to go before we lie down for a night of regret and anxiety.
Well, we wanted to help you with this issue this week and share with you our FULL LIST of recommend park ups that we have personally used across the UK, Ireland, and southern Europe. The best part is, we update it every week and add ALL of the places that we find onto it.
Before we get into the details though, let us show you some of the stunning spots that we have found this week along the coastline of Portugal.
If you're not already, make sure you head over to our TikTok, Instagram or Facebook page to follow our stories and see what we get up to on a day to day basis.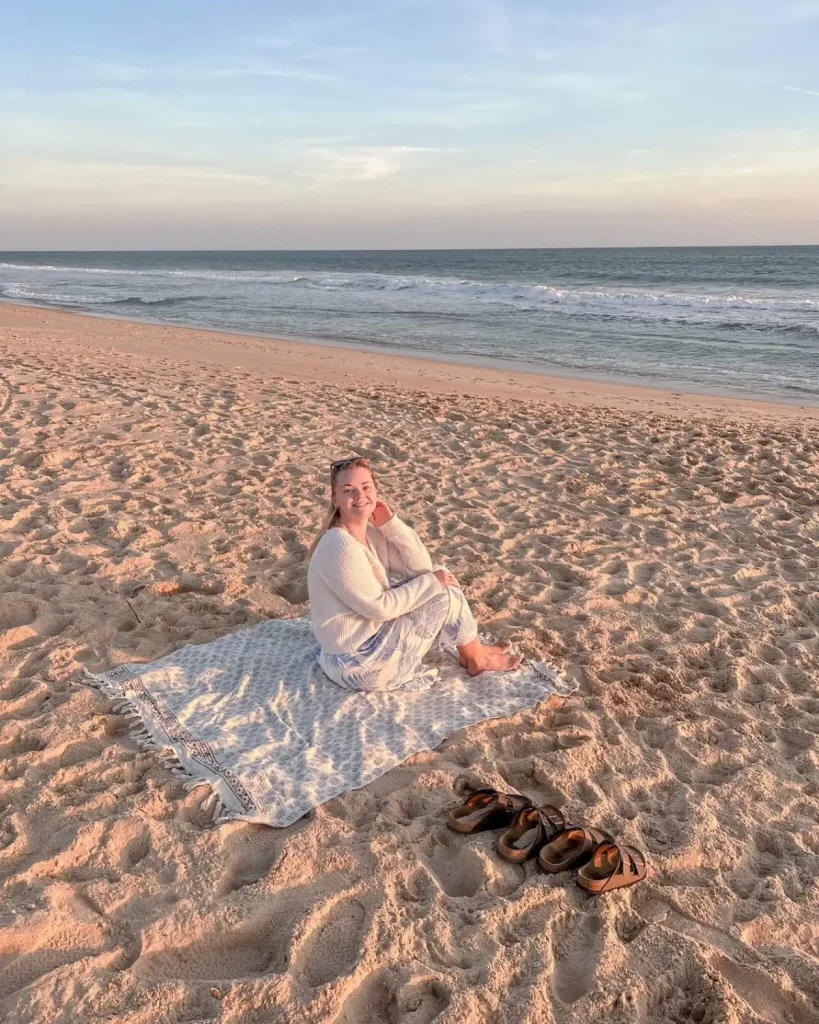 "Wild Camping" in Portugal
Now before we go on, it is worth noting the legalities and technicalities behind "wild camping" in Portugal. During the pandemic, like many other countries, Portugal declared "wild camping" illegal, and began to issue fines to anyone attempting to park up in scenic spots with fines.
It quickly became apparent, however, that there is a grey area when it comes to parking up and its relation to "wild camping", as technically there is a long stretch of a difference between simply parking and actually camping.
Rather than get bogged down in the details, however, we found it much more reassuring to simply follow the crowds and reside with safety in numbers in Portugal. We aimed to park up at places that we saw other vans doing the same, as we discovered that overnight parking was tolerated in some areas more than others.

At the end of the day, if locals don't want you around then I don't want to be around either.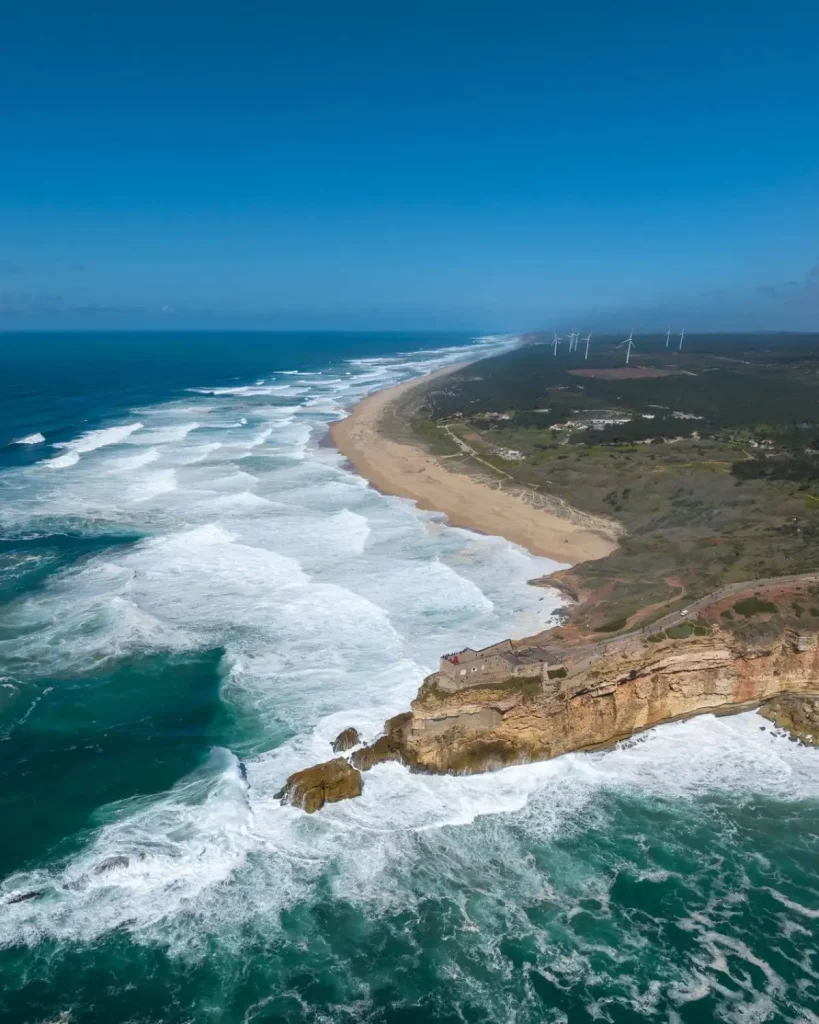 Catching Waves at Nazare
Our first real experience of beach side parkups in Portugal was at none other than the world-famous town of Nazare. Parking up just 200m from the coastline to watch the huge waves at sunset is a surreal experience. We found a large car park that was filled with vans (again reassuring with safety in numbers), and it was a short 200m walk from the stunning Nazare beach.
The sound of the waves crashing onto the shore is deafening yet exhilarating. It's hard not to feel humbled by the raw power and energy surrounding you. Watching the brave surfers tackle the colossal swells is truly inspiring. As the sun sets, the colors in the sky shift, creating a beautiful display of light and shadow. It's a moment you'll never forget and a must-see experience.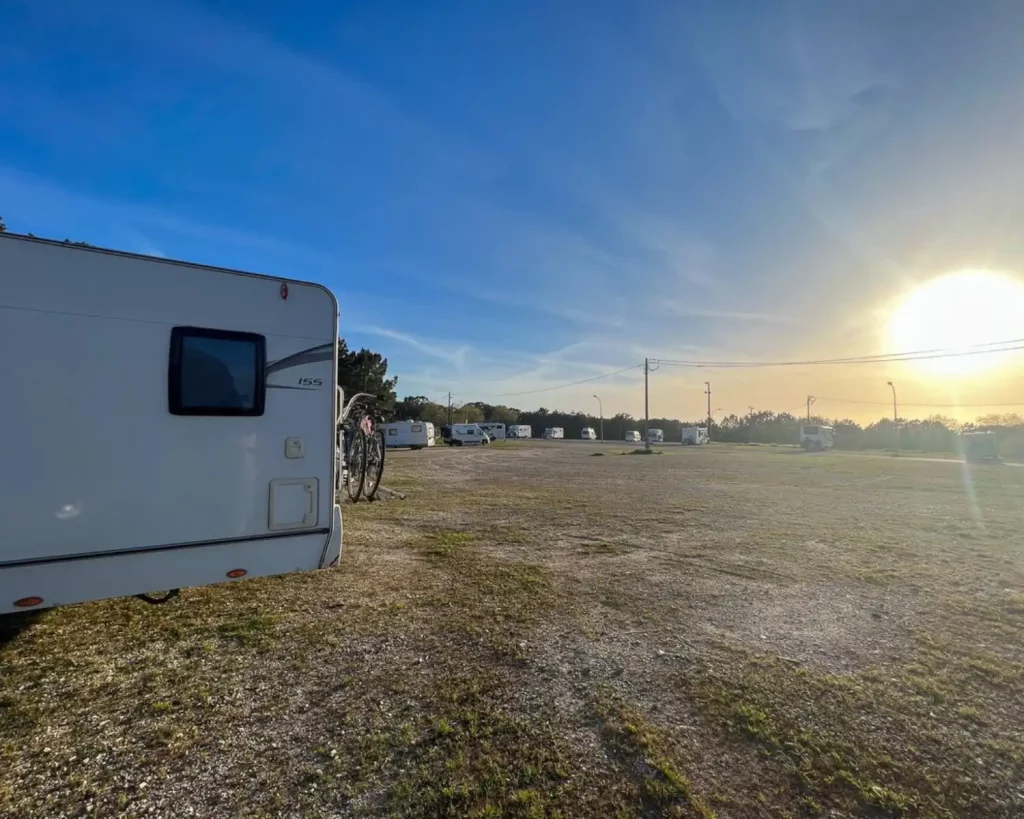 Surfs Up at Sagres
It turns out that there is much more to the small town of Sagres than just the delicious beverage that is named after it. The main thing being its incredible understanding of the tourism that being tolerant of campervans brings.
Out on the peninsula that sticks into the Altlantic Ocean on the southwest tip of Portugal is one of the most incredible sights that we have ever seen. Comparable to a vanlife festival, the huge car park outside the town of Sagres is filled with visitors on a scale that we have never seen before.
As a result, however, the town itself is bustling with life, despite it being the technical off-season for Portuguese tourism. We spent 3 nights parked up here, enjoying the fantastic hospitality that the local cafes and restaurants offer, without a worry of whether we are welcome or not.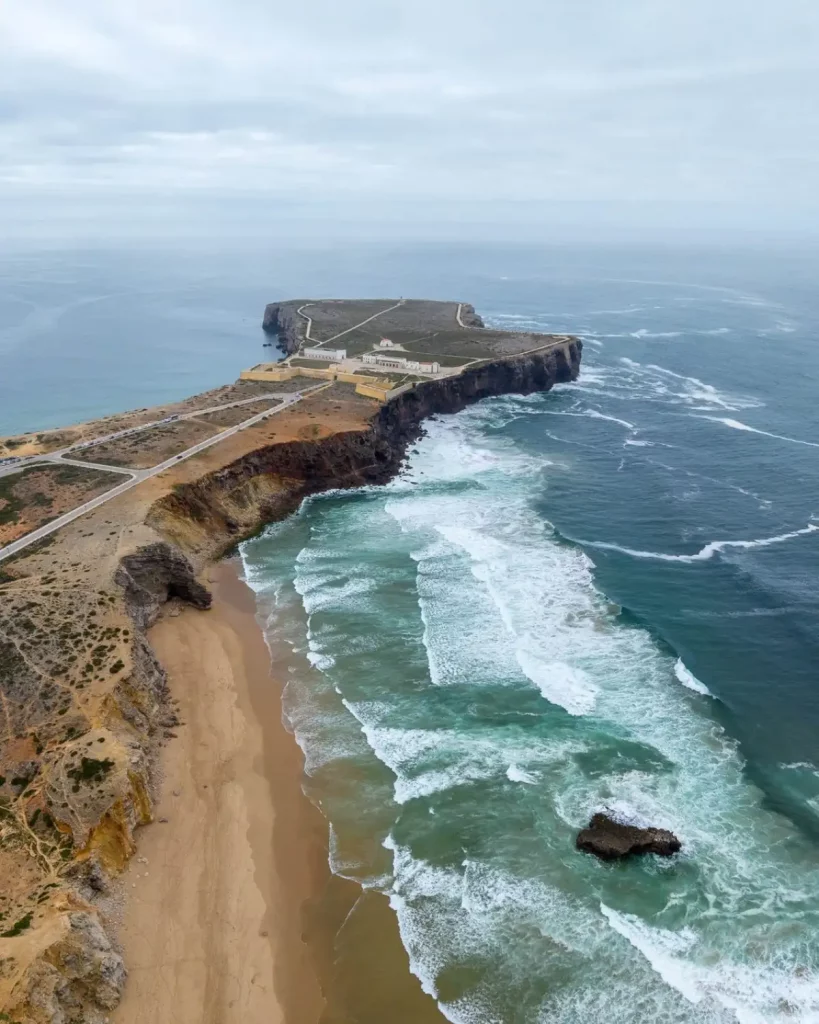 Along the Algarve Coastline
As we ventured further East from Sagres, the feeling of unwelcome began to sink in once again. We saw signs all along the coast prohibiting entry of campervans at ANY time of day, not just at night.
Despite this, however, we did stumble across a hidden gem that proved to be another very popular spot for vanlifers, as well as the local cafes as they were full to bursting. Along the coast from the small town of Quarteira, there is a collection of newly created car parks that lead out onto the stunning stretch of sand that is a common sight here on the southern coast of Portugal.

As well as this large car park, there are also a handful of cafes, all offering stunning views of the seaside and the sunset that it has to offer.
This was exactly where we decided to end our time on the Algarve, reassured that all is not lost for vanlife in Portugal and the beauty that can be found here.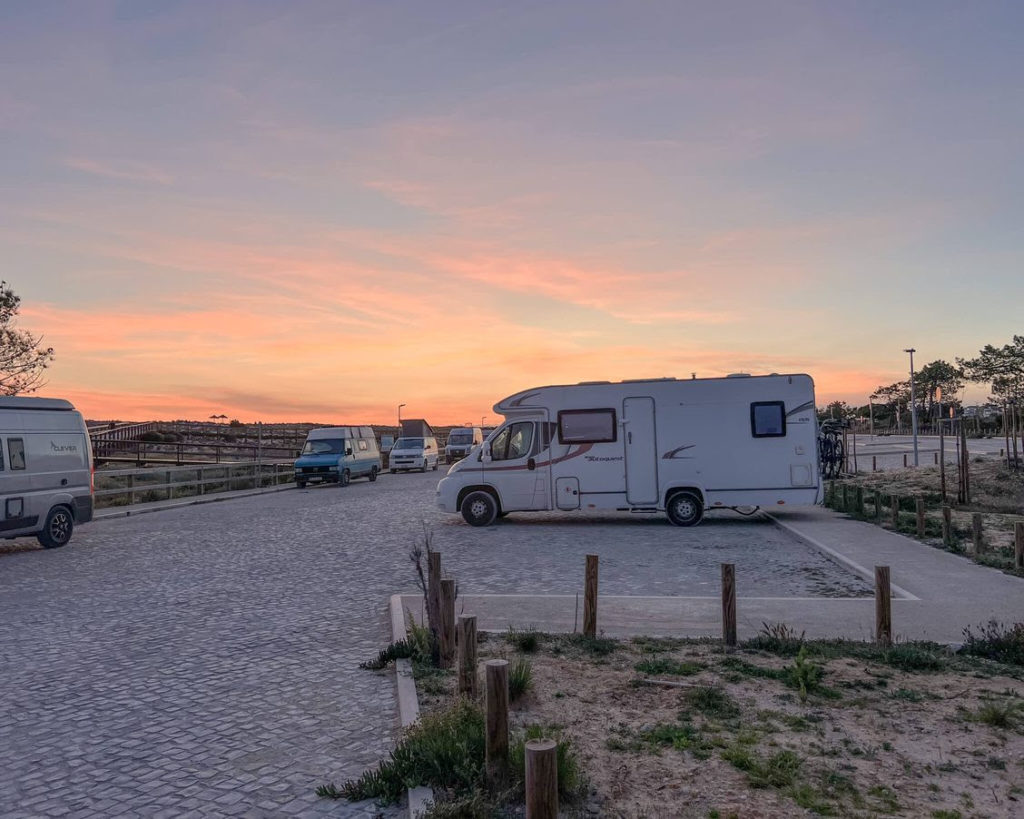 How Do We Find Parkups?
The question remains, "just how do we find all of these beautiful spots?".
This is done by a combination of tactics, from apps such as Park4night, to online forums, and simply trawling through Google Street View. The problem with these tactics is that some spots can be overlooked or missed as they are simply not on the maps and can only be found by visiting the locations for yourself to scope it out. For example, the spot we found on Nazare was not on any maps or parking apps, so it was a real hidden gem!
Not to worry though, as we are here to help you find the perfect park ups all across the world as we have a full map of every parking spot that we have ever used and fully recommend.
You too can get access to this map by simply joining our clan over at Patreon, where you will not only get access to this exclusive perk, but also loads of other bonus material, such as FREE access to all of our new release ebooks, early access to our Youtube videos, and monthly live calls with us to simply have a chat.
Click here to read more about our Patreon Perks and get access to the map today!