Far away from the glitz, glamour, and serenity of Bangkok, Phuket, and Krabi, Thailand is also known for mountainous terrains, natural landscapes, amazing wildlife, and pristine temples all at one place. Yes, we are talking about the travellers' paradise in Thailand, Chiang Mai. 
Though this trip would not be the same as a Phuket, Pattaya, or Bangkok trip, it would definitely be the best one of the experiences on your Thailand vacation. Located in the northern region of Thailand, Chiang Mai offers plenty of experiences and places to explore for travellers. 
For a fact, this particular travel destination in Thailand attracts tourists from around the globe. But surely, you already know that and hence, have searched for a perfect Chiang Mai itinerary for 3 days. 
And since your search has brought you here, we present a meticulously crafted Chiang Mai itinerary that will help you enjoy the best of your time on a 3 day trip to this beautiful city. So, without any much delay, let's unveil the itinerary. 
Before you leave for on your trip of a lifetime, plan your ultimate Thailand experience with this complete 2-week Thailand itinerary!
Pin this image to your Thailand Pinterest board for later!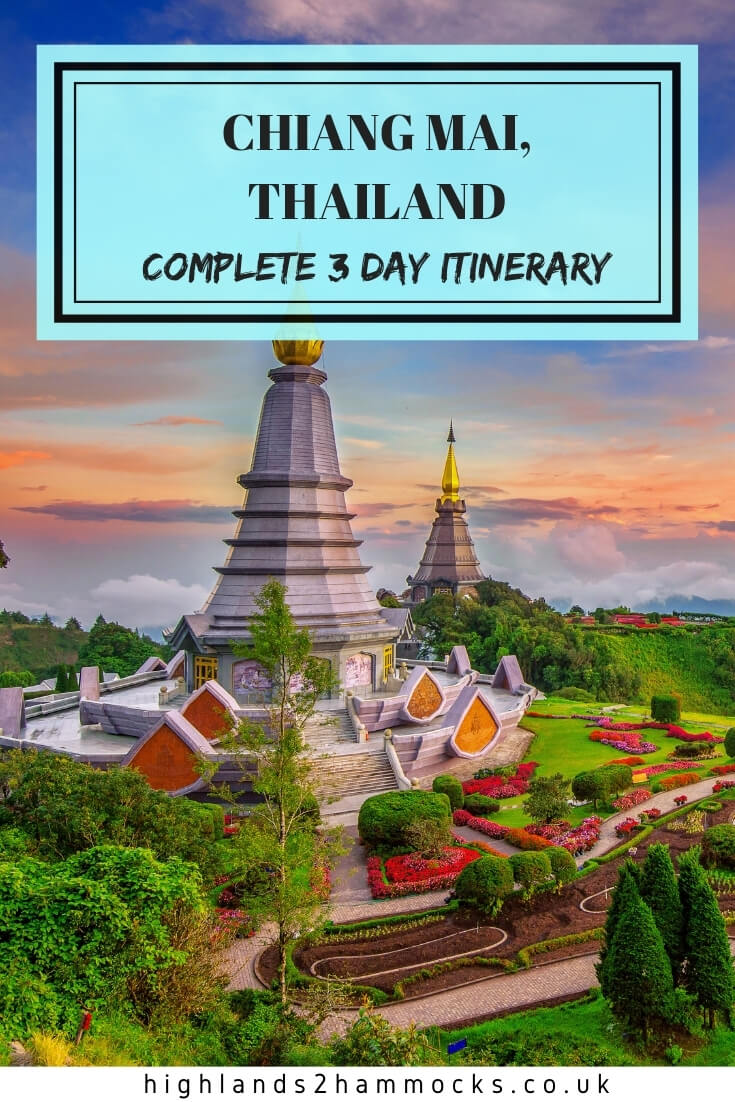 Chiang Mai Itinerary – 3 Days in Northern Thailand
When Should You Visit Chiang Mai?
It is frequently said that Thailand is a fantastic place to visit all year round, with each season bringing its own quaint charm. The most popular time of year to visit, however, is between November and March, when the football brings tourists from all over. The hottest months in Thailand also happen to be between March and May, so bear this in mind when you are planning your trip.
Are Three Days in Chiang Mai Enough?
As with any location we visit, we believe that the longer you can spend in one place, the more you will experience and fall in love with it. It will take longer than one weekend for you to truly figure out the subtle personalities and quirks of a city, and it is these reasons that we love to travel in the first place. If possible, we would recommend spending at least a week in this region of Thailand to experience the real Northern Thailand and get to know the culture.
With that being said, if you are short for time and a long weekend is all you have to spend in Chiang Main then this 3-day itinerary is perfect for you. In terms of sights and attractions, three days is plenty of time to see all of the best wonders that Chiang Mai has to offer. It will also give you enough time to relax and explore at a slightly slower pace than a one day trip to the region.
What Should You Not Miss in Chiang Mai?
Of all of the amazing sights that Chiang Mai has to offer, there are a few that we would recommend you do not miss out on during your visit. These include exploring the fascinating Old City of Chiang Mai, climbing the ancient tower of Wat Phra Singh, and touring the Night Safari once the sun goes down.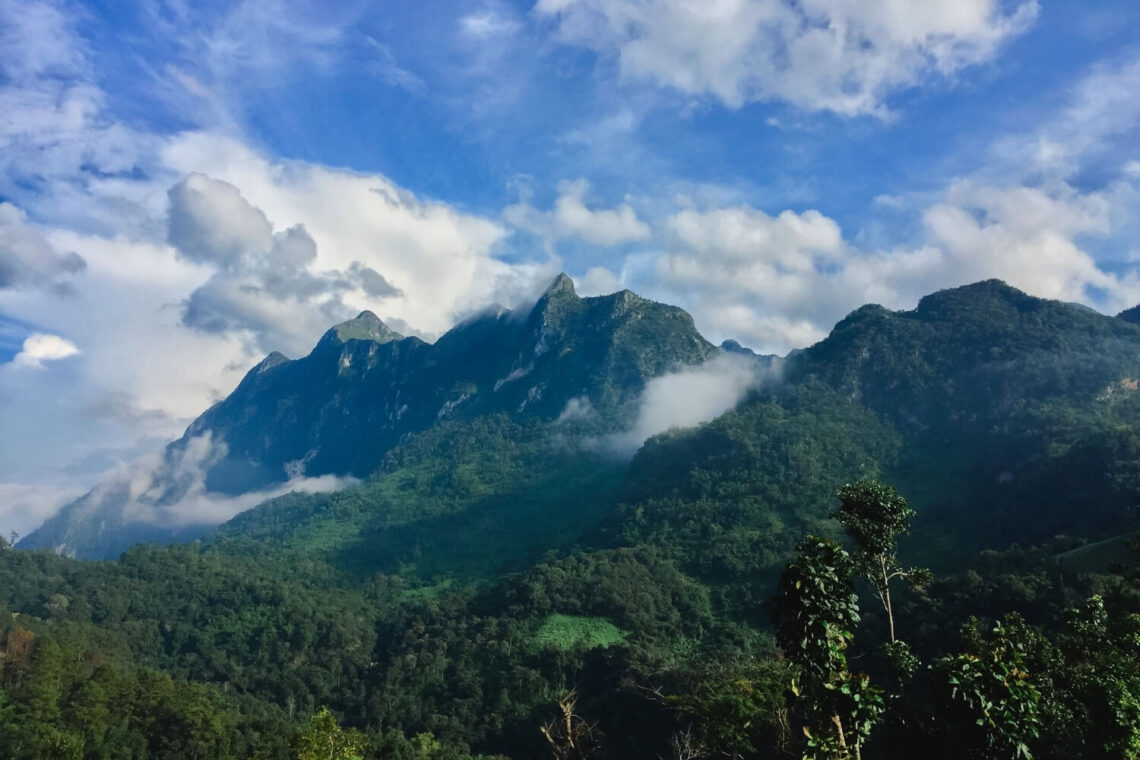 The Complete 3-day Chiang Mai Itinerary
Day 1 in Chiang Mai
Wat Chiang Man
When it comes to visiting spiritual places in Chiang Mai, nothing could enthral you like Wat Chiang Mai. Just to let you know, this is the oldest sacred site in the city. Talking about the history of this temple, well, it dates back to the late 13th century. 
Apart from its sacred significance, the architecture is indeed the key highlight of this place. It boasts an impressive mix of both Lanna and Sinhalese styles of construction. Along with that, there are also images of Lord Buddha along with exquisite paintings and wooden carvings. 
For visitors, the temple also has a library that houses some renowned ancient scriptures. Undoubtedly, there couldn't be a better place than Wat Chiang Mai to commence your Chiang Mai 3 days tour.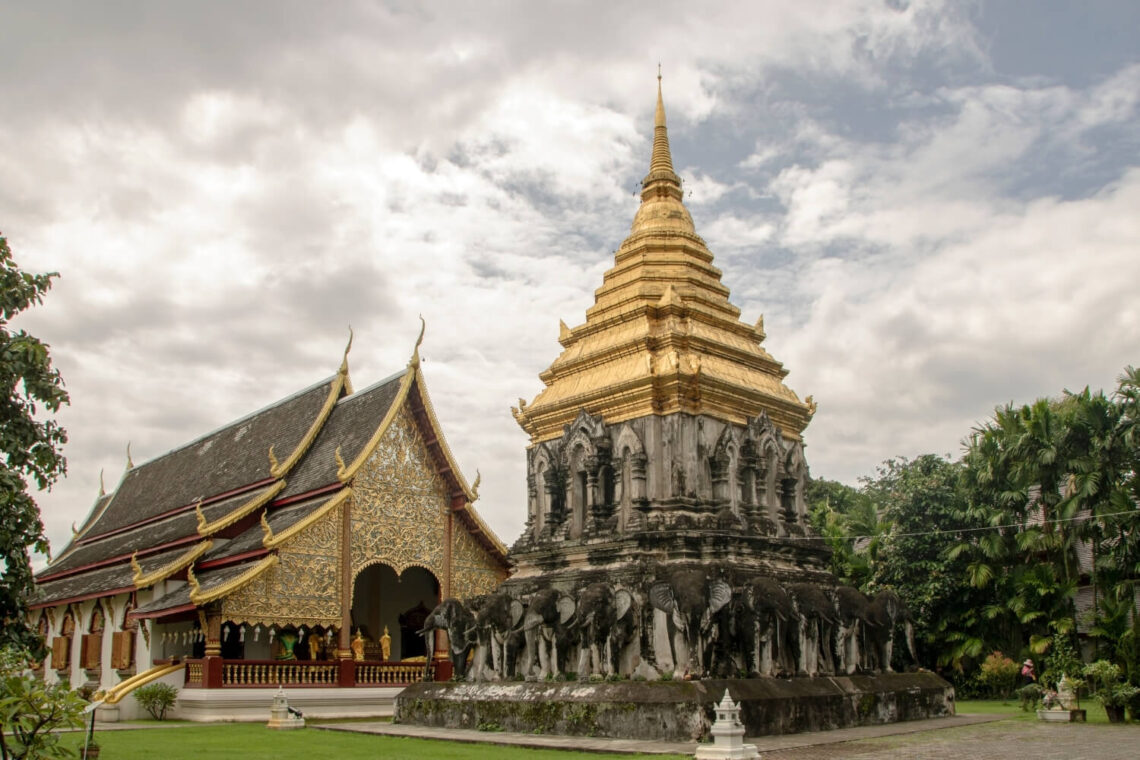 Wat Phra Singh
Located just at a distance of 1.3 km from Wat Chiang Man, Wat Phra Singh is your next stopover on this three days tour of Chiang Mai. This temple also holds a special sacred significance in the hearts of devotees. 
Just like Wat Chiang Man, Wat Phra Singh is also counted amongst the oldest shrines in the city. The key attraction of this temple is the pagoda which is gold plated and is situated beneath the vihara. 
If we talk about its history, well, it dates back to the 14th century. The temple complex is adorned in white and gold colour along with beautiful decor. Not just this, the temple also has exquisite golden motifs crafted in typical Lanna style.`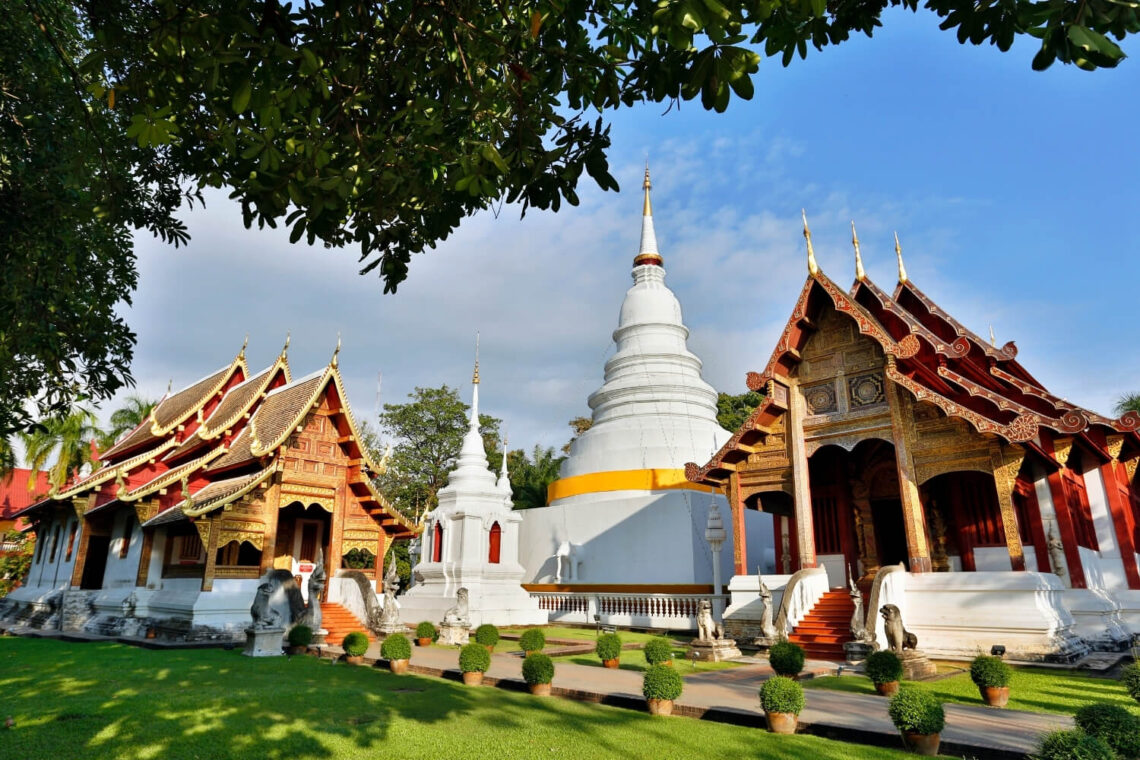 Three Kings Monument
A lesser-known, yet an interesting attraction to cover on a trip to Chiang Mai is Three Kings Monument. This attraction is dedicated to three kings that found
ed Chiang Mai back in the year 1296. These kings are known by the names King Mengrai, King Ngam Muang, and King Ramkhamhaeng. 
This place is indeed a must-visit one for all the history buffs. Here you can expect to capture the sights of the bronze sculptures of these three kings. You can also choose to explore this place in the evening. During this time, the place remains dotted with some great street food options.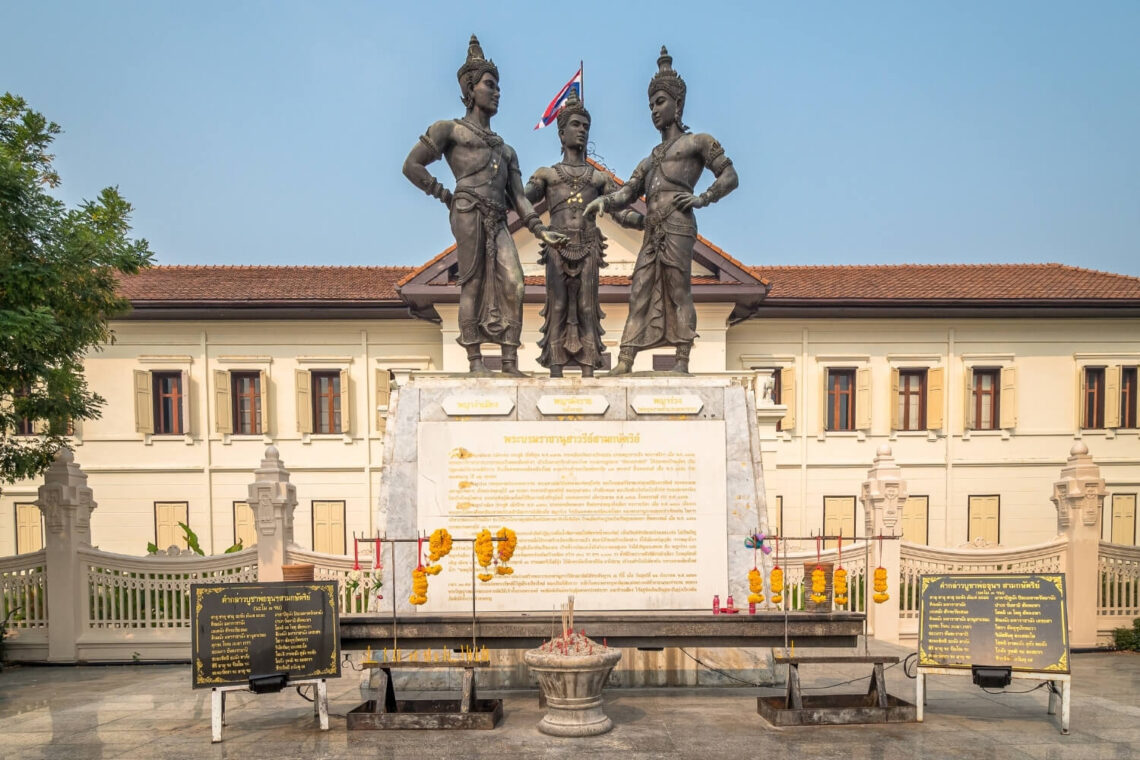 Chiang Mai City Arts & Cultural Centre
If you are very much curious to learn about the art and culture of Chiang Mai, then Chiang Mai City Arts & Cultural Centre is the one place that you should visit on your tour. This place fills you with all the important information about the city's long-prevailing art and culture. 
However, be sure to spend a few hours here in order to get complete information. This place houses a wide sort of exhibits in the form of audiovisual displays and artefacts. Along with that, there are also wooden miniatures that are basically the recreation of Lanna Village that once used to flourish here in the city. 
Chiang Mai City Arts & Cultural Centre is located in the downtown of the city in the former Provincial Hall building. It operates from 8:30 in the morning to 5 in the evening. In order to explore the place, you are supposed to pay an entry fee of 90 Baht.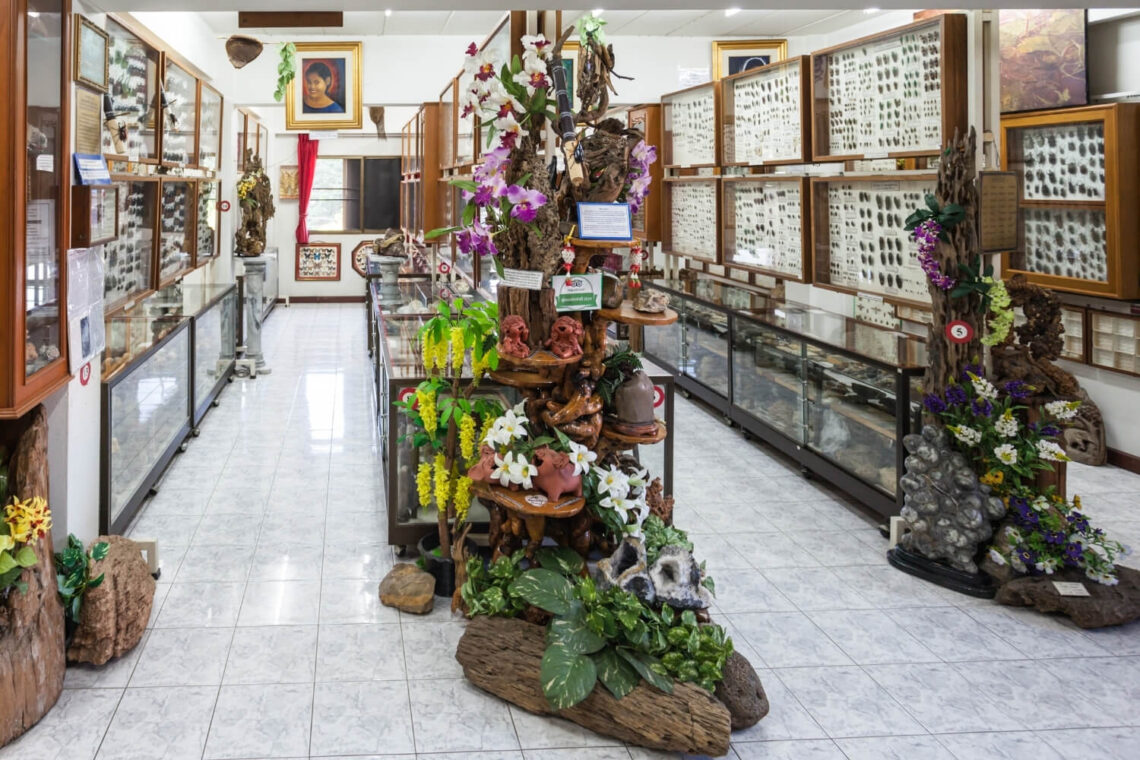 Chiang Mai Night Safari
I assume you weren't expecting such an experience in Chiang Mai during the night. Well, that's the beauty of this destination in Thailand; you get something for everyone and at any time. There are so many destinations in the world that offer a night safari experience. Hence, when you're in Chiang Mai, be sure to make the most out of it. 
On the nightlife safari, you will get a chance to see a large number of nocturnal animals. The safari begins by boarding an enclosed tram through which you will explore the animals. This nocturnal zoo sprawls over a large area of 132 hectares of land. 
Talking about wildlife, well, there are more than 1400 animals within the zoo premises. Besides, you can also enjoy a buffet dinner as a part of this nightlife safari. Another key highlight of this place is the Musical Fountain which is indeed a treat to eyes. 
It is imperative to know that the safari opens until 10:00 PM. So, you have to plan your tour accordingly. And the entry fee would cost you somewhere 100 Baht.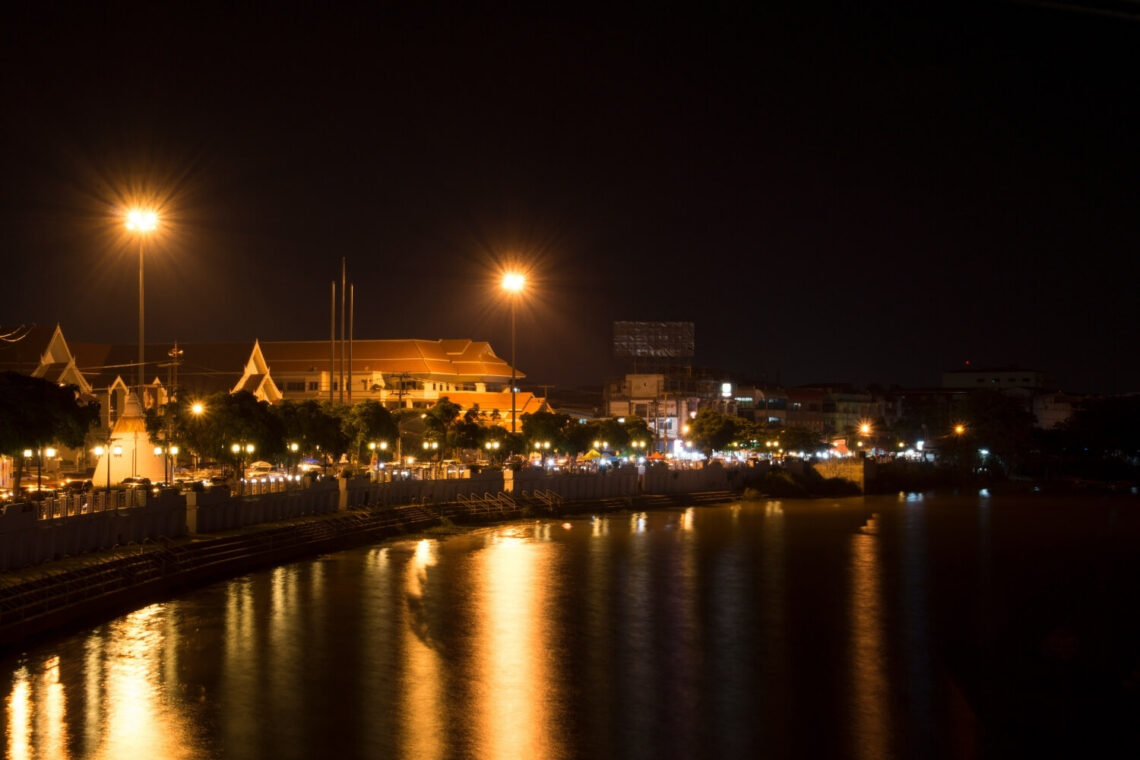 Day 2 in Chiang Mai
Doi Inthanon National Park
When you are in Chiang Mai, do not dare to miss the opportunity to explore the astonishing Doi Inthanon National Park. Though the park is not located within the city, it is some 94km west of Chiang Mai. 
However, the park is a perfect getaway from the city. The national park is located on the top of Doi Inthanon mountain which is the highest peak in the country. It offers you plenty of opportunities to sightsee. 
The park is a perfect gem of natural beauty that includes rugged mountains terrain dotted with verdant tropical forest, majestic waterfalls, and mighty rivers. Talking about the national park, well, there are approx 362 different bird species and 30 species of bats. 
Apart from that, you can also expect to capture the sight of a barking deer, gibbon, Chinese flying squirrel, Asiatic black bear, leaf monkeys, macaques, and more. This is a perfect place to enjoy an ultimate escape with your friends and family. 
The park operates from 5:30 in the morning to 6 in the evening. We suggest you head to this early in the morning so that you will be back by the afternoon. In that way, you will still have plenty of time to explore the other attractions of the city on day 2 of your tour.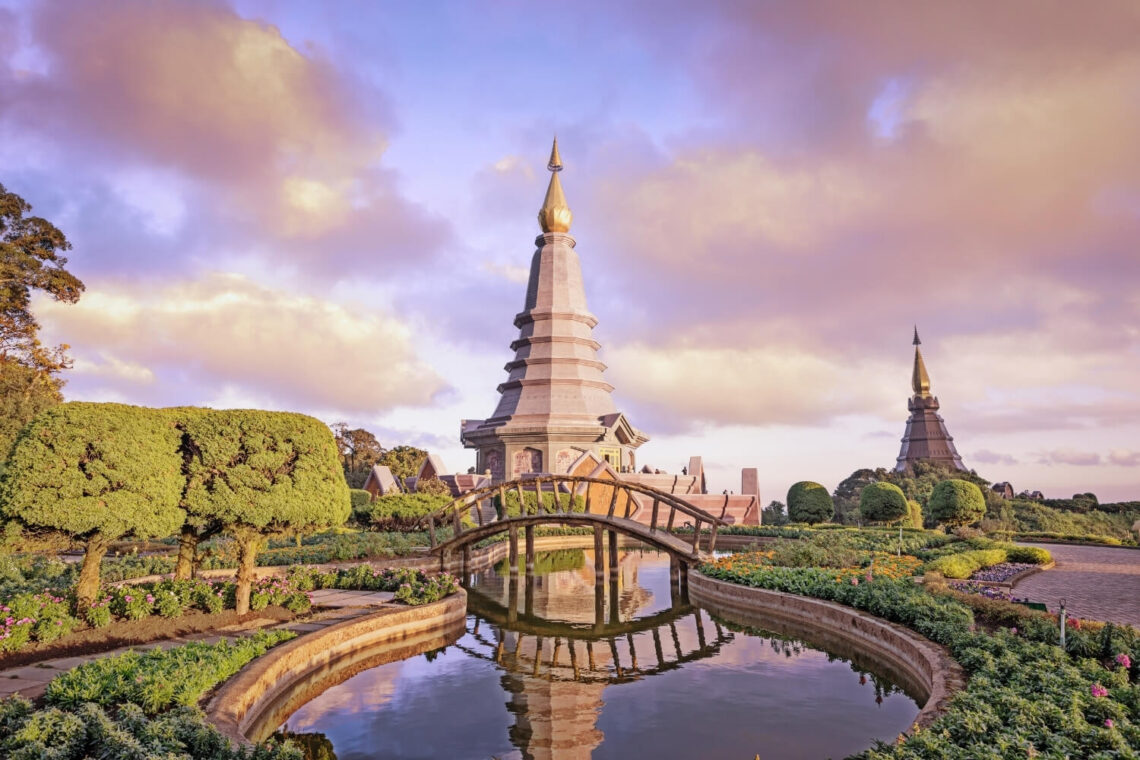 Wat Chedi Luang
One of the highly revered sacred sites in Thailand is Wat Chedi Luang. The temple boasts a rich history of more than 700 years as it was built in the 14th century. At present, Wat Chedi Luang serves as the perfect epitome of the craftsmanship of a bygone era. 
It has the earliest Lanna architecture, and hence, is also a popular landmark to visit in the city of Chiang Mai. You would be amazed to know that the temple supposedly had the largest work of Lanna architecture during that time. 
Apart from the architecture, another key attraction of the temple is the famous Wat Phra Kaew, also known as the Emerald Buddha. Besides, there are also Seated Buddha and Reclining Buddha. 
On the whole, Wat Chedi Luang is one of those attractions that you must cover on your Chiang Mai itinerary.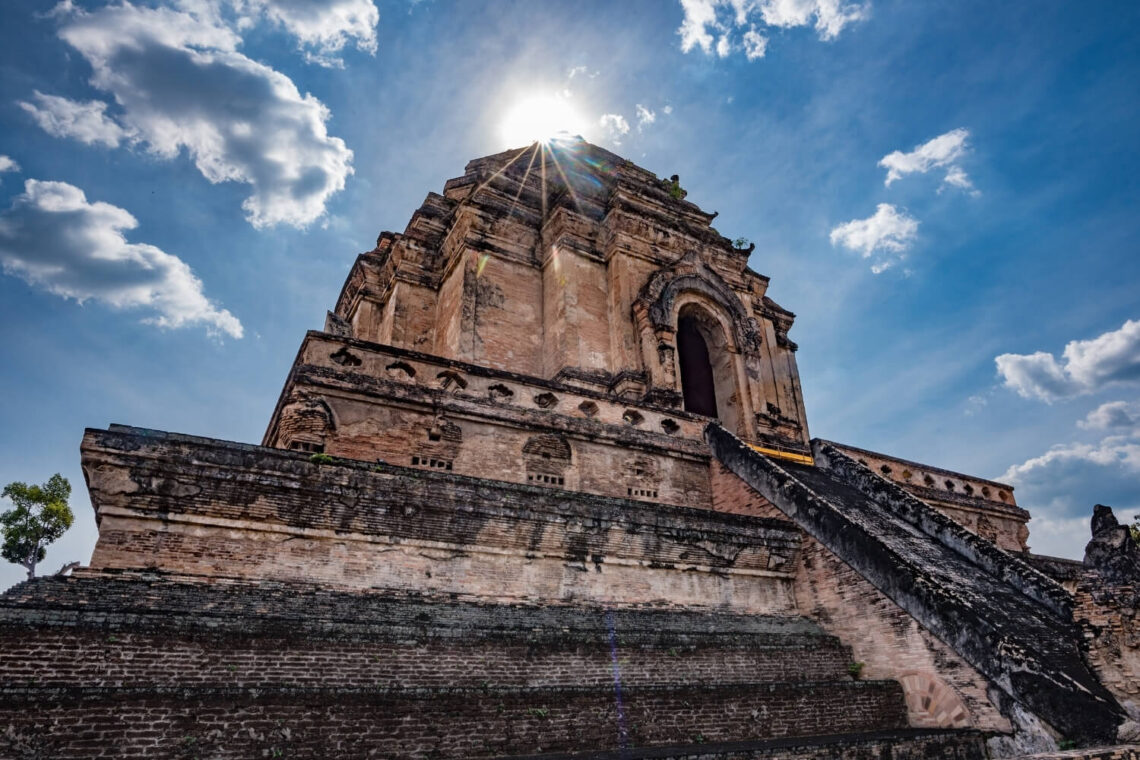 Terracotta Garden
Terracotta Garden is another popular place that you should visit on your tour to Chiang Mai city. It is often touted as one of the best-hidden gems of the city. Here at this place, you can expect to capture the sights of hundreds of statues. 
Along with that, there are also handcrafted potteries as well as the artsy depiction of the architecture of Lanna. The garden in itself is a whole new world for all the art and history lovers. As you step into this place, it will seem like you have entered into a lost, ancient city. 
The garden is in contrast from the outside world as it is enclosed by the stone walls. Besides, the garden also houses figures of Hindy and Buddhist deities made up of clay. Not just this, the garden also includes the abundance of greenery in the form of plants and thick moss on the ground as well as walls of the garden. 
Saturday Night Market
This is one such attraction that is observed on a specific day. So, we suggest if you haven't booked your tickets, consider including a weekend on your Chiang Mai trip. This will give you the chance to be part of an amazing nightlife experience on Saturday Night Market. However, this market is also observed on Sundays. 
So, you can either explore the market on Saturday or on Sunday according to your preference. This is a traditional bazaar that receives a huge footfall of tourists not just locals but foreigners as well. 
Here at this market, you can find a huge variety of products that you can buy at great prices. Whether you want to shop or enjoy food or just want to wander on the streets, this is the market where you should visit on your tour to Chiang Mai. 
Talking about shopping, well, you can expect to buy goods ranging from sculptures to silverware to clothing to ornaments to handicrafts. There are also food stalls that sell delicious delicacies of  Thai cuisine. You can explore this market anytime between 5:00 PM to 9:00 PM.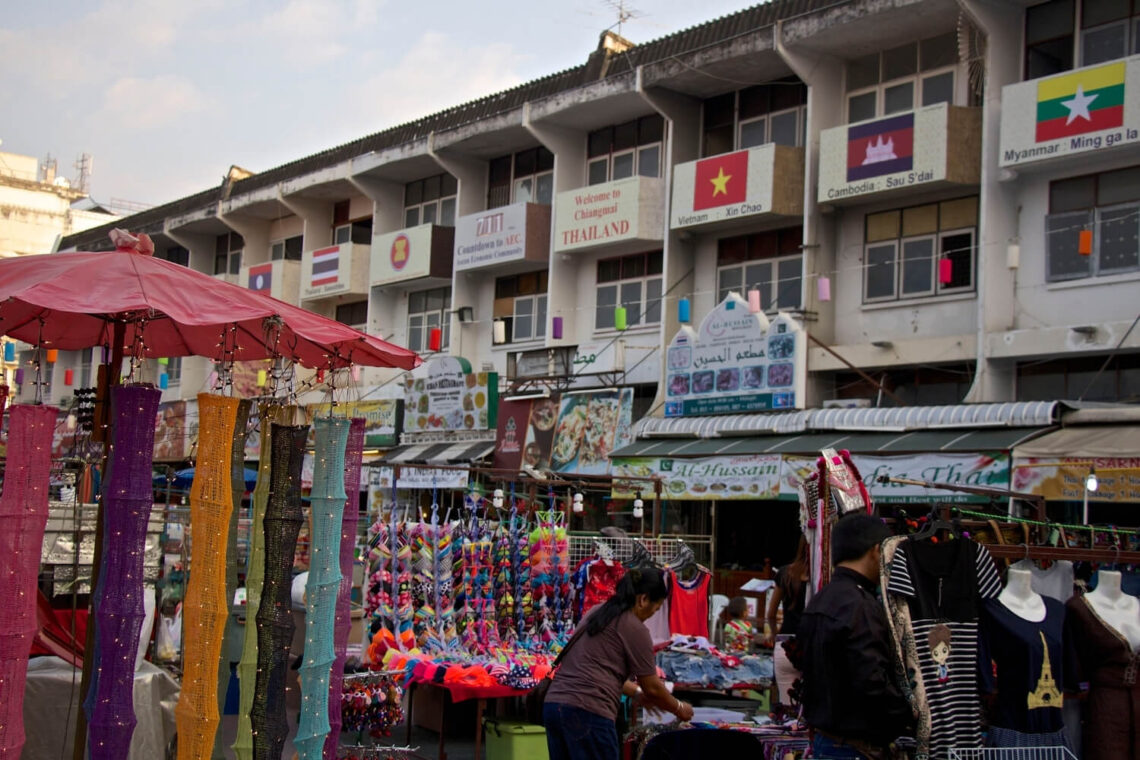 Day 3 in Chiang Mai
Wat Phra That Doi Suthep Temple
Though Wat Phra That Doi Suthep Temple is located at a distance of some 15 km from the downtown of the city, yet it is a must-visit place considering its charm and popularity. Also known as Doi Suthep, it is a stunning mountainside temple.
Apart from its sacred significance and serenity, the temple is also known for a towering golden statue of Buddha. From the temple site, you can also capture some marvellous sights of the city.
The temple is one such place where you not only can admire nature but also beautiful intricate carvings. Around this place, there are several other shrines as well that are also worth visiting.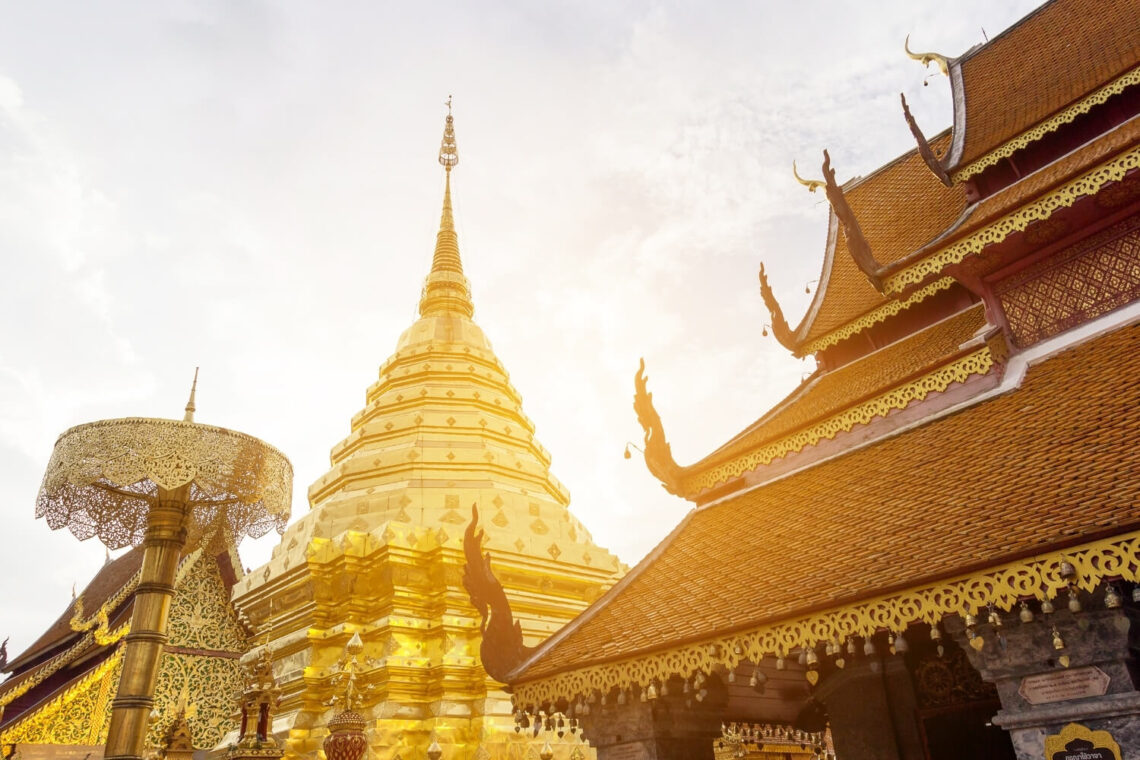 Elephant Conservation Centre
Another popular wildlife destination in Chiang that has to be on your 3 days itinerary of Chiang Mai. If you are a wildlife buff, then visiting this place will certainly be one of the best things to do in Chiang Mai in a 3 days trip.  The ambience of this place is so serene and scenic that you will definitely fall in love with this elephant jungle sanctuary, which provides a safe home for the beautiful Asian Elephant.
Here you can enjoy in a number of experiences that offer both entertainment and vital education to visitors. You will learn about the struggles of this beautiful creature, including the dangers they face in the wild and how you can help save them from extinction. You can also enjoy seeing them relax in a natural environment as they bathe and play with each other in the safe protection of the elephant nature park.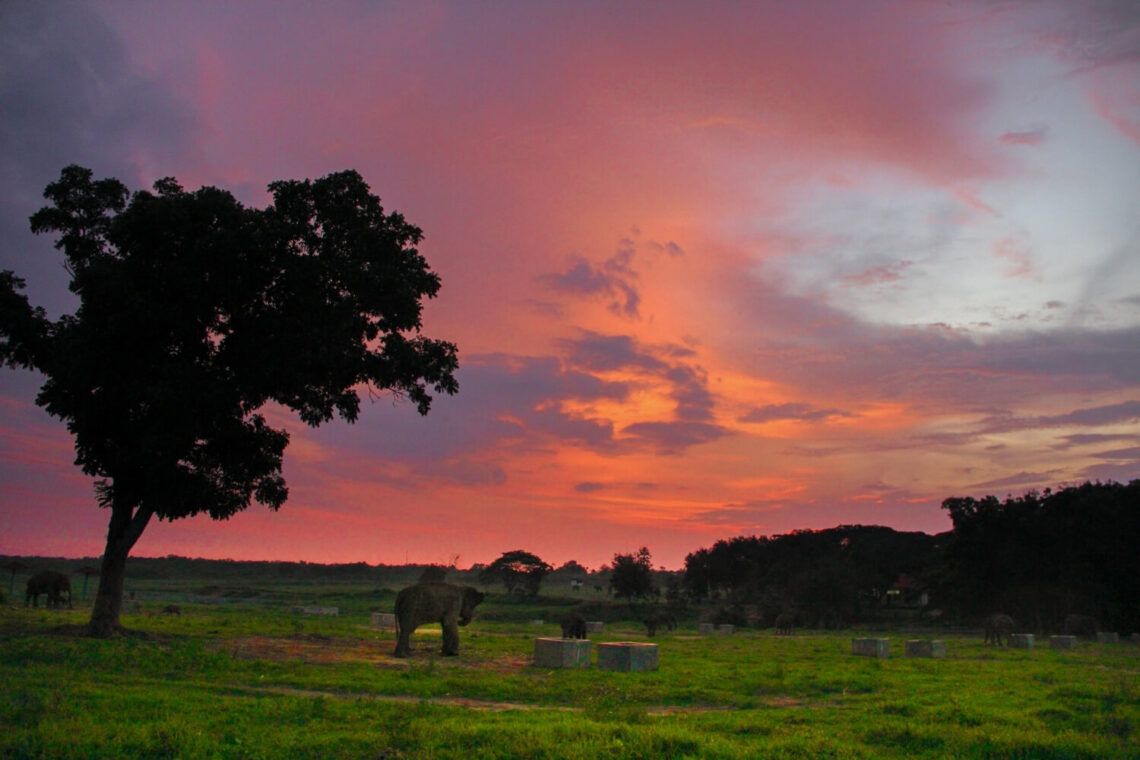 Lanna Folklife Museum
When you are in the city where once the Lanna dynasty used to prevail, it kind of becomes important to know more about the dynasty. Lanna Folklife Museum is one such place where you will get to quench your evergreen curiosity to learn more about the Lanna dynasty. 
The museum is located inside a former courthouse and it houses an impressive collection of artefacts. In total, there are 18 different exhibitions that beautifully display the lifestyle, history, and culture of the dynasty. Besides, there are also sculptures, artworks, and textiles on display.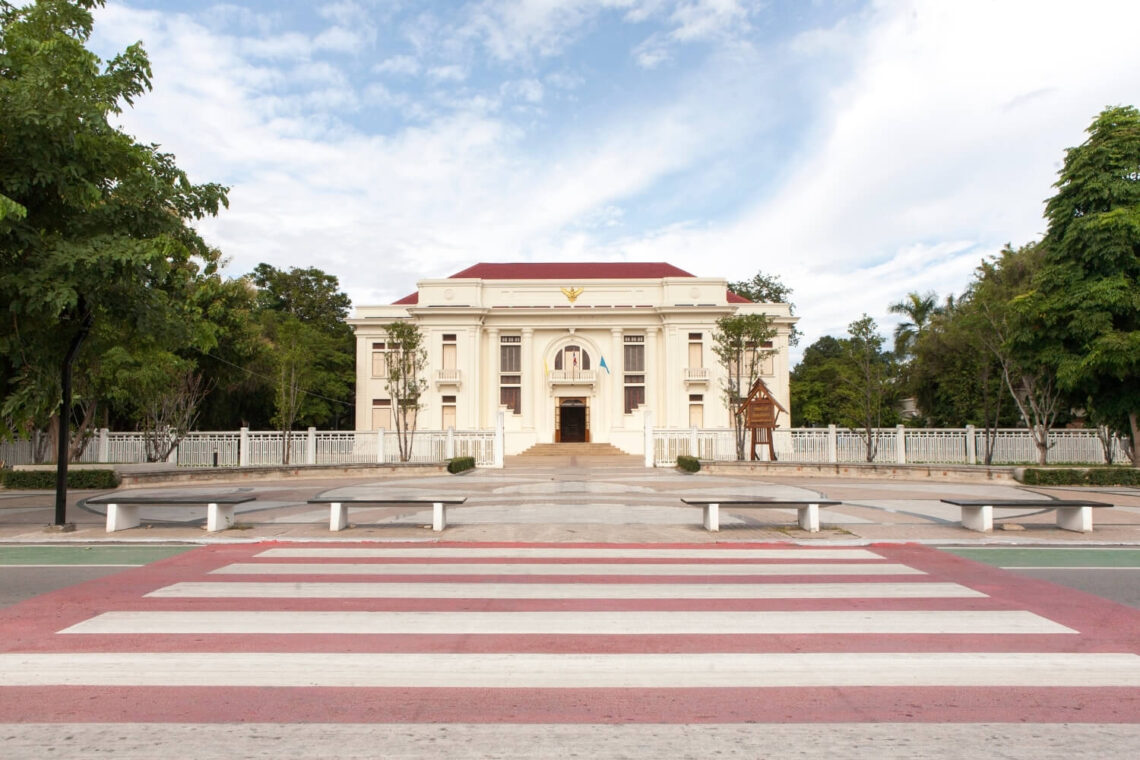 Nimmanhaemin Road
The last thing to do on your 3 day trip in Chiang Mai is a stroll through Nimmanhaemin Road. This is probably one of the most vibrant landmarks in the city of Chiang Mai. It has cafes, art galleries, restaurants, shopping centres, boutique stores, and more. 
You can spend some evening time here either shopping or relishing the delectable cuisine. You can also just wander through the road for a sightseeing tour.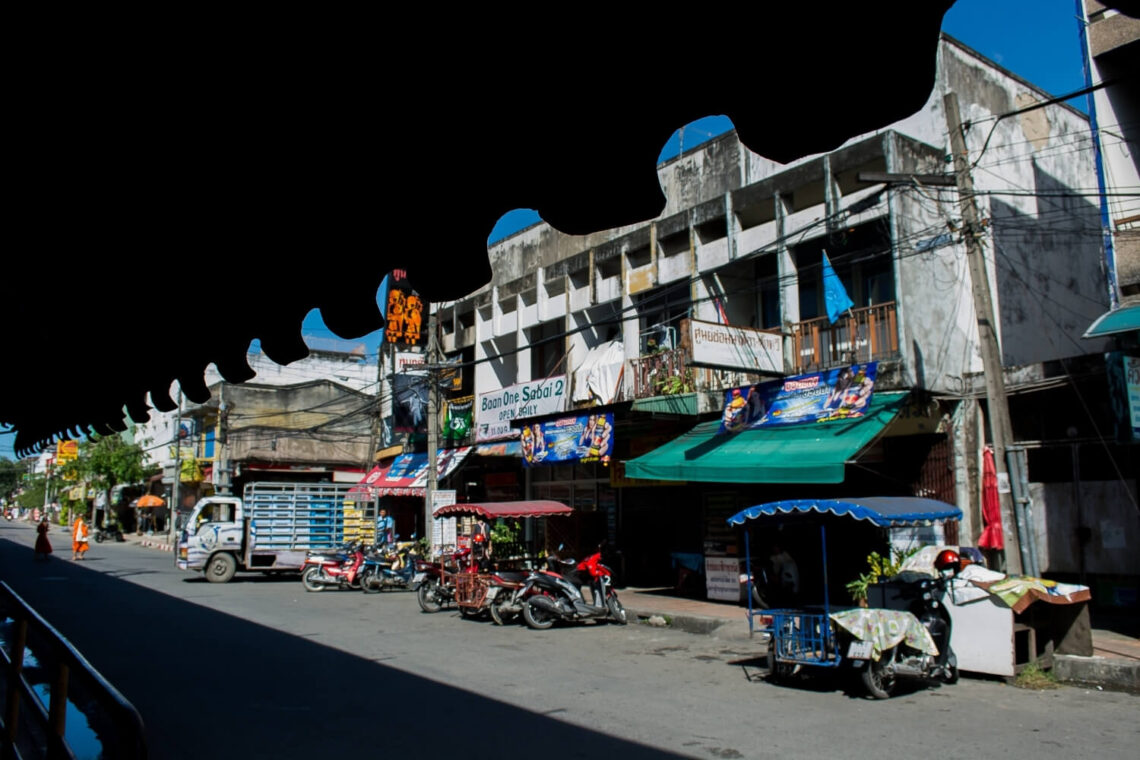 Before You Leave for Chiang Mai
Before you set off on your trip of a lifetime to Chiang Mai, there are a few things you will need to get sorted out for a stress-free and enjoyable trip. These include what to pack, what visa to get, what insurance is best and where to stay. These are all discussed below.
What is the Best Travel Insurance For Thailand
As you would do when you are travelling to any country, it is important to make sure you have travel insurance before leaving for Thailand. Medical bills are expensive and it's not worth forking out the money for any accidents that may happen.
We recommend using World Nomads Travel Insurance for the best and cheapest coverage, as they offer a huge range of cover, fantastic customer support and all at a very reasonable price. Always make sure that you are covered for all of the activities you will want to take part in whilst you are away.
You can get your quote before you leave on your trip right here.
What to Pack for Thailand?
Thailand is blessed with tropical, scorching weather year-round. This means there are three seasons: a hot season (March-June), the wet season (July-October) and cool season (November-February). The temperature during these seasons remains above 26oC and humidity averages around 78%. Due to this, we would recommend that you pack light clothing and a light waterproof. Lucky for you, this makes packing a lot easier and your luggage a lot lighter.
Check out our Summer Packing List for Women and Summer Packing List for Men for some clothing inspiration for your trip to paradise.
When it comes to sun protection in Thailand, it is a lot more expensive to buy it when you arrive. We, therefore, recommend packing as much sunscreen as you can before you leave for Bangkok.
You definitely don't want to forget your camera when you are travelling to Bangkok. No matter where we go in the world, we always ensure our camera bag is fully topped up.
If you would like to know more about what is in our camera bag, click right here.
Where to Stay in Chiang Mai
One of our favourite parts of travelling around Asia is the affordability of accommodation in each country. Thailand is no different, with plenty of incredibly affordable and comfortable places to stay across the country. When we are on the road, we will normally book our accommodation through Booking.com, as we find this gives us the best prices and the most choice.
Given that this guide covers all of Thailand, we have listed our top choice of accommodation for each of the regions that you will be visiting on this trip to make your choice a little easier.
Luxury – For those who want a trip that they will remember for a lifetime, the extremely luxurious (and surprisingly affordable) Centara Khum Phaya Resort & Spa is the place for you. Featuring modern Northern Thai style, the spacious rooms, outdoor pool, and close proximity to Chiang Mai Old Town will make it an experience to never forget.
Book your stay at Centara Khum Phaya Resort & Spa here.
Mid-Range – Just 3 miles away from the Chiang Mai Airport, the Hnuphen Chiangmai Homestay is the perfect place to stay during your trip to Chiang Mai. Comfortable and affordable, this homestay offers AC rooms and free wifi to all guests.
Book your stay at Hnuphen Chiangmai Homestay here.
Budget – If you are looking for a place to rest your head between days of adventure and are not too fussed about the extravegance of the above suggestions, the best budget option for you in Chiang Mai is definitely The Newnormal House. Offering the lowest rates for private rooms, the spacious and comfortable rooms, and close proximity to the centre of Chiang Mai make it a no brainer.
Book your stay at The Newnormal House here.
If you are more into the hostel scene when you travel, there are an unbelievable number of funky, cheap, and social hostels spread through the country. Browse the full range of hostels that Thailand has to offer and book your stay right here.
So there you have it, your complete 3 day Chiang Mai itinerary. If you have visited Thailand before, let us know what you thought of the sights listed above, or if you have any suggestions let us know in the comments below.
As always, sharing is caring so make sure to share this photo guide with your family and friends and inspire them to head off on their own Thailand adventure one day. If you are planning the trip for yourself, make sure you have a look at the rest of our Thailand content for more inspiration.
When you set off on your own adventure, be sure to tag us in your photos on Instagram and we will share them with the rest of our community. In the meantime, why not follow us over there to see what we are currently up to and keep up with us on our Instagram Stories.
Now Read:
This article may contain affiliate links that provide us with a small income. For more information read our Affiliate page.
---
Pin this image to your Thailand Pinterest board for later!