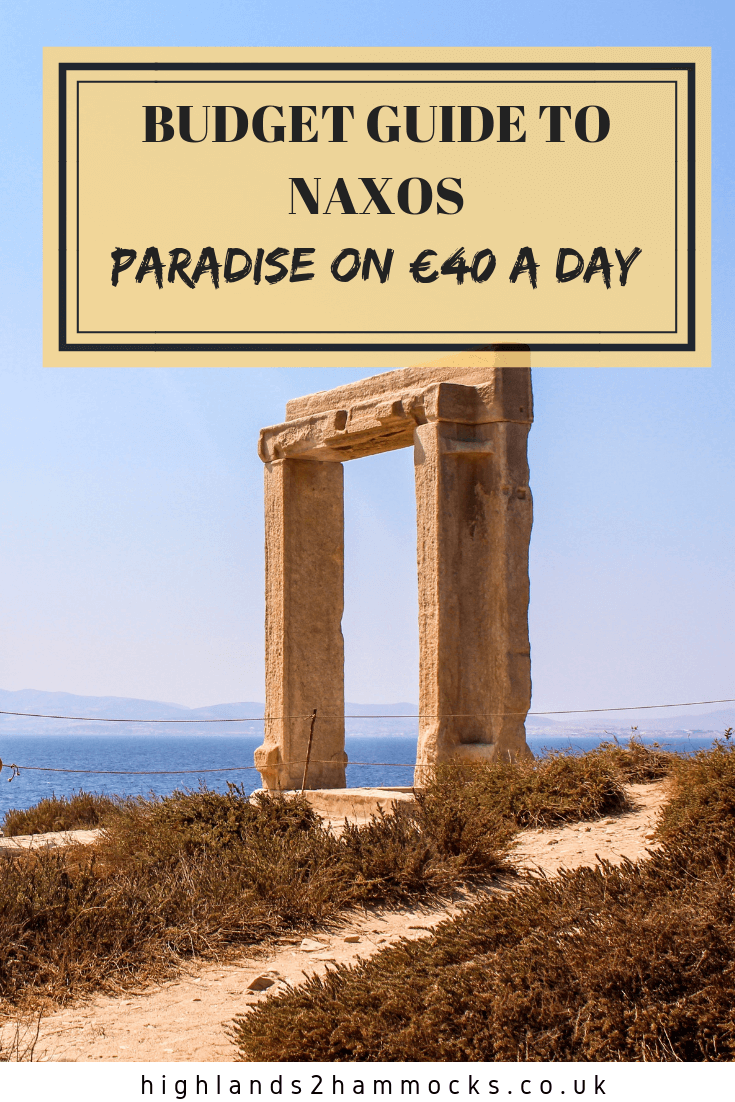 Close your eyes and picture paradise for a second. The gentle white buildings on a stunning backdrop of azure sky, sitting above that perfectly blue water. Too good to be true, right? That is Naxos for you! This completely underrated Greek paradise is never really high on anyone's holiday plans, which is why it is absolutely perfect. A trip to God's own country doesn't have to cost a fortune. In fact, it doesn't even have to cost a lot! This is our Budget Guide to Naxos, explaining how you can get by for less than €40 a day!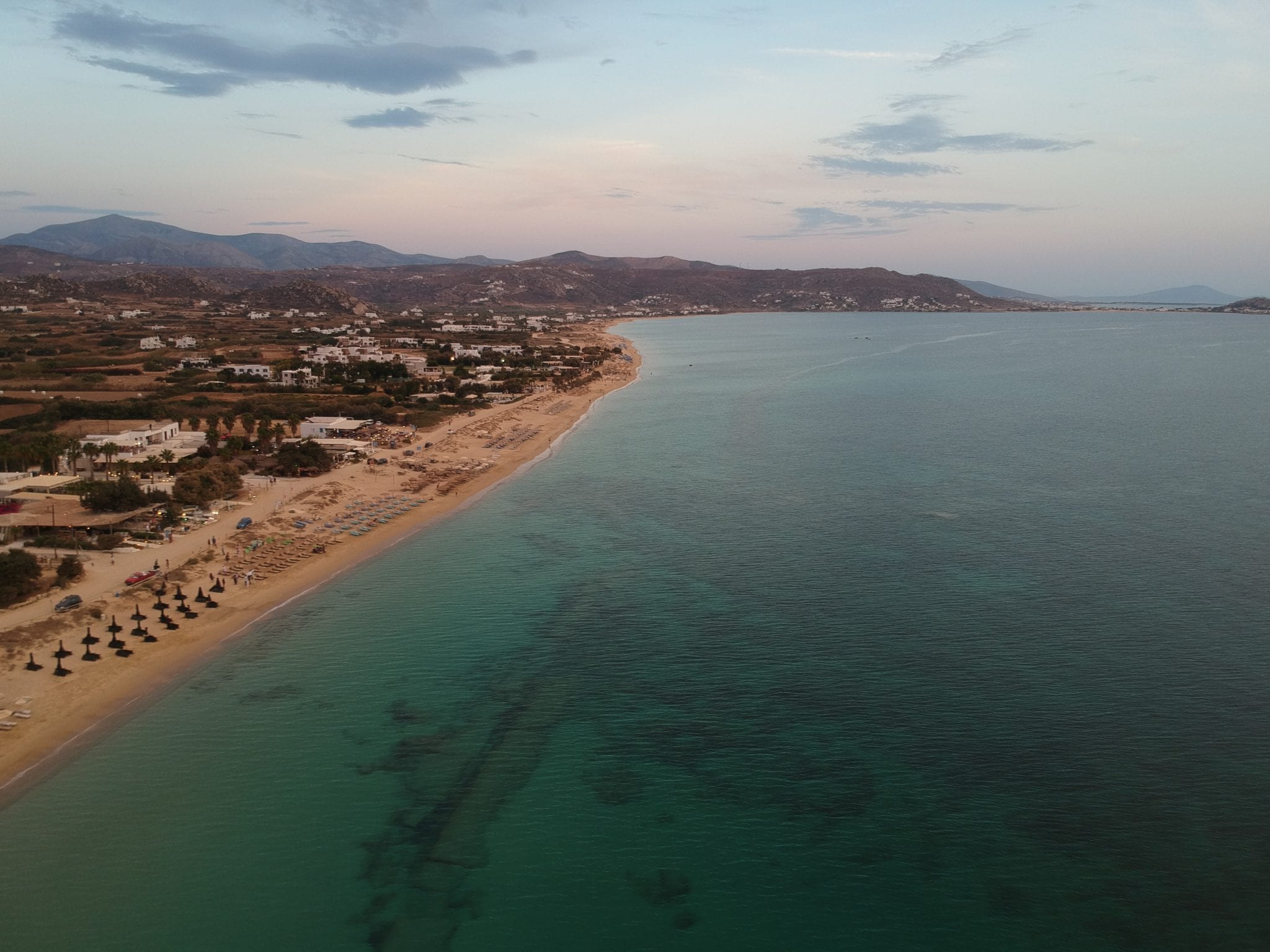 Budget Guide to Naxos – Paradise on €40/day
Before You Leave
Before you leave for your trip to Naxos, there are a few things that we would suggest doing so that your trip runs smoothly and stress-free.
What is the Best Travel Insurance for Naxos
It's always a good idea to travel with travel insurance to cover you for any medical cover you may need. It is unbearable to think about the worst case scenario, however it is best to be covered incase the situation arises. We like to travel with
World Nomads travel insurance
, a backpacker friendly insurance company that will find you budget deals to meet your adventure needs.
Get a quote for your travel insurance right here and have a stress-free trip knowing you are covered.
What to Pack for Naxos
When it comes to visiting the Greek Islands, I would suggest you visit in the Summer months as the temperature will be warmer and more entertainment will be open. For a trip to this beautiful Greek island you will want to pack light clothing and swimwear, as I am sure you will be tempted into the refreshing Aegean sea! For more inspiration on
what to pack for your trip to Naxos, check out our Summer packing lists here. 
Getting to Naxos
Sitting amongst the beautiful Cyclades (pronounced Kick-clad-ess), Naxos is the largest of its sister islands. Getting here could not be simpler! Multiple ferry lines run throughout the day from the mainland, Piraeus, and from the other islands as well. The best option for getting here (cheaply AND quickly) is with Blue Star Ferries, whose
full timetable is available here
. This ferry line does multiple crossings per day, throughout both peak and off-season. Not only does this ferry service provide a cheap option, but it also gives you a massive discount if you have an
Interrail pass
! Before the crossing we advise you to stock up on food for the ferry, as the on-board café is very pricey. Also pick up any dried food you will be wanting for the island. Since it is an island, the price of your everyday groceries is more expensive than on the mainland so it is a good idea to stock up on what you can. This brings us nicely onto what to eat! If you prefer flying, Naxos also has an airport however you will most likely need to fly via Athens to get there.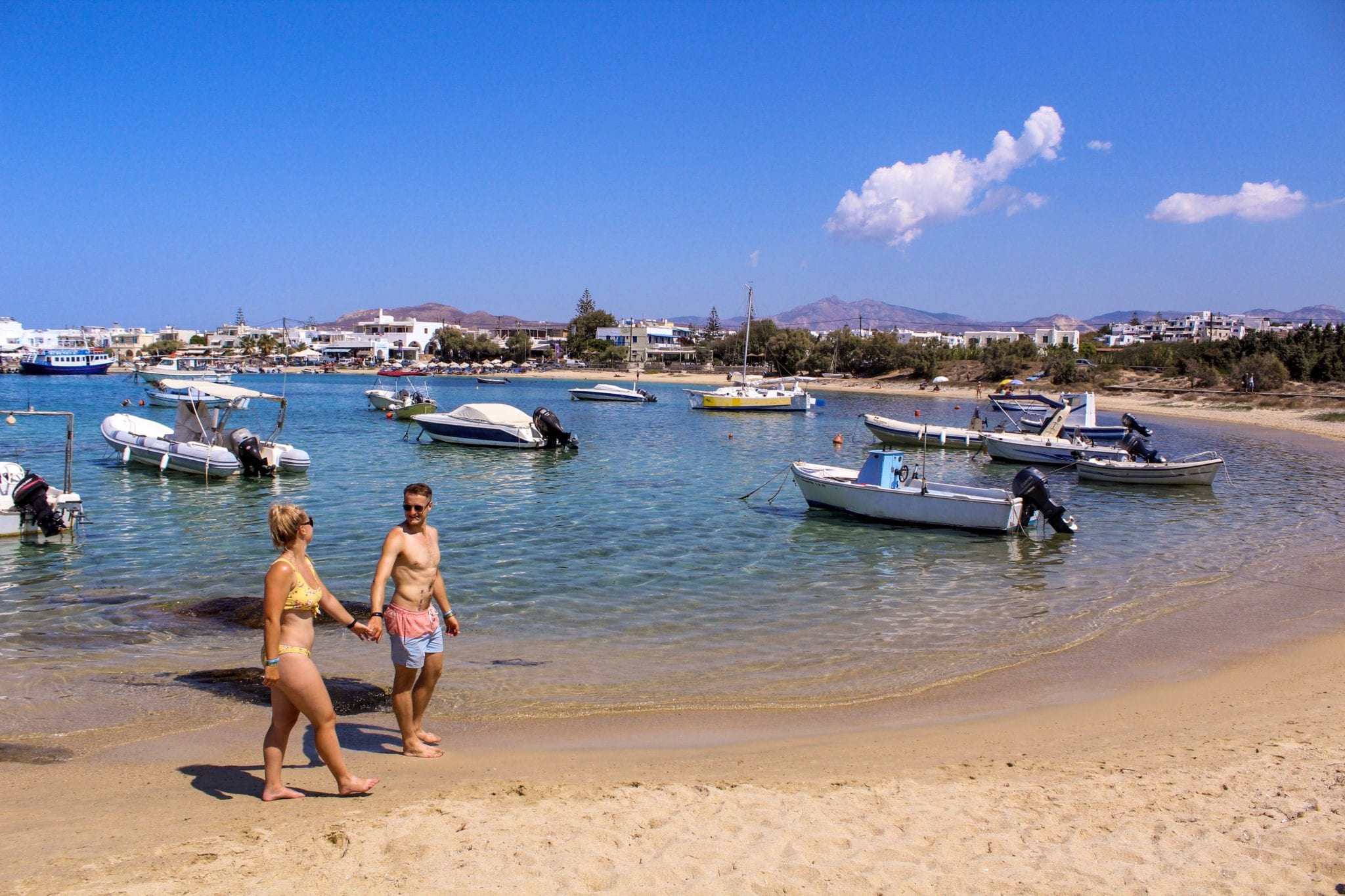 How to Live Cheaply in Naxos
The Greek Food
Given that food is our favourite past-time, we were especially excited to try the Greek cuisine on offer around Naxos. There is a large selection of places to eat on the island and we were not disappointed with the food that we tried.
Breakfast
When the sun rises, so does the island. You will not be stuck for choice on the delicious breakfast foods on offer. Our best meal in Naxos to start the day was a delicious fried breakfast from the campsites onsite café. A plate full of scrambled eggs, sided with bacon and sausages, as well as a strong Greek coffee will cost you
only €7
!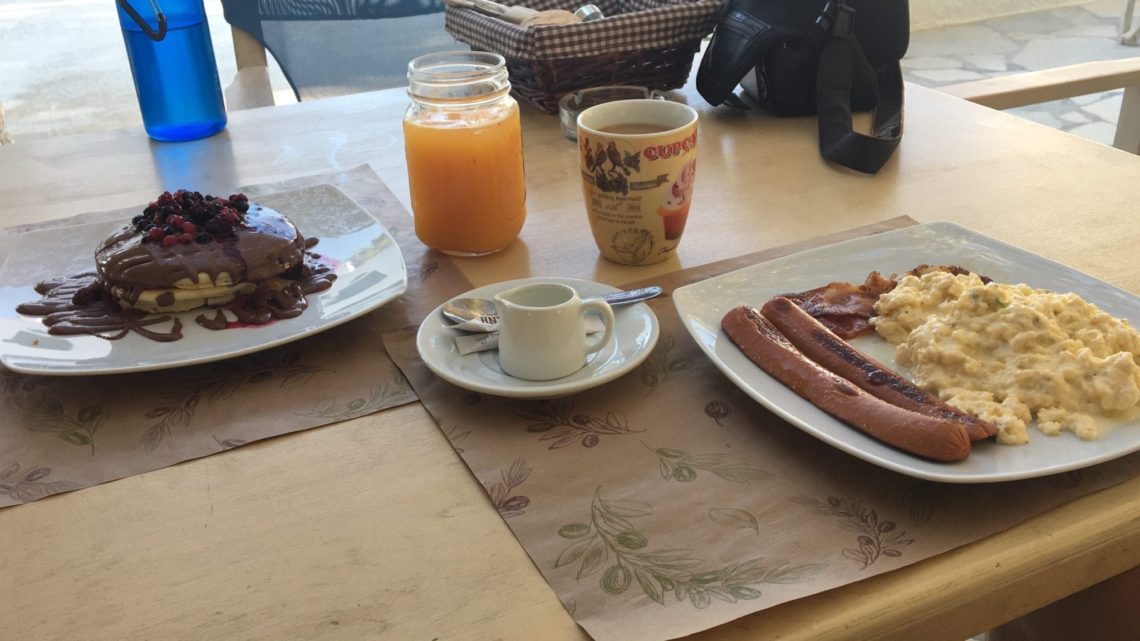 If you are not feeling the cooked food vibe, then you can always choose from the alternative cold options from the menu, or make your own! By shopping at the local supermarket, we dined in heaven with a
HUGE
fruit bowl, fresh Greek yoghurt and honey to drizzle, all for
only €4
!
Lunch
Once again you have the option of a packed lunch, with meats, cheese and bread from the local supermarket. However, we found this option to be quite expensive due to a lot of the produce being imported. Our favourite alternative is to get your chickpea groove on and try some delicious Greek hummus! Your local supermarket will sell it in tubs the size of your head!  You will also be able to get some delicious bread that will cost you roughly
€1
. If you fancy a hot meal, you will not have to search hard for a delicious (and incredibly cheap) food choice! At almost any grill restaurant you will have a choice gyro or falafel wrapped in pita. Along with your choice of filling, the pita will also be stuffed with chips, salad and a mouth-watering sauce, making one of the tastiest thing I have eaten on this trip! How can this get any better?! A wrap will only cost you between
€2-3
! Bargain!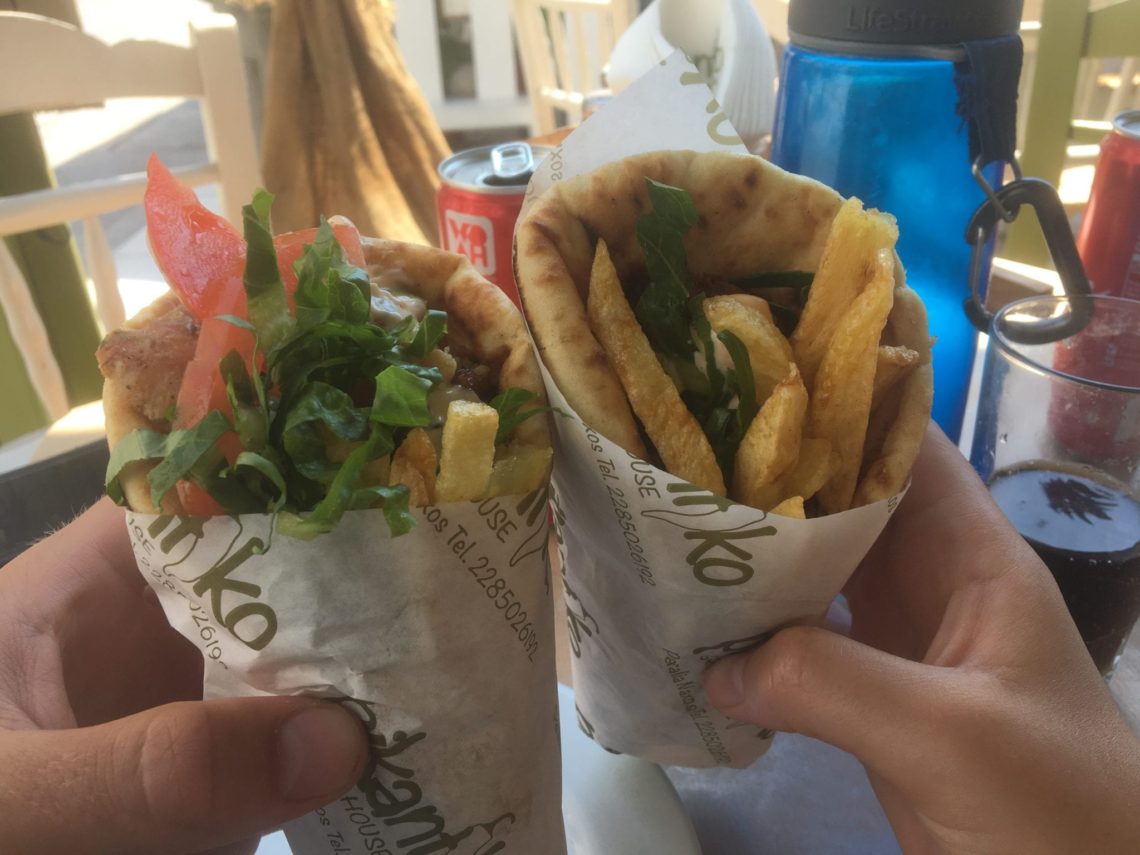 Dinner
The day is done and the sun has set, you've worked up a proper appetite from all the hard work enjoying that sunshine. So what do you do? Not to worry, once again you are spoilt for choice when it comes to fantastic dining options. On the campsite, the café where you had breakfast dims the lights ready for a romantic and delicious dinner, minutes from your tent. Here you can find all the local cuisine as well as much more, all at a reasonable price. As residents of the Maragas Beach Campsite, you are entitled to a handy 10% off the local restaurant. This restaurant also happens to have unbelievable views of the sunset from its beach-side dining area. Options here range from authentic Greek cuisine, delicious Italian or even a home comforts such as burgers. Plus, you can find all of this just outside the campsite gates!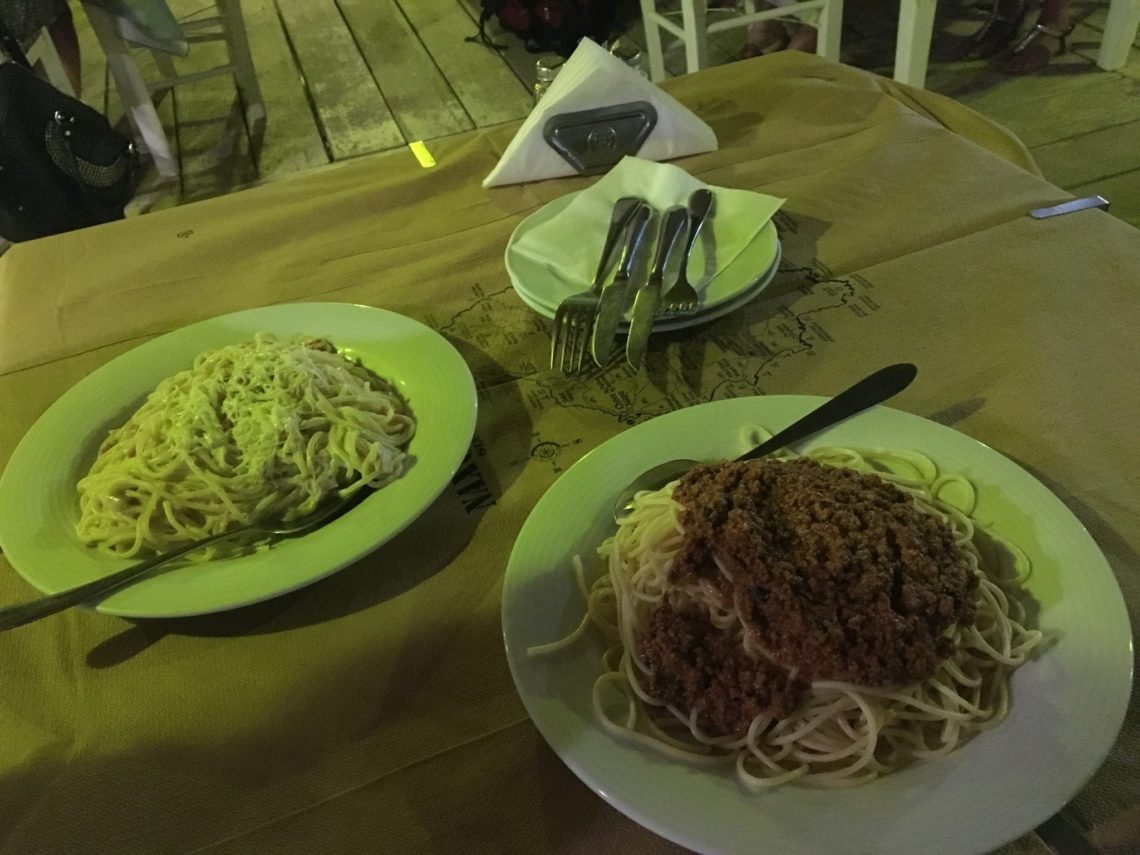 If you want to go a little further afield, the local town Agia Anna is only minutes away. Gorgona Taverna on the corner of Agia Anna was our pick for our last night in Naxos. Huge portions, cheap wine and incredibly friendly staff, this turned out to be a good choice! You even get a
free shot of Ouzo
with the bill (disclaimer: I didn't finish my Ouzo as I am a bit of a lightweight..). Wherever you decide to dine, our best suggestion is to enjoy your meal before heading to the local supermarket for a few beers. The drinks in the shops are chilled and cheap, and the views from the beach are 100x better than those in any restaurant/bar!
Accommodation in Naxos
Accommodation on the Greek islands is often seen as the biggest budget buster. However, this is mainly due to the lack of awareness of the types of accommodation available! There is the obvious choice of the cliff side apartments, private swimming pool and stunning sunsets, however this in not only overpriced, but it is a completely unnecessary expense! Some of the best sunset views on the island lie only minutes from one of the best campsites we have ever stayed on. The
Maragas Beach Campsite
was our choice of accommodation for our 5-day visit, and we would struggle to find a fault in it. Included in the unbelievably low price of
€15
(off peak for two people and a tent), is free wifi at the café/bar, free electricity around the campsite (as well as a dedicated charging building), a shaded tent spot, kitchen access with fridges and freezer and a discount at the local restaurant! This has got to be the best deal we encountered on our European camping trip. If you are looking for a concrete roof over your head, this will take your budget over €40 per day, however here are some of our recommendations.
Luxury
–
18 Grapes Hotel
is a beautiful hotel located close to the beach with a pool and air conditioning to cool off. This luxury stay would be a comfortable way to spend your time in Naxos.
You can book your stay at 18 Grapes Hotel here.
Mid-Range
–
Katerina Suites
is a great mid-range choice of accommodation. There is a kitchen and a fridge to keep your drinks cool and you are free to make use of the pool on-site.
You can book your stay at Katerina Suites here.
Budget
– A perfect budget accommodation located next to the beach.
Magic View II Agia Anna
is in a great location for your trip to Naxos.
You can book your stay at Magic View II Agia Anna here.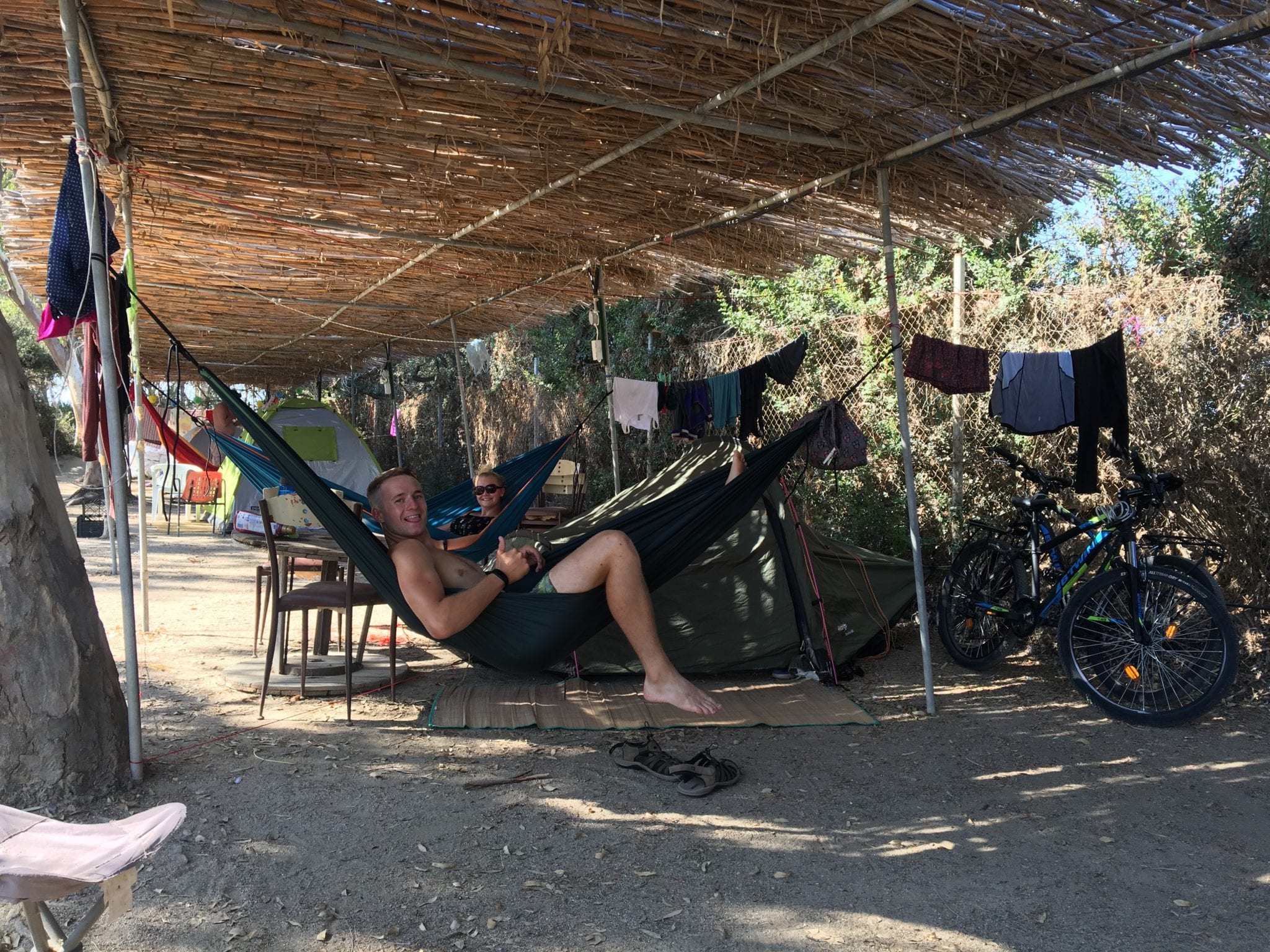 Activities
Without a doubt, the best part of Naxos is that the best
activities are completely FREE
! Who doesn't love chilling on a beautiful beach and playing in the sea? If this doesn't suit you, then take a day trip to the main city and explore its cute, winding streets. Transport is incredibly cheap, with buses leaving frequently from the campsite's doors for just
€2
. Or, if you are like us and have bikes, the port is just a 40 minutes cycle away.
Hiking
Hiking is another massive activity on this volcanic island, with some incredible peaks to be conquered around the eastern side. Buses will take you to the base of the majority of them, leaving it up to you to reach the top and admire the stunning views.
Watersports
If you are into your adrenaline sports, then Naxos will not disappoint either. Down the road from Maragas beach, you will find an equipment rental shop, Plaka Watersports. Here you can enjoy all kinds of water sports, from stand-up paddle boarding to motor boat wake-boarding. We gave the high adrenaline couch surfing a go, which did not disappoint! For only
€20pp
you will hurled around the turquoise waters in the wake of the motorboat dragging you along. Try your best to take in the tranquil views as you zoom along!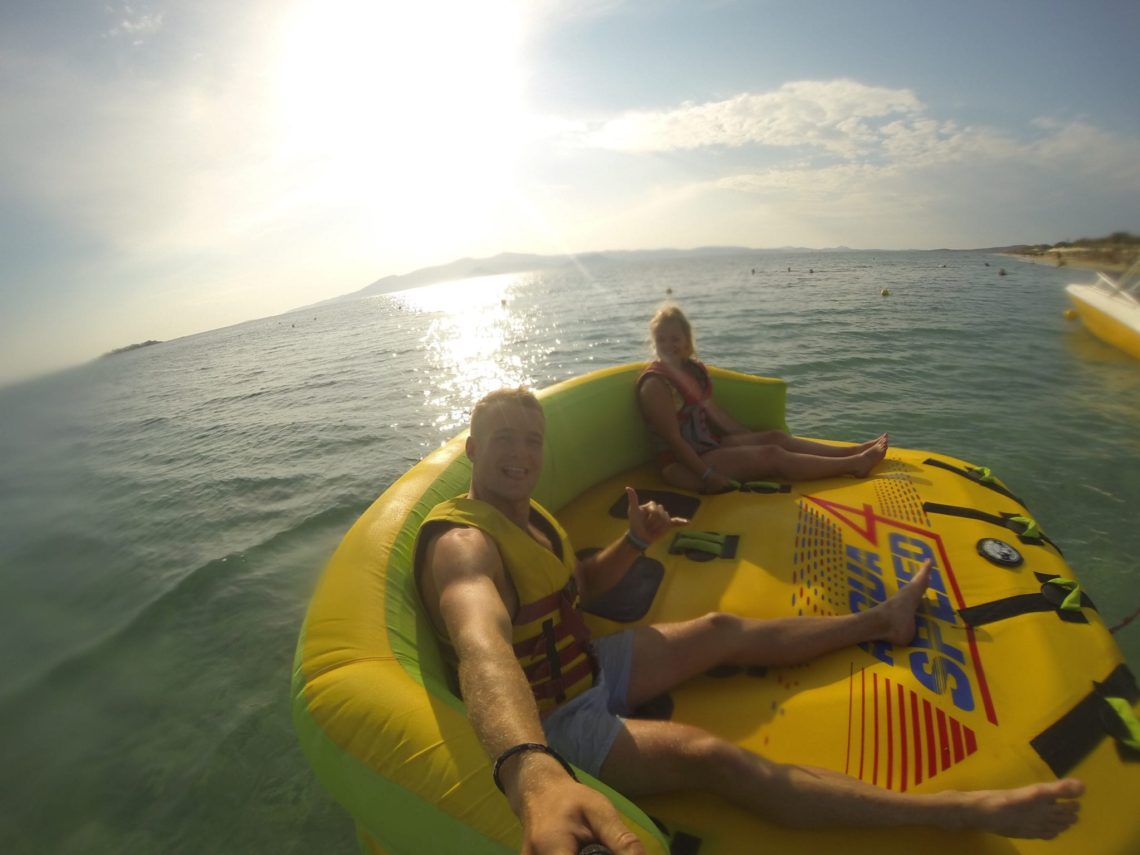 As we are both water babies, no trip to the sea would be complete without a spot of scuba diving. At
Blue Fin Divers
in Agio Prokopis, we tried the beginner diver course to refresh ourselves on this magical sport. Due to past experiences with scuba diving, Gemma was a bit nervous to try this again, however thanks to the support of the staff and the in-depth introduction we were given beforehand, the dive was a breeze! If you are nervous to try this unique sport and experience the indescribable feeling of swimming with the fish, then we highly recommend hitting up these guys!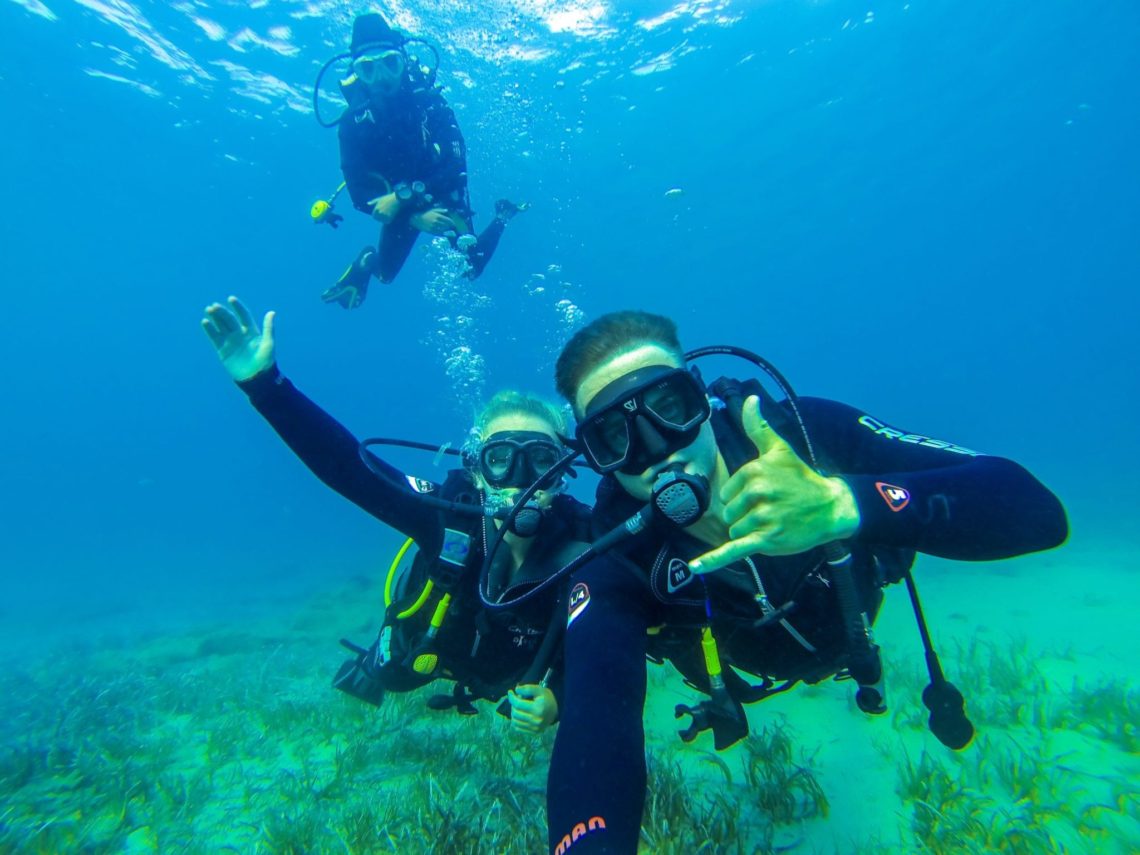 Discover the Artwork
Hidden around the abandoned Aliko beach resort, you will find some spectacular pieces of artwork. Explore this post-apocalyptic cliffside retreat and discover some of Naxos' finest views. Just watch your step!
So, if you are wanting to experience the paradise of the Greek islands but don't think it's in your budget, get planning now! Our trip to this Cyclades island showed us that it is in fact possible to visit heaven on earth on a budget of less than €40 a day. We can't believe just how much we enjoyed our visit to Naxos, and we are counting down the days till we return to this beautiful island. Do not miss out on your next
backpacking trip to the Greek islands
, make sure Naxos is on your list. If you are planning your own
European adventure
then make sure you
check out the rest of our Europe content
to help you plan your trip. Come and
say hey to us on social media
and tag us in your photos so we can share them with our community. If you enjoyed reading this,
share it with your family and friends
to show them it's possible to go on a budget break to Greece.
Read Now:
This is a sponsored article and has been written in exchange for non-monetary payment. It also may contain affiliate links that provide us with a small income. For more information read our Affiliate page.
---
Pin it for later!