Santorini, one of the most photogenic islands in Greece is definitely a must-see in your lifetime. Built on an old volcano, this ancient island has structures, communities and a culture dating back almost two millennia! Due to the relatively small size of the island, exploring this blue skies, white building and black sand paradise could not be easier. To help you along with way, this is our guide to Santorini in 24hrs, including everything you need to see!
Watch more of our adventures over on Youtube!
First of, a bit of backstory to our Santorini visit!
We visited Santorini as part of European Interrail adventure. Along the way we bought bikes, giving us another means of exploring and getting around. We were looking forward to getting good use out of the bikes as we explored the Greek Islands, thinking it would save us money on transport and it would be good exercise. We could not have been more wrong when it came to Santorini..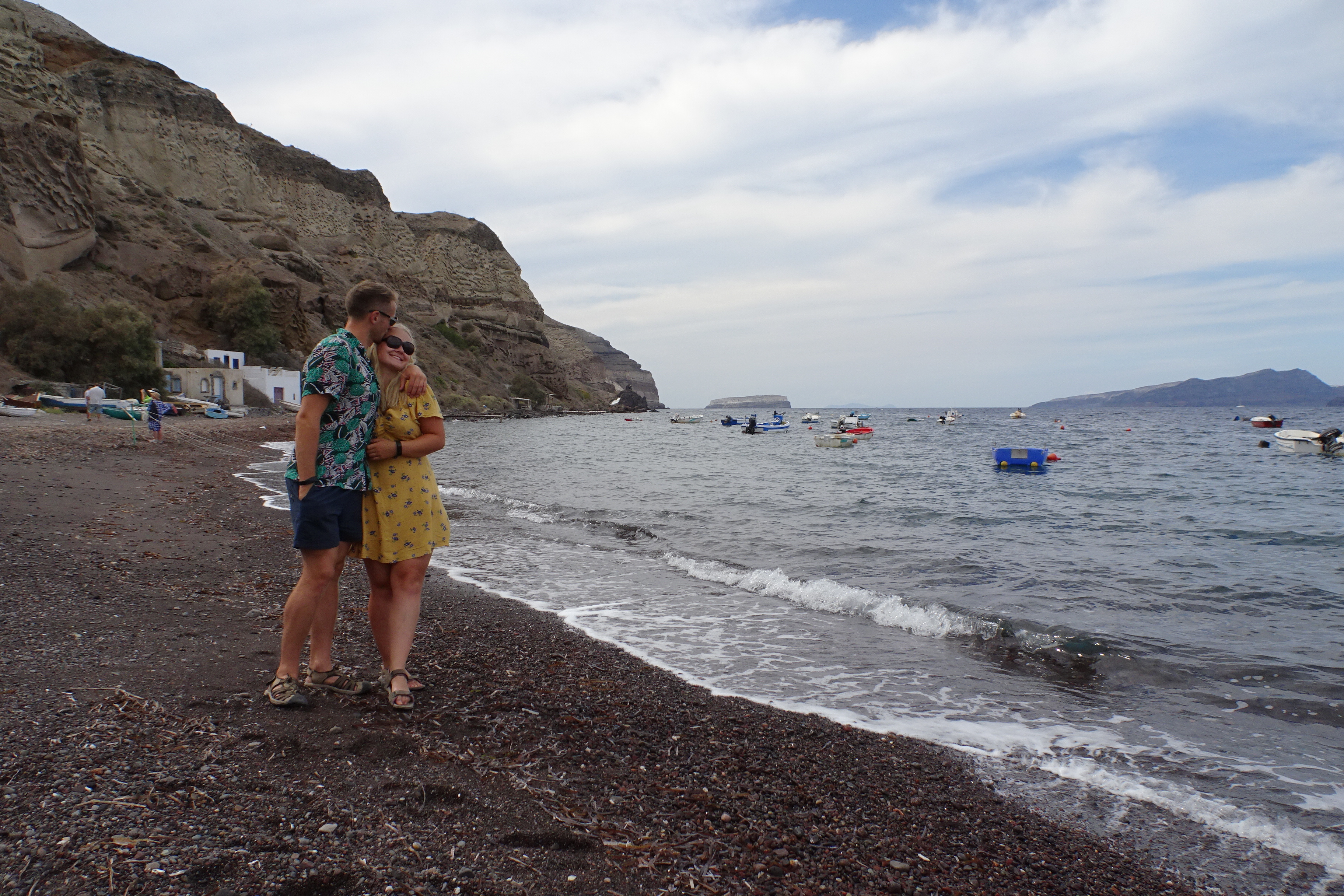 Santorini must be either Greek for "mountain" or "I hate bicycles", as it is certainly not designed for pedal-powered backpackers like ourselves. As we arrived at the port with our bicycles strapped full of luggage and saw the steep hill we had to tackle, we didn't know whether to laugh or cry.
The 400m, winding incline leading to salvation resulted in a lot of pushing the bike, and a LOT of water breaks. After about 2 hours of climbing (with a beautiful view mind you!), we reached the top, swearing we would never do this again. Hence our decision to cheat a little on our biking holiday and rent quad bikes for the first time ever! Fantastic decision!
Before you head off on your trip to this paradise island, make sure you have sorted all you need to know before going to Santorini.
Renting the Bike
There are copious amounts of rental places all over the island, so no matter where you are staying you are bound to be near one. We rented from a bike store in Perissa. This cost us €40 for a 170cc bike (medium) for 24hours, and helmets were included. We rented at 11am, giving us plenty of time to explore during the day and allowing us to see the sunrise and explore more the following morning.
We are that tight that out of the 24hours we were scooting around the island for about 19 hours and spent €20 on petrol whilst doing so.
Full-Day Itinerary to Santorini
This is a run-down itinerary of our quad bike trip and what we would recommend. We rented our bike from Perissa as we stayed at the Utopia Guest House. There are so many amazing places to stay in Santorini, no matter what your taste of luxury is you will not struggle to find somewhere.
Perissa Beach
Start the day in Perissa one of the best beaches of Santorini by walking along the beautiful black sand beach and soaking up the holiday vibes. There are plenty of lunch stops along the beach that you can enjoy before heading on your epic island adventure.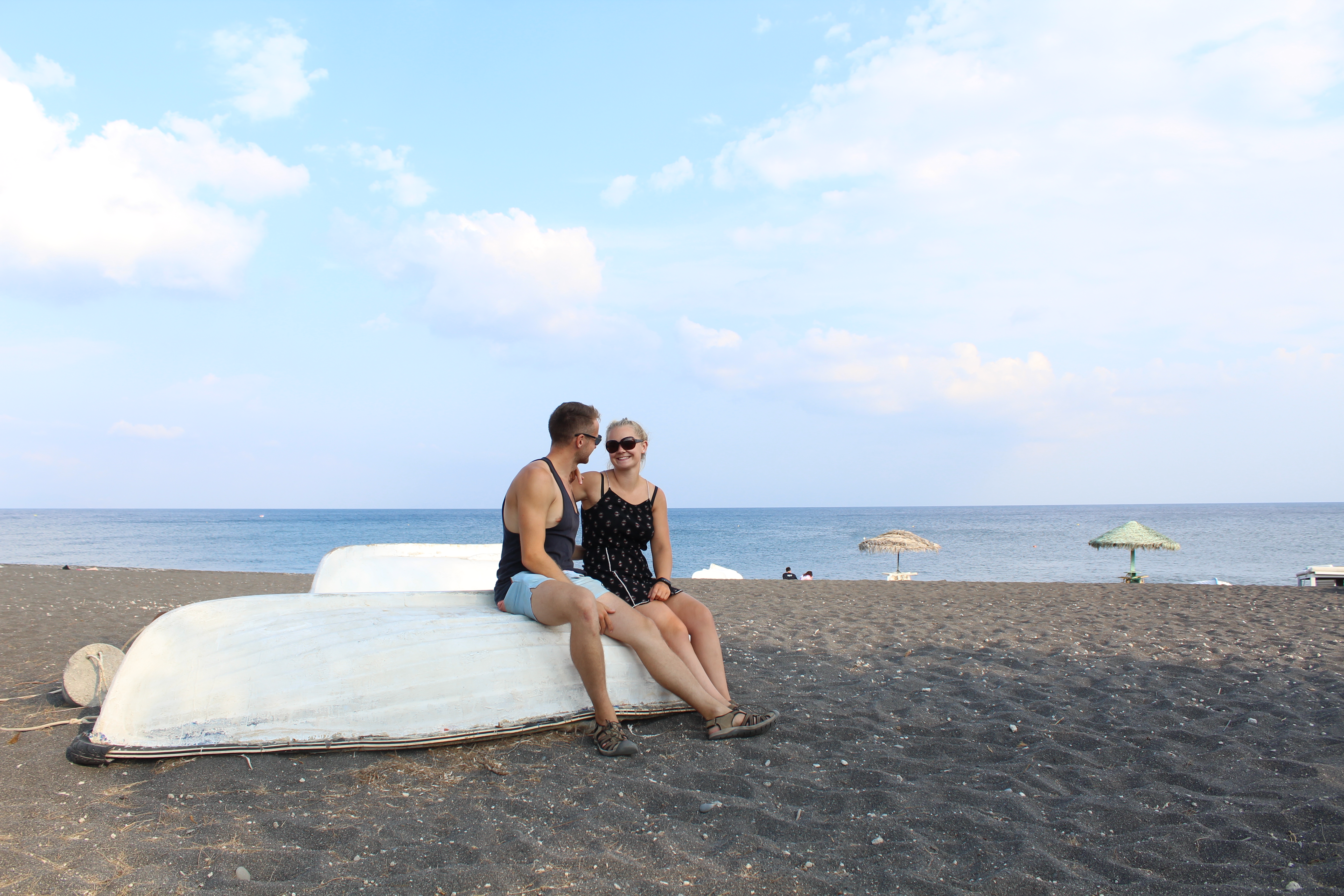 Red Beach
Next stop Red Beach. This is quite a busy spot and requires a bit of climbing on the rocks to get around. The black volcanic sand sits beneath a towering red sand wall, which is an awesome sight to behold. Unlike most of the beach's, this beach doesn't have any sun beds so make sure you bring something to sit on if that's in your plan! Take your time on your way back, as there are plenty of nice photo opportunities along the route back to the main road. There is also a sunset spot that if you want to dodge the crowds at Oia, then apparently this is your best bet.
Fira
Fira was next on our list. This is the capital city of Santorini and the prices definitely showed that. There are plenty of restaurants with beautiful views over the cliff, however, if you're on a tight budget then the McDonald's (which isn't on the seafront) is your best option. The cobbled streets wind around the cliff and make some perfect photo shoots.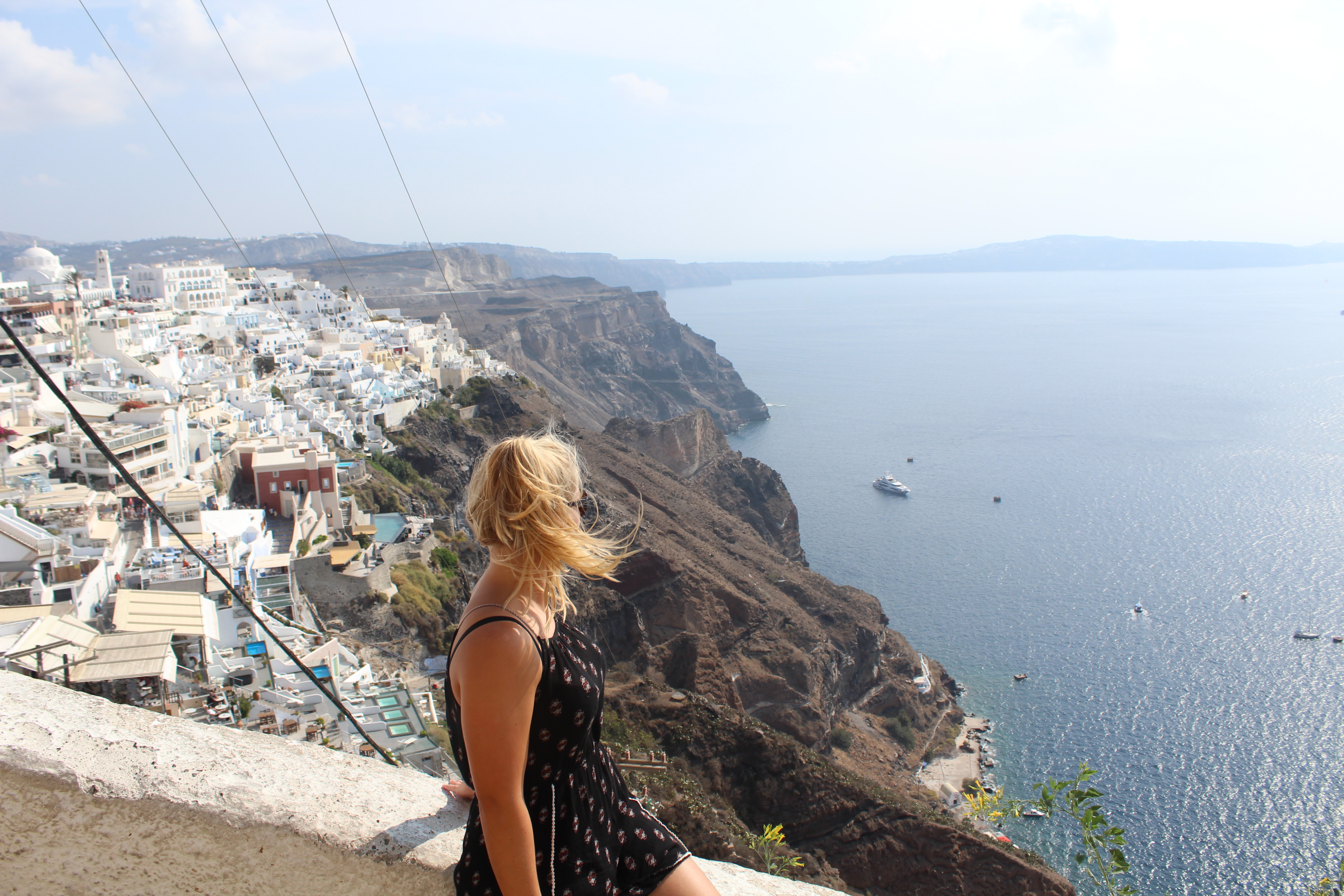 Oia
Next up Oia! This dreamy blue and white cliff scene, which Instagram teases us with daily, is just as beautiful in real life. However, you will not believe how busy it is! We visited in September and were quite overwhelmed by how busy this place actually was.
A lot of areas there were queues for photos and 3 hours before sunset, the walls were lined with people having picnics whilst saving their spot for the view. Absolute madness!
We found some quieter streets of the main path for photos and sat on the edge of a car park for the sunset, which was perfect! We would recommend visiting at sunrise or early in the morning to avoid the crowds.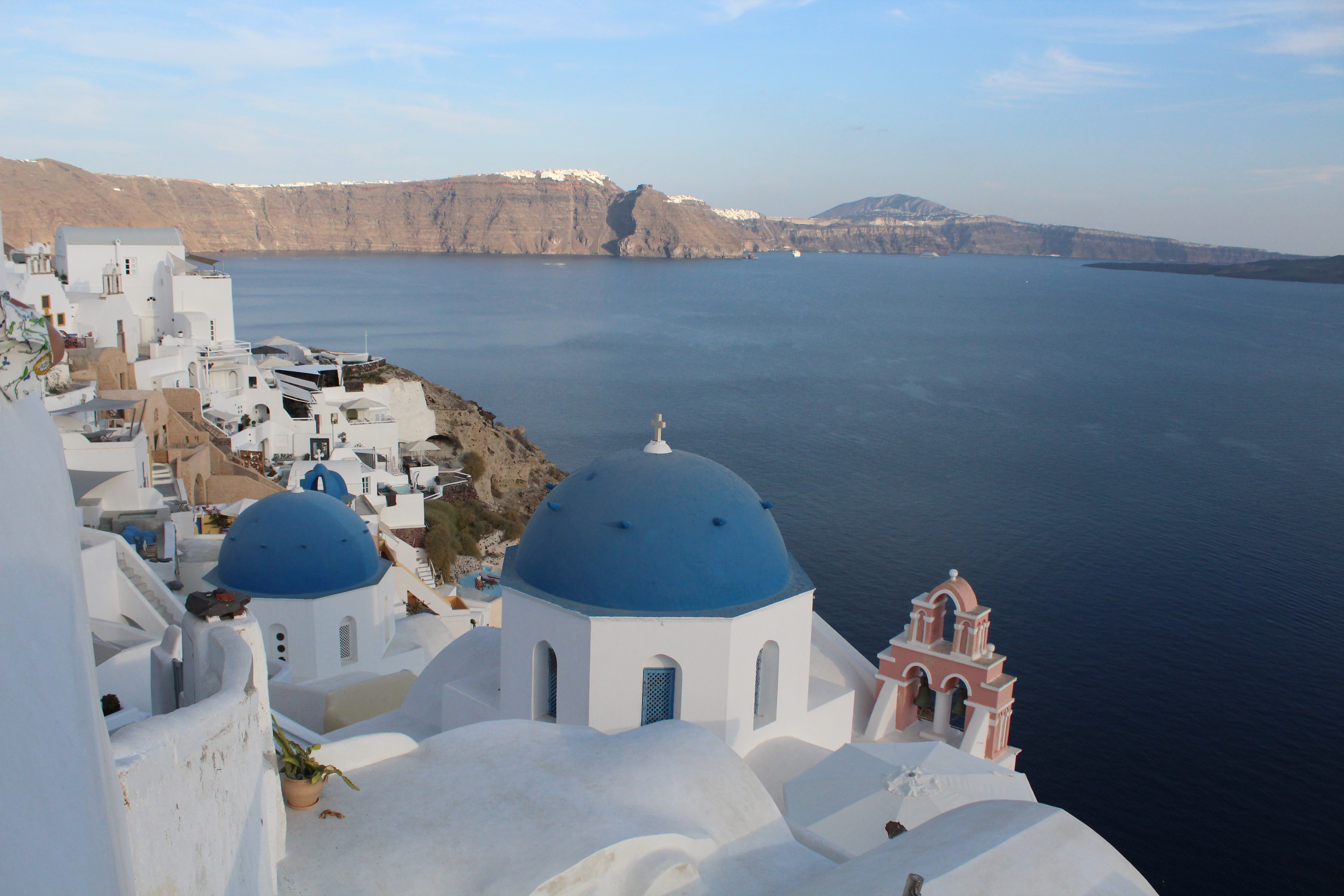 Ancient Thira
An early rise the following morning will allow you to see the beautiful sunrise over the sea. We headed over to the east coast before taking the winding drive up the mountain to Ancient Thira. This ancient site is €4 entry for an adult and free with a student card, and is absolutely worth the death-defying, spaghetti road!
Learn about the ancient town and take in the spectacular views of the island, with a panoramic view over Perissa!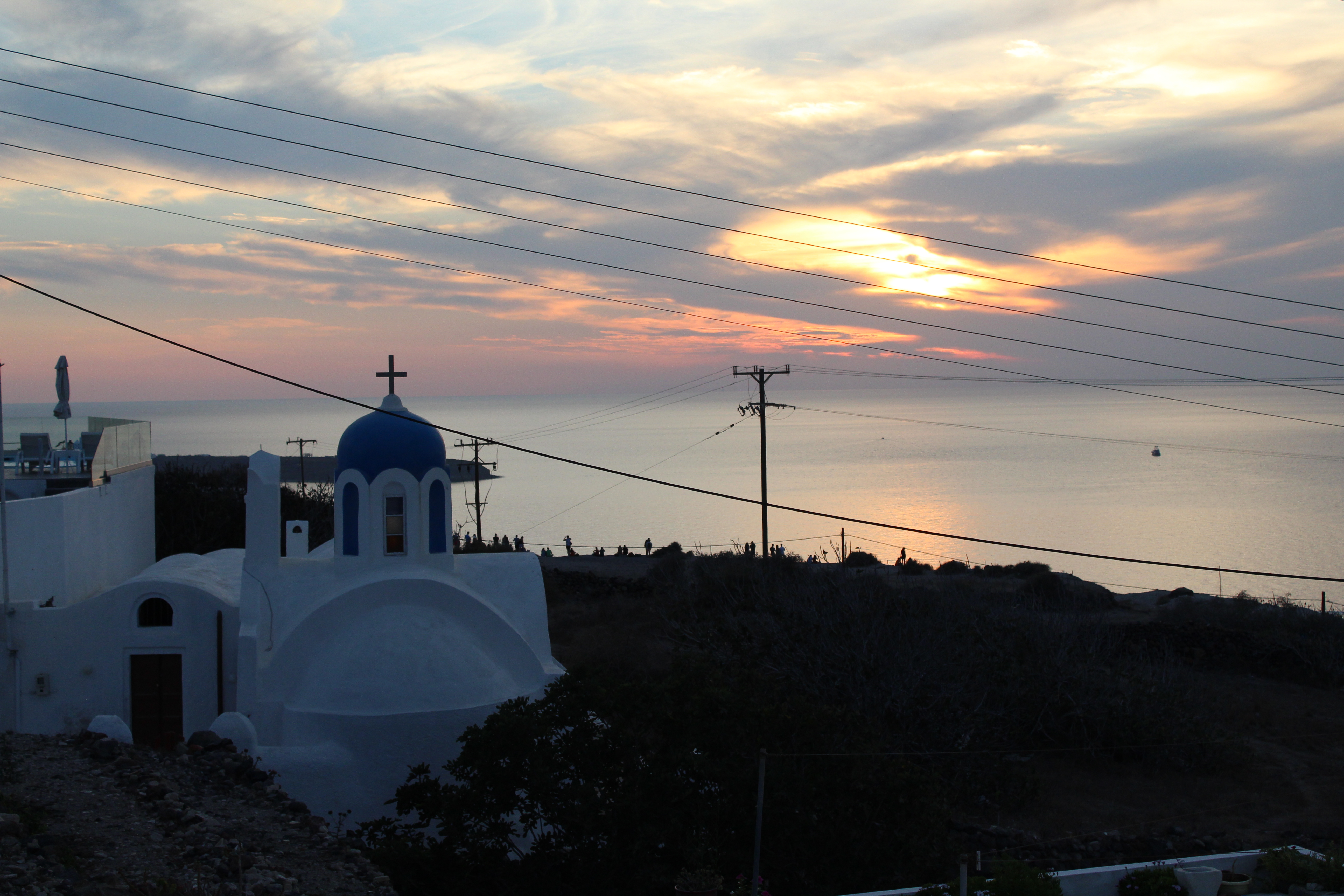 Soon it will be time to drop your trusty quad off and relax at the beach after all the driving around. There is no way our legs would have survived all the hills Santorini offers and at €2.40 per journey on the bus, we thought we would have much more freedom and enjoyment out of a quad bike. Best way to explore Santorini by far.
If you want to read more about our Greek adventure, check out our blogs right here! Also catch up with us on social media, drop by and say "hi!". Make sure you never miss a blog post by signing up to our mailing list here.
Explore this paradise with us in our Youtube video of this tour below!
This article may contain affiliate links that provide us with a small income. For more information read our Affiliate page.
---
Pin it for later!