There is something truly magical about a sunrise. Quiet, secluded and more personal than a sunset, it is just you and the view before the world comes to life. We have always been sunrise chasers, desperate to beat the sun to a location and watch it unveil its beauty before our very eyes. If there is one thing that you do not want to miss during your trip, it is a sunrise in Bali. Choose any one of these stunning locations for sunrise. Bali will not disappoint you.
In this guide, we give full details for each location, including how to get to there, what to expect and where to stay for each location. We will also tell you the best places to get a cracking sunrise photo and how to get there. This is your ultimate guide to the best spots for sunrise in Bali.
Save this image to your Indonesia Pinterest board for later!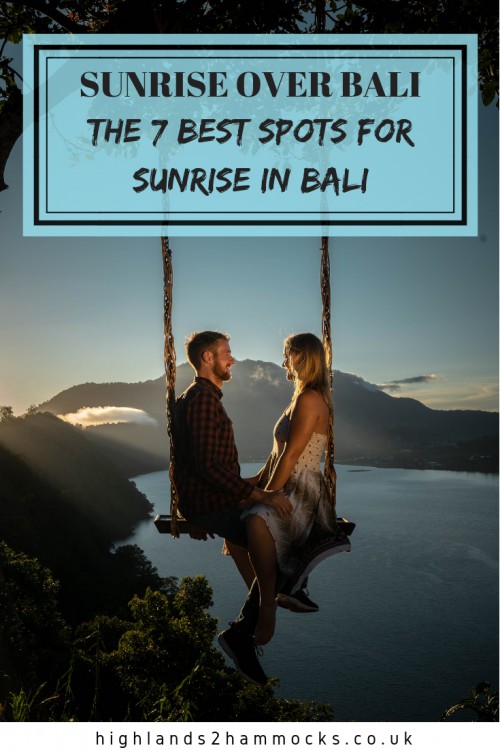 Also check out our ultimate guide to Bali for a 7-day itinerary of the island, as well as the best places to stay, what sights to see and other travel tips for Bali.
Below is a summary of the locations that are the best places to watch the sunrise in Bali. All of these will be discussed in greater detail in this article, including how to get there, what entrance fees there are and the best places for photographs.
North Bali
Wanagiri Hidden Hills
Tegalalang Rice Terraces
East Bali
Bukit Cinta
Pura Lempuyang
Mt Batur Sunrise Trek
Amed Beach
South Bali
Visit these Balinese sunrise spots for yourself in our below Youtube video! Subscribe to our Youtube channel for more epic adventures by clicking here.
Sunrise Over Bali – The 7 Best Spots for Sunrise in Bali
Where is the Best Sunrise in Bali?
Why Should I Watch the Sunrise in Bali?
The Best Spots for Sunrise in North Bali
If you are in the Northern territory of Bali (such as anywhere upwards of Ubud), there are a whole host of unique, unbelievable and unforgettable spots for that sunrise Bali is so famous for. This guide will tell you where the best spots are, how to get there and how much the entrance fee is (if there is one).
Wanagiri Hidden Hills
Wanagiri Hidden Hills Entrance Fee – 100k IDR
Sitting high in the mountains of Northern Bali is the secret serenity of the Twin Lakes. These beautiful lakes are nestled amongst the dense, jungle mountains of Bali's northern territory. Known as the Wanagiri Hidden Hills, the lookout at the top of these mountains over the lakes is one of our favourite spots to watch the sunrise in Bali.
Getting to the Wanagiri Hidden Hills is incredibly simple. Once you head north of Ubud, the roads become very linear, all leading north to south, and all very easy to follow. Follow Google Maps to the coordinates provided below, through the small, Balinese villages, up the winding road of the mountain region and eventually to the Wanagiri Hidden Hills view point.
Wanagiri Hidden Hills Coordinates – -8.240403, 115.1075
The Wanagiri Hidden Hills entrance fee costs around £6 (100k IDR), which is rather expensive in terms of entrance fees for attractions in Bali. However, the view you will get, combined with the hospitality and assistance you will get from the staff is worth every penny. For this price, the staff will act as your personal photographer, taking pictures for you on the different props and even using professional photography light mirrors to bounce light onto your body. The results are incredible photographs in one of the most pristine spots in Bali.
For sunrise, the main location will not be open. In order to view the sunrise over the lakes, you will need to open the gate yourself and let yourself in. The owners are not bothered by this, as long as you don the honest thing and pay on your way out.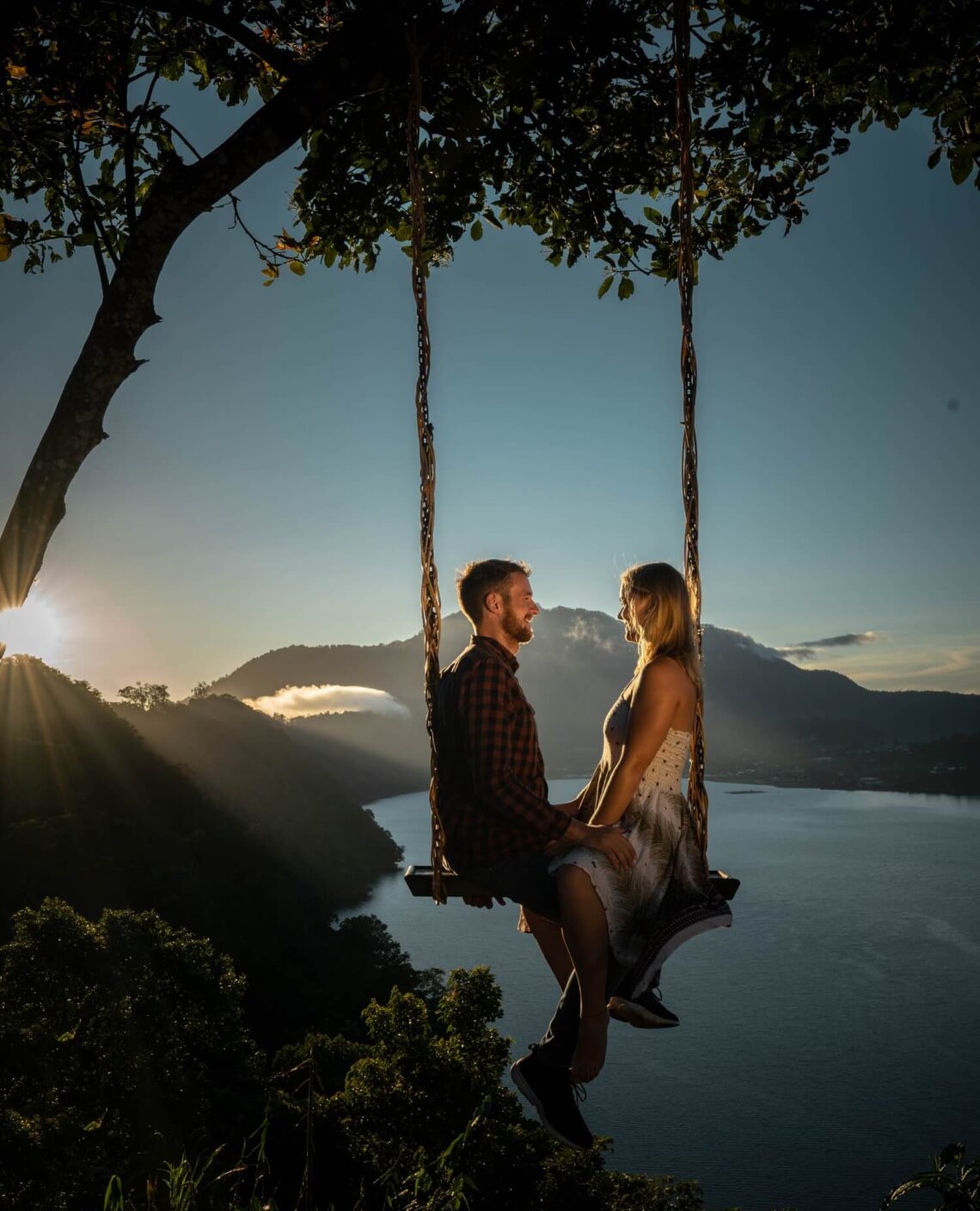 Alternative Sunrise Spots at Wanagiri Hidden Hills
If you do not want to pay this expensive entrance fee but still want a stunning sunrise spot, there are plenty of other areas along the road to Wanagiri Hidden Hills. Continue further along this road and eventually you will see the foundations of a building built up over the edge of the cliff. This spot is free and offers amazing views over the lakes below.
Also Read – 10 Day Bali Itinerary: The Best Sights for First-Timers Visiting Bali
Tegalalang Rice Terraces
Parking Fee – 2-5k IDR
Tegalalang Entrance Fees – 10k IDR and then a donation to go further
Tegalalang Sunrise Spot Entrance Fee – 50k IDR
In the centre of Bali, just north of Ubud, sits perhaps the most famous rice terraces in the world, and definitely the best rice terraces in Bali. The Tegalalang Rice Terraces are another famous spot to view that beautiful sunrise Bali does so well.
The Tegalalang Rice Terraces are a group of rice paddies formed in a rather unique step-wise pattern. The rice terraces sit in a shallow valley, rising and falling along the length of it. The result of this is a beautiful pattern of green steps and glass-like reflections of the sky in the water.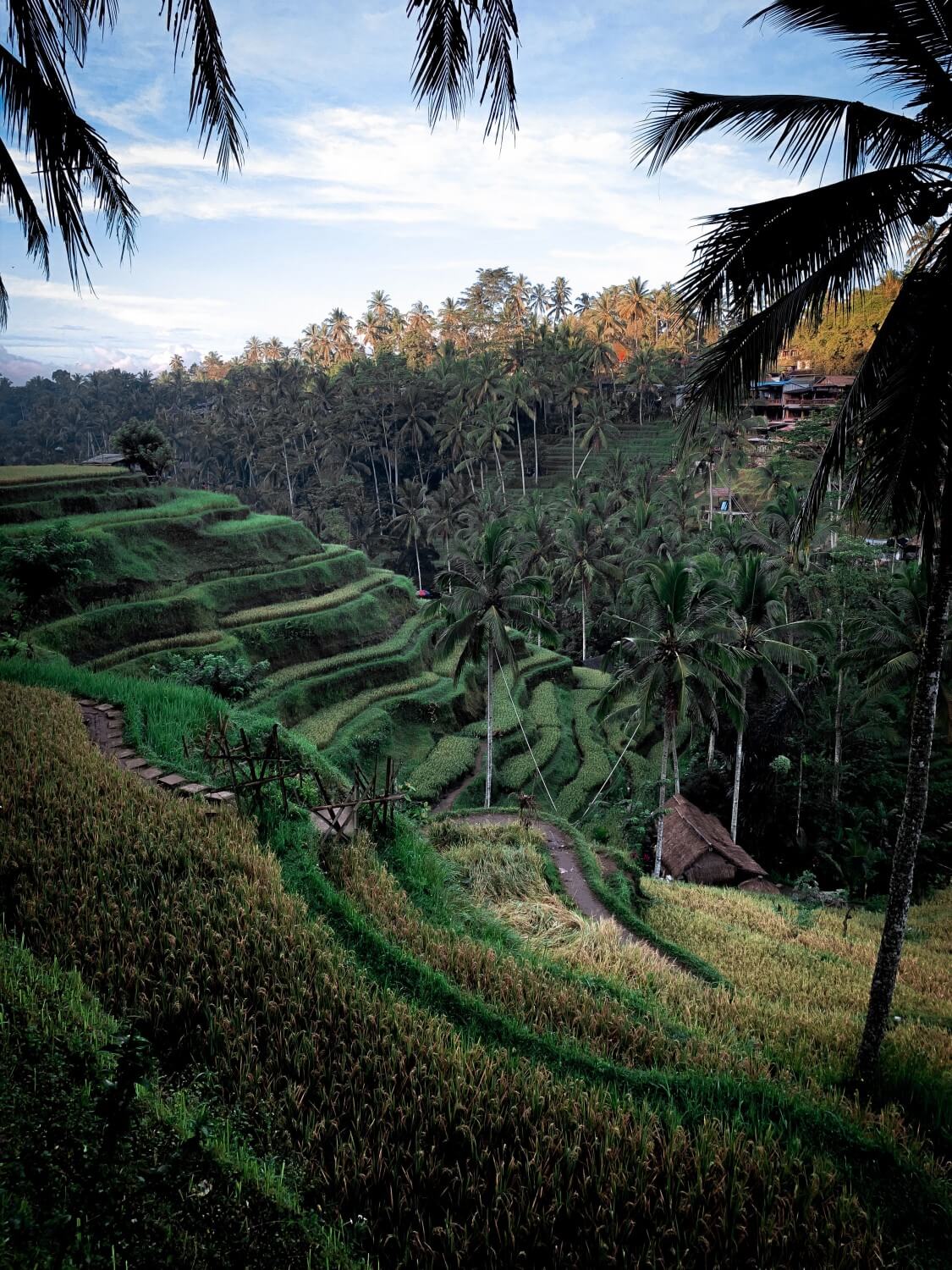 Getting to the Tegalalang Rice Terraces will take you around half an hour from Ubud, less if you ride fast. In order to get in before the sunrises, you will need to find the main entrance as every other entrance will be closed. The main entrance is pretty easy to find, thankfully, as you simply need to walk north with the rice field on your right until you see a path down that is open. The main entrance is a small, brown doorway that says "rice terrace entrance".
Tegalalang Rice Terrace Location – 8°25'41.8″S 115°16'46.1″E
Reaching the famous Tegalalang Rice Terrace sunrise spot is a little more tricky, especially when you are in the dark and are unfamiliar with the location. Once you reach the bottom of the steps from the entrance, you should see a sign that says "start of walkway". Follow this path, keeping left until you reach the iconic palm tree which marks the Bali photo spot.
If you are really worried about missing sunrise, it might be useful to visit the rice terrace the day before and scope out how to find this spot before you return in the dark. The Bali sunrise time varies throughout the year, however, it is suggestible that you aim to arrive at the rice terraces for 6.30am, or at least 30 minutes before sunrise. This is definitely the best time to visit Bali rice terraces, as not only is the lighting perfect but it is also a lot quieter and more peaceful than the midday rush hour of tourists.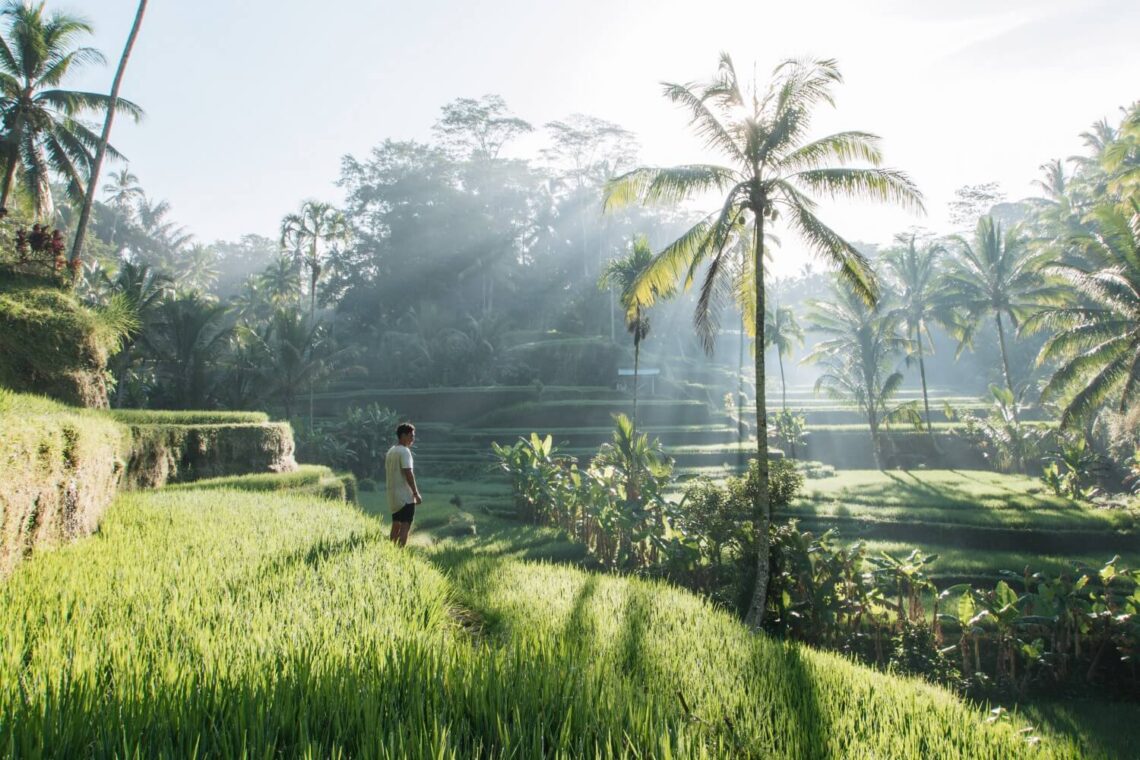 The Tegalalang Rice Terrace cost ranges depending on which parts you would like to visit. There is a parking fee if you visit during the day of about £0.10-0.15 (2-5k IDR). The main entrance fee is then £0.60 (10k IDR) and then there are subsequent donation stations spread around the rice terraces which expect another £0.60 (10k IDR).
In order to get to the famous sunrise spot, you will need to pay a farmer to open his gate in order to enter. The charge is normally £3 (50k IDR). Although first thing in the morning there is no one around to accept the first payment and subsequent donations, this farmer is almost always there, so no escaping this charge.
Also Read – The Ultimate Itinerary for Ubud – Three Days in the Jungle
The Best Spots for Sunrise in East Bali
If you are in the Eastern territory of Bali, such as anywhere upwards of Ubud, there are a whole host of unique, unbelievable and unforgettable spots for that sunrise Bali is so famous for. This guide will tell you where the best spots are, how to get there and how much the entrance fee is (if there is one).
Bukit Cinta
Our favourite sunrise spot in all of Bali sits near the eastern coast, a 2-hour scooter ride from Ubud in the south. Although this may seem like a real journey to make for sunrise, the resulting view of Mt Agung is worth it 1000 times over. Picture sprawling, untouched rice fields, shrowded in an early morning fog, frame by palm trees and shadowed by the towering figure of an active volcano. Stunning.
In order to get to Bukit Cinta in time for sunrise, you are going to need to set an early alarm. We left our accommodation at 4am, to ensure we made it in time for the first glimpse of Mt Agung. Set your satnav up for the below coordinates and stop off for a break a couple of times at the many markets which remain open throughout the night. Once you arrive at the spot, there will be a small opening on the left, leading to a sloped field with Mt Agung towering in the distance.
Bukit Cinta Sunrise Spot Location – 8°25'34.8″S 115°36'25.2″E
There is no entrance fee to enjoy this spectacle, which is another reason why it is our favourite, so sit back and relax as the sun brings the day to life. This is also the perfect location for a drone shot of Mt Agung, as the perspective of the rice fields leading to the volcano is simply beautiful.
Read more about this fascinating place in our full guide over here.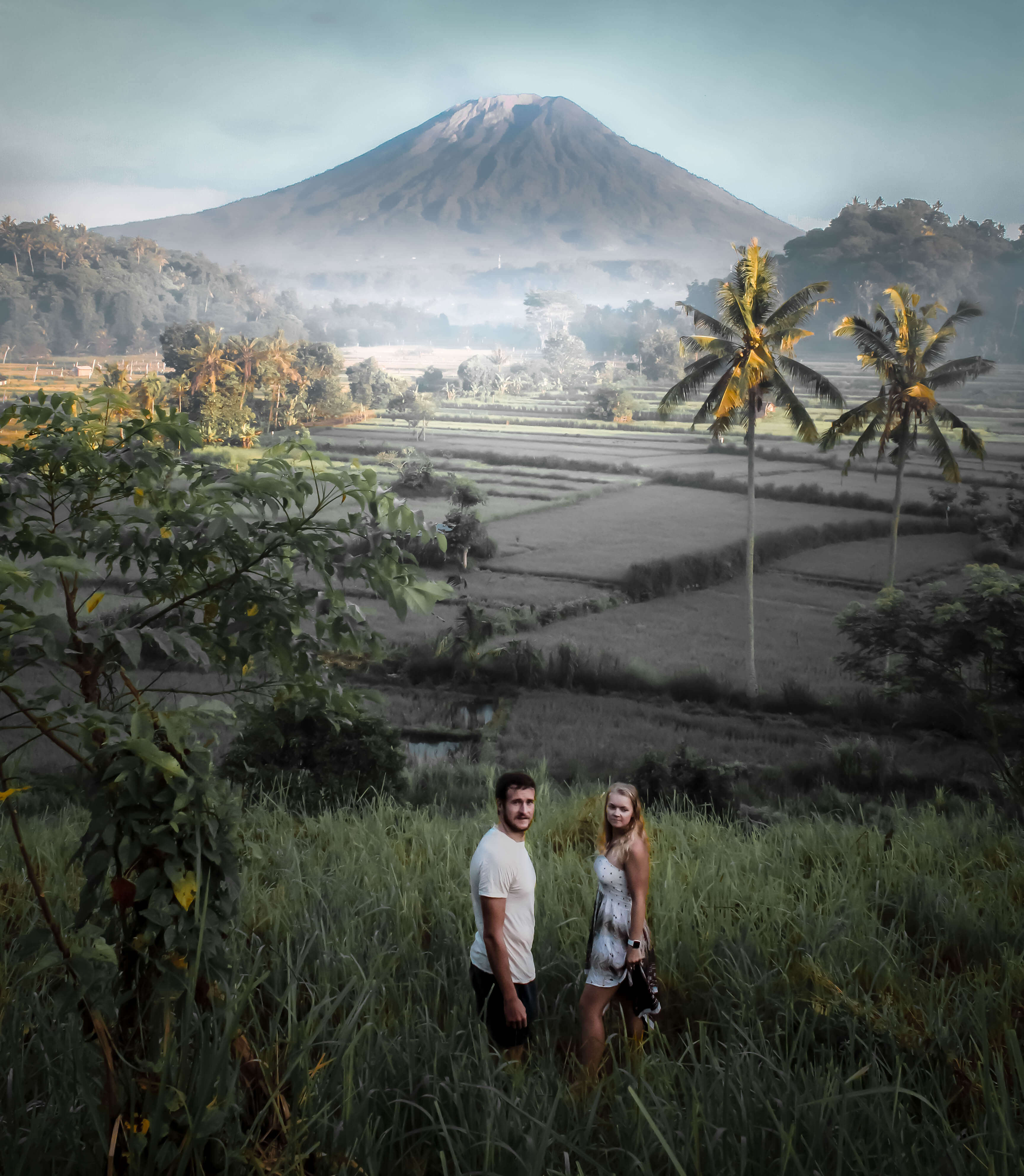 Pura Lempuyang
Pura Lempuyang Entrance Fee – Donation (10-20k IDR recommended)
Sarong Rental Fee – 10k IDR
Photography Fee – Donation (20-30k IDR recommended)
One of Bali's most ancient and important temples is located on the peak of Mount Lempuyang, 1175m above sea level. The Pura Lempuyang Luhur sits 1700+ steps up the winding and steep slopes of this mountain, broken into a total of 7 temples, with 6 smaller temples leading to the main one at the top.
Luckily for us, the sunrise spot which we are going to is the very first temple, a mere 5 minute walk from the car park. This is really easy to find if you simply follow the coordinates shown below to the car park and then follow the signs to the first temple. As you walk up the slope, the courtyard with the photo spot will be on your left.
Pura Lempuyang Coordinates – 8°23'28.0″S 115°37'52.4″E
There is no entrance fee to the Pura Lempuyang temple as such, with only a donation being required. We recommend leaving something as small as £0.50-£1 (10k-20k IDR). Due to this place being a very religious spot for the locals, you will be required to wear a sarong to cover your knees and a scarf to cover your shoulders, if they are on display. If you do not have one yourself, you can rent a sarong for only £0.50 (10k IDR).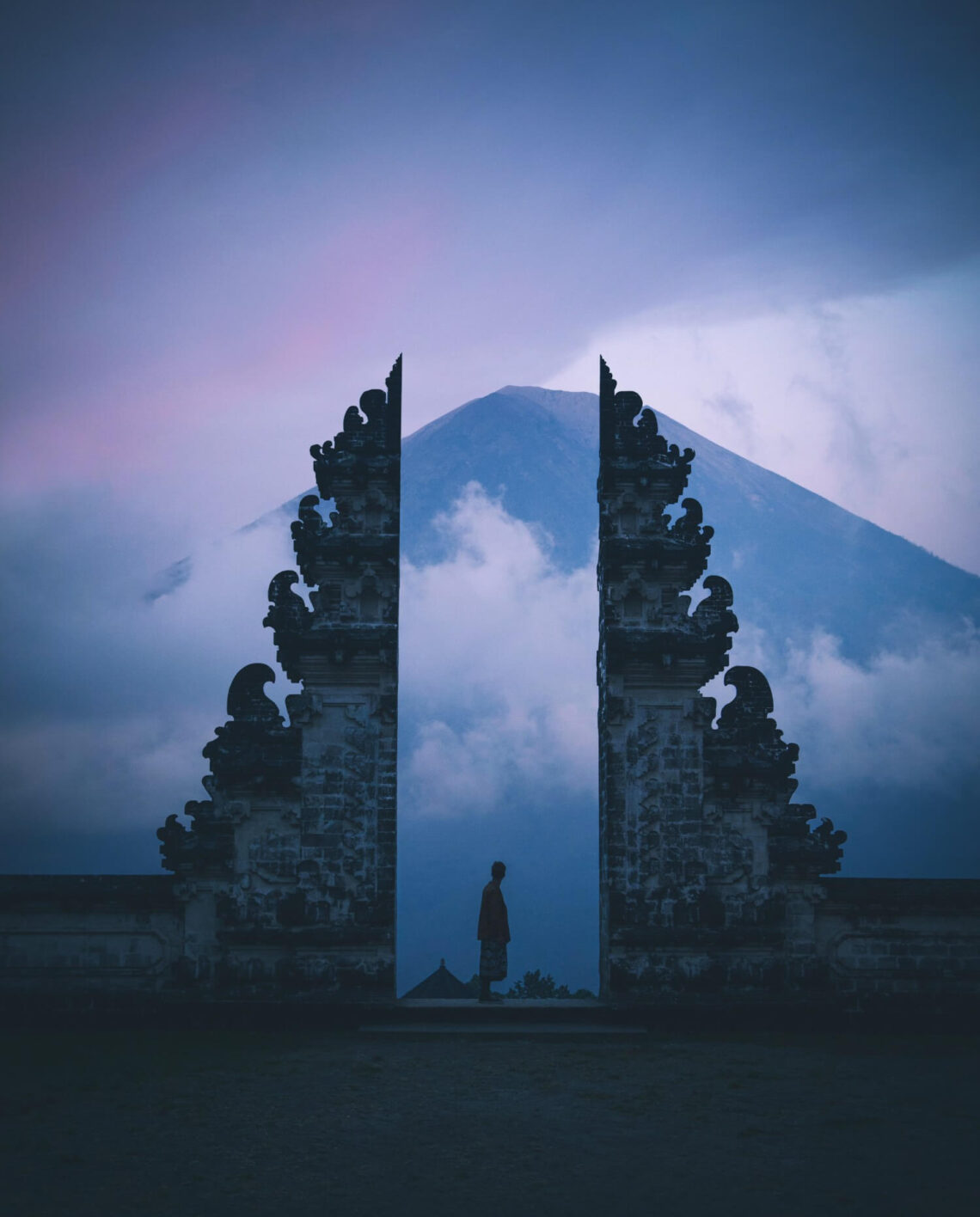 Once you are ready to take a photo, there is a very talented Balinese team who work all day long to take photos for tourists visiting the temple. One gentleman even makes use of a mirror to create the fascinating illusion of glass-like water before the temple gates. This team expects a donation in return for multiple photographs, which we recommend around 20-30k IDR for.
The best time to visit this temple is definitely at either sunrise or sunset, with swarms of tourists overtaking it at all other times. It is not unheard of for people to wait more than 2 hours for a photo at this serene spot, during the rush hour traffic of mid-morning.
Alternative Photo Spots at Pura Lempuyang Temple
If you are in the mood for a challenge, the hike to the very top temple at Mount Lempuyang is around 2 hours long. If you manage to make it to the top of this for sunrise, on a clear day you will be rewarded with a spectacular, panoramic view of East Bali and Mt Agung. We were not brave enough for this challenge when we visited, but if you are let us know and share your pictures with us!
Mt Batur Sunrise Trek
An energetic way to start the day, and one that is definitely not for the faint-hearted, is the Mt Batur sunrise hike. Beginning long before the sun breaches the horizon, you will set off on an adventure up this 1700m, active volcano for a view that you will remember for a lifetime. Don't worry though, as the best way to get up this mountain is with an experienced guide to help you along the way.
This sunrise hike can be booked through most activity planners around the island, or booked in advance right here. The tours consist of a four-hour hike to the top of the mountain, where you will be able to fry an egg for breakfast on the heat from the active volcano. You will then take a walk around the rim of the volcano and admire the beauty of Bali at sunrise.
Pick up and drop off are included with these tours, meaning all you need to worry about is getting enough sleep the day before, packing your extra camera batteries and strapping on your comfiest shoes.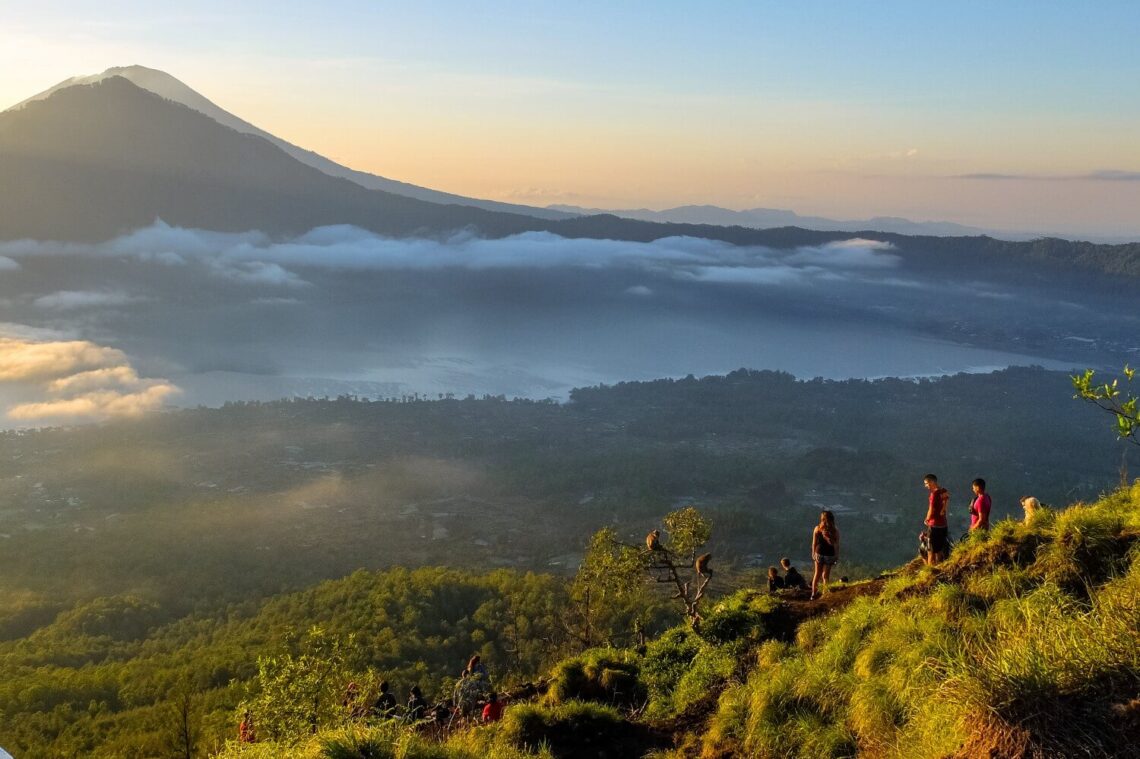 Amed Beach
As the most easterly point of Bali, no Bali sunrise list is complete with Amed Beach. The black sand and clear ocean breeze is a truly magical place to watch the sun bring Bali to life. Any spot along the stretch of this black sand beach is the perfect place to relax and enjoy another beautiful sunrise in Bali. With the towering figure of Mt Agung on the horizon behind you and the waves gently lapping the shore, this is a uniquely beautiful place to watch the sunrise.
Amed Beach Coordinates – 8°19'56.7″S 115°40'52.6″E
To get to Amed Beach, you will need to ride about 2hrs from Ubud. Follow your satnav to the coordinates given below and park up wherever you wish. Pack a towel and some breakfast snacks to enjoy on the beach as the sun begins to rise. Also, don't forget that camera!
To make life a little easier, it is recommended to stay in Amed for the night to enjoy the beautiful sunrise to its fullest. You can browse all of the best Amed accommodation right here.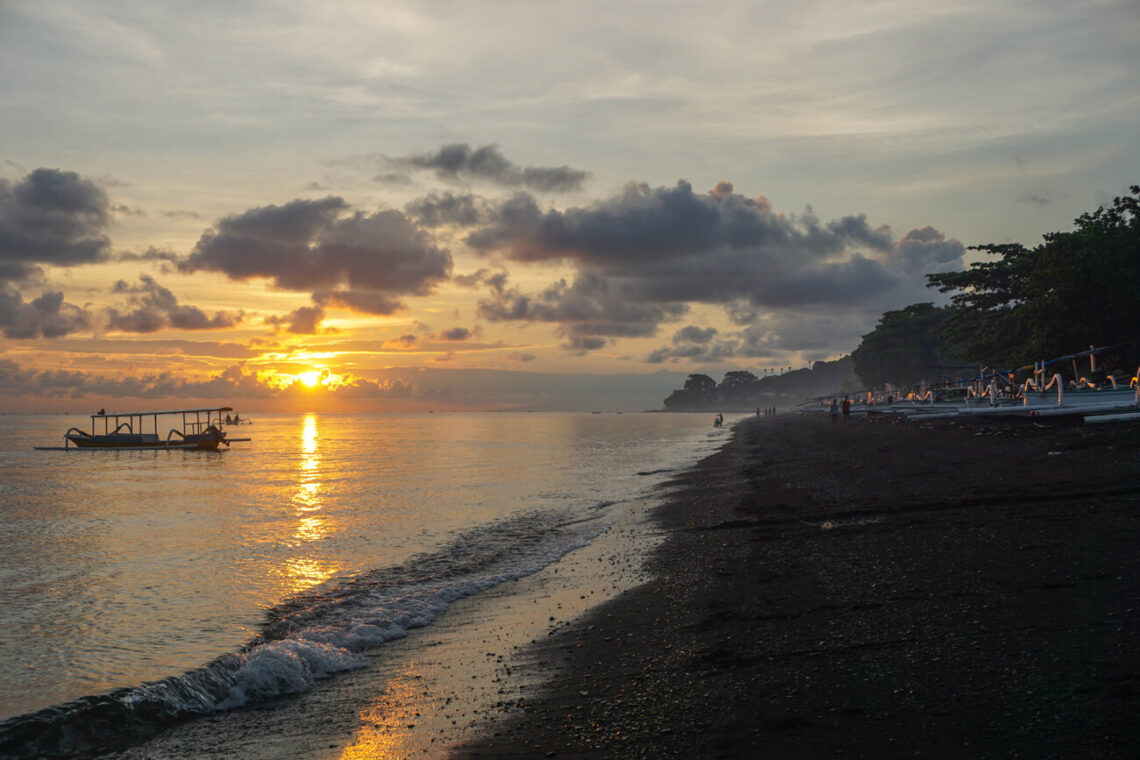 The Best Spots for Sunrise in South Bali
On the southern coast of Bali, the entire region is basically one long beach. This means that if you fancy a beach sunrise on golden sands and an incredible, sea view, the south is the place for you.
Echo Beach
Perhaps the best part of Bali's southern coast, due to its mild level of busy-ness, is the Canggu area. Far enough from Kuta to avoid the major tourist influx, yet close enough to maintain a good level of atmosphere, Canggu is the place to be on Bali's southern coast. Right beside the Canggu area is the beautiful Echo Beach, another perfect place to enjoy the incredible Bali sunrise.
Entrance into the beach is free and if you are arriving first thing in the morning, parking should also be free. Follow the coordinates shown below to reach the Canggu region and park up for Echo Beach.
Echo Beach Coordinates – 8°39'17.9″S 115°07'30.5″E
Canggu is also famous for its surfing culture, and you will no doubt experience this first hand as the early birds all try to catch the first wave. After you are done amusing yourself on the beach and have your fill of beautiful Bali sunrises, check out the rest of Canggu for some breakfast. There are loads of delicious cafes and cheap warungs around this area, perfect to set you up for the day ahead.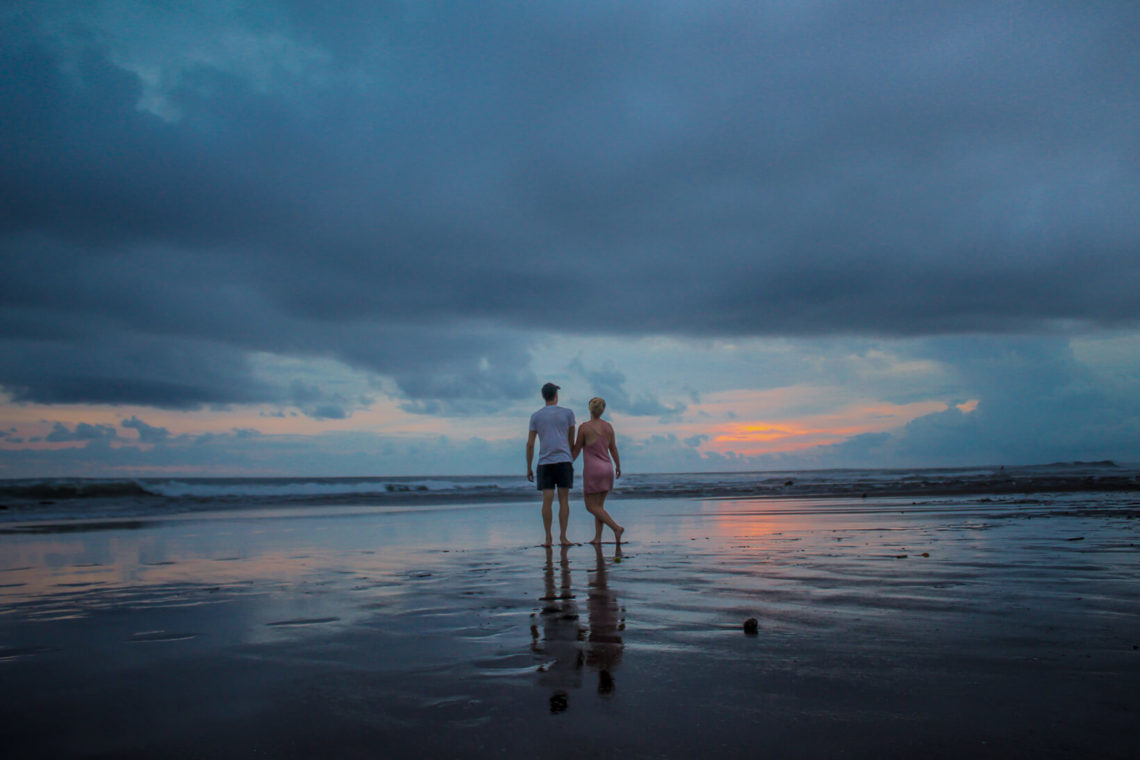 How to Get to the Sunrise Locations
When it comes to getting around Bali, you have the choice between two main options. These are either renting a scooter and driving yourself or hiring a taxi and having them drive you around.
The option we recommend is the former, renting a scooter. This option gives you a freedom that you will not get when you rely on taxis to get you around. Renting a scooter can be done from either your accommodation or from the many scooter rental shops around the island. Renting a scooter in Bali will cost between £4 a day, with longer term rentals costing less.
If you do wish to rent a taxi driver, you can do this by arranging transport with your accommodation, or with the many taxi drivers that line the streets. This is only a valid option if you have a lot of money to spend, or are very, very good at bartering prices. Both of these options will overcharge you.
The cheaper option for hiring a taxi driver is to use the online taxi companies, Grab and GoJek. Both of these companies offer standard rates for journeys and also allow you to rent a car for an allotted amount of time, such as a full day.
Before You Leave for Bali
Whether you have already arrived in Bali and are looking to explore more sunrises, or have yet to arrive into the country, there are a number of things you will need to prepare to ensure a smooth trip. This includes what to pack for your trip to Bali, what the best travel insurance for Bali is and how to get a visa for Bali, Indonesia.
What to Pack for Bali
Given Bali's warm, tropical climate, packing for the island of the God's is a relatively simple task. The tropical climate of Indonesia means there are generally only two seasons: wet season and dry season. This means that packing for Bali involves packing light clothing and a waterproof for when the rain turns on.
In saying that, some of the points in this guide are at a high altitude, where the air temperature drops dramatically due to the humidity. We therefore recommend also packing at least one warmer layer to put on over your summer clothes when riding a scooter or waiting for sunrise.
Due to the strength of the sun in Bali, we recommend packing a LOT of sun protection. We also recommend packing some light, long-sleeved clothing to wear whilst you ride scooters around during the day, as it will limit your exposure. The price of sunscreen on the island of Bali itself is extortionate, with a small, 200mL bottle of sunscreen costing around £12.
Check out our Summer Packing List for Women and Summer Packing List for Men for some clothing inspiration for your trip to paradise.
Don't forget to subscribe and follow our journey on Youtube. 
Given the incredible, photogenic qualities of sunrise Bali spots, you are going to want to pack a camera. Wherever we travel, we always ensure we pack our best camera equipment, including drone, GorPro and camera.
If you want to see what else is in our camera bag, check out out full list of equipment.
Best Travel Insurance for Bali
Regardless of what adventure you are going on, it is always important to make sure you are covered. Disaster can strike at any moment and you do not want to have your trip ruined by expensive costs. That is why we book our travel insurance with World Nomad's Travel Insurance, to ensure a stress-free voyage.
Get your own quote from World Nomad's Travel Insurance right here and get covered.
What Visa Should You Get for Bali
When it comes to the Indonesian visa, if you are on the long list of countries that are applicable to the Visa On Arrival, it is a very simple job. All you need to do is turn up at immigration and you are automatically granted 30 days in Indonesia.
If you wish to extend longer than these 30 days, you will need to purchase a Visa On Arrival Extension before passing through immigration. This can be done in the large foyer room, right before immigration, at the small desk which says "Visa On Arrival". The VOA extension costs $35USD and can be paid for in any currency.
Once you are through immigration, in order to extend your visa you will need to carry out the visa extension process. You have two options to do this, either by yourself or with a visa agent. The latter is by far the easiest way to do so, so we recommend this way.
Read all about how to extend your Bali visa in our full guide right here.
Where to Stay in Bali
Given how spread out these sunrise spots are, the best location we can suggest for all of them is Ubud. Right in the centre of the island, Ubud makes the perfect spot to use as a base camp when exploring both the northern and southern regions. Here are our suggestions for the best places to stay in Ubud.
Luxury – Escape the craziness of Ubud city centre and spend your nights in the tranquility of the jungle. Sandat Glamping Tents sit only 15 minutes from the bustling Ubud markets, however you will feel like you are in another world. Spend your day relaxing by the pool and use the free shuttle to explore Ubud by night.
You can book your stay at Sandat Glamping Tents right here.
Mid-Range – Situated right in the centre of Ubud is the basic, yet very comfortable hotel, Nyuh Gading. This quiet hotel has excellent AC and fan options, balconies views and even offers cheap food and drink.
You can book your stay at Nyuh Gading right here. 
Budget – For barebones accommodation just minutes from the Ubud markets, Ojek's Homestay is the place for you. This converted, traditional Balinese house compound offers rooms with and without AC, has a kitchen, showers and even offers laundry service for a reasonable price.
You can book your stay at Ojek's Homestay right here.
If hostels are more your social scene, there are a huge range of hostels to choose from in and around Ubud. Book your stay for Ubud right here.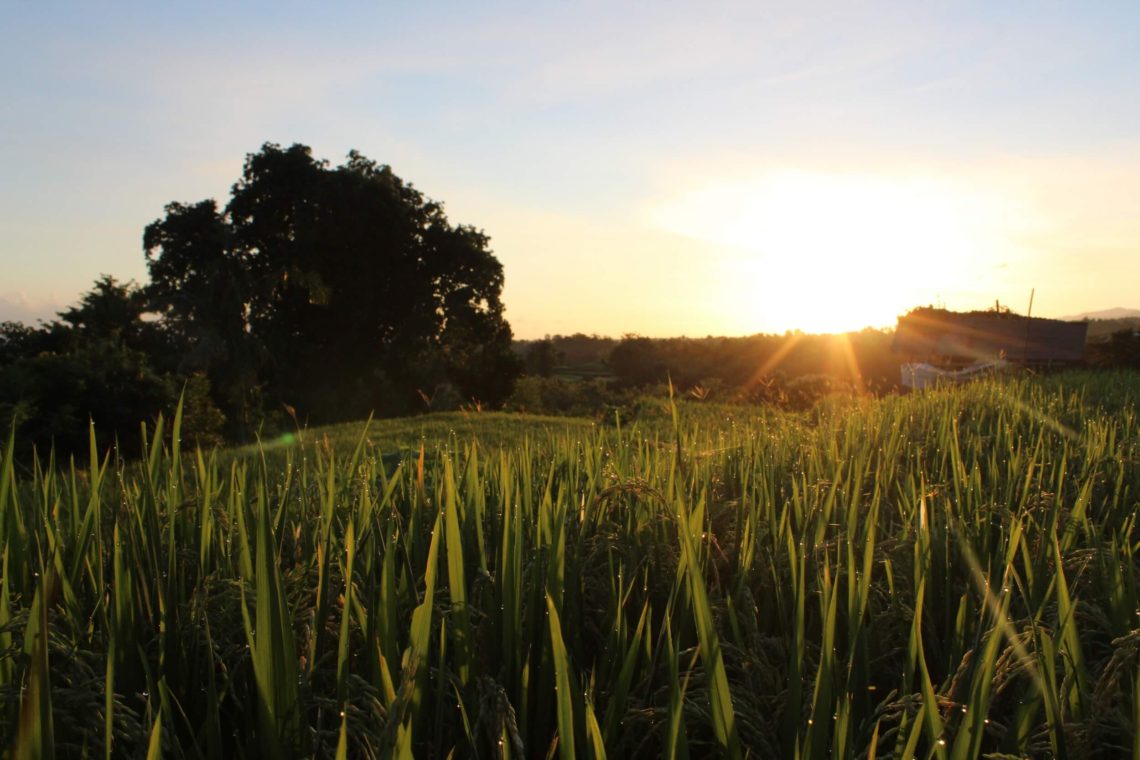 So there you have it, the ultimate guide to the best spots for sunrise in Bali, with all the information you need to have a cracking start to the day. If you have recently visited Bali for your own adventure, let us know how it went down below. Where was your favourite sunrise location? What did you prefer, ocean or rice field views? What was your favourite area? Let us know in the comments below.
If you are planning a trip to Bali, be sure to check out the rest of our Indonesia content to plan your trip to the fullest. We will gladly answer any questions you have with regards to your trip, so either DM us or send us an email.
Also remember that sharing is caring, so be sure to share this with all of your friends and family and show them the beauty of a Bali sunrise. Catch up with us on social media to see where we currently are and tag us in your own sunrise pictures so we can share them with our community of fellow adventurers.
Also Read:
This article may contain affiliate links that provide us with a small income. For more information read our Affiliate page.
---
Pin it for later!