In the global map of tourism, the country of Italy holds a very special place and with a doubt, it is one of the must-visit destinations in every traveller's bucket list. But on the whole, Italy is quite a big country to explore in just a single trip, hence, it is very much important to ensure that you make the most of your Italy trip.
When it comes to planning an ultimate Italy vacation, well, the renaissance city of Florence has to be on your Italy holiday. The city is a treasure trove for travellers dotted with art which is not just restricted to museums.
Save this to your Italy Pinterest board for later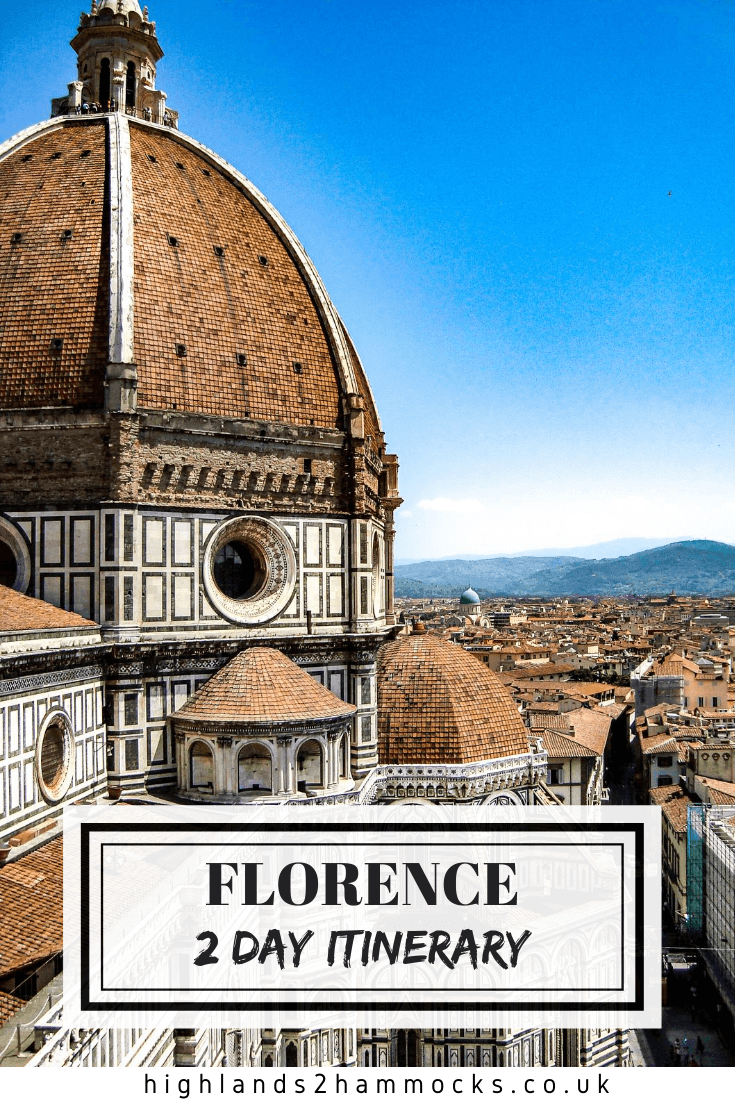 Along with that, there is much more to explore and experience in Florence. Talking about how many days you must spend to explore Florence, well, considering the exquisiteness of this place, you can spend even a week here. But if you are running out of time, a 2-day itinerary is enough to discover the best of Florence.
Therefore, we have meticulously created a Florence 2-day itinerary that will certainly help you know what all best places you must explore and experience here in this city.
Below is a brief summary of the two days in Florence itinerary, all of which will be discussed in greater detail later in the guide.
Day One
Walk Around the Centre of Florence
Piazza del Duomo
Piazza della Signoria
The Uffizi Gallery
Relish The Beauty of Boboli Gardens
Go Sunset Gazing at Piazzale Michelangelo
Day Two
Piazza San Lorenzo, Church and Medici Chapels
Piazza Santa Croce and the Basilica of Santa Cruce
Galleria dell' Accademia
Explore The Markets
Come along with us on our Italy Trip. Make sure you subscribe to our Youtube channel for more by clicking here!
The Complete Florence 2-Day Itinerary – Detailed, Fun, and FREE
Surely, you want your Florence trip to the best. Hence, to ensure, it is imperative to have as much information about the place as you can before even experiencing the top things to do in Florence.
When is the Best Time to Visit Florence?
When it comes to the best time to visit the city of Florence, it has to be the months of April, May, June, September, and October. These are the months when the weather of the city remains all pleasant and in favour of tourism. Thus, the months together are referred to as the "peak season".
This is also the time which is known to house numerous art and music festivals. The pleasant weather also makes open-air dining a must thing to do in Florence. In other words, you can actually live the Italian lifestyle to its most during these months.
The warmest months in the city of Florence are usually July and August where the temperature ranges between 17°C and 31°C. However, despite that, you can still expect to see a considerable amount of tourists exploring the city during these months.
Whereas, if we talk about the coolest months, well, it has to be December and January. During these months, the temperature ranges from 1°C to 10°C.
Can You See Florence in Two Days?
In a nutshell, YES! Two days is plenty of time to explore the beauty and culture of the city, as well as taste the best food that Florence has to offer. Obviously, as with everywhere in the world, the longer you stay in a place the better, as you will be able to fall in love with the city and the people more.
If you are, however, in a rush and only have a quick weekend to spare, two days in Florence is definitely more than enough time to see the best sights in Florence and learn about its fascinating history. There are also so many great places to eat in Florence so don't forget to make time for that during your 2 days in Florence.
The Complete Florence 2-day Itinerary
Day One in Florence
Walk Around the Centre of Florence
There cannot be a better way to start your 2-day Florence itinerary than exploring the centre of the city. This is a perfect place that you can discover very easily on foot. It gives you a chance to get up personal and close with the beautiful sights and enchanting sounds of the streets of the downtown city.
You can wander through lanes to admire the marvellous architectures that are a must-see in Florence in 2 days.
You can also go shopping right away as there are many shops and stores in downtown selling a wide range of products and souvenirs. But do not restrict your downtown stroll to shopping and sighting.
This part of the city is also known to house some of the popular museums, monuments, and churches that will definitely attract your attention. Along with that, there is a renaissance ambience which is hard to miss out on your Florence trip.
View this post on Instagram
Piazza del Duomo
Since you will be starting your Florence trip from downtown, you cannot afford to ignore the fact that the region is known to house some of the best tourist attractions in the city.
Talking about the popular tourist attractions, Piazza del Duomo has to be on your must-see in Florence in 2 days list. Often known as the Cathedral of Santa Maria del Fiore, this attraction is known to house the famous Duomo that presides with its cupola.
Another key highlight of this place is its Baptistery along with Giotto's very tall bell tower. The entrance of the cathedral is free and is known to have exquisite mosaic floors along with the stunning frescoes that can be seen over the main altar.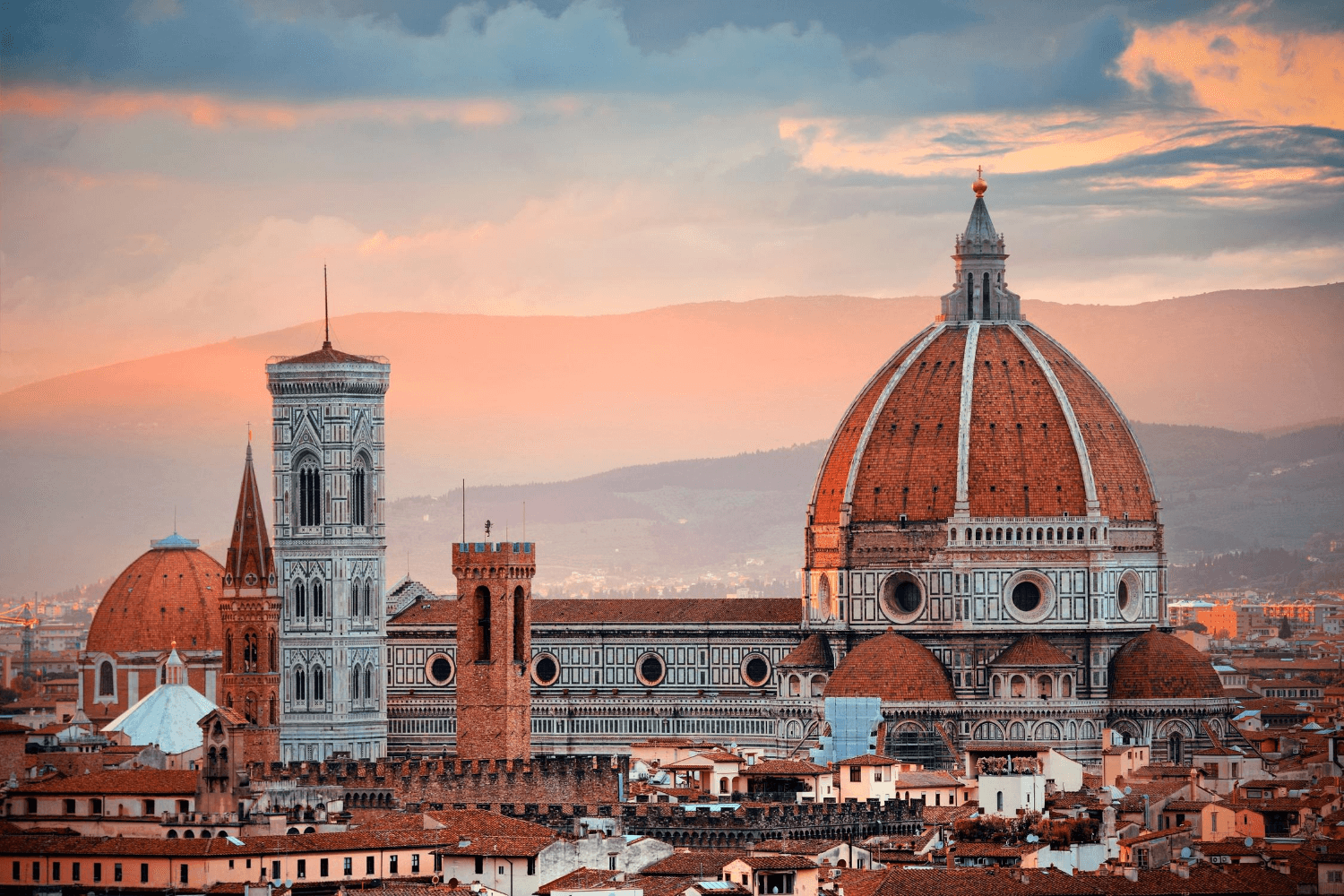 Piazza della Signoria
Just a short walk away from Piazza del Duomo via dei Calzaiuoli, there is another popular place to visit in Florence – Piazza della Signoria. This place is often known as the centre of political power in the city for centuries.
One of the key highlights of this stunning attraction is Palazzo Vecchio, which is the headquarters of the city government. But not just this, it is also a noted museum in the region.
Just right to Palazzo Vecchio, there is an architectural marvel, Loggia dei Lanzi. This is the place where you can admire the stunning effigies such as Rape of Sabines and Perseus by Benvenuto Cellini.
The exquisite charm of Piazza della Signoria is not restricted to this, there is also a fountain, referred to as Neptune's Fountain along with Equestrian Statue of Cosimo I.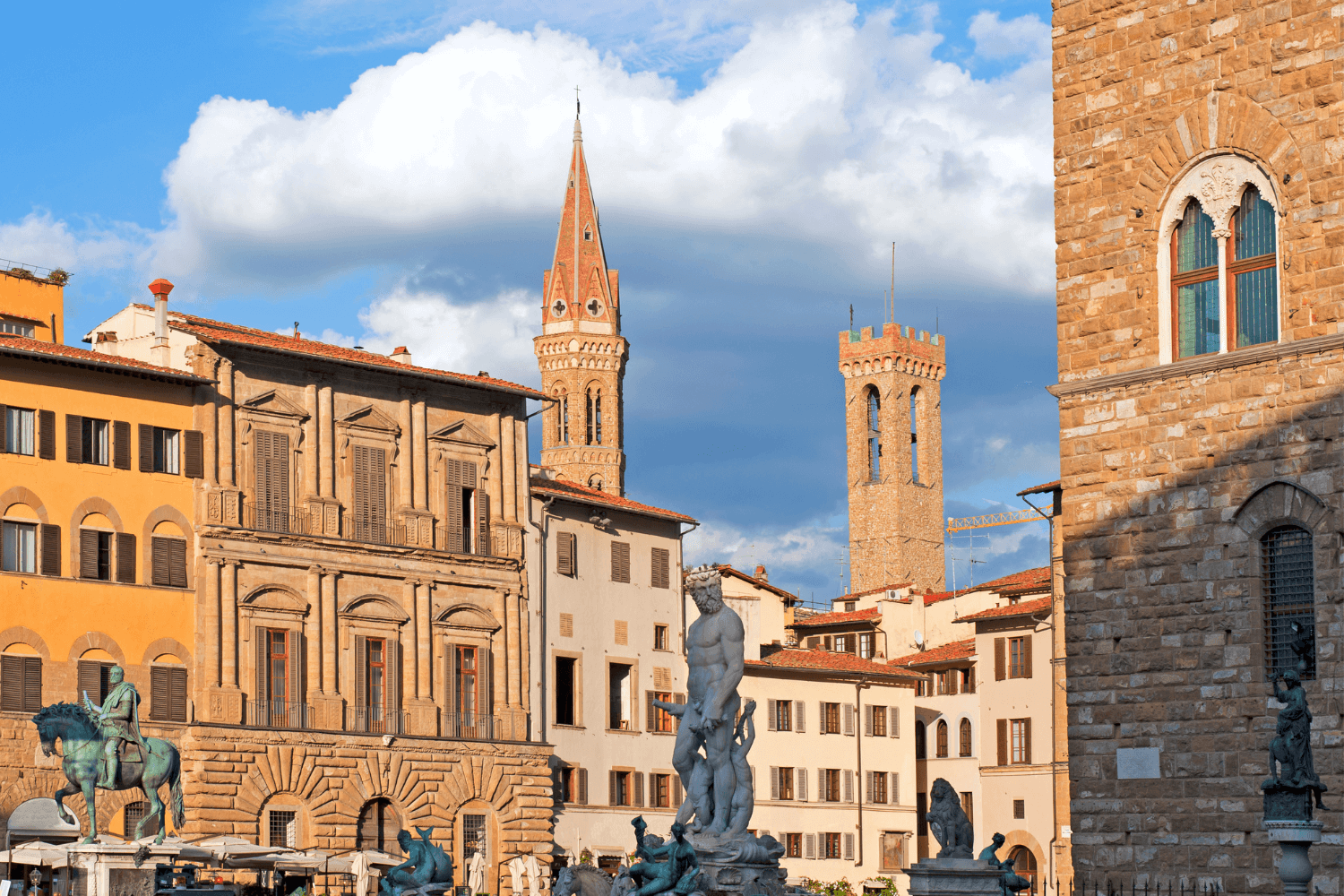 The Uffizi Gallery
The city of Florence is all about art, culture, and heritage, hence, The Uffizi Gallery is one of those places that you cannot afford to miss if you are an art aficionado. The tourist attraction is located just a few metres away from Piazza del Signoria.
You would be amazed to know that the Uffizi Gallery is reckoned amongst the top museums to visit not just in Florence, but in the entire country. For a fact, the museum is known to house the largest Renaissance masterpieces in the world.
Therefore, you can expect to discover the beautiful work of some famous Italian artists like Botticelli, Raphael, Michelangelo, and Leonardo da Vinci. You can either plan a guided tour to discover the museum or can also choose to explore on your own. However, in that case, make sure you book the tickets online in order to save your time.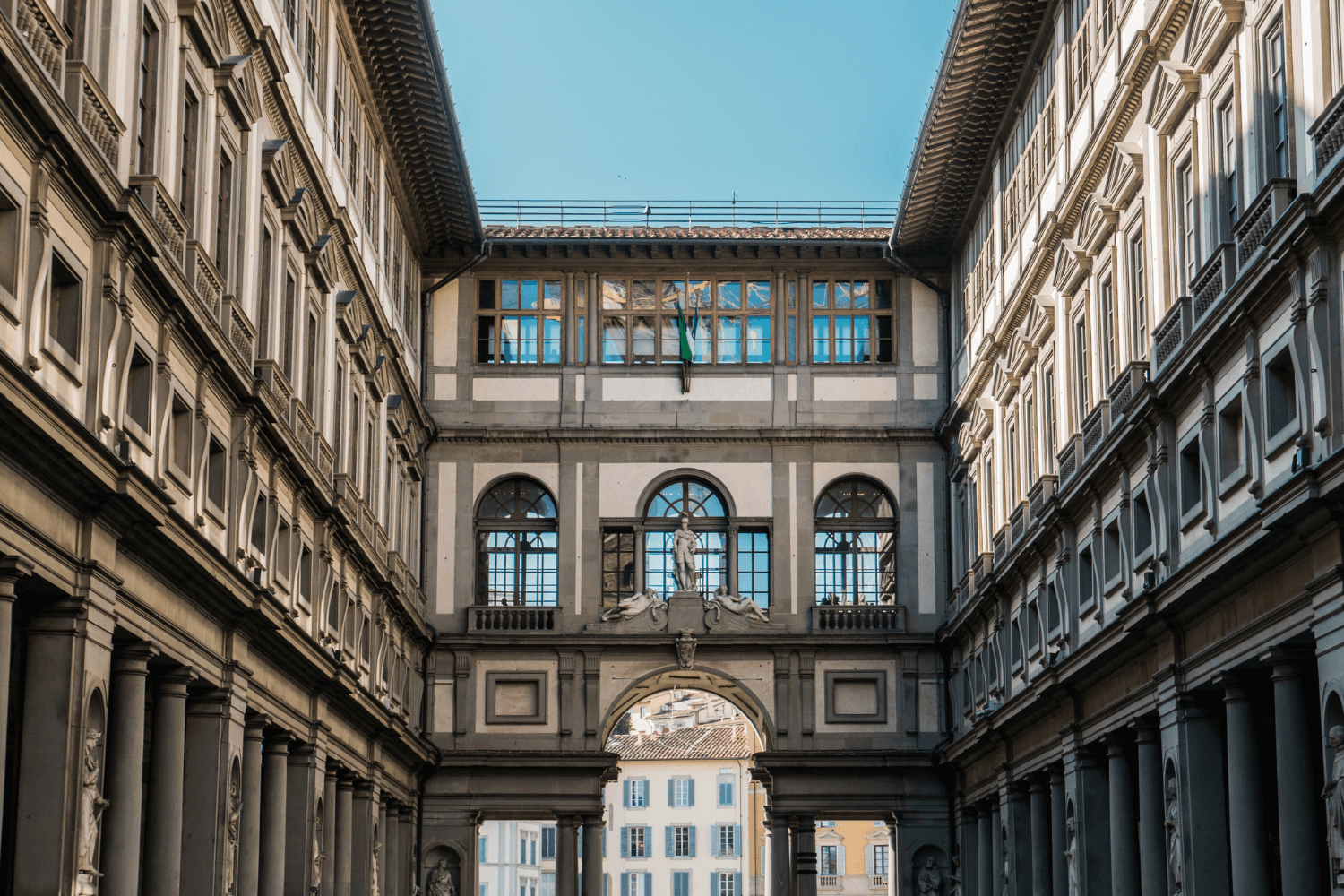 Relish The Beauty of Boboli Gardens
Right after discovering the stunning art and heritage of Florence, it's time to be a part of something related to nature. For that, no place other than Boboli Gardens is ideal to visit. You can stroll around the gardens to relish in nature's bounty.
From here, you can also capture the stunning views of the entire city. This is indeed a place that you must visit to spend some refreshing time amidst nature. Boboli Gardens offers its visitors a great chance to capture some amazing shots of the entire city.
For more pulchritudinous views over Tuscany, make sure to visit the garden situated near the Porcelain Museum.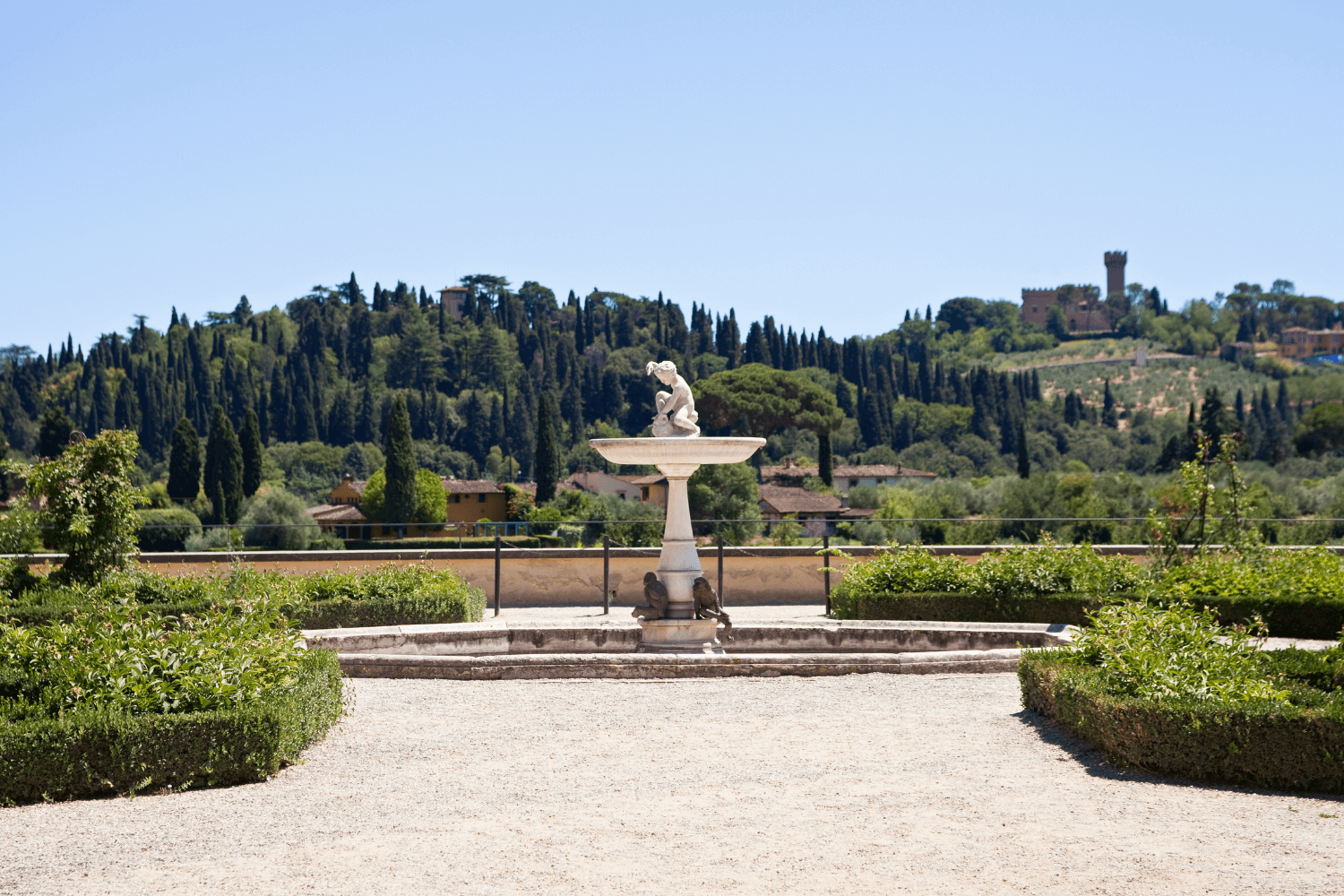 Go Sunset Gazing at Piazzale Michelangelo
There couldn't be a better way than relishing the incredible sunset sights to end the day 1 on this Florence 2-day itinerary. And for that, there is no place better than Piazzale Michelangelo to enjoy the stunning sunset views.
From the hills of Oltrarno, this place is known to overlook the beautiful sights of the city. The beauty of the views blooms up during sunset time. Spend some time here watching the sun falling asleep and offering a glorious sight to savour for visitors.
This is perhaps an ultimate experience you seriously cannot afford to miss out on your trip to Florence.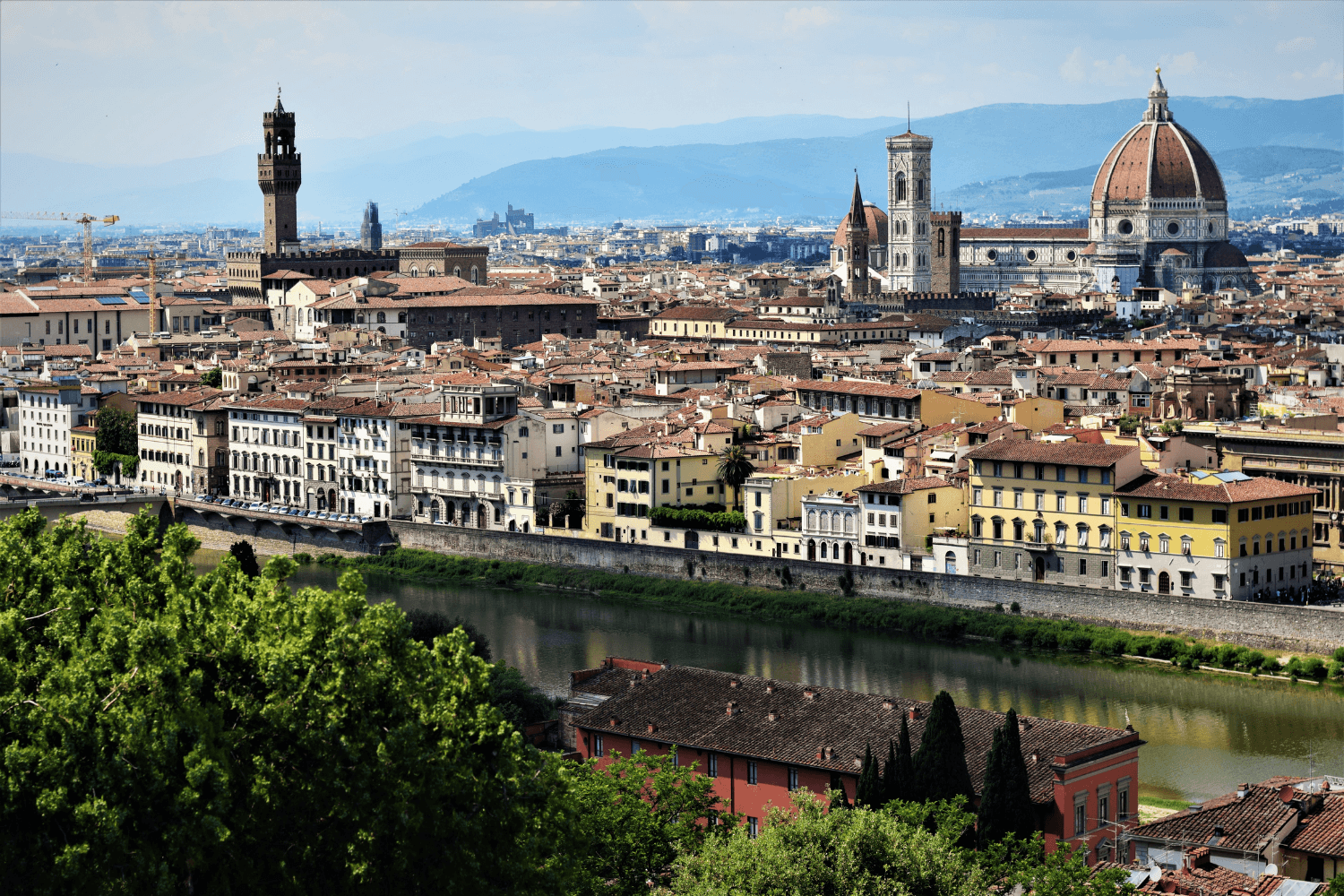 Day Two in Florence
Piazza San Lorenzo, Church and Medici Chapels
Begin day 2 of your Florence tour by visiting Piazza San Lorenzo. It is indeed one of the most popular places to visit in the city. Piazza San Lorenzo consists of a church, known as San Lorenzo Church and also a chapel, referred to as Medici Chapels.
The church is known as the place where once Medici family used to worship and it includes an unfinished facade. Whereas, the chapel serves as the resting place of the Medici dynasty. Therefore, you can expect to see exquisite marble statues crafted by Michelangelo.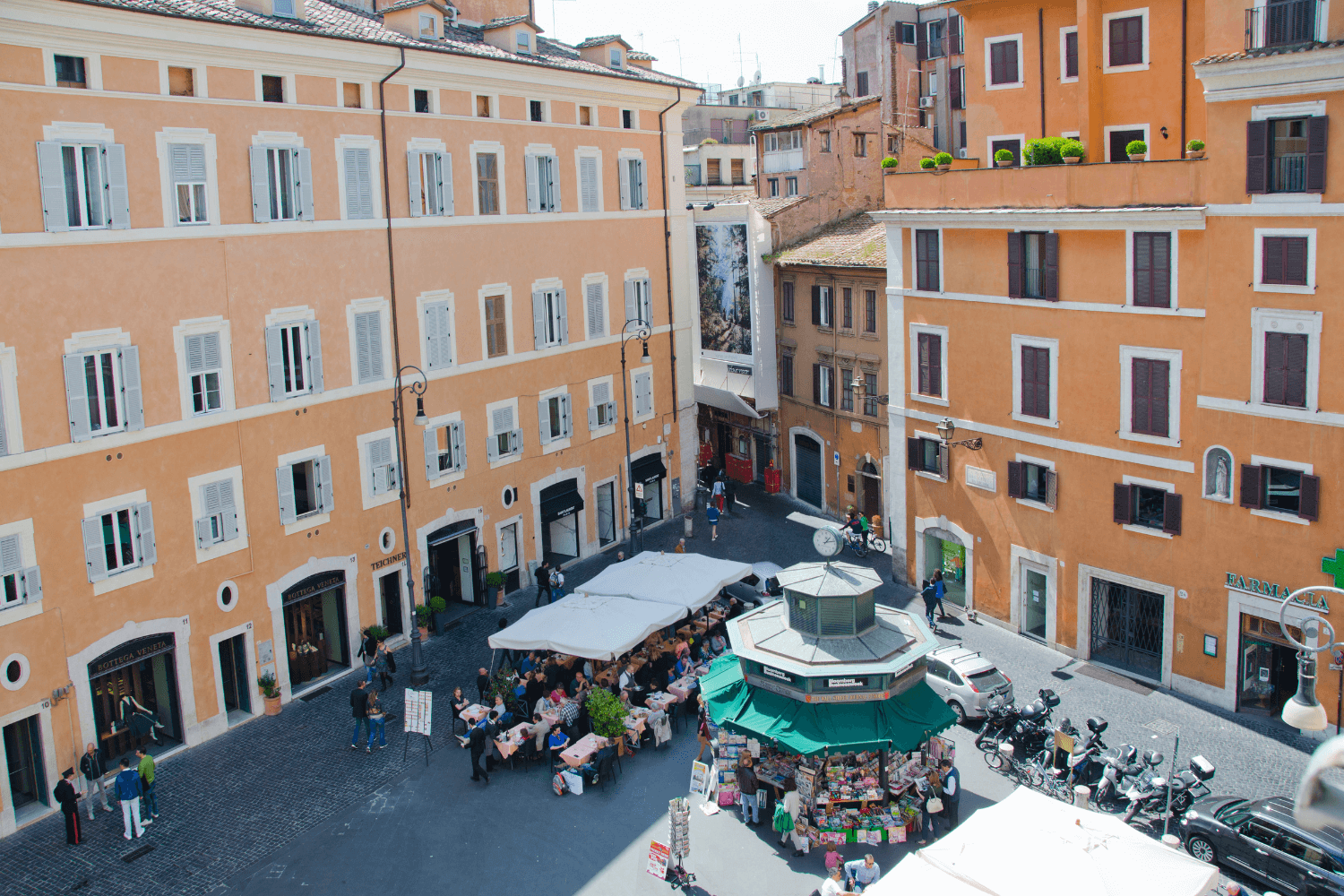 Piazza Santa Croce and the Basilica of Santa Cruce
Piazza Santa Croce is another interesting place to visit in Florence in 2 days where you will get to explore the beautiful Santa Croce Church, also known as Basilica of Santa Cruce.
It also serves as the resting place of many Tuscans and Florentines, Galileo and Michelangelo being a few of them. The architectural beauty of this place is quite impressive that you must explore.
Considering the marvellous beauty of this place, you get an opportunity here to capture some stunning shots in your camera lenses.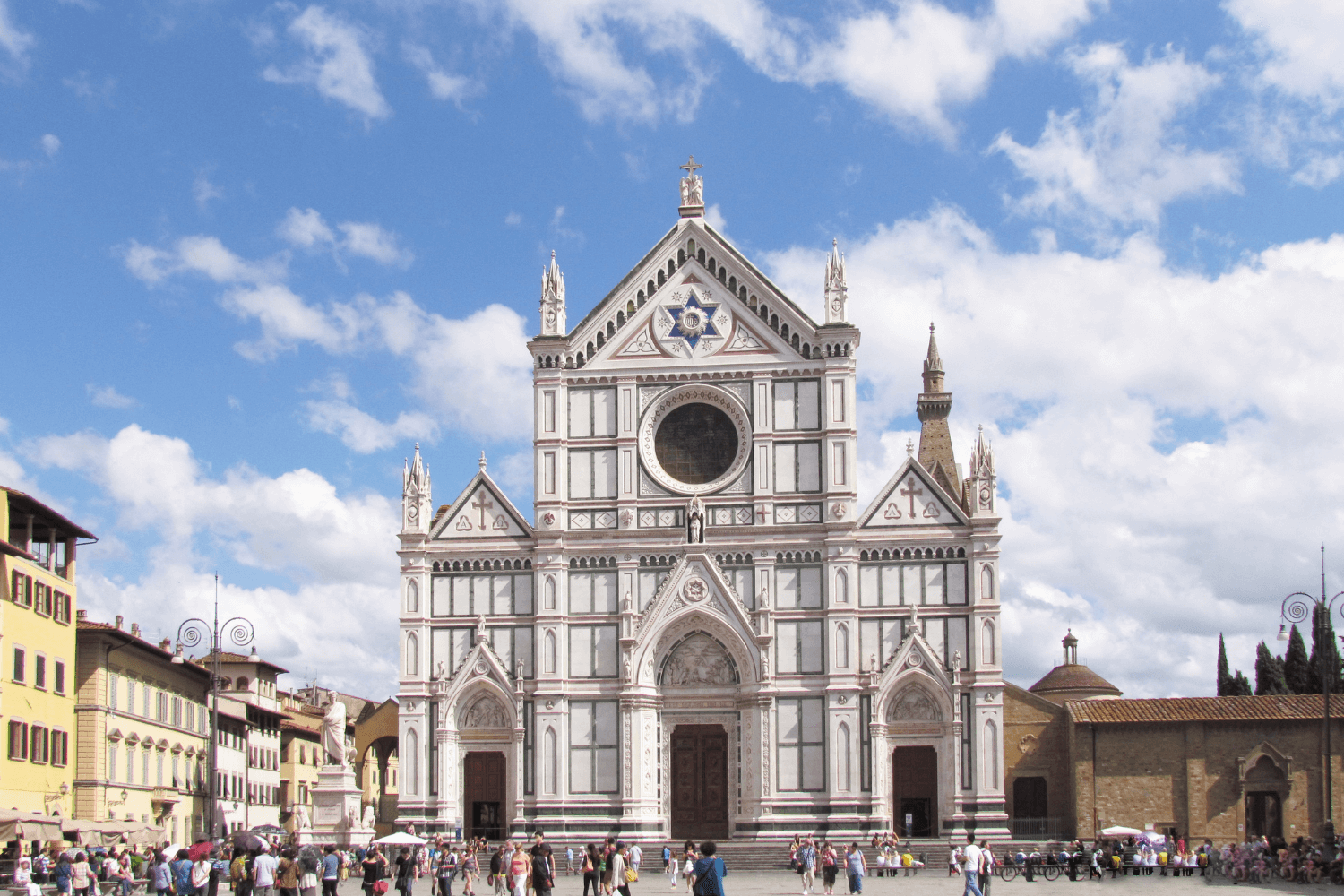 Galleria dell' Accademia
Being an art lover, Galleria dell' Accademia is a place that you surely love to explore. It displays the magnificent artwork of some renowned artists including Michelangelo.
If we talk about the exhibits, well, the most famous one is the statue of David. People often think that this place is all about sculptures. But that's not all! Galleria dell' Accademia also includes a separate museum dedicated to music which is known as The Musical Instrument Museum.
There is also a separate section here which is dedicated to Florentine 13th century and Gothic painting. Besides, the top floor of the gallery includes a section about late 14th-century art.
If your evergreen curiosity wants to learn more about the art, then you can expect to know more about painting techniques and art symbols. Galleria dell' Accademia is indeed one of those places in Florence that help you gain a lot of knowledge about art.
Apart from the statue of David, the other key highlights of this place are Botticelli's Madonna and Child along with the Madonna of the Sea, and Giambologna's Rape of Sabines.
Explore The Markets
As we mentioned above, the city of Florence is not just all about art, history, culture, and heritage, shopping is also a popular thing to do here amongst tourists. The markets of Florence are the great shopping hotspots for tourists where you can expect to pick some amazing souvenirs to take back home for your friends and family.
If you are not in a mood to shop anything, you can still visit the markets to take some Instagram worthy photos. Since the city of Florence is known as the founding place of Renaissance as well as an important place truly depicting medieval history, you can expect to find treasures and trinkets (unique to this place) in the markets of Florence.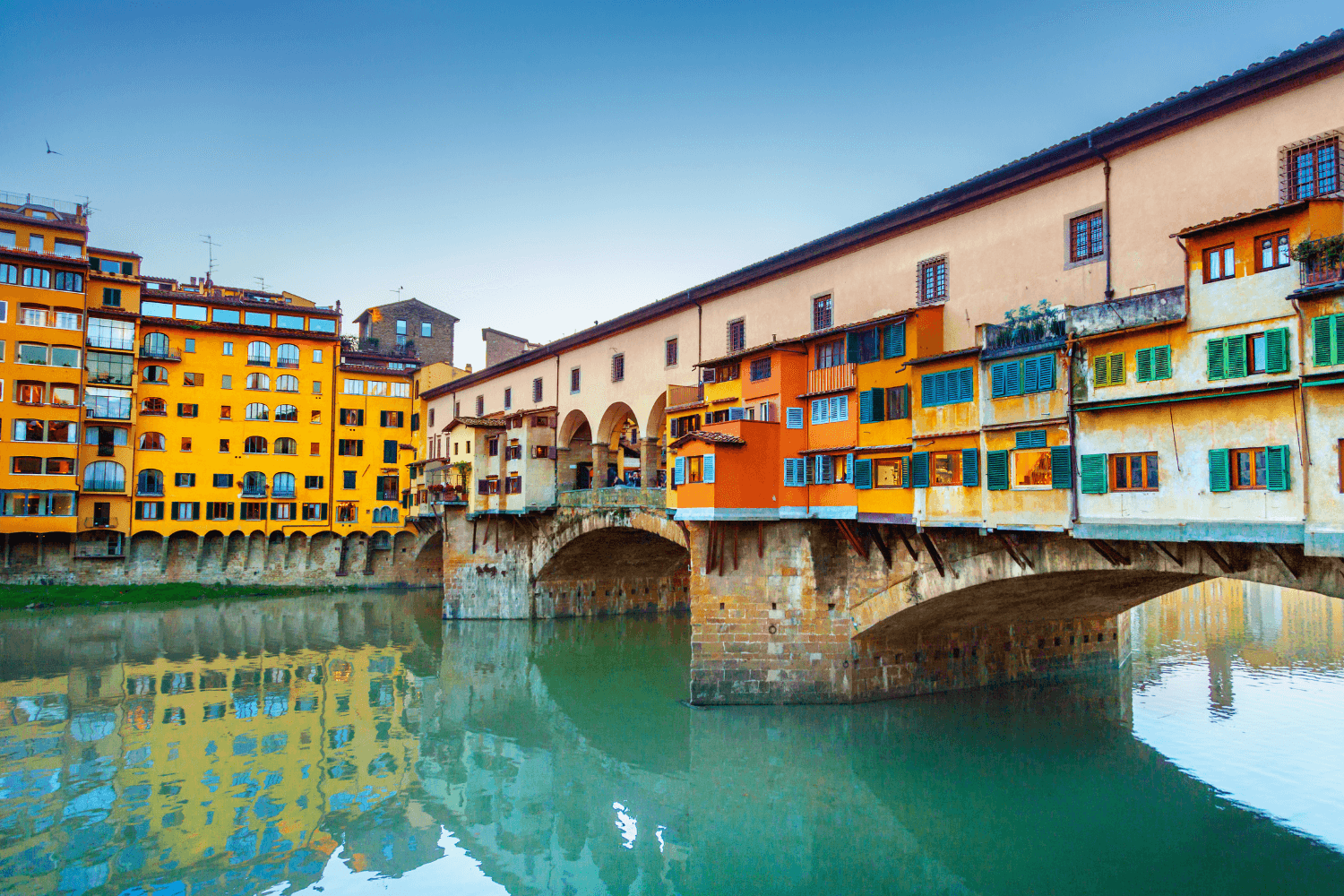 If you believe that a market tour in Florence is just restricted to shopping, well, there is a lot more than you can expect. As a part of the markets tour, you can also choose to explore Tuscan goods and products.
Also, there is the San Lorenzo market which is an outdoor leather market. If you are interested in exploring the fascinating leatherwork, then this place is a must-visit for you on your visit to Florence in 2 days.
However, there is also a newer version of the San Lorenzo market and it is referred to as Nuovo Market.
Located right next to the leather market is the Central Market, which is an indoor marketplace. It operates from Monday to Saturday from 6:00 AM to 2:30 PM. If you want to savour some delicious snacks, head to Central Market.
Without a doubt, the Central Market is one of the top places to eat in Florence. Apart from that, the market also sells raw vegetables, fruits, and fish. In addition, there are also several weekly and monthly markets that operate in the city of Florence.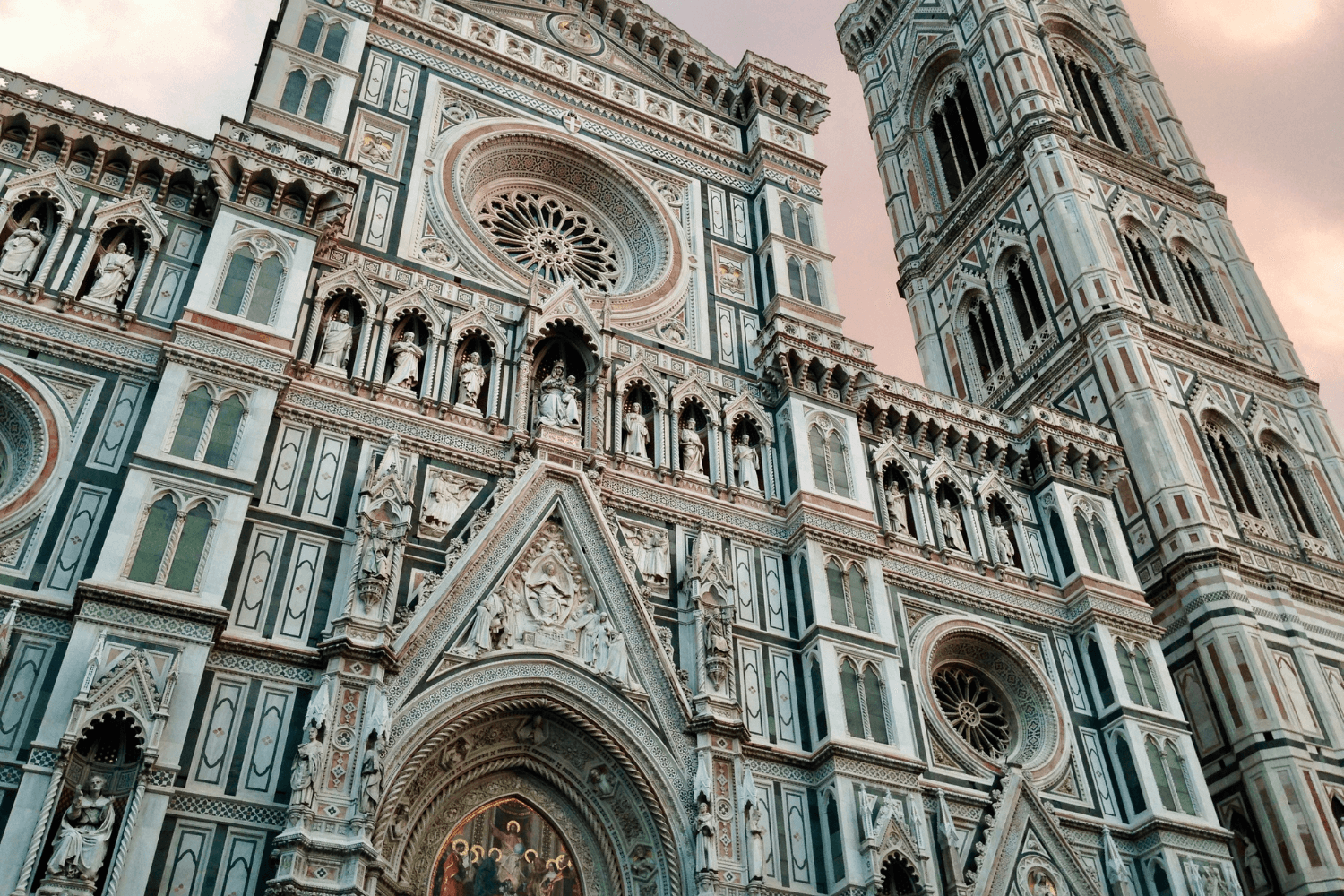 How to Prepare for Your Visit to Florence
Before you set off on your trip to Florence, there are a number of things you will need to organise to ensure a smooth and successful trip. These include where to stay in Florence, what to pack for Italy, and what is the best travel insurance for your trip. All of these will be discussed in the following section.
What is the Best Travel Insurance for Italy
Regardless of what type of trip you are heading on, one thing that is essential for everybody is good travel insurance. Accidents can happen anywhere and at anytime and unexpected hospital bills will ruin a holiday. Remove the stress from your next adventure and get covered for the worst.
World Nomads Travel Insurance provides budget reliable travel insurance that will keep you covered for any level of adventure.
You can get your quote before you leave on your trip right here.
What Should You Pack for Florence?
What you need to pack for Florence will rely highly on when you make your trip to Italy. During the Spring and Autumn months, temperatures and weather patterns vary wildly between beautiful sunny skies and rainy days. During the Summer, you are pretty much guaranteed nice weather with temperatures ranging from 20-35 oC. The hottest months are July and August, so these will be the most popular for a Summer holiday.
During the Winter months in Florence, the weather can go as low as freezing, so make sure you wrap up warm if you are coming between October and April. If you need more inspiration on what to pack for your trip, check out our full packing guides for all-weather conditions over here.
When it comes to toiletries, we recommend that you don't forget to pack sunscreen. The sun in Italy is very strong, especially during the summer months. Apply a lot of cream regularly to prevent a nasty burn from ruining your trip. We use this specific sunscreen to protect us as it is not as oily and irritating as other sunscreens.
Given the beautiful sights and scenery that you will see in Florence, we highly recommend packing a good camera for your trip. If you want to read more about the cameras we use and why we love them, check out the link below.
You can read what else we keep in our camera bag over here.
Where to Stay in Florence
No matter what your taste of luxury is you are bound to find the perfect type of accommodation for you in Florence. From luxury, 5-star hotels to modest and affordable Airbnbs, this city has it all.
Luxury – If luxury is your style, then there is only one place you will want to choose in Florence for a seriously unforgettable stay right in the centre of the city. The Golden Tower Hotel & Spa is the epitome of style in Florence, with white walls and bed linen and dark-wood furniture, close proximity to Palazzo Strozzi, and free to use spa facilities.
Book your stay at the Golden Towe Hotel & Spa right here.
Mid-Range – For a mid-range price, Hotel Basilea is a great city centre hotel offering a modern style and air conditioning. You can easily explore Florence on foot from the Basilea. The famous Duomo is also only 5 minutes' walk away.
Book your stay at Hotel Basilea right here.
Budget – If you are looking for a cheap and cheerful stay in Florence, then Il Verrocciho is for you. Located close to Florence cathedral in the heart of the city, this B&B is a great price for the location and room type. Enjoy a private room and private bathroom for a great budget price.
Book your stay at the Il Verrocchio right here.
View this post on Instagram
With this, we come to the end of this Florence 2-day itinerary. Doesn't matter whether you have 2 days or a week in Florence, the fact is, some things might be left as unexplored (considering the compelling charm of the city) on your 2 day trip of Florence.
But that's the life of a globetrotter, right? Well, with that being said, wherever you go or whatever you do in Florence, make sure to make the most out of it in order to create memories to cherish for a long time.
If you have visited Florence, let us know what you thought of the sights listed above, or if you have any suggestions let us know in the comments below.
As always, sharing is caring so make sure to share this travel itinerary with your family and friends and inspire them to head off on their own Italian adventure. If you are planning the trip for yourself, make sure you have a look at the rest of our Italy content for more inspiration to our beautiful home country.
When you set off on your own adventure, be sure to tag us in your photos on Instagram and we will share them with the rest of our community. In the meantime, why not follow us over there to see what we are currently up to and keep up with us on our Instagram Stories.
Now Read:
This article may contain affiliate links that provide us with a small income. For more information read our Affiliate page.
---
Save this to your Italy Pinterest board for later