Often known as "the little Paris of Central Europe", Budapest is one of those travel destinations in the world that you find in every traveller's bucket list. This Hungarian capital has everything to lure tourists from far and wide. Brimming with history and dotted with stunning architectures, Budapest has a lot to offer to its visitors.
If we talk about what you can expect here to explore and experience, well, there are historical buildings, exquisite parks, underground bars, bustling food halls, UNESCO World Heritage sites, and yes, the centuries-old thermal baths.
Whether you're a history buff, cultural person, or a nightcrawler, Budapest is a destination for all. The most interesting thing about vacationing in Budapest is that it comes at a much cheaper price than other popular European destinations.
Wondering why? Well, you would be amazed to know that the city is packed with some great, budget-friendly accommodation options to choose from. In addition, the food is quite cheap here in Budapest.
To give you a brief explanation that the city of Budapest has, we have crafted this 2-day in Budapest itinerary. If you have no idea how to spend 2 days in Budapest, well, this itinerary will definitely be a great assistance for you on your Budapest itinerary.
So, without any further ado, let's unveil our Budapest two day itinerary. But before that, let's know about some useful details about Budapest tourism that will help you plan an ultimate trip.
Save this image to your Budapest Pinterest board for later!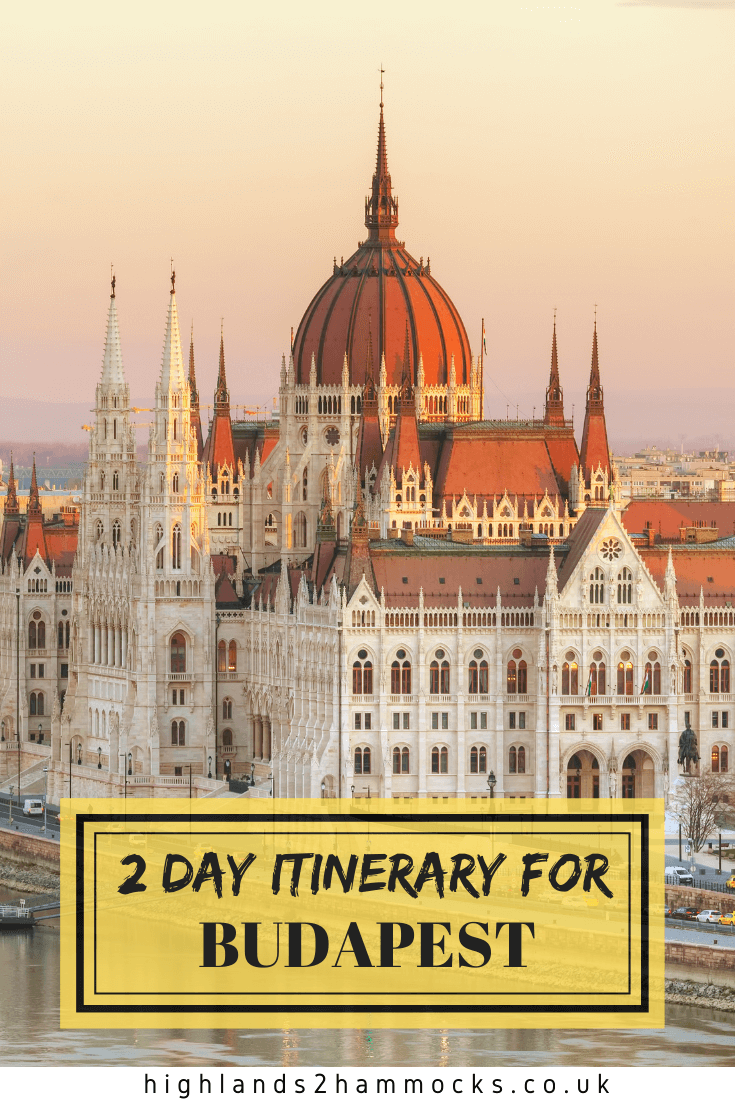 Two Days in Budapest – The Ultimate Budapest Itinerary
When is the Best Time to Visit Budapest?
Though Budapest is a year-round destination in Europe, yet, it still has a peak season when globetrotters prefer to explore Budapest. The best time to visit Budapest is the months from March to May and September to November.
The months from March to May are the season of Spring in Budapest. Despite being the peak season, the crowd is minimal during this time. Besides, the flights are a lot cheaper than the summer season.
We recommend you to visit in May as this is the time when the famous Rosalia Festival and OTP Bank Gourmet Festival are organized in the city. Btw, there are a number of amazing events and festivals hosted in Budapest.
Rosalia Festival and OTP Bank Gourmet are the two best food, wine, and beer events that have to be on your list of things to see in Budapest in 2 days.
You can also plan to visit the city of Budapest in the months from September to November. For a fact, this is the season of fall and you get to see the city in the most appealing way during this time.
By the month of September, summer tourists have all gone from the city and hence, you get to see a lesser crowd. Even during this time, you can expect to get some amazing accommodation deals in Budapest.
Talking about what to see in Budapest in 2 days during this season also, well, it gives you the chance of being a part of some amazing festivals and events including Budapest Wine Festival and the Jewish Cultural Festival.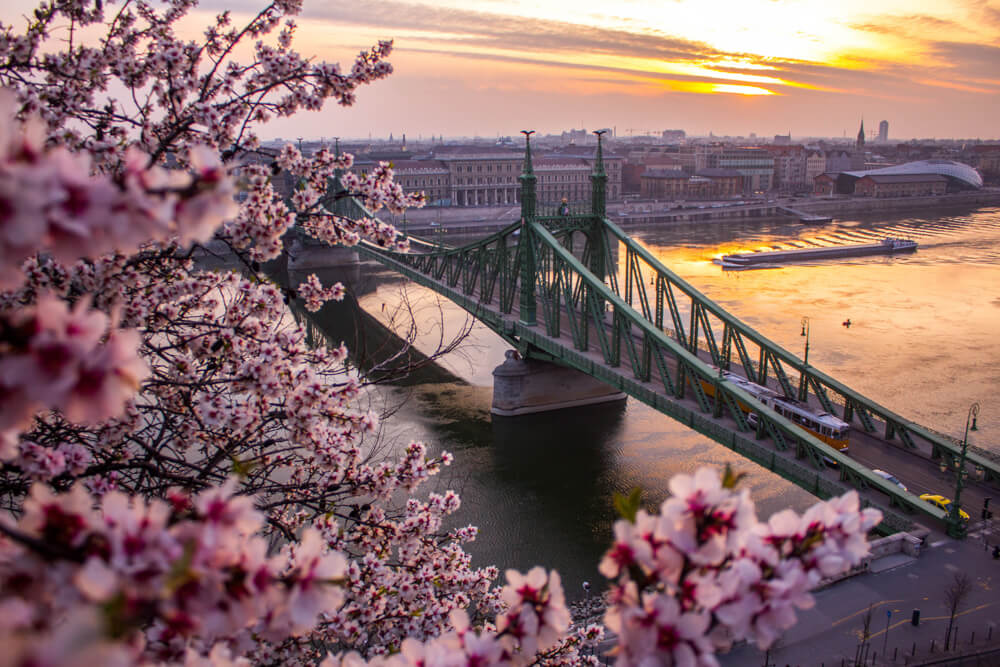 How to Stay Safe in Budapest?
Though Budapest is a safe place to visit on your Europe trip, yet pick-pocketing and scams are a few common dangers that you always remain prone to fall in. In the high traffic areas such as tramline 4-6, these dangers are quite common.
To avoid such risks, you just have to be careful and vigilant all the time when you're hitting roads to explore the attractions on your two days in Budapest itinerary.
There is another scam that happens with a lot of tourists which is the large bills at bars and restaurants. However, this scam is majorly restricted to solo male travellers. It is executed in a way where a group of women approach the man by asking for direction or light.
Whereas, the restaurant bill scam is very common around the region of Vaci Utca where you will be approached by a street tout to visit a certain restaurant or bar. Now, it is important to know that the restaurant is nowhere a budget one and is likely to have extortionate pricing inside.
You just have to be very careful throughout your 2 days in Budapest itinerary. We recommend you to trust your instinct and guts. The best way to cover yourself from any scam or risk is by purchasing travel insurance.
Are Two Days in Budapest Enough?
The city of Budapest is such an incredible place that you could spend weeks wandering the pretty streets and tasting the local cuisine, however, if all you have is one weekend then it is definitely enough. This itinerary combines all of the best and most unmissable attractions that the city has to offer, and will have you seeing the best sights that Budapest has to offer in just 48hrs.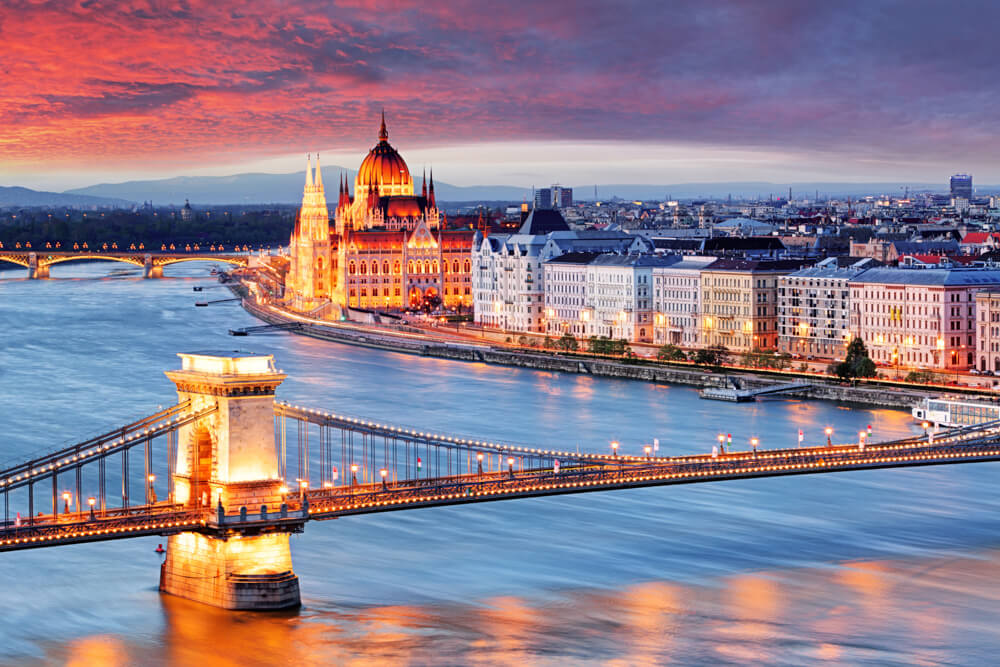 Budapest Itinerary – Day 1
Buda Castle and Castle Hill
Let's agree, we all have been inspired by those fantasy cartoons and have dreamt of living a royal life in a castle. Do not be amused to know that if I say Budapest gives you the opportunity to live your dream.
Alright, let's not exaggerate; you cannot exactly live here and enjoy a royal life but surely you can relish the beauty of Buda Castle and Castle Hill. After all, there are not many countries in the world that are known for castles.
Castle Hill is one of the best places to see in Budapest in a 2 days trip as it is not just only known for its striking beauty, but many medieval monuments and museums. Amongst all the attractions, there is the very famous Buda Castle that traces its history from the 18th century.
The castle also houses a number of museums including Budapest History Museum and Hungarian National Gallery. Right in front of the castle, there is also a bronze statue of Prince Eugene of Savoy overlooking the River Danube.
The entire place is a UNESCO World Heritage Site in Budapest. If you want to learn about the history and culture of the city, then visiting Buda Castle and Castle Hill has to be on your list of things to do in Budapest in 2 days.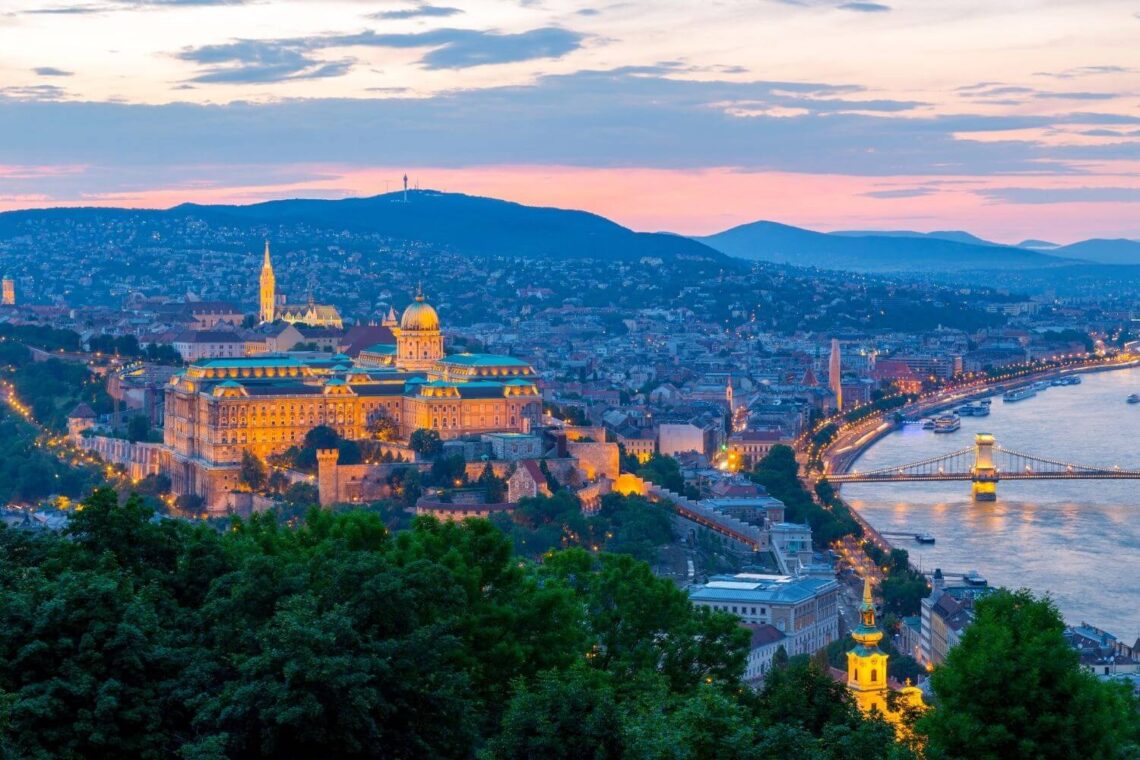 Gellert Hill Cave Church
One of the most striking beauties of Budapest is exquisite Geller Hill. As the name itself suggests the highlight of this place, the church is known for its beautiful interior set inside a natural cave.
Often touted as one of the highly sacred sites in Budapest, the church houses the statue of the Black Madonna of Czestochowa. Along with that, it also houses a painting of a Polish monk – St Kolbe.
The unique setting of the church makes it one of its kind in the city and a Budapest must-see place in your 2 days trip. As a result of that, it captures the attention of a major chunk of tourists in Budapest.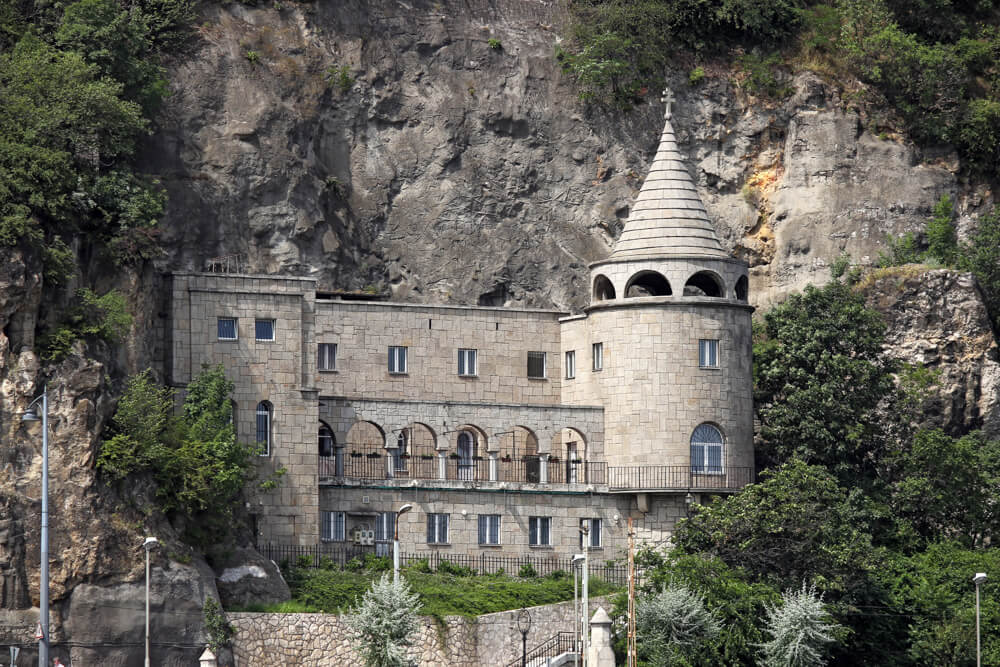 Gellert Hill
Once you are done exploring the exquisiteness of the church and paying your homage, spare some time to explore the beauty of Gellert Hill. Just to let you know, the hill is a 235-metre high dolomite block that falls down to the Danube.
One of the best things about Gellert Hill is the medicinal springs. With these medicinal springs in its fold, the hill is known to house two very famous rejuvenating spots in Budapest – Gellert Spa and Rudas Baths.
Another popular place to visit on Gellert Hill on your two day Budapest itinerary is the Gellert Monument. This monument marks the tribute to a Benedictine monk who took his last breath in 1046.
Not just this, there is also a man-made waterfall on the hill. This is the place where you can savour in the stunning views of the entire city and can also capture them in your camera lenses.
Besides, some other must-visit tourist spots on Gellert Hill are Jubilee Park, Liberation Monument, and the Citadel.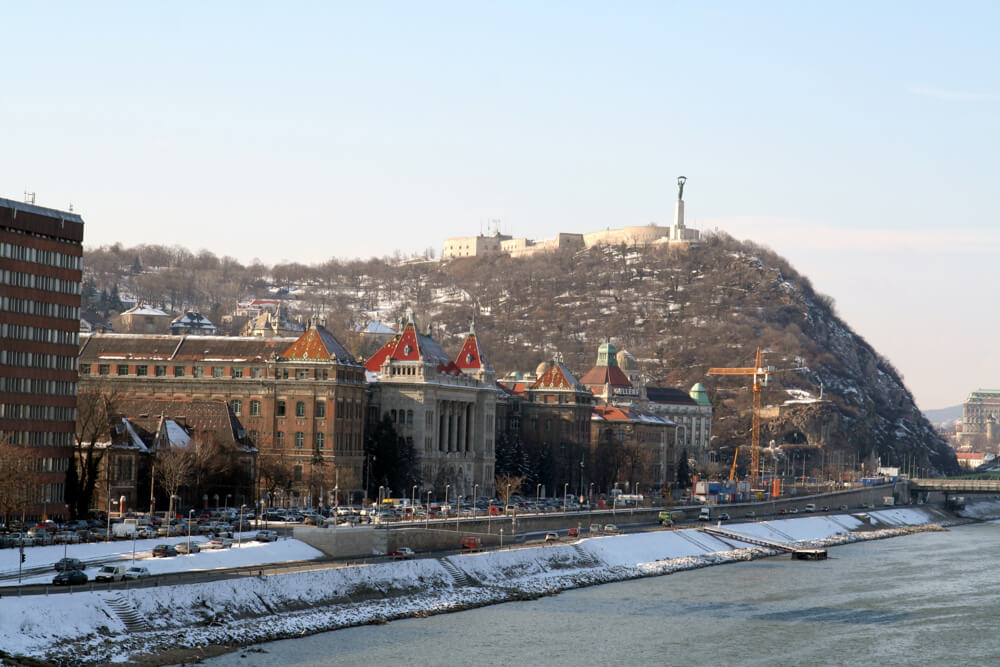 Central Market Hall
Visiting Central Market Hall is one of the top things to do in Budapest in 2 days. Though the market also operates in the morning time, visiting it in the evening is much more fun. It is also known as the Great Market Hall.
The market has a rich history that dates back to 1897. Interesting isn't it? Well, with such a long history, the Central Market Hall is known as the oldest and the largest indoor market in Budapest.
The market does not just serve as a popular tourist place, but it is also a preferred shopping palace for locals. You can expect to buy almost everything that a large scale market offers.
From local produce to meat to season vegetables to souvenirs to street food, the market welcomes its visitors with everything from knick to knack.
However, if you want to capture the sights of the market in your camera lenses, you can climb up to the balcony. From the balcony, you can capture the entire view or the market hall. This is an ultimate experience that you literally cannot afford to indulge in on your 2 days Budapest itinerary.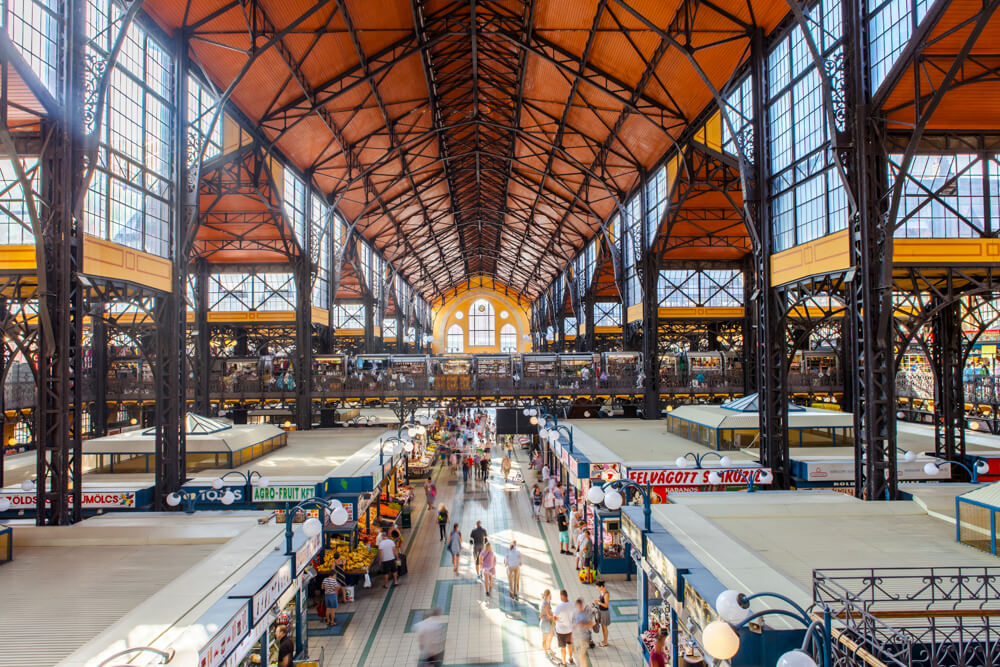 Budapest's Thermal Baths
If there is one thing we would recommend you do when you go to Budapest is to visit the Thermal Baths. There are many options for thermal baths in Budapest, we have visited the Lukacs and Szechenyi baths.
The Lukacs is located on the Buda side of the river and is one of the smaller baths in the city. There is a lazy river, hot and cold pools, jacuzzi and even a freezing cold plunge pool.
The Szechenyi Thermal Baths are the most popular baths in Budapest and located on the Pest side of the river in the centre of the City Park. There are 3 large outdoor pools as well as many indoor pools of varying temperatures and a sauna and steam room. The gorgeous grand architecture of these baths brings many visitors to the Szechenyi Baths every year.
Read more about Budapest's thermal baths in our complete guide over here.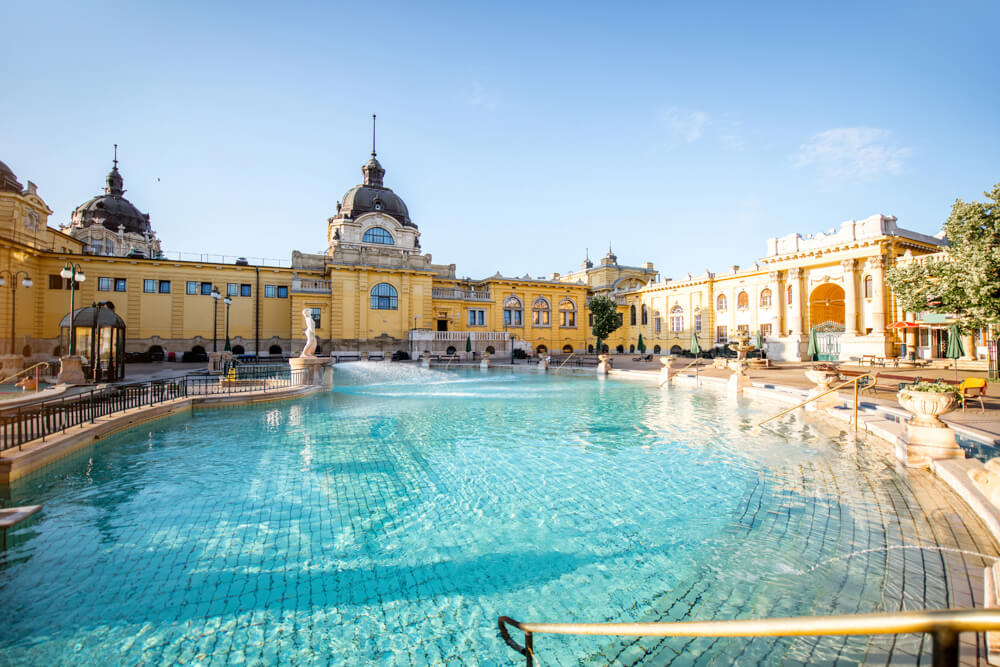 Budapest's Ruin Bars
There could not be a better way than visiting one of the Budapest ruin bars to end your day 1 of your two day Budapest itinerary. Believe it or not, savouring a drink at a ruin bar is probably one of the best things to do in Budapest.
In case you don't know, ruin bars are basically the makeshift bars. They are set up in tumbledown buildings, deserted parking spaces, and industrial spaces.
The 19th-century constructions were turned into exciting and appealing bars. These bars are not only known to offer great drinks, but also exquisite interiors that include beautiful paintings and funky lighting.
Budapest Itinerary: DAY 2
Budapest Eye
Are you a fan of Ferris Wheel? Well, if so, then Budapest Eye has to be on your list of best places to visit in Budapest in 2 days. The Ferris Wheel of Budapest Eye is standing at a height of 65 meters.
Just to let you know, it is the largest of its kind in entire Europe. The best thing about this place is that it stays until late. In the evening, this attraction blooms up with beautiful lights that take the beauty of Budapest Eye on to another level.
However, if the Ferris Wheel is not your kind of attraction, there are parks around the Budapest Eye. You would love to spend some relaxing time there.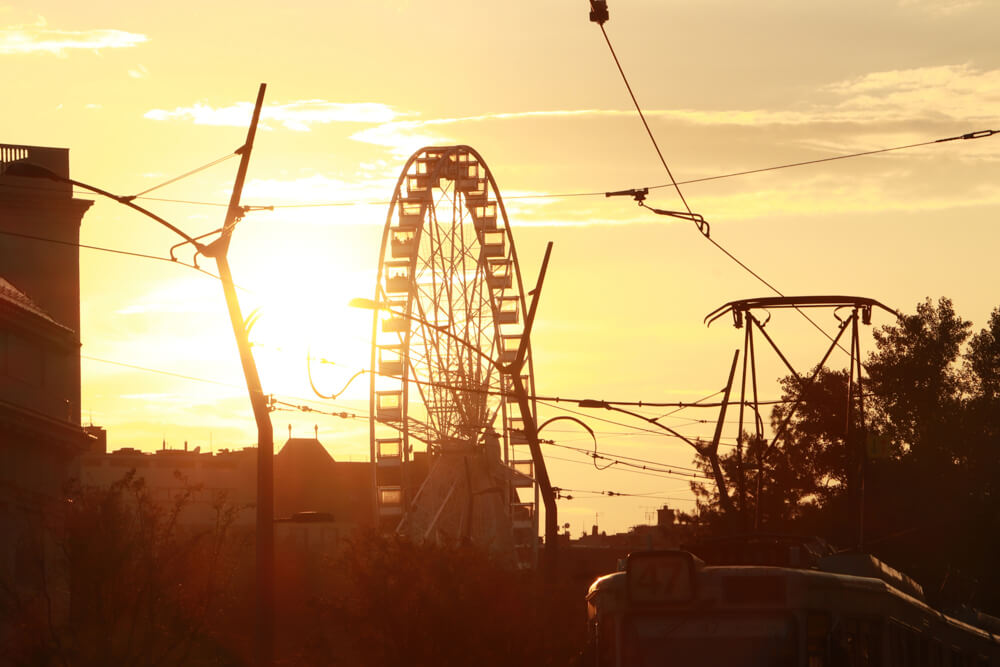 House of Terror
Well, before you imagine this place to be a haunted house or something, let me tell you this is a museum. The museum is known to house a wide range of collections that commemorate the victims of fascism and communism in Budapest.
This is a place that one must visit on his/her itinerary of Budapest in 2 days in order to learn about the history of the city.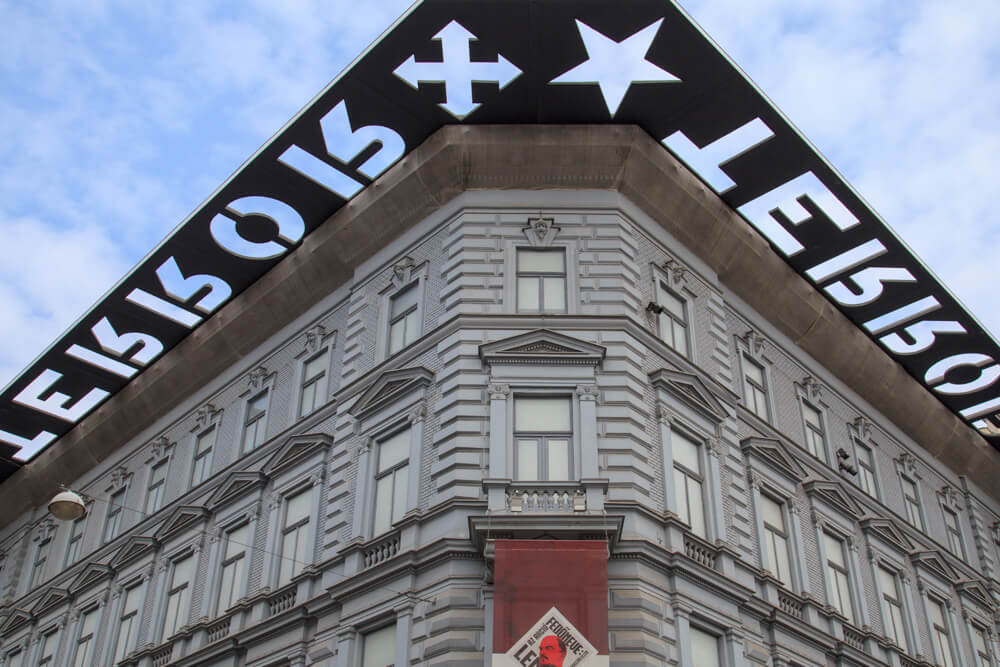 Vajdahunyad Castle
Vajdahunyad Castle is another iconic attraction in the city of Budapest. It is the true synonym of a fairy-tale land. Constructed in 1896, the Vajdahunyad Castle was actually made a temporary attraction for the public on the occasion of its 100 year anniversary.
But considering the love of the tourists towards this attraction, it was made a permanent tourist spot. There is also a museum dedicated to agriculture located inside the castle and a City Park around it. The park also has a lake that becomes an ice skating rink during winters.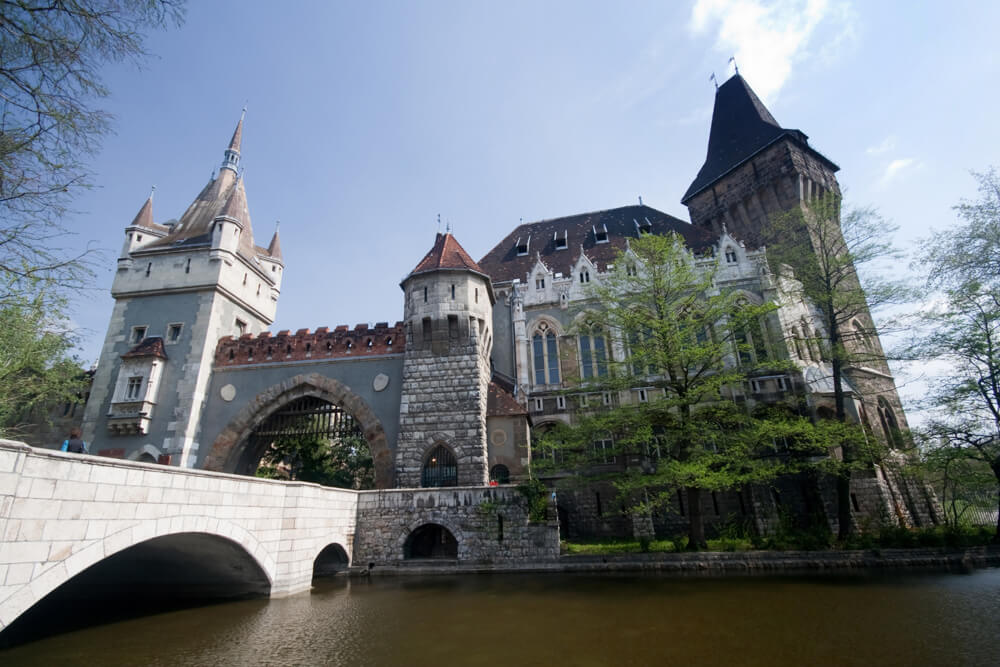 Jewish Quarter
Jewish Quarter, also known as the Party District and District 7, is a must-see neighbourhood in the city of Budapest. The quarter is known to embrace the beautiful contemporary street art in Budapest.
If you are craving for fast food, well, this is the place where you should head to as it gives you options from all across the world. Let's fill you with some historical knowledge – this is the place where the first Mcdonald of Eastern Europe was established back in 1988.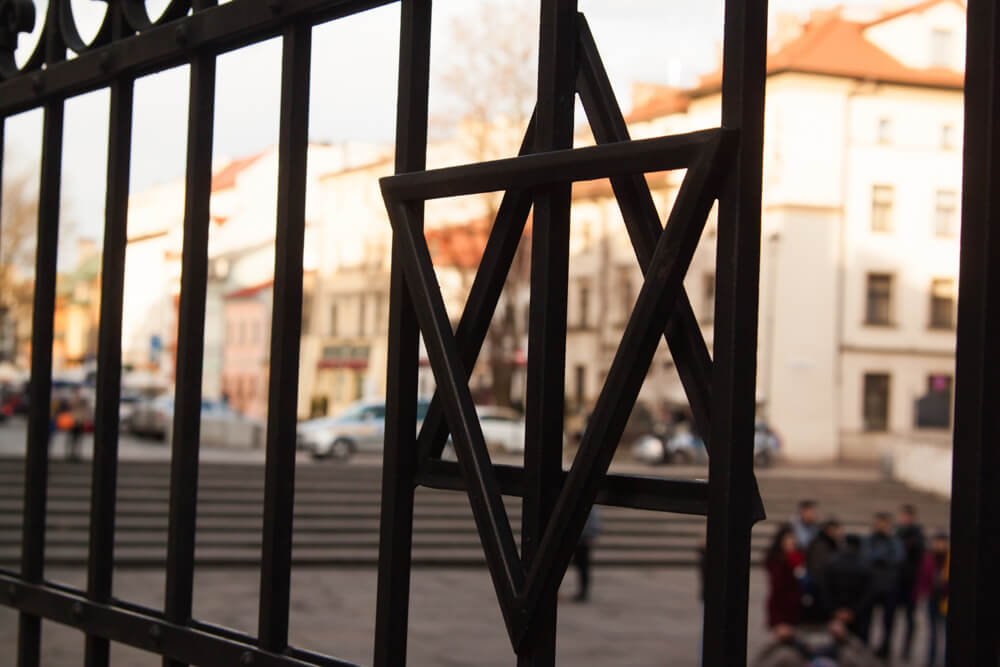 Danube River Cruise
There can't be a better way to end your 2 days trip in Budapest than enjoying Danube River Cruise. On the cruise, you can enjoy the gleaming views of both Buda and Pest. While relishing the sights, you can also enjoy some wine or a beer (according to your taste or mood).
This is one of those experiences that you must indulge in with your partner because of the romantic ambience. However, you can also be a part of it if you're a solo traveller to capture some great shots on your camera.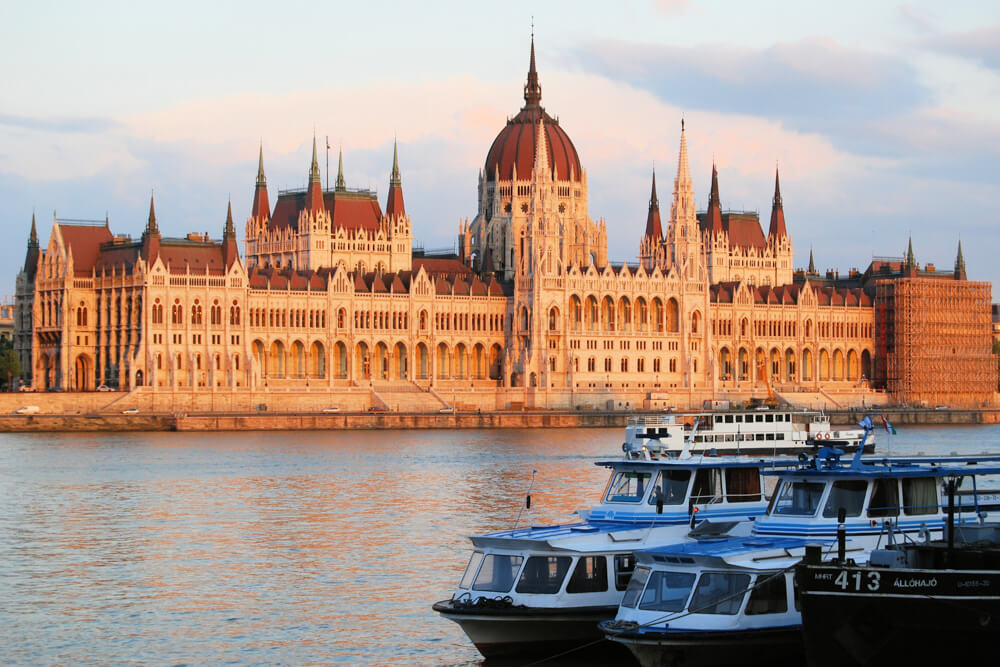 With that being said, you now have your 2 days Budapest itinerary. Since you have all the information about what to see in Budapest in 2 days, I am sure you will be able to plan an ultimate trip to Budapest and will make a bucket load of memories to cherish them for a long time.
Before You Leave for Budapest
Before you set off on your trip to Budapest, there are a number of things you will need to organise to ensure a smooth and successful trip. These include where to stay in Budapest, what to pack for your trip to Hungary, and what is the best travel insurance for your trip. All of these will be discussed in the following section.
What is the Best Travel Insurance for Budapest?
I know travel insurance is the least enjoyable thing to purchase and look at when you're planning a trip, however, you wouldn't want to be without it in the event that something happened. Accidents can happen anywhere and the extortionate medical bills will ruin your trip if you are not covered.
To ensure you have a stress-free trip with no worries about potential medical bills, make sure you cover yourself when you travel. We can recommend using SafetyWing, a backpacker-friendly and cheap insurance company that provides good coverage and support. It is also nomad-friendly, unlike most other insurance companies, meaning you do not need to worry about being out of your home country for too long.
Get a quote for your travel insurance right here and get covered!
What Should You Pack for Budapest?
What you need to pack for Budapest will rely highly on when you make your trip to Hungary. During the Spring and Autumn months, temperatures and weather patterns vary wildly between beautiful sunny skies and rainy days. During the Summer, you are pretty much guaranteed nice weather with temperatures ranging from 20-35 oC. The hottest months are July and August, so these will be the most popular for a Summer holiday.
During the Winter months in Budapest, the weather can go as low as freezing, so make sure you wrap up warm if you are coming between October and April. If you need more inspiration on what to pack for your trip, check out our full packing guides for all-weather conditions over here.
When it comes to toiletries, we recommend that you don't forget to pack sunscreen. The sun in Hungary is very strong, especially during the summer months. Apply a lot of creams regularly to prevent a nasty burn from ruining your trip. We use this specific sunscreen to protect us as it is not as oily and irritating as other sunscreens.
Given the beautiful sights and scenery that you will see in Budapest, we highly recommend packing a good camera for your trip. If you want to read more about the cameras we use and why we love them, check out the link below.
You can read what else we keep in our camera bag over here.
Where to Stay in Budapest
No matter what your taste in luxury might be, from campsites to 5-star hotels, Budapest has the perfect place for you to rest your head at the end of the day.
Luxury – The Four Seasons Hotel Gresham Palace Budapest has an incredible and view and enjoys an incomparable location in front of the Chain Bridge. This hotel offering luxury units, an infinity-edge pool, a fitness room as well as a restaurant and bar.
Book your stay at the Four Seasons Hotel Gresham Palace Budapest here.
Mid-range – Lanchid 19 Design Hotel is the perfect mid-price range accommodation to stay in in the heart of Budapest. With everything, you need within walking distance and the most spectacular bathtub views. You can also enjoy some of the delicious Hungarian food that is served in the restaurant here.
Book your stay at the Lanchid 19 Design Hotel here.
Budget – If you are visiting Budapest on a budget and are looking for somewhere central to stay, Centric Lifestyle Apartments is a great option. There is free wifi in this spacious apartment as well as an excellent city view.
Book your stay at the Centric Lifestyle Apartments here.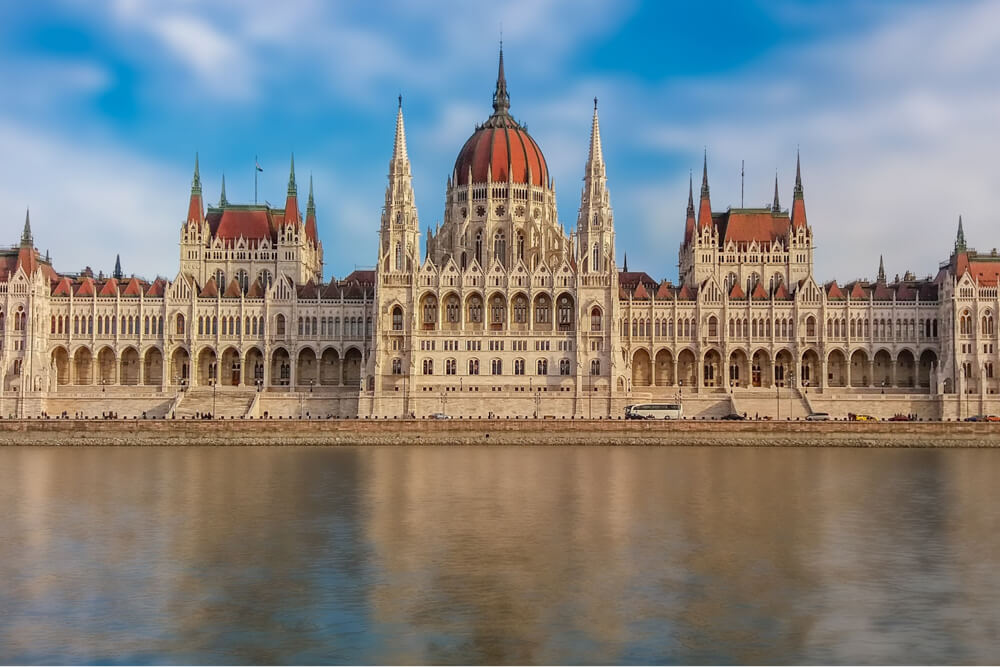 With this, we come to the end of this Budapest 2-day itinerary. There is so much to do in this amazing city so the chances are after a couple of days there you will be bound to have left some places unexplored. Always a good excuse to visit again though right?
If you have visited Budapest, let us know what you thought of the sights listed above, or if you have any suggestions let us know in the comments below.
As always, sharing is caring so make sure to share this travel itinerary with your family and friends and inspire them to head off on their own Italian adventure. If you are planning the trip for yourself, make sure you have a look at the rest of our Budapest content for more inspiration to our beautiful home country.
When you set off on your own adventure, be sure to tag us in your photos on Instagram and we will share them with the rest of our community. In the meantime, why not follow us over there to see what we are currently up to and keep up with us on our Instagram Stories.
Read Now:
This article may contain affiliate links that provide us with a small income. For more information read our Affiliate page.
---
Save this image to your Budapest Pinterest board for later!