Exotic wildlife and Thai massage, you would say Bangkok as a destination is known for these two things. But hey, that's not all! There is more to explore and experience in the capital city of Thailand.  In fact, this vibrant city offers something for every type of traveller; from history to culture to food to cosmopolitan lifestyle, there is everything that can help you create a perfect Bangkok itinerary of 4 days. 
Well, it is an unhidden fact that Bangkok is one of the most-visited and sought-after travel destinations in Southeast Asia. To be honest, there are countless places to explore and things to do in Bangkok. Hence, the question should be, are 4 days in Bangkok enough?
Considering the compelling charm of this vibrant city, a single trip isn't enough to explore all its aspects. But, fret not! We will be crafting an ultimate itinerary that will cover the best of everything in Bangkok for tourists. 
So, let's unveil our perfect 4-day Bangkok itinerary. 
Before you leave for on your trip of a lifetime, plan your ultimate Thailand experience with this complete 2-week Thailand itinerary!
Save this image to your Thailand Pinterest board for later!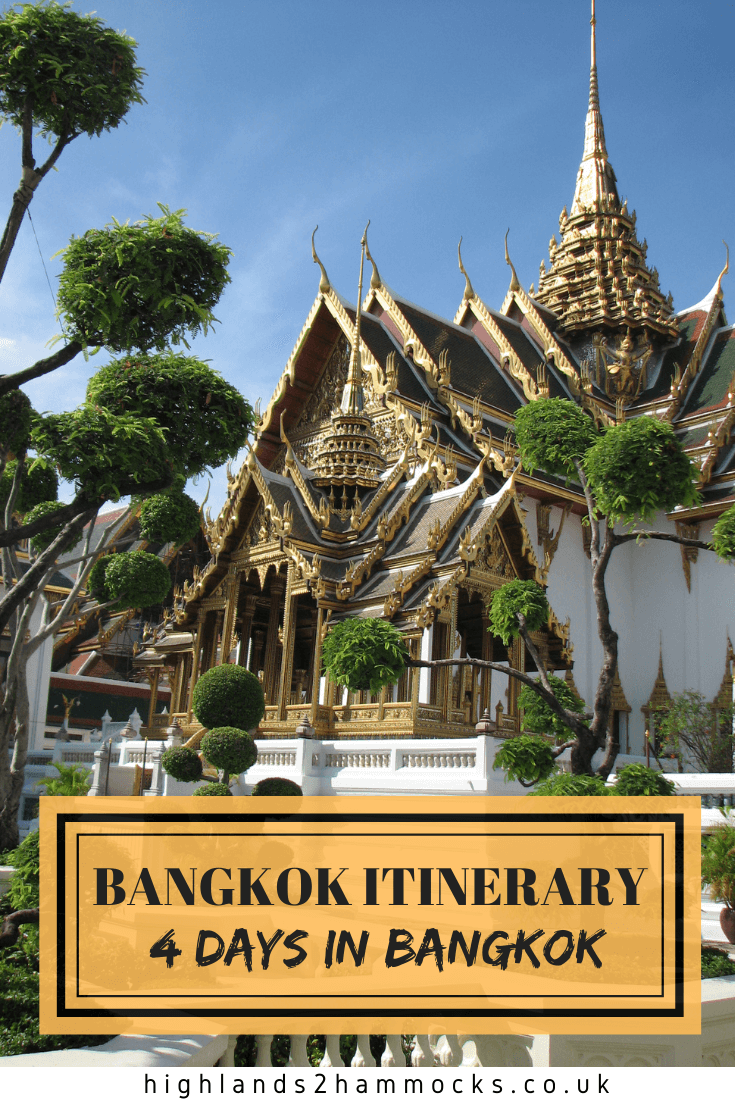 The Complete Bangkok Itinerary – Four Days in Bangkok
When Should You Visit Bangkok?
It is frequently said that Bangkok is a fantastic place to visit all year round, with each season bringing its own quaint charm. The most popular time of year to visit, however, is between November and March, when the football brings tourists from all over. The hottest months in Bangkok also happen to be between March and May, so bear this in mind when you are planning your trip.
Are Four Days in Bangkok Enough?
As with any city, it is possible to spend way longer than 4 days in Bangkok and still discover new and exciting sides to the city. The longer you spend in a city, the more you become acquainted with the culture and fall in love with the way of life, so if you have the time we recommend spending as long as you can exploring the underside of the city, as well as the huge number of sights that sit outside of Bangkok.
With that being said, it is definitely possible to see all of the best sights that Bangkok has to offer in just 4 days. People often say that the best thing to do in Thailand is to arrive in Bangkok, see all it has to offer, and then get out of the city as quickly as you can, however, we will let you be the judge of that.
Be flexible!
What Should You Not Miss in Bangkok?
Of all the incredible sights that Bangkok has to offer, if we were to narrow it down to just one day in the city with sights that cannot be missed, we would suggest a day of touring the beautiful temples followed by a night on Khao San Road. These sights are by far the most spectacular and memorable attractions that Bangkok has to offer, so make sure you check them out.
Day 1 in Bangkok
Visit the Grand Palace
Believe it or not, but the Grand Palace is one of the most popular tourist attractions to visit in Bangkok. The palace is surrounded by a walled complex and it comprises different architectures. For a fact, this palace traces its history from the 18th century and was once the home of the Kings of Siam. 
Being one of the highly religious sites in Bangkok, the palace remains dotted with a considerable amount of visitors from 8:30 AM to 3:30 PM. However, in order to visit the palace, you have to be in the appropriate attire. 
In order to visit the Grand Palace, you should dress modestly. While exploring the palace, you will get to see spiked pagodas with styled roofs and exquisite decor that is certainly a treat to eyes for all the architecture admirers.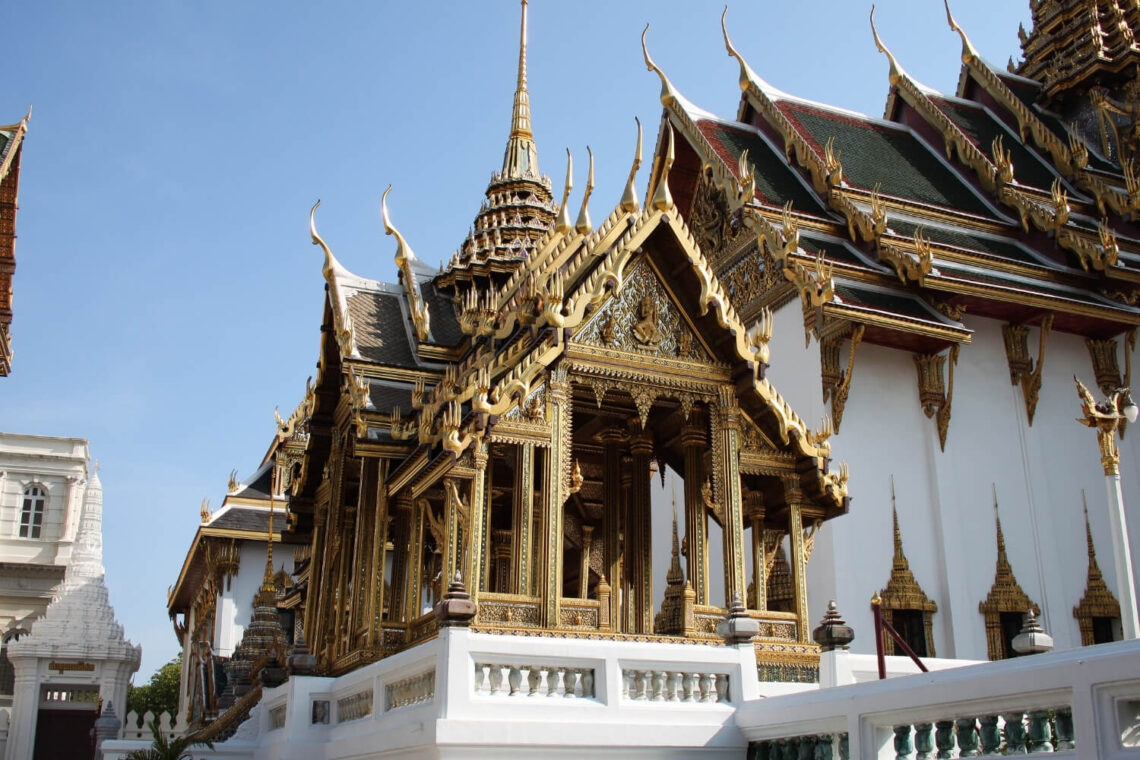 Wonder at Wat Pho
Just a short walking distance away from the Grand Palace, there is located this another sacred site, known as Wat Pho. It is another attraction which is amongst those top tourist places to visit on this 4 days itinerary in Bangkok. Wat Pho is famous for housing a towering statue of Lord Buddha which is 15 meters high and 45 metres long. Because of the statue, the place is also referred to as the temple of reclining Buddha. 
Along with that, it is also famous for its massage school. This means you can get a massage to rejuvenate yourself from one of the traditional medical schools in Bangkok which is located in the Wat Pho complex.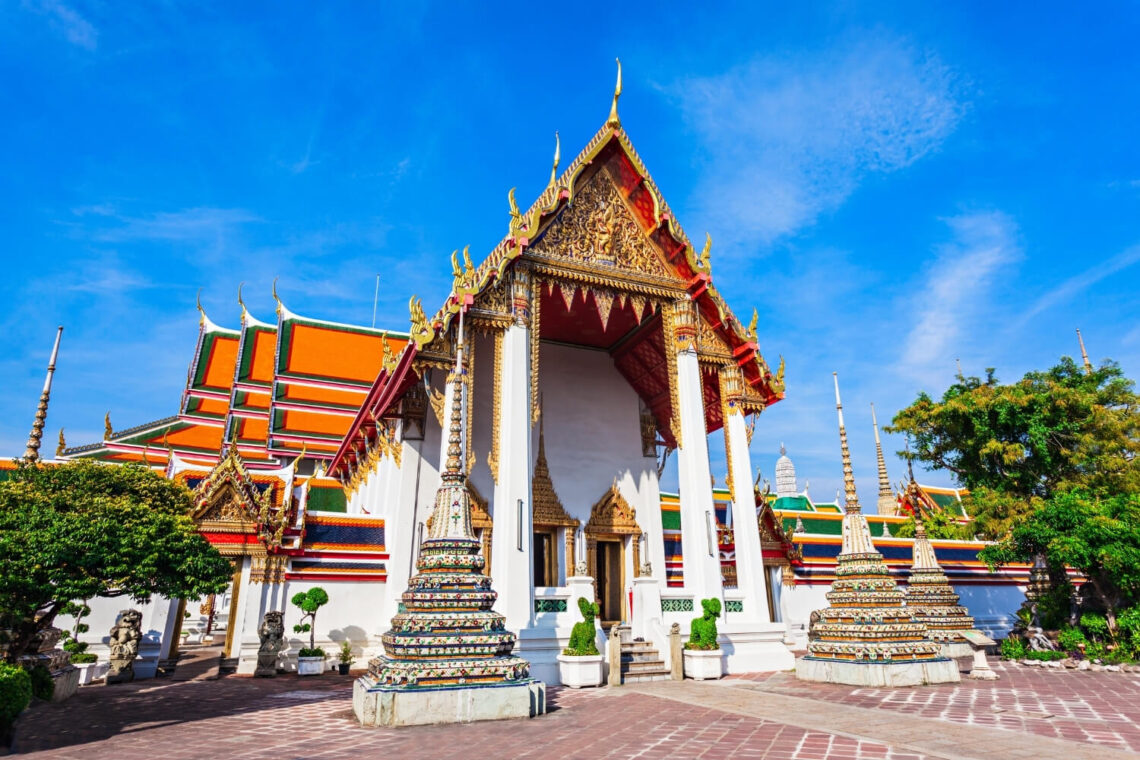 Marvel at Wat Arun
Let's keep the first day of Bangkok 4 days itinerary full of just the religious tours of Bangkok, and with that the next stop that you should visit is the Wat Arun temple. Often touted as the "Temple of Dawn", Wat Arun is located 260 ft above the River Chao Phraya. 
Apart from a religious tour, you can also enjoy some astonishing views from this temple. It is highly recommended to visit this place during the sunset time as you will get the chance to capture some stunning sights in your camera lens. Not just this, you can also savour in the views across the river to Grand Palace and even beyond that. However, in order to reach the temple, you have to ascend the narrow steps. The temple operates from 9 in the morning to 5:30 in the evening.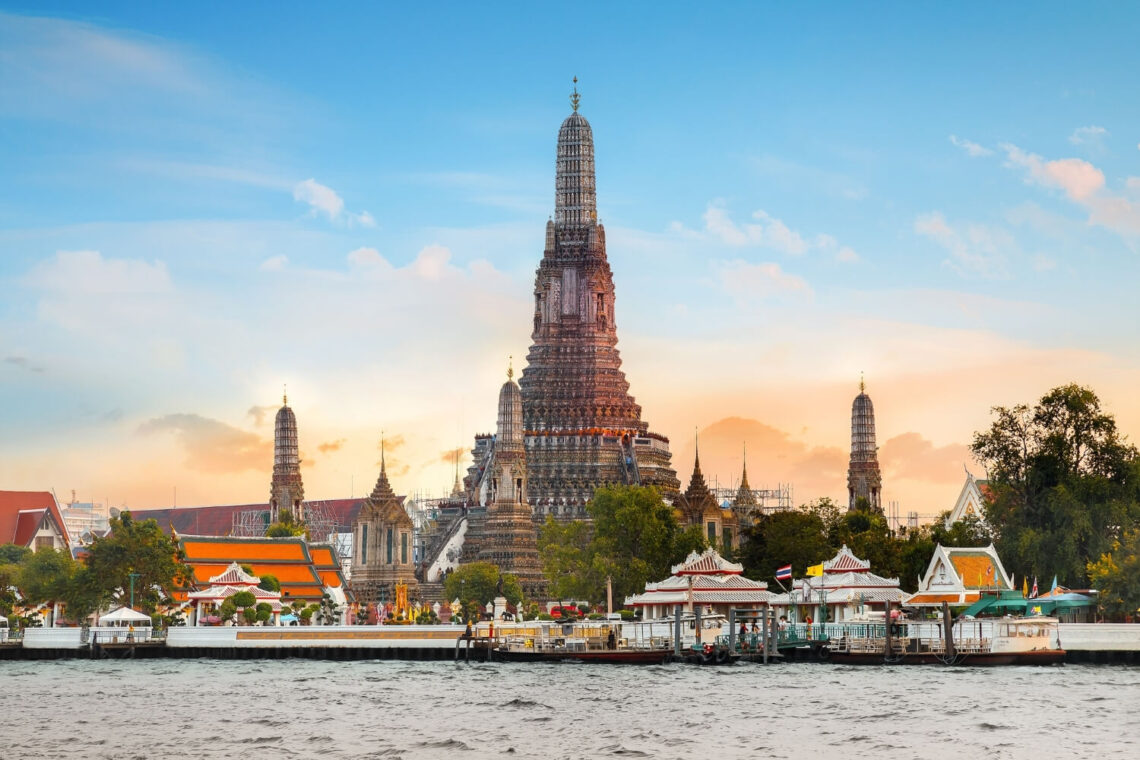 Wander around Wat Phra Kaew
Each of Bangkok's temples has something unique and so does the Wat Phra Kaew. It's the stunning architecture of the temple that attracts a huge footfall of tourists every day. Hence, Wat Phra Kaew temple has to be on your Bangkok itinerary. The remarkable architecture of the temple beautifully depicts the country's heritage. The temple is located within the complex of the Grand Palace. Also, do you know that it is one of the highly sacred Buddhist temples in Bangkok? 
This sacred site also houses an image of Emerald Buddha which is exquisitely created from a single jade block. Considering the popularity of the temple, no vacation to Bangkok is completed without Wat Phra Kaew.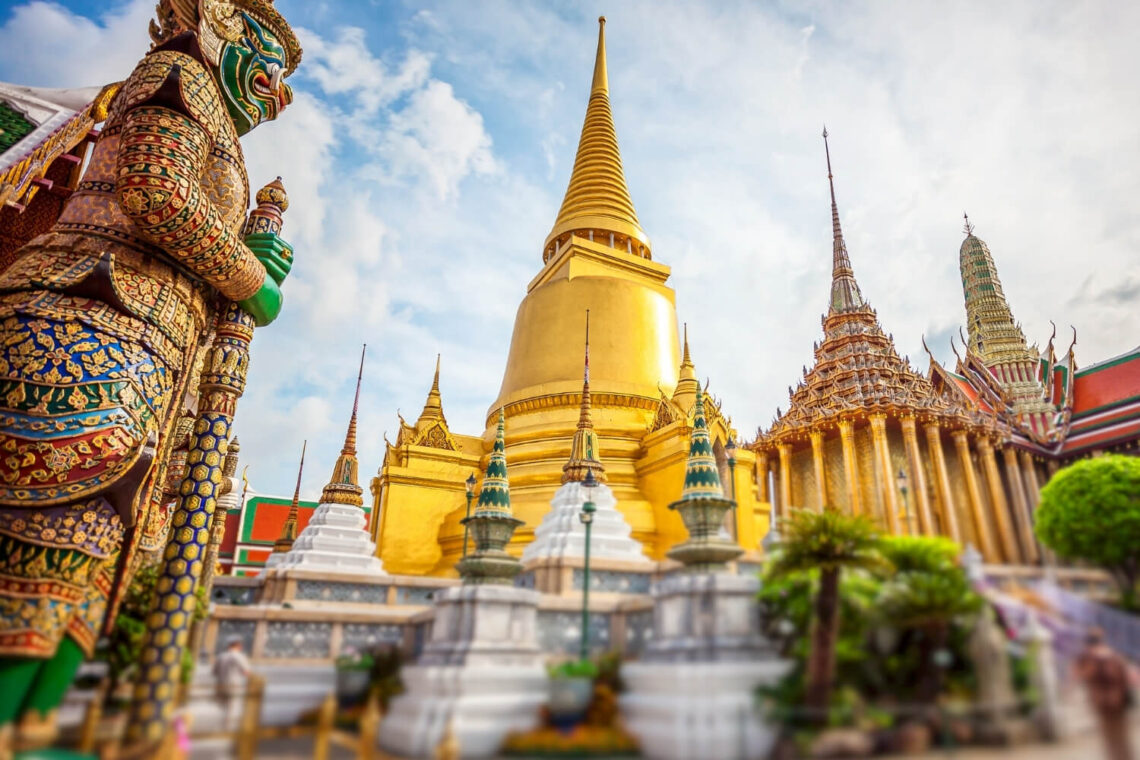 Round the Day Off with a Chao Phraya River Cruise
There couldn't be a better way to sign off your day 1 of Bangkok 4 day itinerary than enjoying a Chao Phraya River Cruise. Just to let you know, Chao Phraya River is the major stream in Thailand. Not just this, the river also serves as the transportation route where both cruises and ferries are operated on a daily basis to transport the general public. The best thing about the cruise ride here is that you can enjoy the sights of the skyline in Bangkok. 
Cruising in Bangkok in the Chao Praya Express is more like a sightseeing tour, however, in a unique way. Once done with the cruise, you can also spend some time at a cafe located on the riverfront of Chao Phraya.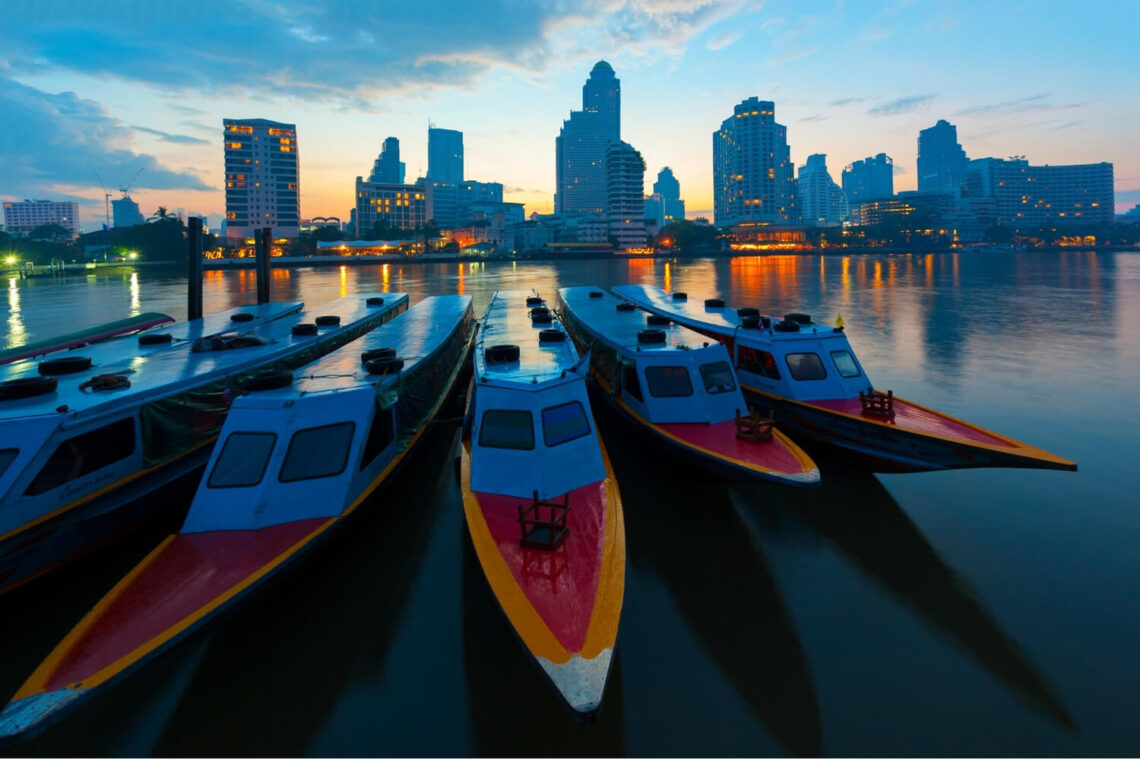 Day 2 in Bangkok
Tour the Jim Thompson House
Jim Thompson House is undoubtedly one of the best places to visit in Bangkok in 4 days. Just to let you know, Jim Thompson was an American who revived the Thai silk industry back in the 1950s and 60s. 
This is his house which was built in 1959. Today, it serves as a museum for the general public that houses a rich collection of his work of antiques and fine arts. With some amazing exhibits on display, this museum is known as one of the top tourist attractions in the city. 
The museum operates until 6:00 PM and the ticket would cost you somewhere around 200 baht.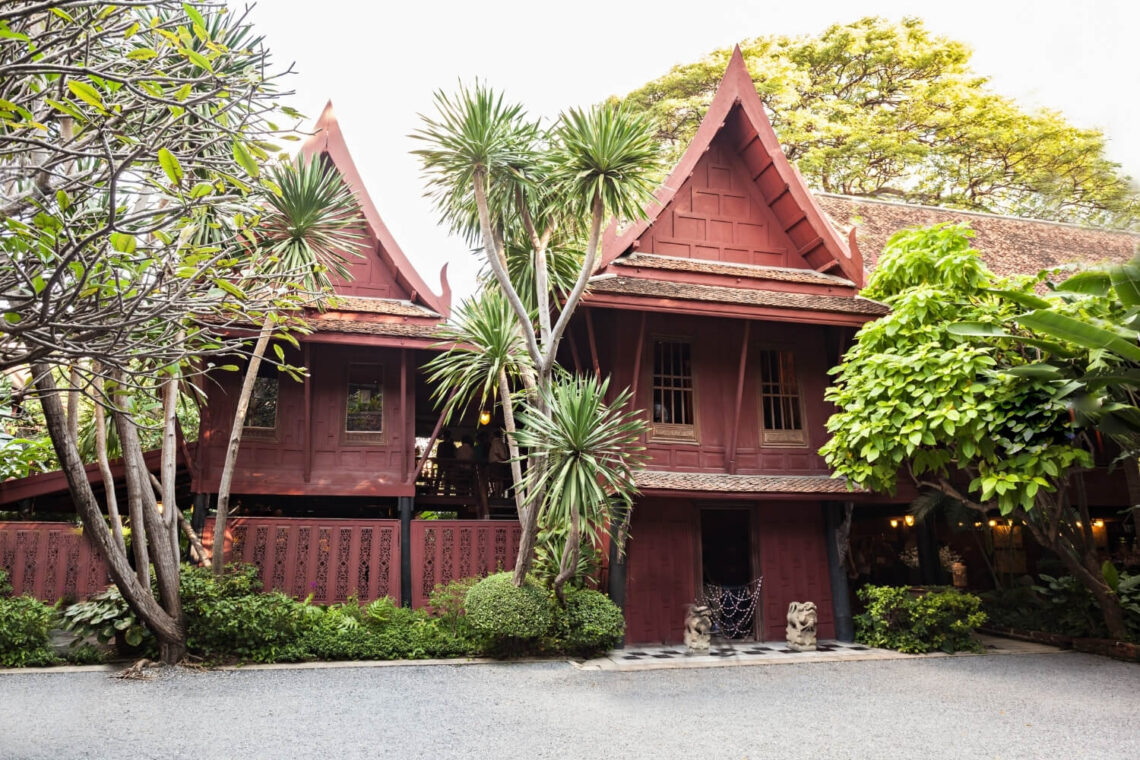 Admire the Boats at the Royal Barge Museum
Another interesting place to visit on your Bangkok trip is the Royal Barge Museum. It is located inside a canal across the Chao Phraya River. At this museum, you can expect to discover 8 of Thailand's most prestigious and stunning vessels, known as Royal Barges. 
Today; these boats are not used for transportation purposes. Instead, they are reserved for special ceremonies as well as state occasions. The construction of these barges is what makes them unique and interesting. They are created using huge pieces of teak. Along with that, the prows of the barges are also engraved with different mythical creatures. And to give them a finishing touch, the barges are painted in gold and decorated intricately with pieces of glass. 
Visiting the Royal Barge Museum will definitely give you a chance to dive into the history of Thailand. 
Party at Soi Cowboy
Soi Cowboy is probably one of the vibrant nightlife districts in the city of Bangkok. Not just this, it is one of the most-visited attractions in the city. Though it is a short street, yet it offers an abundance of glitz and glamour. It is, however, not very suitable for those visiting Bangkok as a family. 
The street is dotted with a number of bars and clubs dotted where you can enjoy an ultimate night time. The best thing about the bars and clubs is that they offer beer and alcohol at cheap prices.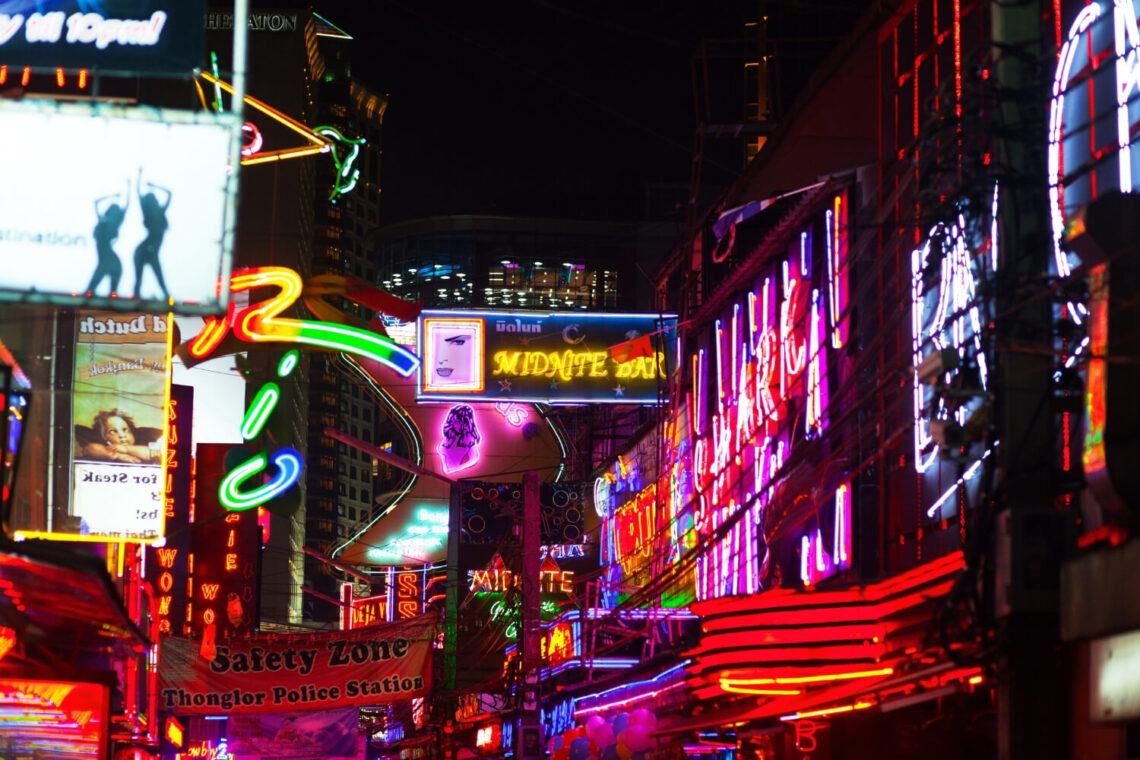 Day 3 in Bangkok
Visit the Floating Market of Bangkok
If you are on a 4-day tour to Bangkok, you just cannot afford to miss the Floating Market. It is a crowd puller attraction. Here at this market, you can capture the sights of shopkeepers selling fruits and vegetables (all organic) in a unique and different style. 
As the names of the market itself tell you, the shopkeepers are known to sell their products on a boat. Not just this, there are also fast food vendors that sell their dishes on the go. 
Just to let you know, the Saduak Floating Market is located in the periphery of Bangkok in Damnoen Saduak in Ratchaburi Province. Therefore, you have to devote at least a half-day to this place. 
I would say the best time to explore this market is morning time. And since the market opens from 7:00 AM to 9:00 PM, you can easily be here early in the morning and then can head back downtown by the afternoon.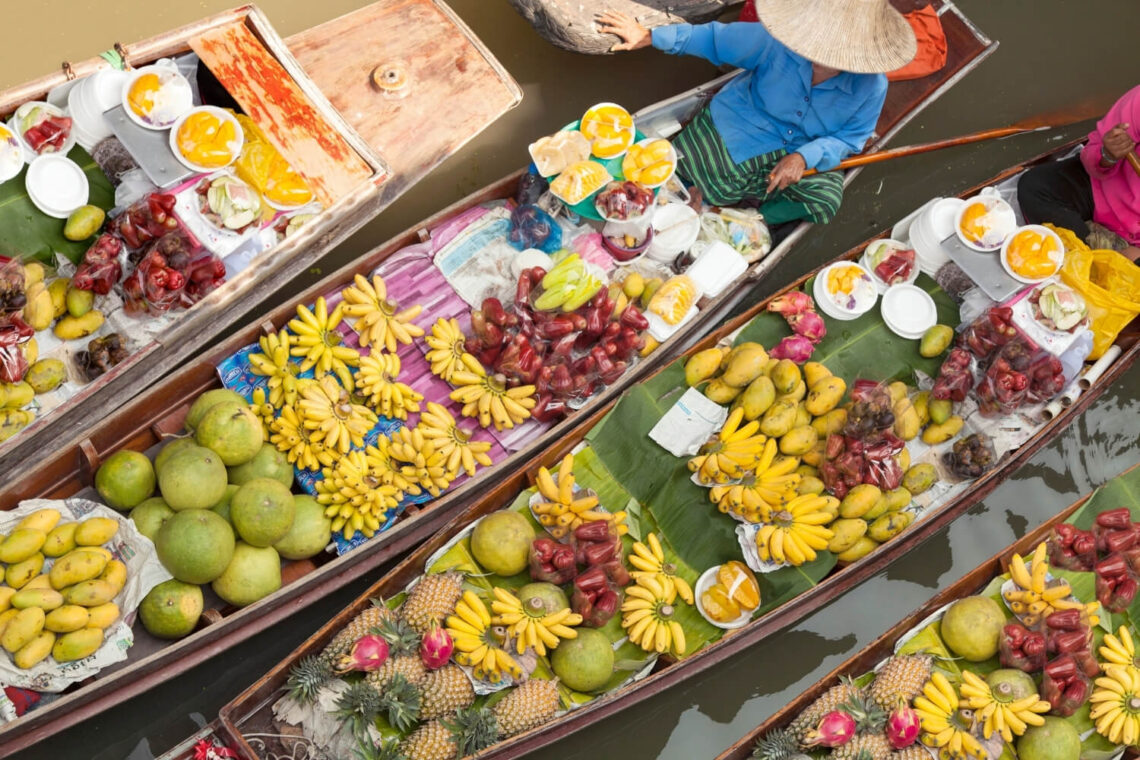 Soak up the Culture on Khao San Road
If you don't have to relax at a cafe, then you would certainly love to explore the Khao San Road which is located at a walking distance from Chao Phraya River. The place is known as the shopping hub for both tourists as well as locals. 
For a fact, it is also a hotspot for cheap accommodation. On a shopping tour at this night market, you can expect to find a wide sort of products ranging from shorts, souvenirs, clothes, bags to sunglasses. 
Along with a shopping tour, here at Khao San Road, you can also enjoy a food tour to relish in the amazing Thai cuisine. However, I would suggest not to miss the famous Pad Thai. It's the national dish of Thailand. Also, the fried banana pancake is another thing that you should enjoy while on a food tour here.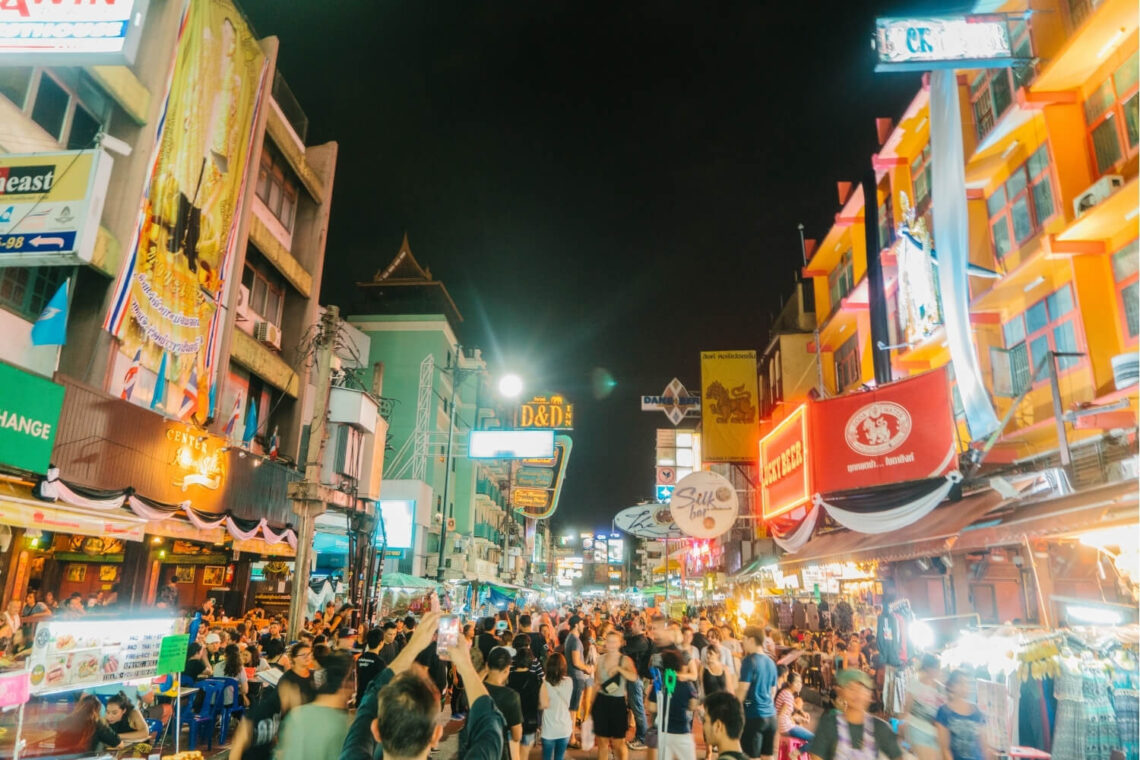 Day 4 in Bangkok
Tour the Bangkok Safari World
Bangkok also claims to house the largest open zoo in the world. Indulging in the safari experience at this place is indeed one of the best things to do in Bangkok. However, the wildlife experience is divided into two parts – Marine Park and Safari Park. 
With an African wilderness setting, the Safari World offers an ultimate safari experience. If we talk about the major attractions, there are Jungle Cruise, Eggs World, Orangutan Boxing Show, CDV War, and Bollywood Cowboy Stunt Show. 
In Marine Park, there is a wide variety of marine animals. In the park, you can see birds and dolphins. There are also trained animals that put up a great entertainment show. 
Relax in Lumphini Park
To enjoy some time filled with 'nothingness', Lumphini Park is one of the best places to visit on your 4 day Bangkok itinerary. Located amidst the towering skyscrapers, this green oasis is indeed a hideout for all the nature lovers. 
The park sprawls over a vast area of half a million square meters. Here, you can expect to see rich flora and fauna including the water monitor lizard. Besides, you can also enjoy some recreational activities such as paddle boating and rowing. Along with that, there is also a fun gym located within the park complex. Ensuring your time at Lumphini Park to be impeccable, there are street food vendors selling some delectable Thai food. 
Round off the Trip at the Chatuchak Weekend Market
Chatuchak Weekend Market is one of the most popular tourist landmarks in the city of Bangkok. However, it is only observed on Saturday and Sunday. So, if you're spending the weekend on your 4 days itinerary in Bangkok, make sure to add this market on the list of places to visit in the capital city of Thailand. 
The market sprawls over 27 acres of area and is known to have more than 15000 booths. Here at this market, you can find all sorts of goods ranging from clothes to artwork to kitchenware to souvenirs. 
Before You Leave for Bangkok
Before you set off on your trip of a lifetime to Thailand, there are a few things you will need to get sorted out for a stress-free and enjoyable trip. These include what to pack, what visa to get, what insurance is best and where to stay. These are all discussed below.
What is the Best Travel Insurance For Bangkok
As you would do when you are travelling to any country, it is important to make sure you have travel insurance before leaving for Thailand. Medical bills are expensive and it's not worth forking out the money for any accidents that may happen.
We recommend using World Nomads Travel Insurance for the best and cheapest coverage, as they offer a huge range of cover, fantastic customer support and all at a very reasonable price. Always make sure that you are covered for all of the activities you will want to take part in whilst you are away.
You can get your quote before you leave on your trip right here.
What to Pack for Bangkok?
Bangkok is blessed with tropical, scorching weather year-round. This means there are three seasons: a hot season (March-June), the wet season (July-October) and cool season (November-February). The temperature during these seasons remains above 26oC and humidity averages around 78%. Due to this, we would recommend that you pack light clothing and a light waterproof. Lucky for you, this makes packing a lot easier and your luggage a lot lighter.
Check out our Summer Packing List for Women and Summer Packing List for Men for some clothing inspiration for your trip to paradise.
When it comes to sun protection in Thailand, it is a lot more expensive to buy it when you arrive. We, therefore, recommend packing as much sunscreen as you can before you leave for Bangkok.
You definitely don't want to forget your camera when you are travelling to Bangkok. No matter where we go in the world, we always ensure our camera bag is fully topped up.
If you would like to know more about what is in our camera bag, click right here.
Where to Stay in Bangkok
Bangkok is a huge city and
the best area to stay
in depends on what you want to visit. Here is a list of our favorite hotels.
Luxury – Grand Hyatt Erawan Bangkok is the ultimate 5-star hotel located in the downtown region of Bangkok. With a swimming pool and a gym, this modern-looking hotel is perfect and reasonably priced for your stay in Bangkok.
Book your stay at Grand Hyatt Erawan Bangkok here.
Mid-range – Evergreen Place Siam by UHG is a great place to stay in Bangkok. The air-conditioned rooms each come with a dining area, an electric kettle and private balcony offering city views. There is also an outdoor pool and free wifi.
Book your stay at Evergreen Place Siam by UHG here.
Budget – Laksameenarai Guesthouse is the perfect place to stay on a budget trip to Bangkok. A great location and excellent value for an air-conditioned room with free wifi.
Book your stay at Laksameenarai Guesthouse here.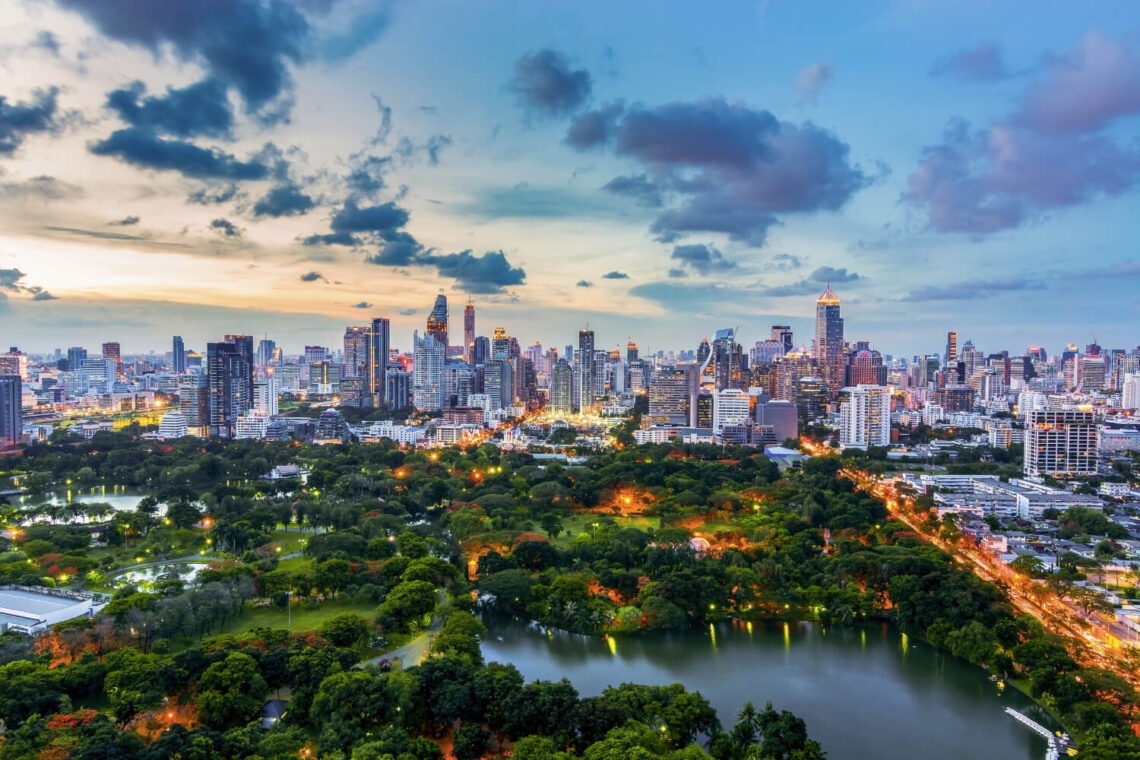 So there you have it, your complete 4 day Bangkok itinerary. If you have visited Thailand before, let us know what you thought of the sights listed above, or if you have any suggestions let us know in the comments below.
As always, sharing is caring so make sure to share this photo guide with your family and friends and inspire them to head off on their own Thailand adventure one day. If you are planning the trip for yourself, make sure you have a look at the rest of our Thailand content for more inspiration.
When you set off on your own adventure, be sure to tag us in your photos on Instagram and we will share them with the rest of our community. In the meantime, why not follow us over there to see what we are currently up to and keep up with us on our Instagram Stories.
Now Read:
This article may contain affiliate links that provide us with a small income. For more information read our Affiliate page.
---
Pin this image to your Thailand Pinterest board for later