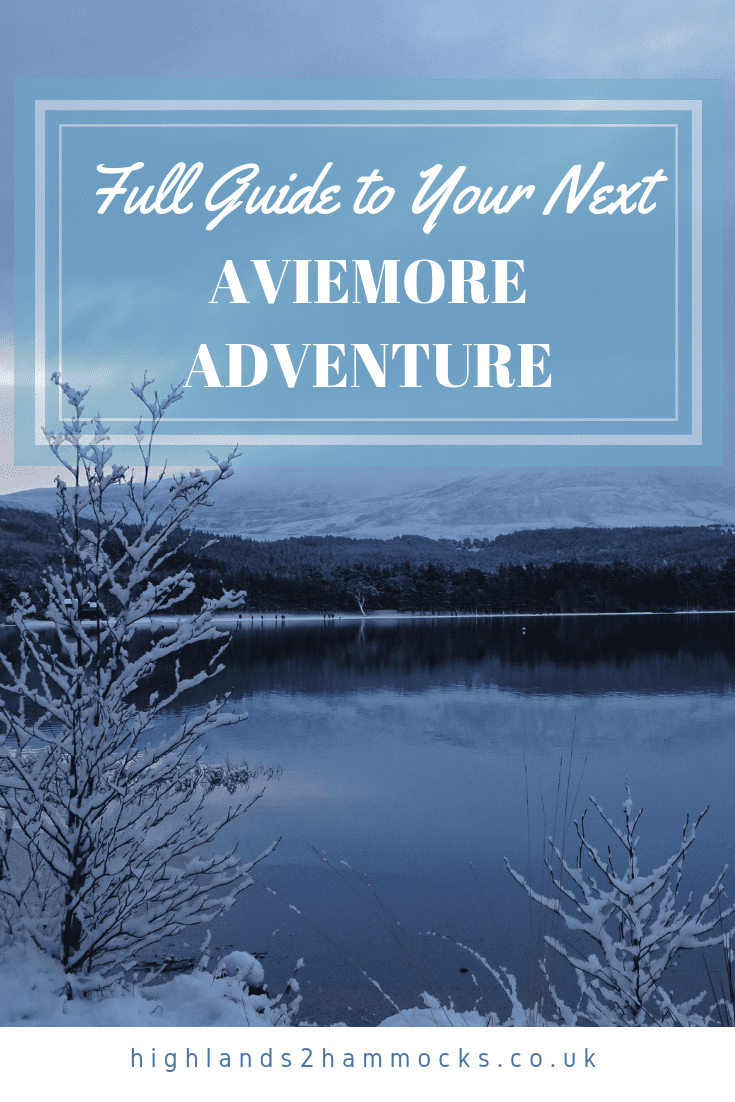 Situated just south of Inverness (home to the famous Loch Ness Monster) lies the small, yet rapidly expanding town of Aviemore. Due to fantastic investments in outdoor activities and accommodation, this once tiny town has become a major tourist hotspot in recent years. No matter what the season or weather is you will always find something to entertain yourself with in Aviemore.
Join us on a day on the hills in Aviemore! Make sure you subscribe to our Youtube channel for more videos!
Since I was a child, Aviemore was a yearly holiday for my family. Every Christmas and most Easter's we would head up north, either pulling our caravan or bringing our tent for a week or even a weekend break from the city. This town became a second home to us and even now, 15 years later, I remember some of the best holidays I could have had as a kid.
This Christmas we plan on heading up to our favourite northern town for the last time before we leave on our world travels next summer. It also provides the perfect excuse to write this blog for anyone wishing to join us in one of the most up and coming tourist attractions in Scotland.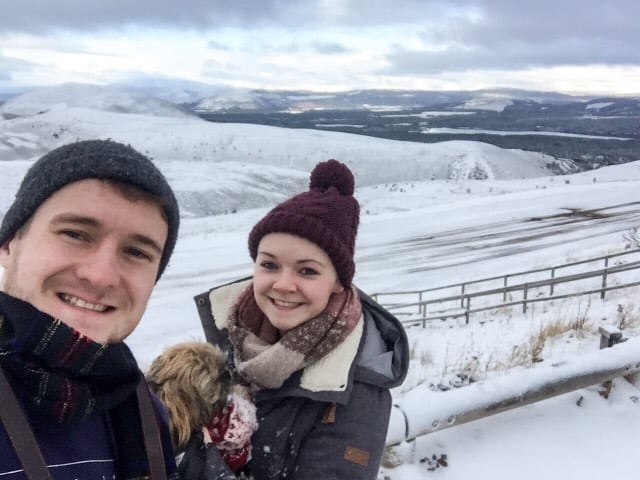 Best Accommodation in Aviemore
No matter what your budget or taste for luxury is, you will find the perfect place to rest your head in this town.
Hotels
For those who demand a bit of luxury, there are a number of hotels spread across the town. Here are a select few based on places I have seen and been to myself.
In the town centre you have the Cairngorm hotel, usually sitting at £60 per night for a room. This place is a favourite of mine for the cosy pub that sits beneath it and the amazing food the restaurant has to offer.
Other than this is the Macdonald Morlich hotel, which sits a 10-minute walk from the high street in its own developing area. Near this hotel lies a tourist/shopping centre, a cinema and a swimming pool. Prices for this hotel usually go for around £100 per night.
My favourite location for a hotel lies at the south entrance to Aviemore, the Highrange Motel. Rooms for this hotel are around £50 per night, and nearby this hotel is my favourite Italian restaurant in the world. Nearby also sits the cosy Old Bridge Inn bar and restaurant, perfect to heat yourself up after a day on the hills.
Outside of Aviemore lies one more hotel that I would recommend. The Coylumbridge Hilton hotel sits about a 15-minute drive from the Highrange hotel and sits in its own park, containing multiple bars, play areas and activities for kids and adults alike. The hotel itself has a cosy downstairs bar with an open fire and a small swimming pool. Rooms at this hotel often go for £50 per night.
In addition to this there are plans to build a new chain hotel on the main road through Aviemore, so keep an eye out for this development!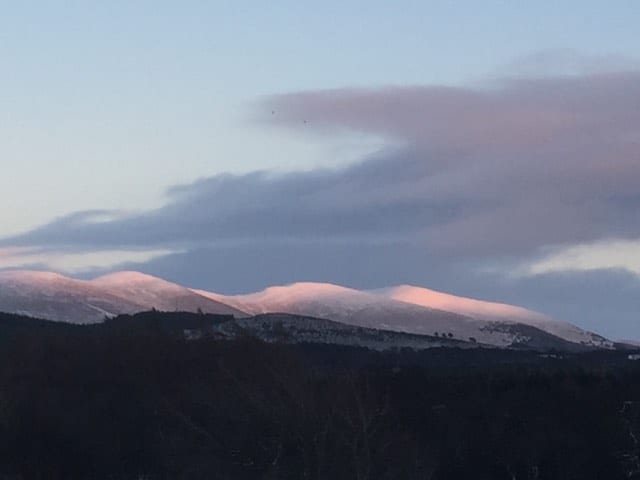 Hostels
For the slightly more adventurous and sociable visitors there are a one or two good hostels to stay in. If you have never used a hostel before or want some help choosing the best one for you then read our Ultimate Guide to Hostels.
Just on the outskirts of town sits the Bunkhouse hostel. This family friendly accommodation sits right beside the Old Bridge Inn pub, which has a cosy, open fire and fantastic restaurant (booking required). Dorm beds here go for £22per night and doubles for £50per night.
Slightly more towards the town centre sits the Aviemore Youth Hostel, a classic hostel with good views of the Cairngorm Mountains and large social lounge. Prices for dorms here are £19per night.
Cabins
A type of accommodation that I have never used in Aviemore is cabin rental. Ideal for large parties or families, log cabins and static caravans can be found around the outskirts of Aviemore and further out towards the Cairngorm Mountains. With prices ranging from £70-120 and amenities such as mountain-view hot tubs and full kitchen setups, these are perfect for a weekend trip away or celebrations such as Stag and Hen dos! Book your stay here.
Camping
With all these other options, my favourite types of accommodation still have to be either tent camping or caravanning, and in Aviemore there are two sites in particular I have to recommend. Check out our Glamping on a Budget guide for our packing list to make any cheap camping trip luxurious!
When I was younger, we would frequent two different campsites depending on the time of year. During the snowy, winter months we would pitch up at the Rothiemurchus caravan site, where we would spend hours playing amongst the trees or walking the nature trails around the ancient Rothiemurchus forest.
During the summer months we would stay on the Glenmore campsite, situated on the banks of Loch Morlich. Here you can do a number of different water or land sports, depending on your preference! The beach has a spectacular view of the Cairngorm Mountains and is perfect for a late night campfire (although these aren't strictly allowed so you will have to walk around the loch a bit to hide and do so responsibly!).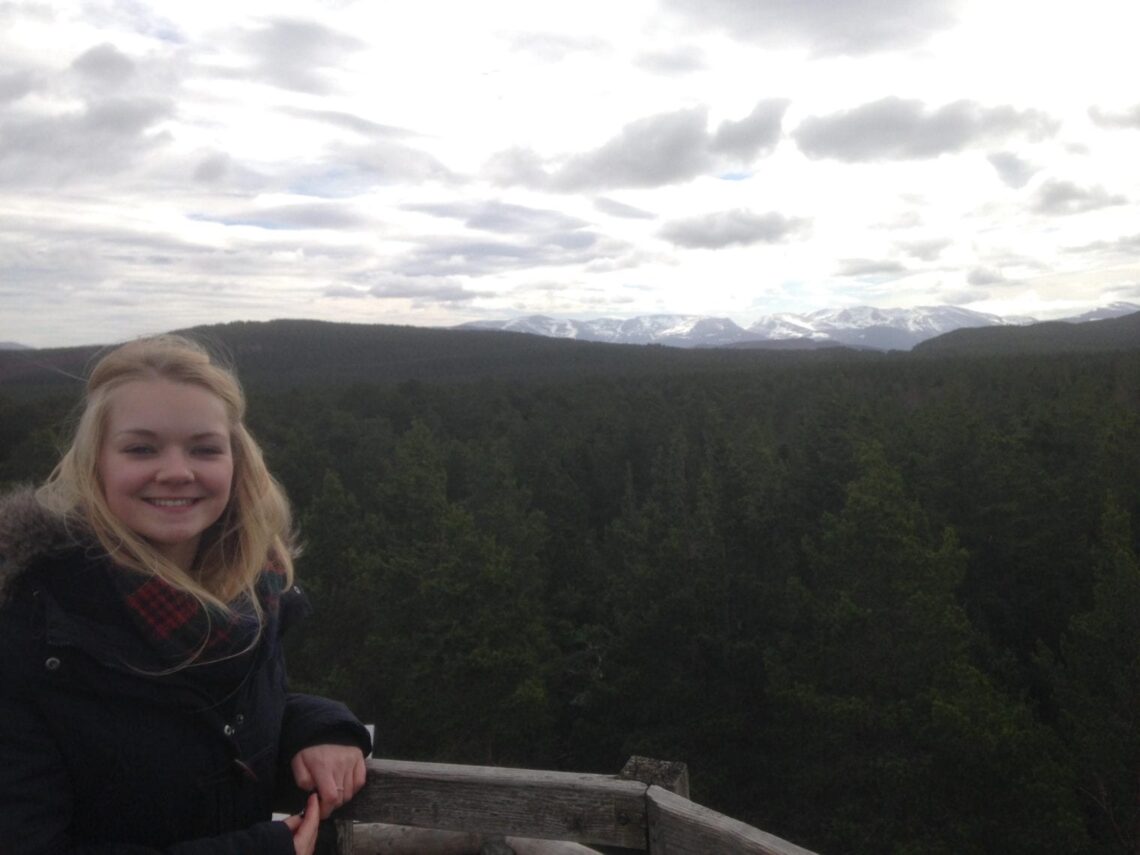 Activities in Aviemore
As I said, Aviemore is growing ever more popular because of the insane number of activities it has to offer! No matter what the weather is doing, or whether you are an adrenaline junkie or a relaxed shopper, you will find something to keep you busy!
Winter Activities
One of the first activities Aviemore had to offer was easy access to the Cairngorm Mountains, where on average snowfalls for 76 days of the year. The best months to catch some skiing action are between January and April, with the snow sometimes stretching into May if you are lucky! You can get a day pass for the slopes for £36, with equipment rental from around £20.
If you are not into your winter sports then hiking the Cairngorm Mountain is another option, just make sure you pack appropriate clothing as Scottish weather is famous for catching out the unprepared! A funicular railway also takes you to the top of the slope, where on a sunny day the views are incredible!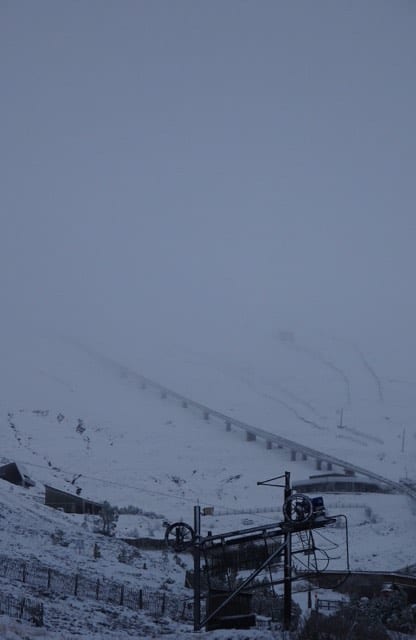 My favourite way to pass a cold, winter day is to buy a cheap sled, find a steep hill and pretend I'm 5 years old again. This followed by a warm pub and a hot drink is a perfect day out!
One special event that takes place every year (usually around January) is the Aviemore husky dog races. On this weekend, hundreds of families and their huskies gather at Aviemore and compete in sled races (either on snow or on wheels depending on the weather).
If you are an animal lover then this is a must-see event as you will get to see these beautiful dogs in their most natural state, working as a team and pulling a sled, excited cries and barks of these descendants of wolves echoing through the forests.
Summer Activities
During the warmer months when the snow has cleared from the mountain tops, the bustle of activity around Aviemore does anything but slow down. Cyclists come in their thousands to enjoy the flat, relaxing rides through the forests, and the adrenaline-boosting twists and jumps down the mountainside. Water sports return to the loch, offering kayaking and canoeing, windsurfing, sailing and of course a leisurely dip or swim.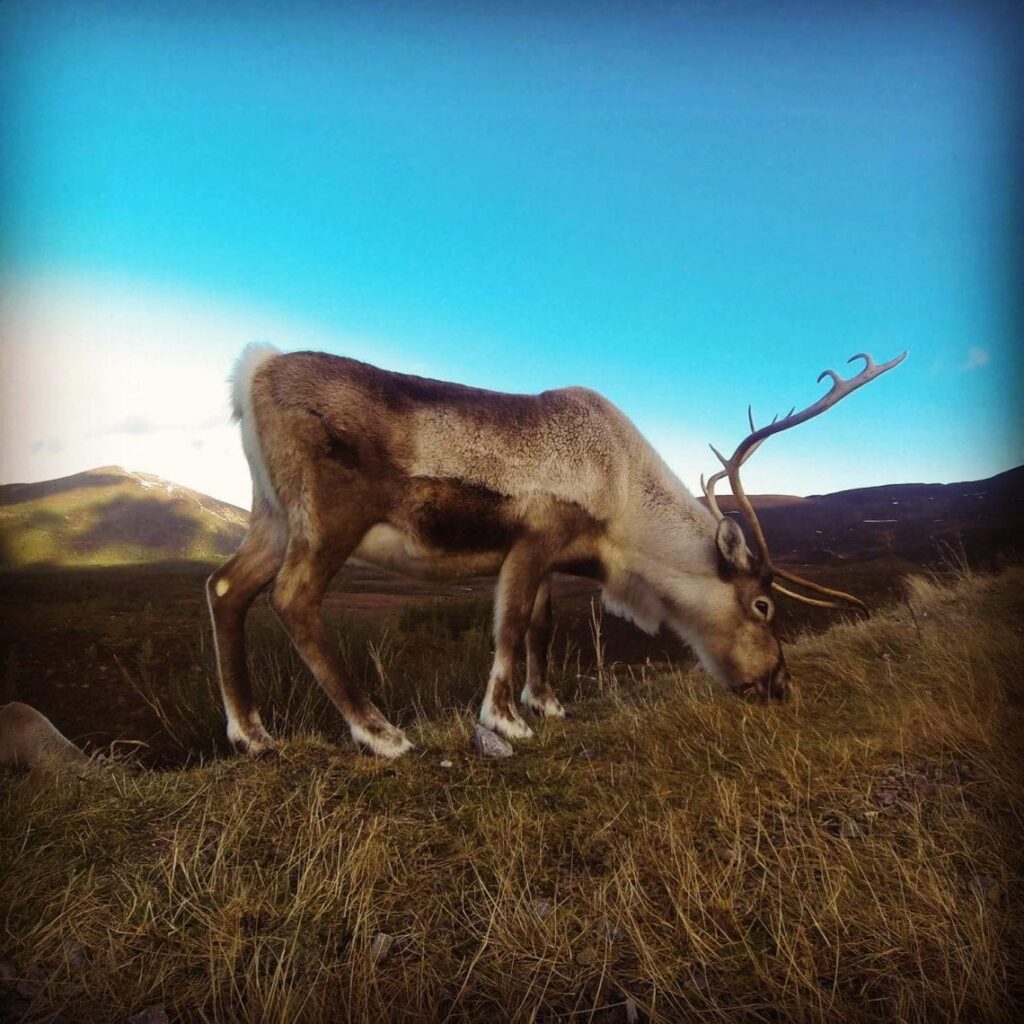 A main attraction in this part of the world is the Landmark outdoor adventure park. This is the perfect day out for people of all ages, offering rides (closed during winter as they was water based), treetop obstacle courses, nature walks, fun games and activities for children and spectacular views over the Rothiemurchus forest.
My favourite activity is bagging the wide choice of Munros available in the local vicinity of Aviemore. Again if you are heading up onto the hills, make sure you pack more layers than you think you will need and let someone know where you are going and when you expect to get back! If you are lucky (or unlucky..) you will get to experience Scotland's famous 4 season day, with sun turning to snow in seconds.
Restaurants and Takeaways
In order to cater to the thousands of tourists that flock to Aviemore every year, there is a wide choice of fantastic restaurants, cafes and fast food shops available. My favourites tend to be on the south side of town as that is where I usually rest my head for the night including La Taverna, arguably the best Italian I have ever been to! This cosy, cheap and family-friendly restaurant sit just on the outskirts of town, or if you are staying at the High Range campsite it's a 30-second walk from your bed!
Another favourite is the Cairngorm Hotel restaurant, where I tasted the most amazing haggis fritters! This sits closer to the centre of town and is a bit pricier (maybe £20 for two courses and a drink).
One more place I would recommend based on hearsay (I haven't actually eaten there myself due to lack of availability) is the Old Bridge Inn restaurant. Located a 5-minute walk from the High Range campsite, this cosy pub/restaurant has everything you could possibly need after a day outdoors! Warm, cosy atmosphere, open fire, and incredible food make this place a very popular spot, so make sure you book a table if you want to eat!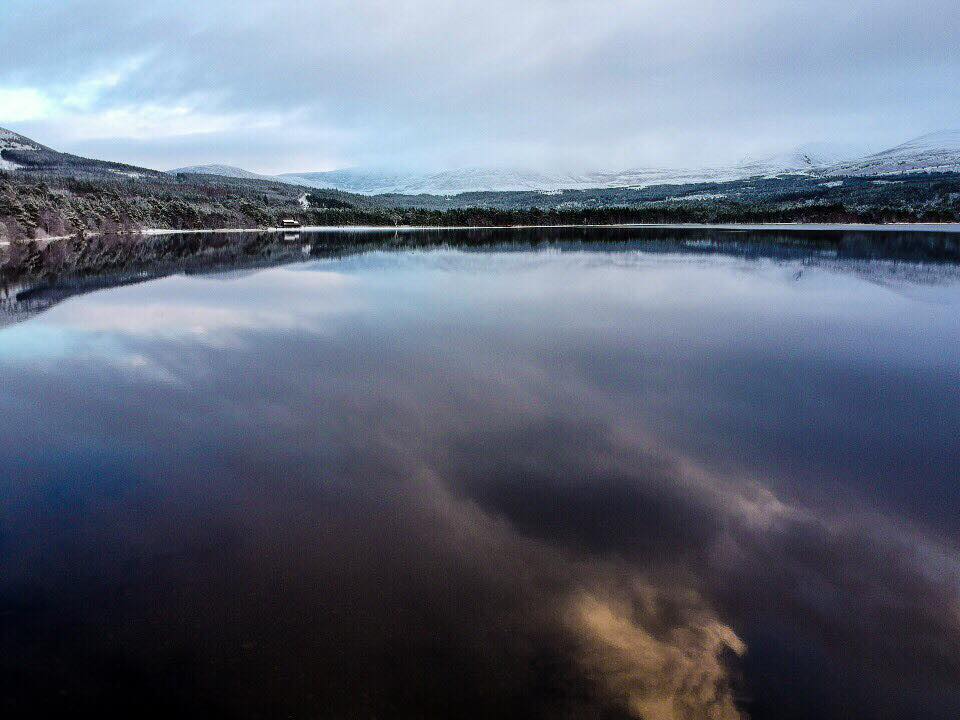 Nightlife and Bars
What was once a quiet, hikers town has now become a main tourist hotspot for everyone from adrenaline junkies to stag and hen dos. The nightlife scene has therefore also exploded, with bars all over town as well as two night clubs! Café Mambo and The Vault both sit in the Aviemore town centre and are open till the small hours of the morning.
For bars, my favourites are the Old Bridge Inn, the Winking Owl and the Woodshed Bar. None of the above are fancy, gin bars that you would find in London but they all have a quaintness to them with wooden, countryside effect and friendly atmospheres.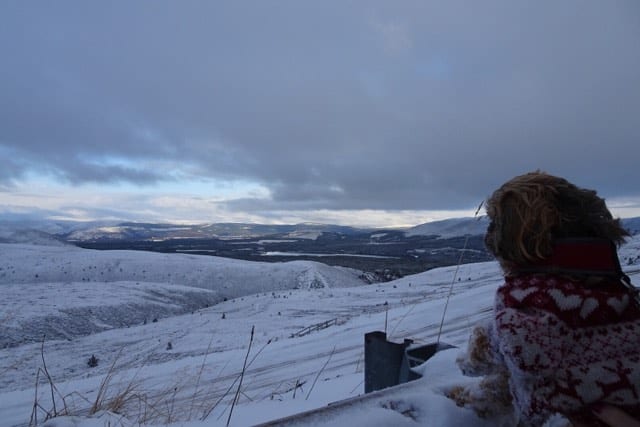 If you enjoyed reading this check out our other blogs on our beautiful home country, Scotland! Also sign up to our emailing list so you never miss a post.
Don't just take our word for it, however! Check out all of our videos on this incredible part of the world below!
Read Now:
This article may contain affiliate links that provide us with a small income. For more information read our Affiliate page.
---
Pin it for later!