Greenly beach is one of south Australia's hidden gems and is definitely a must visit on your eyre peninsula itinerary. This golden sandy beach is popular for swimming and paddling. The waves can reach up to 1m high, therefore it is also a favourite amongst those who love to surf. 
Greenly Beach is one of the most incredible places we have visited in Australia. This off the beaten spot is a perfect camp spot and also a great place to enjoy the rockpools and the beach.
No time to read now? No problem. Save a photo to Pinterest to read later.
Greenly Beach, South Australia - WHAT, WHERE and WHY..
What to expect at Greenly Beach?
When you approach Greenly Beach, you can expect an unsealed gravel road leading towards the sea. There are around 20 camp spots overlooking the beach at the top of sand dunes with beach access. The beach is around 600m long of golden sand and is only accessible by foot. You can feel very isolated at Greenly beach as there are no shops, no drinking water and most likely no mobile signal. Although this makes the retreat here even more relaxing. 
The best time to visit Greenly beach is during the warm summer months and when it is low tide.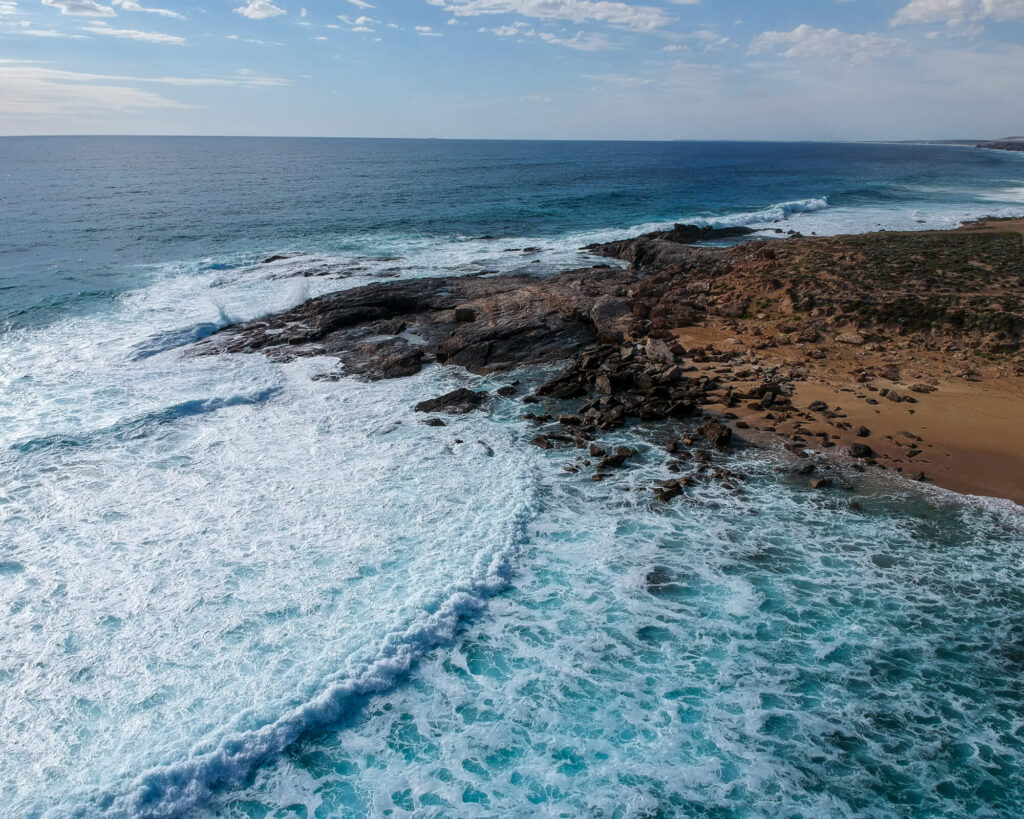 How to get to Greenly Beach?
Located on the Eyre Peninsula, Greenly Beach, is only an hours drive from the more well known destination Port Lincoln
Greenly beach is located on the Eyre Peninsula, a 1 hour drive from Port Lincoln. As with most places in Australia, it can only be accessed by car.
From Port Lincoln, follow the TOD highway, turn left onto a gravel road for 12km, the first 4/5 are bad and after that the road becomes smoother. Turn right when you are in line with Mount Greenly.
If you are heading from the north, follow the coast and turn left
The road past Mount Greenly becomes incredibly bumpy and there are many holes in the road. Be careful with your vehicle when you start to approach the sea.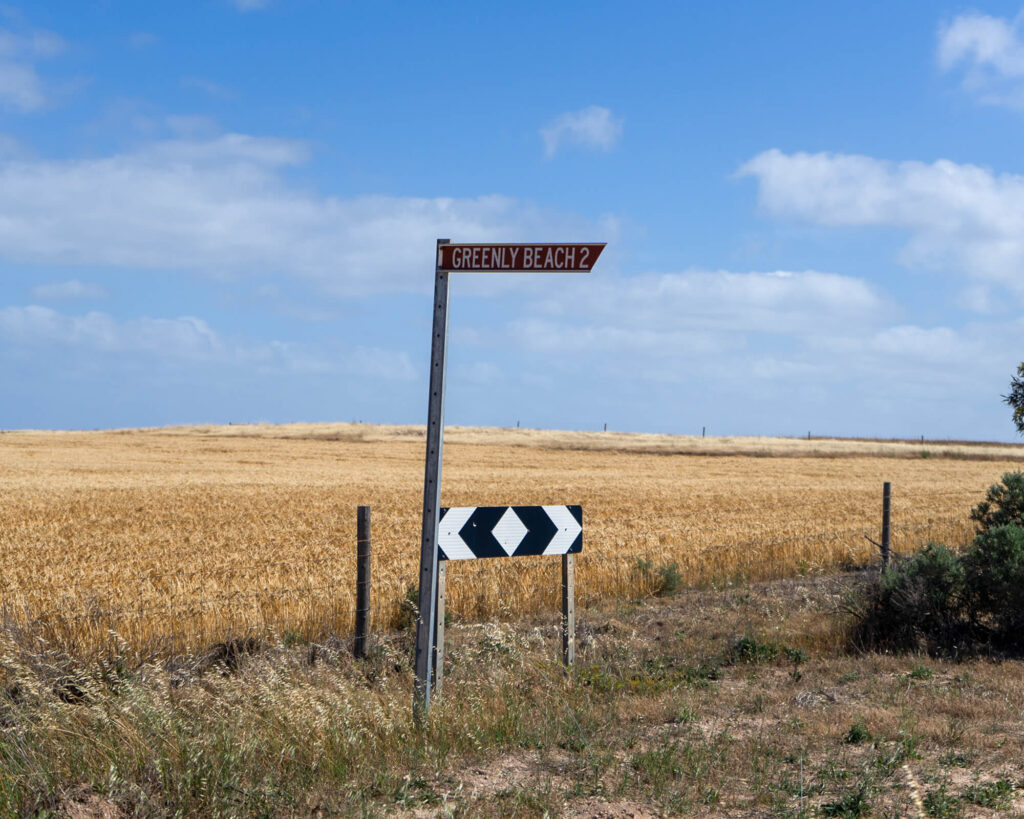 Free camping on Greenly Beach
There are free camping spots at Greenly beach, marked out above the beach with logs. There are plenty of spaces here however this may be busy during the summer months. We would highly recommend spending at least a night here though, enjoying the sunset and parking up overlooking the waves. It really is an incredible experience.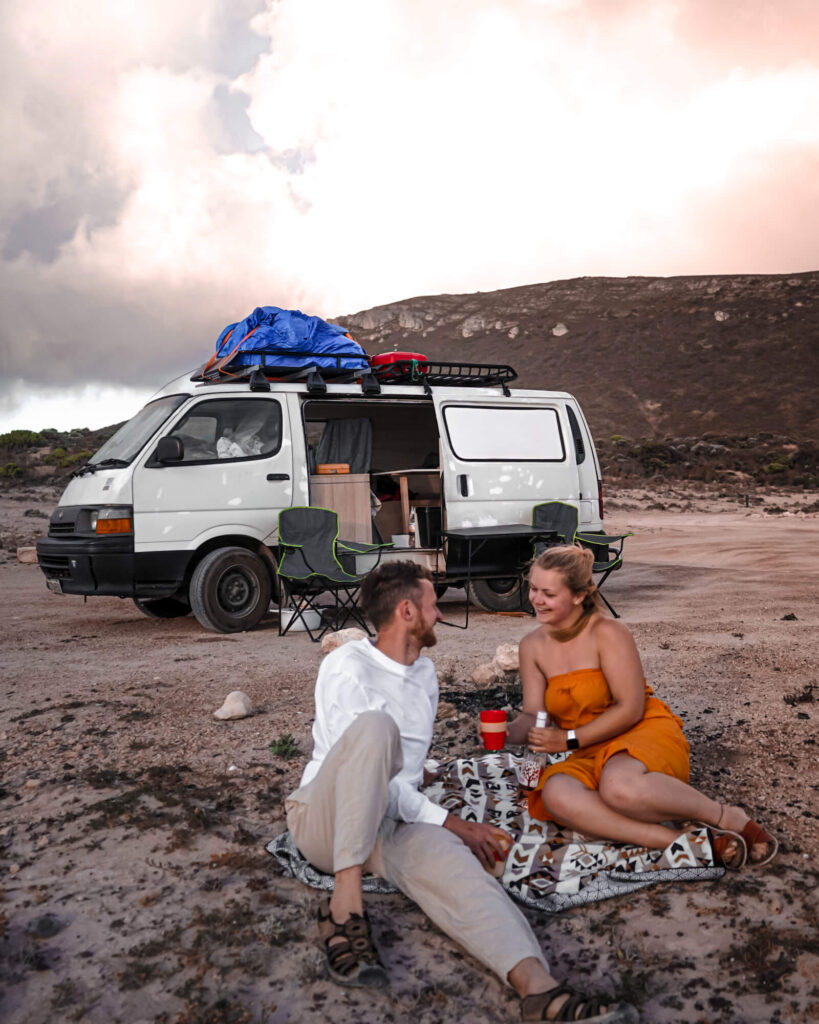 Where are the Greenly Beach rock pools?
On the right hand side of the beach, past the large rocks, you will come across the main Greenly Beach rock pools. This is a popular photo spot, you may have seen on social media or in the South Australia travel guides so once you clamber round the rocks you will recognise it if the tide is low. 
On the right hand side of the beach, there are some other rock pools which are worth checking out. Again, we would advise visiting these at low tide as it can be dangerous when the tide is high and the water is rough.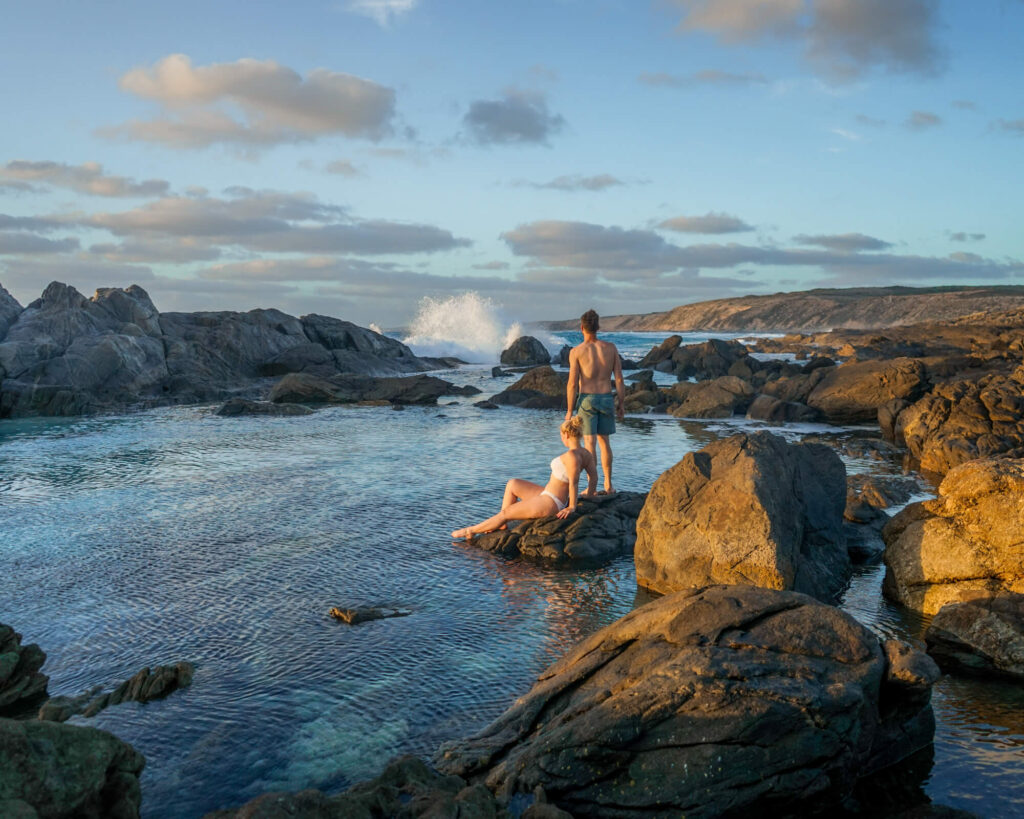 Why you should go to Greenly Beach? 
Greenly Beach is one of the most beautiful places in South Australia. The popular pools and surfing beach are an unmissable visit on your Eyre Peninsula road trip.
Although we say the rock pools are popular, we never found it to be too overcrowded. We visited in Spring though so this may not be in the case during the summer months.
We can also recommend doing the climb up Mount Greenly, there is an incredible view from the top.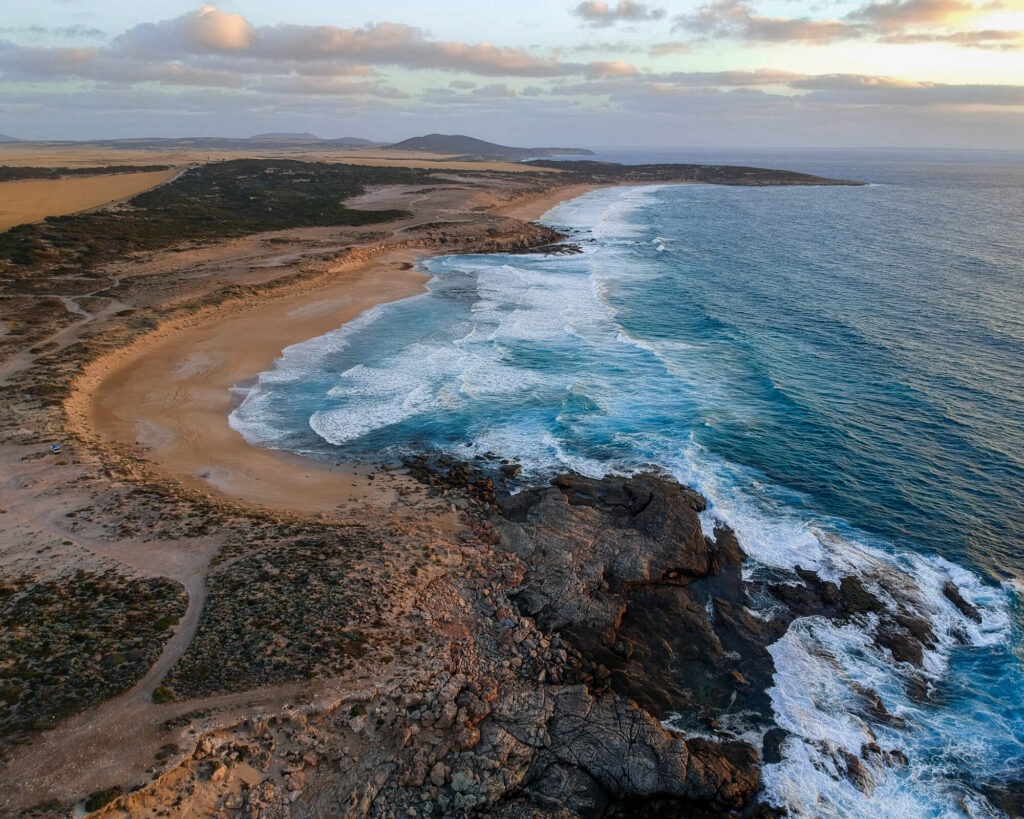 Mount Greenly
Mount Greenly sits on your right as you drive towards Greenly Beach. If you are wanting to climb a hill in the area, then Mount Greenly is one of the only ones you will find.
Mount Greenly sits 305m above sea level and the views from the top look over Greenly Beach.
Follow the dirt track road and when you can't go any further you will reach any area where you can park your car.
There are no signposts on the trail, however you will see a trodden path that you can follow to make your way up the hill.
If you are climbing in summer, please make sure you are aware of the brown snakes that live in amongst the shrubbery on the hill. We would advise to wear long trousers as an extra layer of protection. 
When you get back to the bottom you can cool off in the Greenly Beach rock pools. 
Before You Leave on Your Trip to the Eyre Peninsula
Before you head off on your trip to the Eyre Peninsula, there are a few things to organise to make sure your trip runs as smooth as possible. Applying for your Australian visa, what to pack for your trip and where to stay during your trip to Greenly Beach.
Applying for an Australian Visa
If you have yet to leave for Australia then this is a section of interest for you. There are a LOT of different visa options for people arriving into Australia, from tourist visas to permanent residence visas. The most common visas, however, are the 3-month tourist visa and the Working Holiday Visa.
If you are only visiting Australia for a short period of time then a tourist visa is your best option. These are easily obtained and relatively cheap, costing roughly $140AUD, and allow you to stay in the country for up to 12months. These can be applied for on the government website here.
If you wish to work and travel in Australia, a working holiday visa is your best option. These cost around $480AUD and allow you to stay in Australia for up to 12months, whilst working and earning money to travel. This visa also gives you the opportunity to extend your stay in Australia by up to 24months by working in certain job sectors.
For all of the information you need to know about the Australian Working Holiday Visa, read our full guide over here. 
What to Pack for the Eyre Peninsula
Depending on which season you visit South Australia, what you will need to pack will vary. During the summer months of December to February, temperatures around this part of South Australia can reach temperatures in the mid-20s.
During the other months, temperatures and weather around this region are rather consistent, fluctuating between the teens. We highly recommend that you pack a rain jacket and some warm layers, however, also pack some light and summery clothing for the days blessed with sunshine.
If you need more inspiration on what to pack for your trip, check out our full packing guides for all-weather conditions over here.
When it comes to toiletries, we recommend that you pack as much sunscreen as you can. The sun in Australia is strong, and even the darkest skin tones can get easily burnt. No matter what the season is or how warm you may feel, you should always wear sunscreen in Australia.
Given the beautiful sights and scenery that you are no doubt going to see around South Australia, we highly recommend packing a good camera for your trip. If you want to read more about the cameras we use and why we love them, check out the link below.
You can read what else we keep in our camera bag over here.
What is the Best Travel Insurance for South Australia
Regardless of what type of trip you are heading on, one thing that is essential for everybody is good travel insurance. Accidents can happen anywhere and at anytime and unexpected hospital bills will ruin a holiday. Remove the stress from your next adventure and get covered for the worst.
World Nomads Travel Insurance provides budget reliable travel insurance that will keep you covered for any level of adventure.
You can get your quote before you leave on your trip right here.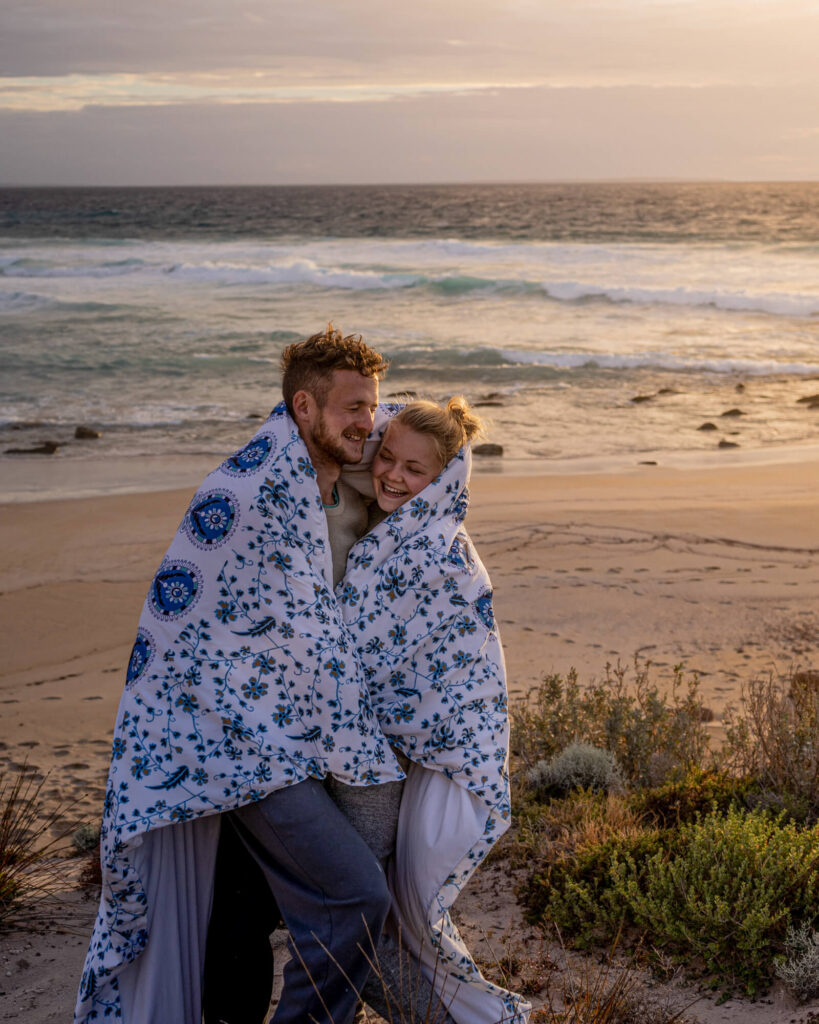 Where to Stay near Greenly Beach
There are some beautiful places to stay in near Greenly Beach that will suit all ranges of budget. Between the north and south side of the city, you will be spoiled for choice when it comes to finding a place to stay. To make it a bit easier for you to choose, we have listed our top recommendations for the city of Adelaide at all price ranges.
Luxury – Spend your time in Port Lincoln at the Marina Hotel in true luxury. This hotel is situated on the waterfront and offers modern rooms and a restaurant with waterfront views.
Book your stay at the Marina Hotel here.
Mid-range – Port Lincoln Hotel overlooks Boston Bay and is complete with offers a restaurant, 3 bars, a fitness centre and a heated swimming pool. A beautiful reasonably priced place to stay in the heart of Port Lincoln.
Book your stay at the Port Lincoln Hotel here.
Budget – The Pier Hotel is a great budget-friendly 3 star hotel overlooking Boston Bay. It is only a 1 minute walk from the beach and is conveniently located in the heart of the town centre. 
Book your stay at the Pier Hotel here.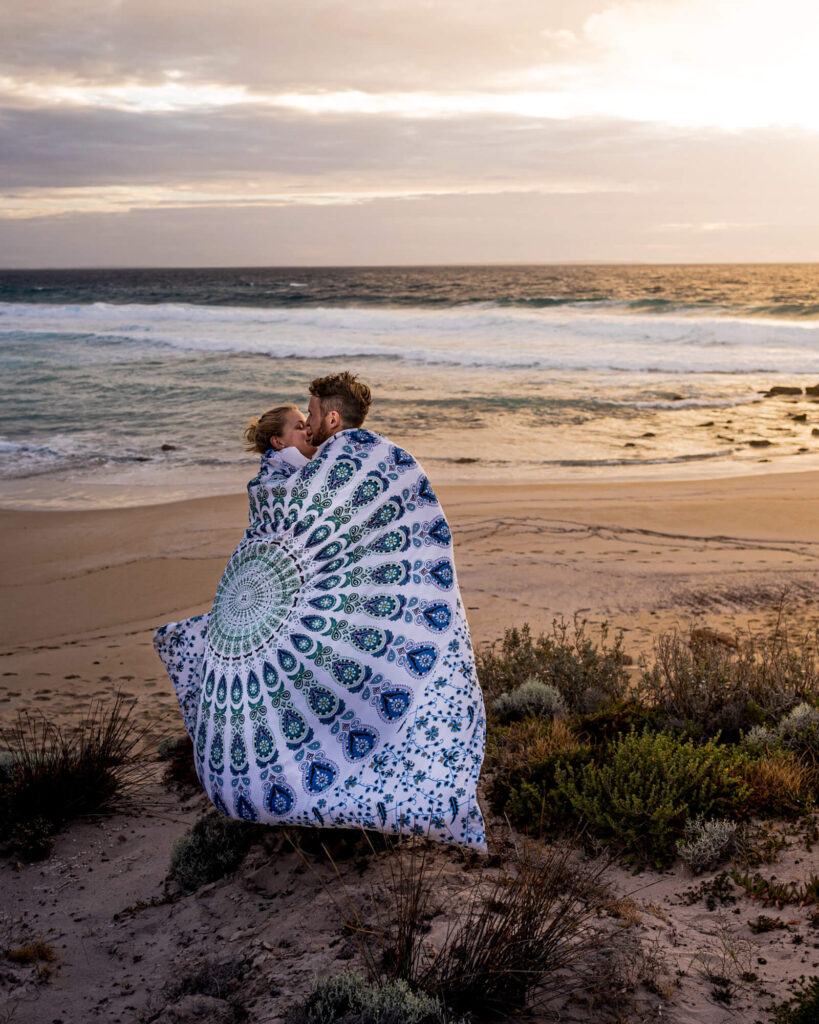 So there you have it, your guide to the amazing Greenly Beach Rock Pools. If you are visiting this breathtaking place and have any other questions on what to expect, leave us a comment down below. We love to chat about this stuff! If you have already been, let us know how it was! What was your favourite part of your trpi? Did you camp there? Let us know in the comments below!
Also, remember to share this with your friends and family that you are going to tour with. Sharing is caring and we want to inspire as many people as we can to visit this unbelievable part of the world.
If you are planning an Australia trip soon then check out our other Australia content right here. Come and find us on social media to see where we are currently exploring. Tag us in your photos from Greenly Beach and we will share them with the rest of our community of explorers and backpackers.
Now Read:
This article may contain affiliate links that provide us with a small income. For more information read our Affiliate page.
Save an image to your Australia Pinterest board for later!