Australia is one of the most popular countries in the world to drive around and explore in a van. Being such a huge country with so much beautiful scenery, road tripping is definitely the best way to see Australia. With rugged coastlines along the Great Ocean Road to deserts stretching over the horizon in the outback. The freedom of van life is freedom like no other, and this is why we want to inspire you to buy a campervan in Australia.
Trust me, it will be the best decision you will ever make.
We purchased our little "Roxy" in June 2019, after dreaming of the day we would buy our own van for the last 5 years. Roxy is a 1995 Toyota Hiace and had already been converted into a campervan before we bought her. We have plans to convert our van during our time in Australia, but we'll save that for another post.
Also Read – Complete Guide to 2nd Year Visa Farm Work in Australia (Subclass 417)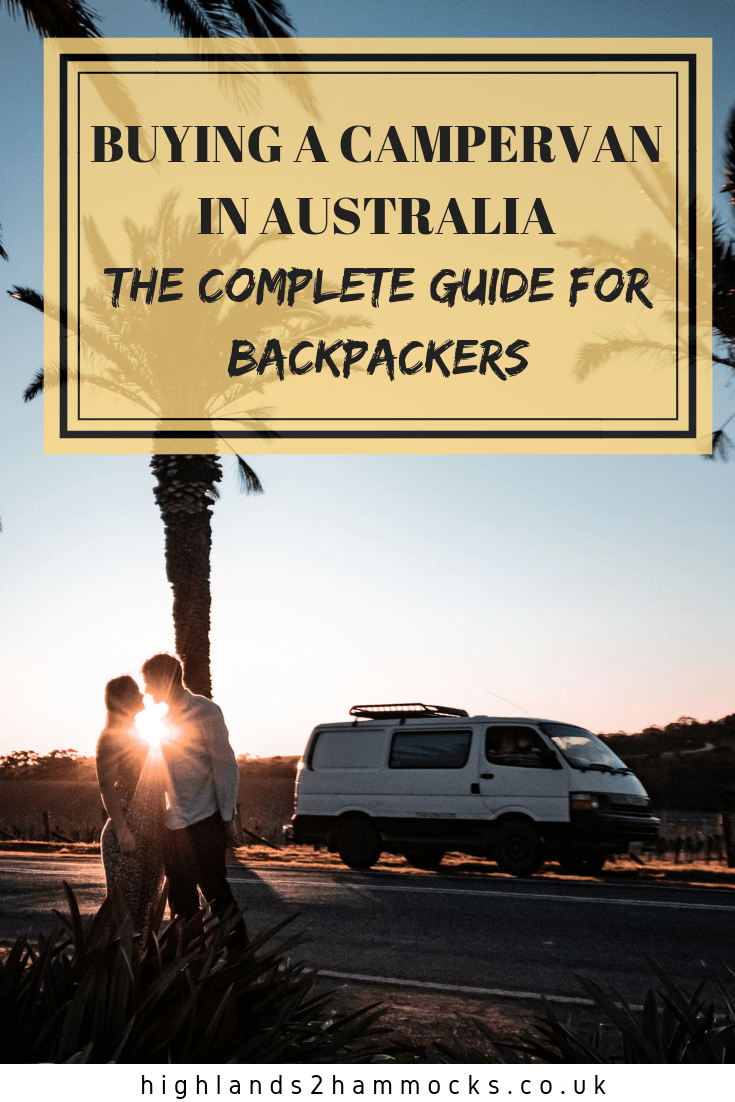 In this post, we include the full process, step by step to buying a campervan in Australia. We also mention the best apps to use for wild camping. Below is a quick summary of everything included in this post. We will be discussing each of these points in greater detail.
What to look for when buying a vehicle
Vehicle Registration
Road Worthy Certificate
Insurance
Road Side Assistance
Best Apps for Van-Life
Buying a Campervan in Australia: The Complete Guide for Backpackers
Before Buying a Campervan in Australia
Before jumping into buying a campervan in Australia, it's important to take some different ideas into consideration. It can be an expensive investment and you want to make sure you are doing it for the right reasons. We discuss some options below for you to consider when buying a van.
ALSO READ – What NOT To Do When Buying a Campervan
What Driving License Will You Need
In Australia, it is legal to drive on your foreign driving license for the appropriate vehicle. However, if your driving license is not in English, you will need to make sure you have an international license.
Renting a Campervan in Australia
Renting a campervan in Australia is extremely popular, therefore there are a lot of rental companies in the country. This can also result in being an expensive option, depending on how long you want to be on the road for.
Here are some camper van rental companies in Australia that you can choose from.
If you are not sure that van-life is for you, we suggest you try renting for at least 2 weeks to test it out for yourself. You will most definitely be converted once you get a feel for it!
Relocating a Campervan in Australia
Campervan relocation often provides a completely free way to tour Australia in a campervan, and is a great way to see the country at no cost! This is where a company (usually a large, interstate one such as Wicked Campers) requires a van to be transported from one depot to another and offers the opportunity to backpackers and other travellers.
The only catch with this is time, as you will have to have the van returned to the agreed destination by a certain date.
You can find out more about relocating campervans in Australia here.
Buying a Campervan in Australia
If you do decide to buy a campervan in Australia, you need to think of a few main factors:
What is your budget?
How big a van do you want/need?
Where will you be traveling?
What are your requirements? eg. electricity, standing room, storage, etc.
Once you have set these factors, you can start to look into where you will buy your van. We found the below Facebook groups along with Gumtree are a good place to start looking. These will give you a great idea of what to look for and what costs you might be looking at for your requirements.
In general, the better cared for vans tend to not be from a run of backpackers, as these will have been constantly passed around with little maintenance performed. That being said, if you are in a specific city wanting to buy a van at the right time, there may just be a first-generation backpacker van that is reduced in price as the owner's visa is expiring soon.
There are often auctions on around the main cities in Australia which tend to be Australian citizens selling their vans instead of backpackers. We have heard of some people picking up a bargain!
Ex-Rental Vans
Some of the campervan rental companies in Australia sell off their older campervans. These vans may have a high mileage on them however you can rest assured that they were well looked after by the company. This may be a more expensive option but will a safer one at that.
Cost of Buying a Campervan
The cost of buying a campervan in Australia can vary depending on where you buy from and what is included in the van. We have seen them range from $3000 dollars to some high-end vans costing $30,000 on Facebook and Gumtree. Know your budget and adjust according to what you want.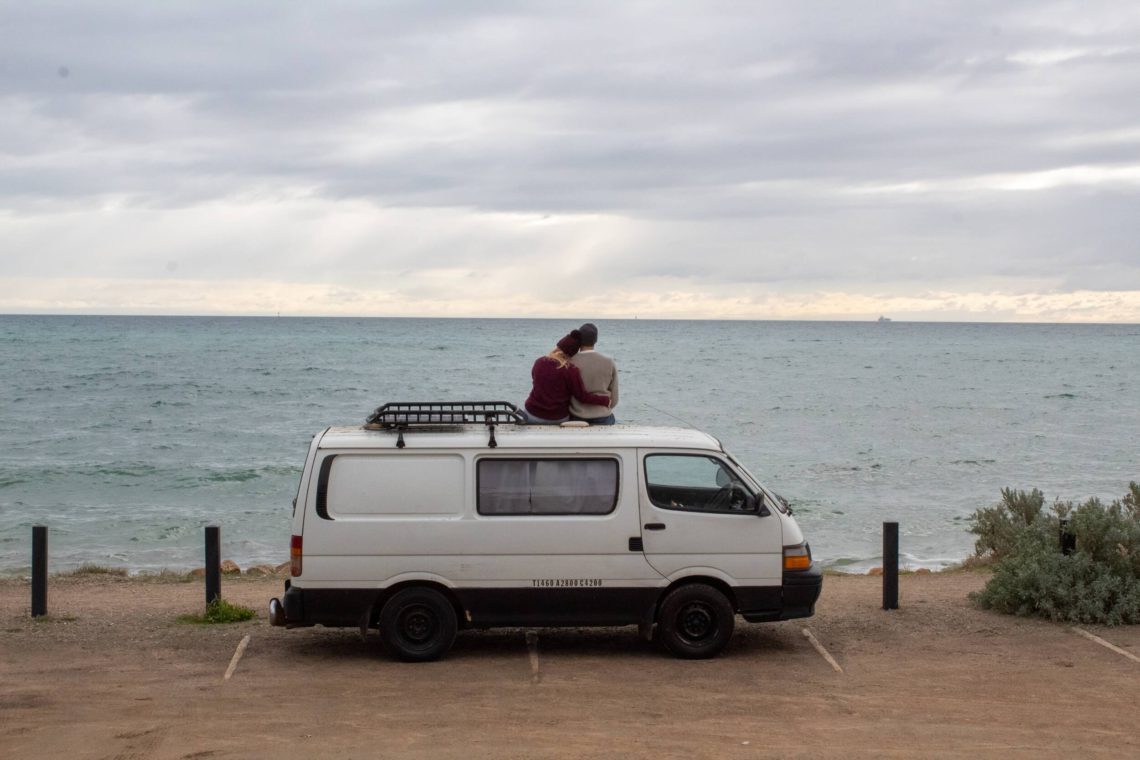 Vehicle Registration in Australia
It is a law in Australia that all vehicles must be registered in a state or territory, you will commonly hear this being referred to as "rego". The regulations vary from state to state, which can make it very confusing when it comes to buying and selling a campervan in Australia.
It is best to buy a campervan with current registration, as you will have two weeks to change the name of the vehicle over to yourself. If the vehicle you want to purchase does not have a current registration or the registration is about to expire, then you will have to pay for the registration at the time of purchase.
The owner can choose the duration of the vehicle registration in Australia, whether that is 3, 6 or 12 months, depending on the state it will be registered in. The cost varies depending on state and type of vehicle.
Where the vehicle is registered is a huge factor to consider when you are looking for a van. The easiest state to have your van registered in Western Australia (for reasons discussed below), therefore we would recommend having that a high factor on your list when looking for a van.
The rules regarding registering your vehicle in Australia differ from one state to another. These are the guidelines to follow in each state when purchasing a vehicle in Australia –
Western Australia (WA) Registration – the only state in Australia that accepts renewal of registration by post if you don't have an Australian driving license, meaning that you don't have to be in the state to register your van. This is a huge advantage for backpackers as it is the easiest state to renew registration.
South Australia (SA) Registration – Must be initially registered in the state by the new owner, however, the owner then has the freedom to renew online or via the app, anywhere in the country.
Australian Capital Territory (ACT) Registration – Buyer must visit an Acess Canberra Service Centre to register.

Victoria Registration (VIC) –

You must visit a VicRoads Customer Service Centre to transfer your registration.

Queensland Registration (QLD) – You must visit a Transport and Motoring Customer Service Centre to complete your transfer of vehicle registration.
Tasmania Registration (TAS) – You must visit a Service Tasmania Centre to transfer your registration.
New South Wales Registration (NSW) – It is a requirement that the buyer visits a Service Centre in NSW to transfer the registration.
Northern Territory Registration (NT) – Registration must be transferred at an MVR office.
We discuss the renewal of the registration process in more detail further down in the "After Buying Your Campervan in Australia" section.
Roadworthy Certificate for Vehicles in Australia
This is another common phrase you will come across when looking for vehicles. You will also be likely to see it written as RWC. A really important factor to take into consideration when buying a van is making sure it has an RWC.
Purchasing a van without this certificate could lead you down a very expensive alley of problems. There could be a number of things wrong with the van that needs to be repaired before the vehicle will be allowed on the road.
Some states (NSW, NT) will require a mandatory checkup and RWC when renewing the Registration or when purchasing/selling (ACT, QLD, VIC). Therefore, you must be in the state the van is registered in at the time of change of ownership to carry out the check-up. This is discussed more below in "After Buying Your Campervan".
Make sure you are covered by travel insurance on your trip to Australia. We can recommend World Nomads for cheap and reliable cover during your trip. You can purchase your own cover here. 
 

View this post on Instagram

 
Buying a Campervan in Australia
What to Buy
The type of vehicle you buy will depend on how long you are travelling for, what you need it for and how much money you have. There are plenty of cars, 4 wheel drives, caravans, Utes and campervans for sale around Australia so it's time to think about what is the most suitable for you.
For us, the campervan was the best option, as it worked well as transport and accommodation, and also had plenty of room to store everything we owned. For the sake of this post, we will be discussing buying a campervan, however, these points will be relevant to whatever vehicle you choose.
What to Look for When Buying a Campervan in Australia
So you've found a van you want to buy, we would now recommend that you arrange to meet the owner of the van to view the van and take it for a test drive. It can also be a good idea to hire a mechanic to come to the viewing with you and assess the vehicle. This would be worth the money if it turned out there was an expensive problem with the van.
You can also have a mechanic look at the van during a Pre Purchase Inspection (PPI). These can cost from around $50-100.
Engine and Exhaust
First things first swipe a tissue around the exhaust whilst the engine is cold. If it comes out black then this can mean that the engine is burning oil.
Ask to turn the engine on and leave the van running for at least ten minutes. This will allow you to listen for noises that may come from the engine, listen out for knocks and creeks or any other strange engine sounds or vibrations. Now you can check the exhaust for any leaks or black fumes. Check under the van for any fluid leaking whilst the van is running.
History and Paperwork
It is good to get some history of the van from the owner. How long have they had it? How many previous owners have there been? Has it had any recent repairs? Ask the owner to see the paperwork detailing the history of the van for you to inspect. When was the van last serviced?
Inspect the Outer Shell
Have a walk around the van and inspect for any rust. Remember to check around the door frames and windows. Are there any dents, scratches or broken panels? If you are looking at a pop-top, these are prone to rusting so be sure to check around the pop-top as well as looking at the doors and windows.
Check the height of the van. When you are used to driving a car, the height is never really something you consider until you are in a larger vehicle. It is good to check the clearance at the top and bottom in case this will be an issue for you.
Push down on each corner of the van to test the suspension, this should give you a rough idea of how good the shock absorbers are.
Check the Tyres
Make sure to check the tyre tread of all tyres as the minimum legal requirement is 1.5mm. The best way to check for this is by placing a 10cent coin in the tyre groves. If the outer band of the coin is hidden, tread depth is above the legal minimum.
Bald tyres are illegal, so we would recommend that if you are wanting to purchase the van, you ask the seller to have the tyres replaced first.
Also, check for bald patches or uneven wear which could be linked to the wheel balancing or wheel alignment. Does the van come with a spare tyre?
Lastly, check the tyre pressure at the start and the end of your viewing in case of a puncture.
Open the Bonnet
Have a look under the bonnet for any rust and check the oil levels whilst you are here as well. Have a look inside the oil area for dark, dry clumps. This can reflect overheating of the engine meaning that the oil is now burning when the van drives. You will want to make sure there is no water or oil dripping from the bonnet.
Next, you will want to have a look at the radiator. Check that the level is full as if it is empty, then this can indicate that there is a leak which can cause damage to the engine. You will also want to check the radiator hose, ensure that it feels pressurised as if it is squishy, there may be a leak somewhere.
Internal Condition
Inspect the internal condition of the van. Does it reflect how old it is? Check over the upholstery, floor mats, seatbelts, and rearview mirror. Does the sound system work and is it fitted properly? After purchasing our van we found out that the radio wires weren't fitted properly.
Test Drive
Now it's time to take the van for a test drive, bear in mind that some older vans won't have power steering. We test drove vans with and without power steering and the power steering was the winner for us! Looking back now we are glad we paid a bit extra for a van that is much easier to drive.
Have a look at the inner console for any warning lights. Make sure there are no lights on the dashboard as this could be alerting a problem. Make sure to test your brake lights and headlights before you start driving.
In Australia the weather can be extremely hot in summer, therefore, we would recommend that you look for a van with air conditioning. When you are viewing the van, make sure you check the air conditioning and heating is working and that the fan speed varies.
Next, we want to check what mileage the van, the lower the mileage the better. Typically when you are buying a campervan Australia, you will be lucky to find a van with under 300k km! Keep in mind the mileage when looking through the paperwork of the history of the van.
When you are driving, check the windscreen washers and all lights are working. Look on the windscreen to make sure there are no chips or cracks.
Drive the van to a long straight road and test the breaks (as long as it's not a busy road!). During your test drive, find a hill and make sure handbrake works.
Take the Van to a Mechanic
Before spending all your hard-earned cash on something that could break down on you. We would recommend taking it to a mechanic and getting them to have a check over it. This will give you peace of mind that you are buying a decent van. If there are some issues found with the van, then you can negotiate a price drop with the seller to reflect the costs that you will need to pay for the repair.
Don't buy a van without a roadworthy certificate. Remember, this will most likely not be worth your money as in many cases, the reason the van does not have an RWC is that it can't achieve one (otherwise the seller would have one..). This could end up costing you a lot of money, so be careful.
Before you leave, check that the details of the seller match the registration certificate. The owner's full name, the number plate, VIN and engine number.  You can find the engine VIN inside the door frame or owner manual. You may also want to run a search on the vehicle online to ensure there is no money owing or that the van is stolen.
Additional Items
Another thing to think about when buying a campervan in Australia is what additional items come with the van. This could save you a lot of money in the long run. Items to consider are a –
Gas stove and gas
Crockery and cutlery
Battery
Solar panel
Table and chairs
Mattress, pillow, and duvets.
If the van has been previously owned by a backpacker then they will most likely come with a lot of additional equipment. Now you have to weigh up the cost of the good, pricey equipment with the cost of a van that won't break down on you.
Buying the Campervan
When you choose to purchase the campervan, there are a number of things you will need to complete alongside the seller. When purchasing the vehicle, the seller must provide you with a billing receipt of purchase. The following information must be included on this receipt –
make
model
colour
year
the plate number
the VIN number (Vehicle Identification Number)
date and price of sale
names, addresses, and signatures of the seller and buyer.
Negotiate the price with the seller. If you feel confident, you may wish to barter the price down a little, or if there is an issue with the van that can be easily replaced, you could ask for the cost of repair is deducted. It will most likely be easier to send this money via bank transfer.
Lastly, don't trust anyone and quadruple check everything. You don't want to get caught out of a lot of money!
 

View this post on Instagram

 
After Buying Your Campervan in Australia
Transferring Ownership and Registration
Once you have bought the van, you will have 2 weeks to transfer the registration of the van over to yourself. The van will be insured third party under the seller's registration until you transfer this over. To transfer the registration of the van, the buyer must present the above information IN PERSON at the transportation office of the state of registration (except from in WA).
There will be many of these offices throughout the state. Western Australia accepts paperwork by mail, therefore this state is the only exception for presenting in person. There are different requirements depending on the state the van is currently registered in, we discuss thee further below.
Western Australia Registration
You are required to advise the department of transport within 14 days of purchasing a licensed vehicle, otherwise, you may end up with a penalty.
You can transfer your vehicle through DoTDirect (an online service).
You will need to know the seller's surname and the registration plate number to transfer a vehicle online.
Your other option is to submit a form (Notification of change of ownership (Form MR9) either in person or by post. You will need to complete this with the seller as you will both need to sign the form. The seller will be required to submit the seller's copy (blue) within 7 days and give the purchaser's copy (red) to you.
As a purchaser, you will be responsible for ensuring a Government approved immobilizer is fitted in the van. If you don't already have an immobilizer in the van, you can check out the list of authorised on demand booking service providers, here.
You will also need to provide primary and secondary identification such as a passport and bank card. You can read more about the ID options here.
You will be invoiced for the vehicle license duty and transfer fee once your transfer form has been received.
Queensland Registration
Once you have bought your van, you will have 14 days to submit your registration transfer request. Penalties may apply if this is not completed within the 14 days.
You will need to bring a Vehicle Registration Transfer Application (F3520). The seller should complete and keep part B of this form. If this is your first time dealing with a vehicle registration in Queensland, you will be required to complete a new customer application form (F3503). 
A safety certificate inspection will need to be carried out to check the roadworthiness of the van before the transfer of ownership is agreed upon. You will need to bring the original blue copy with you when you transfer the ownership of the vehicle.
If you do not have a Queensland driving license, you will need to show 3 other forms of ID. You can read more about these here.
New South Wales Registration
Once you have purchased your vehicle, you will have 14 days to transfer it into your name. If you do not do this, then a late fee may occur.
If you are not already recorded on the Roads and Maritime systems then you will be required to attend a registry or service centre in person.
You will be required to pay for the transfer fees via a credit card.
When you attend the registry office you will be required to have completed an Application of Transfer form.
You will also be required to bring two forms of ID with you, such as a passport and a bank card. You can check out what other forms of ID are accepted here.
You must be able to prove how the vehicle came into your name. You can do this by providing one of the accepted documents which you can read more about here.
Transfer fee within 14 days of acquiring the vehicle: $34
Transfer fee after 14 days of acquiring the vehicle: $155
Northern Territory Registration
Victoria Registration
VicRoads must be notified of your vehicle transfer within 14 days of you purchasing the van.
An application for transfer of registration form must be completed with both the buyer and seller's details and signature. Both the seller and buyer must retain a copy of this as a proof of transfer.
A roadworthy certificate must be carried out to show that the vehicle is safe enough to be driven.
You will also be required to pay a duty and transfer fee which you can read more about here.
South Australia Registration
The vehicle registration of your new purchase must be transferred into your name within 14 days.
You must receive a receipt of purchase from the seller before you transfer the registration. This should include both the buyer and seller name address and signature, vehicle details (make, model, VIN number, engine number) and details of the sale including the date of sale and the price paid for the vehicle.
The seller should provide the registration details certificate which has two parts. One part will be the disposal notice and that responsibility is for the seller. The responsibility of the buyer is to complete the other part, the application for transfer of registration.
If there is registration remaining on the van and the seller has agreed to transfer this over, both parties must sign the application for transfer of registration.
If this is your first time dealing with vehicle registration in South Australia, you will need to submit this form in person. The next time you register, you will be able to do it online.
Tasmania Registration
Australian Capital Territory Registration
It is compulsory that you apply to transfer the registration into your name within 14 days of purchasing the vehicle or a late fee will be issued.
A transfer fee is payable in addition to the prescribed registration fee. You can read more about the prices here.
A roadworthy certificate must be completed before registration to ensure the vehicle is safe enough to drive.
You must bring proof of purchase and proof of ID with you to an Access Canberra Service Centre to complete and pay for your registration.
Campervan Insurance
You must legally take out compulsory third party insurance when you register your van in Australia. In some states, this fee is included in your registration. In others, you will need to purchase this separately. If you wish to purchase fully comprehensive insurance for your vehicle, this will also be your responsibility.
With third party insurance, it is the vehicle that is insured, rather than the driver. This means that you can let anyone you trust drive your vehicle, however they will be liable to the cost of any damage or injury that may occur.
The states that the registration cost includes compulsory third-party insurance are –
This will be automatically included when you register your vehicle, so you don't need to do anything.
In NSW and ACT, this is not included in the registration. You must have at least a third-party insurance policy in place before you can register the vehicle. You can read more about compulsory third-party insurance here.
Road Tax
This cost will be included in your registration fee.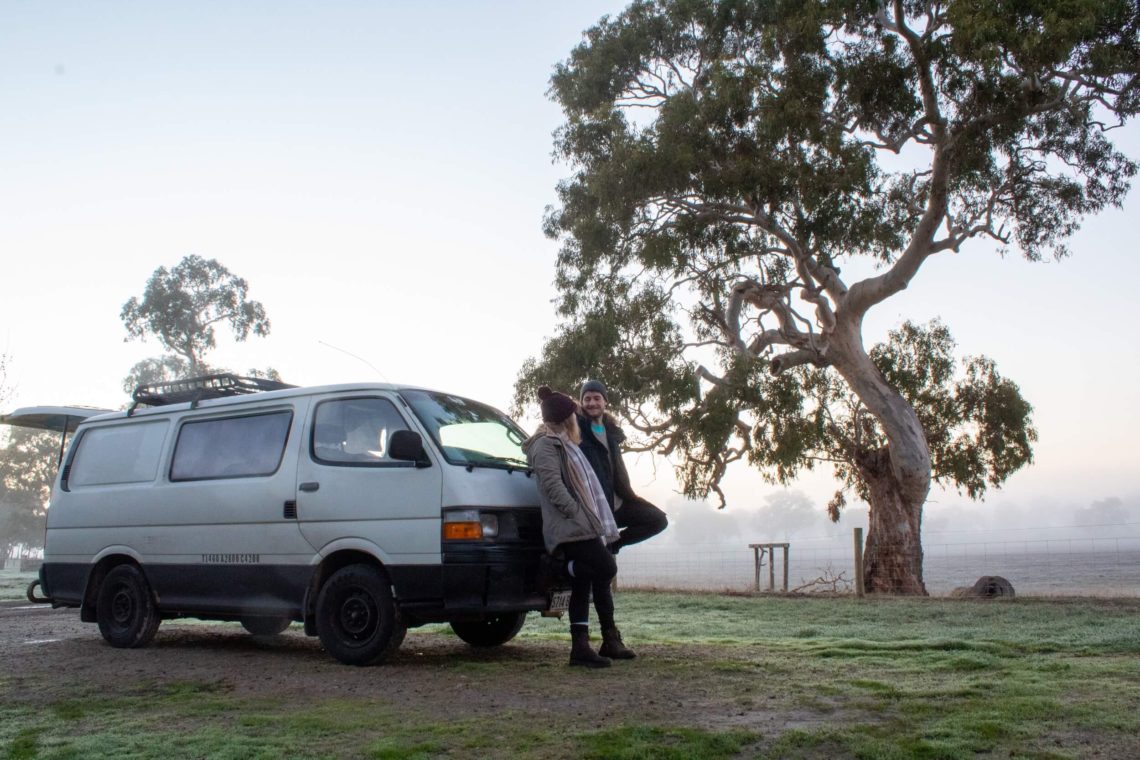 Additional Information about Van Life in Australia
What Address Should You Register At?
When it comes to choosing an address on the paperwork, you can give the address you were previously staying at, a local post office or in our case, a family or friend's address. If you want to change the state that the vehicle is registered in, this will cost you more to do so.
Road Worthy Certificate (RWC)
When renewing the registration of your van, some states will require a mandatory technical check-up is carried out before the van is reregistered on the road. This is the case for both NSW and NT registration plates.
This check-up will also be required when purchasing or selling a van with an ACT, QLD or VIC registration. Therefore, you must be in the state at the time of transferring ownership to carry out this technical check-up.
Roadside Assistance
No matter where you are, it's always good to purchase some roadside assistance for your vehicle. Australia is such a large country, we thought it would definitely be best we had the van covered so we didn't get caught out in the middle of nowhere.
There are many different roadside assistance companies in Australia, some of which cover the whole of Australia and others that are interstate. We purchased RAA cover and you can pay depending on the cover you require.
Camping Apps
There are some apps that we just couldn't live the van life without. The first one being Wiki camps. This will be the best purchase you will make during your time in Australia. For $7.95 after a 14 day free trial you will have access to all of the below
Campgrounds – free, donation and paid
Caravan Parks
Backpacker Hostels
Day Use Areas
Points of Interest
Information Centres
Public Dump points
In addition to this, you can refine the search further and filter for specific site features such as the below list
Free
Cost
Donation
Dogs allowed
No dogs
Seasonal dog access
Pet sitting
Toilets
Disabled Access
Showers
Drinking water
Non-drink water
Close to the road
Nice Scenery
Wildlife
Shade
Tables
Bins
Walking Tracks
Cycling Tracks
4WD
Playground
TV/Games Room
Open fire pit
BBQ
Camp kitchen
Laundry
Car wash
Swimming
Fishing
Boat Ramp
Crocodiles
TV reception
Telstra reception
Other reception
Wifi
Petrol/Diesel
Gas
Living the van life cheaply in Australia is so easy thanks to Wiki Camps. There are plenty of free camping spots in Australia and by using the filter section it is so easy to find them. Trust us, this will be the best $8 you will spend.
If you are living a budget lifestyle like us, then an app like Petrol Spy will be right up your street. This app shows you the fuel prices on a map so that you can make sure you fill up at the cheapest petrol station. Best of all, it's absolutely free!
Common FAQs When Buying a Campervan in Australia
How much does a campervan cost in Australia?
As the saying goes, "what you pay is what you get", and it is no different when it comes to buying a campervan. If you want a luxurious, beautiful and very reliable van you can expect to pay upwards of $8000. If you want a cheap, DIY build, old van you can pay as little as $3000. Our advice is to aim to pay between $4000 and $6000 for a mid-range van that you can rebuild and improve over time.
Are campervans worth it?
In a nutshell? Absolutely yes. As I am sure you know, Australia is unimaginably big and the only real way to get around and explore the beauty of the country is on four wheels. A campervan allows you escape the big cities, stay off the grid and discover the true beauty of the Australian countryside.
How do you buy a used campervan?
With modern technology and social media, buying a campervan has never been easier. The best place to look for used campervans is on Facebook Marketplace, Gumtree and eBay. Always take care when buying from here, however, and read the advice in this guide for how to do it safely.
There you have it, your complete guide to buying a campervan in Australia. It can be a bit of a stressful time in the beginning, but once you get on the road it is so worth it. If you are planning to buy a campervan of your own, let us know any concerns or questions you may have. We love to chat!
If you enjoyed reading this and think your friends and family would too, please make you sure you share it with them, sharing is caring.
Come and say hey to us on social media and see where we are in the world. Feel free to tag us in your photos so we can share them with our community. If you are looking for some road trip inspiration, be sure to check out the rest of our Australia content before you leave.
Now Read:
This article may contain affiliate links that provide us with a small income. For more information read our Affiliate page.
---
Pin it for later!