The Island of the Gods, aka Bali. This incredible, explorers paradise island is full to the brim with jaw-dropping views, breathtaking sights and
adrenaline pumping activities
. The best of which, perhaps, just has to be a day spent chasing waterfalls. Of all the
natural wonders just waiting to be discovered around Bali's dense jungles
, Tibumana waterfall is perhaps one of the most beautiful. Nestled beneath a canopy of palm trees, jungle sounds echoing around you, your trip to Tibumana waterfall is out of this world. Just 15km from the central hub town of Ubud, this waterfall is definitely one to include in your Bali waterfall itinerary. In this is guide is
everything you need to know about Tibumana waterfall
, including how to get there, what to expect and even where to stay for your visit.  
Save this image to your Bali Pinterest board for later!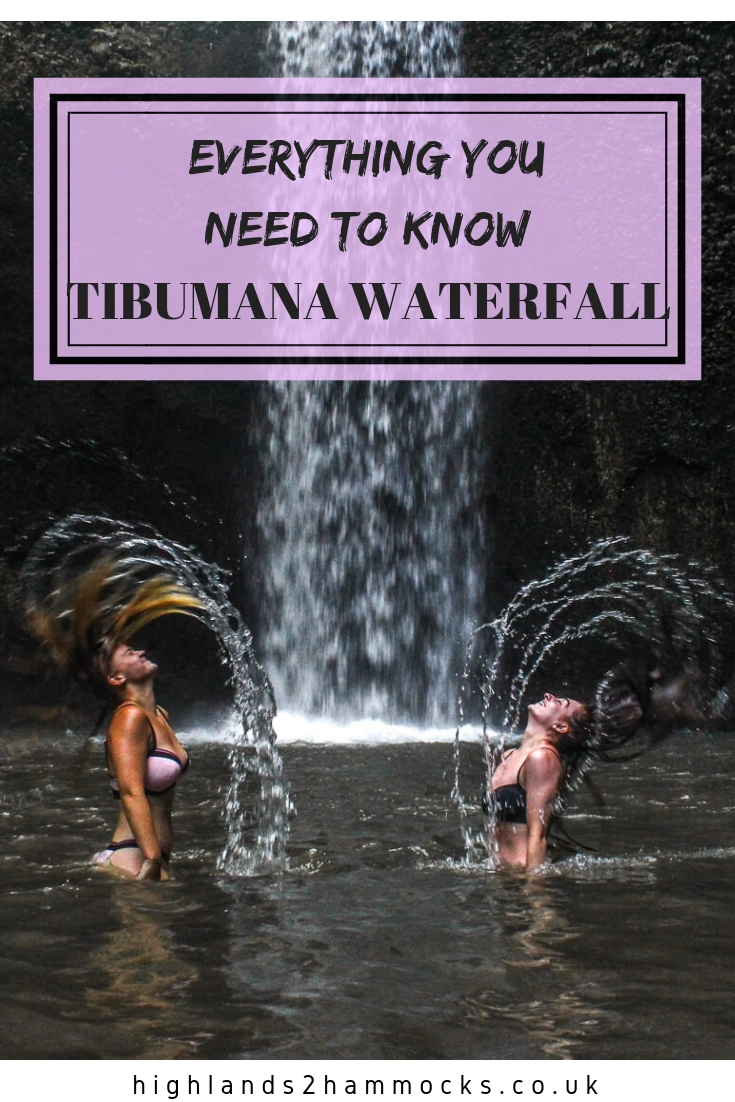 If you are looking for a week of non-stop action, head over here for the Ultimate Seven Day Itinerary for Bali.
Tibumana Waterfall – Everything You Need to Know
How to Get to Tibumana Waterfall
Given how close Tibumana is to Ubud, you will have a couple of options for your waterfall day out. Your first option is to
hire a driver
to show you around a few sights of your choosing. If you are not fussed about what you see, then most drivers will be able to take you to the best in the area. The advantages of this are that you can relax and enjoy the views along your route, you do not need to come up with an itinerary of your own and you will get your own photographer for all those Instagram, waterfall snaps. The downside of this option is the cost involved, with a full day driver costing you between £15-30 (300-700k rupiah). It also means you are more on a schedule, as you only have a limited time to see all of your sights. If you do decide to hire a driver, using Grab or GoJek will save you a lot of money, as local taxis are more likely to rip you off. The second choice you have is to
rent a scooter
and set off on your adventure alone. This is our recommended option due to the freedom it gives you and the much lower cost. You can rent a scooter for £2-4 per day (40-80k rupiah). Renting for longer periods will make the daily cost much lower.  
Also Read – The Ultimate Bali Itinerary – Seven Days in Bali Paradise
  Given that Tibumana is one of the best waterfalls near Ubud, it will only take you half an hour to get there (with no traffic) or an hour from Canggu (again with no traffic). From the car park at Tibumana waterfall, it is about a 10 minute walk along a well maintained path to get to the waterfall itself. This makes it an easily accessible waterfall for families.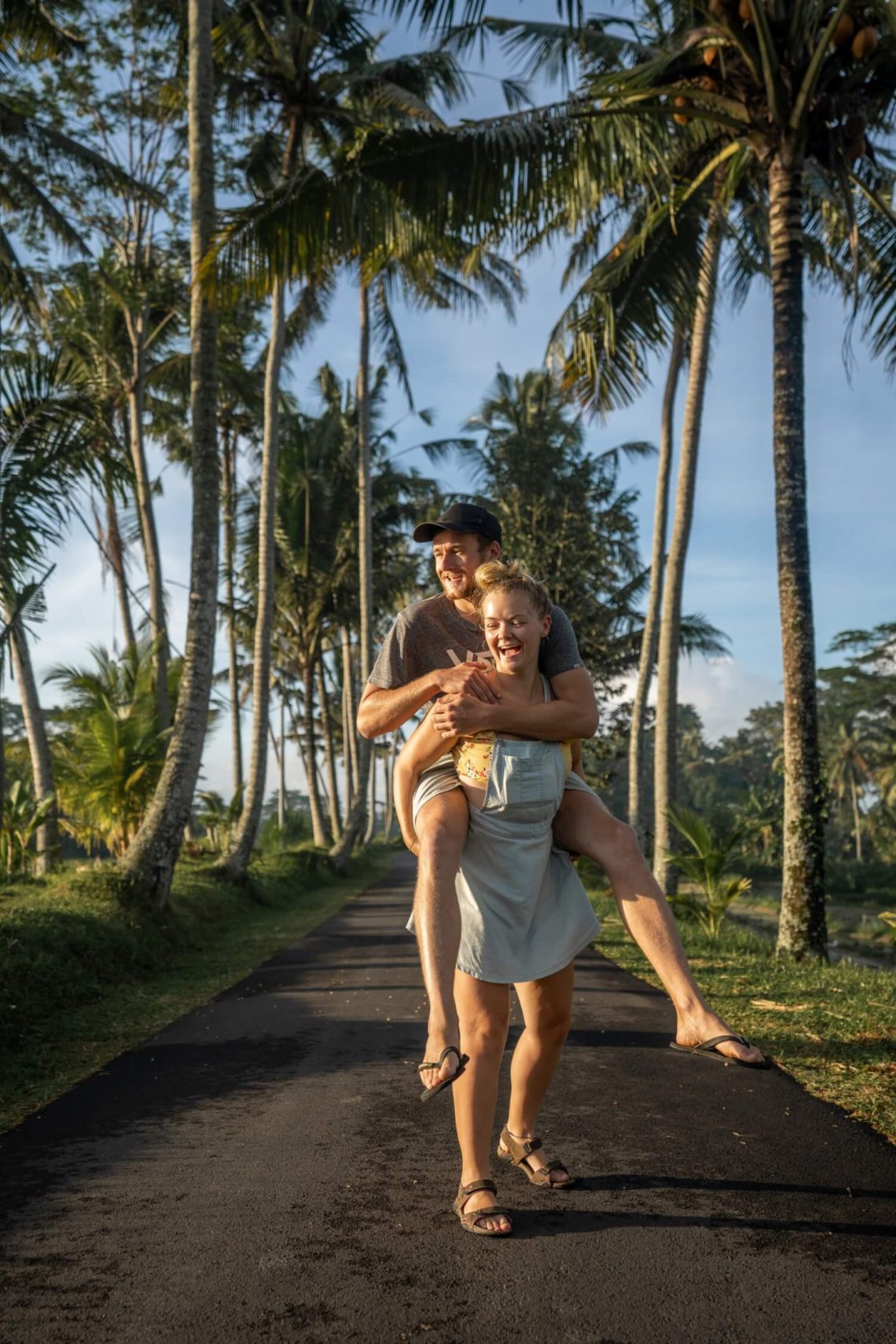 Also Read – The Definitive Guide to the Gili Islands, Bali – Gili Trawangan, Meno and Air
What You Will Find at Tibumana Waterfall
Entrance fee – 10k rupiah
Parking fee – 5k rupiah
The first part of this journey we fell in love with was the palm tree road leading up to Tibumana waterfall. It was definitely the most photogenic road we found on mainland Bali and is well worth a stop. The waterfall itself still remains relatively undiscovered by tourists, so compared to the main Ubud waterfalls like Tegenungan and Kanto Lampo. The walk down to the waterfall is relatively flat and easily accessible, and once you arrive it is very tranquil. It is one of the more photogenic waterfalls we have visited as well, due to the linear flow and lack of spray of the water. We highly recommend an early start to your day and to hit this waterfall just after sunrise, before other people arrive. We got here for about 8am and we had it all to ourselves up until we left about 9am. There is a small warung just opposite from the parking for you to grab some food and a Bali coffee, before you hit your next stop.  
 

View this post on Instagram
Other Activities Near Ubud
If you are in the mood for chasing more waterfalls in the Ubud region then have a look at our full guide to the
8 best waterfalls near Ubud
.  
Rice Terraces
Aside from the waterfalls surrounding Ubud, there are an incredible number of serene rice terrace views. The most famous of which is of course the Tegalalang rice terraces. This beautiful, step-formed rice terrace is the perfect spot to watch the sunrise over Bali.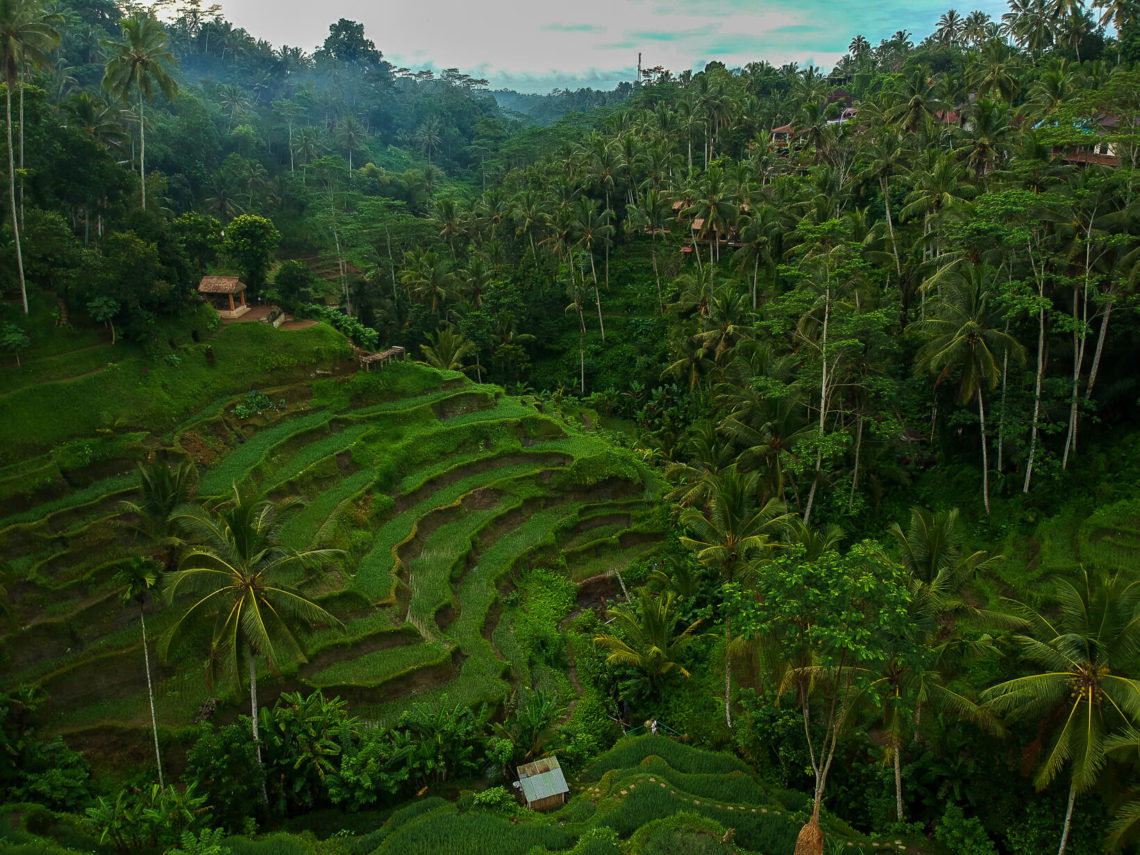 Ubud Markets
Head here for sunrise and catch the best food deals going for the day. This is where the local restaurants and warungs get all of their fresh ingredients for the day ahead. The buzzing atmosphere here is the perfect place to see what local life is really like, before the tourists of Ubud awaken. Later in the morning, this food market transforms into the famous Ubud clothing market. The best time to visit is as soon as it makes this change, as locals believe that if they give favourable, cheap prices in the morning, they will be blessed with good fortune for the rest of the day. This is where the phrase "morning price" comes from. For the best deals, head deep into the market and to the upper levels of the market to the quieter stalls.    
Also Read – Cheap Eats in Ubud – Your Guide to the Best Food in Ubud
Campuhan Ridge Walk
High above the surrounding jungle, morning mists, the Campuhan ridge walk is a pedestrian shortcut that takes you through the jungles of Ubud. Just a 15 minute walk from the town centre, this spot is one of the best sunrise locations in Ubud. Set an early alarm and enjoy the ridge to yourself before it gets busy later on.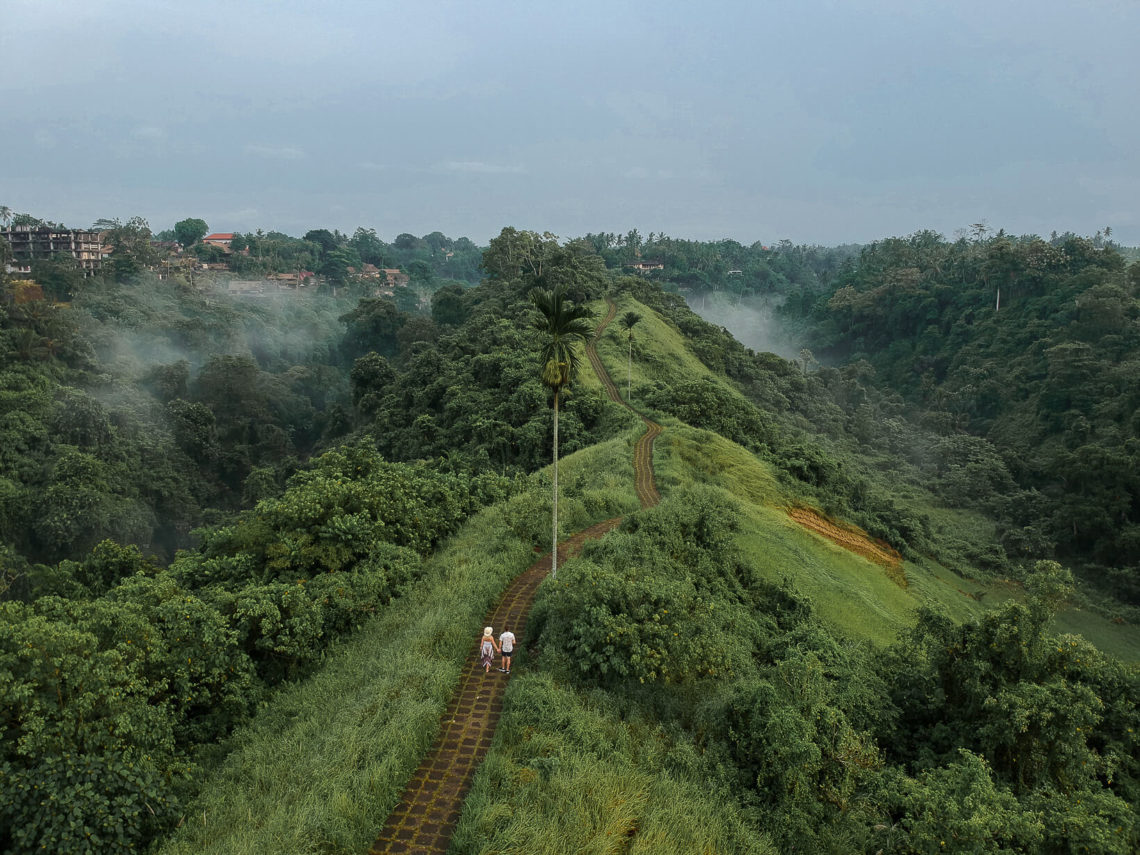 Ubud Monkey Forest
The most famous sight in Ubud, the Sacred Monkey Forest, is another popular tourist attraction. Sitting right in the centre of Ubud, this small forest is rather bizarrely home to hundreds of monkeys. Despite the city encroaching on nature more every year, this section of jungle is protected from development due to this habitation. It is a paid entry attraction, which allows you close contact with the cheeky habitants (sometimes a little too close for comfort). If you do decide to go, make sure you keep all shiny objects out of sight and keep a firm grip of your phone and camera. It is very common for these items to be stolen, never to be seen again. If you don't fancy paying for entry, yet still want to see the monkeys in action, the streets surrounding the forest are also home to these rascals. Especially first thing in the morning, the monkeys spill over into the surrounding neighbourhood, stealing food from markets and just generally being curious of the human population.  
Other Waterfalls
The best part of the central location of Ubud is how easy it is to make a full day itinerary of adventure. There are loads of waterfalls waiting to be discovered, so why not make a full day of it and hit as many as you can. The most famous waterfalls in the area are the Tegenungan, Kanto Lampo and Tukad Cepung waterfalls.  
Also Read – Sekumpul Waterfall – Your Ultimate Guide to Bali's Biggest Waterfall
  Given how popular these waterfalls are, we highly recommend setting an early alarm and visiting them at sunrise.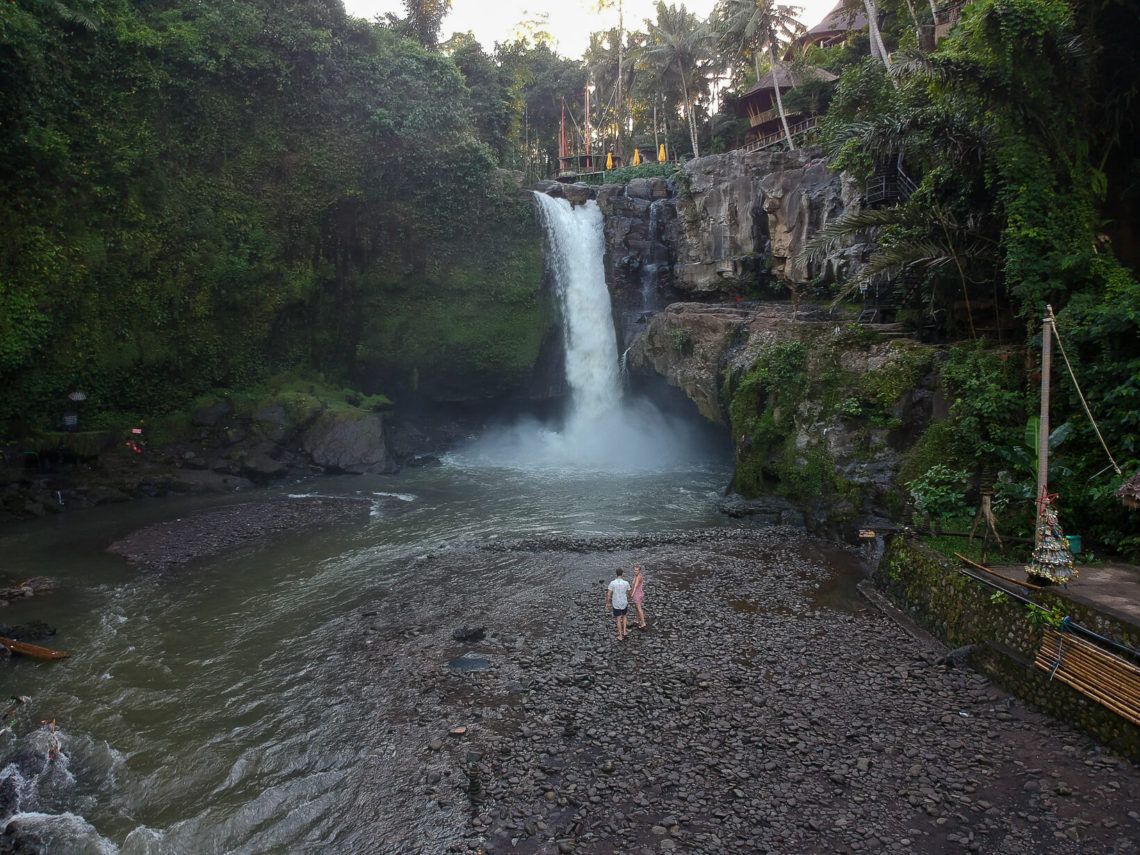 Before You Leave for Bali
Whether you have yet to leave on your adventure of a lifetime to Bali, or you are about to set off on your trip north in Bali itself, there are a few things you will need to get sorted to make sure your trips runs smoothly.    
Also Read – Living in Bali – All You Need to Know for One Month in Bali
What to Pack for Bali
The most important part of a smooth trip is perhaps the packing preparation before you leave. Pack too little and you will have to spend unnecessary adventure funds once there. Pack too much and your back will pay the price of a heavy backpack. When it comes to packing for Bali, the climate makes packing a much simpler (and lighter) task. Due to its equatorial situation, the lowlands of Bali are blessed with a pretty constant temperature of around 30oC. This of course means light clothing and PLENTY of sunscreen. The sun here is so strong that even darker skin tones will get burnt with too much exposure. It is highly recommended that you
pack as much sunscreen as you can
for your trip to Bali, as the price of it once you arrive is EXTORTIONATE. A small, 200mL bottle of sunscreen will cost you around £12. As for the northern, high altitude territories of Bali, the high humidity means the temperature plummets with every metre gained in height. If you venture far into the mountains of north Bali you can expect temperatures as low as 10oC, so pack warm layers accordingly. It is also important to
prepare for rain
, as you are very likely to experience a pleasant, warm rain shower during your visit to Bali  
Check out our entire packing guides here for everything you will need to pack for your Bali trip.
Best Travel Insurance for Bali
As with any other adventure, making sure you have the right cover is incredibly important. You do not want to ruin your trip of a lifetime with ridiculous medical bills that can easily be avoided. To ensure our trips are not spent worrying about this, we get our cover from the backpacker friendly World Nomads Travel Insurance. These guys offer a good range of cover for whatever your trip will involve, as well as excellent customer support for people overseas, all for a very reasonable price.
Get a quote for your cover right here and have peace of mind on your trip.
What Visa Should You Get for Bali
For your visit to Bali, you will need to get an Indonesian tourist visa. For countries on the
Visa on Arrival list
, this is a very simple process. All you will need to do for 30 days in Bali is show up at the airport and you are automatically given a 30 day visa for free. If you would like to stay longer in Bali (and let's face it, you absolutely will!), you can easily eextend your visa to 60 days by purchasing a Visa on Arrival extension before you pass through immigration into Bali.
You can read our full guide to extending your Bali visa over here.
Also Read – 10 Day Bali Itinerary: The Best Sights for First-Timers Visiting Bali
Where to Stay in Bali for Tibumana Waterfall
Given Tibumana's close proximity to Ubud, it makes perfect sense to stay in this central, jungle town before your visit. Ubud also makes the perfect base camp to explore more of the centre of Bali, and even a good stopping point on your journey to the untouched, northern region of Bali. Here are all of our favourite accommodation spots in and around Ubud, perfect for all ranges of budget.  
Luxury
 – Escape the craziness of Ubud city centre and spend your nights in the tranquility of the jungle. Sandat Glamping Tents sit only 15 minutes from the bustling Ubud markets, however you will feel like you are in another world. Spend your day relaxing by the pool and use the free shuttle to explore Ubud by night.
You can book your stay at Sandat Glamping Tents right here.
Mid-Range
 – Situated right in the centre of Ubud is the basic, yet very comfortable hotel, Nyuh Gading. This quiet hotel has excellent AC and fan options, balconies views and even offers cheap food and drink.
You can book your stay at Nyuh Gading right here. 
Budget
 – For barebones accommodation just minutes from the Ubud markets, Ojek's Homestay is the place for you. This converted, traditional Balinese house compound offers rooms with and without AC, has a kitchen, showers and even offers laundry service for a reasonable price.
You can book your stay at Ojek's Homestay right here.
  If hostels are more your social scene, there are a huge range of hostels to choose from in and around Ubud. 
Book your stay for Ubud right here
.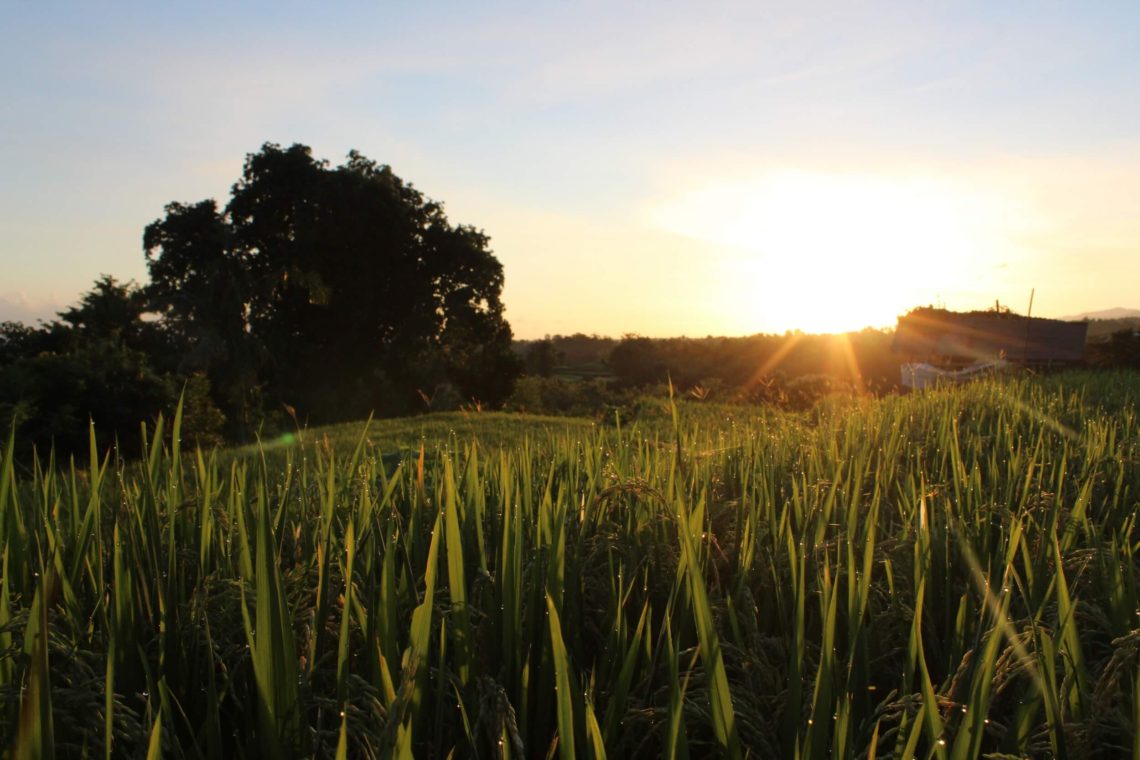 Also Read – Nungnung Waterfall Bali – Your Complete Guide to Nungnung Waterfall
    So there you have it, everything you need to know about
Tibumana waterfall in Bali
. Make sure you make the most of your time in this area and hit as many spots as possible. If you did make this trip and have any suggestions for other explorers, drop your knowledge down below. How was the waterfall when you visited? Where else did you enjoy in the area? Would you recommend it to others? Also be sure to share this post with your friends and family who may be visiting Indonesia soon.
Sharing is caring
and we would love to show everyone the beauty that Bali has to behold! If you did enjoy this article, then
get planning the rest of your trip with our other Indonesia content
. You can
catch up with us to see where we currently are on our social channels
. Tag us in your waterfall photos so we can share them with our community and show off Bali's beauty!    
Now Read:
This article may contain affiliate links that provide us with a small income. For more information read our Affiliate page.
---
Pin it for later!