Germany's largest and most popular city, Berlin, is host to over 5million visitors every single year. It is no wonder people flock to this cultural and historical city, spanning over 900km2 and home to roughly 4million residents. Famous for its vibrant party scene, off the wall street art and dark history, Berlin is a
main stopping point for most backpackers travelling Europe
. Berlin has something to suit every itinerary of any adventurer, whether you love to party, or are looking for a relaxing weekend break. This is your
ultimate Berlin itinerary
for two days of culture, art, history and relaxation.
Save this image to your Germany Pinterest board for later!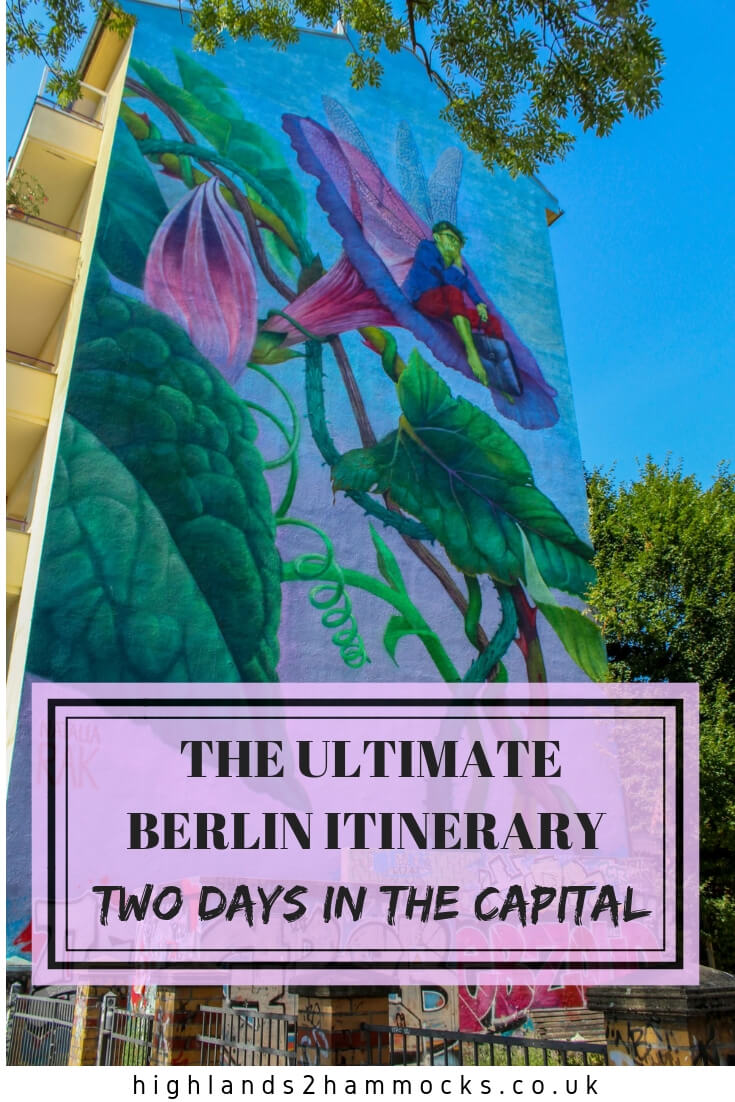 The Ultimate Berlin Itinerary – Two Days in the Capital
How to Prepare for Your Trip to Berlin
Before you set off on your trip to Berlin, there are a few things you will need to get sorted to ensure a smooth and unforgettable adventure. Here is everything you need to know before you set off on your journey to Berlin.
What to Pack for Berlin
What you pack for your trip to Germany's capital city will depend on what time of year you visit. Berlin experiences all four seasons (sometimes in one day), so it is good to always be prepared. In the winter, temperatures can reach well below freezing, so it is a good idea to pack warm and waterproof clothing. In the summer, it can reach sweltering temperatures, so light and breezy clothing is best.
For our packing checklist and packing inspiration, check out our full packing guides for all seasons over here. 
Overall, during your trip to Berlin you are going to be doing a LOT of walking, so comfy shoes are the most important item to pack. Also bring swimwear and a towel for your visit to the famous thermal baths. Given how photogenic, fascinating and downright bizarre some of this city is, you will be wanting to pack a camera for your two day visit to Berlin. You can
check out all of out travel tech over here
for an idea of what we pack to make sure every adventure runs smoothly.
What Travel Insurance is Best for Berlin
No matter where we go in the world, the most important thing we do to prepare for our trip is make sure we are covered. If something were to happen to us on an adventure, not being insured is simply not worth thinking about. Make your trip stress free and make sure you get the best travel insurance. For all of our trips, we get our insurance from World Nomads Travel Insurance. These guys deliver travel insurance designed with backpackers, adventurers and nomads lifestyles in mind. Their excellent customer service, wide range of cover and very reasonable prices are perfect for any backpacker.
Get a quote for your Berlin trip right here.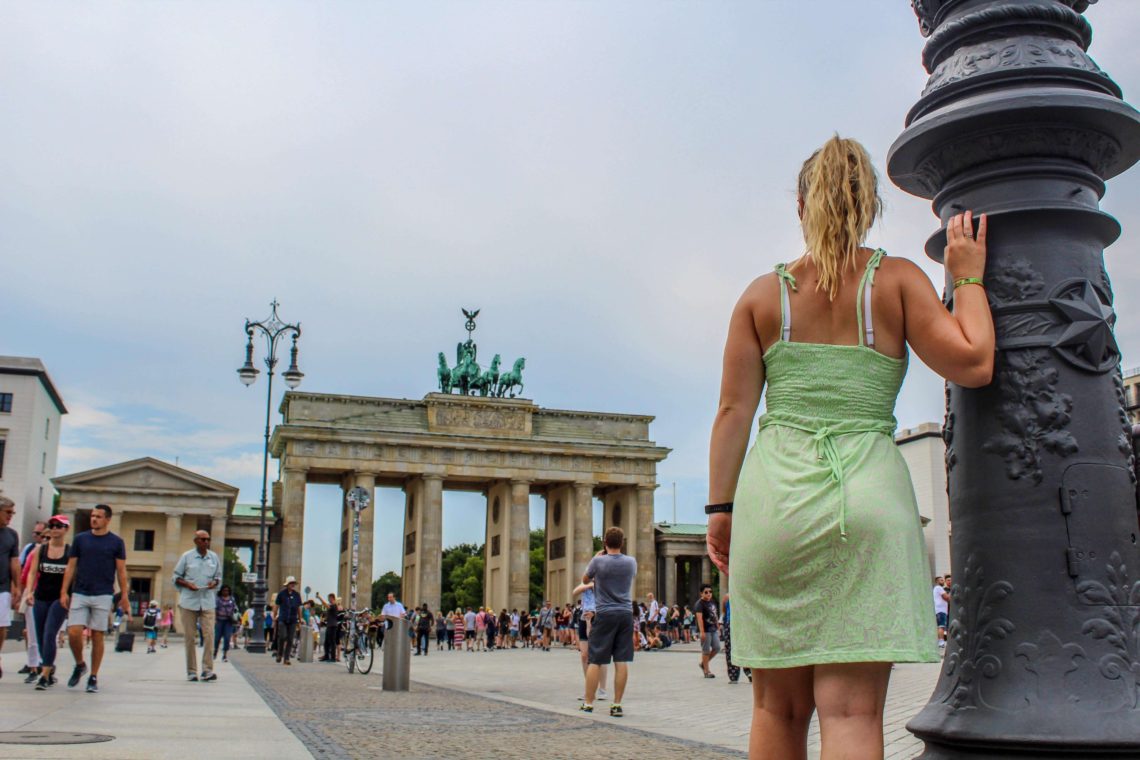 Where to Stay in Berlin
No matter what your style, budget or location may be for your trip to Berlin, those is a huge range of accommodation available. Here are our top picks for your Berlin itinerary for all budgets.
Luxury
– Sitting right in the city centre, across the road from Berlin zoo, is the extravagant and luxurious Hotel Palace Berlin. With its own swimming pool, wellness suite, as well as onsite bar and restaurant, this hotel has everything you need.
Book your stay at Hotel Palace Berlin right here.
Mid-Range
– Just a 5 minute walk from Berlin's fashion district, the four star Hotel Berlin Mitte is also ideally located. Reasonably priced and very comfortable, this accommodation is perfect for mid-tier budgeteers. It even has free wifi and air-conditioning for your visit to the city.
Book your stay at Hotel Berlin Mitte right here.
Budget
– Trying to go cheap in the heart of this city is a difficult task, however the Ootel.co hotel is only just outside the city centre and has excellent transport links. In under 20 minutes you will be exploring the city centre square of Alexenderplatz.
Book your stay at Ootel.co Hotel right here.
For all other hotel choices,
browse the biggest and best selection right here
. If hostels are more your social scene, there are a huge range of hostels to choose from in and around Berlin.
Book your stay for Berlin right here
.
Getting to Berlin from the Airport
The most popular airport for charter flights and budget airlines is Schoenefeld airport, located south-east of Berlin city centre. Flights from Easyjet and Ryanair will almost always touch down here. The most popular ways of getting from the airport to the city centre are by the
airport express train
, the
Berlin metro
or the
night bus
. Other than these options, a taxi will cost you up to 
€60 from the airport into the city centre. If you simply must do this, then we recommend using Uber to hail your cab. 
Airport Express Train
This is by far the quickest way to reach Berlin from the airport. Just a ten minute walk from the terminal sits 
Flughaten Berlin-Schoenefeld s
tation, which is where you can catch the train. This train runs daily between 4am and 11pm, and there is also a night train at 1:44am at the weekends. The train will cost you 
€3.30 for a single, however if you purchase a Berlin Welcome Card for zones AB and C then it is included.
Berlin Metro
The Berlin metro is locally referred to as the
Bahn
. It includes the
S-Bahn
and the
U-Bahn
, with the
U-Bahn
mainly going around the city centre and the
S-Bahn
transporting you to the suburbs. Again, all travel on these lines are included if you purchase the Berlin Welcome Card. The metro runs non-stop at weekends, so is the best option if you have missed the express train.
Night Bus
Buses are really a last resort for getting from the airport to the city. Lines X7, 171 and the night bus N7 will take you from Schoenefeld airport to Rudow U-Bahn station, where you can then catch the metro to the city centre.
How to Get Around Berlin
Arriving into Berlin with no knowledge of how the transport system works is quite an intimidating experience. Luckily, the public transport around Berlin is very simple and not overly expensive (if you do it right).
Check out our full article on getting around Berlin for a stress free arrival into the city.
Our number one recommendation for getting around during your trip to Berlin is to purchase the
Berlin Welcome Card
. Not only does this card give you unlimited access to the public transport around Berlin, you will also get a whole swathe of discounted and free entries to sights and attractions around the city. For this itinerary, the savings you will make on the activities are well worth the price of the card.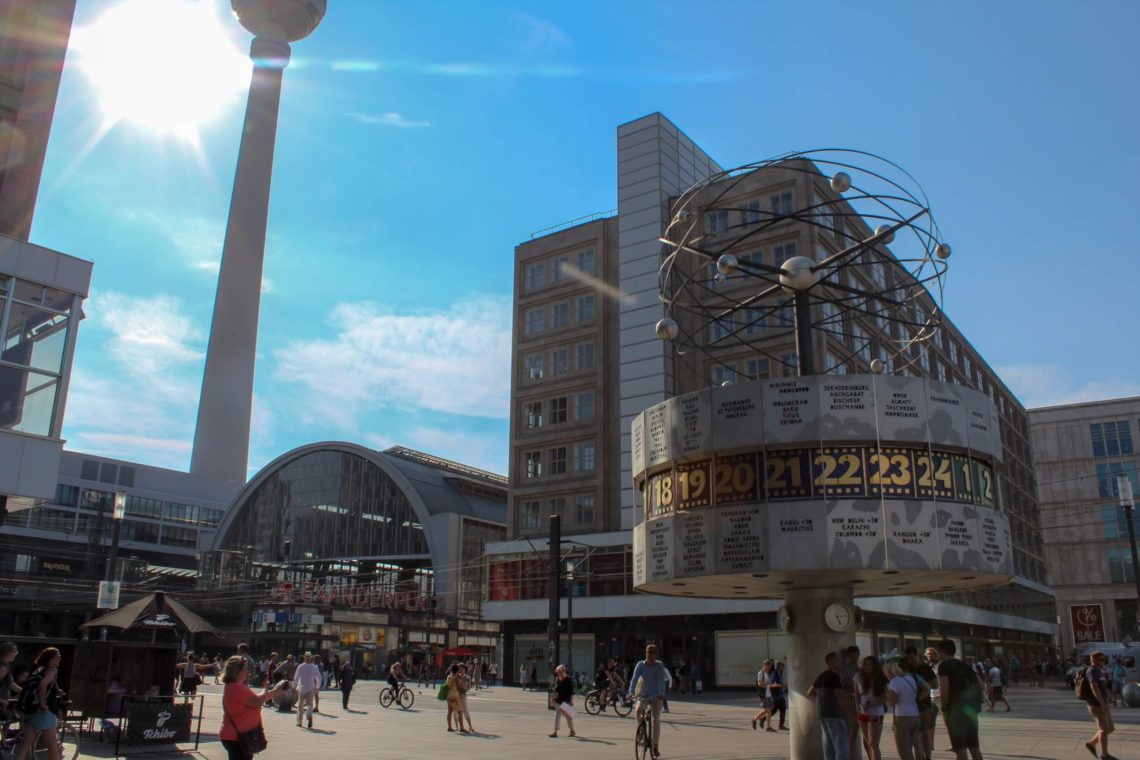 Also Read – Berlin's Best Attractions: Top Nine Activities in Berlin
Berlin Itinerary – Two Days in the City
Day One
So you have arrived into the city, dropped your bags and are excited to get out and explore. The first activity of the two day itinerary to Berlin begins just beside Alexanderplatz and involves a lot of walking, so pack some comfy shoes.
One of the most underrated experiences of Berlin are the
Alternative Walking Tours
around the city. These tours offer an in-depth and unexpected side to the city, all from the perspective of a local. They offer street art tours, history tours and more.
You can browse all of the Berlin walking tours available right here.
Once you have a feel for this part of town, it is time to head home and get ready for a night out to the
Alexanderplatz night markets
. This busy square comes to life with music, food and drinks at night, and is the perfect place to finish off your first day in Berlin. Try out the local foods, drinks and enjoy the buzzing atmosphere that all night markets possess. Once you have stuffed your face with all of the best German treats, it is time to check out one of the most famous bier halles in the world, the
Hofbrauhaus Bier Halle
. Just a short walk from Alexanderplatz, this bier halle allows you the opportunity to experience traditional German music, along with a buzzing atmosphere of laughing and drinking. Don't get too carried away with your first night in Berlin, however, as we have a big day tomorrow!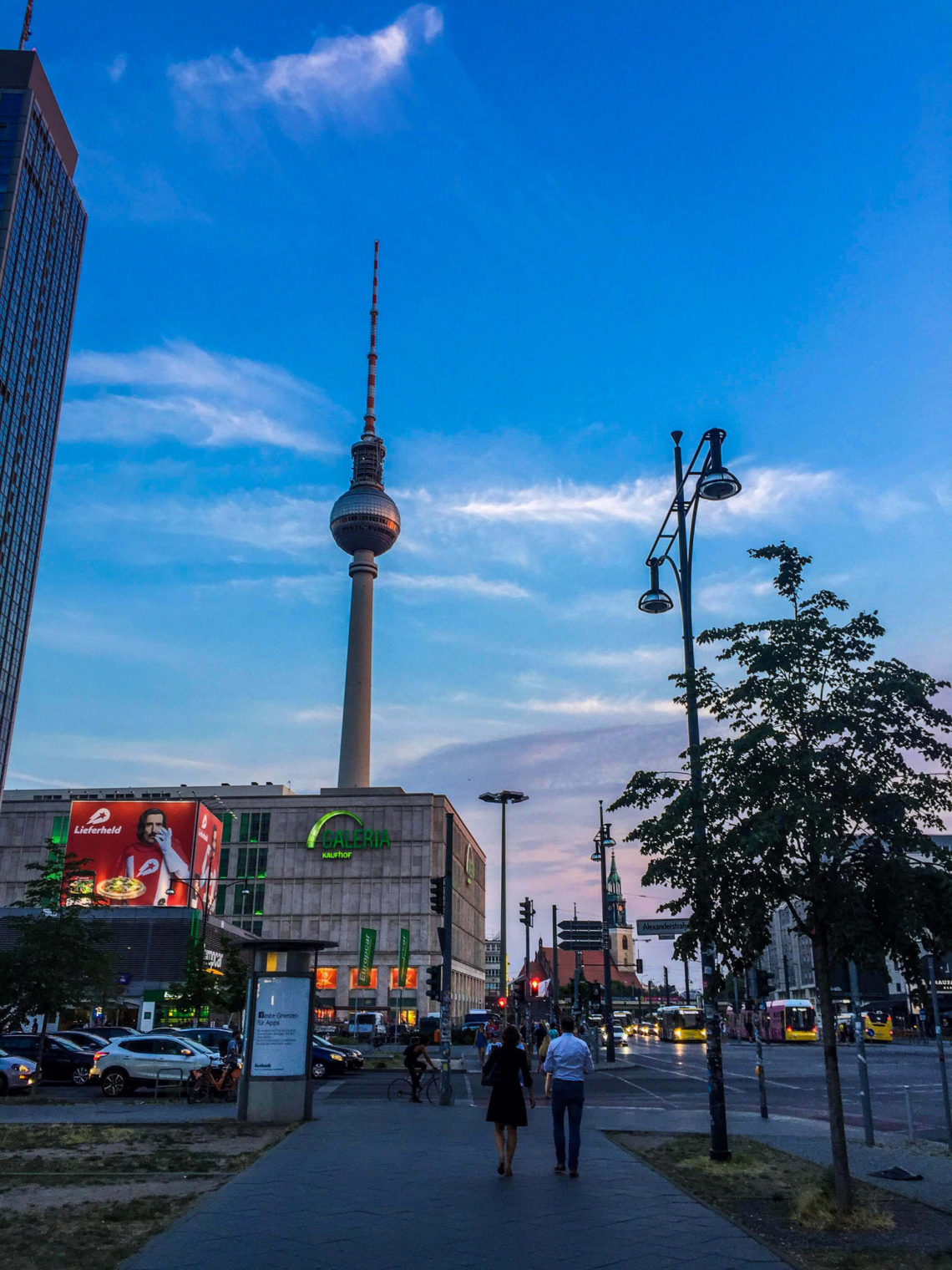 Also Read – Best Bank for Travelers – Starling vs Monzo Card Review
Day Two
Start the second day of this two day itinerary to Berlin off with one of the best views in the city, 207m up in the
Fernsehtrum Television Tower
. This old television tower offer 360 degree views of the entire city, perfect for getting your bearings for the day ahead. Head here early for a quieter experience and with the Berlin Welcome Card you will even get 50% off admission costs. Next up, it is time for a history tour of Berlin's dark and surprisingly recent past. Head to the
Berlin Wall memorial
, where only 30 years ago stood a wall which separated the city you stand in today into two very different countries. Learn the harrowing history of East and West Berlin and the divide that ripped families apart from the information posted along its length.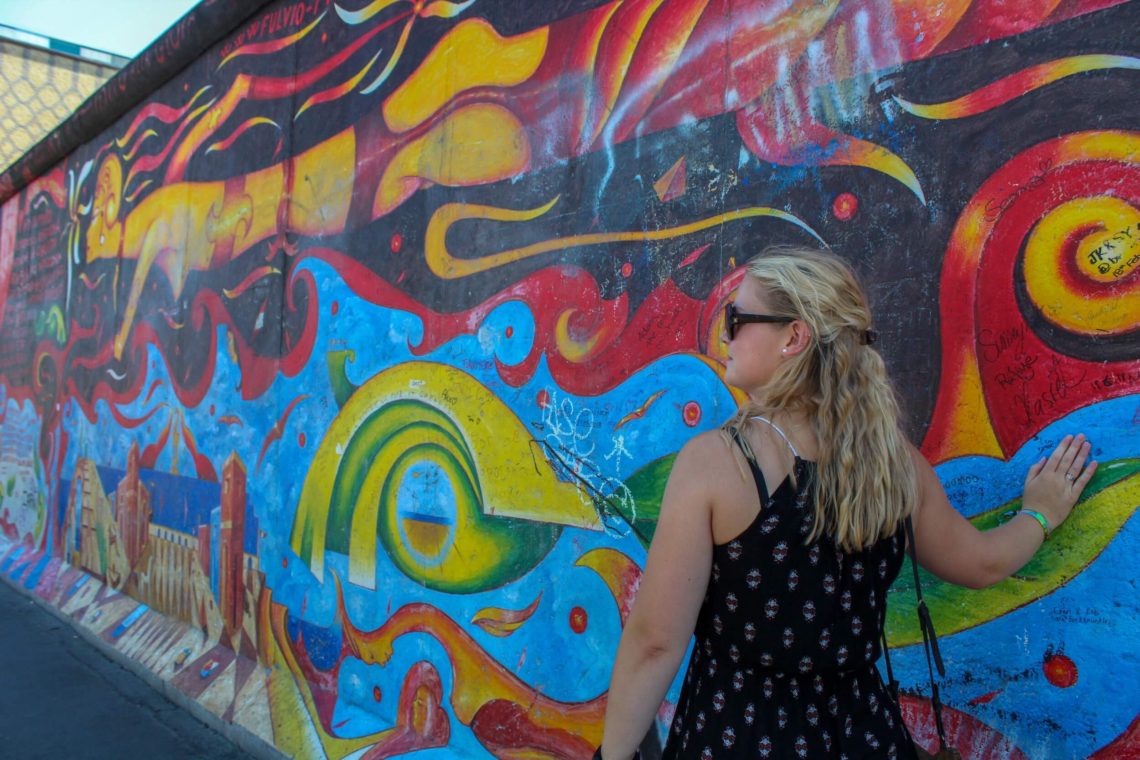 From here, head to your next stop at the
Holocaust Memorial
. This is a memorial for the remembrance of the 3million murdered Jews in Europe. Designed by the architect Peter Eisenman, this 19,000 square metre memorial site consists of 2711 concrete slabs, arranged in lines forming a maze-like plane. We couldn't quite believe the sheer size of the memorial, and it is one of the most unique sights we saw around Europe.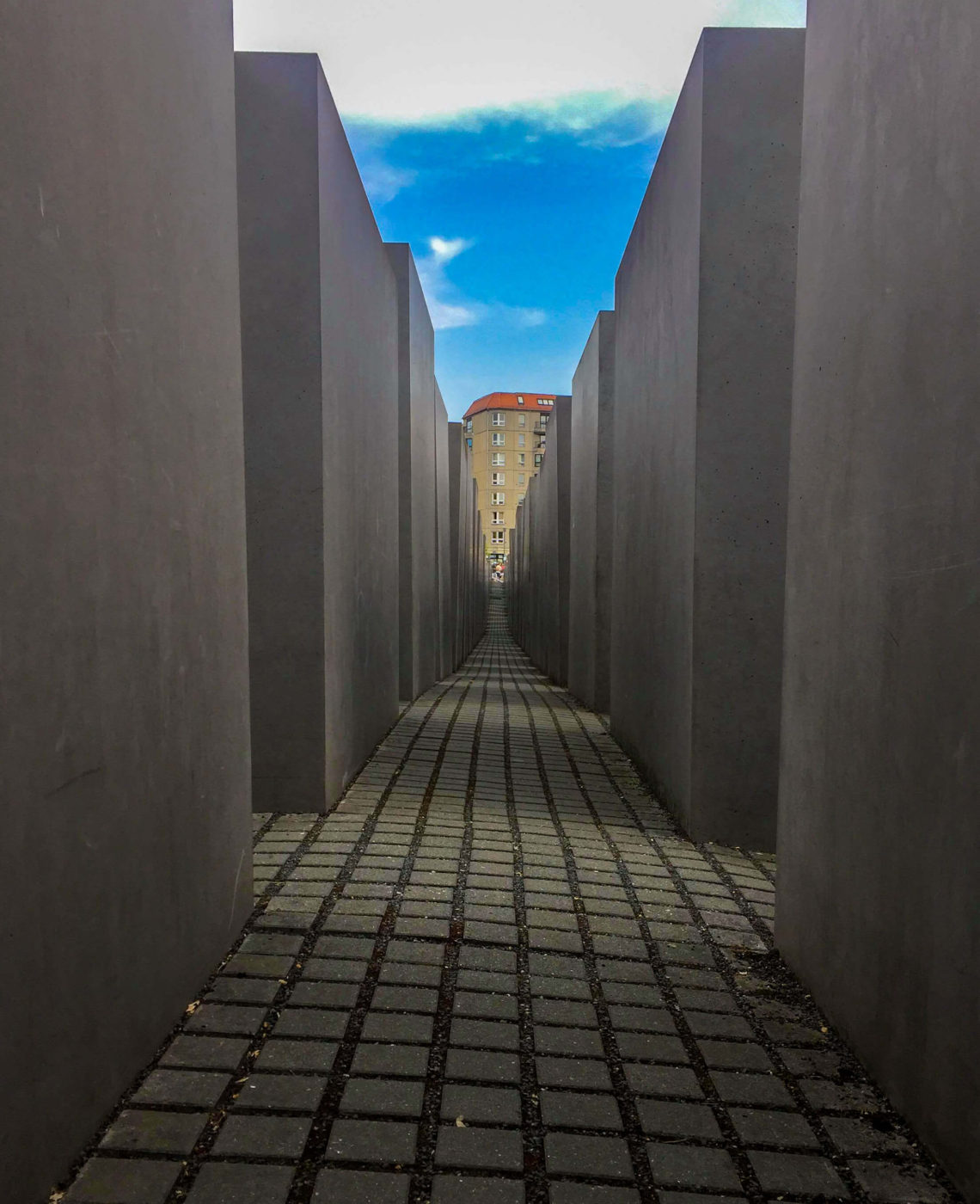 Finally, there is just enough time to check out
Checkpoint Charlie
, another famous landmark from the Cold War. This is the spot where the world stood on the brink of destruction, as Soviet and American tanks faced each other in a standoff across the border.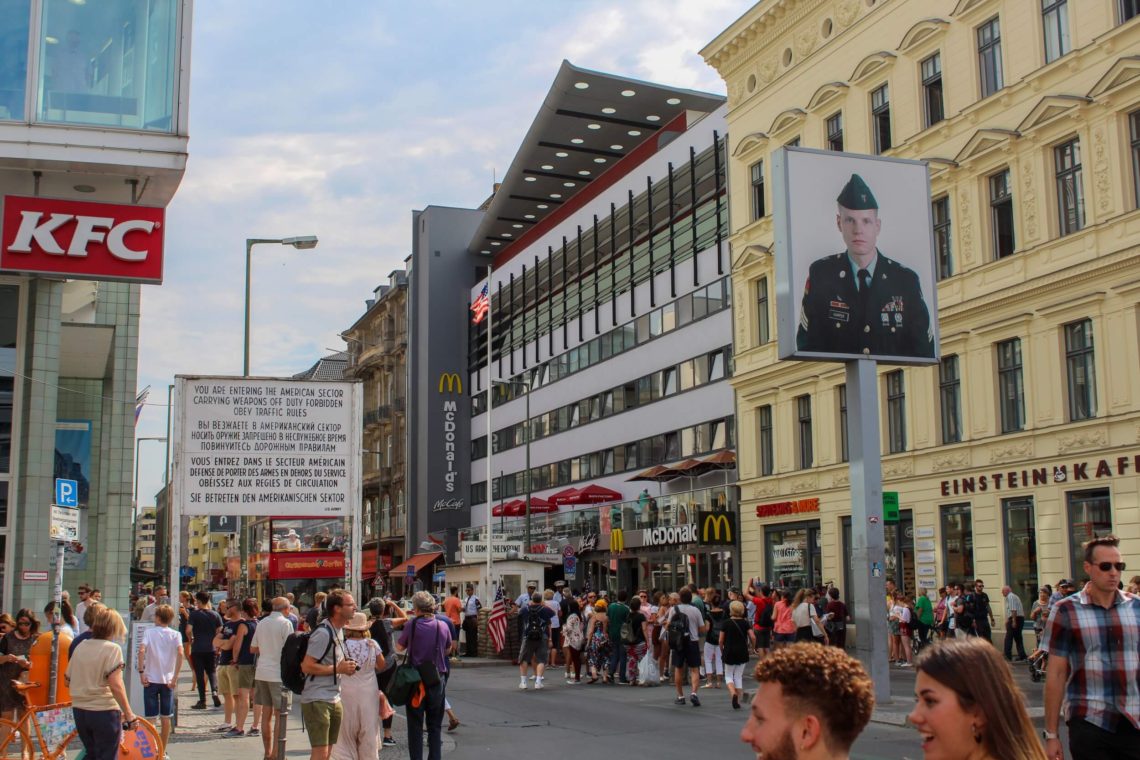 Finish off the day with a visit to the
Liquidrom Thermal Baths
, located 20 minutes SE of Alexanderplatz. These beautiful thermal baths are the perfect way to relax after a hard day of walking around Berlin. With freezing plunge pools, rock salt saunas and an acoustic sensory pool, you will feel transported and rejuvenated for another day of sightseeing tomorrow. Entry to the pool is a very reasonable 
€19.95 for 2 hours of blissful relaxation. It is possible to extend your time here and there is even a bar and a restaurant inside these baths, meaning you can chill for as long as you like. 
Also Read – Top Destinations in Europe for 2019
So there you have it, a
full two day tour of Berlin, Germany's largest and arguably most interesting city
. If you enjoyed this tour then let us know your favourite sights, smells and sounds in the comments section below. What was your favourite food? Did you see any street art? Where was your favourite dinner spot?
Tell us in the comments below
so your fellow travellers can enjoy this amazing city. If you found this article helpful, make sure you check out our other
Germany content over here
. Get planning your European escape and lose yourself in the beautiful culture there is to behold. Also remember that sharing is caring, and your family and friends will all love to know about your plans for Berlin. Make sure to share this with them and don't forget to
tag us in your holiday snaps on our social media channels
. Show us you enjoying Berlin's amazing sights and we will share it with our community of backpackers and explorers.
Also Read:
This article may contain affiliate links that provide us with a small income. For more information read our Affiliate page.
---
Save this image to your Germany Pinterest board for later!