Scotland's Heart 200 Road Trip awaits you. Get ready for some of the world's most beautiful landscape and some of Scotland's oldest sights and scenery. Filled with nature and history, adrenaline rushes and tranquil rivers, the Heart 200 is a road trip to be enjoyed by anyone and everyone of all ages. The best part of this central tour of Scotland is the sheer number of incredible activities around the 200-mile route.
Trying to narrow these down to just 5 days in Scotland may seem an impossible task, however, with this guide to the Heart 200 we will take you on a tour of all the best parts. This 5-day itinerary to the Heart 200 takes you around some of the best sights in Scotland on a road trip that you will never forget.
Get planning your ultimate Scotland Road Trip with our 10-day Scotland itinerary to all the best sights!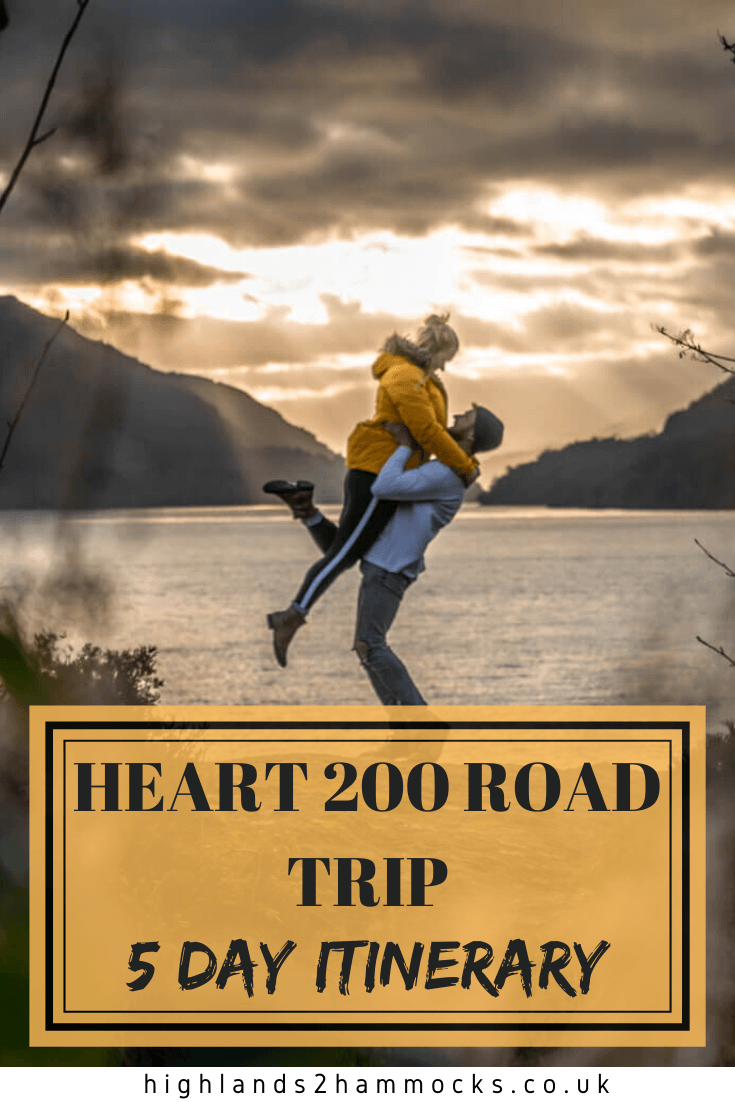 There is a lot to see and do on the Heart 200. To get the best out of your time in the heart of Scotland, we would recommend spending at least 5 days in this beautiful part of the country.
Listed below are all of the activities and sights that we will explore in this itinerary. Each will be discussed in greater detail below.
Day One – Stirling
Beheading stone
Church of Holy Rude
Stirling Castle
Thistle Shopping Centre
Wallace Monument
Day Two – Dunblane and the Heart
Dunblane
Dunblane Cathedral
Crieff Bridge
Comrie Croft
Day Three – Time for Action
Killiecrankie Highland Fling Bungee Jump
House of Bruar
Blair Castle and Gardens
Pitlochry
Day Four – Chasing Waterfalls
Tummel Bridge
Birks of Aberfeldy
Grandtully Bridge
Castles Menzies
Killin
Falls of Dochart
Day Five – Bonnie Banks of Loch Lomond
Falls of Falloch
Inveruglus Pyramid
Luss Beach
Devils Pulpit
Come along on our road trip with us on our Heart 200 adventure. Make sure you subscribe to our Youtube channel for more by clicking here!
Heart 200 Road Trip – 5 Day Itinerary
What is the Heart 200?
The Heart 200 is a brand new touring road trip, 200 miles around the centre of Scotland. This route takes you through the history in Stirling through the old capital of Scotland and to the beautiful scenery around the Trossachs. The Heart 200 can be explored in sections for weekends away or as one full road trip.
Heart 200 Route Map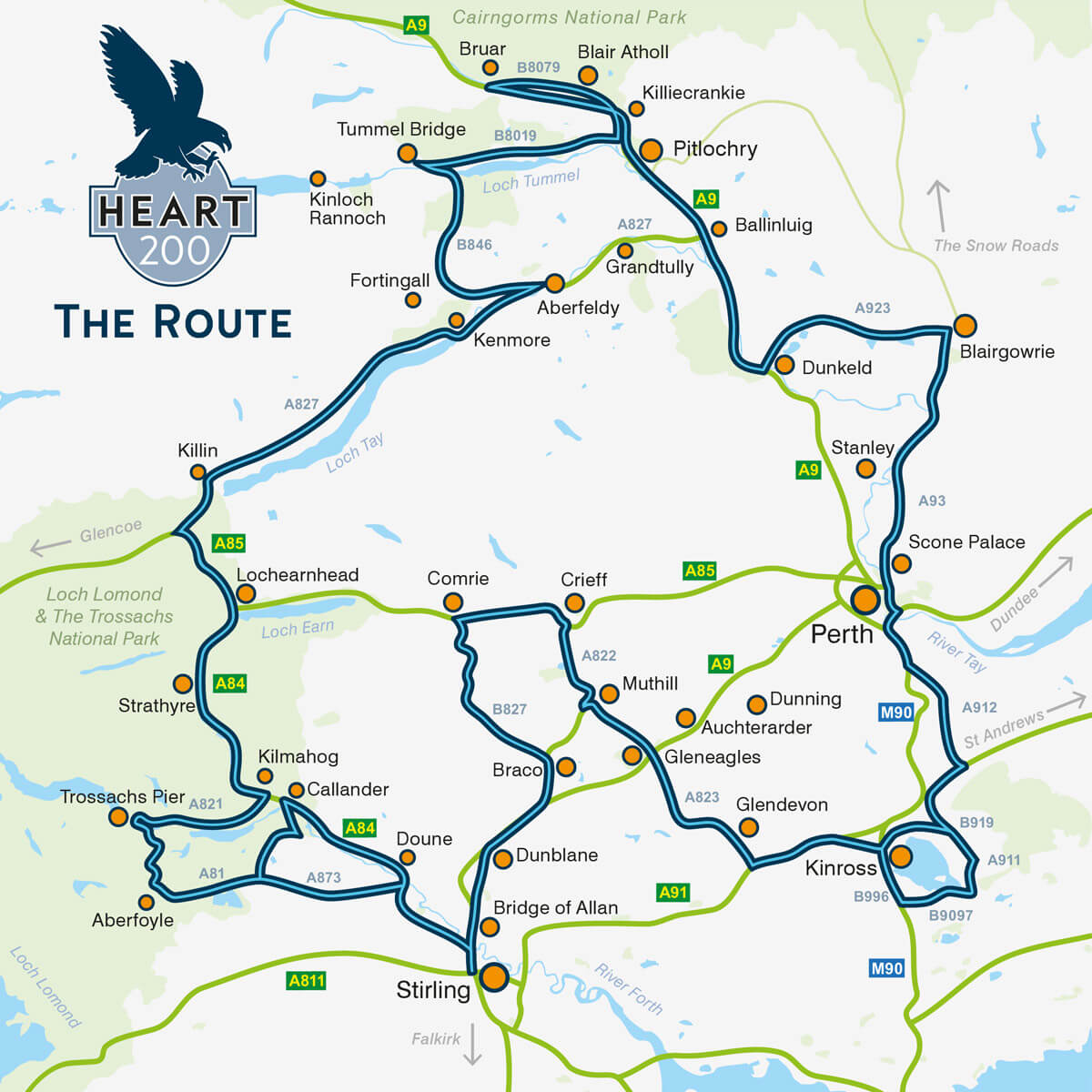 The Best way to Explore the Heart 200
In our opinion, touring the Heart 200 in a campervan is the best way to see all the sights. Having the freedom of a vehicle and somewhere to lay your head in one place will save you a lot of precious time and who doesn't love camping up in amongst nature? The best way to see the beautiful sights around the heart of Scotland is by renting a campervan. Check out Spaceships Rentals for affordable prices for your next campervan road trip.
Wild camping is legal in Scotland, meaning you can enjoy camping out in the countryside around the Heart 200. By using the Park4Night app you can search for free areas to camp, fill up water and use the toilet.
You can read more about wild camping in Scotland here.
Other options are booking onto campsites or staying in some of the fantastic Quirky accommodation that Scotland has to offer. These options will be discussed for each location that we visit along this route.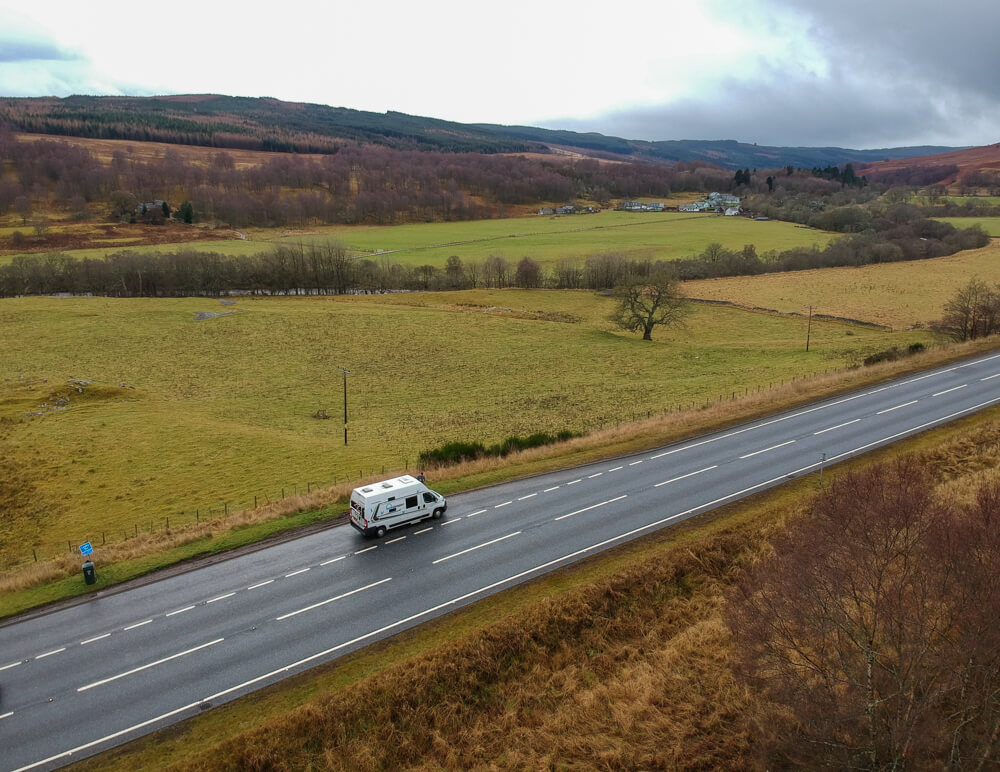 How Long Does it Take to Tour the Heart 200?
Given the central location of the Heart 200 and the vast number of sights that this part of the country has to offer, it is possible to spend months touring the Heart 200 and you will never get bored.
We recommend spending at least 5-days visiting all of the sights listed below, however, if you have time then 2-weeks is the optimal time to spend touring the Heart 200. This way you can spend time at each of the sights listed in this guide and even visit some additional sights and locations that we missed out.
When is the Best Time to Tour the Heart 200?
You will read many times throughout this post that we will recommend you to go inside and heat up from the cold. Now, Scotland is a country with an unpredictable weather forecast, even in the summer months, you are not guaranteed a summer of sunshine. Scotland's best weather tends to fall around April – May, although, that being said our itinerary took us around the Heart 200 in December and thankfully we nailed it with the weather.
The leftover Autumn colours and frosty grass made Scotland look incredibly photogenic, and coupled with the frosty winter mornings and blue skies, we experienced a truly beautiful side to the Scottish highlands.
Whatever time of year you choose to hit the Heart 200, make sure you are fully prepared with warm clothing and a waterproof as you will mostly likely experience at least a small shower, probably more. The greenery you will see around Scotland doesn't come from nothing!
Heart 200 5-Day Road Trip Itinerary
Day One – Stirling
Kicking the adventure off in the historical city of Stirling, you can easily spend an entire day wandering the quaint, cobbled streets, dining at the local cafes and reading tales of this ancient part of the world.
Beheading Stone
Start the trip off with a morning walk up to the Beheading Stone, situated at the top of Mote Hill. High up over the River Forth and with fantastic views of the Wallace monument, this hill upon which this stone sits has a particularly gruesome history.
The story goes that this stone was used for public execution in the 15th century. Murderers, thieves, and enemies of the crown would all spend their last moments on this hill before facing the axeman. At least they had a pretty view! Obviously, the stone is no longer in use today, however, it still sits on Mote Hill guarded by a metal covering as a stark reminder of what life in the past millennia was once like.
The stone is a 20-minute walk from Stirling Castle and is accessible from Crofthead Road or from the back footpath to the castle.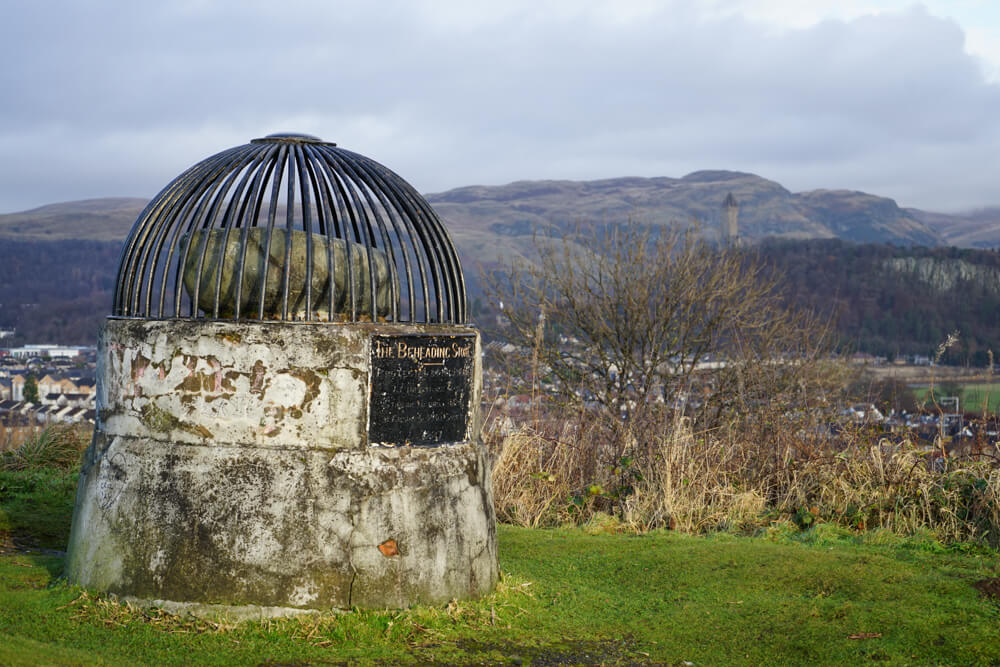 Church of Holy Rude
The Church of Holy Rude sits on the highest hill in Stirling overlooking its neighbouring attraction, Stirling Castle. This church dates back to 1129, however, these earlier buildings have been all but lost in time. The earliest structure that still stands today dates back to the 15th century. This makes it the second oldest building in Stirling after it's neighbour, Stirling Castle, which also dates back to the 15th century.
This church is a beautiful place to admire the amazing architecture of such an old building, and to take in the surrounding views. Step away from the busy high street of Stirling and you will come across some peaceful spots high above the city. The graveyard behind the church is a particularly peaceful area to enjoy a picnic and reflect on the ancient history of this part of the world.
The Church is open to the public and still holds services every Sunday.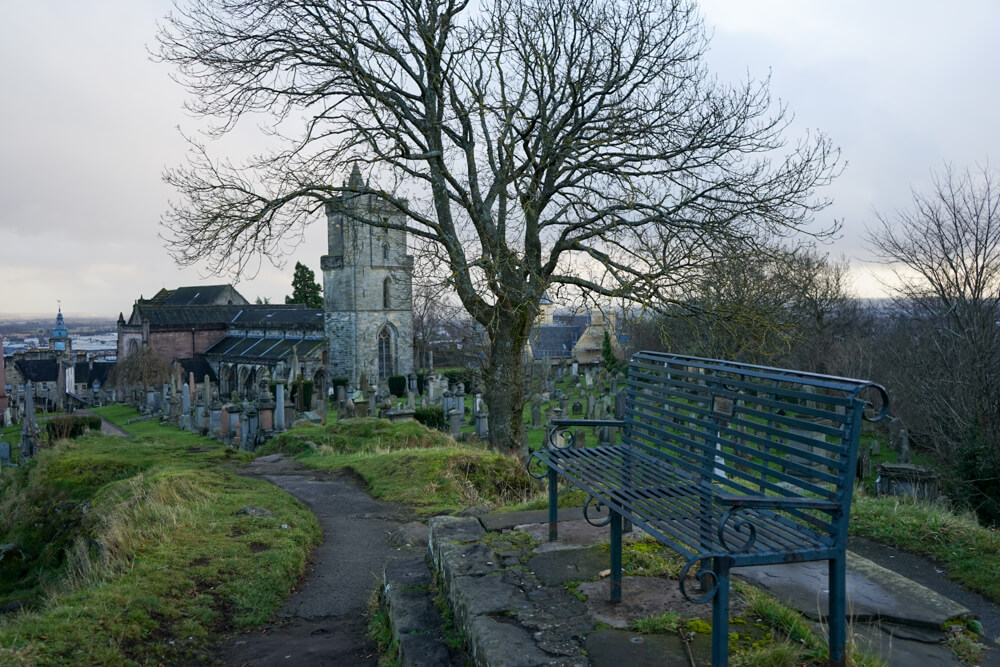 Stirling Castle
Stirling Castle sits proudly on Castle Hill overlooking Stirling and is one of Scotland's most historic castles. The site of the castle itself shows evidence of structures as far back as the 12th century, while most of today's buildings date back to the 15th century. Many Scottish Kings and Queens were crowned at Stirling Castle, whilst many have also born and died there.
From 1st January 2020 when you purchase a ticket for Stirling Castle you will be given an admission time. You must enter within this admission time, however, you can then stay in the castle for as long as you please. Adult entry is £19.50 when bought onsite and £17.50 if purchased online before.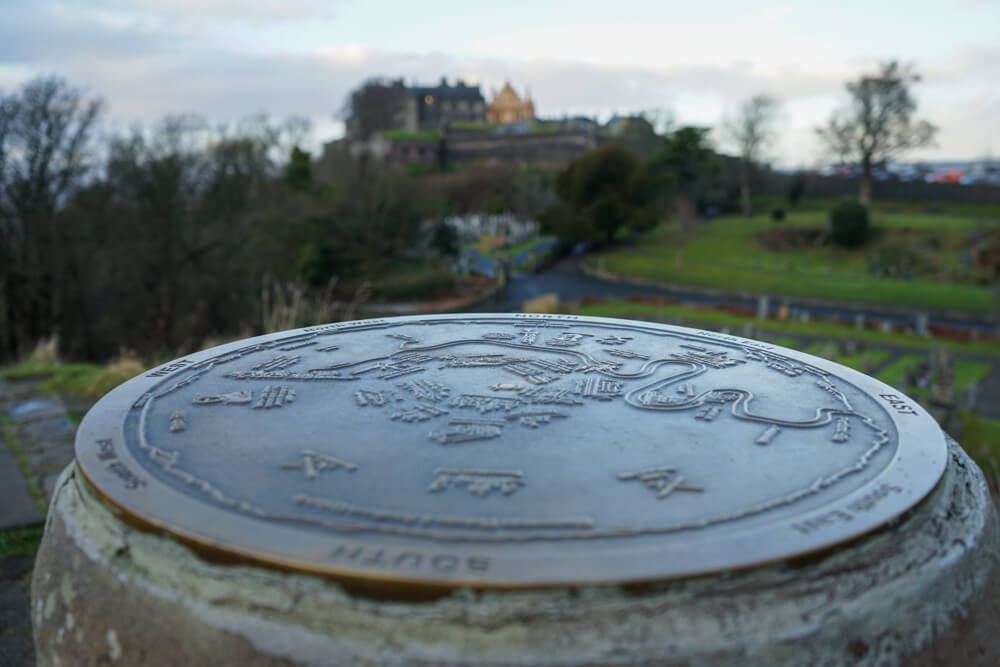 Thistle Shopping Centre
The Thistle Shopping Centre is the Stirling's main shopping area. This indoor mall has a huge range of high street shops and cafes to peruse and relax in, perfect for the days when the Scottish weather is particularly nasty.
Downstairs in the Thistles Shopping Centre lies the remains of a 16th-century jail, The Bastian. This once formed part of the defensive Burgh Wall, which protected the city over the years from invaders such as the Jacobites and the Roundheads. This has been remodeled with new wall displays and commentary and is open to the public free of charge.
Open from 9am-to-5.30pm Monday to Saturday (6pm Thursday), and 10am-5pm on Sundays.
Wallace Monument
The Wallace Monument is a monument to commemorate Sir William Wallace, a hero in Scotland's history. This tower has a distinctive presence on the Stirling horizon and is one of Scotland's most famous buildings, towering above the city and surrounding landscape.
Built in 1869, this tower serves as a monument to the nationally recognised Scottish hero and martyr, Sir William Wallace. Born in the late 13th century, William Wallace was involved in the First Wars of Scottish Independence, which challenged the cruelty and oppression of the English rulers. Involved in many battles across Scotland, Wallace is most famous for the victory he played a part in during the Battle of Stirling Bridge, where the Scots overcame a force of English invaders that vastly outnumbered their own. During the 14th century, Wallace was captured in Glasgow by the English king and was hung, drawn and quartered for the crime of wanting peace and prosperity in Scotland.
Visitors can tour the inside of the monument, where there are 3 exhibition galleries and the crown at the top of the building. Inside the galleries, you will be able to read more about the 13th century in Scotland and what life would hav ebeen like for Sir William Wallace. These are accessible by 246 steps in a spiral staircase.
The ticket prices are £10.50 adult admission. You can buy your ticket at the Wallace Monument visitor reception.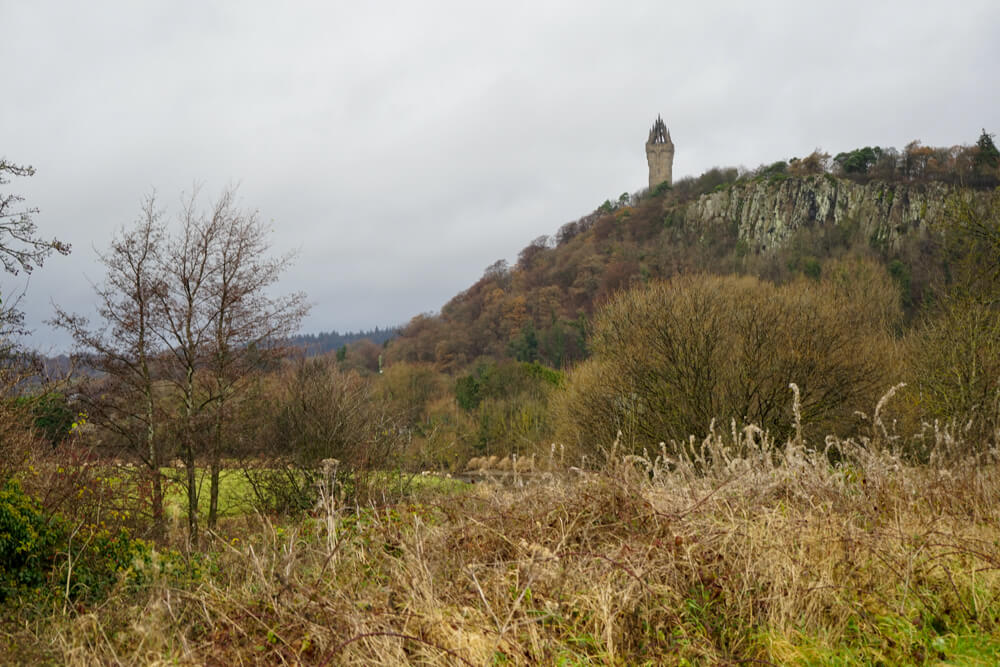 Top Tip
At this stage, we recommend double-checking you are stocked up on enough supplies to last you through your trip as this will be your last main supermarket. There will be smaller corner shops and C0-op stores on the route, however, these will generally be more expensive.
Where to Stay in Stirling
If you are camping around the Heart 200 then we can recommend a night at Witches Craig Caravan and Camping Park to relax in the evening and get set up for the following day ahead. Awarded the AA Campsite of the year for Scotland in 2015 with loo of the year toilets and showers, this luxurious campsite is one that may convert those who wouldn't camp into campers.
If you fancy something a little more luxurious, here are your best options for this area.
Luxury – Victoria Square & The Orangery Restaurant is a luxurious resort in Stirling. The spacious rooms and large bathroom areas make a very comfortable stay at a reasonable price.
Book your stay at the Victoria Square & The Orangery Restaurant right here.
Mid-Range – Springfield Lodge Bed and Breakfast is close to Stirling Centre and the Wallace Monument, as well as having great views of the surrounding countryside.
Book your stay at the Springfield Lodge Bed and Breakfast right here.
Budget – Highland Gate by Marston's Inns is situated near the centre of Stirling and has a selection of delicious food at very affordable prices.
Book your stay at the Springfield Lodge Bed and Breakfast right here.
If hostels are more your scene, you can check out the hostels available in Stirling here.
Day Two – Dunblane and the Heart of Scotland
Follow the A9 road from Stirling up towards the first stop of day 2, Dunblane. This ancient town was at one point the most important place in Scotland's central belt. A quick wander around the town will show you exactly why.
Dunblane
This peaceful, serene and pretty village was at one point the central point of trading and markets between the north of Scotland and the south of the country. Due to the mountainous landscape in the surrounding lands of Perthshire, the route through Dunblane acted as a linking route for traders venturing north or south in the country.
With evidence of settlements in Dunblane dating back as far as the 7th century, when Roman soldiers established a camp here, there is a simply fascinating amount of history here to behold. Strolling through the town of Dunblane, it is possible to see the remnants of buildings and bridges dating back to the 15th century.
Dunblane is also the home town of the Scottish Olympic champion in Tennis, Andy Murray and his brother Jamie who is also a champion in the sport. To commemorate the medals won by these two brothers in the 2012 Olympic Games, a local postbox and telephone box were painted gold.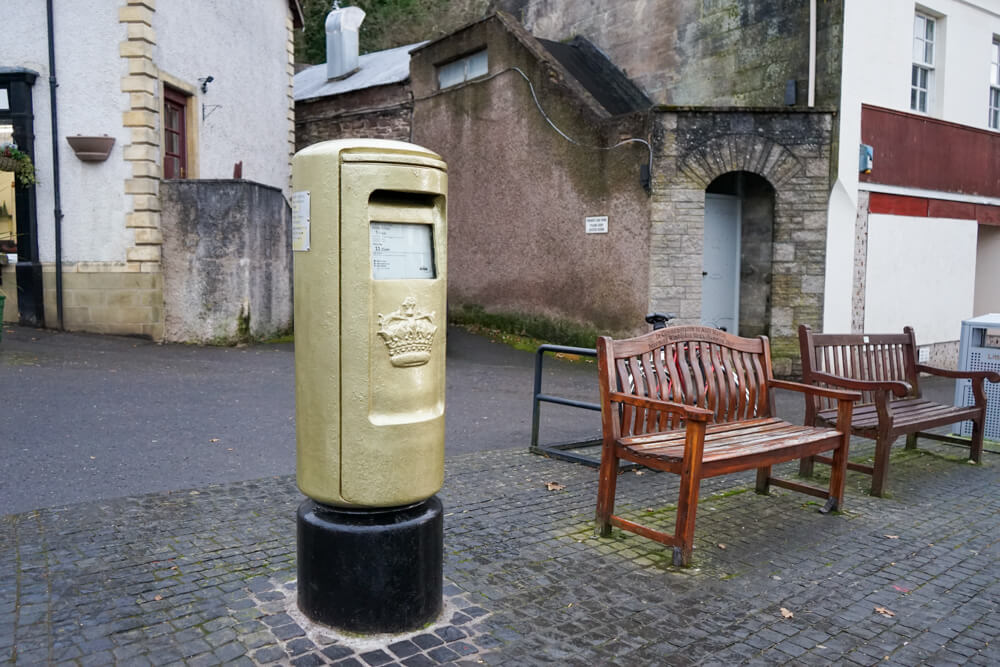 Dunblane Cathedral
One of the oldest buildings in Scotland is the beautiful Dunblane Cathedral, which was built on the site of a building dating back to as early as the 9th century. The main tower of the church is the oldest section of the current building, dating back to as early as 1070 AD.
The cathedral itself was erected in the 13th century and is currently one of 6 medieval cathedrals spread out across Scotland. In the 16th century, the roof of the cathedral collapsed, leaving it abandoned until a successful restoration project saw it restored in 1870.
The cathedral remains open daily for visitors to admire the beauty of the internal structure, as well as for congregations for the locals.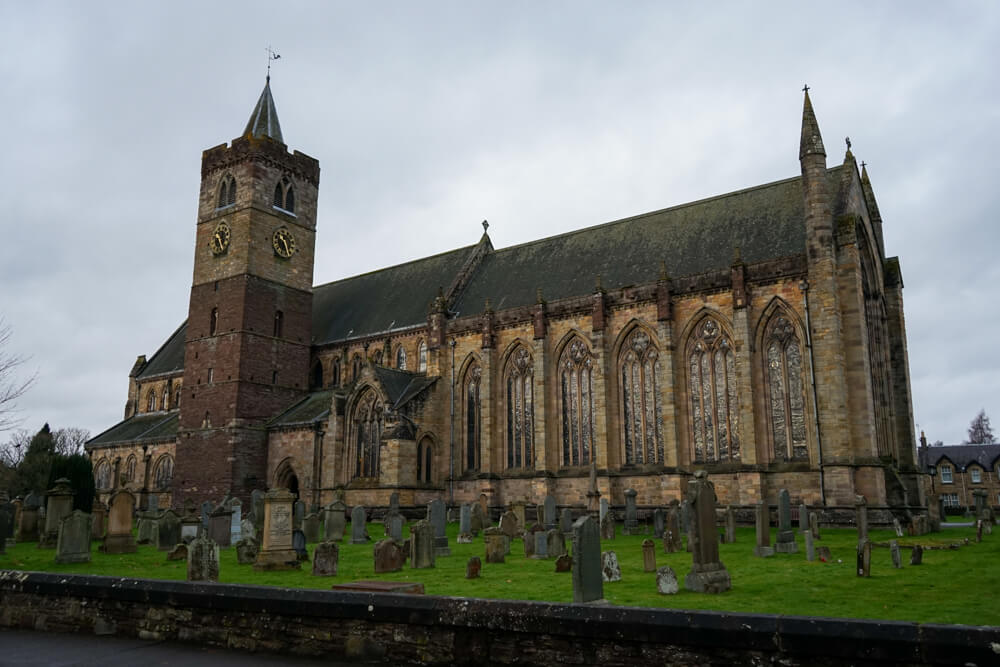 Crieff Bridge
Finish up the day with a wander around the town of Crieff and a visit to the old Crieff Bridge. This 4-arch bridge actually replaced another bridge which is believed to date back to 1690, however, not much is known about this older structure. Aside from the bridge itself, River Earn is a beautiful and peaceful river to stop and admire on your journey.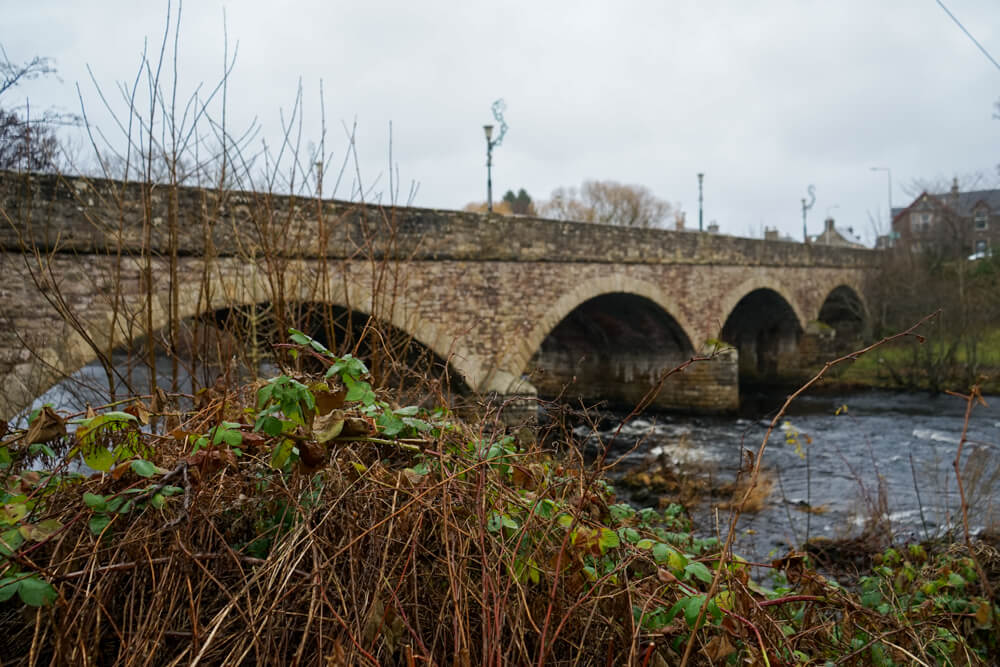 Where to Stay in Crieff
Comrie Croft
If you are planning on camping or staying somewhere a little more unique on your trip, settle down for the night at Comrie Croft, Scotland's award-winning green location. Whether you want to park up your van, stay in the farmhouse hostel or camp in one of the nordic kåtas, there is somewhere for everyone at Comrie Croft.
This secluded lodging is also the location of a fantastic mountain biking track, complete with a bike shop, bike shower and cooking facilities for after your ride. If you are into your adventure sports, stop off here for an extra day and give the biking trail a shot.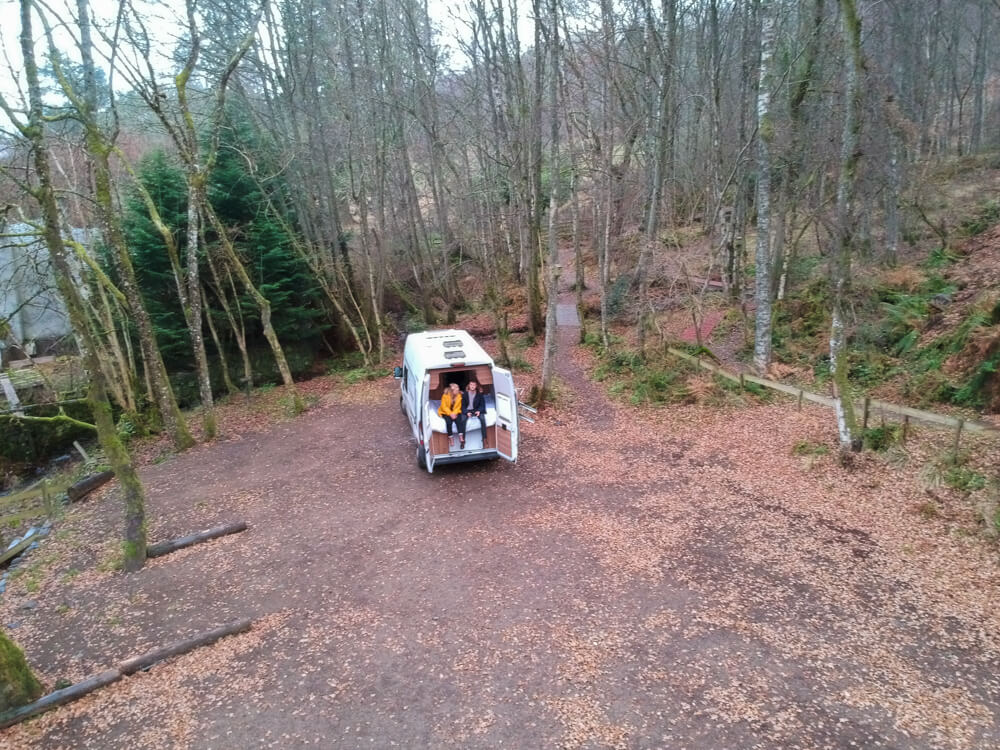 If you choose to stay in a hotel at this point, you could either stay for a night in Crieff or head on to Pitlochry where you will also be spending the following evening as day 3 is all a short drive.
Luxury – Crieff Hydro is situated in Strathearn Valley and is set in a 900 acre estate complete with an 18 hole golf course. With breakfast included in your overnight stay, you are set for a luxurious stay, with a spa, in nature.
Book your stay at the Crieff Hydro right here.
Mid-Range – The Tower Gastro Pub & Apartments offers beautiful self-contained apartments in the heart of Perthshire. All studio apartments have a kitchenette, however, if you don't fancy cooking, the family restaurant is downstairs.
Book your stay at the Victoria Square & The Orangery Restaurant right here.
Budget – Victoria House B&B is a traditional Victorian building within walking distance to Crieff's pubs and restaurants. If you are feeling like a lazy morning the next day, you can have your breakfast served to your room.
Book your stay at the Victoria Square & The Orangery Restaurant right here.
If hostels are more your scene, you can check out the hostels available in Crieff here.
Day Three – Adrenaline Rush with a View
On day three of your highland adventure, you will be heading along the eastern border of the Heart 200, northwards into the highlands. Get ready for a day to remember with one of the more unique activities in the heart of Scotland, a bungee jump with an epic view.
Highland Fling Bungee
Feeling like an adrenaline rush through the beautiful scenery of the Scottish Highlands? How about giving Highland Fling Bungee a go and jumping 40m off a bridge with the most stunning backdrop you could imagine. Highland Fling Bungee offers you just that and with their fantastic customer service and sense of humor, you will be jumping with ease.. sort of.
Located only 3 miles from Pitlochry, Highland Fling Bungee sits on the Garry Bridge in Killiecrankie. With incredible views of the surrounding mountains as a backdrop, you can choose from their bungee jump or the highland swing, both equally as thrilling. The bungee jump drops you 40m to the river below before springing you back up, a nerve-wracking thought but an incredible experience!
To make sure you can fit this activity into your itinerary, make sure you book in advance. We would recommend giving yourself around 2-hours to complete your jump, as the preparation and waiting around takes a little while. It will get cold when you are waiting beneath the bridge as well, so pack a warm jumper to take up with you.
Read all about our visit to Highland Fling Bungee over here.
The House of Bruar
After heading north on the A9 for around 10 minutes, you will reach your next destination. As you come around the corner, you will see a prominent, white building on your right. This is the famous House of Bruar. The House of Bruar is a great place to stop off in the gateway to the Highlands near Blair Atholl. Whether you are visiting to go shopping, eat out in the restaurant or visit the Falls of Bruar, this place is a great spot to heat up from the cold weather.
The local shop here has an extensive range of high-quality products in both men's and ladies' clothing, as well as a fantastic range of Scottish foods. The restaurant is a little expensive, however, the quality of the food matches the price that you will pay.
The Falls of Bruar are a beautiful set of waterfalls situated in the hills behind the House of Bruar. The walking trail to reach them is a 2.5km round trip, with a surprisingly strenuous incline of 150m over the route. To reach the falls, admire the beauty and return to the House of Bruar, I would allow for around 2 hours at a slow walking pace.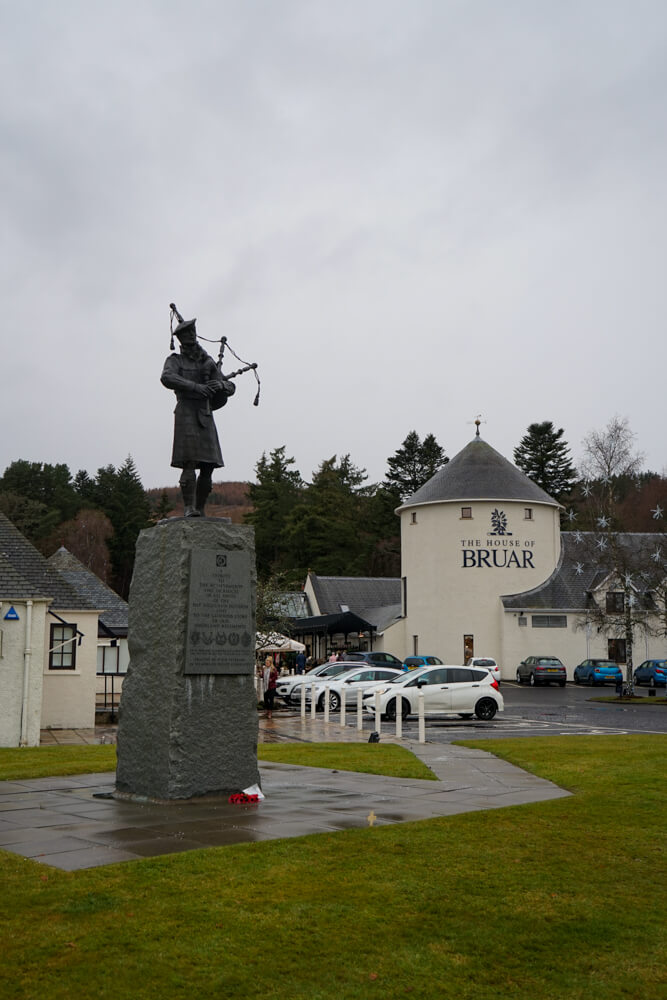 Blair Castle
After a short drive west, only 7 minutes along the A7, you will arrive at the beautiful Blair Castle. This magnificent building dates back 700 years and has been home to the Atholl family during that time. The history of Blair castle takes you back to the medieval period through the Victorian era up to the Millenial Period.
An adult ticket into the house and gardens will cost £14, if you are only interested in visiting the gardens, this will cost £7.70. For more information on prices and about Blair Castle, check out their website. The summer season starts on 1st April 2020 and the castle will be open until 30th October 2020 from 9.30-5.30pm 7 days a week. The last admission to the castle will be 4.30pm during this time.
When you enter the castle, you are welcome to use your cameras except when you are in the Entrance Hall. If you take any photos on your phone in the entrance hall these must be for private use only. The use of drones around Blair Castle and the grounds is prohibited.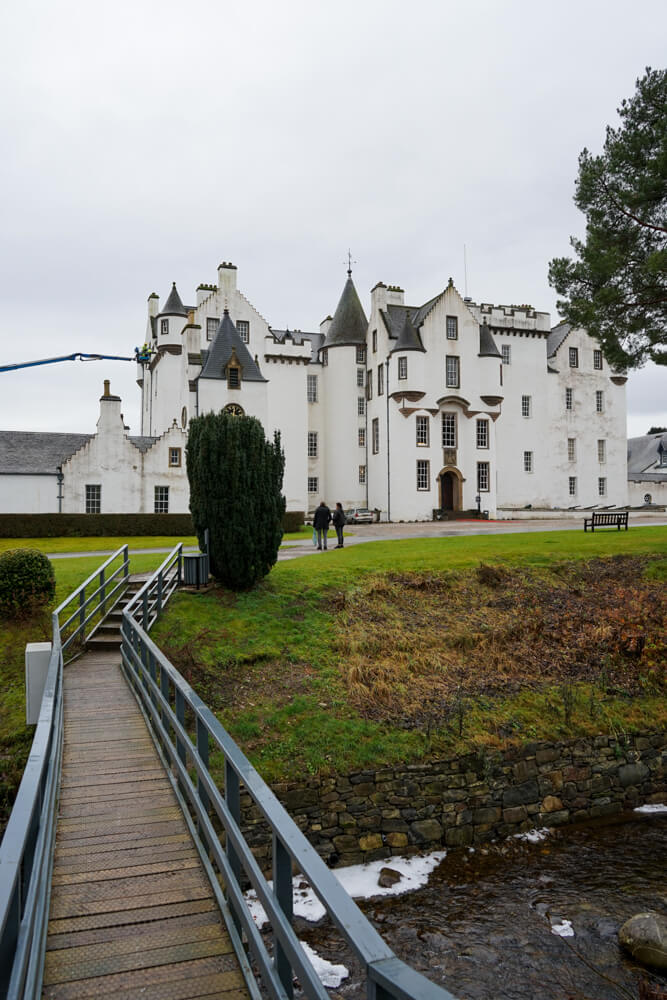 Pitlochry
To finish off the day and heat up from a day in the Scottish highlands, we recommend heading back along to the partner cafe of Highland Fling Bungee, Escape Route. Situated in the small town of Pitlochry, if you show your stamps from your bungee jump you will get a 10% discount on your drink. Escape Route is a small cafe on the high street of Pitlochry, right beside the bike rental office.
Pitlochry is a beautiful, small town in the heart of Scotland, offering many things to do and places to eat. If Escape Route is closed, we can recommend also Cafe Calluna for a hot chocolate and cake to heat up from the chilly weather you will most likely experience in Scotland. If you are after a more hearty meal, there are a lot of restaurants and pubs along the high street to choose from.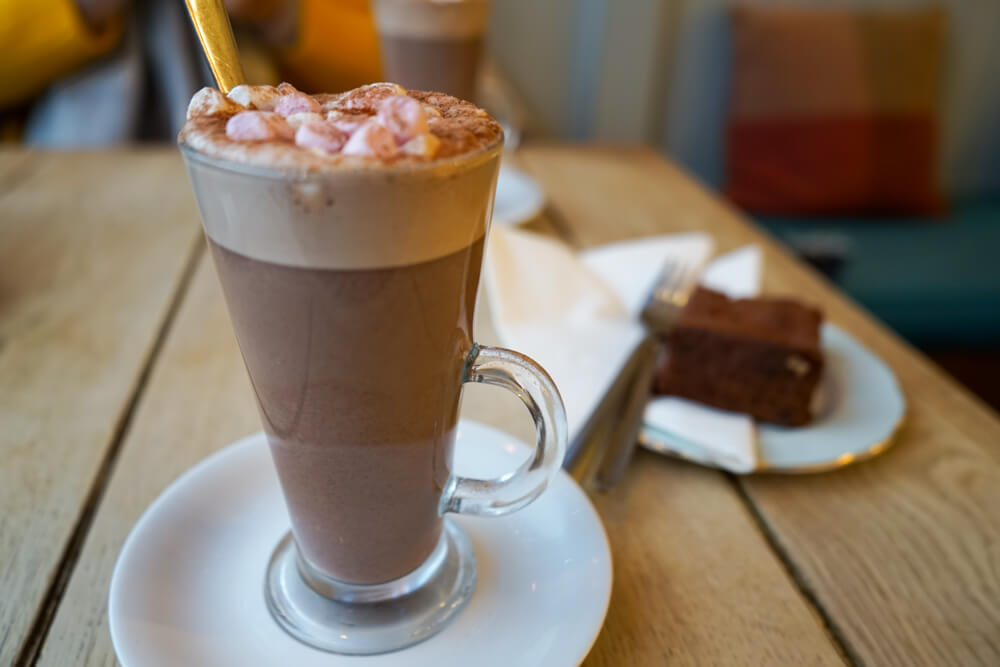 Where to Stay in Pitlochry
If you are looking to camp close to the town centre, Milton of Fonab is a great campsite within walking distance of Pitlochry. This campsite orders in fresh rolls and milk so you are sorted for breakfast the following morning.
If you choose to stay further out of Pitlochry, Ardgualich Farm campsite is surrounded by greenery and is suitable for tents or campervans/caravans. If you are into your water activities and have brought your canoe, you can take it for a ride here in Loch Tummel.
If you fancy something a little more luxurious, here are your best options for this area.
Luxury – Ever fancied staying in a castle? Well, Fonab Castle Hotel can offer you just that for your night in Pitlochry. This five-star hotel offers an incredibly unique experience in the Scottish highlands. Sitting amongst the tranquil scenery of Ben Vrackie, you can enjoy views of the peaceful water of Loch Faskally.
Book your stay at the Fonab Castle Hotel right here.
Mid-Range – If you are looking to stay somewhere that includes breakfast, Derrybeg Bed and Breakfast serves up a traditional Scottish breakfast to fill up your adventurous bellies in the morning. What more could you want than that and the amazing views of the Tummel Valley that come with it.
Book your stay at the Derrybeg Bed and Breakfast right here.
Budget – The Red Brolly Inn is a budget yet comfortable place to stay for your next trip to Pitlochry. This family-owned hotel features a fully stocked bar, as well as a full restaurant at night and cafe during the day. This is the perfect option if you are simply looking for somewhere to rest your head and refuel for the day ahead.
Book your stay at the Derrybeg Bed and Breakfast right here.
If hostels are more your scene, you can check out the hostels available in Pitlochry here.
Day Four – Chasing Waterfalls
We begin day four by heading along the n0rthern border of the Heart 200, chasing waterfalls and marveling at the beauty of Scotland's nature. It is going to be a full-on day in the great outdoors, so fuel up at breakfast and put on your comfy boots.
Tummel Bridge
Tummel Bridge is a small town located on the banks of Loch Tummel. Popular for sailing, camping, and fishing, Loch Tummel is a beautiful part of Scotland. Stretching 11km through the glen, there are roads on both sides of the water, allowing visitors to admire its beauty from all angles.
In the village of Tummel Bridge itself, there is a rather fitting centre-piece dating back to 1730. The bridge, which once acted as the main crossing over this part of the River Tummel, now serves as a footbridge. It was constructed by the famous General Wade during his campaign of constructing barracks, bridges and proper roads around Scotland.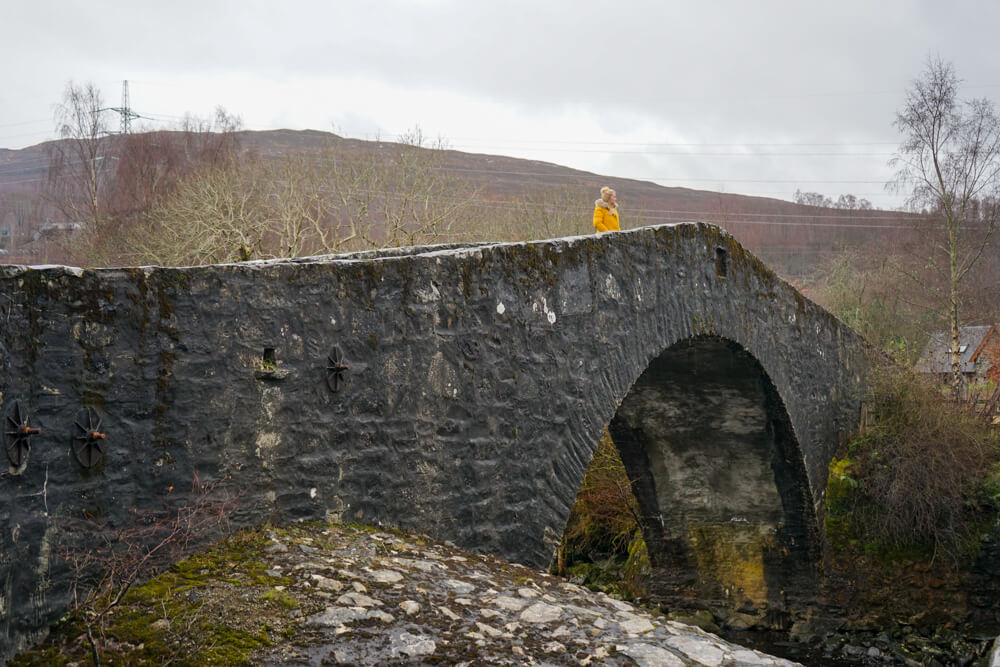 Birks of Aberfeldy
Sat behind the town of Aberfeldy is the Birks of Aberfeldy, a beautiful set of cascading waterfalls leading from the hills into the town centre. This spot was popularised in the poem "The Birks of Aberfeldy" by the famous Scottish poet, Robert Burns and is now a favourite walking trail by the many that visit.
This 3.5km walk takes around 1-2 hours and you will be spoilt by the several waterfalls you pass on your walk-up. The return walk is through woodland which is equally as beautiful. If you are short on time, there is a set of smaller waterfalls by the car park itself. The walk down to see them is sloped and quite slippery, so take your time and be careful.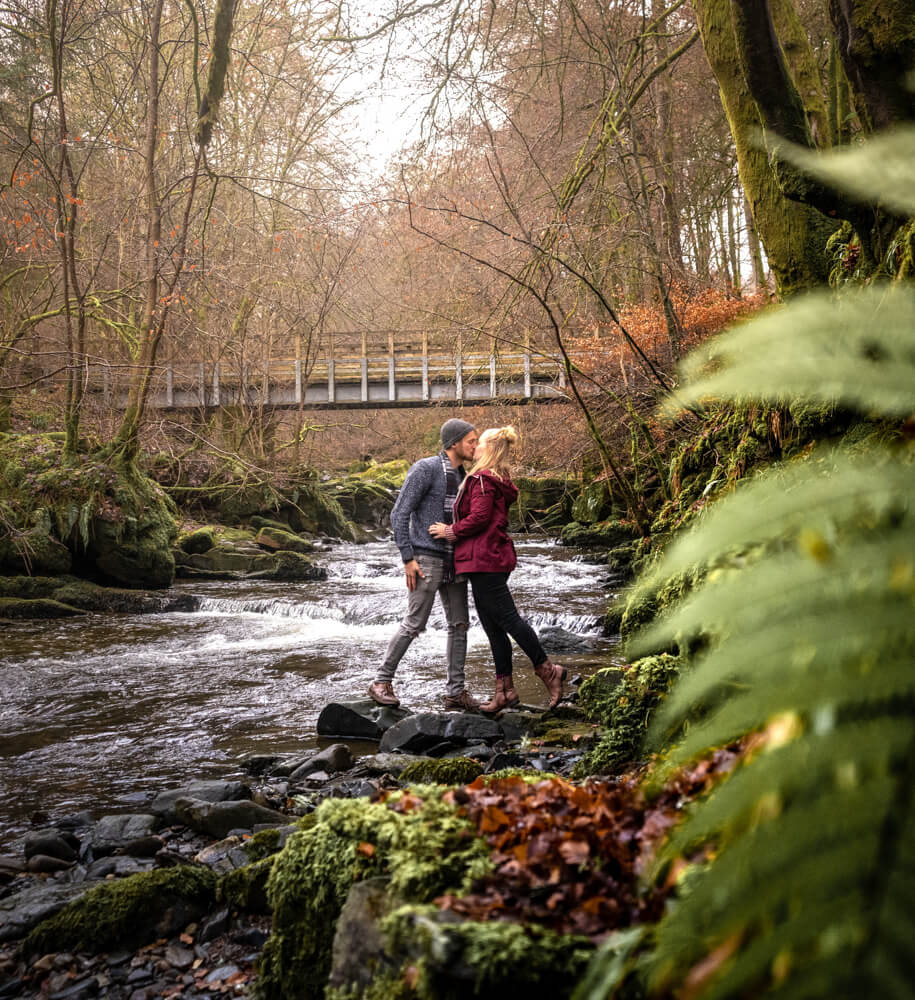 Castle Menzies
This spectacular castle dates back to the 16th century and is has been seat to the Chiefs of Clan Menzies for over 500 years. It was restored during the 20th century by the Menzies Clan Society and is a beautiful example of how ancient stronghold castles can be transformed into modern-day mansion houses.
The castle has been restored for public access and is also available for venue hire for weddings etc. It includes a museum and walled garden, and is also used as the Clan Centre for the Menzies Clan. All funds raised from entrance fees are used for the continued upkeep and restoration of the castle.
The castle is open from April till October, with varying opening hours throughout this period.
April and September –
Monday to Saturday / 10.00am – 5.30pm (last entry 4pm)
Sunday / 2.00pm – 5.00 pm (last entry 4pm)
Public Holidays / Open as above
May to September –
Monday to Saturday / 10.30am – 5.30pm (last entry 4.30pm)
Sunday / 2.00pm – 5.00 pm (last entry 4.30pm)
Public Holidays / Open as above
Admission Prices
Adult – £7
Child – £4 (Under 6yrs FREE)
Ground Floor and Gardens Only – £4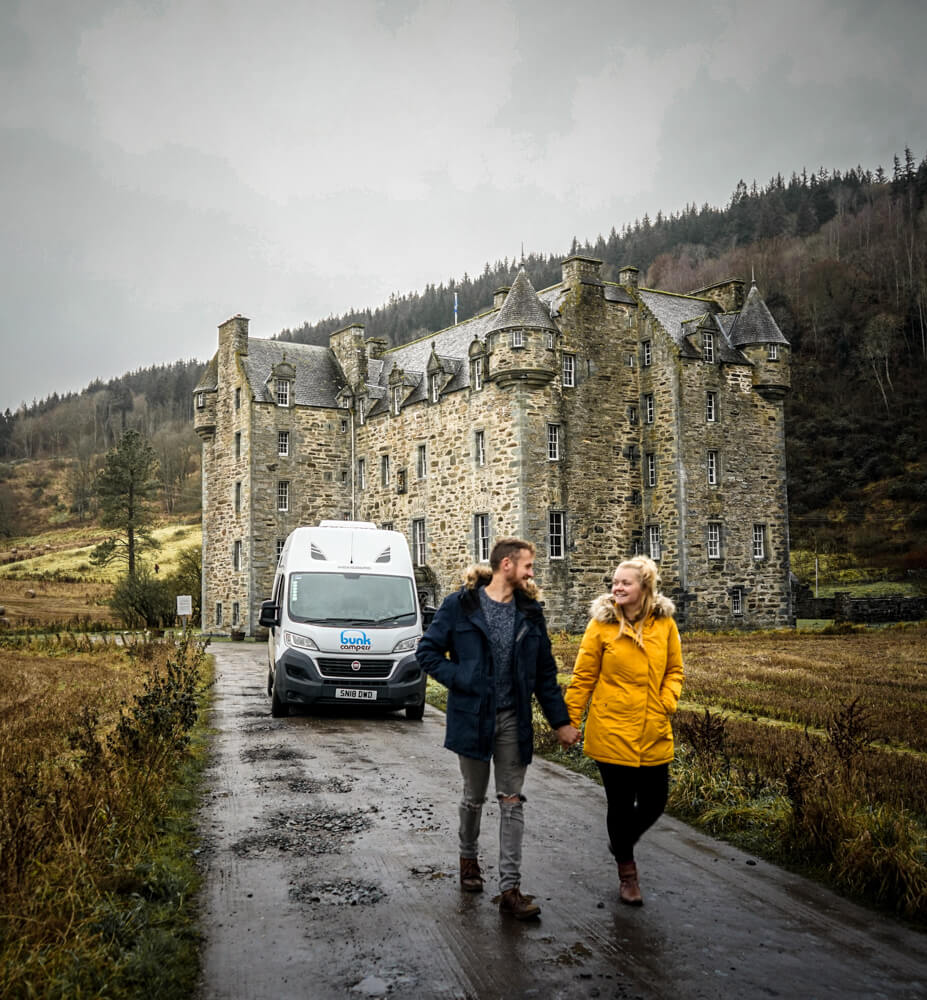 Killin and Falls of Dochart
Further along the route, you will find the quaint town of Killin. Sitting upon the River Dochart and surrounded by mountains, this cute town is like something out of a fairytale. Right in the town centre is the tumbling water of the Falls of Dochart, which can be viewed from the stone bridge or by taking a walk down onto the rocks. If you choose to go down the rocks, be aware that they can be very slippery from the spray.
Across from the Falls of Dochart Inn, there is a gap in the wall with stairs down to the falls. This is a lovely spot to sit and admire the scenery around you, however, through centuries of erosion the rocks here have been worn away to form deceivingly small circular pools of water that are metres deep. Watch your step or you will end up with some very wet trousers (like me..).
If you walk to the centre of the bridge in the below picture you will see a gate in the centre leading to the Island of Inchbuie, which roughly comes from the Gaelic Innis Bhuidhe (yellow island). This isolated island is home to some fascinating history right in the centre of Killin. On this small sliver of land sits an ancient burial ground of the MacNab Clan, as well as several buildings dating back 300 years.
The gate leading to this island is locked and the keys can be found at the Killin Library or at the Bridge End Mill. Entrance is on a donation basis with a recommended amount of £5.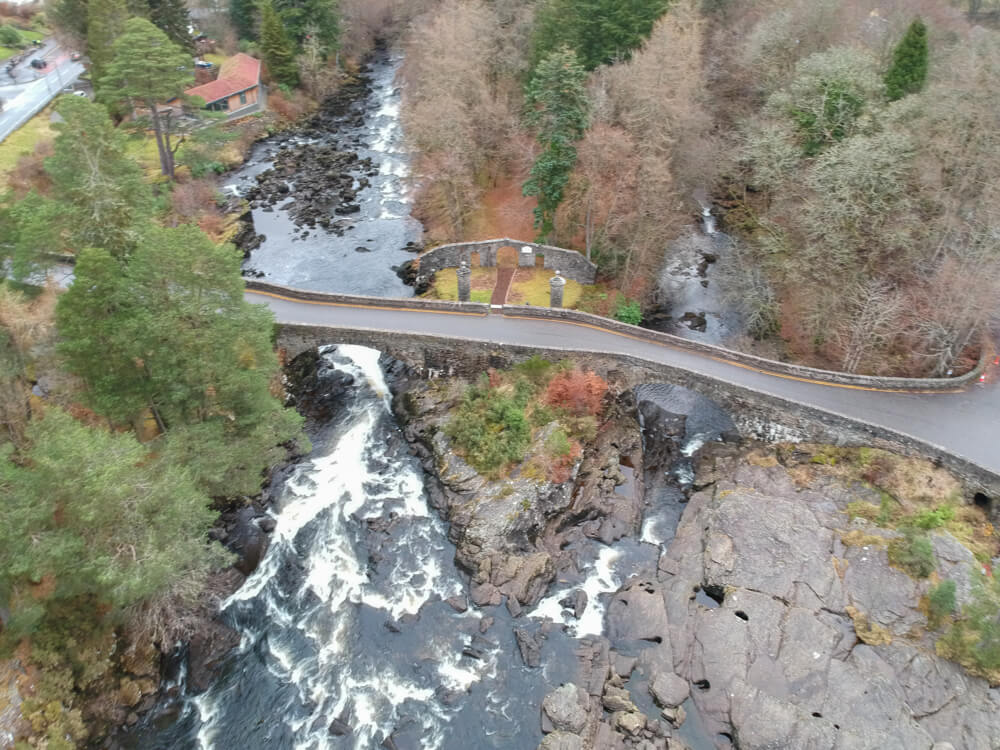 Where to Stay in Killin
If you are looking for somewhere to heat up at the end of the day, head into the Falls of Dochart Inn where you can sit by the warm fire and enjoy the views of the waterfall from the warmth.
Maragowan Caravan Club site sits nestled on the banks of the River Lochay and is within walking distance of Killin. Many walks can be enjoyed in this area up the nearby Munros or corbets, or even just around the local area. There are cycling routes in close proximity to the campsite and mountain bikes can be hired from Killin.
If you fancy something a little more luxurious, here are your best options for this area.
Luxury – The Falls of Dochart Inn is a great central location in Killin. With a hot fire and a great menu, this is a top place to stay in the area. Sitting right across from the Falls of Dochart, this is the perfect place to stay if you want to watch the morning light illuminate the beautiful tow of Killin.
Book your stay at the Falls of Dochart Inn right here.
Mid-Range – Killin Hotel overlooks the River Lochay and is complete with a riverside bistro and a local pub. In the summer months, there is a conservatory and sun terrace and in winter there is a warm log fire. So whichever season you visit you will feel right at home.
Book your stay at the Killin Hotel right here.
Budget – The Bridge Of Lochay Hotel is a cosy hotel with a fireplace in Killin. The bedrooms are en suite and there is a restaurant onsite.
Book your stay at the The Bridge Of Lochay Hotel right here.
If hostels are more your scene, you can check out the hostels available in Killin here.
Day Five – Bonnie Banks of Loch Lomond
After a half an hour drive southwest along the A85, you will enter into the Loch Lomond and the Trossachs National Park. Here you will find that at certain times of the year there are camping restrictions in place to prevent damage to the land and over camping.
During the months of October to February, you will be able to wild camp as you would in other areas of Scotland. However, between March and September, there are bylaws to protect the land. These camping management laws affect only 4% of the Loch Lomond & The Trossachs National Park. To camp in these areas, you must purchase a permit or stay on a campsite.
A permit will cost £3 per tent or motorhome per night. View all of the areas and purchase your permit here.
Make sure you know the rules of wild camping and what to pack for your wild camping trip.
Also read our full guide to camping on Loch Lomond for all the information you need.
Falls of Falloch
The Falls of Falloch lies a very short walk along a path from the car park and is an extremely impressive waterfall in this part of Scotland. There is a viewpoint out to the waterfall or you can view from the edge. If you are feeling brave, pack your swimsuits and get ready for some rock pool swimming. This is a very popular watering hole during the warm summer months in Scotland.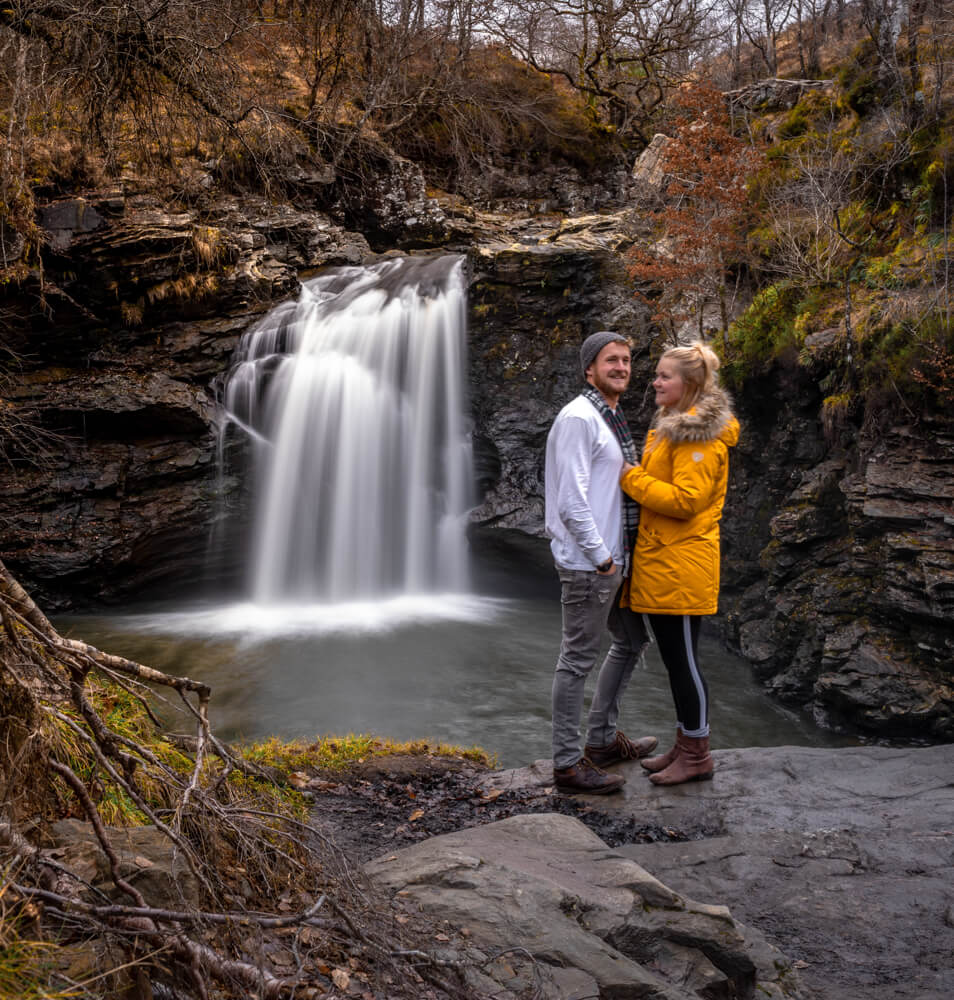 Inveruglus Pyramid
Inveruglus is an underrated spot in Loch Lomond and one that we have spent many days and nights at over the years. Halfway down the western banks of Loch Lomond, there is a rocky outcrop of land, upon which you will find the Inveruglus visitor centre and the Inveruglus Pyramid.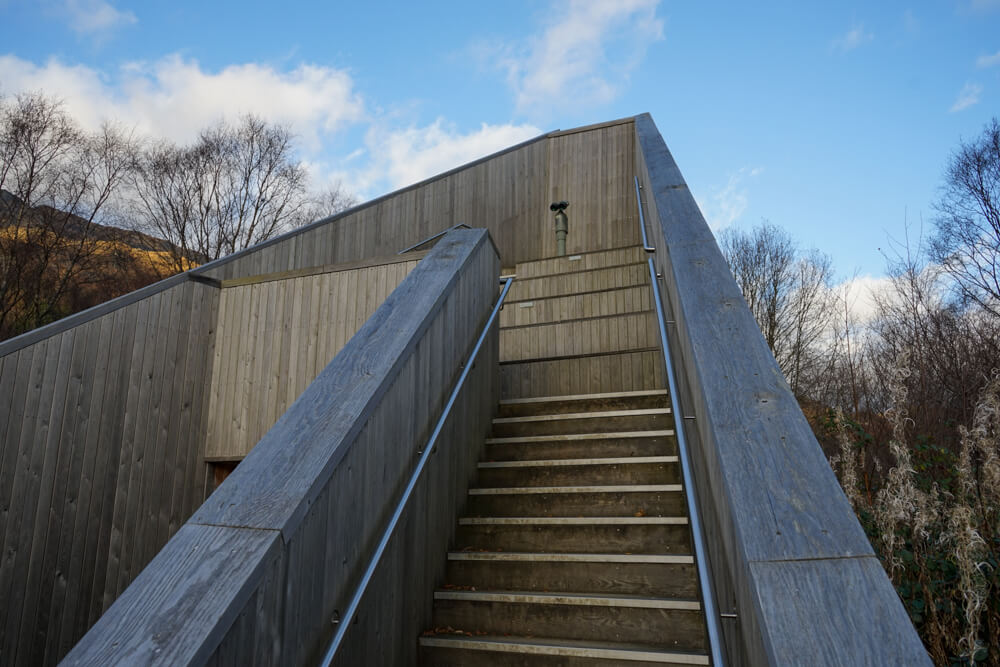 This is one of our favourite spots on Loch Lomond due to the magnificent view it has over the loch. The view here is in fact so good that there has been a newly installed viewing platform, known as the An Ceann Mor, or the Inveruglus Pyramid. This 8-metre structure has stairs and easily accessible seating on its southern side, as well as a free set of binoculars at the top allowing for a better look at the islands over the loch.
If you are up for a bit of adventure during your visit to Luss, the nearby beach is the perfect place to try out stand-up paddle boarding during the warm, summer months (or even winter if you are brave). If you are looking to buy your own SUP board, we can recommend looking at what boards and equipment BlueFinSUP have to offer.
You will need to pay for parking here if you visit during peak season. The ticket machine will display whether or not you will need a ticket to park.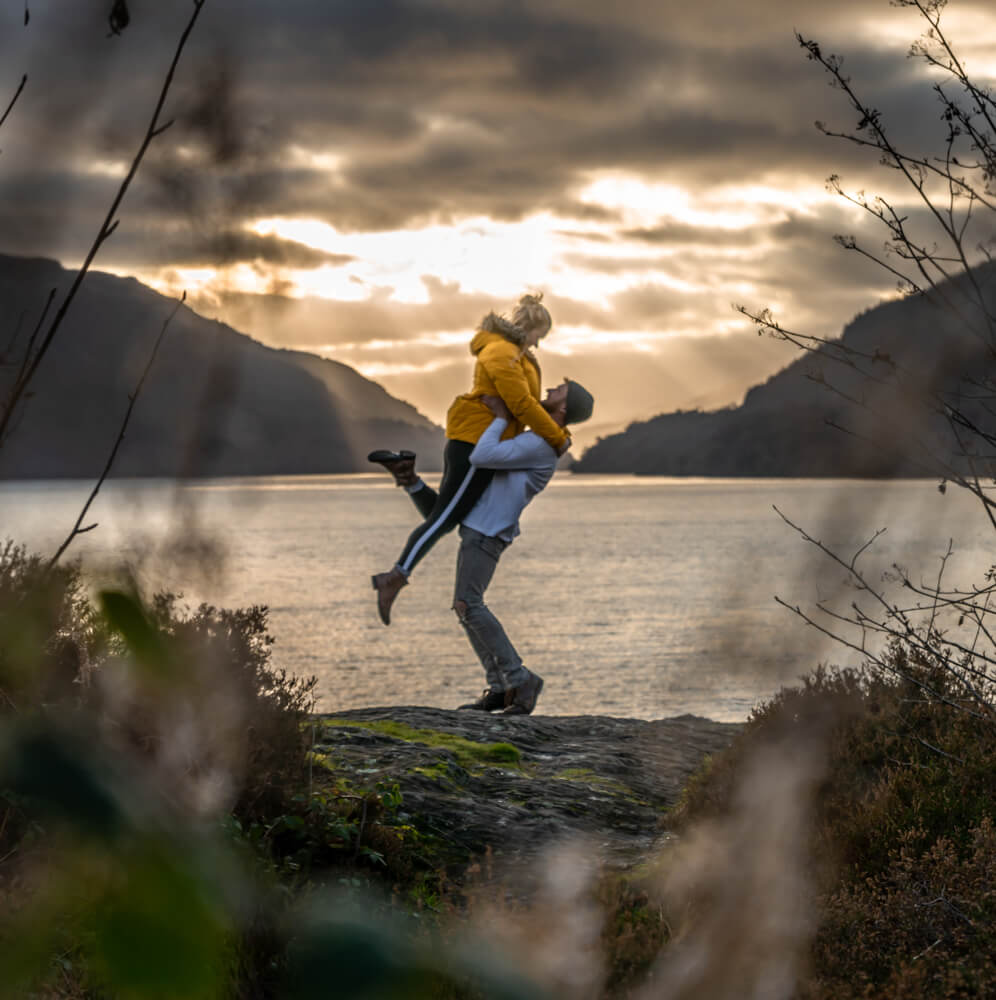 Luss Beach
Luss is a small town sitting on the Western shore of Loch Lomond. This is an incredibly popular stopping point during the summer months, with tourists piling on and off of coaches all day long. Luss has a small beach, which is a lovely place to enjoy the views of the loch, as well as for a walk to stretch your legs.
You may also need to pay for parking at Luss, depending on the season you visit.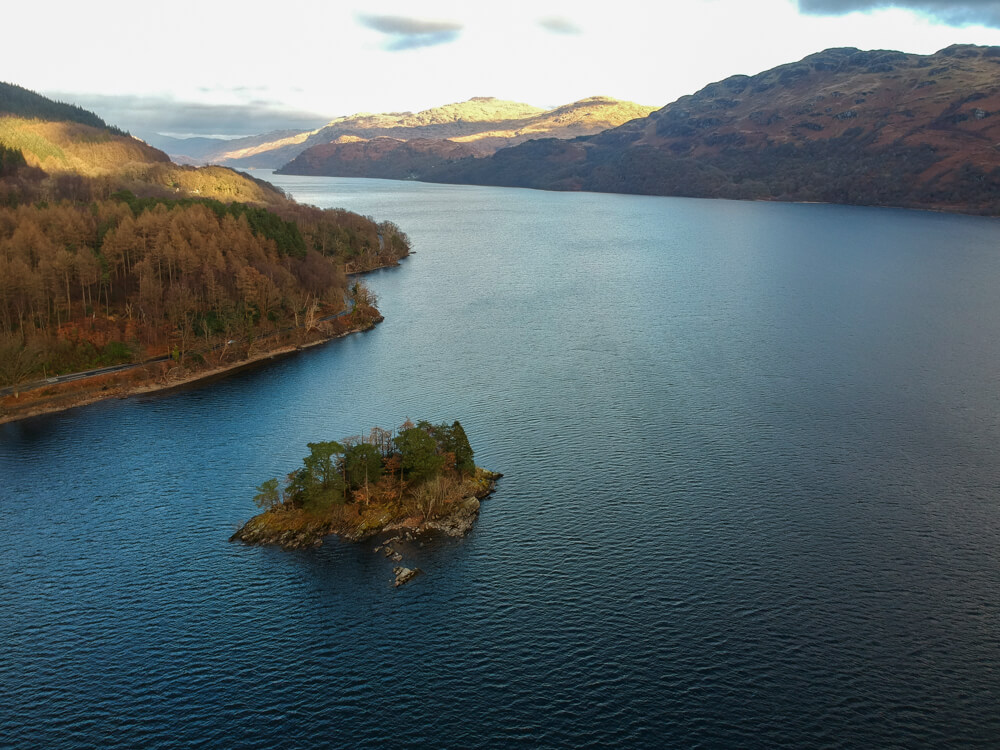 Devils Pulpit
The final stop of the day is perhaps the most impressive on the entire Heart 200 road trip, the Devils Pulpit. This 100ft gorge lies within Finnich Glen and is like nothing you will have seen yet on this trip. Once you are down within the gorge, you are transported to a different world, sheltered from the above weather and sounds, surrounded by thick, mossy walls of mud, the only noise being that of the blood-red river that flows through the pit.
This pit has been known to the locals for years, however, it was made famous more recently when it was used in an episode of the world-famous TV show, Outlander. Quite fittingly known as "The Liars Spring", the water gets its red colour from the sandstone of the gorge, which makes it a very photogenic and worthwhile place to stop off.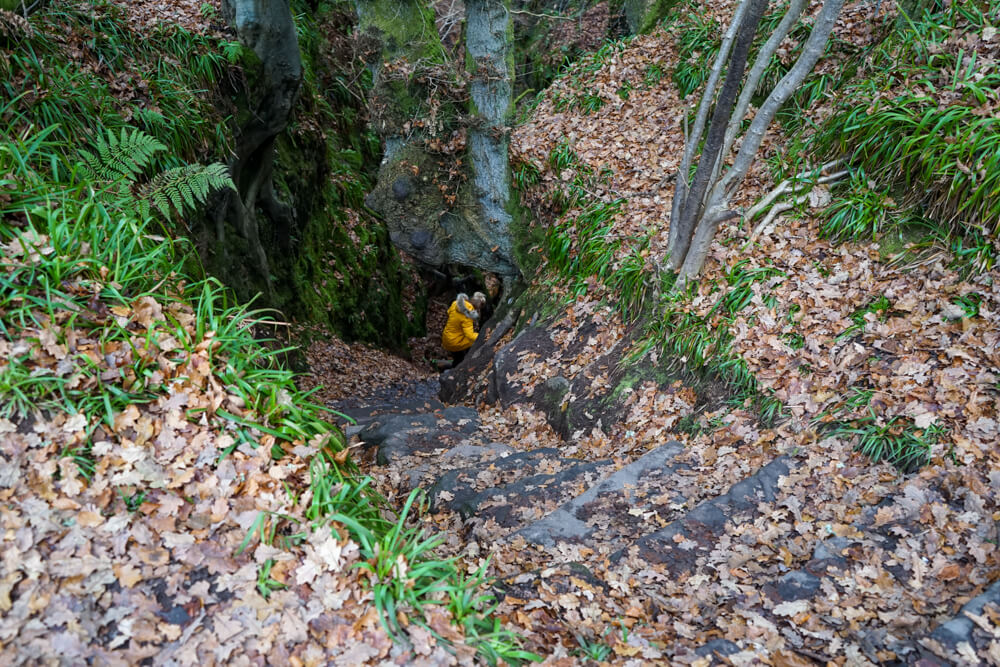 First things first, if you plan to climb down what is called the Jacobs Ladder to get into the gorge you will want to make sure you are prepared, as this spot can be dangerous, slippy and very muddy. This means wearing sturdy, waterproof and excellent gripping shoes. It also helps to wear clothes that you do not mind getting dirty, as chances are you will slip into the red mud.
To find the Devils Pulpit, you will need to look out for more natural signs, as there is not much sign postage for the Devils Pulpit. You can park up in one of the two laybys at the side of the road for free, both of which are shown on the map below. Be aware that this road can be busy and cars can come around the corner at some speed, so take your time when walking around this area.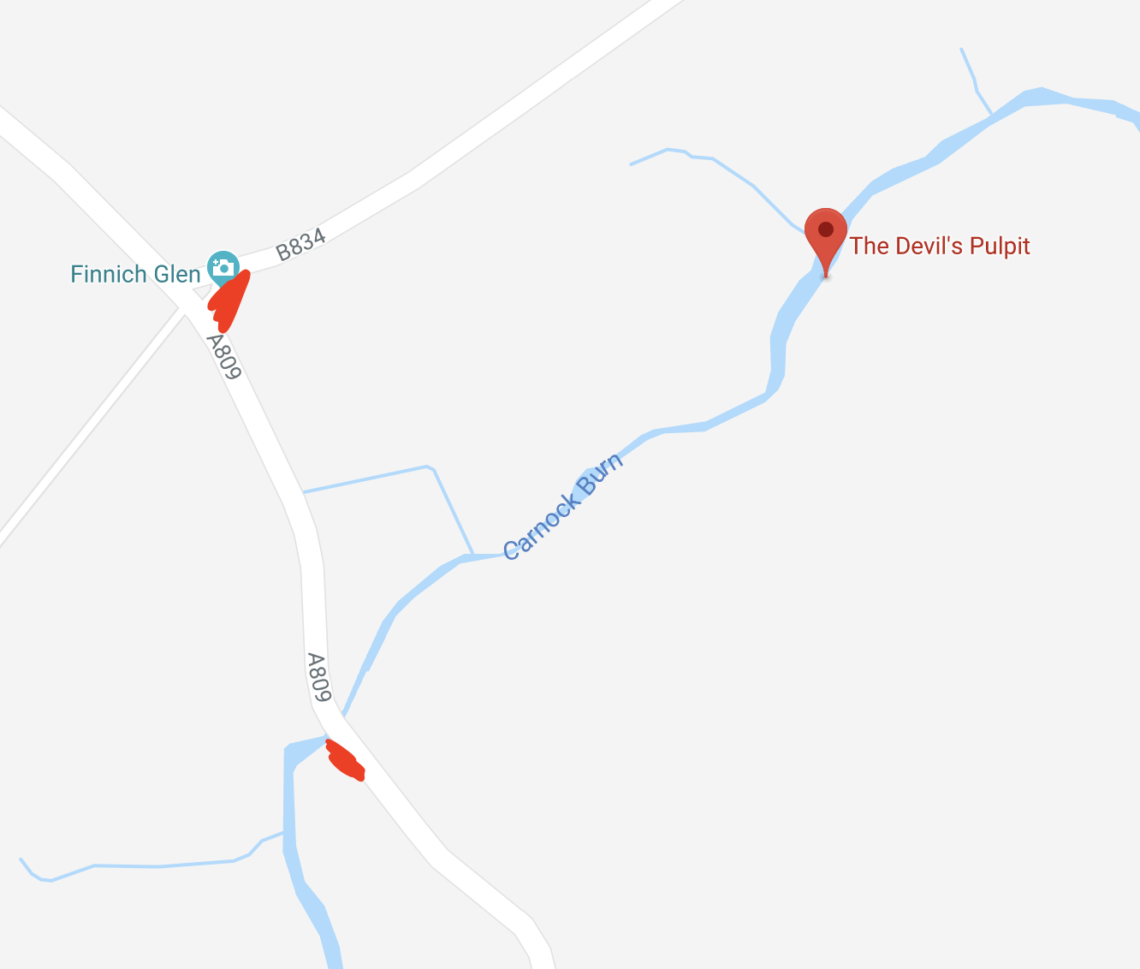 If you wish to view the waterfall, you will need to wade through parts of the water to get further upstream. We took our shoes and socks off to get through the water, however, it was freezing. If you have a pair of wellies then you would be best to wear them for this part. There are some parts of the water that are extremely deep, so please be careful if you choose to wade through the water.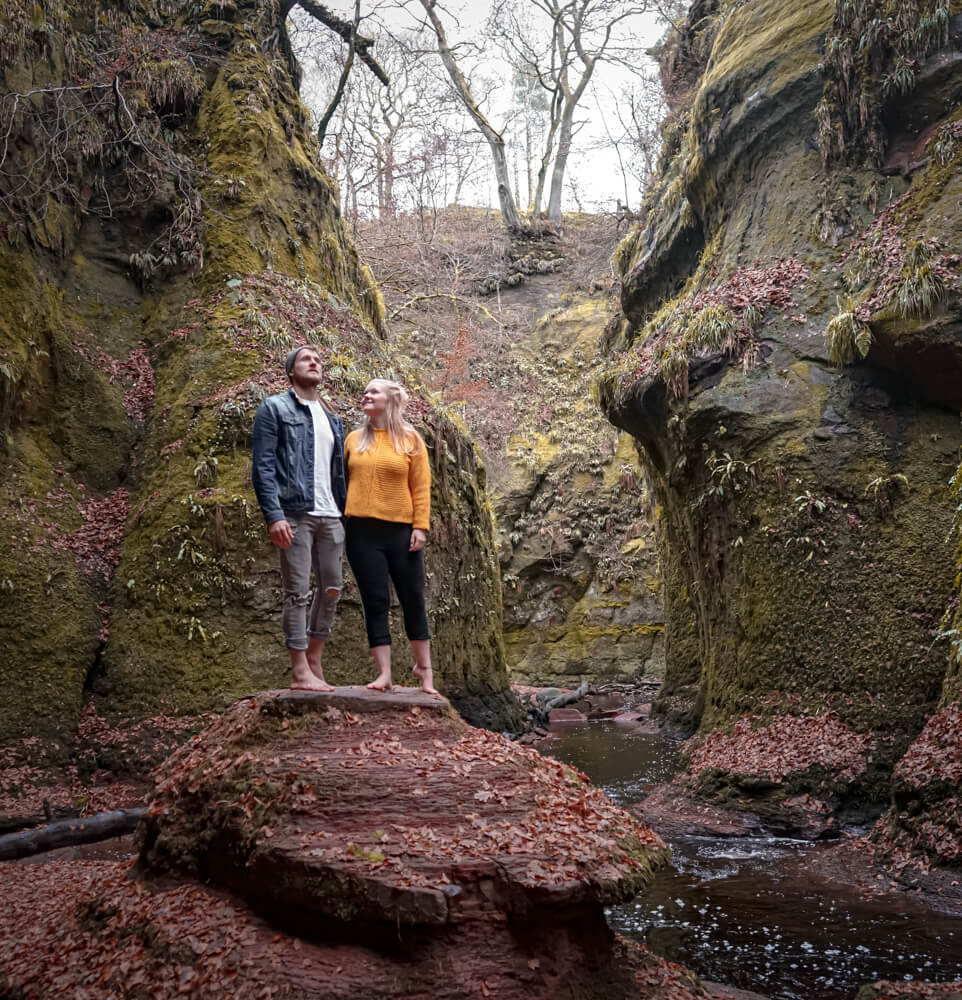 Where to Stay in Aberfoyle
Aberfoyle is a small town located in the heart of Loch Lomond and the Trossachs National Park and is a lovely town to spend your last night on the Heart 200. If you choose to camp, Cobleland Campsite is perfect for you. Nestled in the countryside on the banks of the River Forth, this campsite has both hard standing and grassy pitches, therefore, is perfect for a caravan, motorhome or tent.
If you fancy something a little more luxurious, here are your best options for this area.
Luxury – Loch Lomond and the Trossachs Holiday Home is the perfect place to chill out and relax during your stay in Aberfoyle. You will have the whole house to stay in complete with your own kitchen.
Book your stay at the Loch Lomond and the Trossachs Holiday Home right here.
Mid-Range – The Bield is a bed and breakfast in Aberfoyle with free wifi and a lovely garden. A continental breakfast is also available each morning.
Book your stay at The Bield right here.
Budget – The Forth Inn is situated in Aberfoyle and is a luxurious stay for the most budget hotel in the area. A full English/Irish breakfast is available in the morning to set you up for the day.
Book your stay at The Forth Inn right here.
If hostels are more your scene, you can check out the hostels available in Scotland here.
How to Prepare for the Heart 200
Before you set off on your adventure around the Scottish Highlands there are certain things that you need to prepare to ensure a smooth and enjoyable journey. These include what insurance is the best insurance to get and what to pack for a trip to Scotland, all of which is discussed in more detail below.
What is the Best Travel Insurance for Scotland
Without a doubt the least enjoyable part of preparing for any adventure is purchasing travel insurance, however, it is something you do not want to be without. Accidents happen to everyone and unexpected medical bills will ruin your trip if you are not covered.
To ensure you have a stress-free trip with no worries about potential medical bills, make sure you cover yourself when you travel. We recommend using World Nomads travel insurance, a backpacker-friendly and cheap insurance company that provides good coverage and support.
Get a quote for your travel insurance right here and get covered.
What to Pack for a Trip to Scotland
When it comes to packing for a trip to Scotland there is one item of clothing that you are going to need all year round: a waterproof. It rains in Scotland on average 250 days a year, meaning that during your 5-day Heart 200 road trip you will probably experience at least a drizzle of rain. Due to this, the number one item on any Scotland packing list is a good waterproof jacket.
As for the rest of the year, the temperature in Scotland and the central heartlands is reasonably mild for most of the year. During the winter months, you will most likely experience snow, however, temperatures usually sit around freezing, so it is not too cold. For your reference, the average temperatures in Scotland are listed below during each season.
Spring (March, April, May) – 5-10 degrees C
Summer (June, July, August) – 15 degrees C
Autumn (September, October, November) – 5-10 degrees C
Winter (December, January, February) – 0-5 degrees C
As you can see, the weather never really gets above the teens, with anything over 25 degrees C considered a heatwave. The best way to pack for your trip to the highlands is with layers that can be added and removed as you need them. You will definitely need a hat and gloves during the colder months and will most likely need sunscreen to protect you on the long days in the open.
For our full list of items that we pack no matter where we go in the world, check out our full packing guides over here.
Given the beautiful sights and scenery that you are no doubt going to see around Scotland, we highly recommend packing a good camera for your trip. If you want to read more about the cameras we use and why we love them, check out the link below.
You can read what else we keep in our camera bag over here.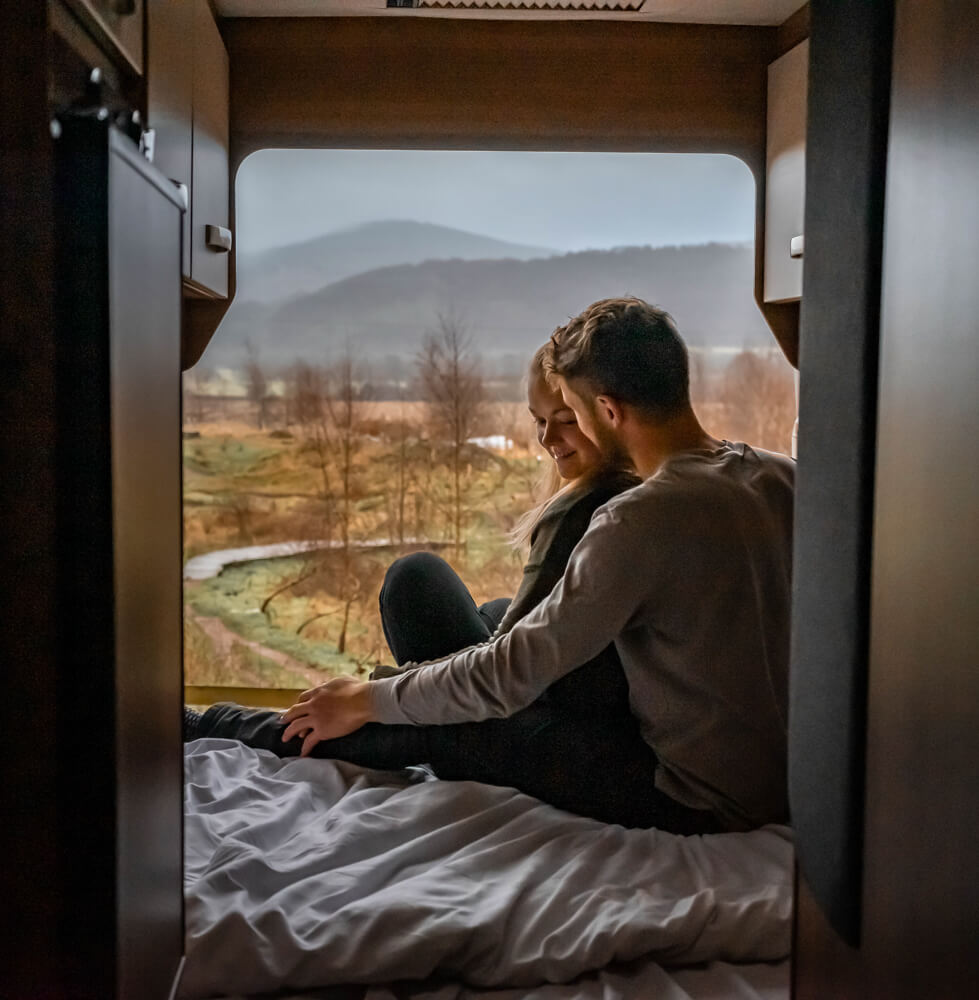 So there you have it, your ultimate itinerary for 5 days on the Heart 200. If you are visiting this incredible place and have any other questions on what to expect, leave us a comment down below. We love to chat about this stuff! If you have already been, let us know how it was! What spot was your favourite? Did you scream louder than Gemma did? Let us know in the comments below!
Also remember to share this with your friends and family that you are going to share this amazing adrenaline experience with. Sharing is caring and we want to ensure that everyone is fully prepared to maximise their experience completing this bucket list activity.
If you are planning a Scotland trip soon then check out our other Scotland content right here. Come and find us on social media to see where we are currently exploring. Tag us in your photos from your bungee jump experience and we will share them with the rest of our community of explorers and backpackers.
Read Now:
This article may contain affiliate links that provide us with a small income. For more information read our Affiliate page.
---
Pin it for later!