The Lost Creator House is a brand new Villa for creators in Canggu, Bali, owned by Christian Le Blanc (Lost Le Blanc) whose aim was to have an accommodation solely for creators. In 2020, the Lost Creator Academy was born and many joined a family of other likeminded individuals to learn from someone who has so much success and talent in the creator industry. The Lost Creator House has become a place for this family to meet and inspire one another to work together towards our passions and dreams.
No time to read now? No problem, save a pin to your Pinterest board for later!
Staying at the Lost Creator House in Bali – What to Expect
In this post, we are sharing our experience living in the Lost Creator House, so that if you are an LCA creator too, you can decide if you want to stay here when you visit Bali. 
In this post, we are sharing our experience living in the Lost Creator House, so that if you are an LCA creator too, you can decide if you want to stay here when you visit Bali. 
The Kitchen
The Bedrooms
The Studio
The Pool and Gym
The Outdoor Cinema
The Co-working Space

Before you leave for Bali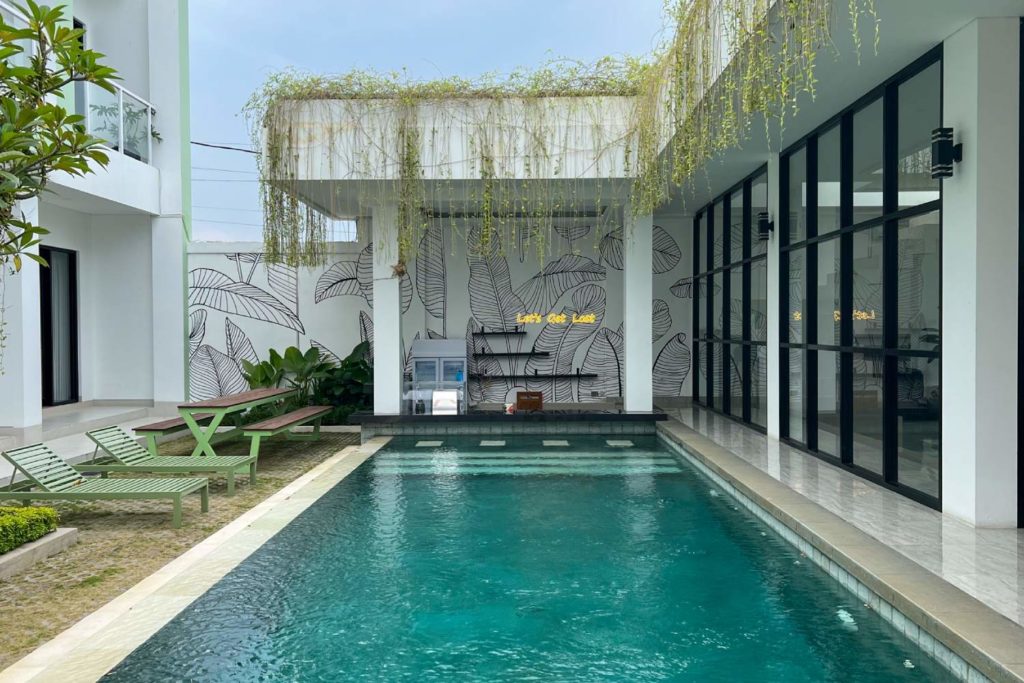 Kitchen

 
When you first enter into the Villa, you will enter into the kitchen area where there is fresh drinking water and a large fridge. There's a hob and a microwave with all the crockery you need to cook up a good meal.
Situated beside the dining area is a large dining table where the LCA family can sit and enjoy a meal together.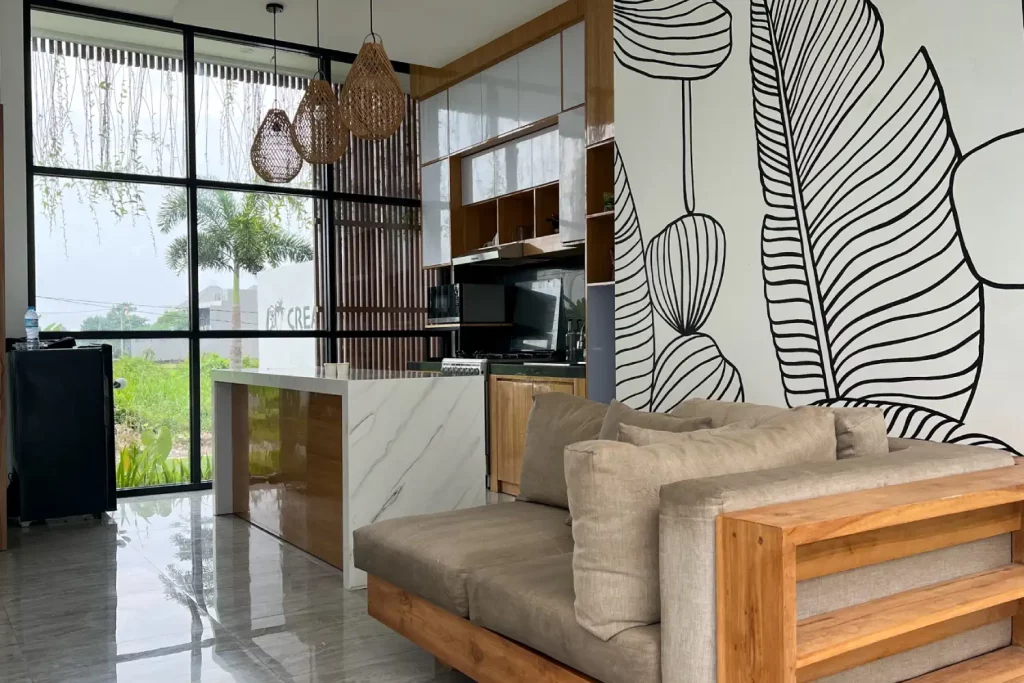 Bedrooms

 
There are 5 private bedrooms in the Villa, one of which is upstairs and has a private balcony, the other four are downstairs, level with the pool area. The bedrooms have a workspace with a chair as well as an open wardrobe area and your own personal wifi. 
You will have your own en suite bathroom with towels and the rooms are also complete with air conditioning. 
There are 2 dorm rooms, each sleeping 8 people. The bed area is spacious and has a curtain that can be pulled over. The beds are in the upstairs area and downstairs is a small communal space with a table and chairs, lockers big enough for a suitcase and access to a balcony area.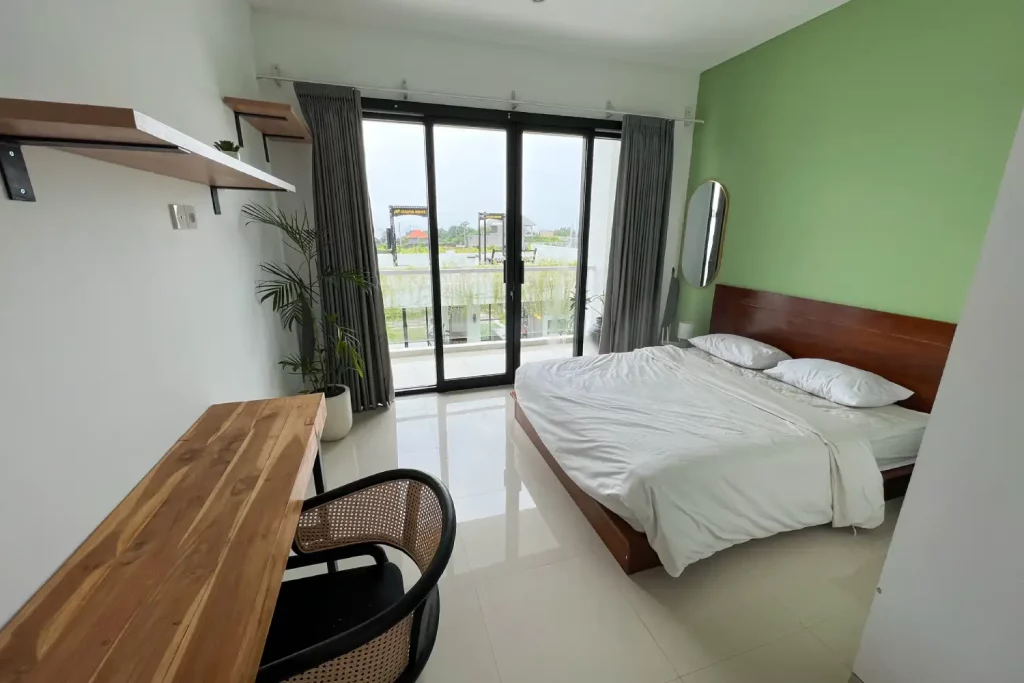 Downstairs in the dorm room
Studio

 
One of the rooms is set up as a recording studio with studio lights and microphones so if you have some filming or voiceovers to do during your stay, this is the place to do it.
Pool and Gym
The gym area at the Lost Creator House has stunning views out across the beach and is a great place to watch the sunset. It is outdoors so be prepared for a full-on sweat. There are dumbbells, squat racks, and benches as well as battle ropes.
In the centre of the Villa is a pool with a cafe bar overlooking it and sun loungers along the side. Towels for the pool are provided and there is an outdoor shower.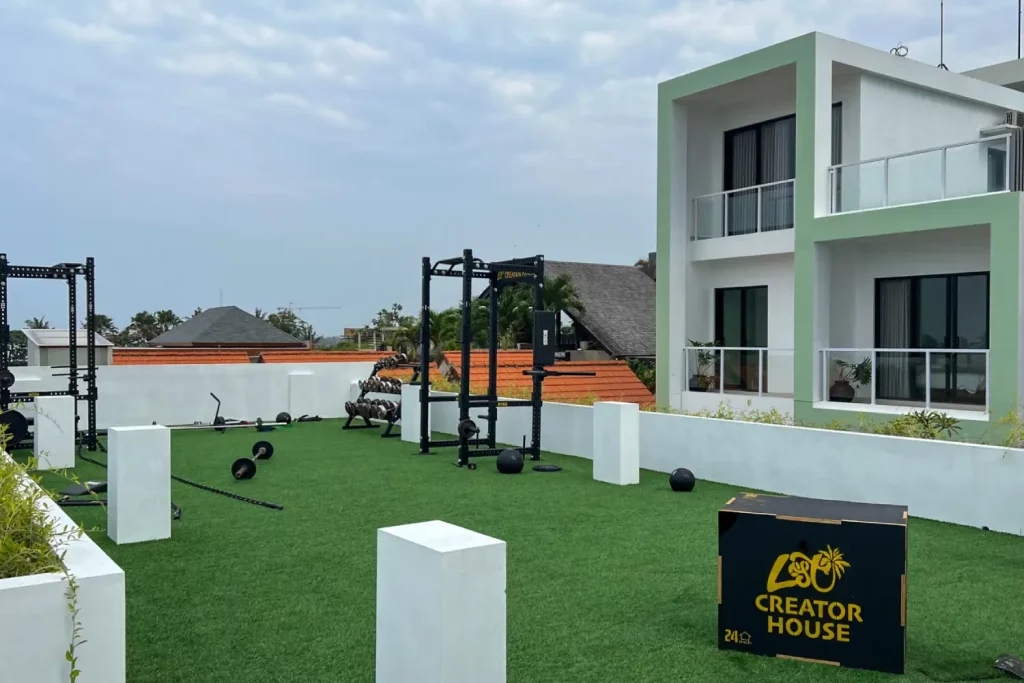 Outdoor Cinema
On the top floor, you can sit back and enjoy a movie as the sun sets over the ocean in front of the villa. This area is currently still a work in progress but it will be amazing once it is set up.
Co-working Space
I guess the one thing that LCA students have in common is creativity and the wish to work remotely. So of course there is a good-sized co-working area for everyone to get stuck into whatever remote work they may be working on.
There is also the option to get to know your peers and learn from each other here as well as plan group creator trips.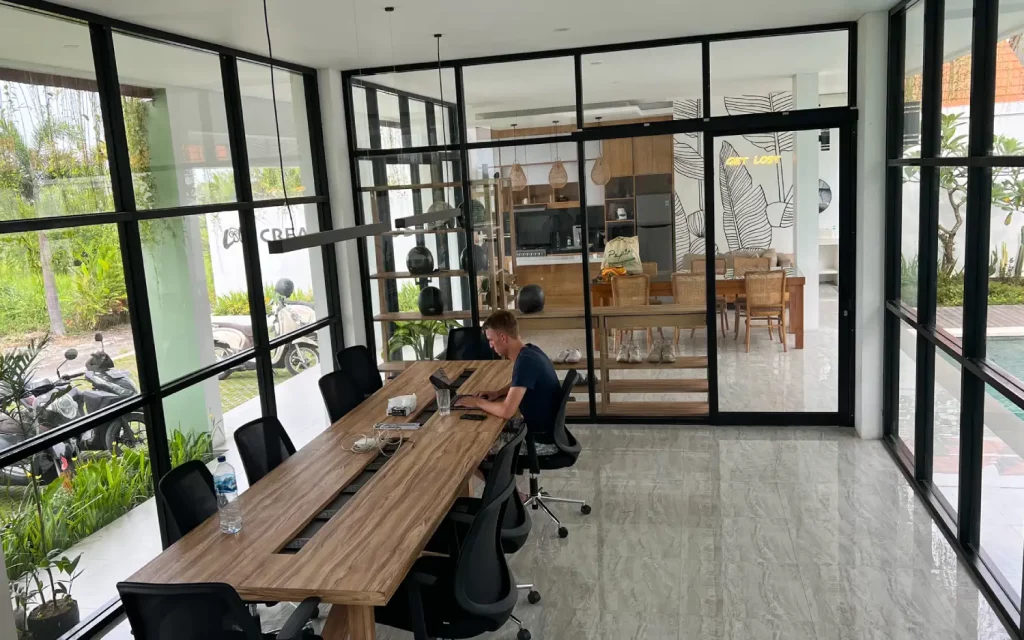 Social Space at Lost Creator House
This is such a great social place to stay if you have come to Bali to meet like-minded people.
Keep an eye out for events that are held here every so often such as beer pong nights and an opportunity to learn from experienced creators every Wednesday afternoon.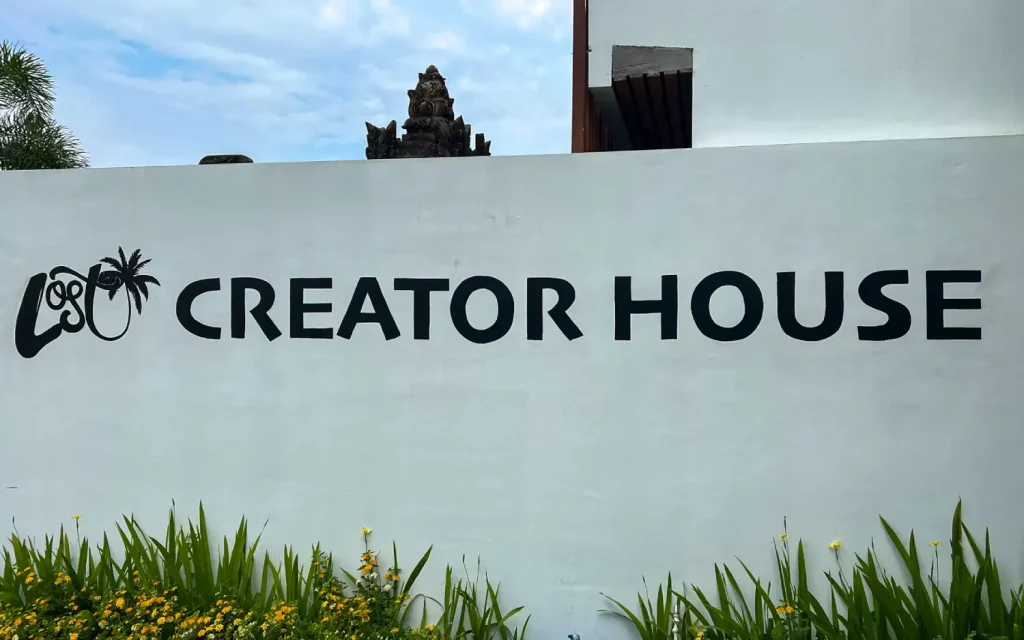 Before You Leave for Bali
Before you set off on your way to Bali, there are a number of things you will need to get organised to ensure a smooth and enjoyable journey. These include what to pack, where to stay and what is the best insurance for your trip to Scotland. All of this is discussed in detail below.
How to Get an Indonesian Visa
As for the Indonesian visa itself, getting a visa for Bali is relatively straightforward if you come from one of the listed Visa on Arrival countries. If your country is on this list, all you have to do is turn up at the airport with a valid passport and you will be granted 30 days in the country. This costs around £28.
If you wish to stay longer than 30 days, you will need to buy a Visa on Arrival Extension. You will then need to extend your visa a further 30 days either by yourself or by paying a visa agent to do so for you.
You can read our full guide to extending your Indonesian visa right here.
How to Get Around Bali
With so much to see and do around Bali, it begs the question of how you should plan to get between all of these activities. When in Bali, you really have two options to get around: self-drive scooter or hiring a taxi driver.
Renting a Scooter in Bali
By far the cheaper and better option to get around the island, renting a scooter in Bali is the easiest way to see as much of this island as you can. Renting a scooter can cost as little as £3/day, with the cheaper rates being offered for long term rentals.
You can rent a scooter from your hotel or homestay itself, or if you are staying in a populated area such as Uluwatu, Canggu or Ubud, you can rent a scooter from a number of shops nearby.
Go Jek and Grab
When you arrive in Bali, one of the first things we would recommend doing is downloading the apps Go Jek and Grab. Both of these apps work similar to Uber in the UK, you can order a taxi on them and you can also order food. If you are not confident in driving a scooter we would definitely recommend this option.
Hiring a Driver in Bali
An easier and much more relaxing way of exploring around Bali is to hire a personal driver to chauffeur you between sights for the day. You can either book a tour online with a detailed itinerary and a set price for the sights you want to see, hire a driver from around the streets of Ubud and barter a price, or book a driver for a day from an online taxi app, like GoJek or Grab.
The cheapest of the above options is definitely with the online taxi apps, who have a set price and do not overcharge for these services. If you want to enjoy a slightly more upmarket experience, booking a a day tour experience will give you a bit more for your money.
You can view the best tours available for around Ubud right here.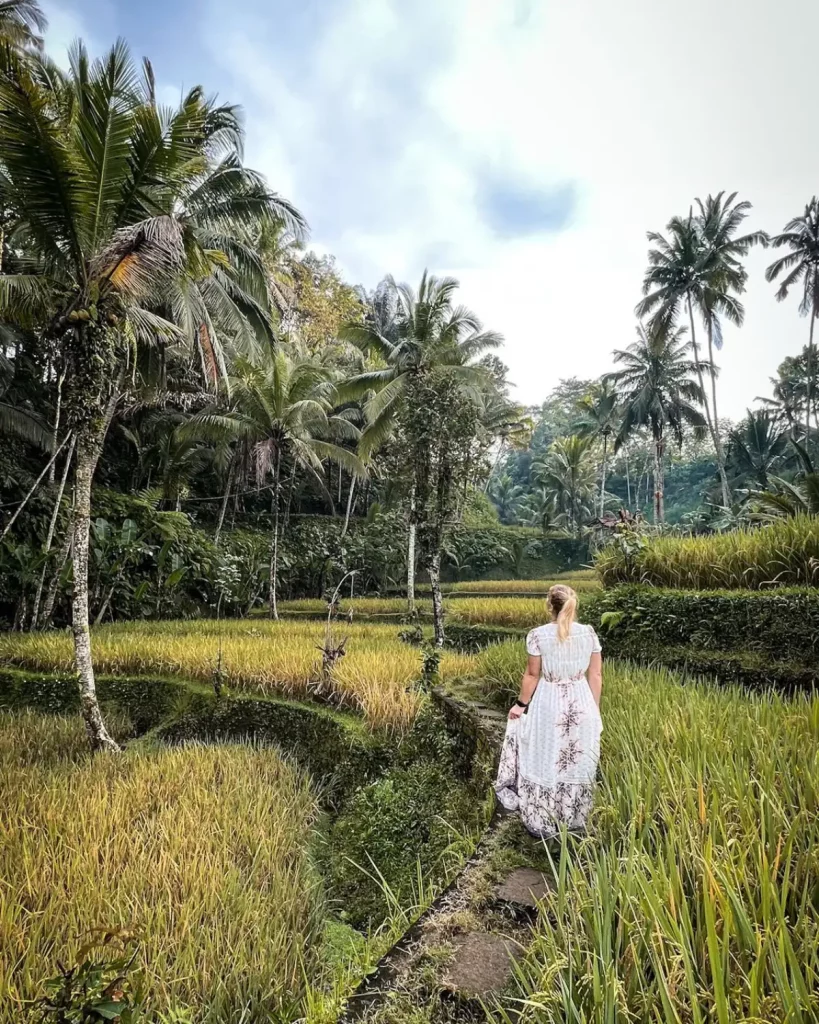 What to Pack for Your Trip to Bali
Given the climate of Bali in general, packing for this trip is relatively straight forward. In the southern lowlands of Bali it is hot and humid most of the time, however if you venture into the northern highlands the temperature will drop with altitude.
When it comes to the weather, Bali is a tropical country meaning it has two seasons: wet season and dry season. During your visit to Bali, it will most likely rain, and if you happen to visit during the wet season, it will rain a lot. Make sure you pack a waterproof or a poncho for your days out adventuring to avoid getting too drenched.
As a general rule for packing for Bali, it is best to think "layers". Pack a few light layers of clothing, including a jumper and a waterproof, and wear as many layers as you want according to the weather.
For our full list of items that we pack no matter where we go in the world, check out our full packing guides over here.
Given the beautiful sights and scenery that you are no doubt going to see around Bali, we highly recommend packing a good camera for your trip. If you want to read more about the cameras we use and why we love them, check out the link below.
You can read what else we keep in our camera bag over here.
Our Photography Equipment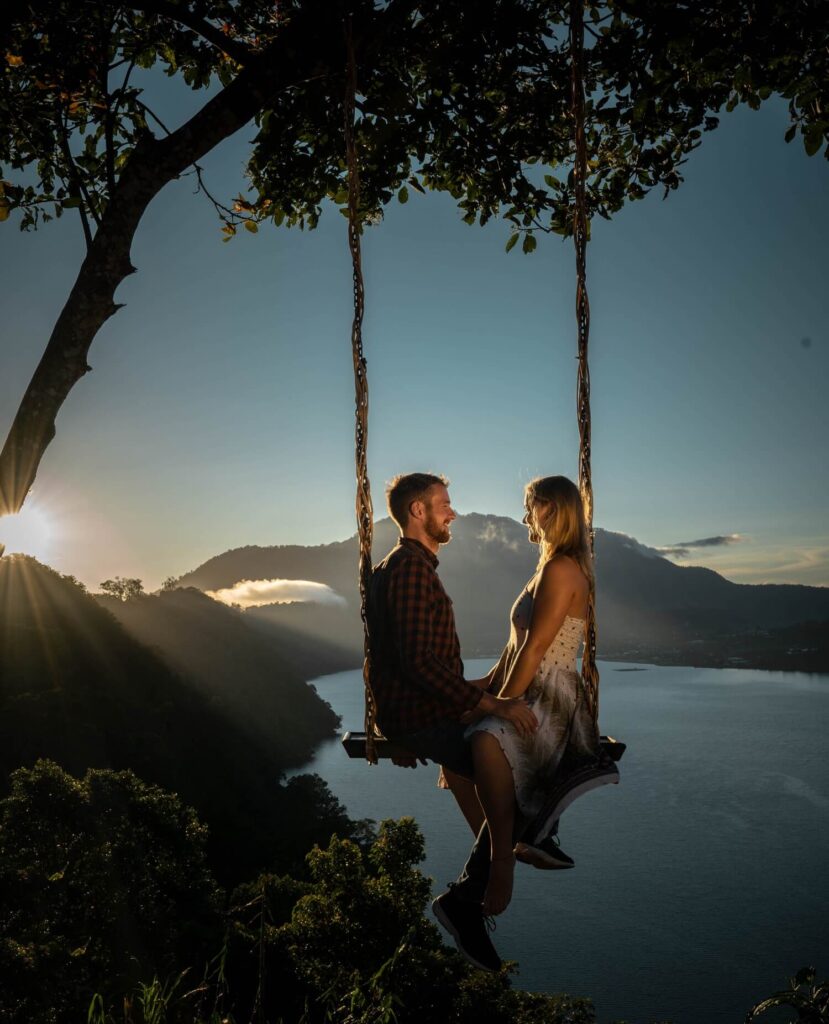 What is the Best Travel Insurance for Bali
I know travel insurance is the least enjoyable thing to purchase and look at when you're planning a trip, however, you wouldn't want to be without it in the event that something happened. Accidents can happen anywhere and the extortionate medical bills will ruin your trip if you are not covered.
To ensure you have a stress-free trip with no worries about potential medical bills, make sure you cover yourself when you travel. We can recommend using SafetyWing, a backpacker-friendly and cheap insurance company that provides good coverage and support. It is also nomad-friendly, unlike most other insurance companies, meaning you do not need to worry about being out of your home country for too long.
Get a quote for your travel insurance right here and get covered!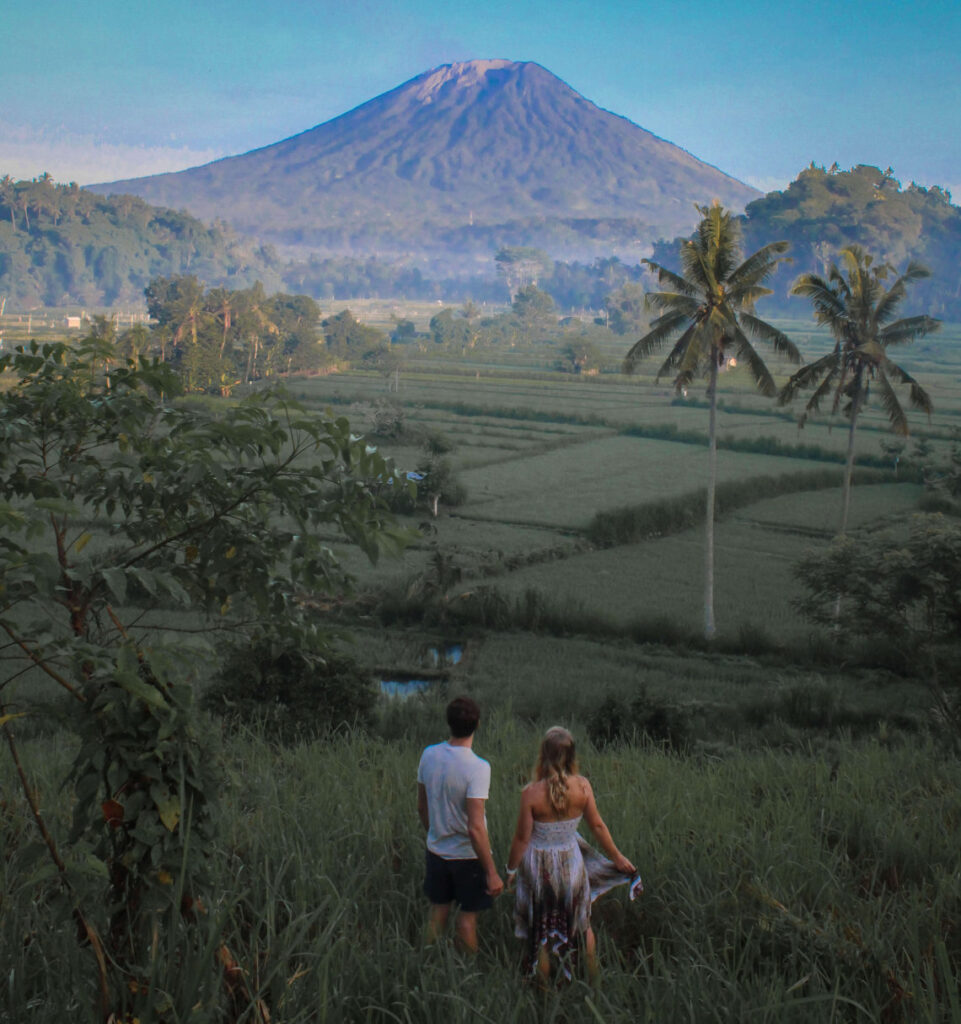 So there you have it, a review of our stay at the Lost Creator House in Canggu Bali. If you are visiting this incredible island and are a content creator part of the Lost Creator Academy, why not apply to stay here?!
If you are planning a Bali trip soon then check out our other Scotland content right here. Come and find us on social media to see where we are currently exploring. Tag us in your photos from your stay and we will share them with the rest of our community of explorers and backpackers.
Read Now:
This article may contain affiliate links that provide us with a small income. For more information read our Affiliate page.
---
Pin it for later!