Ubud is an amazing escape from the every day, hustle and bustle of southern Bali. Though not as isolated as it once was, Ubud still has plenty of quiet corners, hidden gems and private spaces just waiting to be discovered.
Located right in the heart of Bali, surrounded by cascading waterfalls, tranquil rice fields and filled with delicious restaurants,cafes and warungs, Ubud is a popular place to visit amongst those travelling to Bali.
No time to read now? No problem, save a pin to your Pinterest board for later!
Ubud is the perfect place to explore some of the amazing waterfalls in Bali not to mention to beautiful green space that it has to offer. In this one day itinerary we will discuss the following in more detail.
Sunrise over the Campuhan Ridgewalk

Exploring the Tegalalang Rice Fields

Teganungan Waterfall

Time to Relax

Dinner at Biah Biah Warung

Preparing for your trip to Bali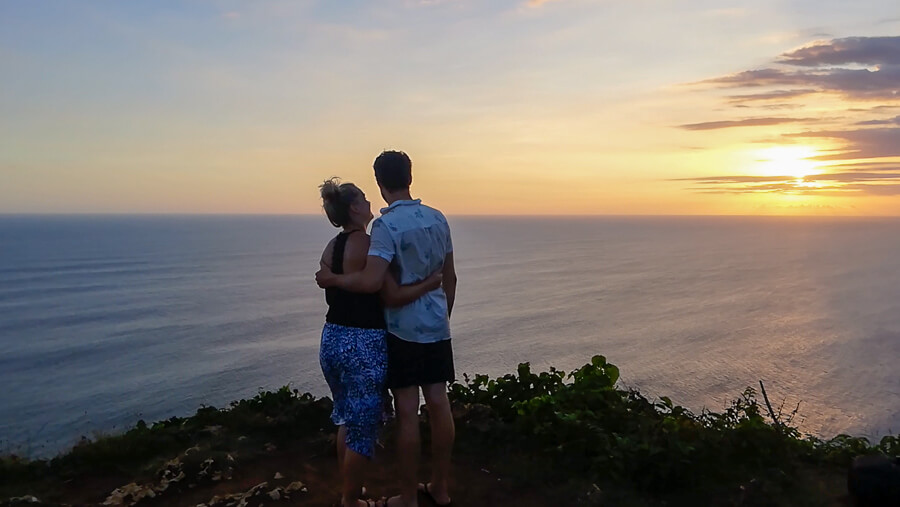 Day One – Arriving in Ubud
It's your first full day in the bustling city of Ubud, so let's kick off the day with a view you will not forget. Sitting just a 20-minute walk from the city centre of Ubud is the famous Campuhan Ridgewalk, taking you on a short cut through the jungle, high above the chirping birds and dense jungle below.
Sunrise over the Campuhan Ridgewalk
A sunrise walk over the Campuhan Ridgewalk delivers one of the best views in the area, with most of the walk to yourself and the morning mists still sitting on the jungle around you. Set an early alarm and make your way to the ridgewalk for around 6.30 am to truly appreciate the beauty of Bali, before the masses of other tourists arrive.
In order to reach the Campuhan Ridge Walk, you want to head towards Ubud's neighbouring village known as Penestanan, which lies to the north-west of Ubud. Follow the road JL Raya Ubud and turn down the road to your right just before you reach a Mini Mart. You will need to park up your scooter soon as the actual ridge walk is only reachable by foot.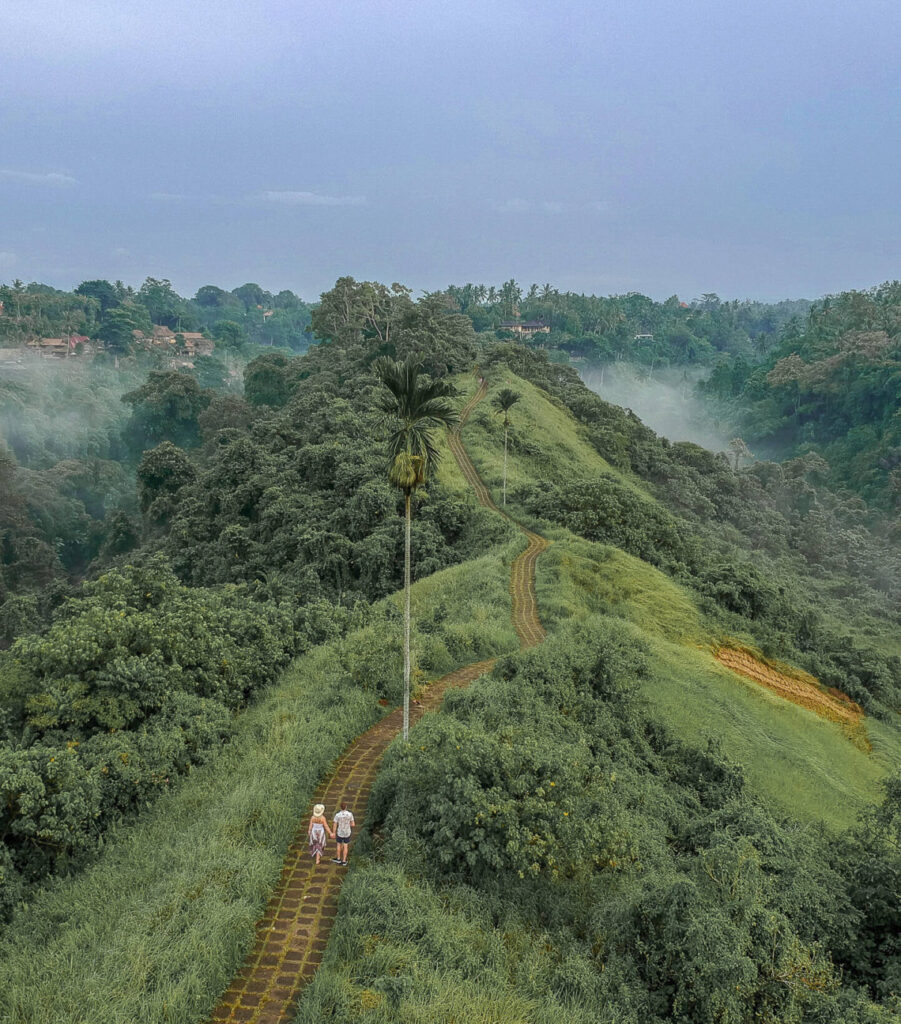 Exploring the Tegalalang Rice Fields
Located just half an hour north of Ubud, these rice fields are perhaps the most famous in Bali, if not the world. In order to beat the crowds, we recommend getting here as early as possible to enjoy the serenity inwhich the views bring. Built into a small valley, the rice terraces step up and down in a beautiful pattern. The early lighting before sunrise is the perfect opportunity to take some incredible, golden hour pictures.
The Tegalalang entrance fee is broken down into 3 parts, depending on where you want to go in the rice fields. The first fee is about £1 (20k IDR) and is paid at the entrance to the field. The next payment is at a station just as you reach the bottom of the valley and begin to climb to the more photogenic side. This is a donation, however people usually pay another £1 (20kIDR).
The third payment is much further into the rice terraces at the famous sunrise spot. Here the farmer will charge you around £3 (50k IDR) and will allow you to walk through their field to take a picture.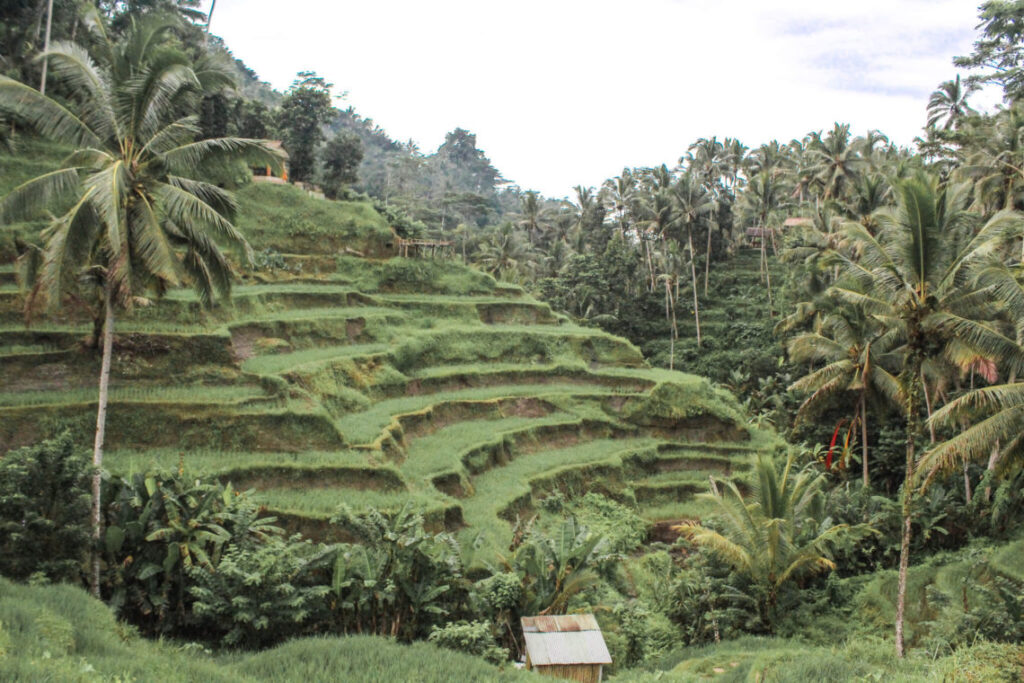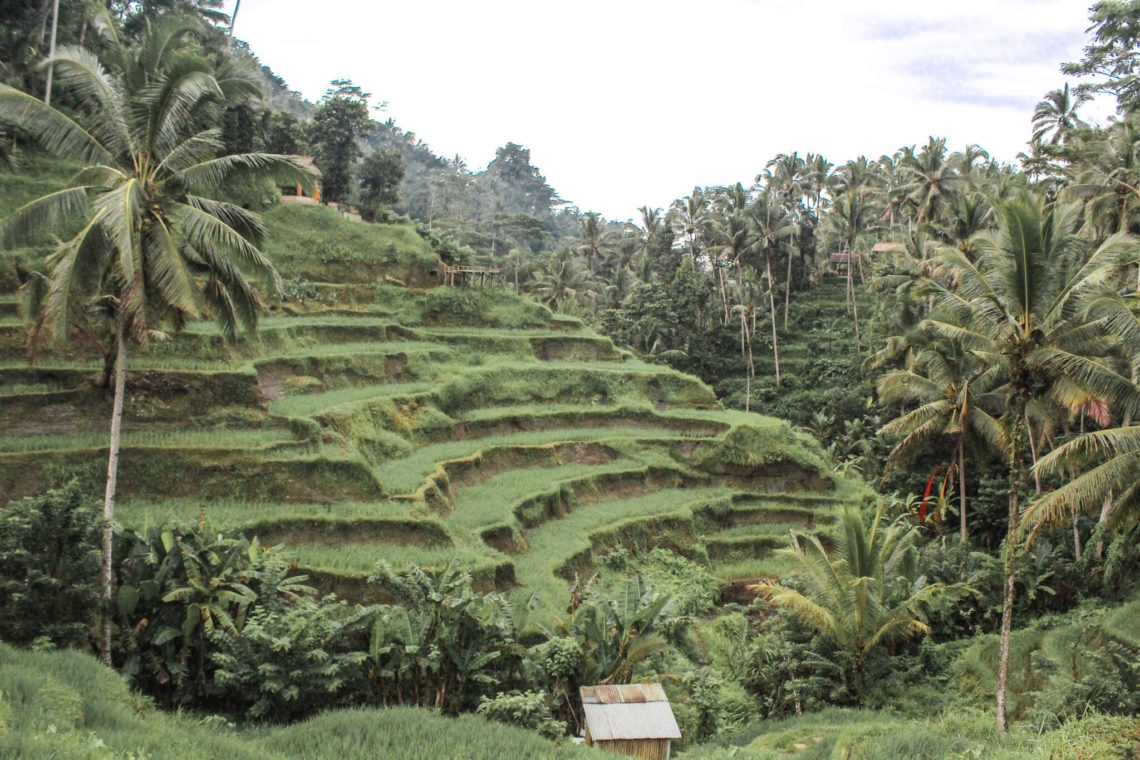 Chasing Ubud's Best Waterfalls – Teganungan Waterfall
Once you have seen the sunrise and explored all there is to see at the Tegalalang rice terraces, it is time to explore the other side to Bali's beautiful nature: Waterfalls. With more than a hundred known waterfalls across the island, and more being discovered every year, waterfalls are another thing Bali does very, very well.
There are a number of waterfalls in close proximity to Ubud, one of the most famous being Teganungan waterfall. The entrance fee to Teganungan is around £1 (20k IDR)  including parking. To get to the waterfall from the car park, the pathway is a very pleasant, paved staircase, which takes around 15 minutes to get to the waterfall. During the rainy season, Teganungan is extremely impressive, due to the volume of water and the height from which it falls. There are toilets and cafes at the entrance to the waterfall for customers to use.
There are other waterfalls in Bali nearby if you have time such as Tukad Cepung and Kanto Lampo waterfall.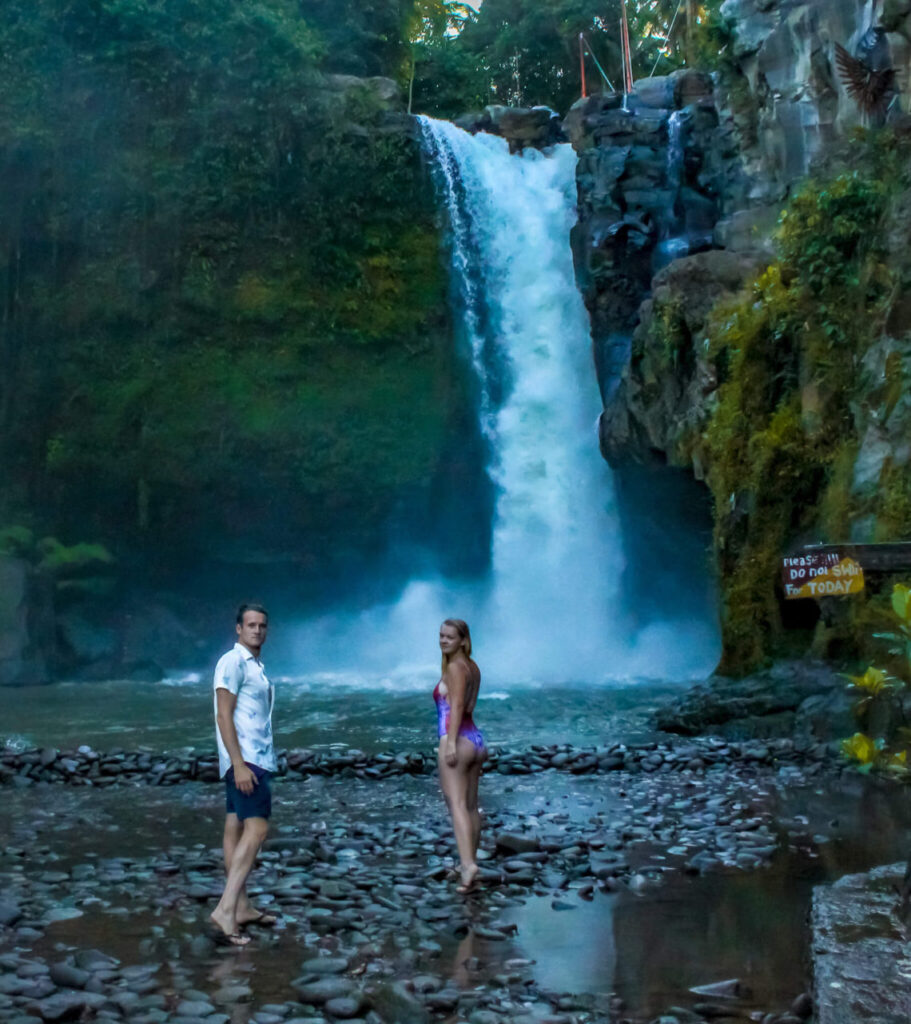 Time to Relax
With such a busy first day in Ubud, it is now time to appreciate the other side to life that this region is so very famous for: Yoga and Massages. Take your pick of whether you would like to enjoy one of the many forms of Yoga class around the city, stretching out those tired muscles and relaxing your mind.
If this is not you, then there are plenty of amazing massage parlours to choose from, all for a very reasonable price. Finish off your first day of this Ubud itinerary with a relaxing, full body massage for as little as £10.
Dinner at Biah Biah Warung
Perhaps one of the most unique restaurants in Bali, the line out the door of Biah Biah Warung speaks for itself. The huge menu of Tapas style asian foods is the perfect place to try and taste the best of the traditional Balinese foods.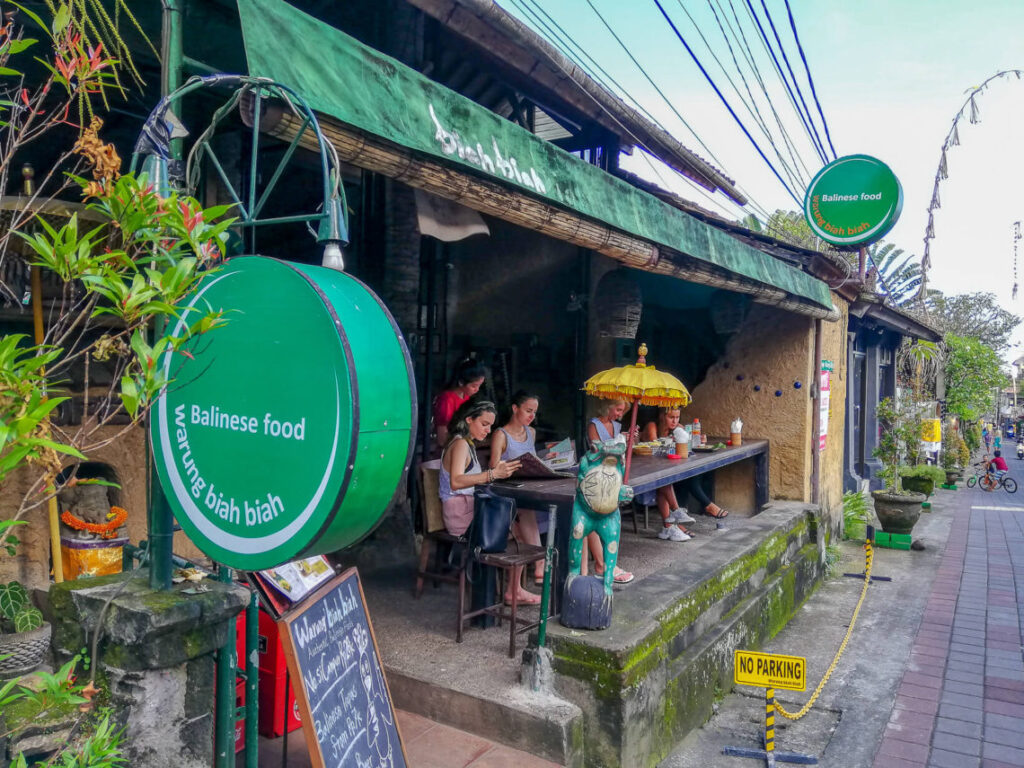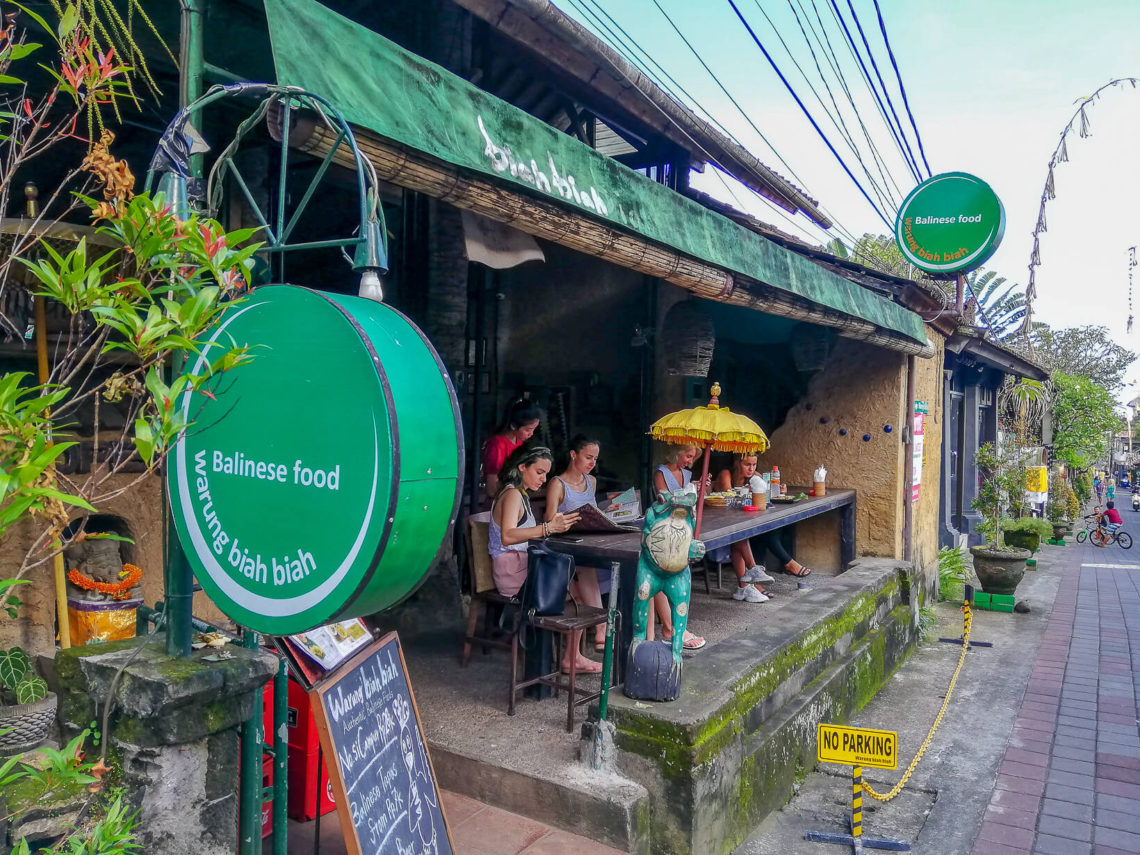 Before You Leave for Ubud
Whether you are arriving into Ubud itself or travelling to Ubud from a different area of Bali, there are a number of things you will need to sort out to ensure a smooth trip. These are including where to stay in Ubud, what travel insurance is best and what to pack for Ubud. All of these are discussed below.
How to Get an Indonesian Visa
As for the Indonesian visa itself, getting a visa for Bali is relatively straight forward if you come from one of the listed Visa on Arrival countries. If your country is on  this list, all you have to do is turn up at the airport with a valid passport and you will automatically be granted 30 days in the country.
If you wish to stay longer than 30 days, you will need to buy a Visa on Arrival Extension before you pass through immigration. This costs around $35USD and can be done right before you pass through immigration. Once you are in the country, you will then need to extend your visa a further 30 days either by yourself, or by paying a visa agent to do so for you.
You can read our full guide to extending your Indonesian visa right here.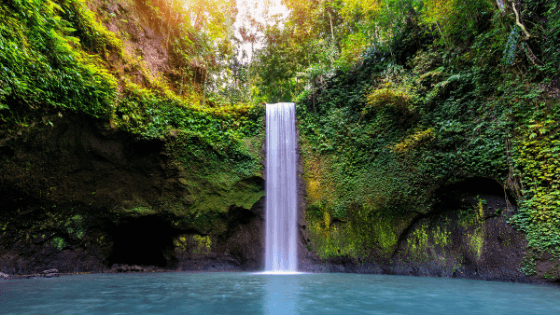 What is the Best Travel Insurance for Bali
When it comes to backpacking, one of the least enjoyable purchases you can make is travel insurance. That being said, it is without a doubt the most important part of preparing for a trip, with extortionate medical bills and ruined holidays being the result of not being covered.
In order to ensure a stress-free journey, we make sure we get our travel insurance through World Nomad's Travel Insurance. These guys offer low cost travel insurance made for backpackers, with good coverage and excellent overseas customer support.
Get a quote for your travel insurance right here and get covered.
What to Pack for Ubud
Given the climate of Bali in general, packing for this trip is relatively straight forward. In the southern lowlands of Bali it is hot and humid most of the time, however if you venture into the northern highlands the temperature will drop with altitude.
When it comes to the weather, Bali is a tropical country meaning it has two seasons: wet season and dry season. During your visit to Bali, it will most likely rain, and if you happen to visit during the wet season, it will rain a lot. Make sure you pack a waterproof or a poncho for your days out adventuring to avoid getting too drenched.
As a general rule for packing for Bali, it is best to think "layers". Pack a few light layers of clothing, including a jumper and a waterproof, and wear as many layers as you want according to the weather.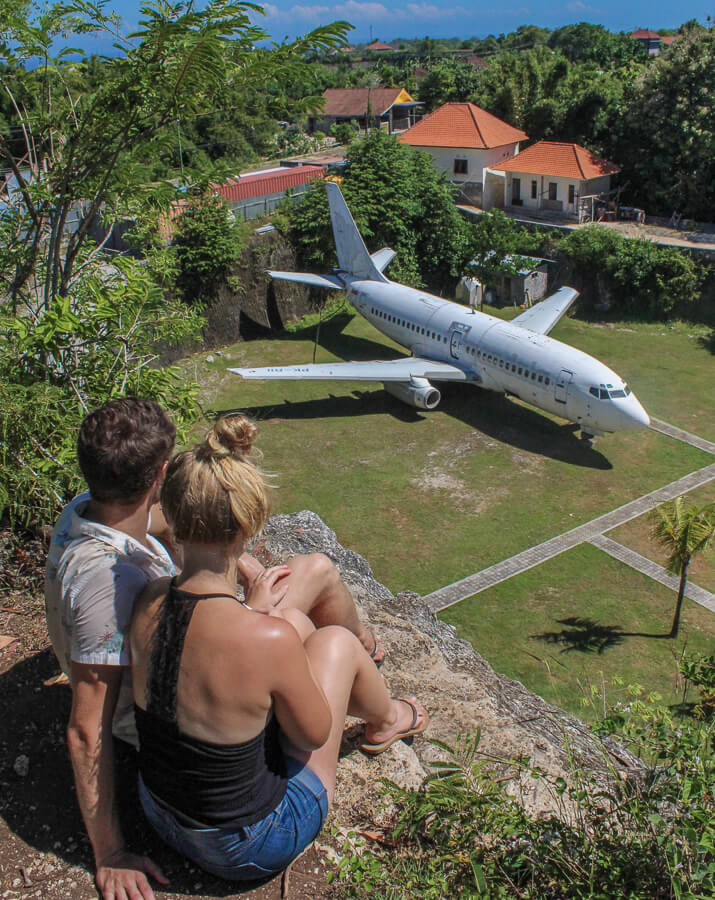 Where to Stay in Ubud
When it comes to accommodation in Bali, the range of choice is simply unbelievable. You can stay in sweaty shared dorms, converted traditional homes, jungle treehouses or private villas. No matter what your budget it, you are bound to find the perfect place in Bali.
For your stay in Ubud, we have narrowed the best places to stay down to three levels of budget.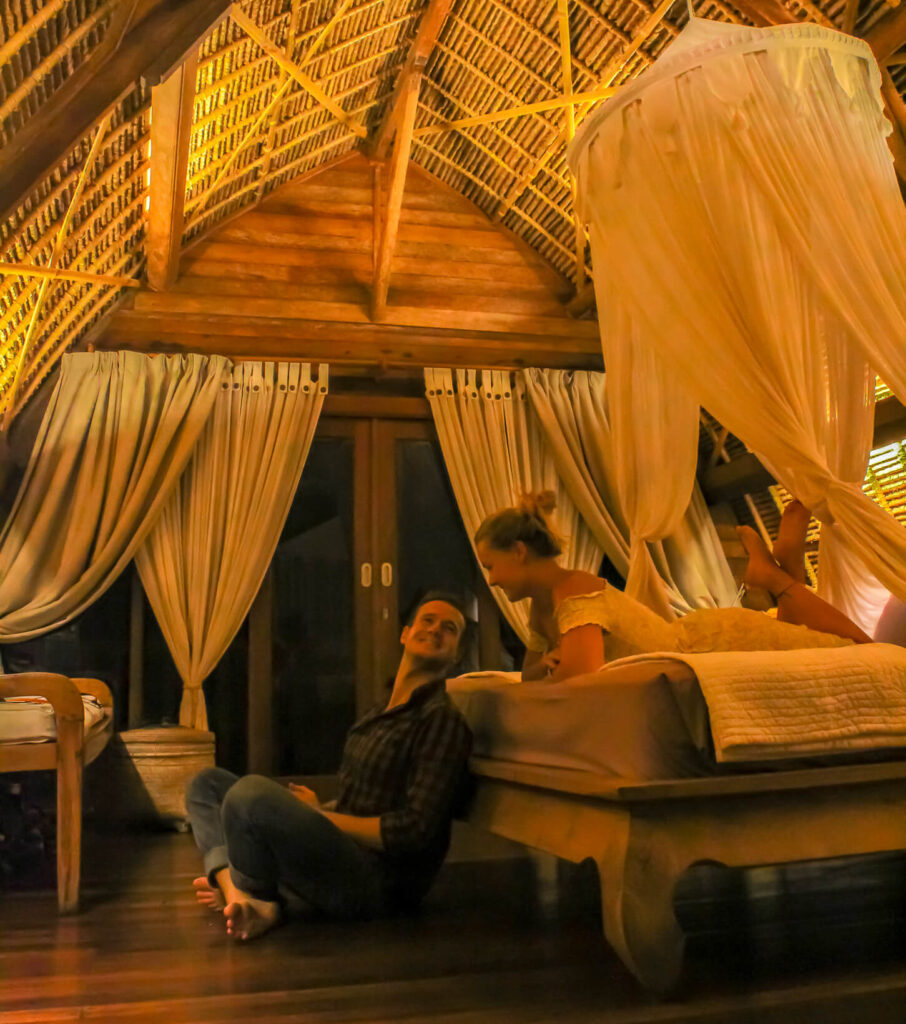 Luxury – Escape the craziness of Ubud city centre and spend your nights in the tranquility of the jungle. Sandat Glamping Tents sit only 15 minutes from the bustling Ubud markets, however you will feel like you are in another world. Spend your day relaxing by the pool and use the free shuttle to explore Ubud by night.
You can book your stay at Sandat Glamping Tents right here.
Mid-Range – Situated right in the centre of Ubud is the basic, yet very comfortable hotel, Nyuh Gading. This quiet hotel has excellent AC and fan options, balconies views and even offers cheap food and drink.
You can book your stay at Nyuh Gading right here. 
Budget – For barebones accommodation just minutes from the Ubud markets, Ojek's Homestay is the place for you. This converted, traditional Balinese house compound offers rooms with and without AC, has a kitchen, showers and even offers laundry service for a reasonable price.
You can book your stay at Ojek's Homestay right here.
If hostels are more your social scene, there are a huge range of hostels to choose from in and around Ubud. Book your stay for Ubud right here.
How to Get Around Ubud
With so much to see and do around Ubud, it begs the question of how you should plan to get between all of these activities. When in Bali, you really have two options to get around: self-drive scooter or hiring a taxi driver.
Renting a Scooter in Bali
By far the cheaper and better option to get around the island, renting a scooter in Bali is the easiest way to see as much of this island as you can. Renting a scooter can cost as little as £3/day, with the cheaper rates being offered for long term rentals.
You can rent a scooter from your hotel or homestay itself, or you can rent a scooter from a number of shops around Ubud.
Hiring a Driver in Bali
An easier and much more relaxing way of exploring around Ubud is to hire a personal driver to chauffeur you between the sights. You can either book a tour online with a detailed itinerary and a set price for the sights you want to see, hire a driver from around the streets of Ubud and barter a price, or book a driver for a day from an online taxi app, like GoJek or Grab.
The cheapest of the above options is definitely with the online taxi apps, who have a set price and do not overcharge for these services. If you want to enjoy a slightly more upmarket experience, booking a a day tour experience will give you a bit more for your money.
You can view the best tours available for around Ubud right here.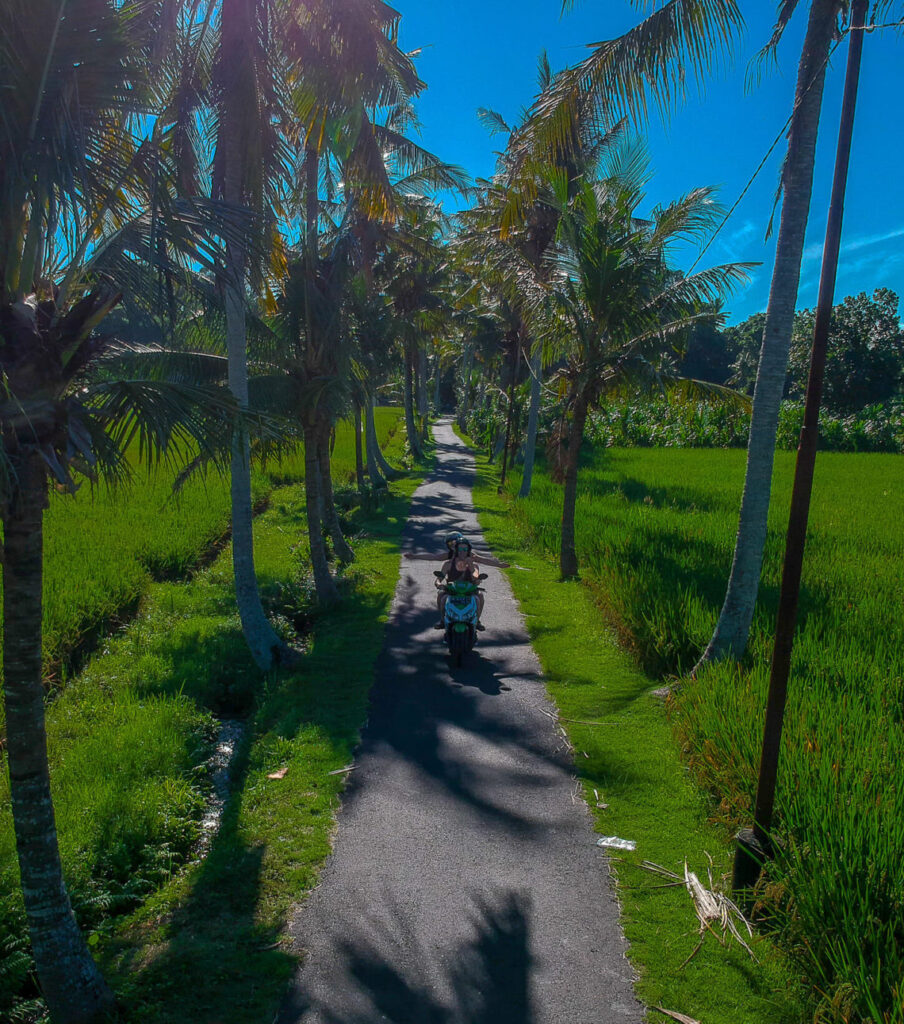 So there you have it, a one day itinerary for Ubud Bali, including beautiful scenery, a waterfall, and tasty places to eat. If you have visited the Ubud recently, let us know what you thought of the sights listed above, or if you have any suggestions let us know in the comments below.
As always, sharing is caring so make sure to share this photo guide with your family and friends and inspire them to head off on their own Ubud adventure. If you are planning the trip for yourself, make sure you have a look at the rest of our Bali content for more inspiration to our beautiful home country.
When you set off on your own adventure, be sure to tag us in your photos on Instagram and we will share them with the rest of our community. In the meantime, why not follow us over there to see what we are currently up to and keep up with us on our Instagram Stories.
Now Read:
This article may contain affiliate links that provide us with a small income. For more information read our Affiliate page.
Pin this image to your Bali Pinterest board for later