Indonesia is made up of over 17,000 islands, one of the most popular being the paradise island of Bali. Tourists, workers, holiday-makers and digital nomads alike all flock to this island to relax or work hard on the incredible island, and the
surrounding paradise of the Nusa and Gili islands
. One thing that each of these groups have in common, however, is the need for a Bali Tourist visa, as well as the possible need for a visa extension. The process to get an Indonesian Tourist Visa could not be simpler, despite it sounding quite complex.
Residents of certain countries
are allowed to enter the country for free, without the need for applying for a visa prior to arrival, and are then allowed to stay for 30 days. That is 30
incredible sunrises
just waiting for you to grab. If you wish to stay for longer, you will be required to extend your Visa on Arrival (VOA Bali), which allows you to stay up to 60 days. Read on to find out everything you need to know about
extending your visa in Bali
, including how to go about doing it at one of the many immigration offices Bali has.  
  Below is a short summary of what is included in this guide to extend your Indonesia Visa. All of these points are discussed in greater detail later in the article.
How to prepare for your trip to Bali
What Bali Visa you will need
Arriving into Bali
Extending your visa with a Visa Agent
Extending your Visa by yourself
Where to stay in Bali
Everything You Need to Know about Your Visa Extension Indonesia
Before You Arrive in Bali
Before you arrive in Indonesia, it is important to make sure you have done an extensive amount of research into the visa extension Bali offers. From our experience flying from Melbourne to Bali, we were almost denied our flight to Bali as the staff did not realise the visa process occurred on arrival into Indonesia. DO NOT rely on the knowledge of these professionals, as even they do not know about the relevant visas sometimes.    
Also Read – Living in Bali – All You Need to Know for One Month in Bali
Know your Rights
Read blogs, ask around and make sure you are happy with the visa option you choose and stick by it. We showed the woman in the airport information that we had read online about the visa on arrival and they agreed to let us through, warning us the fines that would occur if we didn't extend our visa on time.  
Have a Valid Passport
It is also important to make sure well in advance before you leave, that you have more than 6 months left on your passport. Some airlines may not let you fly and some countries may not allow you to enter if you don't have a distant expiry date.  
Evidence of Ongoing Travel
Make sure you have evidence of an outgoing flight before leaving on your trip, as you will be asked for proof at the Denpasar Airport Arrivals. For after your 60-day visa, Indonesia needs to know that you will be leaving the country and not entering illegally. You will most likely be asked for evidence of this before you board your flight and there is also a high chance that you will be asked for evidence at either the Visa on Arrival counter or immigration in Bali arrivals.  
Travel Insurance
As you would do when you are travelling any country, make sure you have travel insurance before travelling to Indonesia. We can recommend using
World Nomads Travel Insurance
for the best and cheapest coverage. Always make sure that you are covered for the activities you will want to take part in whilst you are away.
Get your quote before you leave on your trip right here
.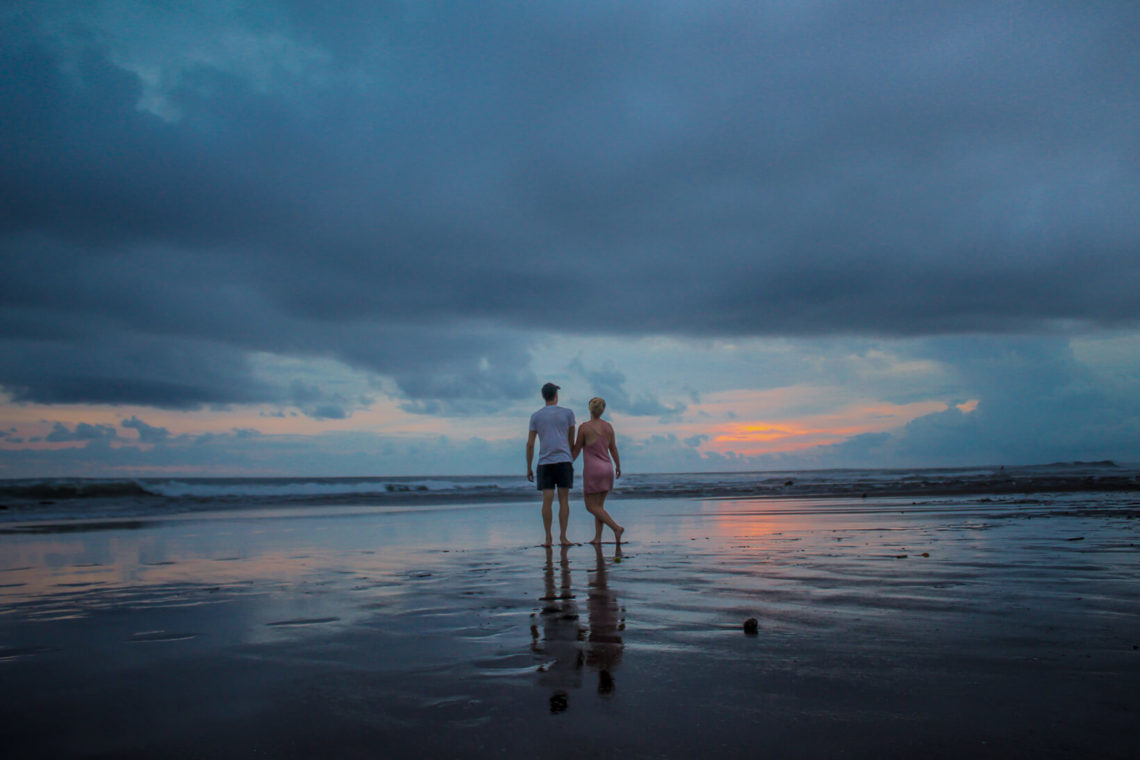 Also Read – 10 Day Bali Itinerary: The Best Sights for First-Timers Visiting Bali
Which Bali Visa do I need?
Free 30 day Visa on Arrival
If you are travelling to Bali for less than 30 days, all you need to do is check that you are from one of the Visa on Arrival countries and you will be granted 30 days in Indonesia. There is no questioning this and if you decide you want to stay in Bali for longer after you have been granted this visa, you must leave the country first. When you arrive into Bali airport, head through immigration, your passport will be stamped with your Bali entry visa, granting you a free visa for less than 30 days. Over 140 countries are eligible for a free 30-day tourist visa to Indonesia. You can
check that your country is eligible here
. If you wish to stay in Bali for longer than this without extending your visa in Bali, you will have to perform the
illegal act
of a Visa Run Bali. Do be warned that this is not technically allowed, although there is not much to stop it from being done. Simply be aware that if you are asked why you left Bali or are arriving at the border of a neighbouring country,
DO NOT SAY YOU ARE DOING A VISA RUN
. There have been stories of people being
detained and deported
due to stating that they are only visiting on a
Visa Run from Bali
.  
Visa Extension – Bali Visa on Arrival (VOA)
The extendable 60-day visa Bali offers allows for more flexibility with your trip, although it will cost you money. If you know or think that you might want to stay in Bali over the 30 day period, this is the visa for you. The extendable Bali visa on arrival cost is 538,000 IDR, roughly £31. This Bali Visa cost
must
be paid in cash
BEFORE
you go through immigration. There are ATM's in the airport if you don't have cash, however, we would recommend you bring cash in case the machines or your card doesn't work. The cash can also be paid in multiple currencies, so if you do not have Indonesian Rupiah yet you can instead pay in USD, EUR, GBP etc. The desk where you buy your VOA is difficult to miss. If you have arrived at the counter where you have your passports checked, you have gone too far. Read below to see exactly where you need to buy your Visa on Arrival.  
Want to know more about the best bank account to use when travelling abroad to avoid charges? Click here to read about our best bank accounts for backpackers.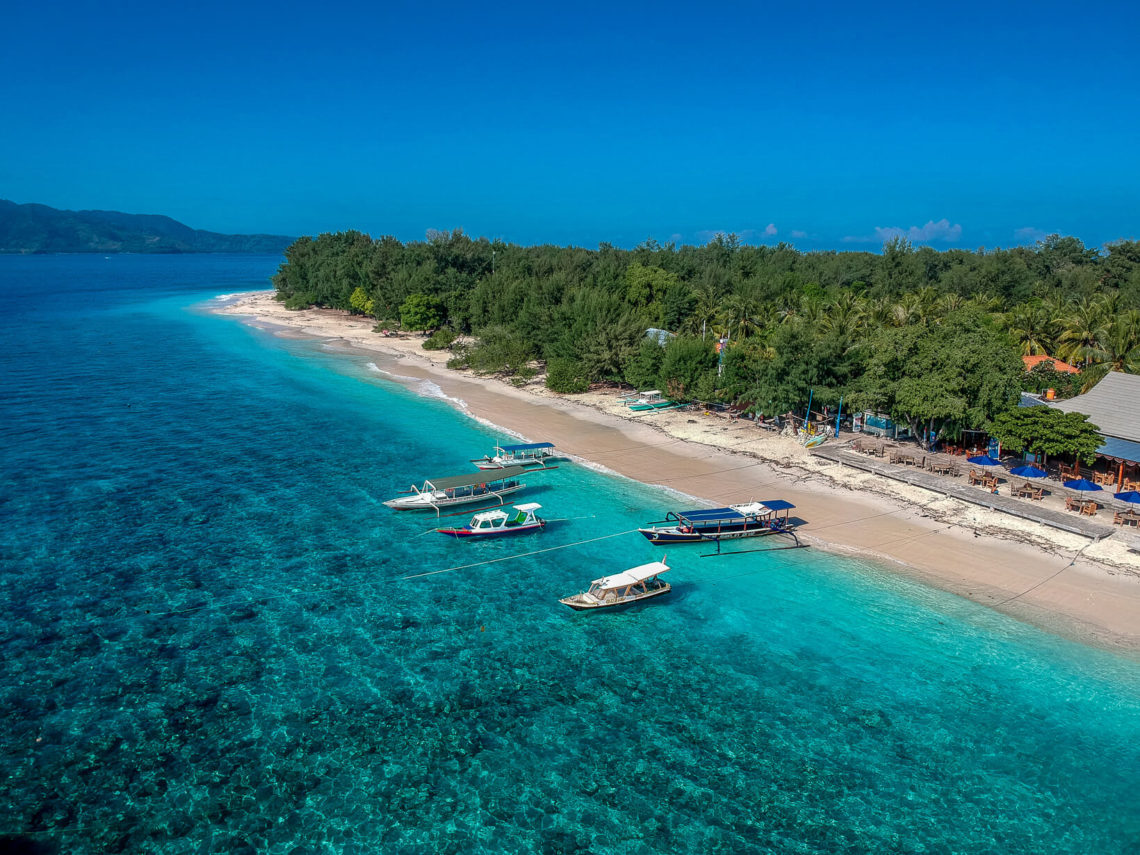 Arriving in Bali
When you arrive at the airport, before you enter the queues for immigration, you will want to find the Visa on Arrival Extension desk. It's a small desk and it's not very busy. Make sure you don't miss it as once you go through immigration, you won't be allowed back through to go to the desk. The visa charges for Bali are £31 for a visa on arrival extension and all you are required to do is show your passport at this desk. It's a good idea to have access to outward bound flight details in case you are asked. You will have most likely noticed the rather large queues for Bali immigration beside the visa extension Bali desk. Look out for the VOA queue, that is where you will want to queue. It is at the very left of the enormous hall, so get your VOA and head there. You may be asked how long and why you are in Bali and then you should be granted access through the airport.    
Extending using a Bali Visa Extension Agent
Most people that are staying in Indonesia for more than 30 days will use a visa agent for their Visa Extension Bali. A visa agent will support you through the visa extension process for a fee and will save you a lot of time on your trip. You will need to give your visa agent your passport so make sure you chose someone you think you can trust. We would recommend choosing a visa agent that someone has recommended and has had a good experience with before. Your visa agent will arrange with you to come and collect your passport. Best to do this sooner rather than later when you arrive in Bali. They will give you an estimate of when you can expect to go to immigration. Our first part of the process took 11 days. This will depend on the season and how busy your visa agent is.  
Take a photo of the agent, or even better, a video of you handing over your passport, for security reasons. Also, take one of their business cards if they have one.
  When asked to go to immigration you will have to make your own way there, either by car or scooter. You can find the location of
Ngurah Rai Immigration Office here
, however, there are multiples offices so confirm this is the right one with your agent. Your agent will meet you there and take you to get a ticket. Your ticket number will show on the board when it is your turn. You will be asked to confirm your name and date of birth and then a photo will be taken of you. You will also need to give fingerprints of all your fingers. At this point, you should be finished and your visa agent can give you a rough estimate of when your passport will be ready.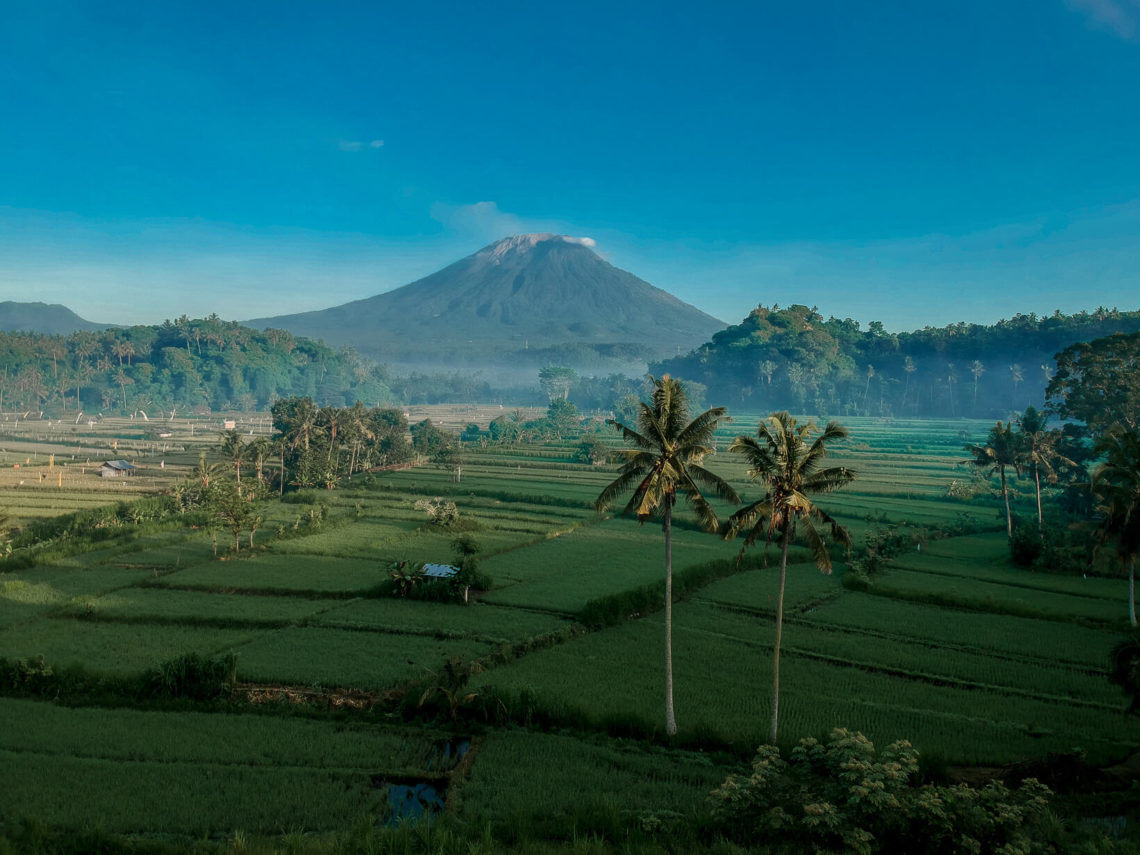 We would like to recommend
Ega
, our own, very reliable Bali visa agent. Ega works for IDM Advocates and Legal Consultant, based in Denpasar. He is extremely professional and will do his best to accommodate you throughout the process of extending your visa. We will be using Ega again on our future trips to Bali.   These are the prices and details of the services that Ega offers:  
Regular/Normal Process for Visa Extension Bali
Price: 700.000 IDR Estimate time process: 10 – 14 working days Free pick up and delivery of Passports  
Express Process for Visa Extension Bali
Estimate time process: 3-5 working days Price 1.000.000 IDR Free pick up and delivery  
One Day Service for Visa Extension Bali
Price 1.500.000 IDR Free pick up and delivery      
Extending your Visa by Yourself
You can either extend your visa yourself before you leave for Bali or extend it yourself when you arrive in the country.  
Extending Before you Leave Home
If you extend it before you leave, you can do so at Indonesian embassies all over the world. To get this Indonesian Embassy Visa, make sure you give yourself plenty of time as you will be without your passport until the process is complete. This is what you will need:
Proof of onward flights
Passport (minimum validity 6 months from arrival in Indonesia)
One coloured passport-sized photograph
If you are completing this process in London, you must be a UK resident
Travel Itinerary
Bank Statement with minimum £1,000 balance from the past month
You can read more about the
immigration office, Jimbaran, or the immigration office, Denpasar, here
.    
Extending Your Bali Visa in Indonesia
If you are wanting to save the money on an agent and extend your visa yourself when you arrive in Bali, you will need to be prepared to make 3 trips to the embassy. The immigration office,  Jimbaran, or the immigration office, Denpasar, are both options when extending your Bali visa. The cost of your visa extension Bali is significantly less when you do it yourself than when using an agent,
costing only 350k IDR
. When you head to the office, you must make sure you pack the essential items to ensure a smooth visa process. These are all listed below.
Black Pen
Passport
2 Copies of Passport Picture Page
2 Copies of Departure Plane Ticket from Indonesia
Copy of Visa on Arrival Receipt (small piece of paper you received at the airport after paying the $35 USD fee)
Name, Address, Email and Phone Number of your Accommodation
  Your visa process will then be over 3 trips to the immigration office. On the first trip, you will be given 2 forms to complete, and once you have done that you will hand over your passport and leave for the day. On the second trip, it is time to make our payment and get your fingerprints, photo, and interviews done. The interview for us was a simple "confirm your name", nothing to worry about. You have now completed the application and just need to wait for the admin side to do their part. On the third and final trip, you will head back to the office to collect your passport. You will find inside your visa stamp stating the date upon which you must have left Indonesia. Make sure this date is suitable and enjoy the rest of your time in paradise!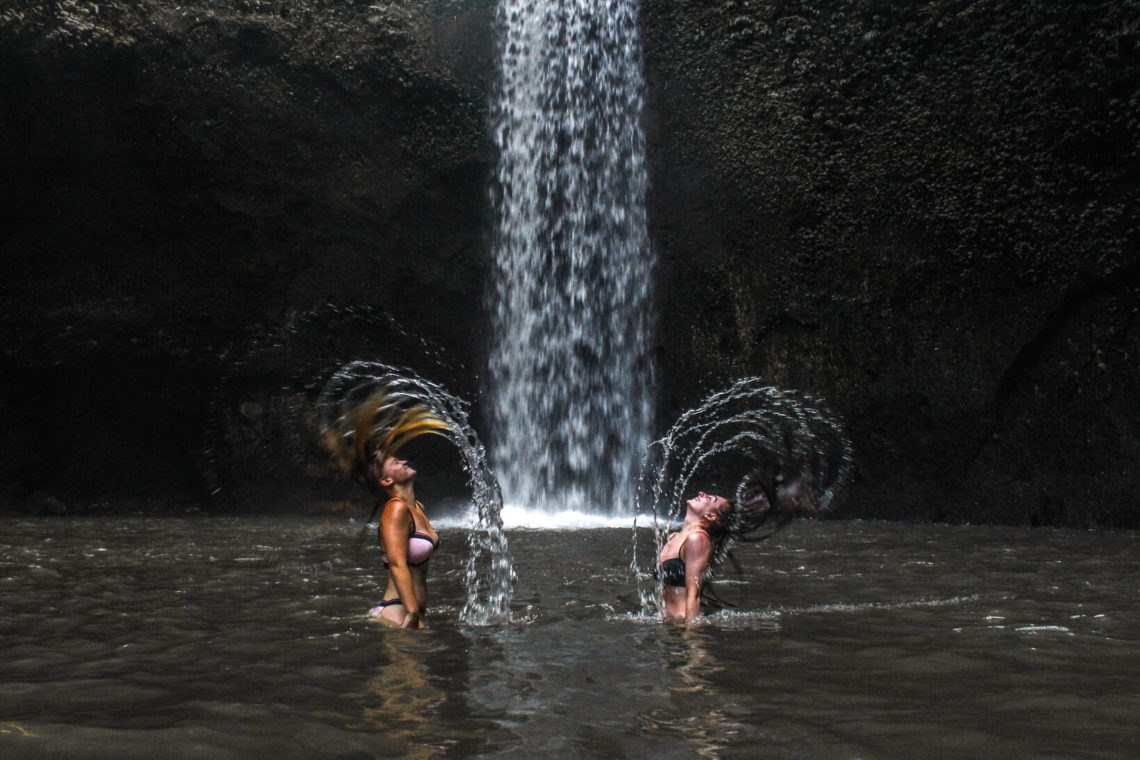 Where to Stay in Bali
There are two main spots in Bali that backpackers use as a base camp to make day trips around the island or to stay for a couple of days before moving on. These are either in the very south of the island, in Canggu or Seminyak, or in the middle of Bali, in Ubud. The reason many do not venture further north for long periods of time is due to how quickly it becomes remote for tourists. The accommodation prices go up, the transport is harder to come by and the food is either very basic or very expensive. However, travelling north to explore the less touristy areas of the island is simpler than you think. By renting a scooter, you can drive from Canggu to the most impressive waterfalls in Bali in just a couple of hours. We would recommend then staying the night before heading back south, as the roads are exhausting to drive. When trying to find the best accommodation around Bali, we highly recommend using Booking dot Com, as it offers the
cheapest accommodation as well as the widest variety of choice
. You can
check out all of the best rates right here
.  
Where to Stay in Canggu
In Canggu you have three main choices of good, budget accommodation:
OK Bali Homestay, Pudi Homestay and Bagus Guesthouse
. These are both situated on the street beside Batu Bolong, meaning the prices are half of the other options in Canggu. It also means that there are loads of cheap warungs all around where the locals eat, meaning you get delicious, traditional food for a fraction of the cost.
Check out the latest prices for all of these places here
.  
Where to Stay in Ubud
In Ubud, you are more limited with your options. We stayed at two hotels during our time here, one is very basic and cheap, and the other being slightly more expensive but WAY more comfortable. The better option being
Nyuh Gading hotel
, situated right in the centre of Ubud, a two-minute walk from the market. The cheaper option is
Ojek's Homestay
, once again right in the centre of Ubud, about 10 minutes from the market.
Check out the latest prices for all of these places here
.    
FAQ's on the Bali Visa Extension
How Much is a Visa Extension in Bali?
If you wish to extend your visa to allow you to stay in Bali for a further 30 days, you will initially have to pay 538k IDR on arrival at the airport. This Visa on Arrival Extension will then allow you to extend your visa at the embassy in Denpasar, which costs an additional 350k IDR. You can also pay a visa agent to handle this process for you, which means you only need to take one trip to the embassy instead of three. This process will cost you between 700k – 1500k IDR.  
Can You Stay in Bali Longer than 30 Days?
The only way for a tourist to stay in Bali for longer than 30 days is with a visa extension. This process can be easily completed by yourself or with the help of a visa agent.  
How Long Does it Take to Extend Visa in Bali?
If you are extending the visa yourself, the visa extension process will take at least 3 days, meaning three journeys to the immigration offices in Denpasar. You will need to hand over your passport and possibly your plane ticket during this process. If you use a visa agent, depending on the price you pay, the process can take up to 2 weeks, however, you will only need to visit immigration once.     There you have it, your
full guide to extending your Bali visa
. If you have recently gone on a trip to Bali yourself,
let us know your favourite sights and activities in the comments section below
. Where was your favourite part of Bali? What activity will you remember the most? Is there any advice you wish you knew before you left? You can also
check out our Bali Youtube series
, jam-packed with information and inspiration for your trip! Also, remember that
sharing is caring
! Share this post with your family and friends, so they can get planning a trip of their own to this beautiful part of the world. If you found this guide useful,
check out our other Indonesia content
to plan the rest of your trip over here.
Catch up with us on social media
and tag us in your Bali photos and we will share them with our community of adventurers.    
Read Now: 
This article may contain affiliate links that provide us with a small income. For more information read our Affiliate page.
---
Pin it for later!