One of Bali's most serene natural phenomenon sits far into the north of Bali. Sekumpul Waterfall is actually a cluster of six or seven (depending on the season) cascades of water, found deep in the Balinese jungle. The deep green surroundings, coupled with the crashing roar of the Sekumpul waterfall delivers an outer worldly experience that can not be missed.
This is your complete guide to the Sekumpul Waterfall, including what to bring, how to get there and what to expect.
Save this image to your Bali Pinterest board for later!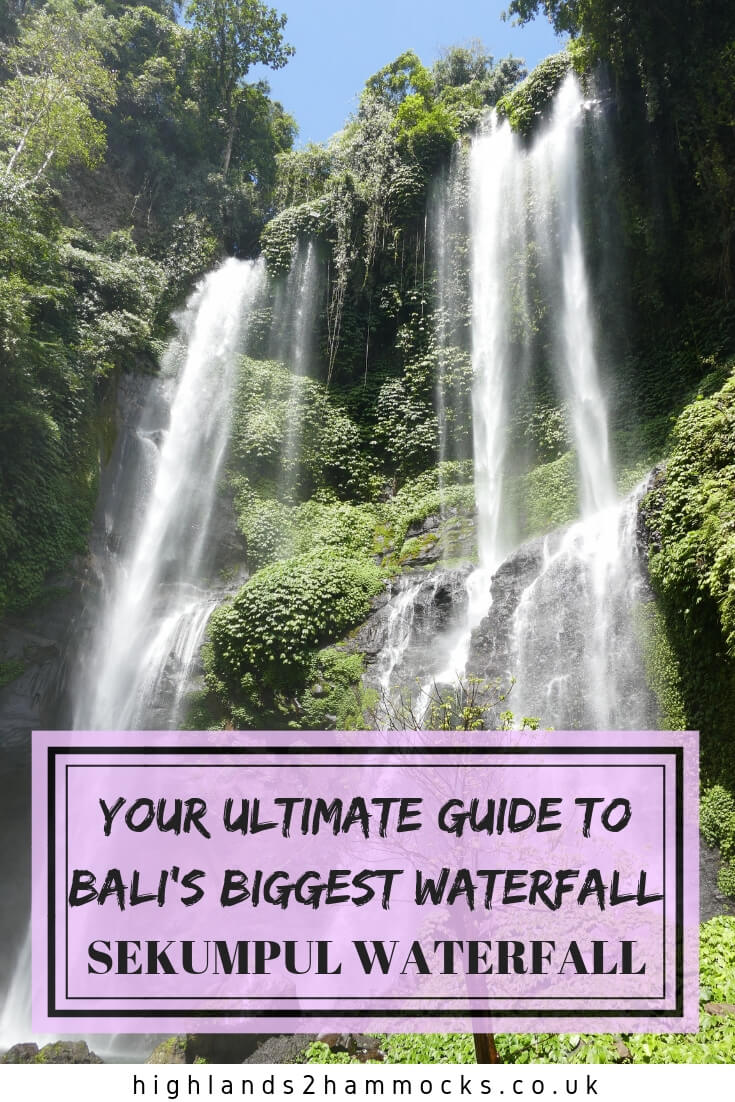 If you are looking for a week of non-stop action, head over here for the Ultimate Seven Day Itinerary for Bali.
Sekumpul Waterfall – Your Ultimate Guide to Bali's Biggest Waterfall
How to Get to Sekumpul Waterfall
The easiest, cheapest and by far the best way to get around Bali (especially northern Bali) is on a scooter bike. By renting a scooter, you will be able to get around the sights that you wish to see, whenever you wish to see them. This of course means a lot more stunning sunrises and late night pizza runs.
The best place to rent a scooter for your journey north is in Ubud, or even further south. There are not many places to rent in the north and even if there was you would still have to get there first. By renting in Ubud, you will be able to get a bike for between 40k to 80k a day (roughly £2), depending on how long you rent for.
Sekumpul Waterfall is an hour and a half drive north from Ubud, with plenty of other sights to hit along the way, such as Tegalalang Rice Terrace and Nungnung waterfall. The waterfalls are one of the most accessible in the area, with dirt paths leading to it and barriers to help you. However, be prepared for a walk down to them for plenty of steps leading down and across streams.
Also Read – The Ultimate Bali Itinerary – Seven Days in Bali Paradise
What You will Find at Sekumpul Waterfall
Entrance Fee (Without a Guide) – 15k rupiah
Entrance Fee (With a Guide) – 125k rupiah
Parking – 2k rupiah 
There is a bit of animosity when it comes to the entrance fees of the Sekumpul Waterfall, mostly because of the reported scams involved. When you arrive the the village of Sekumpul, you will most likely be told that it is compulsory to have a guide to the waterfall, sometimes costing up to 350k per person.
However, this is not the case. Using the south entrance, you will find a small car park and an entrance charging the above fees. Here you will also likely find the more reasonable guide prices shown above. If you do not require a guide, simply politely say this and pay the lesser fee.
It is a far walk down to the waterfalls, taking about 30-40 minutes, however it is totally worth it! There are no changing facilities or toilets at the bottom, so make sure you come prepared to change or go at the top.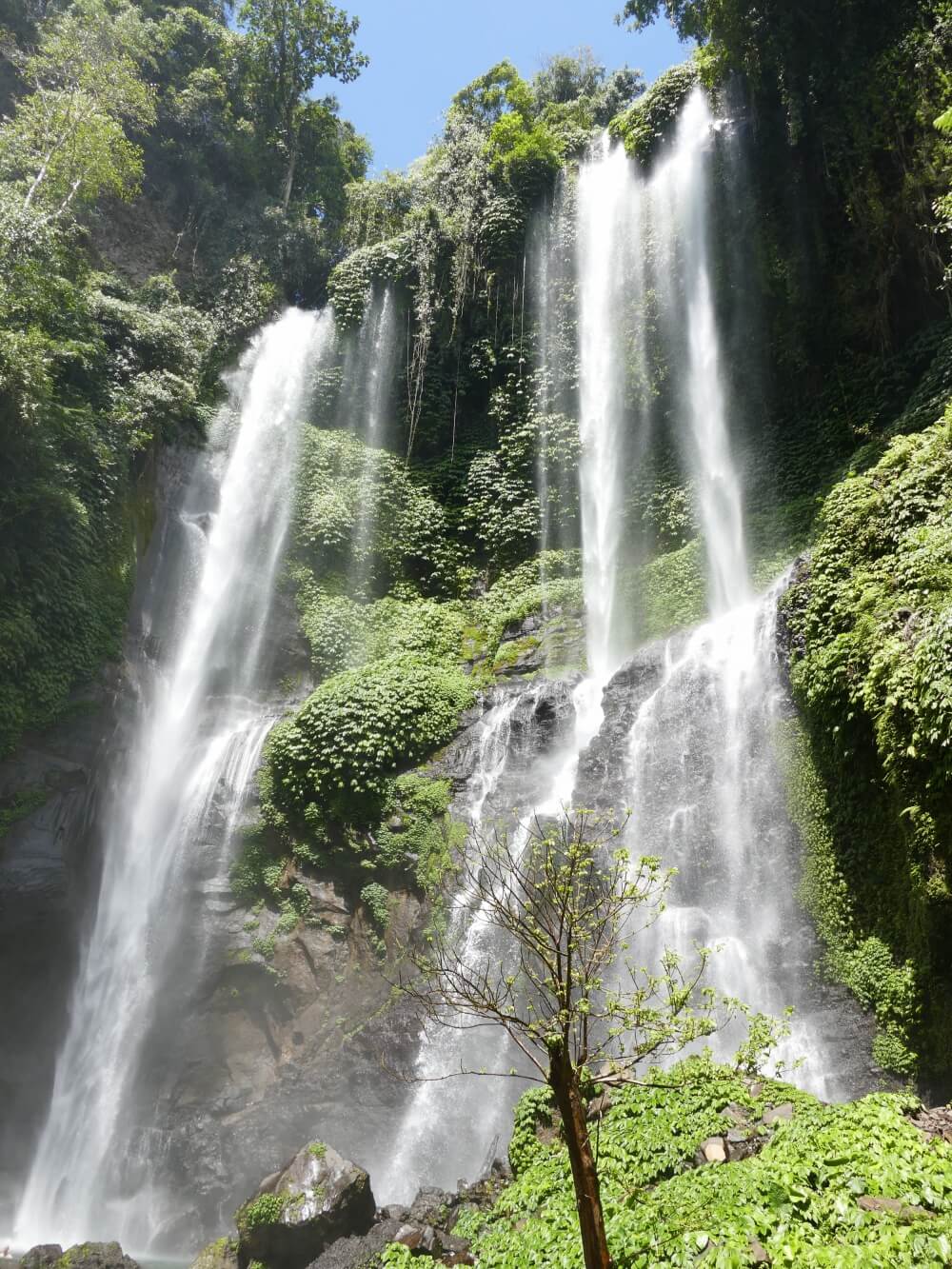 Also Read – Tibumana Waterfall – Everything You Need to Know
Other Activities in North Bali
If you are in the mood for chasing more waterfalls in the Ubud region then have a look at our full guide to the 8 best waterfalls near Ubud.
Sunrise over the Wanagiri Hidden Hills
The most beautiful sunrise spot in all of Bali sits high amongst the early morning clouds of the Wanagiri Hidden Hills. This lake viewpoint sits far enough away from the busy southern region that you will almost definitely have it all to yourself at sunrise.
It is a paid entrance fee, however there are other sections along the road from it with the same view that will cost you nothing.
Banjar Hot Springs
With hot spring water surfacing from deep underground, the Banjar Hot Springs are one of the natural hot springs Bali has to offer. Geothermally heated from the nearby volcano, the water sits around a toasty 38oC+, and has a high Sulfur content of around 25%.
For a small fee, you can enjoy the spring water all day long, perfect for heating you up after your high altitude bike ride.
Brahmavihara-Arama Temple
This unique Buddhist/ Hindu temple has a beautiful mixture of architectures and influences from the two religions. As the northern side of Bali is a lot less touristy, this temple is the perfect spot for peace and tranquility. Wander the temple and enjoy the beautiful statues, buildings and peaceful atmosphere around you.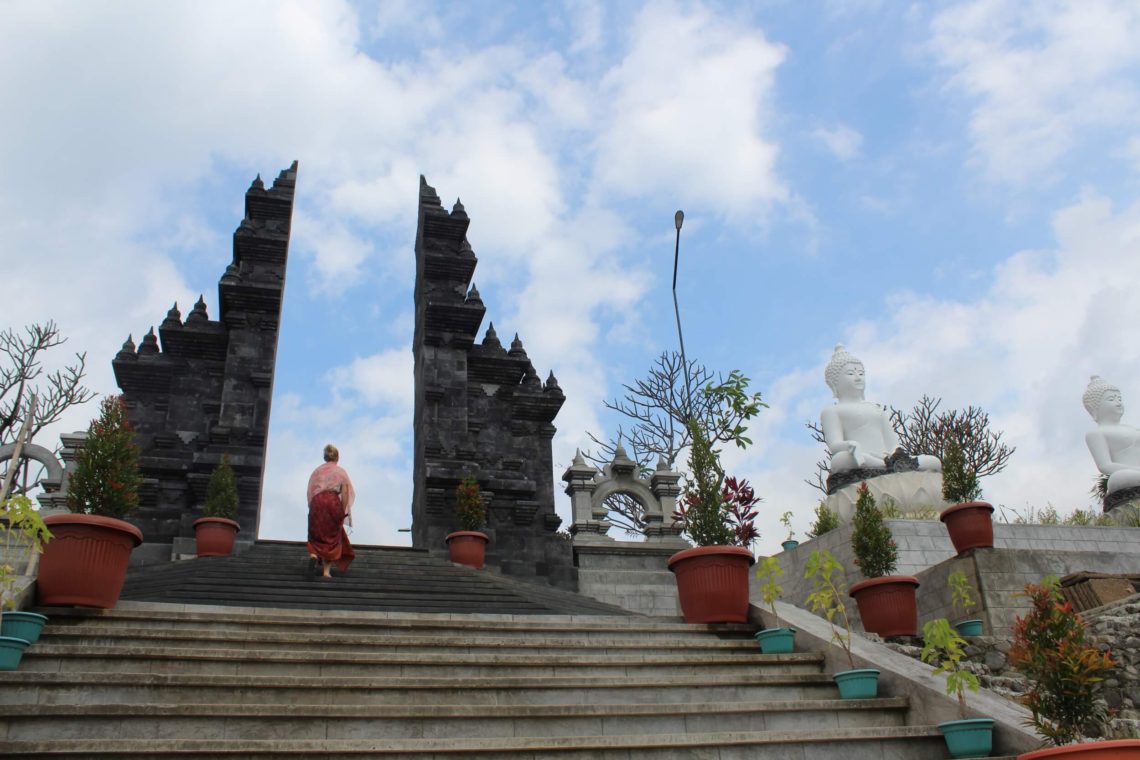 Also Read – 10 Day Bali Itinerary: The Best Sights for First-Timers Visiting Bali
Before you Leave for Bali
Whether you are yet to arrive in Bali or are heading to Nungnung Waterfall from elsewhere, there are a few things to check off to ensure you have a smooth trip. This includes what to pack, where to stay and what insurance to get for your adventure.
Also Read – Living in Bali – All You Need to Know for One Month in Bali
What to Pack for Bali
When packing for Bali, there are a certain number of items that you DO NOT want to forget. The climate of Bali is rather predictable, with either a wet season or a dry season, and pretty reliable humidity and temperature all year round. Due to this heat, it is an obvious choice to pack light, summer clothing for the majority of your trip, however since you will be heading north to Sekumpul Waterfall, you will also need warm clothing.
Not many people believe how cold the north of Bali actually gets, however with its high altitude and high humidity, the temperature can easily drop to as low as 10oC. Therefore, it is advised to pack at least one jumper to put on and a waterproof jacket that will act as a windbreak whilst you are on a bike.
Another item that you will need is sunscreen, due to the power of the sun in Indonesia. Even the locals will avoid the sun as much as they can, with even dark skin tones vulnerable to burning.
We recommend packing as much sunscreen as possible for your trip to Bali, mainly because it is extortionate once you arrive. One small bottle of sunscreen will set you back at least £12.
We recommend packing mainly summer clothes, with a few long sleeve tops to wear when riding scooters or spending a day in the sunshine. You can check out our full packing guide when it comes to summer over here for your own checklist.
Given the beautiful sights and scenery that you are no doubt going to see around Bali, we highly recommend packing a good camera for your trip. If you want to read more about the cameras we use and why we love them, check out the link below.
You can read what else we keep in our camera bag over here.
Don't forget to subscribe and follow our journey on Youtube here.
Best Travel Insurance for Bali
As with any adventure, you will need to ensure you are adequately covered should something happen to you. We know that the high cost of insurance is never a fun purchase to make, however the consequences for you loved ones should something happen to you are unthinkable.
When it comes to travel insurance, we use the backpacker friendly option of World Nomad Travel Insurance. The cheap prices, excellent coverage and helpful customer support they deliver will make your travel insurance a lot less painful and a lot easier to manage.
Get your own travel insurance quote right here.
What Visa Should You Get for Bali
If you are one of the member countries viable for the Visa on Arrival in Indonesia, getting a visa for Bali is a simple and pain-free process. All you will need to do is show up at the airport and you will automatically receive 30 days free in the country.
If you wish to extend your visa past these 30 days, you will have to purchase a Visa on Arrival extension ticket before you head through immigration inside the airport. You will then be able to extend your visa to 60 days, once in the country.
Read all about how you can extend your Bali visa in our full guide over here.
Also Read – Visa Extension Bali – Everything You Need to Know about your Visa Extension Indonesia
Where to Stay in Bali for Sekumpul Waterfall
Given how far north Sekumpul Waterfall lies in Bali, you will have two choices for accommodation. Either base yourself in Ubud and make the hour and a half journey north to Sekumpul Waterfall, or stay on the northern coast and base yourself around there for a couple of days.
By staying in Ubud, you will save a lot of money on accommodation, as that in the northern part of Bali is much more expensive than in the south. We recommend you base yourself here and make a day of your journey north and south, hitting a few different waterfalls and other sights along the way.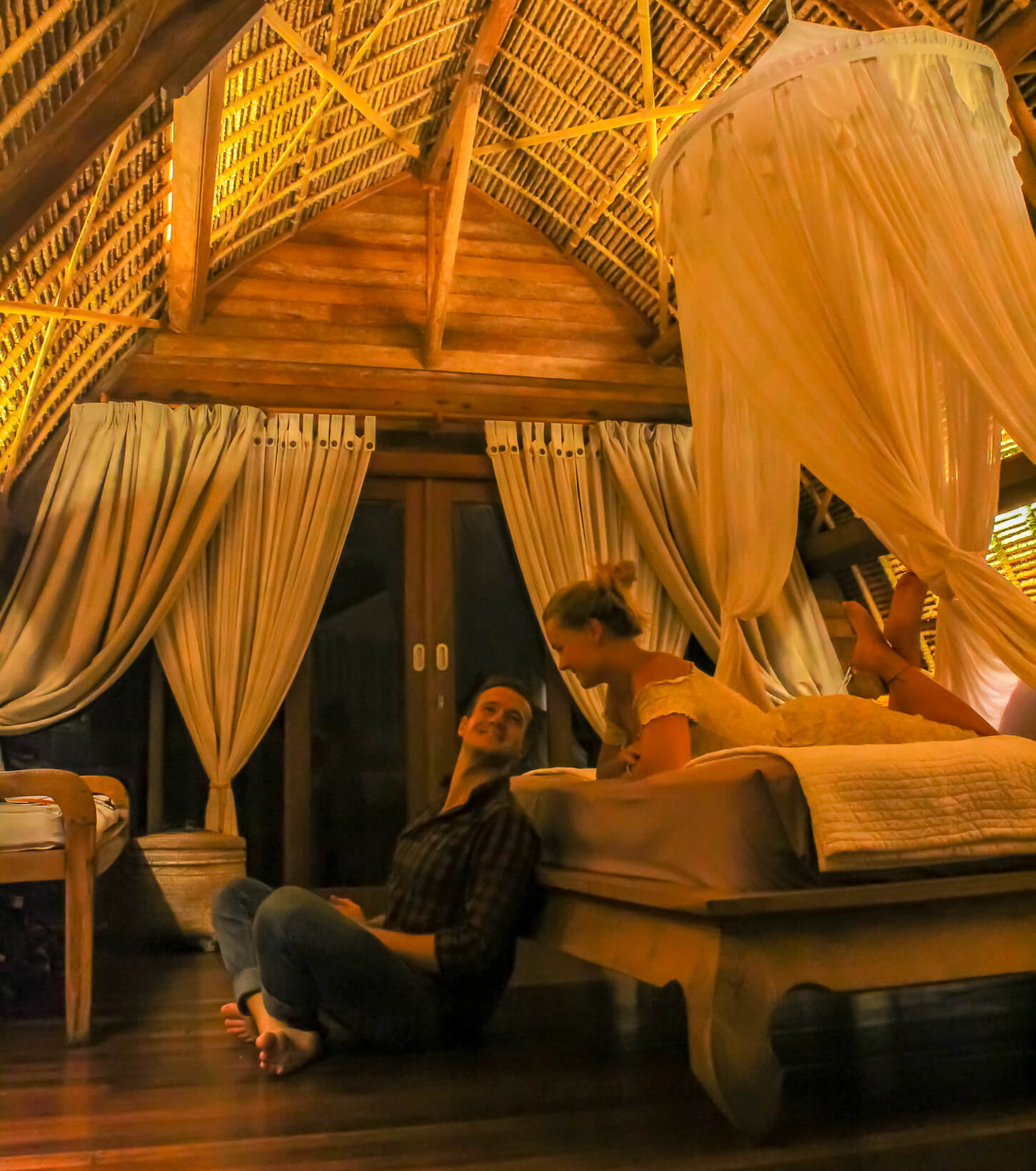 Ubud
For accommodation in Ubud, we have chosen our favourites out of each price range available. This way there will be something for everyone, no matter what your flavour for adventure is.
Also Read – Cheap Eats in Ubud – Your Guide to the Best Food in Ubud
Luxury – Escape the craziness of Ubud city centre and spend your nights in the tranquility of the jungle. Sandat Glamping Tents sit only 15 minutes from the bustling Ubud markets, however you will feel like you are in another world. Spend your day relaxing by the pool and use the free shuttle to explore Ubud by night.
You can book your stay at Sandat Glamping Tents right here.
Mid-Range – Situated right in the centre of Ubud is the basic, yet very comfortable hotel, Nyuh Gading. This quiet hotel has excellent AC and fan options, balconies views and even offers cheap food and drink.
You can book your stay at Nyuh Gading right here. 
Budget – For barebones accommodation just minutes from the Ubud markets, Ojek's Homestay is the place for you. This converted, traditional Balinese house compound offers rooms with and without AC, has a kitchen, showers and even offers laundry service for a reasonable price.
You can book your stay at Ojek's Homestay right here.
If hostels are more your social scene, there are a huge range of hostels to choose from in and around Ubud. Book your stay for Ubud right here.
Singaraja
When it comes to accommodation in Singaraja, we found the best accommodation choice was to get a group of friends together (6-8), and then split the cost of a private villa between you all. By doing so, we were able to get an 8 bed villa with a private pool and chef for only £8/night per person.
The best choice of accommodation in the northern part of Bali is namely found on Airbnb, which you can book right here and get £25 off your first booking.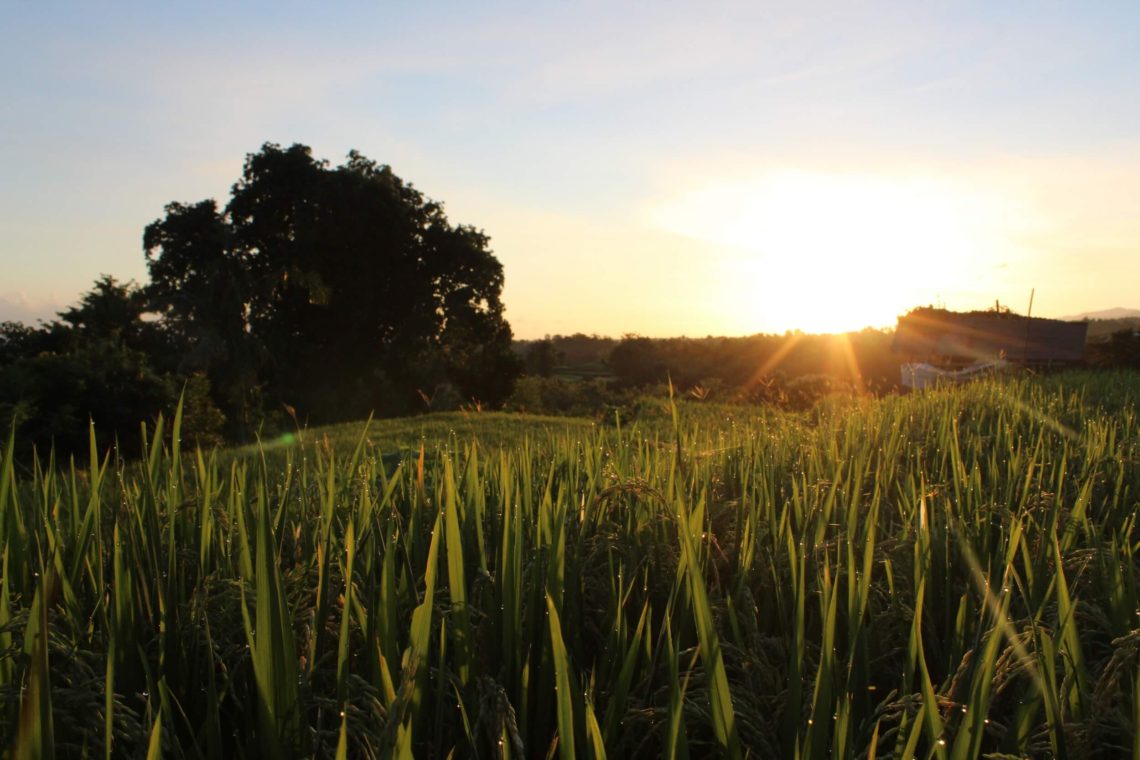 Also Read – Best Bank for Travelers – Starling vs Monzo Card Review
So there you have it, all you need to know about the Sekumpul Waterfall and how to get there. Given how controversial the pricing system for visiting Sekumpul Waterfall is, if you have your own story of how much this waterfall costs let us know below. Did you pay the full price? Were the prices here different from what you paid? Share it with the rest of us Bali adventurers!
Also don't forget that Sharing is Caring, and if you this article helpful be sure to share it with all of your family and friends. Bali is a natural playground and is somewhere everyone should visit at some point in their lives.
Check out our other articles on Indonesia and plan your next trip here to the fullest. You can catch up with us over on our social channels to see where we currently are, and tag us in your photos to show us you enjoying the waterfalls of Bali!
Now Read:
This article may contain affiliate links that provide us with a small income. For more information read our Affiliate page.
---
Save this image to your Bali Pinterest board for later!