Puglia in Southern Italy is one of the country's most authentic and diverse regions. With stunning countryside dotted with ancient olive trees and vineyards, endless stretches of sandy beaches, and the most gorgeous historical towns, Puglia has something for everyone, so it's really worth planning a trip to explore its many charms. 
One of Puglia's irresistible traits is the feeling that life goes on in a slow, seductive rhythm there. Therefore, visiting Puglia on a very short, hurried even, trip wouldn't do it justice. Ten days is the absolute minimum time to spend travelling across the region in order to check out the best places in Puglia at a leisurely pace. 
No time to read now? No problem, save a pin to your Pinterest board for later!
How to Spend 10 Days in Puglia
Where is Puglia in Italy?
If you continue all the way down to the southern tip of Italy, you will find the incredible region of Puglia. What is generally considered Southern Italy also includes the stunning region of Calabria, the beautiful island of Sicily and Sardinia, and the other southern areas of Abruzzo, Basilicata, Campania, and Molise.
When is the Best Time to Go to Puglia?
There's no doubt that Puglia looks gorgeous all year long. However, the best time to visit the region is either spring, early summer or early autumn so as to make the most of long days spent in the countryside or on the beach without the peak season crowds that flock to Puglia in July and August. 
How to Get Around Puglia?
Driving is the best way to get around Puglia because it offers absolute freedom to check out even the remotest villages or beaches. However, if driving isn't an option, public transport is the next best way to get around. Buses and trains are reliable and frequent and there are connections between major towns and lesser-known ones as well. 
Are 10 Days in Puglia Long Enough?
When it comes to seeing all of the best sights that Puglia has to behold, 10 days is absolutely a long enough time to spend in Italy. This leisurely stretch of time will allow you to explore the region at a relaxed and enjoyable pace, as well as see each location for long enough to truly appreciate the beautiful culture it has to behold.
How to Spend 10 Days in Puglia
It goes without saying that ten days isn't enough time to see and enjoy the entire region. That said, this itinerary covers all of Puglia's must-sees while leaving enough space to enjoy each and every one of them at a relaxed pace. 
Day One – Bari
For the vast majority of travellers, the charming port city of Bari is their entry point to Puglia. Therefore, it makes sense to start any Puglia trip by exploring the region's rugged yet utterly fascinating capital. 
Bari is home to a compact historic centre that's filled with old-fashioned Italian charm. Walking around the ancient narrow alleys that children turn into makeshift football stadiums and where local ladies make fresh handmade pasta right before the very eyes of stunned passers-by is a unique experience not to be missed. 
The best way to end a day in Bari is to walk along the city's promenade as the sun goes down and then head to Largo Albicocca for a quick bite and a beer or two in the company of smiling locals.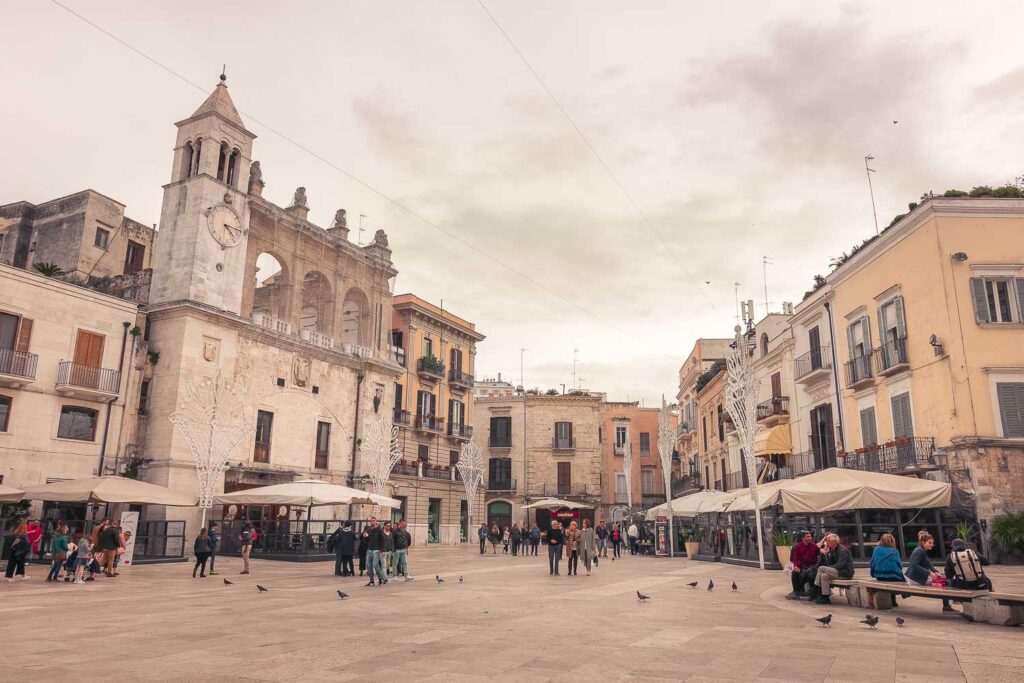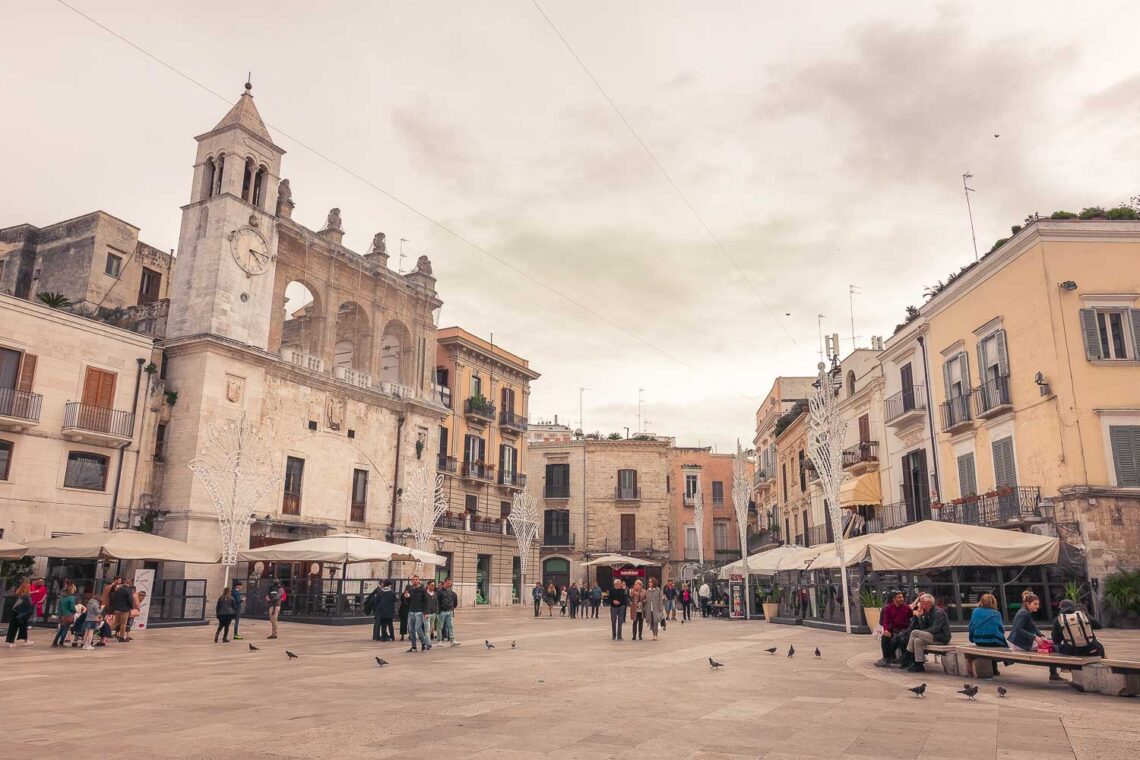 Day Two – Polignano a Mare
Polignano a Mare is the most photographed town in Puglia and for good reason. No matter the town's small size, there are many fantastic things to see in Polignano a Mare.
With its historic centre perched atop a dramatic limestone cliff which looms above a gorgeous beach, more than one amazing viewpoint, and poetry was written on its walls, Polignano a Mare is an enchanting place like no other.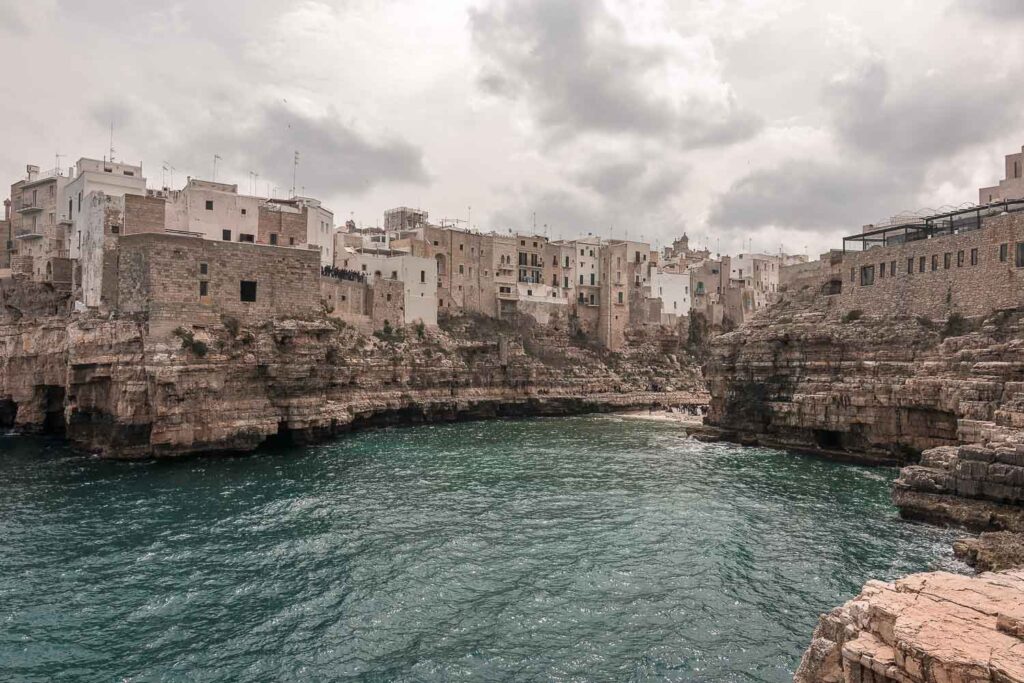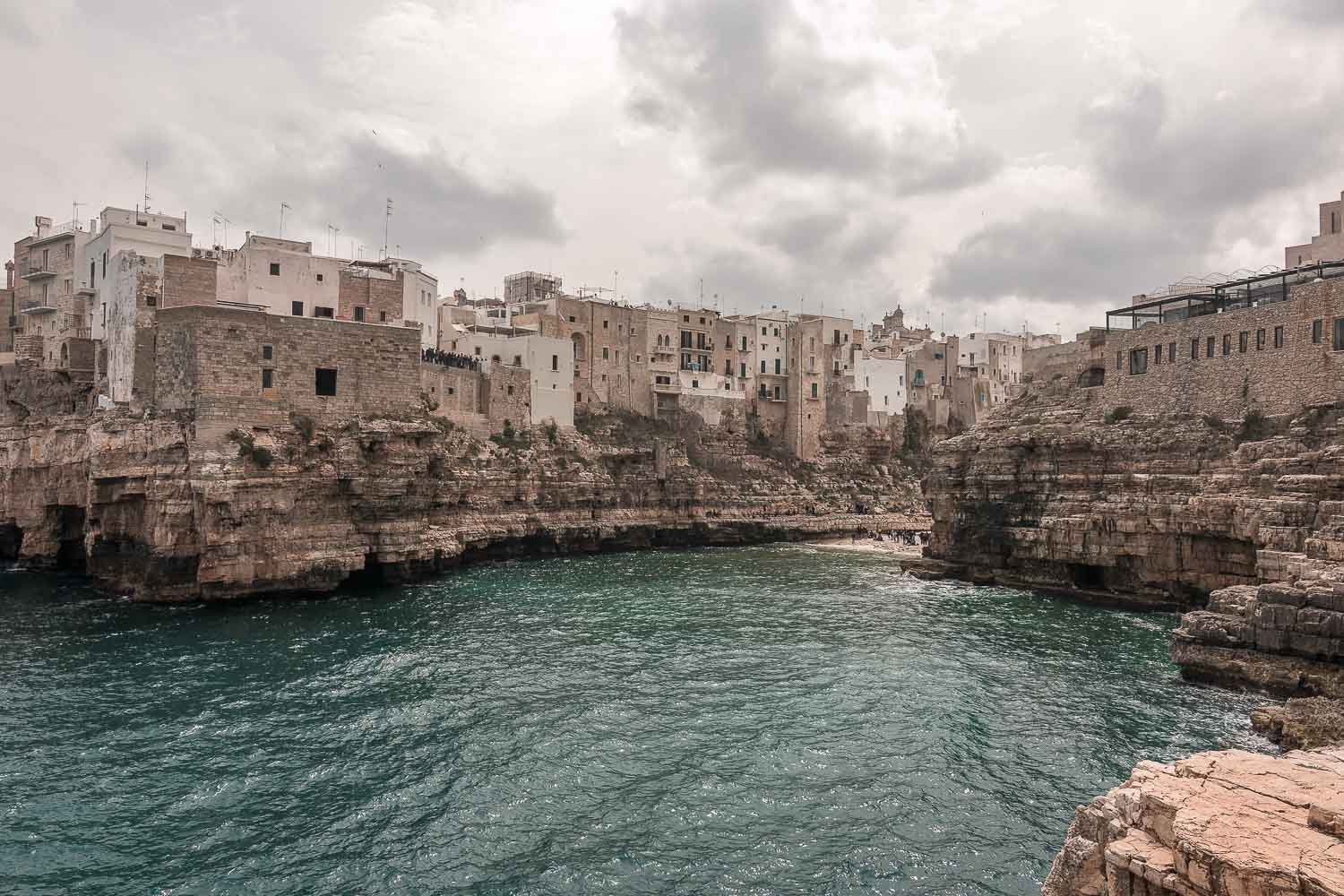 Day Three – Monopoli
Few places in Puglia can beat the authentic vibes of Monopoli. Time in this lovely seaside town seems to have stood still and local life goes on undisturbed by the hordes of tourists who gradually start to discover this gem of an Italian town. Monopoli is home to a beautiful Old Town and an even prettier Old Port adorned with the iconic blue fishing boats that create the perfect backdrop for the most stunning photos. 
What makes this small town even more special is the recent discovery that was made off its crystal blue shores. Researchers from the University of Bari have only recently discovered coral reefs not too far from Monopoli that rival dream locations such as the Maldives and even Australia's Great Barrier Reef.
These incredible Italian coral reefs stretch as far as 135kms along the coast of Italy and are definitely a reason to visit this region.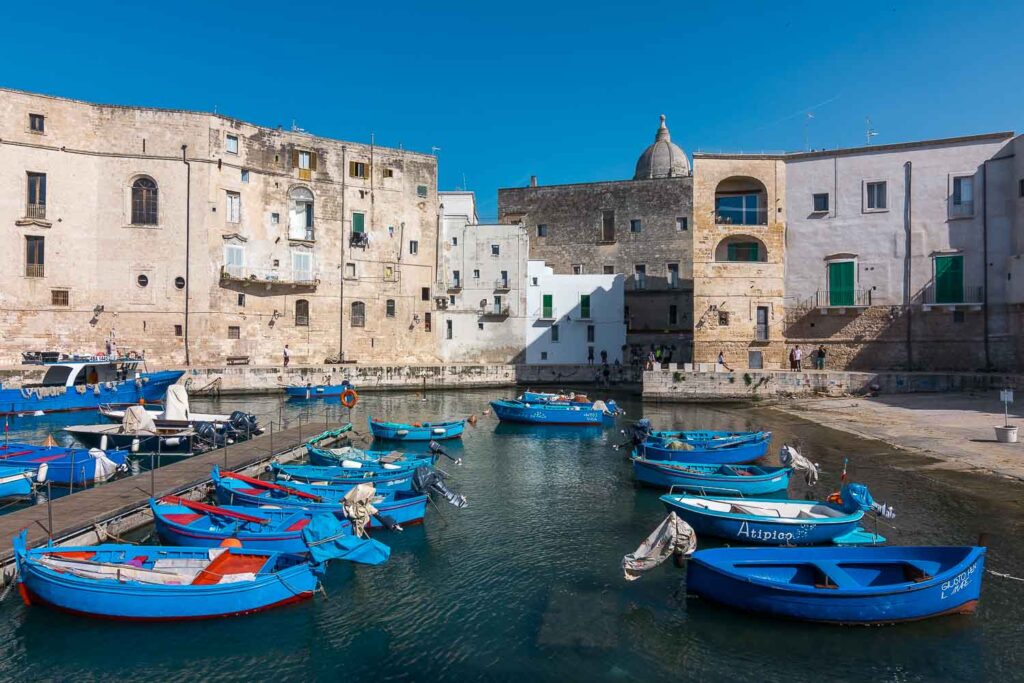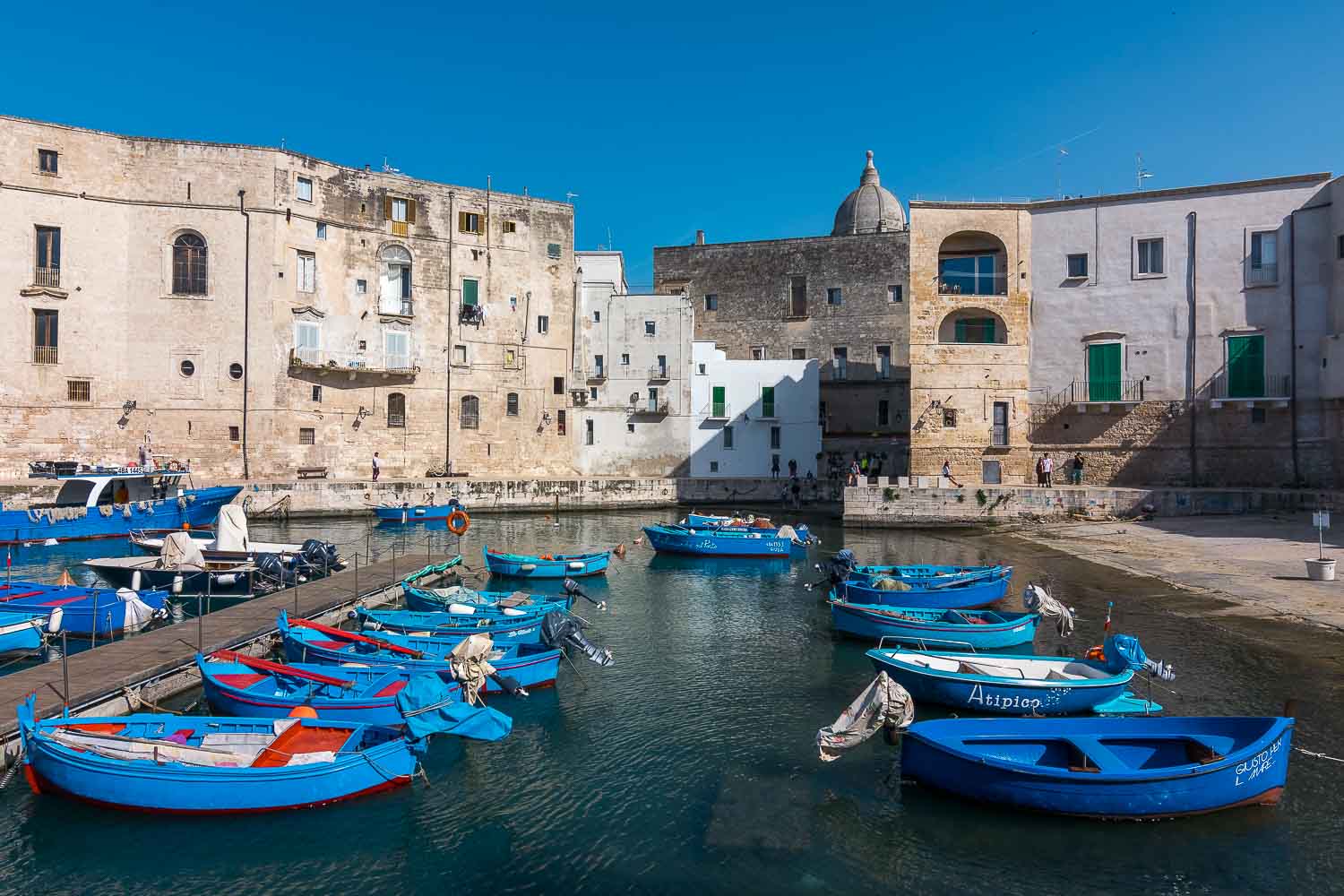 Day Four – Ostuni
Built atop a low hill in the heart of Puglia's magnificent countryside and whitewashed to perfection, Ostuni looks and feels like an island. A stroll around its picture-perfect Old Town is enough to see what earned Ostuni its nickname: Italy's White City. Buildings, streets and alleyways are all dazzlingly white, making Ostuni resemble a Greek Island rather than a town in mainland Italy. 
Some of the best things to check out in the historic centre are the Cathedral, the vibrant Liberty Square and Ostuni's old defensive walls. 
Day Five & Six – Lecce
Lecce's nickname is Florence of the South for its artistic ambience and unique architecture alike. Famous for the barocco leccese, a baroque architectural style that originated and thrived in Lecce, the historic centre is dotted with imposing churches and jaw-dropping palazzi which all boast elaborate facades that are true masterpieces.  
The ultimate highlight in Lecce is the Basilica di Santa Croce with its beyond words elaborate façade. That said, no other church in Lecce can go unnoticed either as they are all impressive in terms of architecture and decoration. Equally impressive and definitely worth a visit are the three old gates that lead to the historic centre of Lecce. 
However, there's yet another thing not to be missed in Lecce and this has nothing to do with the town's architecture. The pasticciotto leccese is a short-crust pastry filled with custard. It's Lecce's signature dessert and it encapsulates the entire essence of Puglia in a single bite. 
Lecce is quite compact, so one day is enough to fully enjoy it. Yet it's best to spend another day in the area so as to visit a couple of the lesser-known villages and towns near Lecce, such as Corigliano d'Otranto, Melpignano, or Sternatia. 
All three of these towns alongside a few more share one very interesting thing in common: they comprise an area known as Grecia Salentina, which means Greece of Salento, because a certain dialect that combines Greek and Italian is spoken there for centuries on end. The Griko dialect is now endangered but efforts are being made to safeguard it for future generations.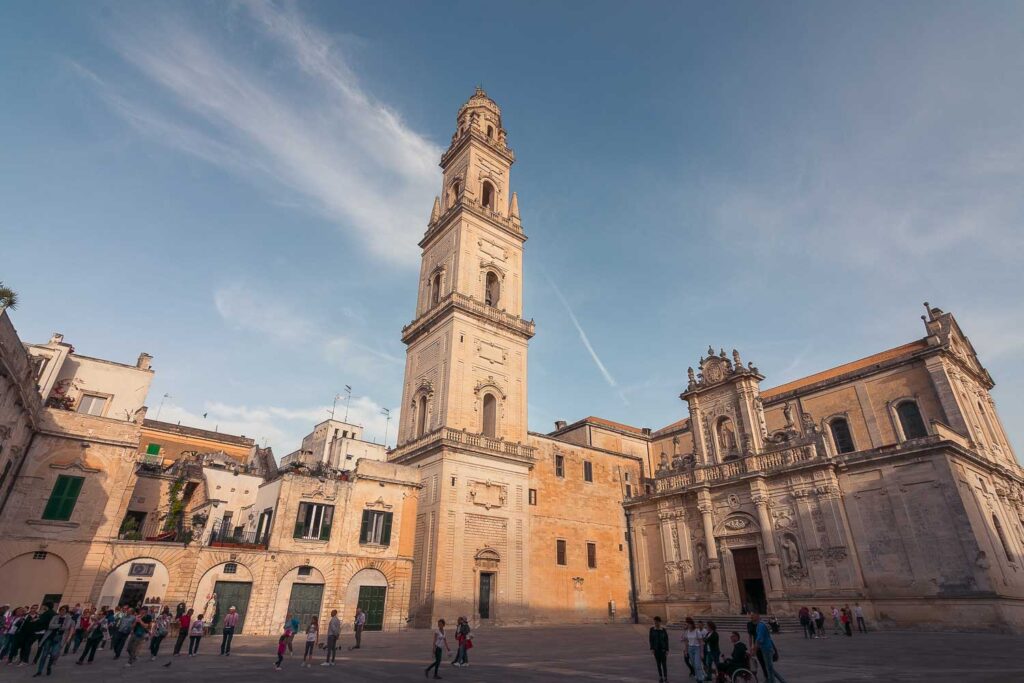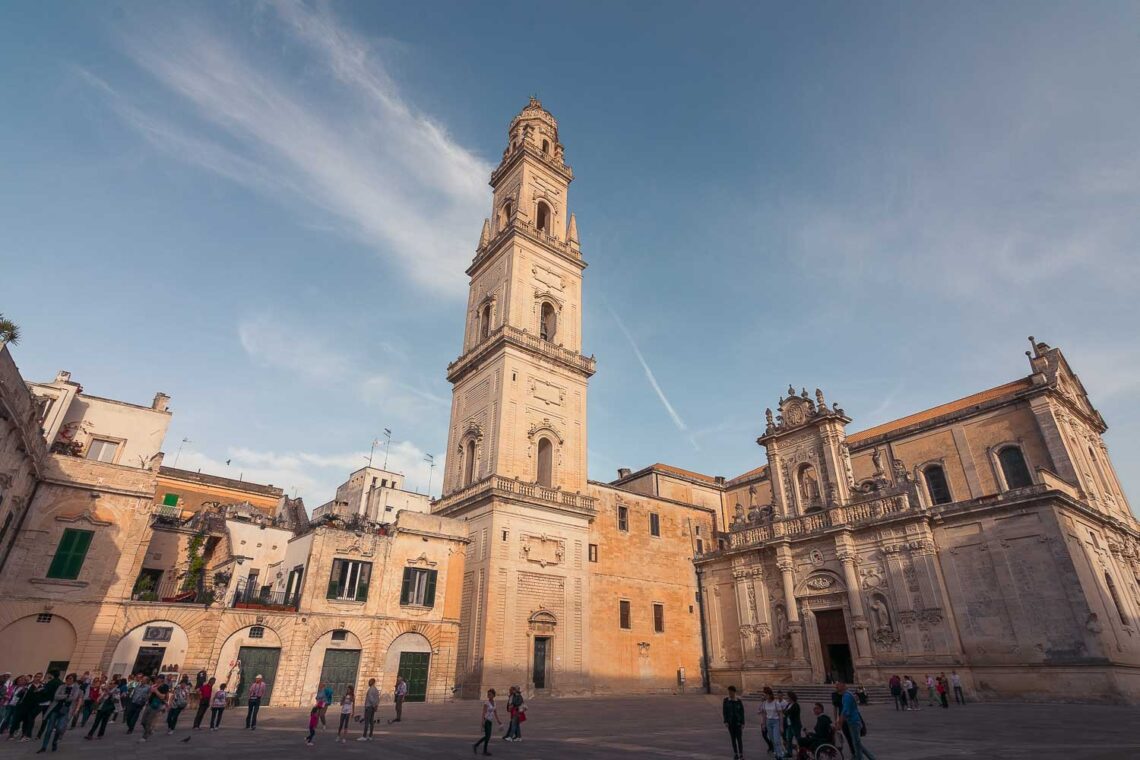 Day Seven – Otranto
No trip to Puglia is complete without a chance to enjoy the region's pristine beaches. Otranto is one of the loveliest coastal towns in Puglia and the perfect base to explore some of Puglia's most amazing beaches. 
Otranto itself boasts a picturesque maze-like Old Town, a splendid promenade for unforgettable sunset walks, and a couple of fantastic landmarks such as the surreal Bauxite Lake and the romantic Punta Palascia Lighthouse within short driving distance.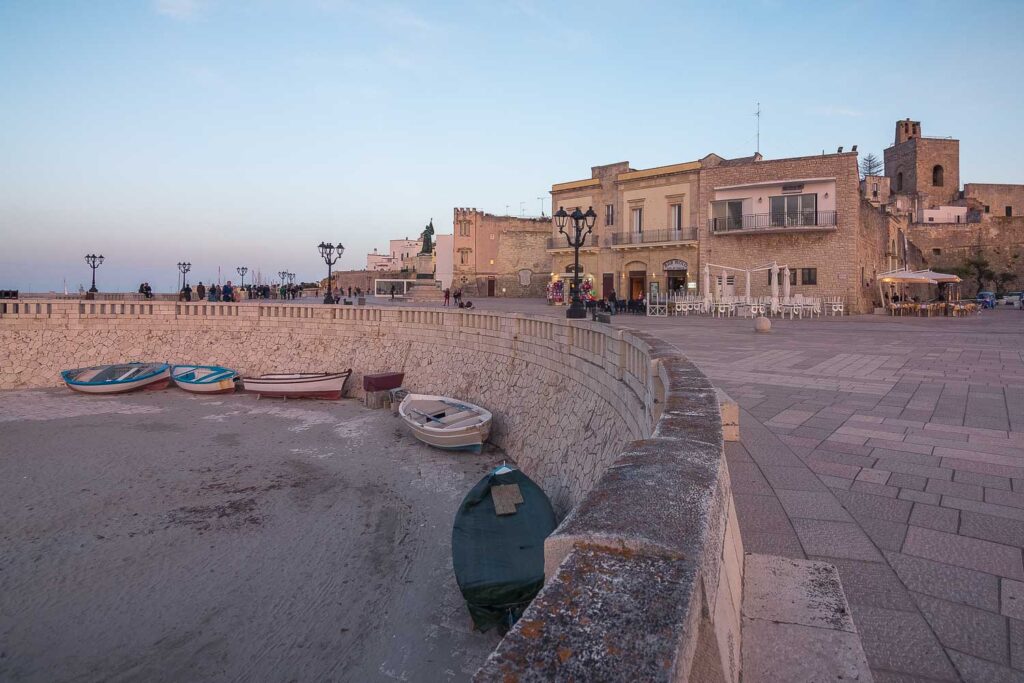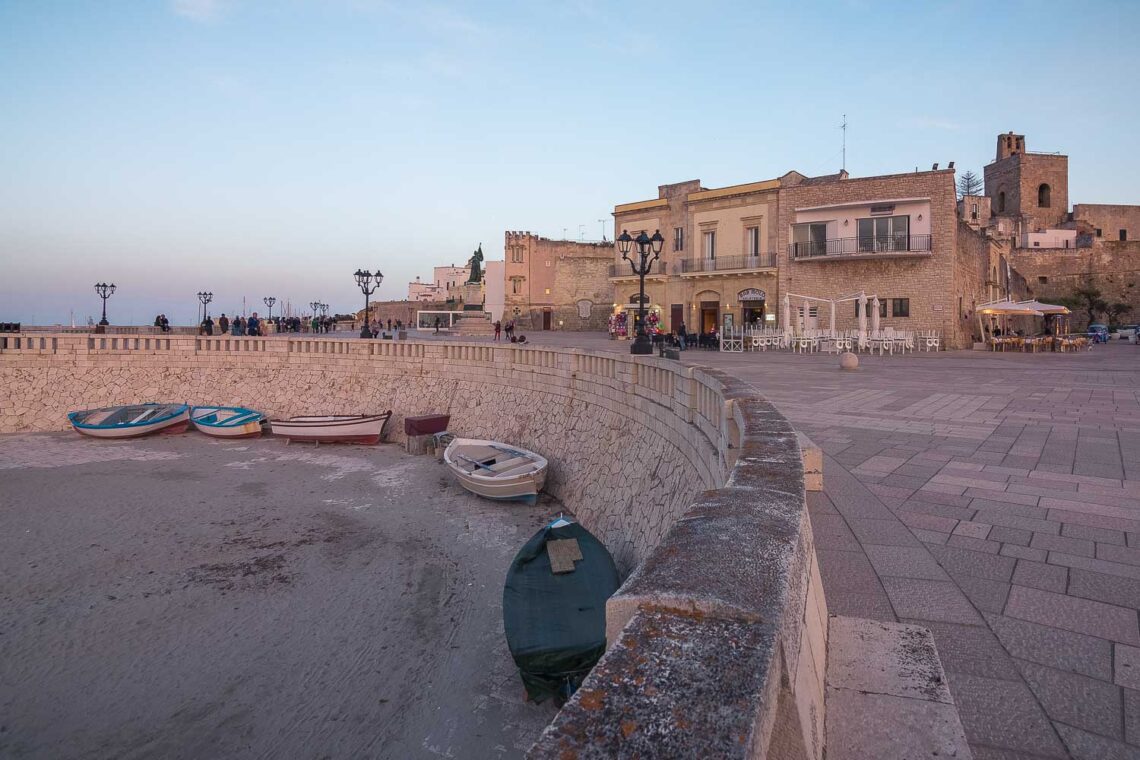 Days Eight, Nine and Ten – Itria Valley
In the spirit of saving the best for last, exploring the secrets of Itria Valley before heading back to Bari to leave Puglia is a must. It's no overstatement to say that Itria Valley is the quintessence of Puglia. It's the area where the Apulian countryside is incredibly beautiful, dotted as it is with olive groves, vineyards, and exquisite samples of the unique Trullo architecture. 
Trulli are century-old constructions that are unique to Puglia. They are round stone buildings with conical roofs, most of which are situated in towns scattered across the heart of Itria Valley. The largest number of well-preserved Trullo can be seen in Alberobello, a gnome-like village that seems to have sprung out of the pages of a children's storybook.
Even though Alberobello is by far the most popular town in Itria Valley, there are quite a few other towns in the area which are equally enchanting yet far less crowded and busy. The prettiest among them include Locorotondo, Cisternino and Martina Franca, each of which is undoubtedly worth a trip in its own right.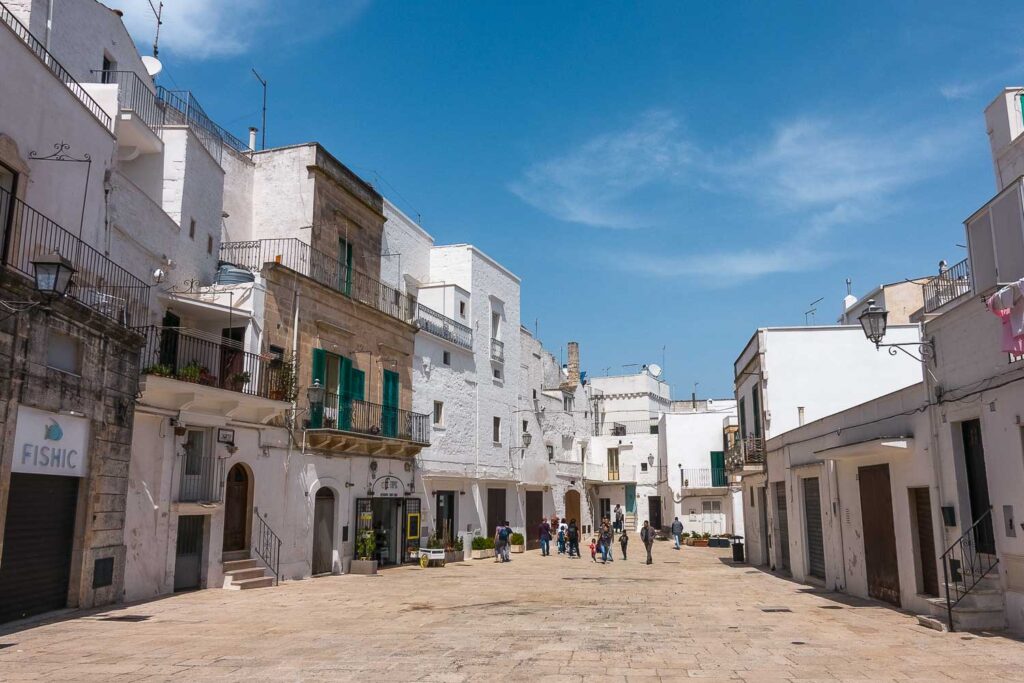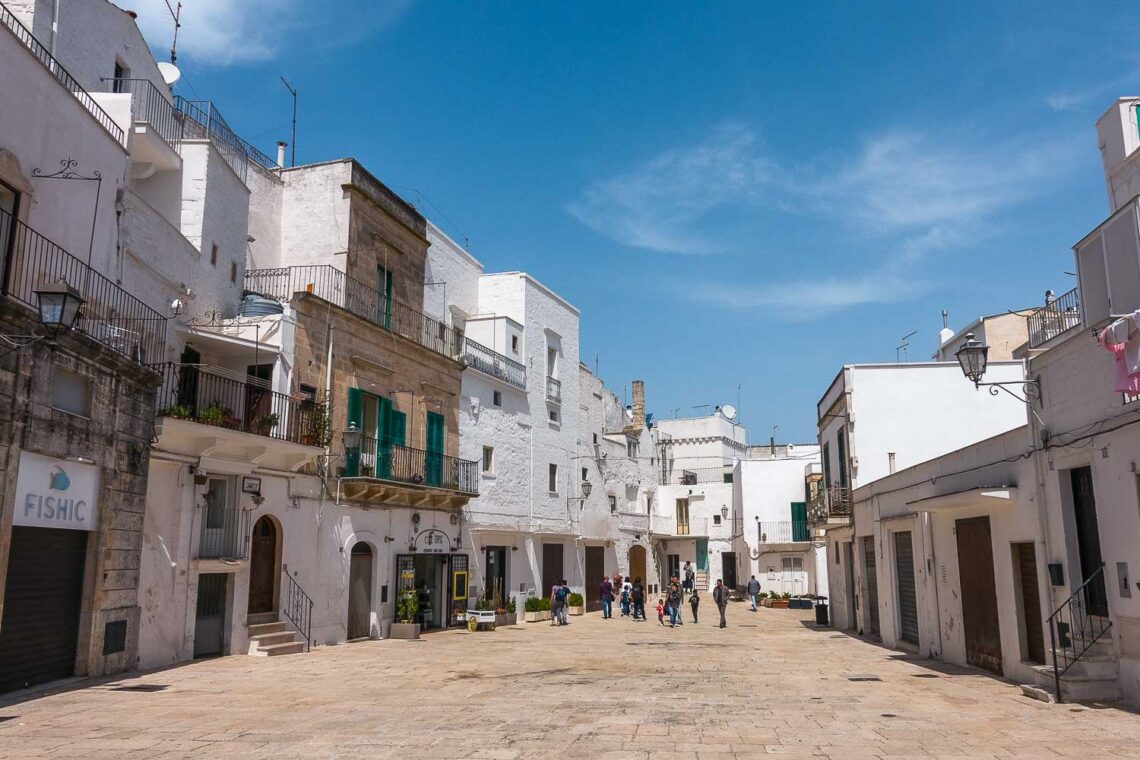 Therefore, spending two to three days slowly exploring the natural beauties of Itria Valley and its quaint towns alike is the best way to end a trip across the blessed land of Puglia, this sunny region in Italy's Deep South that's managed to remain unspoilt by the sirens of mass tourism and patiently awaits for the selected few that dream of a quest to unveil all of its best-kept secrets.
How to Prepare for Your Visit to Italy
Before you set off on your trip to Puglia, there are a number of things you will need to organise to ensure a smooth and successful trip. These include what to pack for Italy and what is the best travel insurance for your trip. Both of these will be discussed in the following section.
What is the Best Travel Insurance for Italy
Regardless of what type of trip you are heading on, one thing that is essential for everybody is good travel insurance. Accidents can happen anywhere and at anytime and unexpected hospital bills will ruin a holiday. Remove the stress from your next adventure and get covered for the worst.
World Nomads Travel Insurance provides budget reliable travel insurance that will keep you covered for any level of adventure.
You can get your quote before you leave on your trip right here.
What Should You Pack for Puglia?
What you need to pack for Puglia will rely highly on when you make your trip to Italy. During the Spring and Autumn months, temperatures and weather patterns vary wildly between beautiful sunny skies and rainy days. During the Summer, you are pretty much guaranteed nice weather with temperatures ranging from 20-35 oC. The hottest months are July and August, so these will be the most popular for a Summer holiday.
During the Winter months in Puglia, the weather can go as low as freezing, so make sure you wrap up warm if you are coming between October and April. If you need more inspiration on what to pack for your trip, check out our full packing guides for all-weather conditions over here.
When it comes to toiletries, we recommend that you don't forget to pack sunscreen. The sun in Italy is very strong, especially during the summer months. Apply a lot of cream regularly to prevent a nasty burn from ruining your trip. We use this specific sunscreen to protect us as it is not as oily and irritating as other sunscreens.
Given the beautiful sights and scenery that you will see in Italy, we highly recommend packing a good camera for your trip. If you want to read more about the cameras we use and why we love them, check out the link below.
You can read what else we keep in our camera bag over here.
With this, we come to the end of this Puglia 10-day itinerary. Doesn't matter whether you have 2 days or a week in Puglia, the fact is, some things might be left as unexplored (considering the compelling charm of the city) on your 10 day trip of Puglia.
But that's the life of a globetrotter, right? Well, with that being said, wherever you go or whatever you do in Puglia, make sure to make the most out of it in order to create memories to cherish for a long time.
If you have visited Italy, let us know what you thought of the sights listed above, or if you have any suggestions let us know in the comments below.
As always, sharing is caring so make sure to share this travel itinerary with your family and friends and inspire them to head off on their own Italian adventure. If you are planning the trip for yourself, make sure you have a look at the rest of our Italy content for more inspiration to our beautiful home country.
When you set off on your own adventure, be sure to tag us in your photos on Instagram and we will share them with the rest of our community. In the meantime, why not follow us over there to see what we are currently up to and keep up with us on our Instagram Stories.
Now Read:
Authors Bio
Katerina and Maria started It's All Trip To Me to help people with full-time jobs travel more by making the most of their vacation time. They publish highly informative travel guides and carefully planned-out itineraries. Katerina captures their travel moments to eternity through her camera while Maria is the one who puts them down on paper. Currently living in their hometown Athens, they have a strong passion for Italy, which they visit at least a couple of times every year.
This article may contain affiliate links that provide us with a small income. For more information read our Affiliate page.
No time to read now? No problem, save a pin to your Pinterest board for later!