One of the most popular coastal routes for its stunning scenery is the Ring of Kerry in Ireland. The drive can be done in a day through the miles of green and colourful towns along rugged Irish coastline, it's not surprising it's a trip on many people's bucket list. Just a
short drive from Cork
, the Ring of Kerry is the perfect trip for anyone exploring the Southwest corner of Ireland. During the summer months, this route can be a busy one and it is recommended that cars drive in an anticlockwise direction around the ring. In total, the ring of Kerry spans 120miles, some of which is on the Wild Atlantic Way. It will take at least four hours around the ring(if you choose not to stop). Or if you are us 8 hours as we simply couldn't resist stopping for a photo.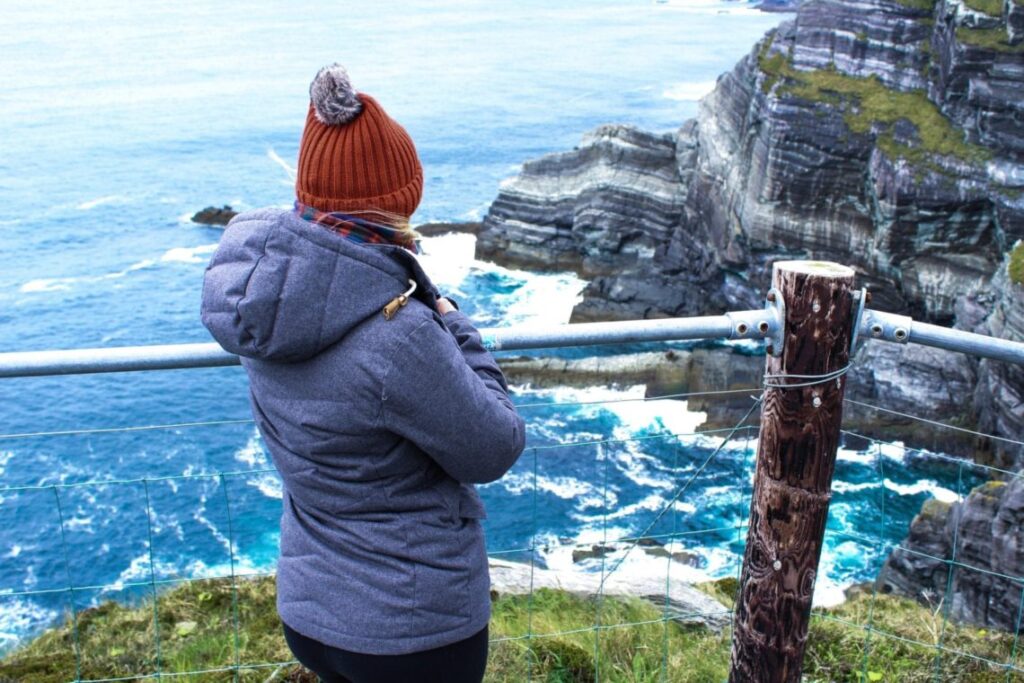 Ring of Kerry Itinerary – The Best Sights on the Ring of Kerry
What to Pack for the Ring of Kerry
I would recommend you bring some warm clothing with you as some of the stop off's can be pretty chilly, especially the cliffs!
Wear a pair of good comfortable walking shoes such as boots or trainers.
Bring a camera as you'll be wanting to capture some of the amazing scenery.
A battery pack or car charger just in case your camera or maps device runs out of charge.
And of course, bring some water with you in your reusable water bottle to keep you hydrated throughout the day.
Ring of Kerry Itinerary
With a full day on the road, you will want to make sure you are making the most of your time. Here is a summary of the
12 stops
we made:  
Carragh Lake
A peaceful drive around an expanse of water surrounded by mountains and heather. We pulled the car over beside a bridge to snap a photo as we didn't come across any parking spots.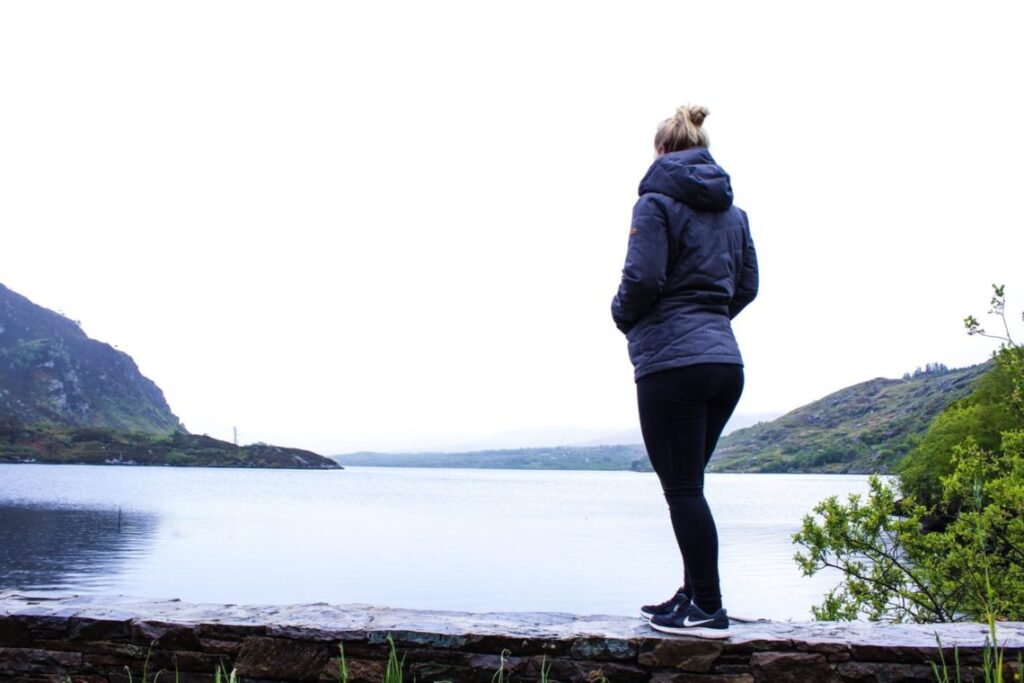 Rossbeigh Beach
We pulled into a stoney car parking area to admire the sea view. There didn't appear to be any sand, only rocks. There were toilets here and some take away food stalls however the toilets were the only thing open when we were there. It was very blustery and not many people were there so that could be why.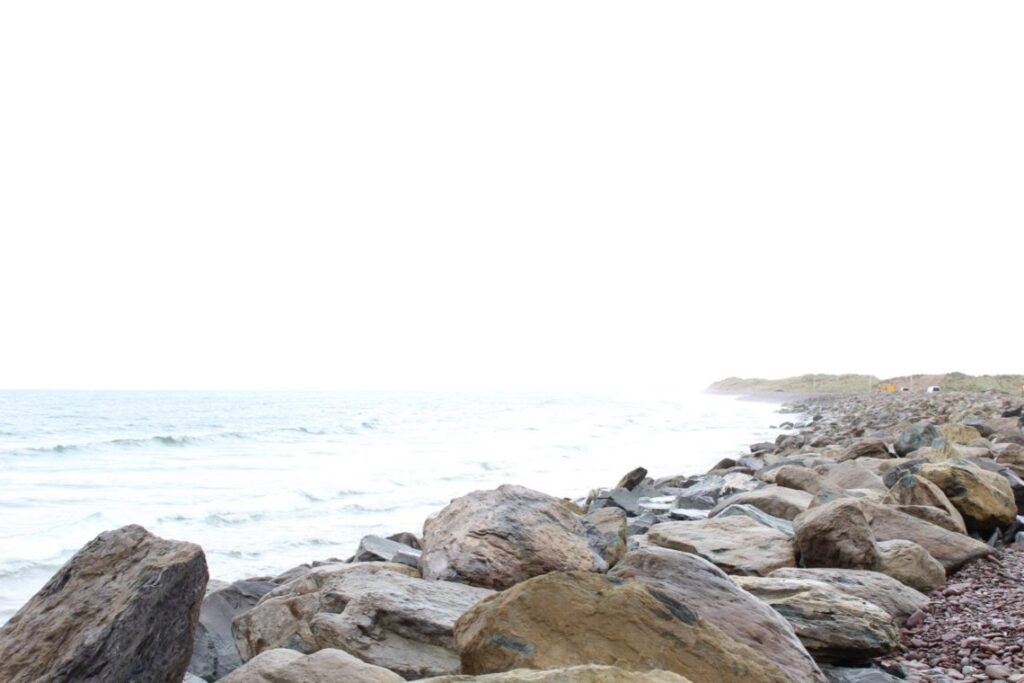 ---
Planning your own Irish Adventure? Check out the campsites we used to explore the famous emerald isle.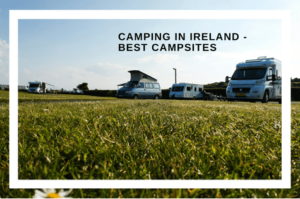 ---
Ballycarberry Castle
Situated near the water's edge lie the remains of Ballycarbery Castle. This land is private and you are unable to enter however it's still a nice spot to stop for some photos. There is parking right in front of the castle which we didn't realise and had parked further away and walked.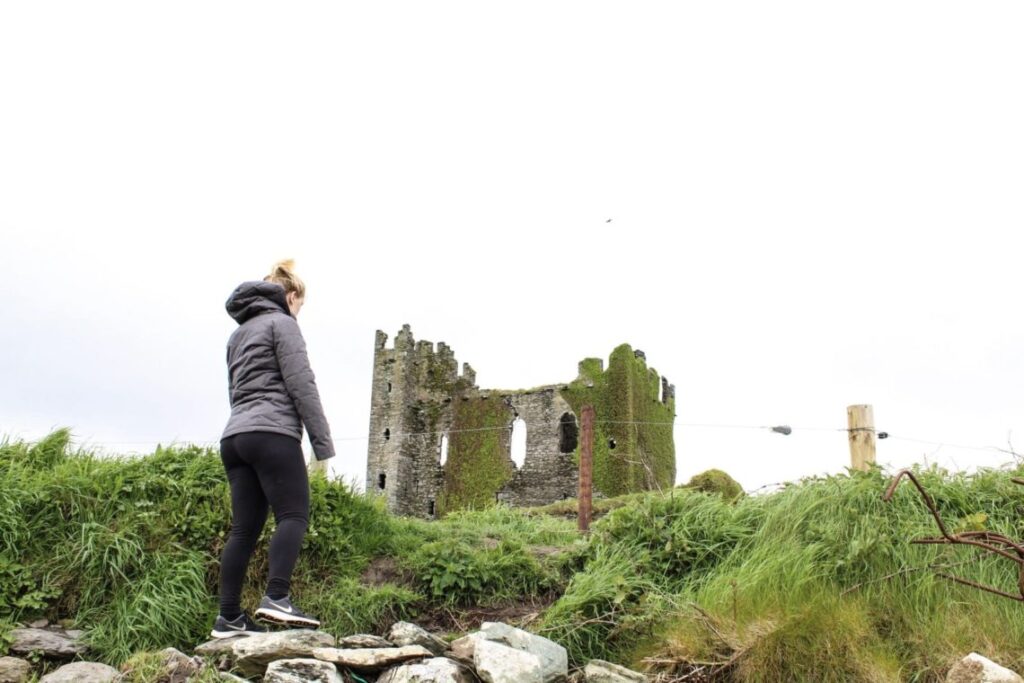 Portmagee
We stopped off in this small fishing village for some lunch. The multi-coloured houses brightened up the dull weather that we had at this point on the drive. There were a few cafes and pubs here as well.  
Kerry Cliffs
The most incredible site on this drive has to be the Kerry Cliffs. There are signs off the road directing you to "Kerry's most spectacular cliffs" It's 4 euros per person entry and this is actually well worth it, the views are stunning. It was very cold and windy when we went through so I would recommend wrapping up!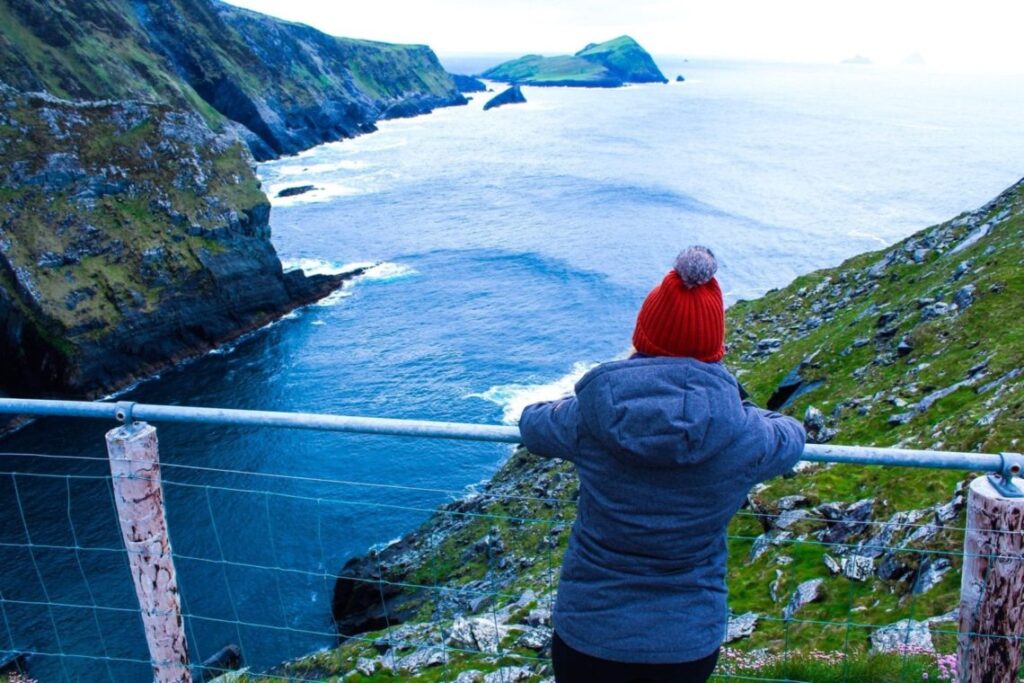 Skelligs Chocolate Factory
One stop we definitely recommend is the Skelligs Chocolate Factory for your refreshment break on the trip. They give out free tasters of the majority of their chocolates which taste amazing. If you're interested you can also watch the chocolate being produced in their factory.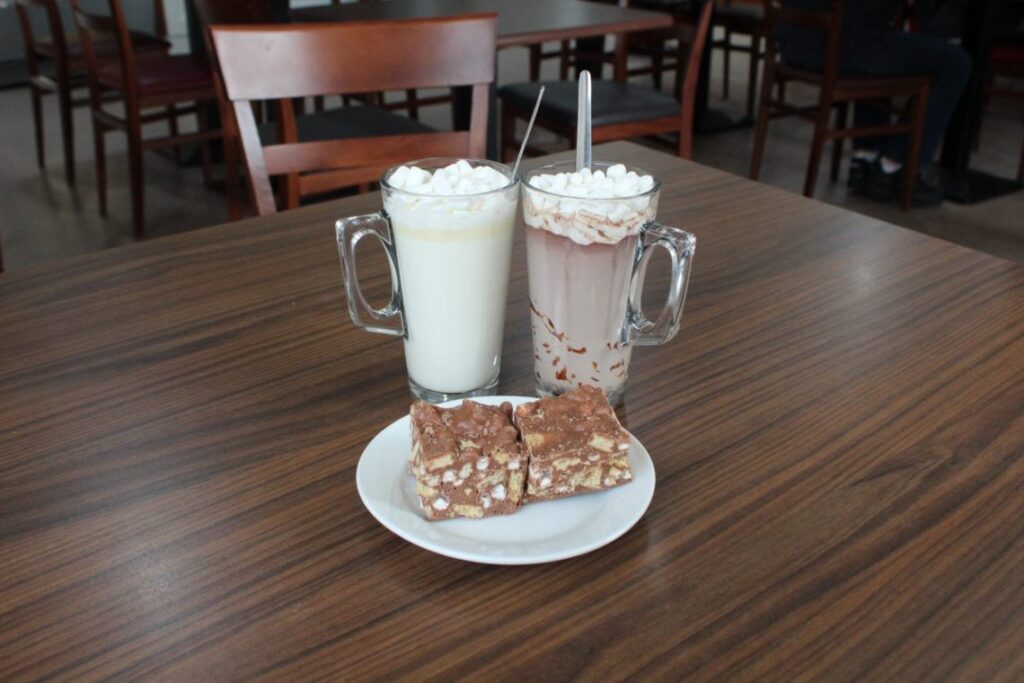 We took a break in the café and got a hot chocolate and rocky road. They have a selection of hot chocolates and cakes to choose from. Just before you turn into the chocolate factory there is another small beach.    
Waterville
Unfortunately we started rushing for time at this point and only managed a drive through this small town. It is situated right on the coast and you pass some beautiful houses overlooking the sea. On the drive up the hill after Waterville there is another stunning photo opportunity.    
Killarney National Park
Located just south of Kilarney is the county's National Park. The drive through the rugged mountains combined with the woods, waterfalls and lakes makes it a breath-taking drive. The highest mountain sits above 1000 metres above ground level. We stopped at 3 points in the park.  
Ladies View
There is parking available to allow you to get out of your car and capture some of the magnificent scenery of the lakes below.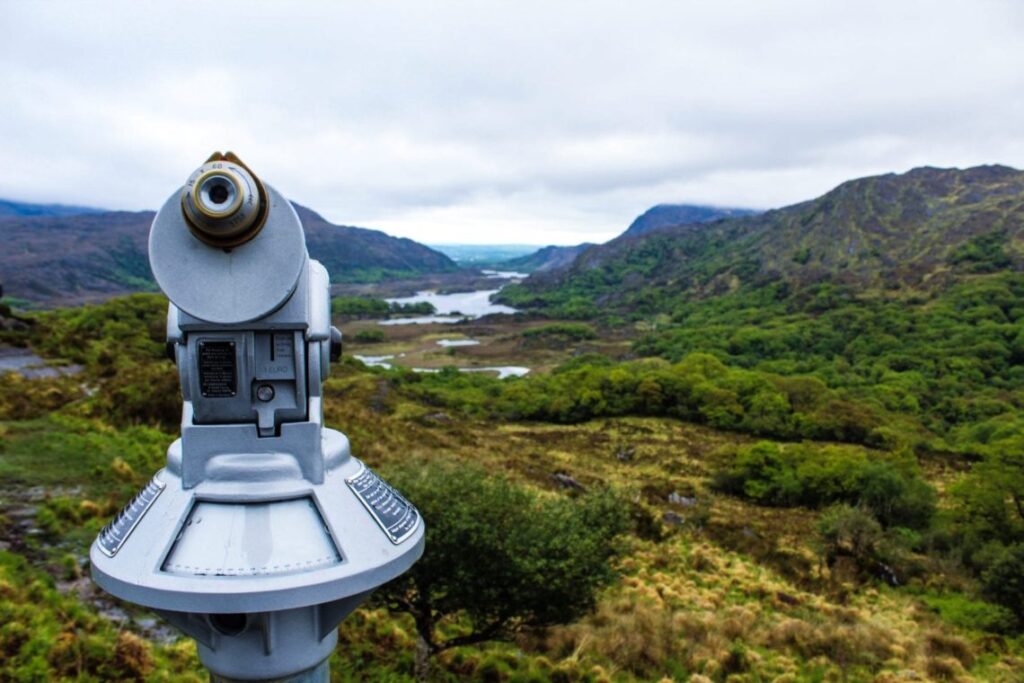 Muckross Lake
This was an unexpected short stop that we couldn't resist. The still lake surrounded by the mountains was so peaceful for a quick break and photo stop. The only downfall was the number of midgie bites we got whilst sitting here.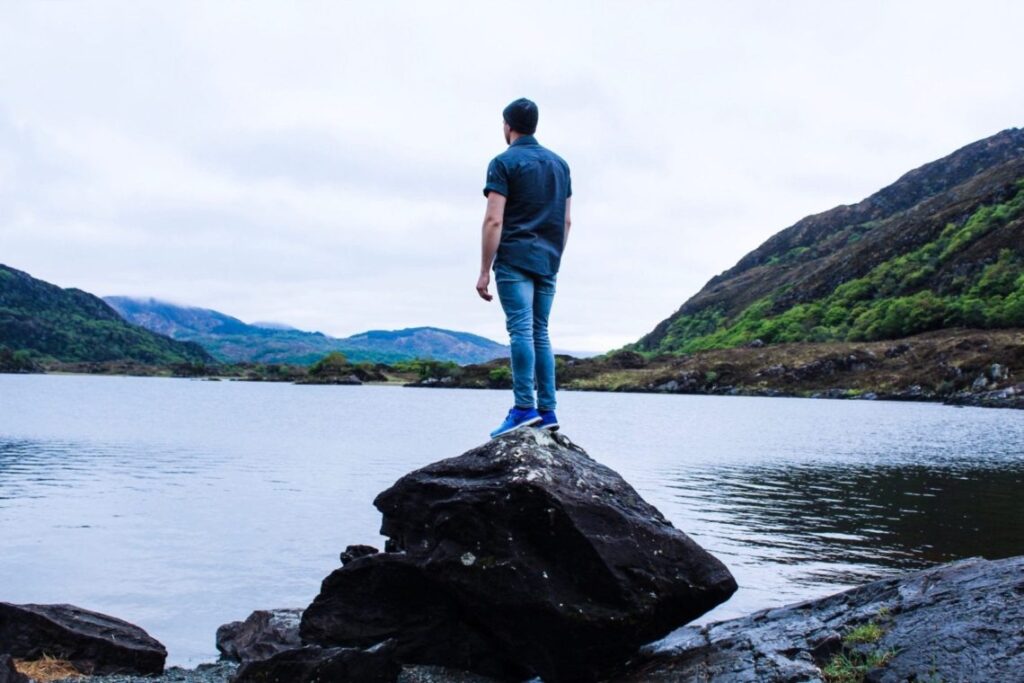 Torc Waterfall
Being fond lovers of google maps and using it daily to get around we decided to ignore the first sign for Torc waterfall and continue to follow where maps was taking us. We arrived at the top of a hill and had to walk about 20 minutes down a muddy path to get to the waterfall. The first sign may have been a shortcut but I guess we'll never know.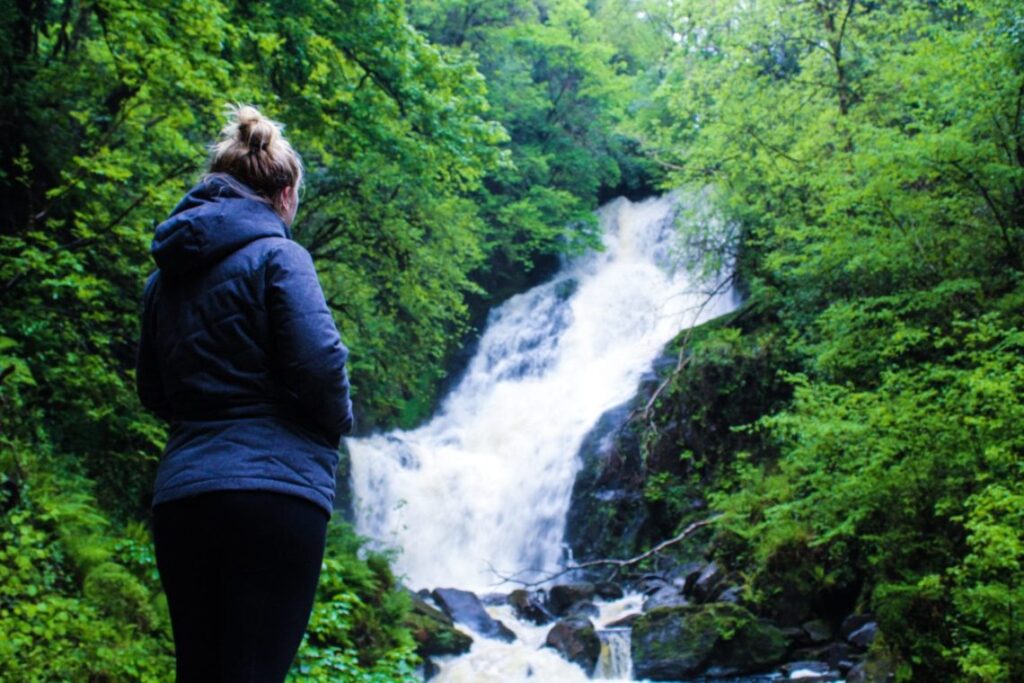 General Tips for the Road
Plan out where you want to go and what you want to see. We're glad we did this as it would have taken us a lot longer to drive around. We also didn't this it was greatly sign posted, but then maybe we were too distracted by the pretty scenery to notice. Use google maps or a Satnav. Unless you're going to Torc waterfall you could find out if that first sign is a shortcut! We would have got very lost along the route if it wasn't for using maps.   The Ring of Kerry was one of the most memorable trips we have done together, even with the grey skies the beauty is incredible! Make sure this is included in your next trip to Ireland.   If you liked this article, tell us all about your own Kerry Adventure in the comments below. Check out our other posts on our
Irish adventures here
too. Also catch up with us on social media and make sure you say hello!    
This article may contain affiliate links that provide us with a small income. For more information read our Affiliate page.
---
Pin it for later!