Where do we even begin with 2018. It has been quite literally the best year of our lives. For the majority of our lives, we have dreamt of travelling the world. Four years ago, a 6 month trip to Australia, Fiji and Asia confirmed this craving, giving us an insatiable wanderlust. For us, 2018 was the year that it would happen. It would be our first year on the road!
Save this image to your Travel Pinterest board for later!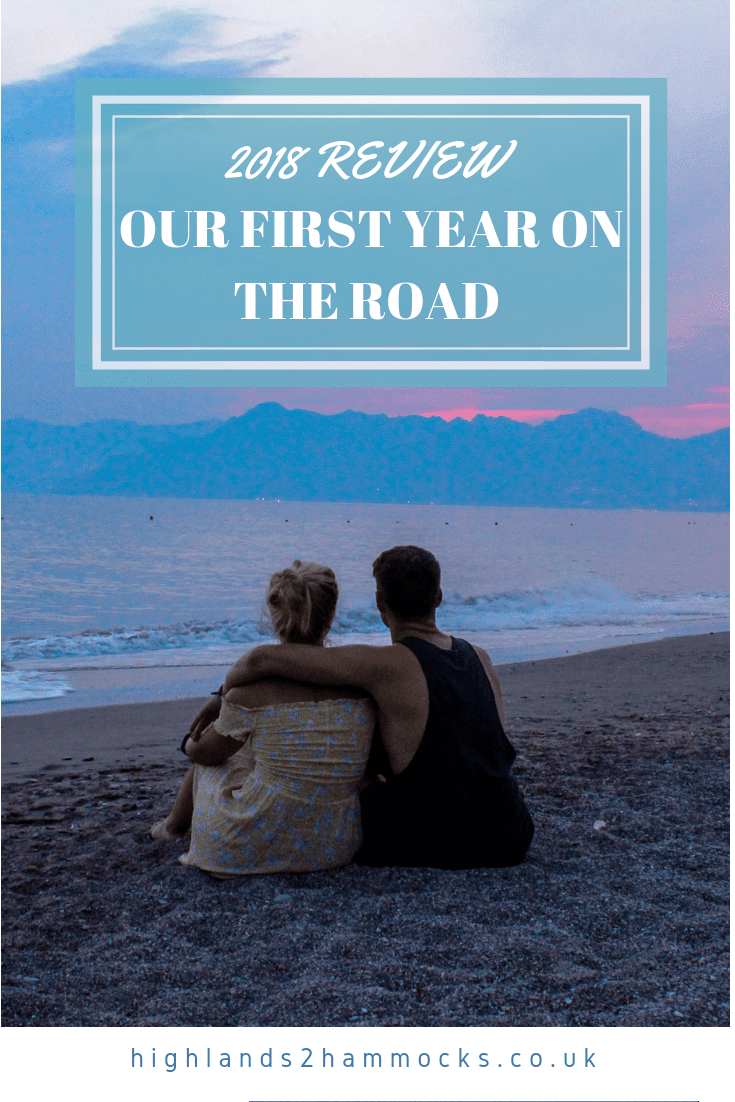 Our First Year on the Road – 2018 Review
A Snowy Start
With plans to work in London until May, we started the year with a bang in February by going to Kingston, Canada. My brother was studying out there for a year, so we decided to join him in the snow for a week.
We were expecting Canada to be cold, but we were not quite prepared for the temperatures we were about to face. The temperature plummeted to -30 degrees Celsius and we weren't even up in the mountains!
This was also our first experience with Airbnb, which if you read further on you will see that we are no stranger to this type of accommodation anymore. Canada was beautiful, although we only had a very small taste of Kingston and Toronto. Of course this meant Canada is a country we would will one day be returning to, to explore properly.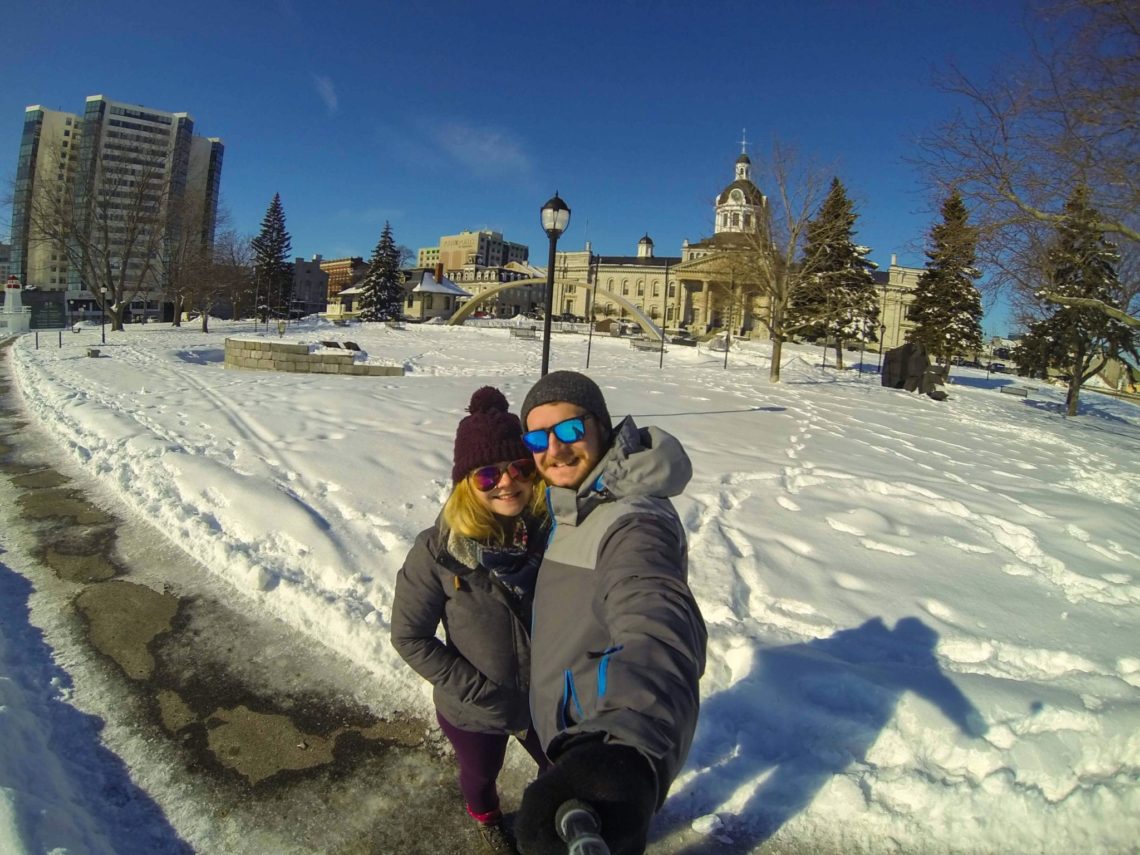 First Camping Trip of the Year
In March, we embarked on a spontaneous camping trip to Wales. We had 4 days to see as much as we could! We started in the north of the country, staying at Uwchmynydd and experiencing one of the most beautiful sunsets over the sea that we have ever seen. This trip saw us road trip along the north and south route of the peninsula, through Snowdonia and following the coast around to the south of Wales.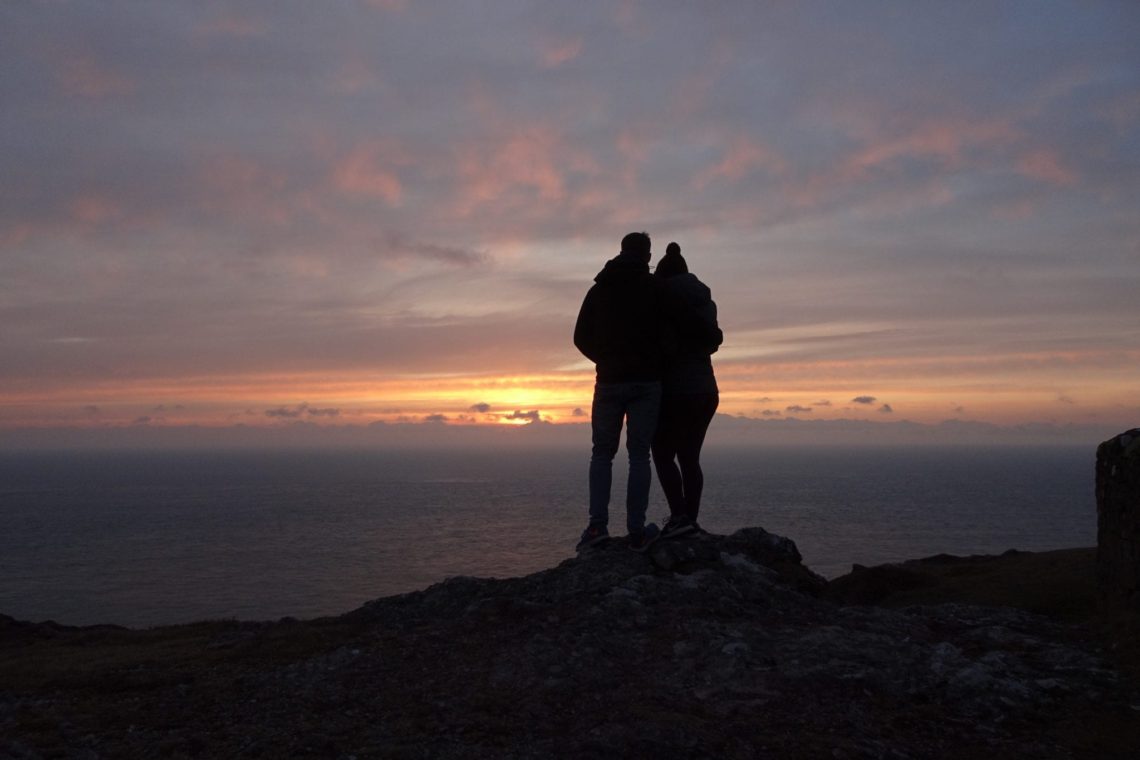 Our final night was spent at Three Cliffs Bay, one of the most beautiful coastal campsites we had ever stayed at; the shower room even had under floor heating! We were pitched on the cliff side and having purchased some wood and hired a fire pit on a site, we were pretty set for a good night ahead.
That was of course until the heavy rain and wind kicked in.. In the end we would return the fire pit in exchange for some tarpaulin so we could make our own rain shelter. It would have been a long, wet night out in the rain, so thankfully we could make use of the local pub and their log fire. Good old British weather!
Farewell London
The remainder of our time spent in London was spent doing as many activities as we could, in between work and saving money. We put together the Ultimate One Day Itinerary to this bustling city, as there are so many places that cannot be missed.
The time came for us to pack up our flats and drive home to Scotland. We decided to break the journey up by stopping at both the Lake District and Peak District to soak up what was to be the start of a beautiful summer. We camped in amongst the hills and were surrounded by nature; so peaceful and relaxing after leaving the big city.
A trip to the Emerald Isle
It was a case of unpacking and repacking the car as we caught the ferry to Ireland for the first part of our Irish road trip. This was another camping trip for us and as you read on you will realise we are no strangers to our wee tent! We explored Cork, the Ring of Kerry, Galway and Dingle before heading over to Dublin where we met up with a friend and my family to go to a rugby game.
After a tiring yet exciting weekend, we headed north. Our first stop was to Portrush and we based ourselves here for an early rise to the Giants Causeway and the Carrick-a-Rede Rope Bridge. Our morning started at around 04.30am so we could make it to the Giants Causeway for the sun rising. The bonus of this being that we were the only people there and that we didn't have to pay entry!
From there we headed on to the Rope Bridge. Unfortunately, yet understandably, the rope bridge was closed at this time but it was still peaceful nonetheless. Our trip ended after a short visit to Belfast and then we hopped back over to the mainland.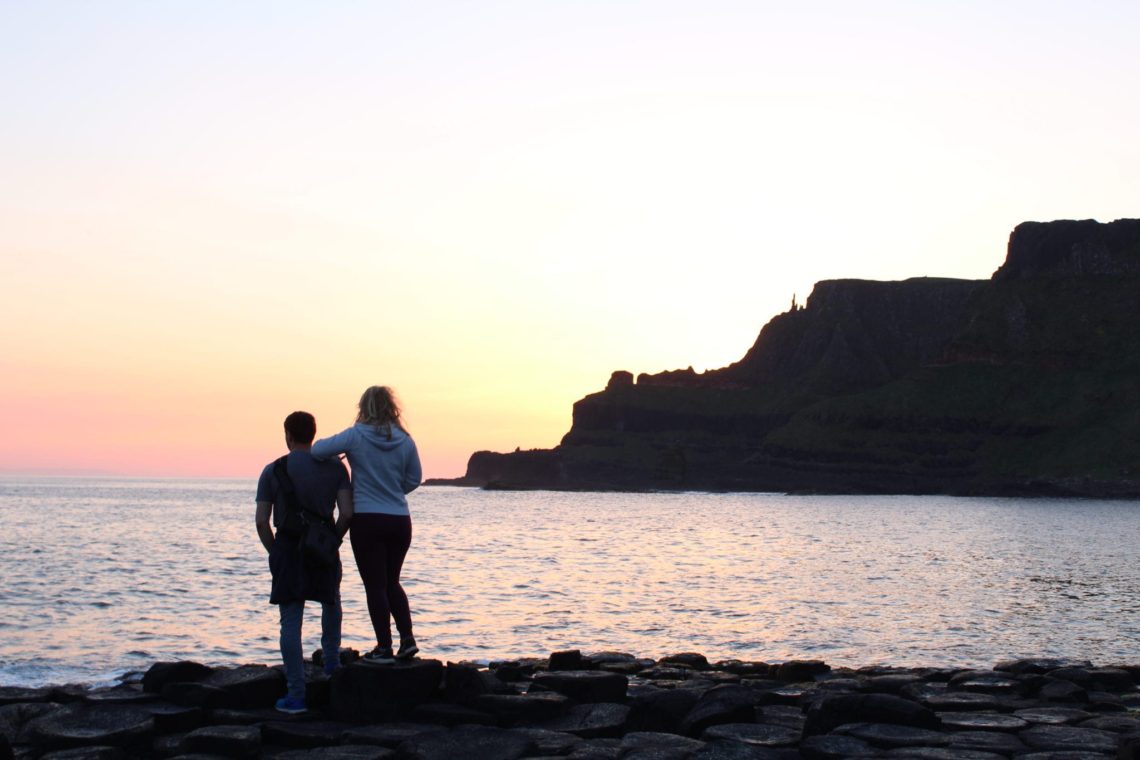 Spontaneous Adventures
Before the big trips began, we split off for spontaneous adventures with friends. Campbell left on his annual camping trip to Arran with the boys, and I booked up a last-minute trip to join friends in Barcelona. We also spent a weekend back down in London with my family for the World Rugby 7's Tournament; a little taste of the sunshine to come.
Exploring our Home Country – NC500
The North Coast of Scotland was somewhere we both wanted to visit for a long time. We decided this would be the year we would go, as it would be our last chance for a while. We could not have been luckier with the weather during our trip. So lucky in fact, we are reluctant to ever visit again, as it will never be as nice. Temperatures reached 28oC at John O Groats, that's barely heard of in Scotland never mind on the north coast!
Over the next two weeks we saw some of the most beautiful scenery we have ever laid eyes on. We attempted a wash in the North Sea and even managed some Cliffside yoga every morning. En route back south, we explored the Isle of Skye and hiked up to the Old Man of Storr and Dun Caan on Isle of Rassay. It was good to dust the cobwebs off the hiking boots and get up to some amazing viewpoints again.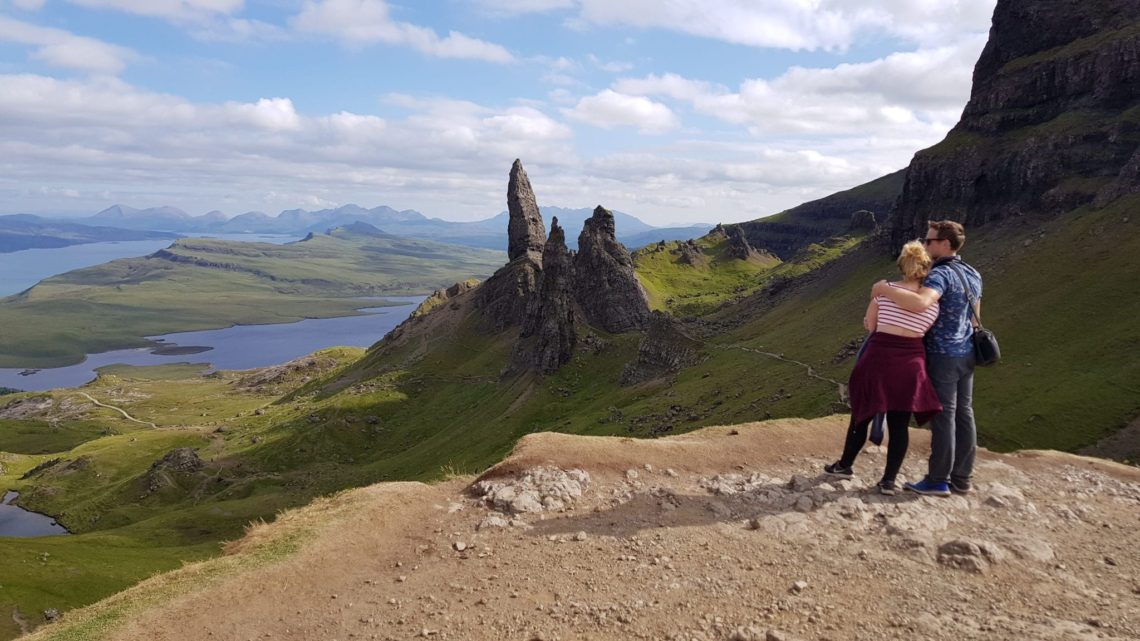 UK and Channel Islands
After a few days in the UK to wash all our smelly camping gear, we headed south again to meet with my family at our caravan outside Coventry. We spent a lovely couple of days exploring Warwick and the surrounding area, before catching a flight over to Guernsey.
Guernsey is of course where I previously lived for a year and a half, and will be forever in my heart. Once again, we were living out of a tent and had to make the most of our legs, as we never had a car.  We explored the island on foot, spent time swimming and surfing in the sea and returned to our favourite bars and restaurants.
European Interrail Adventure
The recurring theme of this year seems to be our lack of  time between trips. Less less than a week of being at home from Guernsey, we set off again on our European Adventure. We had a rough idea of where we wanted to go, however we should have known better. We were never good at sticking to plans..
With two month Interrail passes, our backpacks and a tent, we explored Amsterdam, Berlin, Prague, Budapest, Salzburg, Pula, Ljubljana, Bled and Munich. This was all before we threw all of our plans in the air and buy bikes from our friends Jen and Mel (backpacksandbicycles), who we met whilst we were in Salzburg. This was when everything changed.
The Cycling Adventure Begins
We were now living with backpacks on our bikes, and had a plan to cycle from Bologna to Bari, 800km down Italy's east coast. This was a real challenge for us as we had both barely ridden a bike in years! We were up for the challenge though, and decided to raise money for the mental health charity MIND whilst we were at it.
The ten days were the hardest, most physical and mental challenging days of our lives. Italy didn't have a huge number of cycle routes for us to follow. Whenever we attempted to find one we instead found only hills. When we made it to our final destination, Bari, our legs were sore and bums were bruised, but we felt accomplished. We were ready more than ever for some chill time in Greece.
A cancelled ferry later and nowhere to stay for the night, we had a night under the stars in the ferry terminal.. Thank goodness we had roll mats and pillows, as sleeping on the floor didn't feel much different to our tent. The following night we pitched our tent on the ferry and woke up to one of the most beautiful sunrises we have ever seen, over the Greek Islands.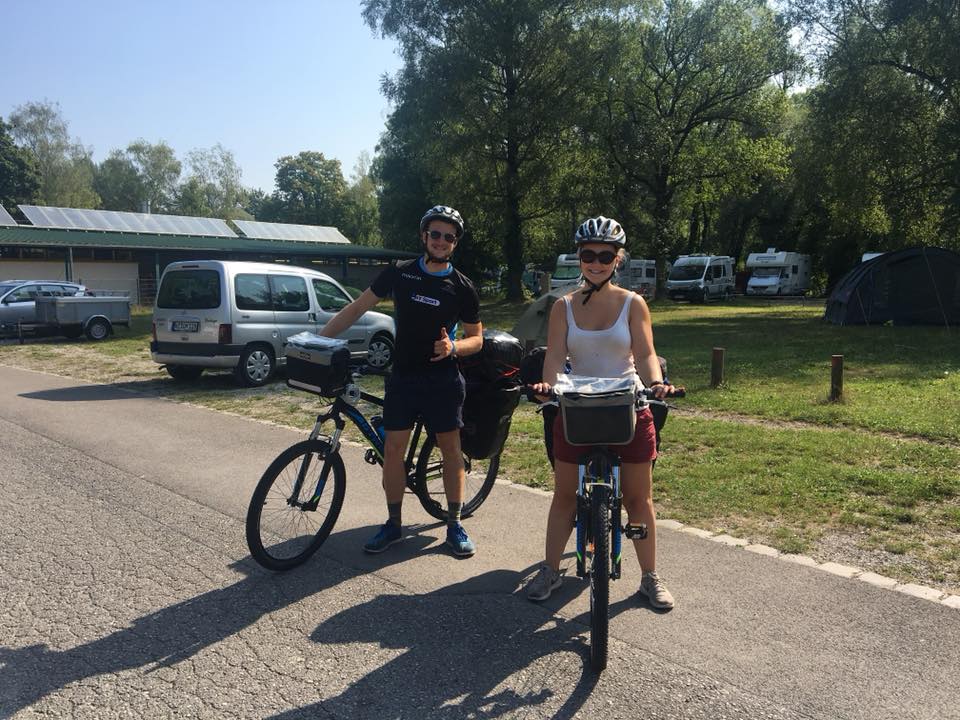 Falling in Love with Greece
Naxos was our first stop of our Greek trip. With not much knowledge of the island, we didn't know what to expect from it. We quickly fell in love with the accessibility around the island by bike, as well as the beautiful scenery the island had to offer. We camped right by the beach, which of course meant morning beach workouts and many sunsets.
Our next stop on our island hopping trip was the famous Santorini. Right from the start, we realised this island was not very accessible by bike.Three hours after leaving the ferry, we finally arrived at the top of the volcanic crater that is the island of Santorini.
We had high expectations of Santorini, as Instagram brags a lot of stunning photos. Oia didn't disappoint, it was one of the most stunning places that we have ever seen! The white marble ground, white buildings with blue roofs,  the sea sparkling blue sea beneath. It was all a dream.
Or if you don't like crowds, it is a bit of a nightmare. Despite us visiting in the "off season", the small island is still bursting with life. People pose for photographs in every conceivable location, all trying to nail that perfect selfie, with little regards to the comfort of the locals. Signs plaster buildings all around, all stating "no entry, do not stand here".
To make the most of your time on the island, our advice is to rent a quad bike. Get up and out early before the crowds pour in and make the most of the quiet times. Santorini is small enough to explore along the crater in less than 24hrs, so removing your reliance on a bus is very handy.
The Home Stretch
Our European Adventure would eventually take us back to Italy, to explore the west coast. We spent a few days in Salerno, where we based ourselves as we explored the Amalfi Coast.
We were up early with plenty of time to get to the ferry terminal from breakfast and a coffee, and it was just as well we were. About 5km into our 11km ride to the ferry, I got a flat tyre. So flat in fact, that it resulted in me being unable to safely ride the bike, so I had to get off and push.
We had about 45 minutes until the ferry left, and a long way to go. Unsure if we would make it, Campbell took my front tyre and cycled on with it to try and find somewhere to get it fixed. Who would have thought that wheeling a one wheeled bike for 6km would be so difficult! That was until I realised that the back tyre was flat too..
When I finally caught up with Campbell, he was chatting to a friendly Italian man who so kindly fixed my tyres, before we shot off to catch the ferry. Missing the first ferry by the skin of our teeth, we jumped on the second one and switched our plans up visiting Maiori, Minori and Amalfi.
f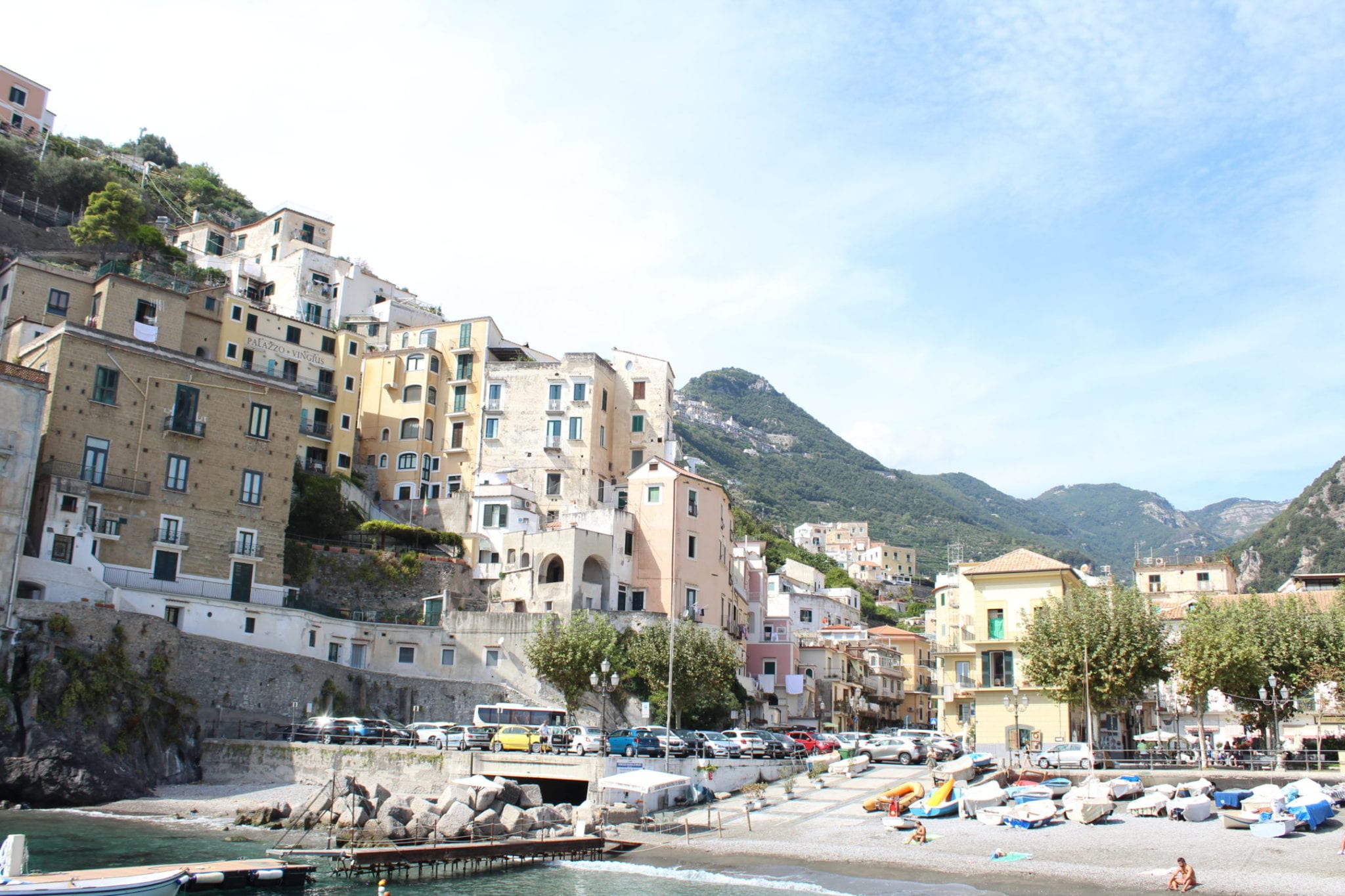 Our time in Italy was coming to an end as we headed north to Florence. We had made some amazing memories in this beautiful country and ate way too much pizza.. if that's even possible?!
From Florence, we took a day trip to Pisa and on return found our bikes had been stolen. Another tip here guys that we learnt a little too late. Don't tie your bikes up outside a train station. Try your best to do it outside a building with a security camera. This threw our plans up in the air again as we had the option of going home in a few day's time or finding another way to extend our trip.
Realisations and Reflections
The next stop was Zurich, where we instantly felt a change in mindset. What had happened to our bikes wasn't an ideal situation, however it's important to look at the fact that we were both still healthy and well. A lot worse things could have happened.
We fell in love with Switzerland. We camped right on a lake and woke up to the most beautiful of sunrises. It was here that the temperature changed, plummeting to winter conditions. We realised that realistically (with a rucksack full of summer clothes), there was no way we would have cycled home from France. At least not without buying new clothes, warmer sleeping bags and potentially a new tent as ours was rather weathered by then.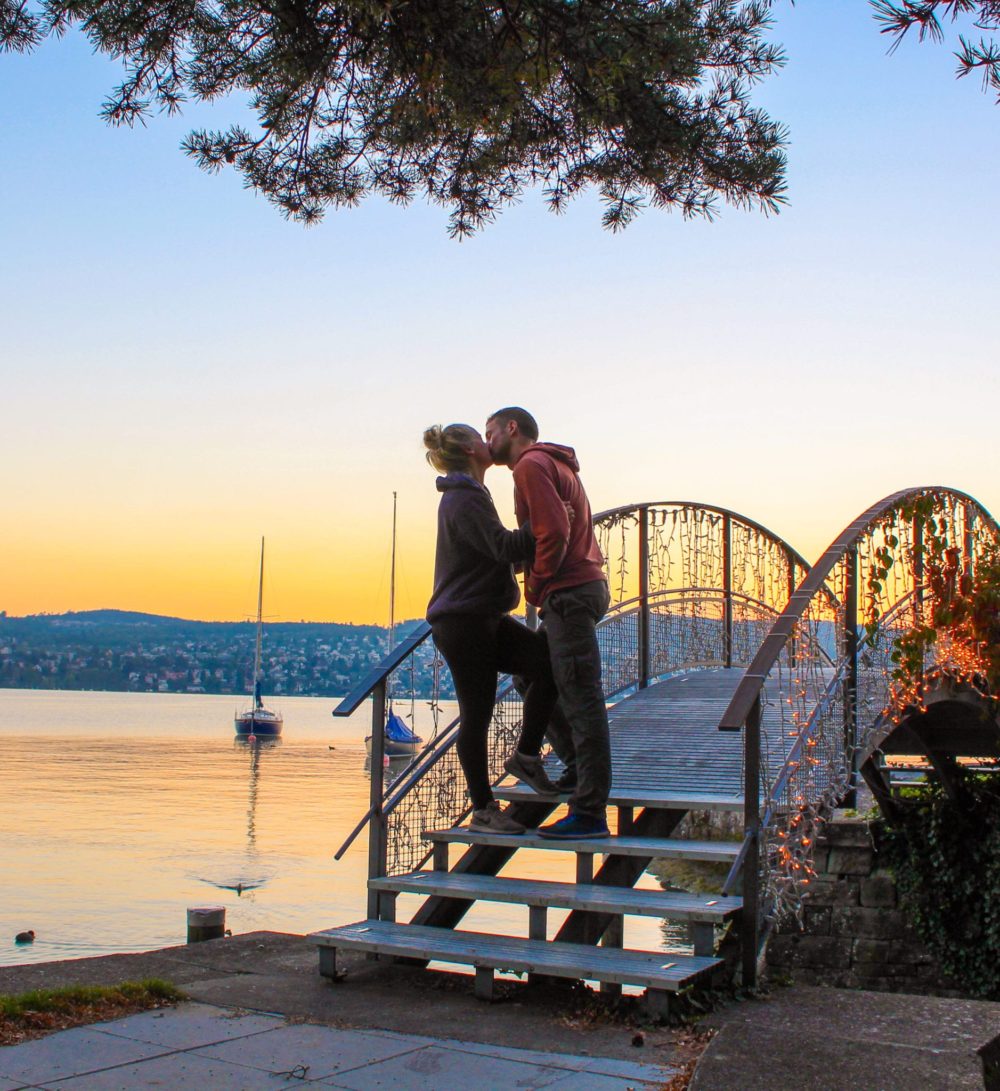 When You're Stuck for a Plan – Rent a Campervan
Next up, we headed across to Nancy in France, where Campbell studied for a few months. The next few days were spent here exploring, researching and deciding what to do. We headed west to Paris, where we worked with VanIt.
Seven days exploring Normandy in a beautiful camper van, what a way to spend your birthday! The next week was spent chilling, eating too many croissants and speaking as much French as we could, all whilst living out of a tiny dream home.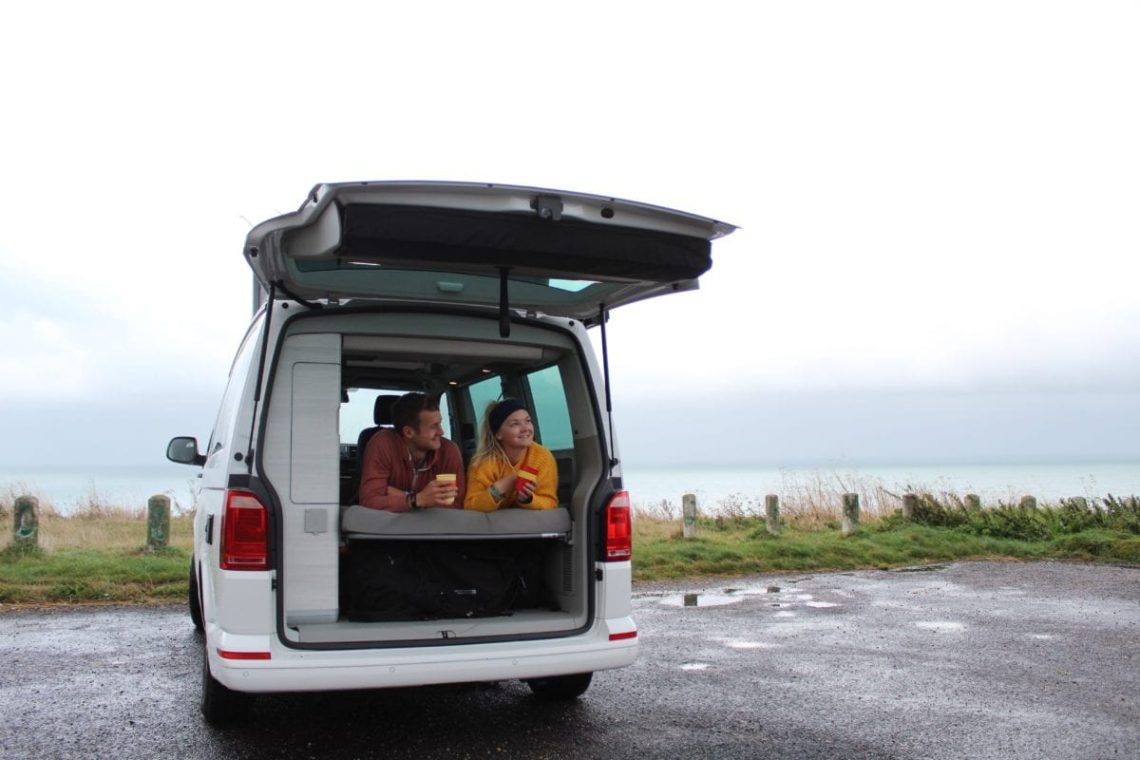 Two and a half months after leaving the UK, our amazing European trip was drawing to a close. After spending a few days in Paris and going back to Disneyland for the third time, we got the overnight bus back to London. Here we stayed with our amazing friends Joanna and Craig, and caught up on all of our home comforts.
Back to Snowy Scotland
The cold weather really hit us when we arrived back in Scotland. It was back to our winter woollies for the next couple of months, especially when we decided to head up to Aviemore and go on a hike with Iona Adventuring and 20 other explorers. We experienced the snow and bitterly freezing temperatures that Scotland has to offer. Despite this, it was an unforgettable weekend meeting some amazing and inspirational people!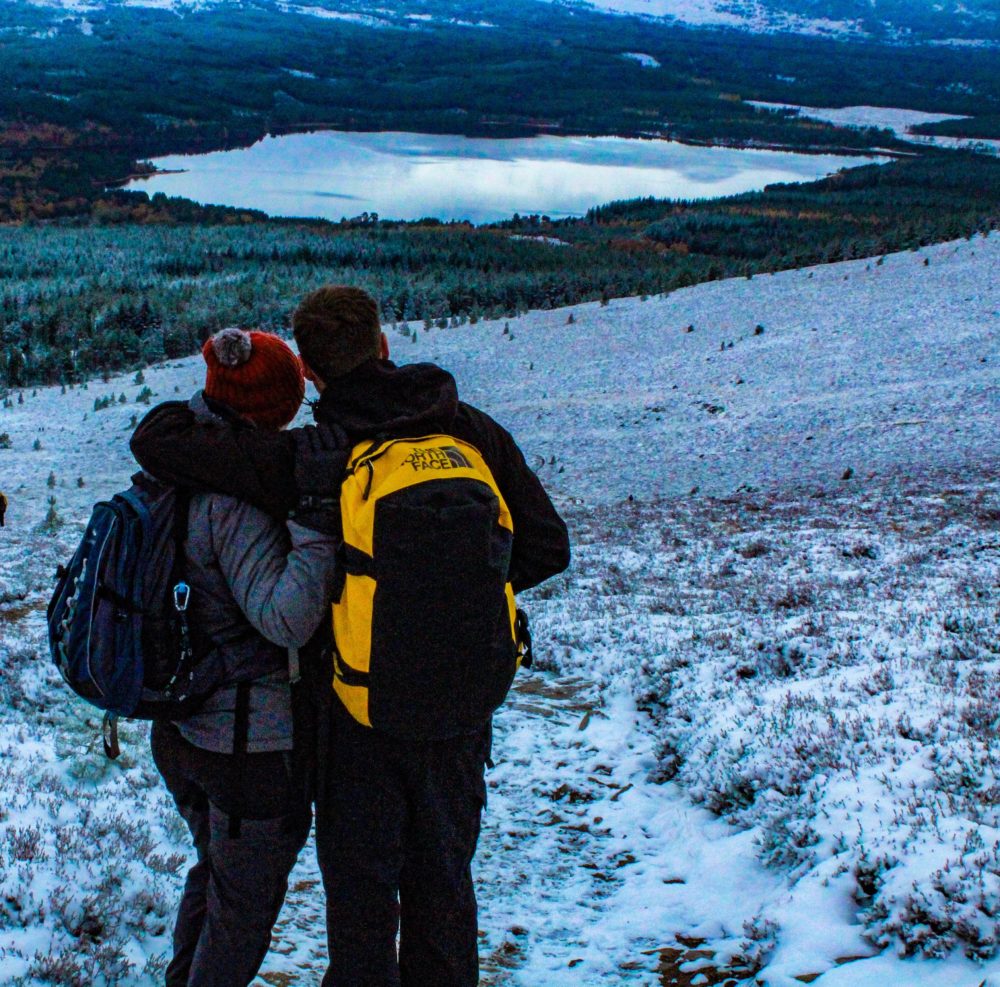 World Travel Market
A few weeks later, it was another overnight bus as we headed south on another quick trip to London. We attend our first ever World Travel Market event, which was inspirational and informative to say the least. Whilst at the event we spent time meeting up with some other bloggers and eating lots of the free Kurtoskalacs on offer! It was an exhausting yet amazing few days.
Quality Time with Friends and Family
Our time at home saw us spending some much needed quality time with friends and family. Of course, we also spent time enjoying the beautiful Scottish scenery and great outdoors. We managed to squeeze in a few day trips as well which we vlogged about over on our YouTube channel.
What's next for highlands2hammocks?
Fast forward to today, we are in sunny Melbourne, Australia. Eight months after quitting our jobs, we can honestly say we have had the year of our lives!
With 17 countries across 3 continents visited, we have jumped out of our comfort zones more times than we can count. As the year ends and we reflect on our journey, we have loved pretty much every second of it. It'll be a tough year to top, but I reckon the southern hemisphere will be a good competitor.
We'll scrimp and save as much as we can for the next few months before we shoot off to Indonesia. We cannot wait to see what lies ahead for us in 2019. I have a feeling it will be a good one!
If you enjoyed reading about our adventures then make sure you catch up with us on social media! You will be able to catch all of this in action on our Instagram stories and YouTube! We hope that you have had a wonderful year and you're ready to make all of your travel goals in 2019 come true!
Happy new year guys!
This article may contain affiliate links that provide us with a small income. For more information read our Affiliate page.
---
Save this image to your Travel Pinterest board for later!