So, you're planning to visit Singapore on your next vacation. Well you're in for a treat because Singapore is an incredible destination, with its gleaming high-rises, exquisite parks, fascinating museums, and alluring nature to name just a few of its attractions.
It is likely you won't fulfill your wanderlust in a single trip, you'll definitely want to visit the country again. Often touted as the 'The Lion City', Singapore is a place where modernisation meets history, heritage, and nature.
In other words, Singapore has something for everyone. Whether you're a history or heritage admirer, there are museums to feed your curiosity.
Of course, the main thing Singapore is extremely famous for is its never-ending nightlife. If you are a nightcrawler, you'll be pleased to read that Singapore is known as one of the best nightlife destinations in Asia.
Whether you are looking for walking tours in Singapore or the best views of the city lights, there is something for everyone to do in Singapore at night.
Pin this to your Singapore Pinterest board for later!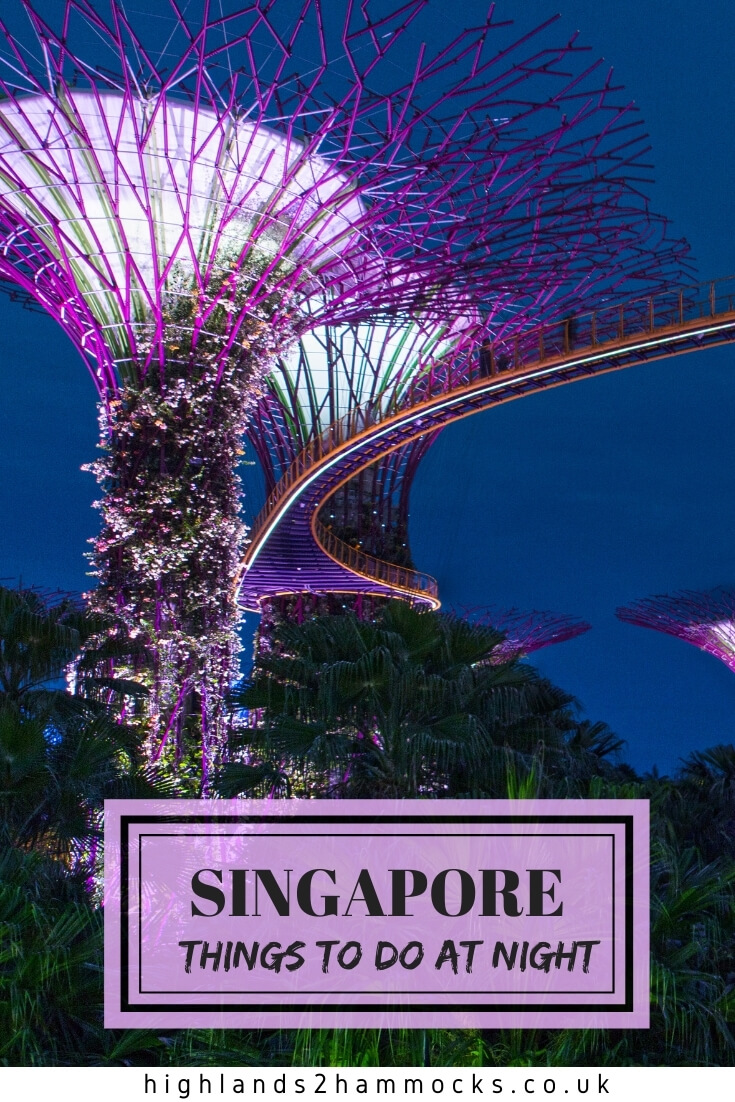 Come along with us on our Singapore Trip. Make sure you subscribe to our Youtube channel for more by clicking here!
Things to Do at Night in Singapore – The Complete Guide
Tour the Night Safari
Did you know that you can do a night safari in Singapore? In fact, the world's first nocturnal zoo was established in Singapore and is home to more than 130 wild species.
You can plan a night safari tour and explore the different habitats of the wild creatures at night time. Wondering what animals you can expect to spot here? Pangolins, fishing cats, binturong, palm civets are just a few of the incredible creatures you might see.
It is a one of a kind journey that takes you into the dense forest of Singapore. Whether you choose to cover the journey by foot or by a 35-minute tram ride, you will be astonished by the experience here either way.
In addition, you can learn about the seven geographical zones while exploring the affluent wildlife of Singapore.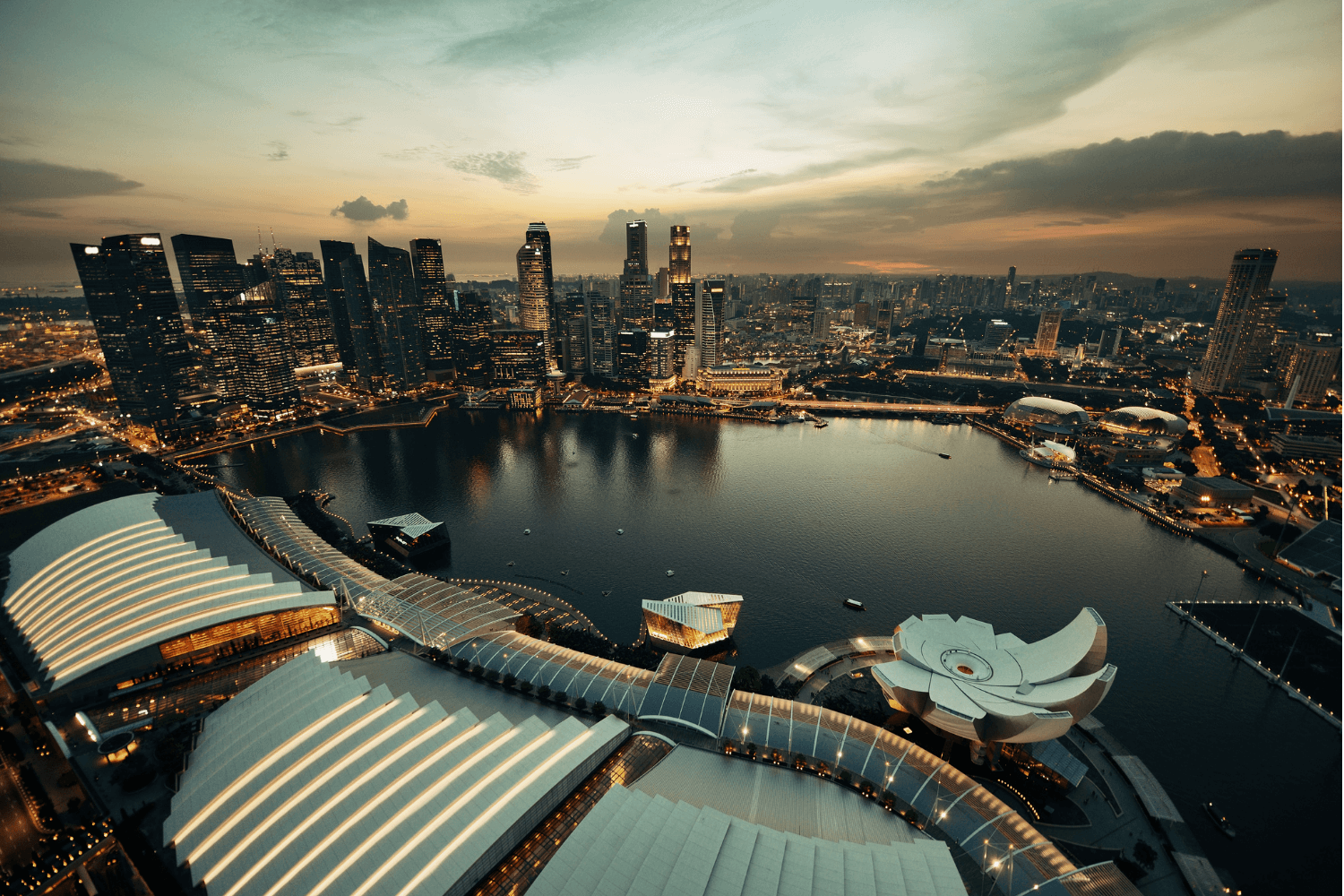 Go For a Singapore Flyer Ride
Singapore is not only home to the world's first nocturnal zoo, but also Asia's largest Ferris wheel. At a height of 165m above the ground, Singapore Flyer is one of the top attractions in the country. It is basically an observation deck, where you can take in the gleaming views of the entire city and some popular tourist attractions like Singapore River, Merlion Park, and Marina Bay.
Going for a Singapore Flyer Ride is indeed one of the best night activities in Singapore to do. The 30-minute ride is very comfortable inside a fully air-conditioned capsule. In addition, you can enjoy a fine dining experience at the top with an in-flight package.
If you are only spending one day in Singapore then this is definitely an activity you cannot miss!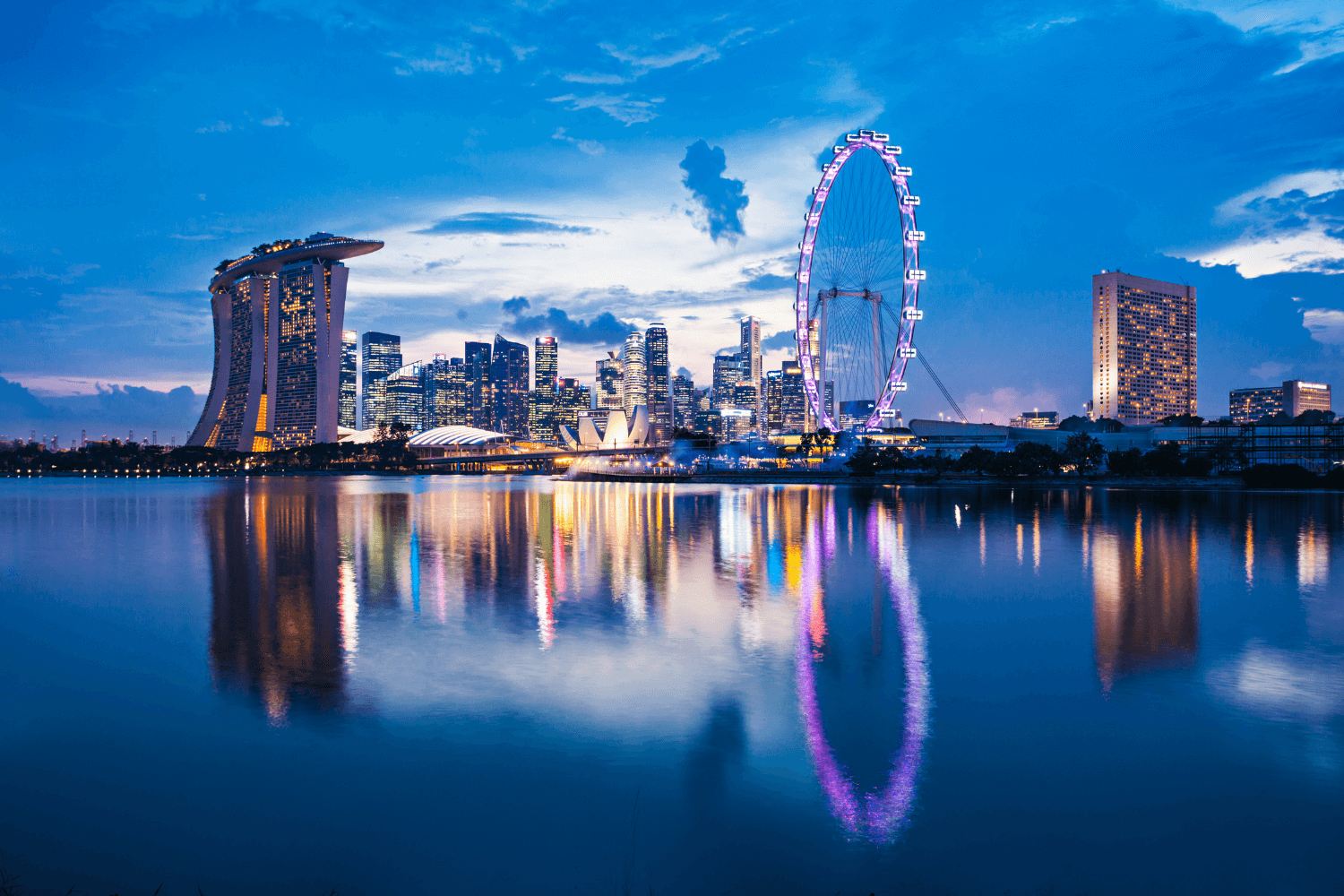 If you are looking for a good bag for your time exploring Singapore, we can highly recommend the Wandrd Bag PRVKE 41L if you are carrying camera equipment around the city. If you are looking for a smaller backpack, The Nest by Tropicfeel is one of the most comfortable bags we have ever owned and perfect for a city break.
Visit the Gardens of The Bay
One of the many sights and attractions in Singapore that you must have heard of is the Gardens of The Bay. Many travellers and locals will tell you to explore this place during the day time, however, it is at night when the beauty of this place is at its best.
The entire park gleams with beautiful lights, providing tourists with an astonishing sight to behold. This place is fun for both adults and kids, sprawling over a huge 250 acres of land featuring towering, man-made trees.
Here, you can also enjoy a synchronised light and music show. The Cloud Dome and The Flower Dome are particular highlights of the Gardens of the Bay, known to house flora and fauna in contained climates.
It is important to know that this activity in Singapore should be indulged in earlier in the evening, as it is only open open until 9:00 PM.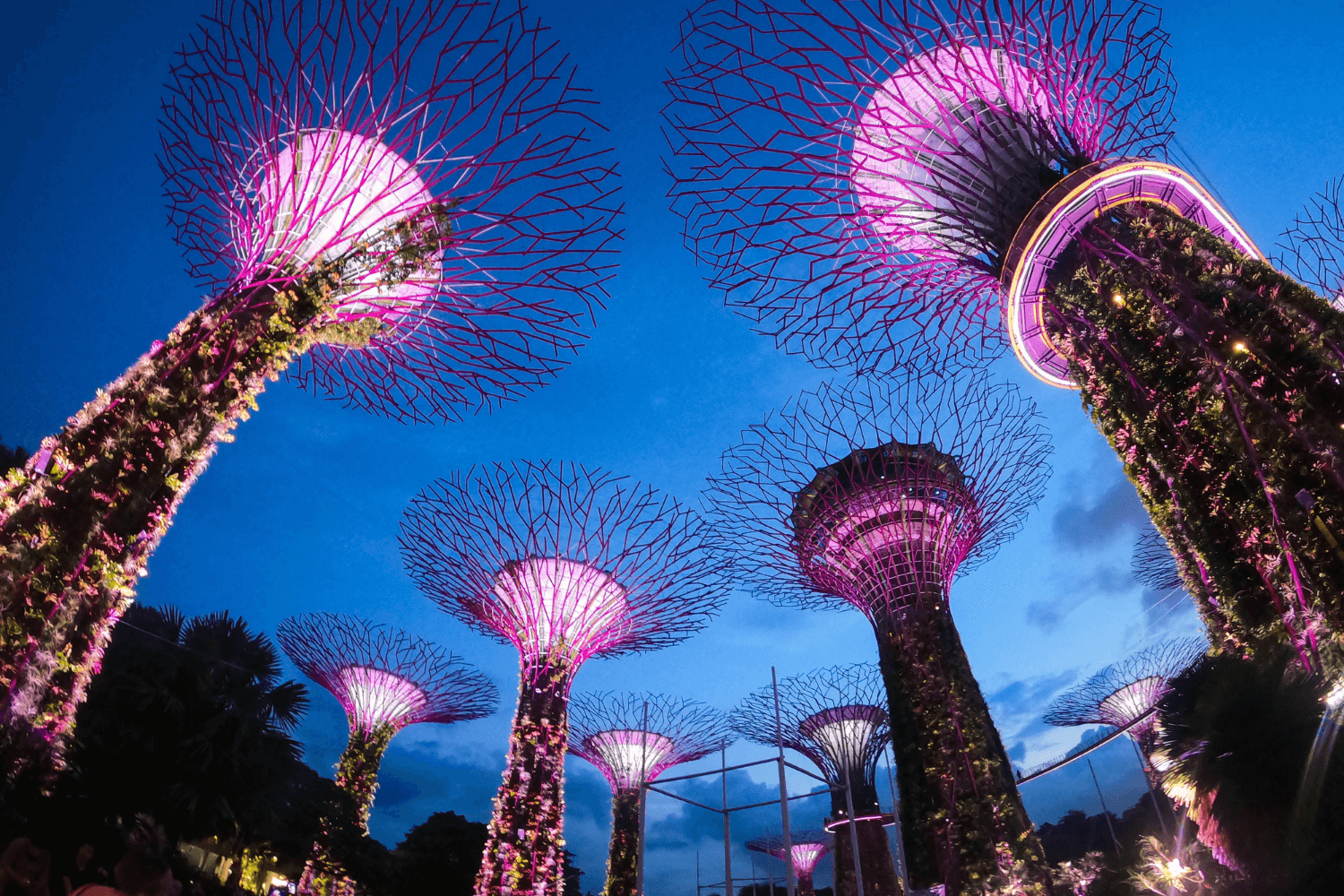 Enjoy a Gourmet Bus Dinner Tour
Bus sightseeing tour is probably the most common way to explore any destination. But when this bus tour combines with a gourmet dinner, it indeed becomes a unique way of exploring Singapore. It is one of the easiest ways to explore the city during your short break to Singapore.
The bus tour is hosted in an air-conditioned luxurious bus that serves you dinner on board. It covers some of the major attractions of the city such as Merlion Park, Singapore Flyer, and Marina Bay Sands.
Once you've had your dinner, the bus will drop you off at Gardens by the Bay to enjoy the evening light show. Thereafter, you will be back on board and enjoy a delicious dessert. Rest of the journey, you will be enjoying the surreal sights of Singapore. This is a 2 hours ride.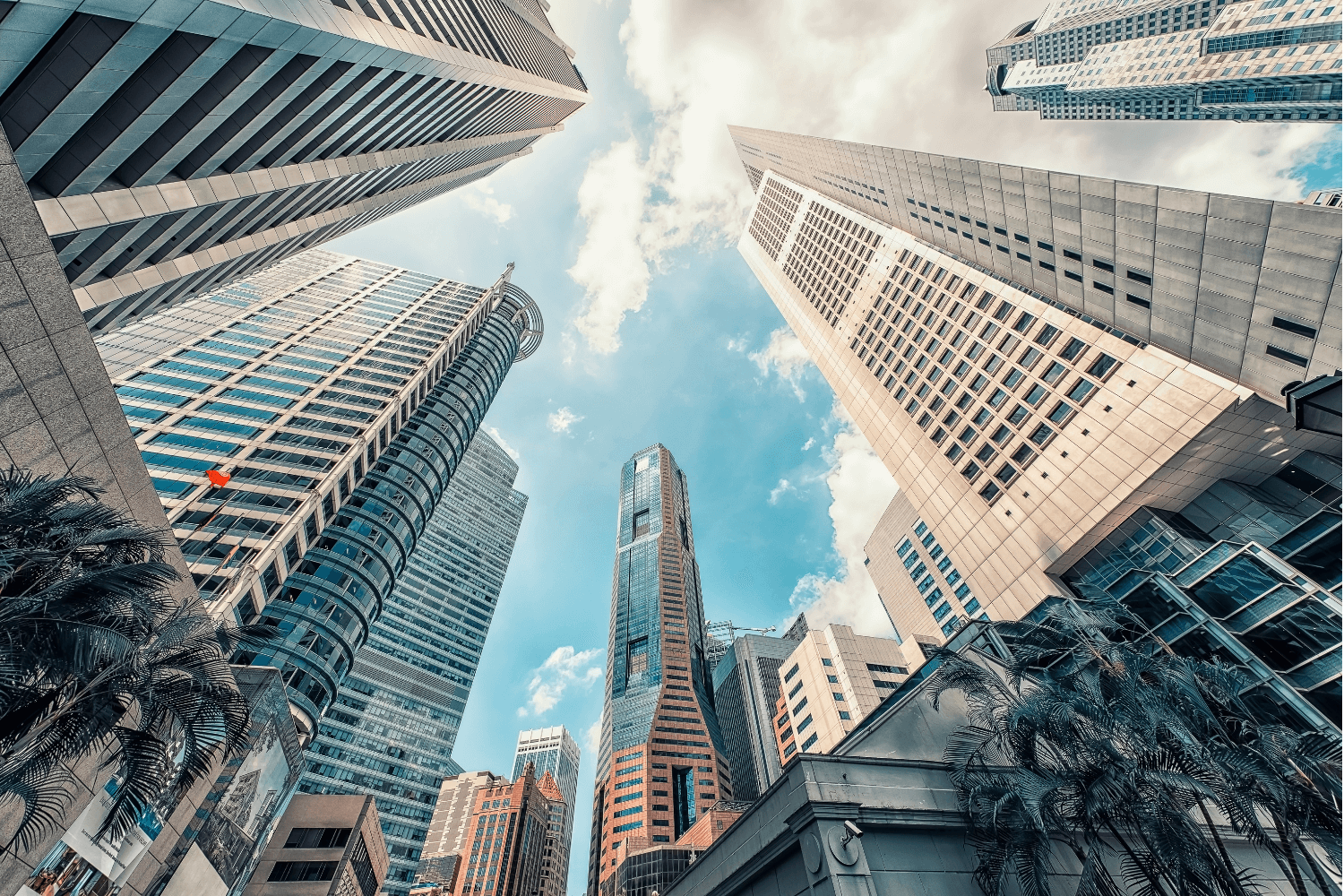 Visit Marina Bay Sands Skypark Observation Deck
If you want to relish in the pulchritudinous views of the city from up above during the night time, visiting Marina Bay Sands Skypark Observation Deck is the place to be. It is one of the most popular things to do in Singapore at night.
This iconic observation deck offers some enchanting views of Singapore's impressing cityscape. Since you get the chance to capture the views from a height of 600 m, it becomes even more special to visit.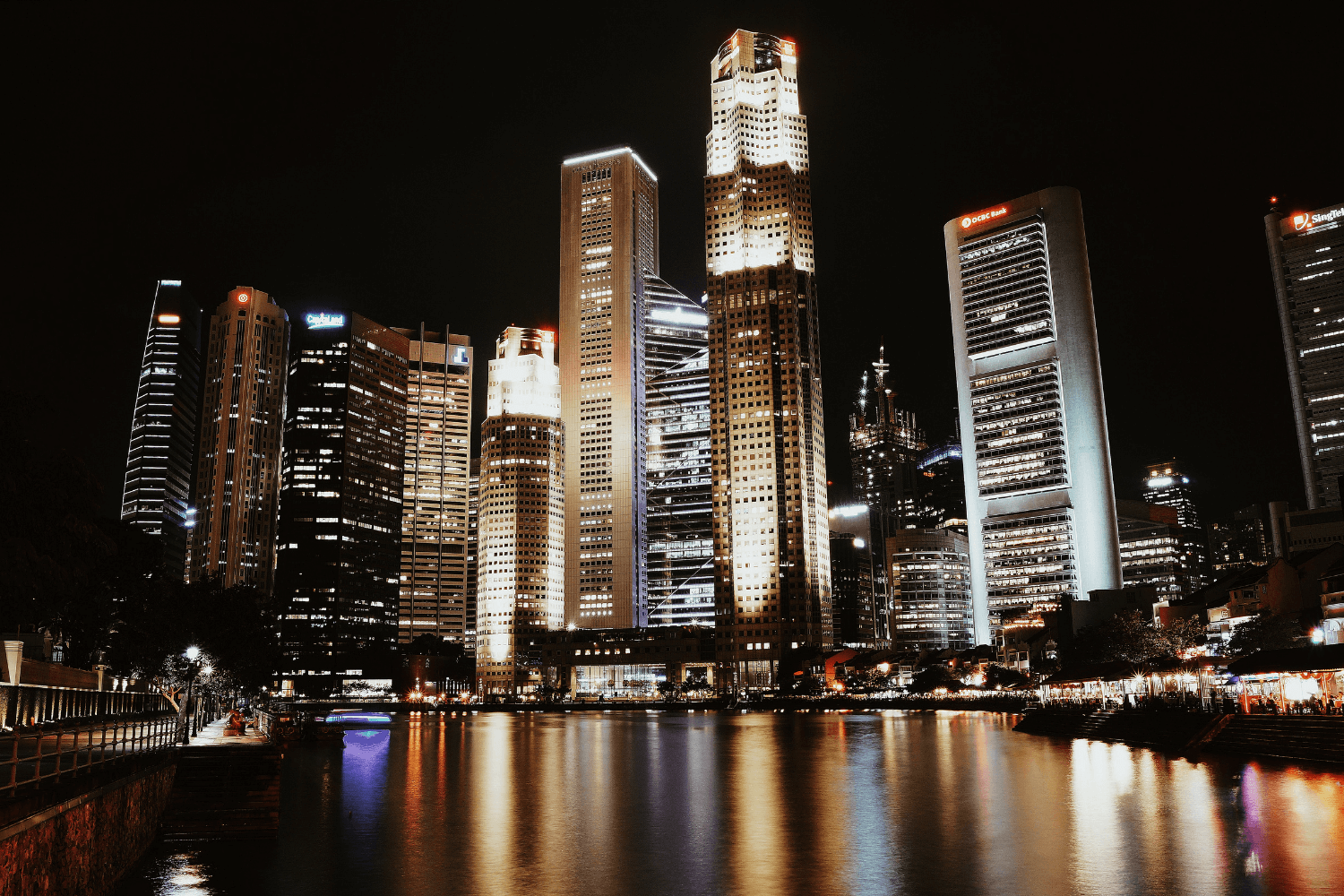 However, do not expect this place to be empty as it remains dotted with a good number of tourists both locals and international. What's the best part about this observation deck is that it doesn't provide you with some ordinary views.
The gleaming lights make the entire sight of the cityscape jaw-dropping and you can expect to see some popular tourist attractions such as Supertree Glove, Singapore Strait, and Gardens By the Bay.
When we visited the viewing platform of the Skypark, we were lucky enough to be able to watch the Formula One from above, as it coincided with our visit. Seeing the tiny cars racing around the electric city, toy cars among an urban jungle, was one of the most magical sights we have ever witnessed during our South East Asia backpacking itinerary.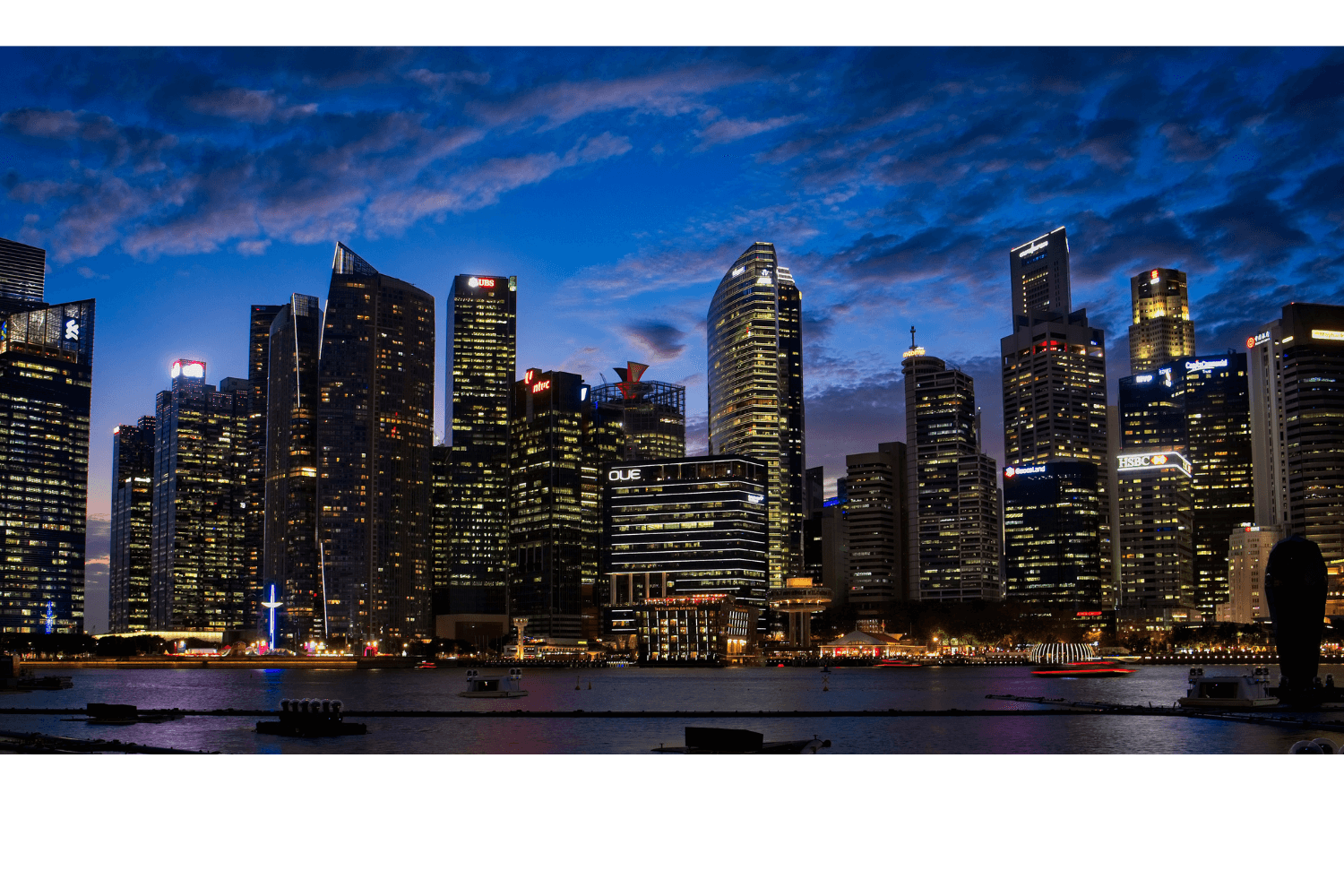 Enjoy a Singapore River Cruise
Undoubtedly, some of the night experiences of Singapore are one of their kinds. And the list of those unique experiences also includes the river cruise. The cruise is hosted on a bumboat and the tour is all about giving tourists an insight into Singapore's culture and architecture.
This is a 40 minutes guided tour. In the early days, these bumboats were the main means of transportation for cargo and goods. However, in the present, these boats have been tweaked. Now, they are used to show tourists the beauty of Singapore and its harbour during the night time.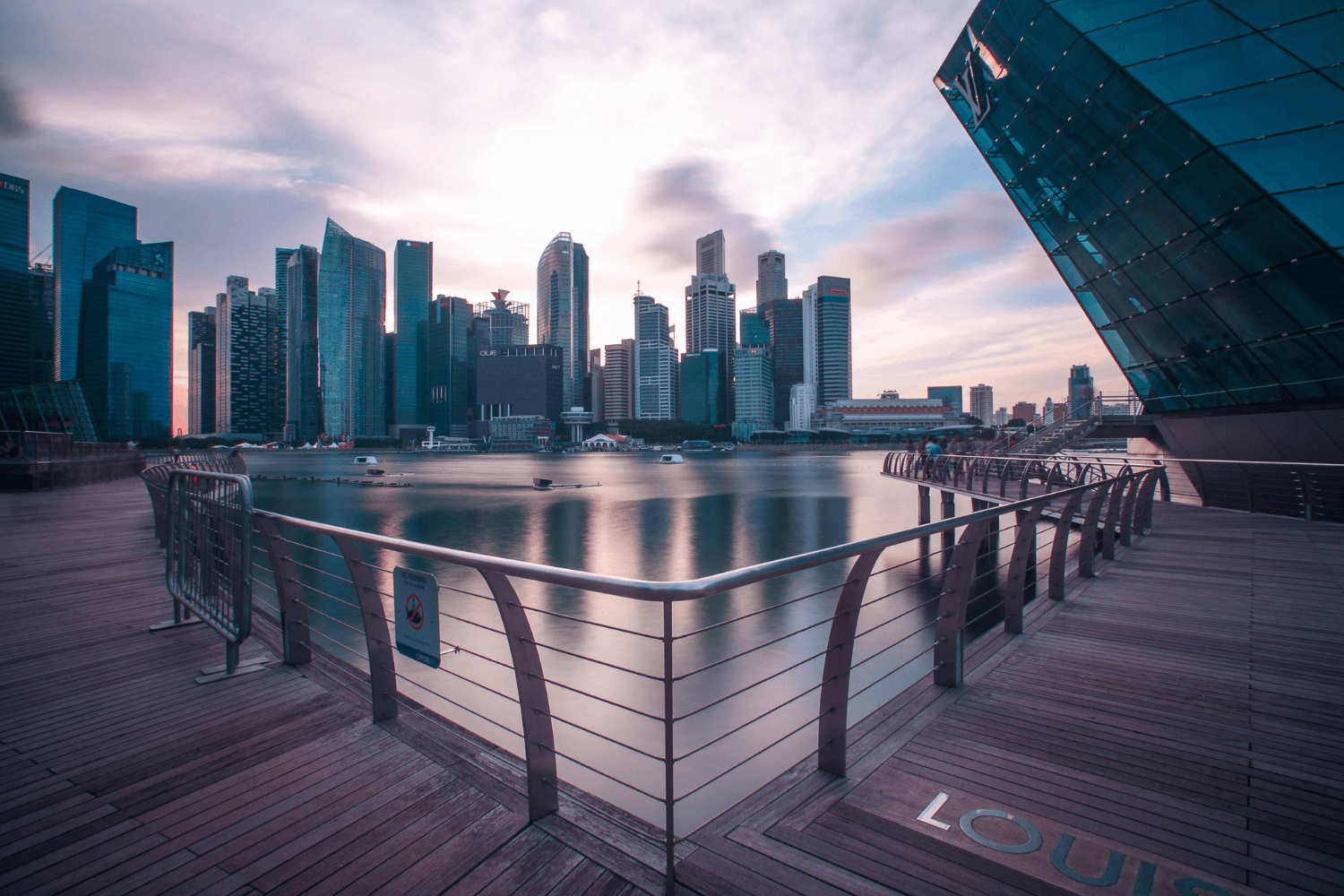 Visit Sentosa Island
Sentosa Island is one of those hotspots where you can indulge in a bunch of late night activities in Singapore. The island is often considered the "State of Fun". Believe it not, but this place will definitely stand true to its expectations.
All you need to do is to spend the entire night at this place and then you will get a chance to enjoy a wholesome experience at Sentosa Island in Singapore during the night time. Of all those activities to do at Sentosa Island during the night, visit Mt. Fubar is a popular one. Here at this place, take a cable car ride to enjoy the stunning sight of the surrounding.
At Sentosa, there is also a huge aquarium, referred to as SEA Aquarium, which is also a popular attraction in the city of Singapore. The aquarium is known as the home to more than 1,00,000 species of fish.
Be The Part of an Amazing Night Show at Wings of Time
The nightlife in Singapore isn't just restricted to observation decks and stunning cityscape views, it also includes an amazing night show at Wings of Time. Amongst those all those night activities on Sentosa Island, Wings of Time deserves a special mention considering the fact that it is an award-winning show.
What's the best thing about this night show is that it is set against a huge water screen. Interesting, isn't it? Well, it is certainly! This amazing extravaganza tells a tale of bravery and magical wonders through fire effects, dashing laser shows, and music.
If you're talking about what to do in Singapore at night, well, visiting Wings of Time is certainly an awe-inspiring experience to relish in the city. Your Singapore night sightseeing is incomplete without this place.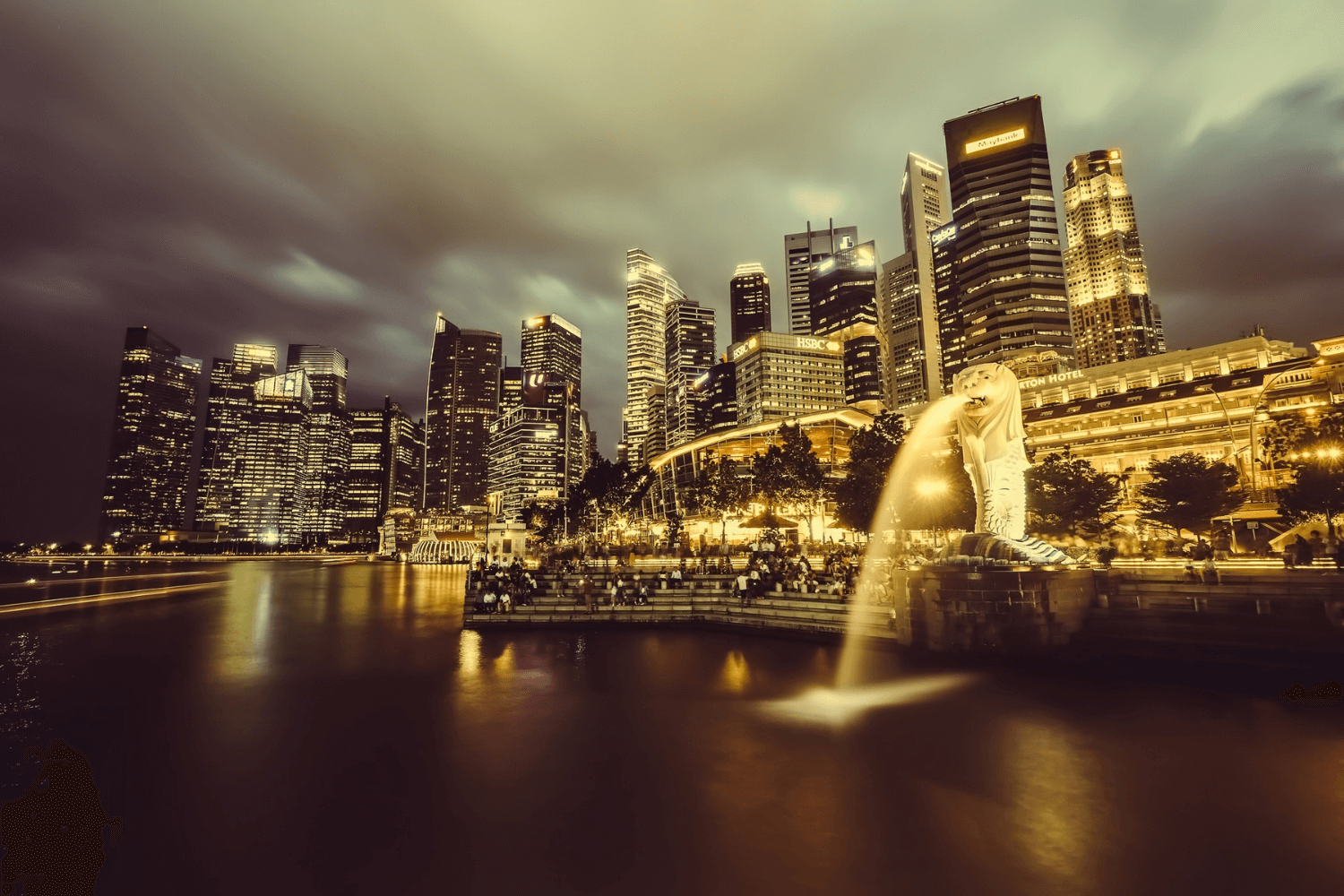 Book a Private Dining On Singapore Cable Car
There are a number of observation decks in Singapore but what makes them special is the fact that each one of them is special for some unique reason. This cable car ride runs between Singapore Island and Sentosa Island.
This is one of those perfect romantic night activities for couples in Singapore. If you are on a tour to Singapore with your consort, then this private dinner becomes a must thing to do. You will be served with a welcome drink while the staff prepare the dinner of choice for you.
This is a 90 minutes ride and includes 3 rotations. While savouring the delectable dinner, you can also enjoy the sweeping views of the surrounding.
Clubbing at Clarke Quay
Just to let you know, Clarke Quay is not a bar or club, but a shopping area where you can find a good number of clubs, bars, and restaurants. The nightlife in Clarke Quay is indeed an experience that you must relish while on your trip to Singapore. On any day, you can expect to see this place dotted with shopaholics and tourists to explore its range of attractions.
But it is when the sun falls asleep, this place becomes a hotspot for all the nightcrawlers. The club scene in Clarke Quay is probably the best in the entire city of Singapore. There are almost one dozen clubs that are located in the area.
Apart from clubbing, this place is also famous for its museums. Not just this, tourists also love to indulge in an ultimate shopping experience.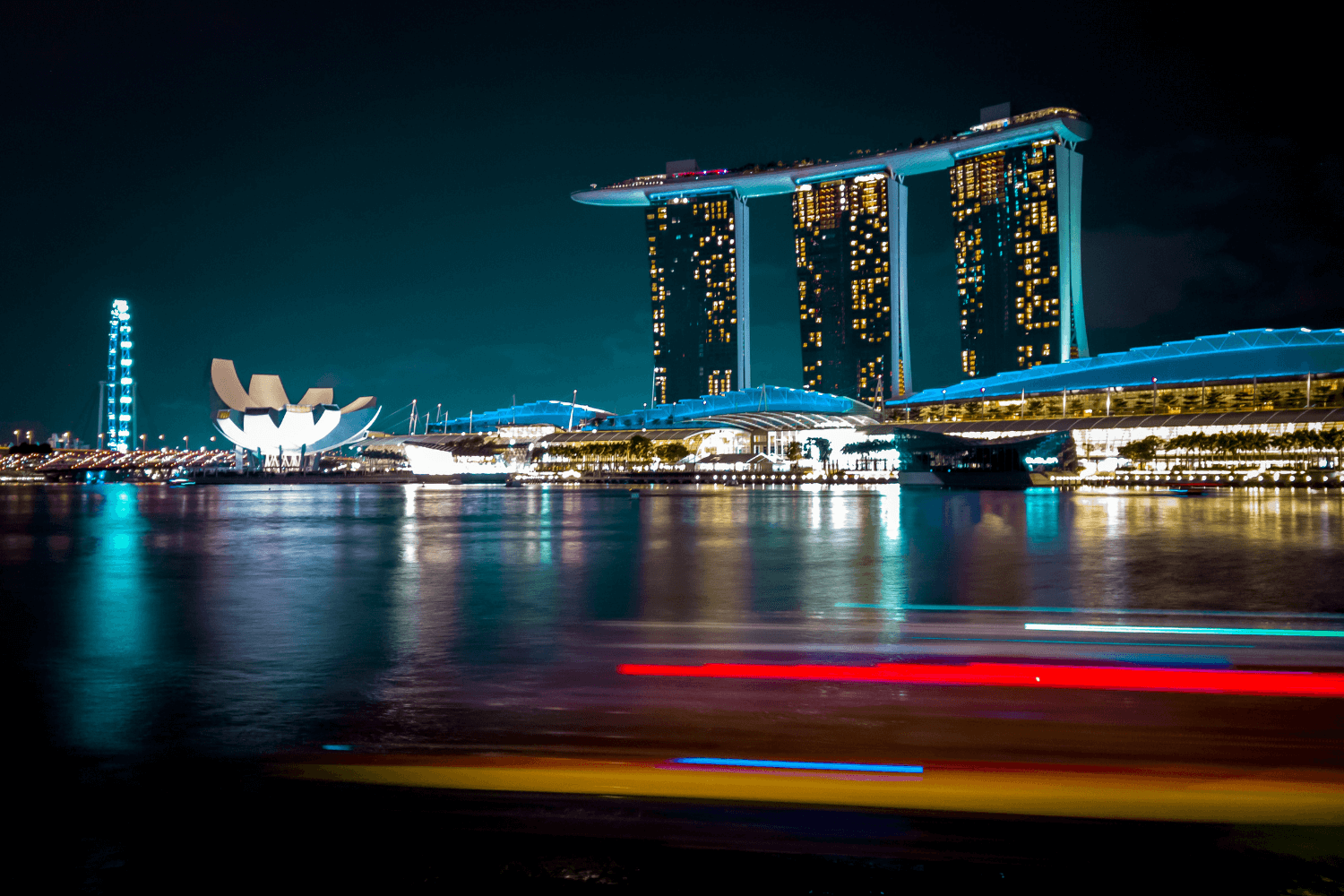 Enjoy An Ultimate Time at Zouk Club
Zouk is one of those Clarke Quay clubs. Now, you must be wondering why a special mention of this club? Well, Zouk is one of the most sought-after places to party in Singapore. As a result of that, you can expect to see a heavy crowd on your visit to this club.
For all those who love to party hard, Zouk Club is the ultimate place to be in Singapore. The fact that Zouk Club is one of the oldest and most popular nightclubs in the city makes it amongst the best places to go in Singapore in the night,
Grab a chilled beer or your choice of cocktail and enjoy the amazing ambience of the club. This is the place where you should visit with your friends or family. Every Wednesday, the club hosts a Mambo Jambo night which is a not to miss experience.
Visit Night Luge Sentosa
Without a doubt, Singapore is one such destination that could even give you an opportunity to satiate your adrenaline rush by indulging in a night luge experience. You can be a part of this fun sport in Sentosa.
If we talk about the best part about night luge in Sentosa, well, it not just offers you a thrill but also gives you a treat of natural wonders, mystical forests, and yes the gleaming lights.
In case you don't know, well, the night luge ride will take you in the tunnels set amidst the stunning rainforests and adorned beautiful lights. If you're a rookie, then there are trails for you too.
Enjoy Shopping at Bugis Night Market
Did you think we are going to end our places to visit in Singapore at night list without the mention of a night market? Well, Singapore offers plenty of opportunities when it comes to shopping. Shopping is probably one of the most popular things to do in Singapore alone.
But the best of all is Bugis Night Market. This is probably the cheapest, and hence, the most popular market to visit in Singapore. Here you can find cheap clothes, postcards, bags, souvenirs, key chains, and whatnot – everything at great prices.
Once you're done with the shopping tour, the Bugis Night Market also offers you the chance to unwind yourself in any of the high-end restaurants, trendy cafes, and bars located in the region. On the whole, you can enjoy a wholesome night experience at Bugis Night Market.
With this, we come to the end of our list of Singapore things to do at night. Just to let you know, every place or attraction in Singapore has something to offer you when it comes to night sightseeing. Hence, on this list, I have tried to cover almost every sort of experience that will make your Singapore vacation a memorable one.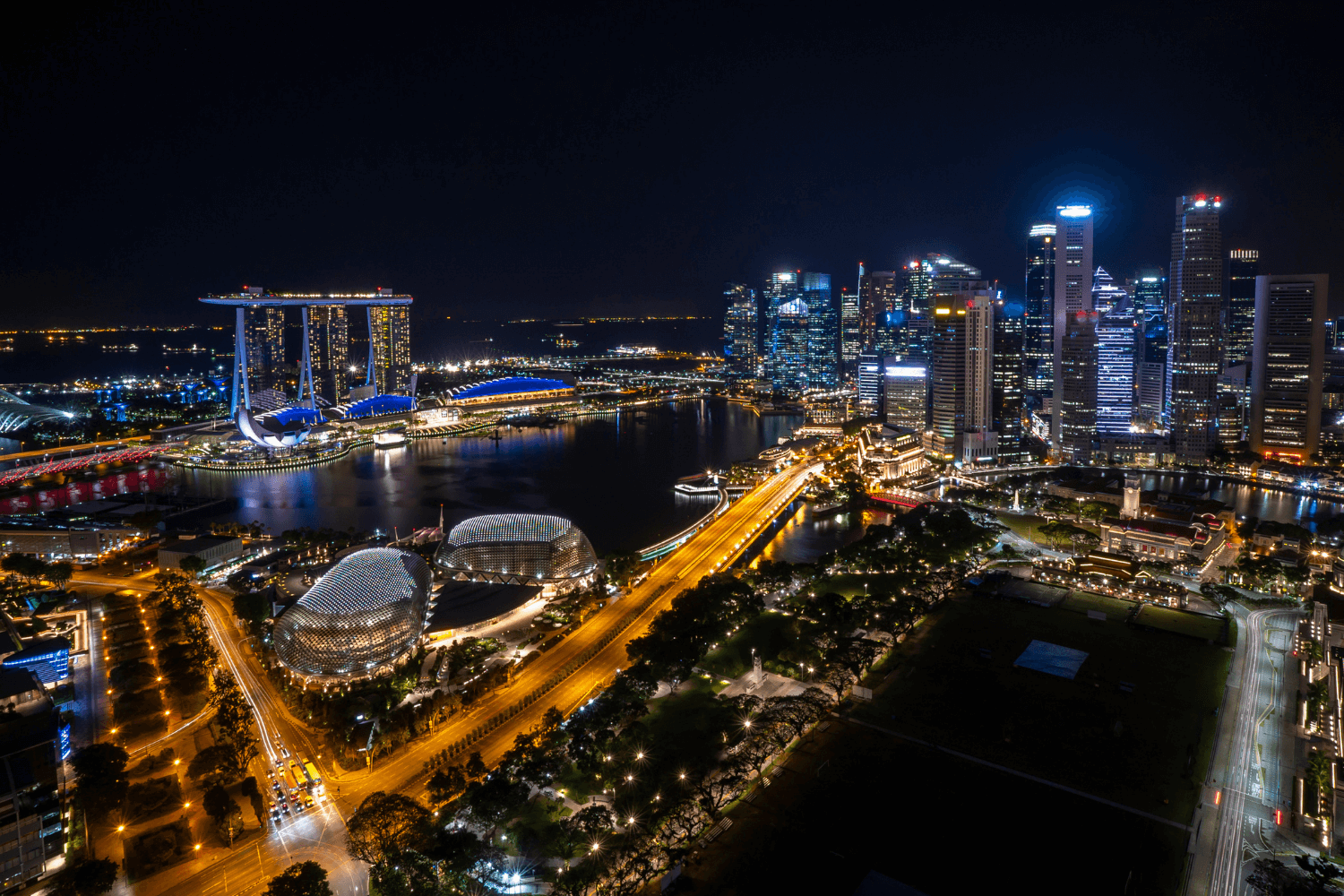 Before You Leave for Singapore
Before you leave on your trip to Singapore, there are a number of things you will need to get organised in order to ensure a smooth and successful trip. These include getting a visa, sorting out travel insurance, deciding on what to pack and booking a place to stay in Singapore. All of these points are discussed in detail below.
What Visa Do You Need for Singapore
In order to enter Singapore, you will need to ensure you have the appropriate visa, in addition to meeting the other requirements such as proof of onward travel and suitable financial support. With regards to the visa, if you are a member of the UK, you are granted 90-days visa-free access to Singapore. A similar agreement has been made with multiple other countries, the full list of which can be viewed here.
What is the Best Travel Insurance for Singapore
Whatever type of adventure you plan to embark on, the most important purchase you can make is always travel insurance. Accidents can happen anywhere and at any time, so the last thing you want is to have your holiday ruined by extortionate medical bills. We always sort our travel insurance with Safetywing travel insurance to ensure we are covered for a stress-free trip.
Safetywing travel insurance offers incredibly diverse and inclusive policies combined with worldwide customer support, designed with backpackers in mind. The policies they offer are all very reasonably priced and can be booked from anywhere in the world, even if you are not currently in your home country.
You can get your quote before you leave on your trip right here.
What to Pack for Singapore
The tropical climate of Malaysia ensures that there is only one temperature in Singapore, HOT. The midday sun in Singapore is sweltering, with the only relief being during the daily downpours of rain that happen around 2pm like clockwork.
Thankfully, this means that packing for Singapore is a light and simple task. Most of the clothing you will be packing will consist of floaty clothing, shorts and vests, with an exception of a waterproof for the daily monsoons that Singapore is subject to. We suggest packing a poncho into your day bag for when you are out and about, just in case the rain catches you off guard.
Check out our Summer Packing List for Women and Summer Packing List for Men for some clothing inspiration for your trip to paradise.
When it comes to toiletries, we recommend that you don't forget to pack sunscreen. The sun in Singapore is very strong, especially during the summer months. Apply a lot of cream regularly to prevent a nasty burn from ruining your trip. We use this specific sunscreen to protect us as it is not as oily and irritating as other sunscreens.
Given the beautiful sights and scenery that you will see in Singapore, we highly recommend packing a good camera for your trip. If you want to read more about the cameras we use and why we love them, check out the link below.
You can read what else we keep in our camera bag over here.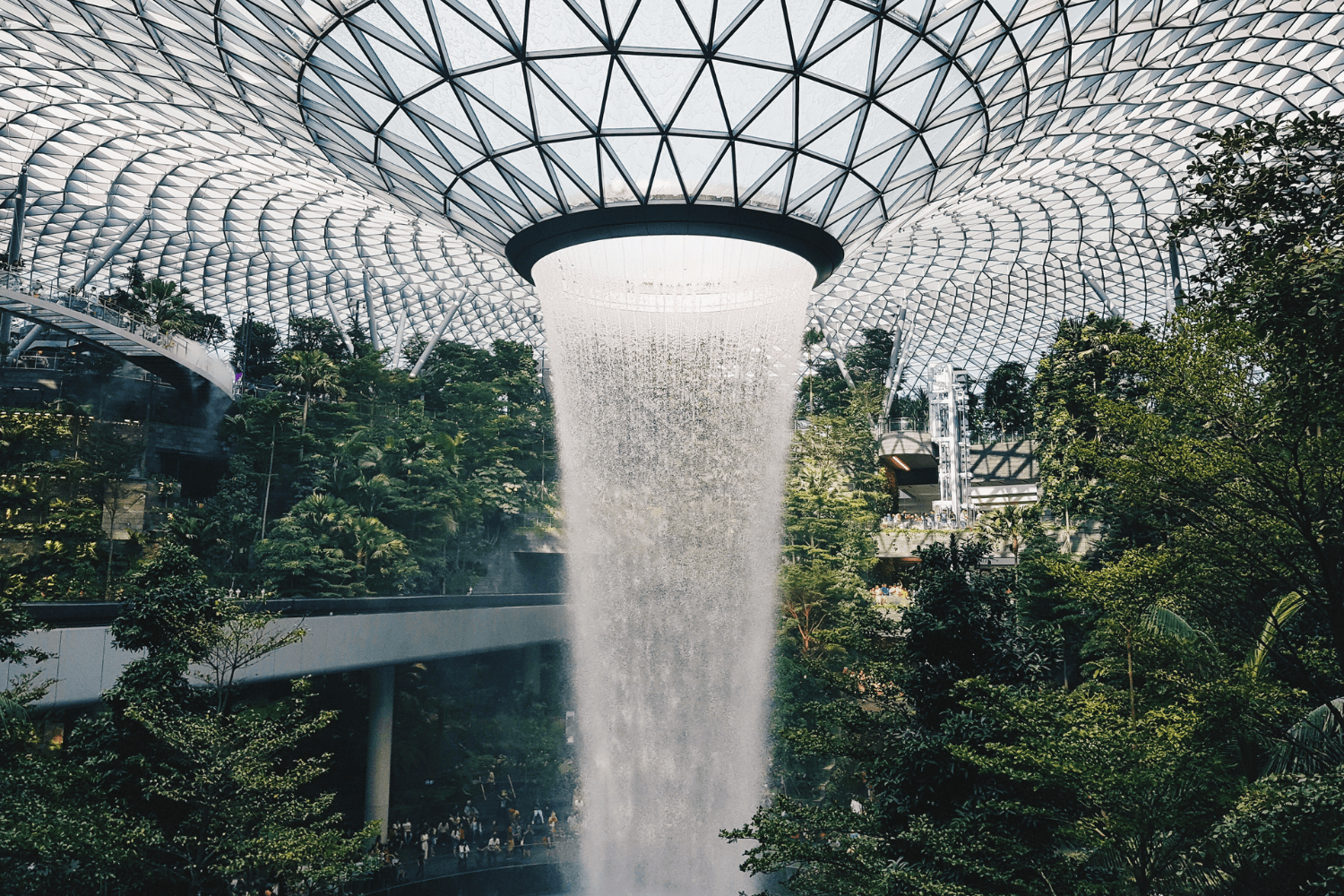 Where to Stay in Singapore
Despite all of our love for this incredible city, there is one downside to visiting Singapore and it is the price of accommodation. Although it is possible to find cheap activities, cheap places to eat, and cheap ways to get around, there are no cheap options for accommodation.
Despite this, there are still some affordable options for accommodation, so regardless of your budget, you are going to find Singapore has the perfect accommodation for you. Here are the best places to stay in Singapore for all budgets that we could find.
Luxury – If you are willing to splash the cash a little during your visit to the city of Singapore, then what better way to do it than a night in the world-famous Marina Bay Sands hotel. Rising high above the Singapore shopping mall and Science Museum, this hotel features the largest infinite pool in the world, looking out over the stunning skyline of the city.
Make your stay in Singapore one to remember with a night at the Marina Bay Sands. Book your stay at right here.
Mid-Range – The best of both worlds, delivering a comfortable and luxurious stay for an affordable price is at the Hotel Indigo Singapore Katong. Featuring an outdoor infinite pool, floor-to-ceiling windows in every room, and a luxurious rain shower in each ensuite bathroom, Hotel Indigo is sure to be a stay to remember.
Book your stay at the Hotel Indigo right here.
Budget – If you are more interested in seeing the sights outside your four walls then the Little Red Dot Backpackers Hostel is the place for you. This hostel is by far the cheapest accommodation option in the city centre, sitting on the central point of Lavender Street.
Book your stay at the Little Red Dot right here.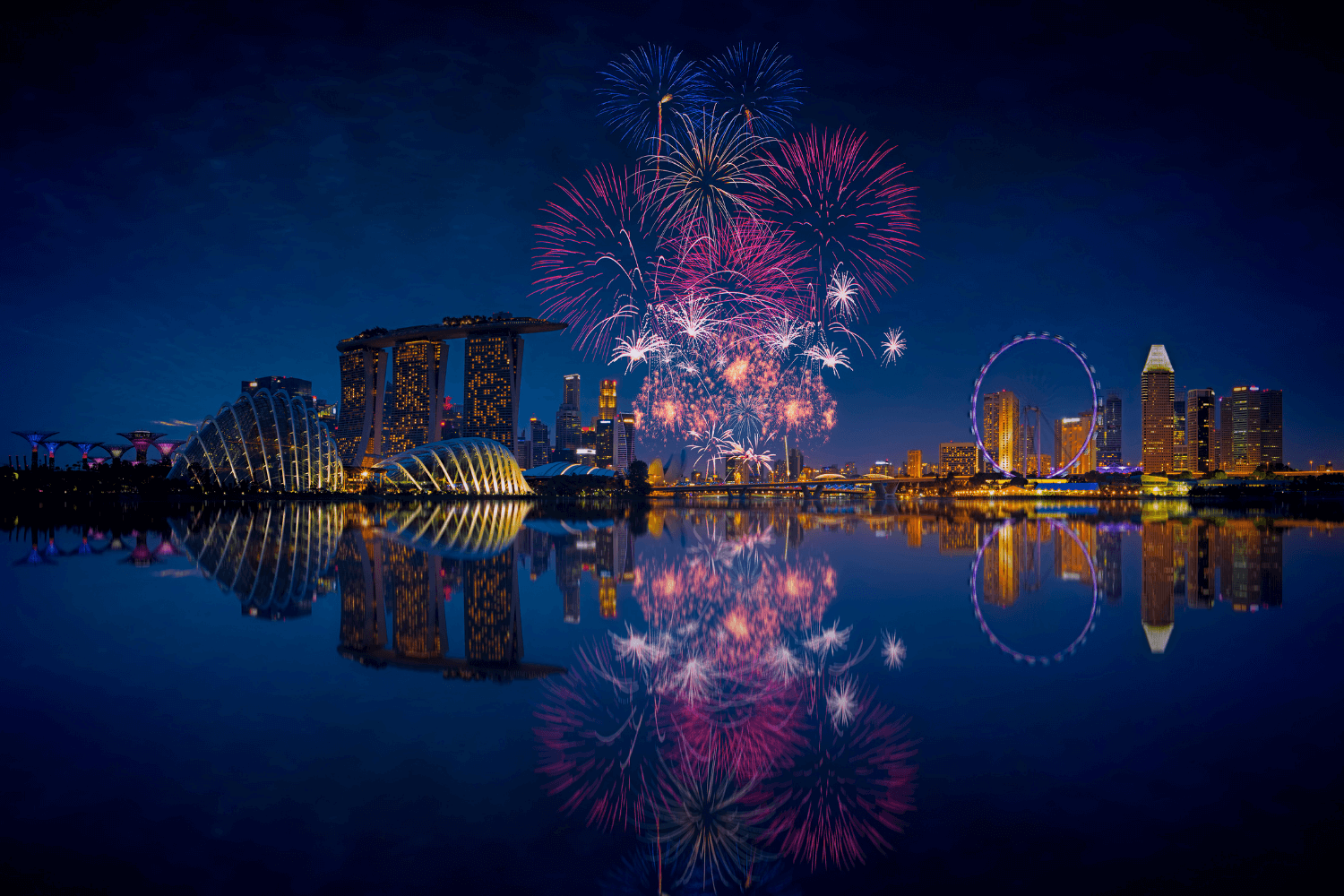 So there you have it all of the best things to do in Singapore at night, with all of the best sights, activities and food stalls Singapore has to offer. If you have been to Singapore recently, let us know how you found it in the comments below. What were your favourite sights? What did you think of the culture? Where was your favourite area? Let us know in the comments below.
If you are planning a full trip to Singapore, make sure you check out the rest of our guides and Singapore content to ensure a stress-free adventure. We will gladly answer any questions you have with regards to your trip, so either DM us or send us an email.
Don't forget that sharing is caring! Be sure to share this article with your family and friends to let them know all about your big plans. Maybe even inspire them to visit Singapore themselves!
Catch up with us on social media and see what we are currently up to. Tag us in your photos from your Singapore adventure on Instagram so that we can share them with the rest of our community.
Now Read:
This article may contain affiliate links that provide us with a small income. For more information read our Affiliate page.
---
Save this image to your Singapore Pinterest board for later!