The vibrant and diverse capital of Malaysia is a hugely popular city for both backpackers and business men and women alike. The melting pot of cultures, foods, religions, architectures and general people paints a fascinating picture of what life in the modern world is all about; living in new places. Whether KL is part of your Malaysia backpacking itinerary or just a budget weekend getaway to Malaysia, the city is chocked full of fascinating sights and beautiful memories, perfect for a Kuala Lumpur two days itinerary.
Trying to decide what the best things to do in Kuala Lumpur in two days is a difficult one, but that is where this guide comes in. This is the ultimate Kuala Lumpur itinerary for 2 days, including what to see in Kuala Lumpur in 2 days, how to get around the city, what to pack, where to stay and much more.
Save this image to your Malaysia Pinterest board for later!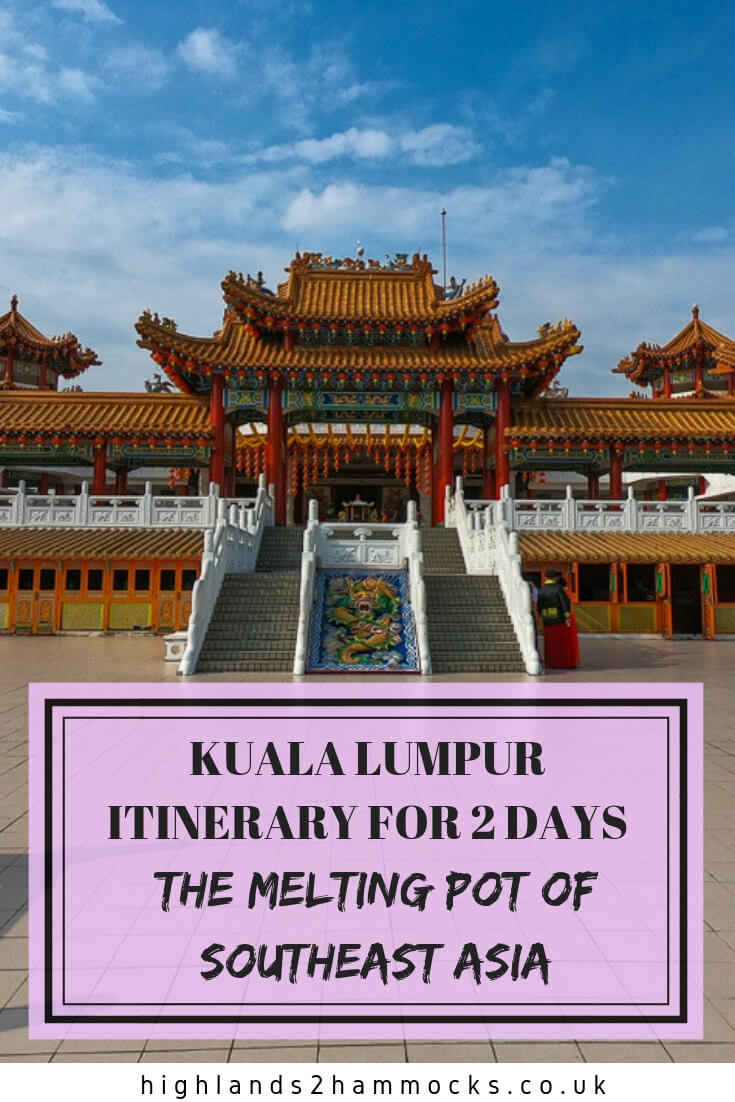 Below is a breakdown of the Kuala Lumpur Itinerary for 2 Days, including all of the best things to do in Kuala Lumpur in 2 days. All of these will be discussed in greater detail later in the article.
Day One
Sunrise at the Batu Caves.
A morning walk through KLCC Park.
Stunning views of the Petronas Towers.
Shop till you drop at the Pavillion Shopping Mall.
Experience the nightlife at Jalan Alor and Bukit Bintang.
Day Two
Morning Light at the Thean Hou Temple
Little India for brunch.
Admire the beauty of the Sultan Abdul Samad building.
Explore the Central Markets for souvenirs.
Escape the city at the KL Eco Forest.
Round up the trip at Petaling Street.
We will also discuss each of the following points to ensure you have a smooth and enjoyable trip.
Seasonal Activities that Happen in Kuala Lumpur
How to Get Around Kuala Lumpur
What Visa You Will Need for Kuala Lumpur
What Insurance to get for Kuala Lumpur
What to Pack for Kuala Lumpur
Where to Stay in Kuala Lumpur
Follow us on Youtube for more Malaysia vlogs
Kuala Lumpur Itinerary for 2 Days – The Melting Pot of SouthEast Asia
Assuming you have arrived in the city the day before, these are very full days including all the places to visit in Malaysia for 2 days. We start off at sunrise for both Day 1 and 2, as the weather in KL is very fickle when it comes to the afternoon. Almost like clockwork, as soon as it hits 2pm the thunderstorms begin. We, therefore, recommend a couple of early days to really see everything that this Kuala Lumpur tour guide has to offer.
If you are arriving into KL on Day 1, don't worry. We would suggest heading straight to the Batu Caves and skipping the KLCC Park and Petronas Towers, as they are definitely less impressive and can be caught at night instead.
Getting from the Airport to Kuala Lumpur City Centre
In order to get from the Kuala Lumpur international airport to the city centre of KL, you have four main options. These include:
KL Airport Shuttle Bus  – Price 10RM – Time 1hr 15min
KLIA Express Train – Price 55RM – Time 28-30min
KL Transit Train – Price 55RM – Time 35-40min
KL Airport Limo and Taxi Service – Price 60RM (taxi) / 100RM (limo) (+50% between midnight and 6am) – Time 40-50mins
All of these options above leave from both KLIA 1 and KLIA 2 terminals EXCEPT the KLIA shuttle bus, which only runs from KLIA 1. You can transit between the two terminals using the SkyBus shuttle service.
Also Read – North Face Basecamp Duffel Bag – Review
Kuala Lumpur 2-day Itinerary
Day One in Kuala Lumpur
Sunrise at the Batu Caves
Batu Caves Entrance Fee – FREE
Sarong Rental – 5RM
Set your alarm for about a 1.5hours before sunrise and get an early start to the day with the Batu Caves. This incredible temple is built into the side of a mountain, featuring 272 steps leading into a cave within the mountain itself. A temple is a place of worship, giving thanks to the Hindu deity, Murugan. Outside the cave, you will find the world's largest statue of Murugan, sitting at 42.7m.
The temple dates back to 1890 when the ancient, limestone caves were converted to the religious monument you see today. In 1920, wooden steps were built to allow access into the cave itself, which were later converted to concrete ones. These steps became famous in 2018 when they have painted a magical array of colours, which resulted in this temple becoming a real photography hotspot in Kuala Lumpur.
Due to this site being for religious purposes, there is a dress code that you must follow. Shorts and skirts are not allowed in and it is preferred if you can cover your shoulders. If you do not have any clothing to cover your knees, sarongs can be rented for only 5RM.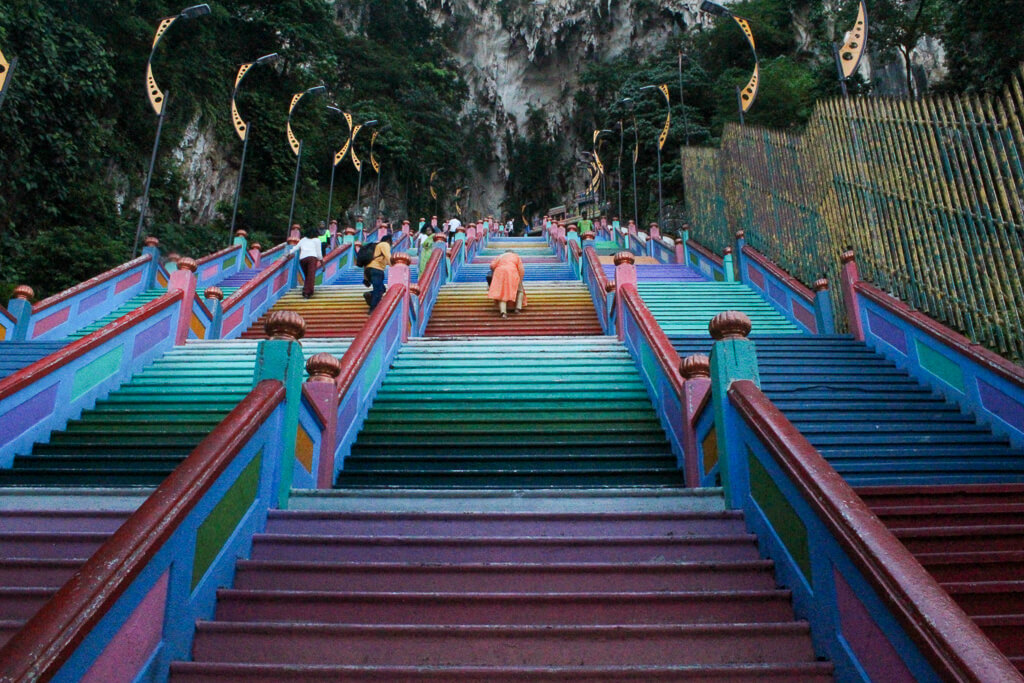 At sunrise, the temples will tend to be a lot quieter than later on in the day, and the climb up the 272 steps is a lot easier without the sun hitting you. Inside the caves, you will find local Hindus giving thanks and offerings to the Gods, and you will be able to watch the fascinating rituals that are involved.
The echoing noises of the caves, combined with the music and singing of the monks, creates a pure and relaxing atmosphere that is perfect for beginning a new day. Soak up the beautiful atmosphere and then make your way down the stairs to your next destination. Just beware of the monkeys on your way out!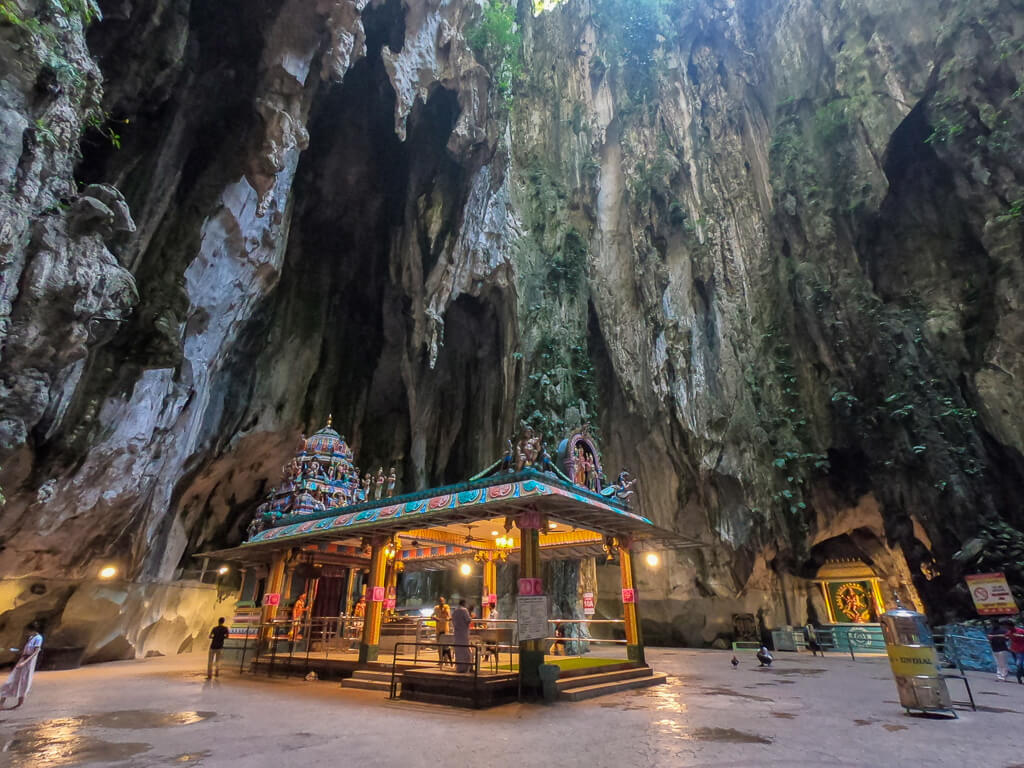 Walk Through the KLCC Park
After a relaxing morning in the caves, it is time to head to the KLCC Park for a morning stroll before the sun gets too hot. This park has various features, sculptures and photogenic areas, all of which are worth seeing. The park is even helpful enough to mark out each photo spot on the park maps, which can be found dotted around the area.
The major highlight of this 50-acre public space is the man-made lake, Lake Symphony. At noon and through the evenings, this lake is host to a fantastic water show, where water fountains shoot up to 42m into the air.
Admire the View of the Petronas Towers
Petronas Towers Viewing Deck – Adult 80RM / Child 33Rm
No 2 days in Kuala Lumpur are complete without seeing the beautiful Petronas Towers in person. From pretty much any point in the KLCC park, you will be able to see the towering structures of the Petronas Towers. The best view of the towers is down beside Lake Symphony, where you will be shadowed by the sheer size of the towers before you.
Entry to the viewing platform of the towers will cost you 80RM for adults and 33Rm for children. This platform offers stunning views of the entire city of Kuala Lumpur.
The best thing about visiting the Petronas Towers is how you can visit them twice for two completely different views. Admire them during the day and then return at night to see them lit up for a completely different sight.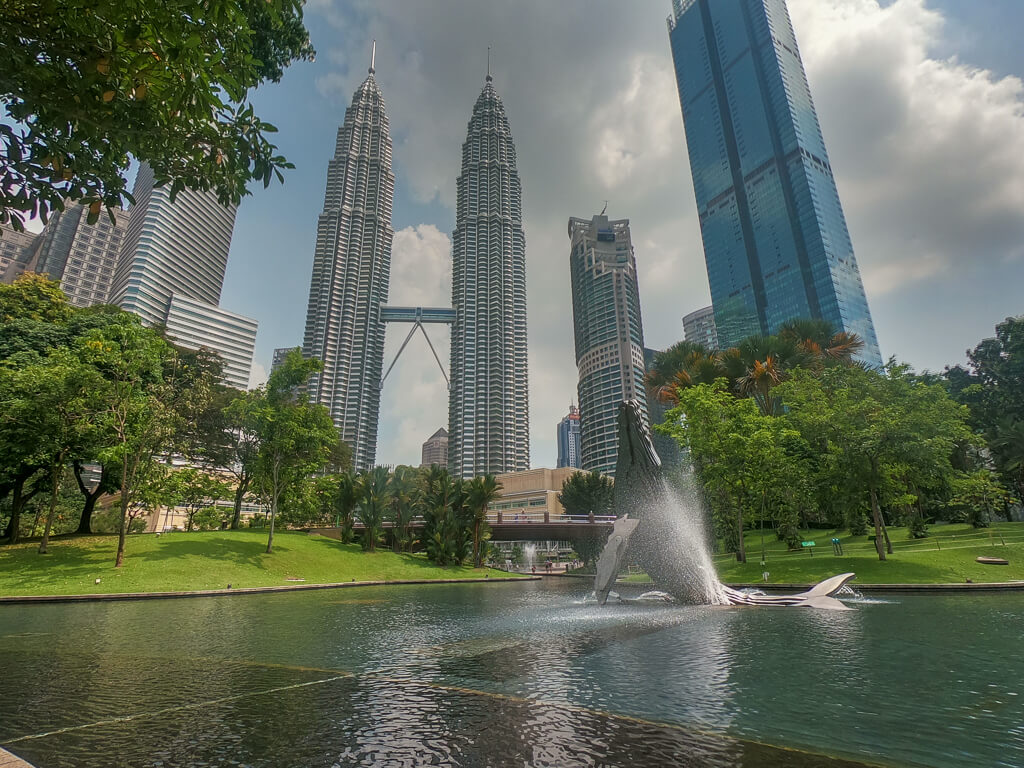 Pavilion Shopping Mall
Once you have had enough of the midday sun, it is time to check out the fascinating phenomena that are Malaysia's shopping malls. Due to the incredible heat that Kuala Lumpur is subjected to on a daily basis, residents and tourists tend to reside indoors from the sun as much as possible. From this, a culture of shopping malls has developed, and with it the maze-like Pavilion Shopping Mall has grown.
This shopping centre is so big, you can spend hours in here and still be unable to find the way you came in. The huge range of shops, from high-class to low-budget, make for a fantastic day away from the scorching heat outside.
Browse the windows, grab some ice cream and get your fix of retail therapy until it is time to head home to freshen up for the night ahead.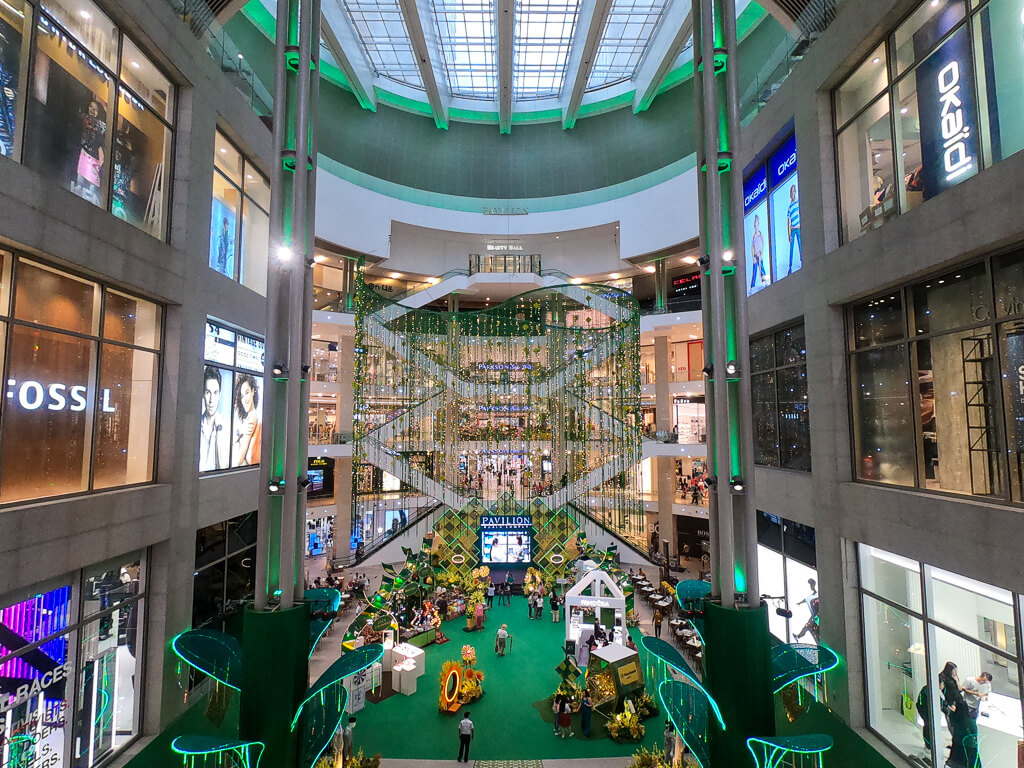 Nightlife at Jalan Alor and Bukit Bintang
Now it is time to check out one of the things Malaysia does best, street food. At night, the streets of Jalan Alor come to life in a celebration of food and culture.  As unique things to do in Kuala Lumpur, Jalan Alor has dishes from all over Asia being sold in the hawker house and food stalls lining this street. Here, locals and visitors rub elbows as they celebrate another day finished.
This is the ultimate place to come and enjoy the delicious street food that Malaysia is so famous for.
Nearby Jalan Alor is the nightlife district of Bukit Bintang. It is the fashion and entertainment district, lined with bars, restaurants and nightclubs. Head here for a drink and a mingle with the locals and enjoy the side to KL that is so underrated.
Our favourite place for a drink was the Irish Bar, Healy Mac's. Head here for live sports, good atmosphere and the friendliest bar staff we have ever met.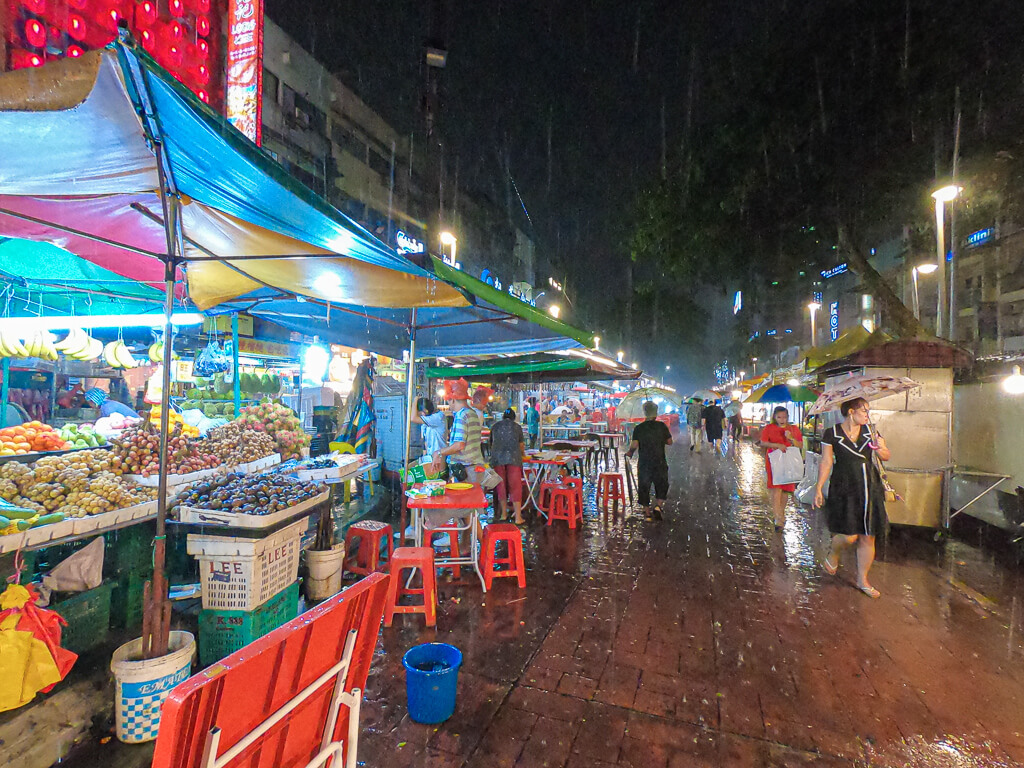 Also Read – Travel the World – Money Saving Tips
Day Two in Kuala Lumpur
Day 2 of this Kuala Lumpur itinerary once again starts off early in the morning. This day is filled with some of the most iconic places in Kuala Lumpur that simply cannot be missed. If you are leaving KL on this day, we recommend that you do not miss the Thean Hou Temple, the Central Markets and Jalan Petaling.
Morning Light at the Thean Hou Temple
Beautiful architecture, mesmerising colours and fascinating culture are what Thean Hou has in store for you. Head here for its opening time in order to beat the crowds and be able to enjoy the peace and tranquillity of the temple before the sun gets too high.
The main courtyard is filled with wind chimes, burning incense and beautiful designs and patterns, making it one of the most beautiful places we have ever visited. As you walk around the upper and lower levels, you can see glimpses of the city through the decorated red and white pillars, making this place feel almost dream-like; so close to civilisation, yet so separate and at peace.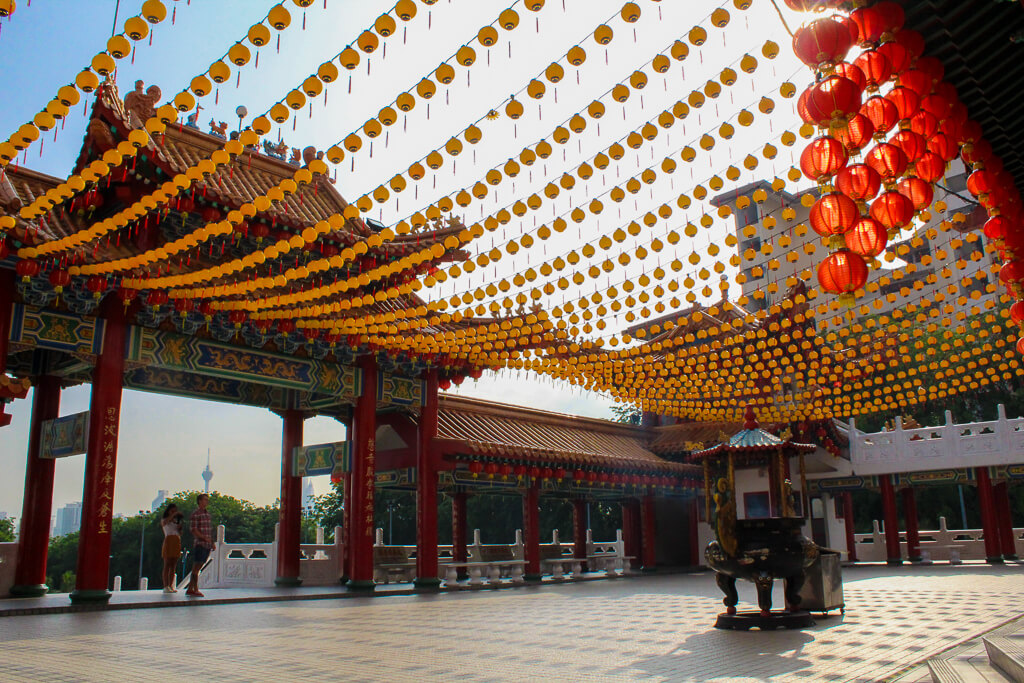 We recommend spending a good hour at this site, taking in all of its angles and reading about the history behind it. It is a Buddhist temple, which is also referred to as the "Temple of the Goddess of Heaven". Built-in 1894, the design of the building has the influence of Chinese traditional pagodas, with tiered roofs and engraved pillars
The temple opens its doors at 9am, so we would recommend getting here for this time, as tour buses begin to flood in around 9.30/10am.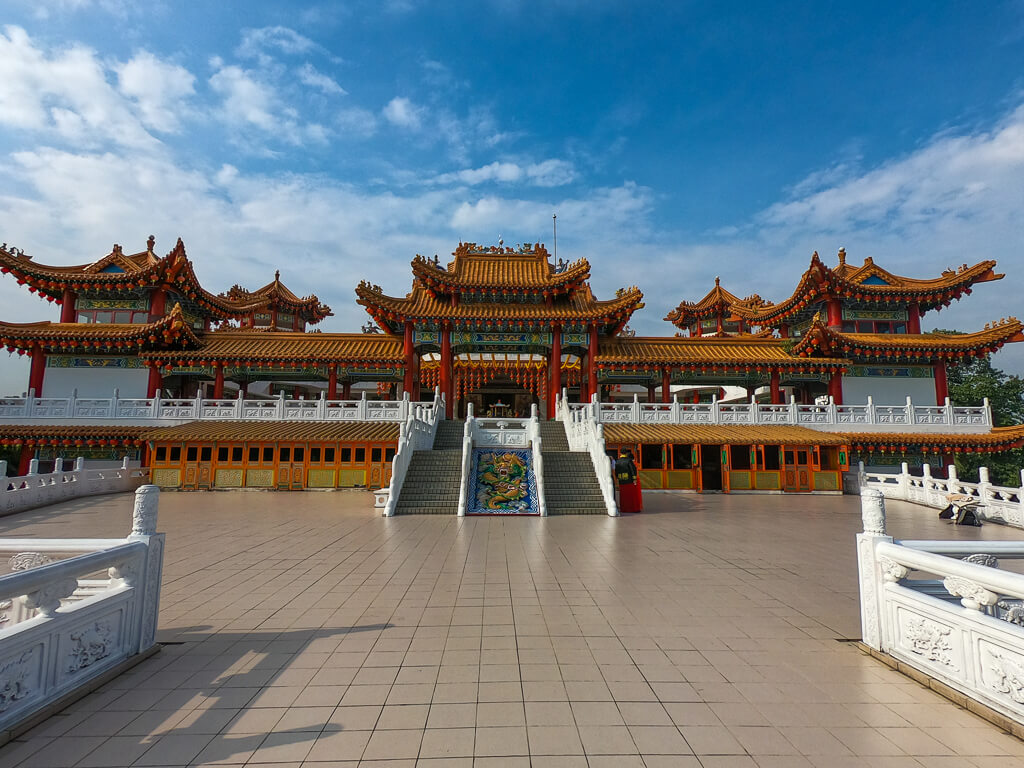 Little India for Brunch
After you have seen everything you have to see at the Thean Hou temple, it is time for some more delicious KL food. This time, however, we are going to enjoy the huge Indian influence on the culture here in Kuala Lumpur.
Beside KL Sentral station, you will find the district informally referred to as "Little India". Here you can eat the best of KL's authentic, delicious and unforgettable Indian foods, along with the local Indian ex-pats who now call Kuala Lumpur their home.
One of the best cheap things to do in Kuala Lumpur tries the delicious and highly recommend basic vegetarian banana leaf option, which is made up of a selection of curries, a buffet of rice and sauces and a chapati. This is all traditionally served on a large banana leaf and eaten with your hands, however, there is also cutlery if you aren't interested in that tradition.
We highly recommend the Mr Singh Restaurant for the cheapest and best vegetarian banana leaf plate in KL. This will cost you around 5RM and will fill you up for the day.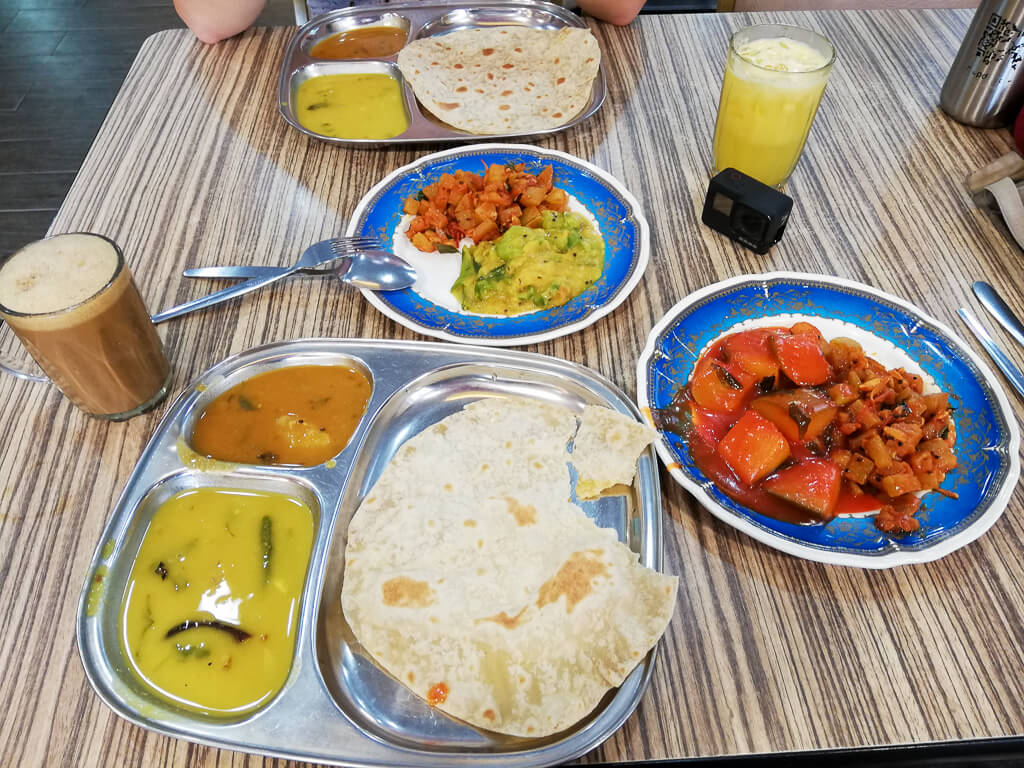 Sultan Abdul Samad Building
This beautiful building was constructed at the end of the 19th century, in 1897. At the time of opening, the building was used for British administration purposes. Today, it houses the Supreme and High Courts of Kuala Lumpur. It is also used by the Ministry of Information, Communication and Culture.
Although you are not permitted to enter the building itself unless on official business, the view of the building from the park opposite is a beautiful sight nonetheless.
Central Market for Souvenirs
Now its time for some souvenir shopping, and what better place to do it than the Kuala Lumpur Central Markets. These markets are in an old, brick building and mainly consist of clothing, jewellery and toy stalls.
Situated over two stories, this market is ideal for when the weather turns nasty and you need a place to hide. There is a food court upstairs, serving a wide range of cuisines, both Malaysian and foreign.
We recommend spending about an hour checking this winding collection of market stalls out before heading onto the next destination.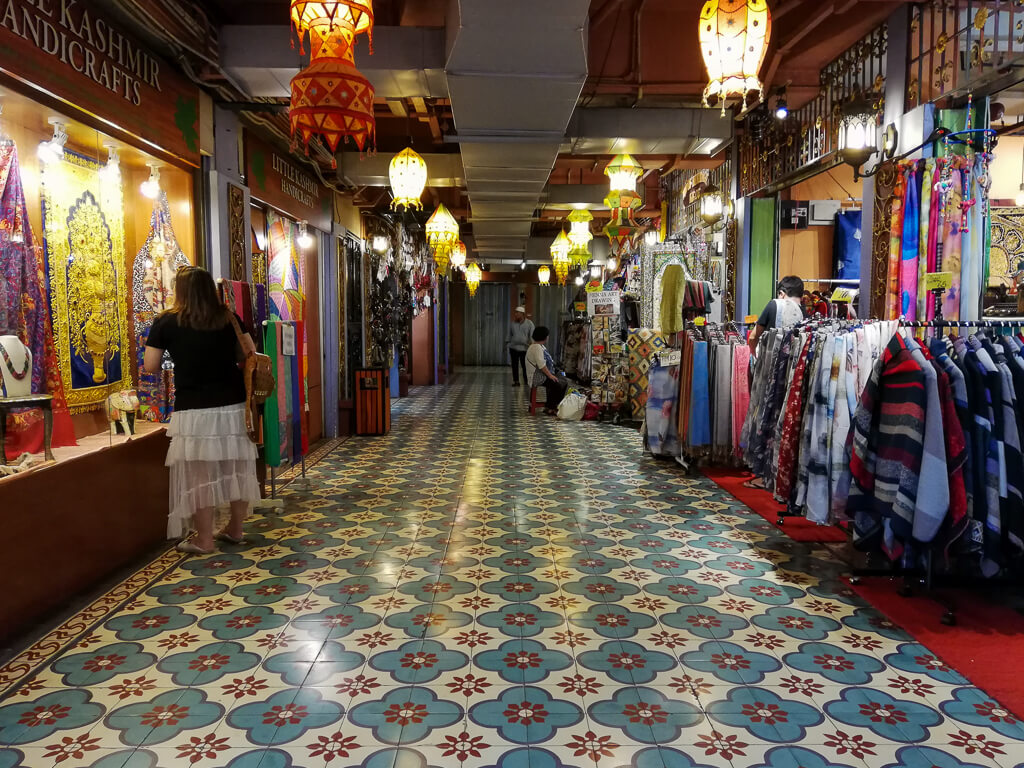 Forest Walkway at the KL Eco Forest Park
KL Eco Forest Entrance Fee – FREE
Perhaps the most unique place you will visit in Kuala Lumpur, situated right in the heart of the city is a treetop, jungle escape. Wander amongst the trees, away from the hectic city life just a hundred metres away from you and explore the treetop, canopy walkway in this Eco Forest Park.
Learn all about the different trees and other fauna that reside in this park and appreciate your time spent in nature, away from the worries of busy city life. You might even meet a new friend here, as sometimes this jungle is known to have monkeys. We never saw any during our visit, however, so I would not be too worried.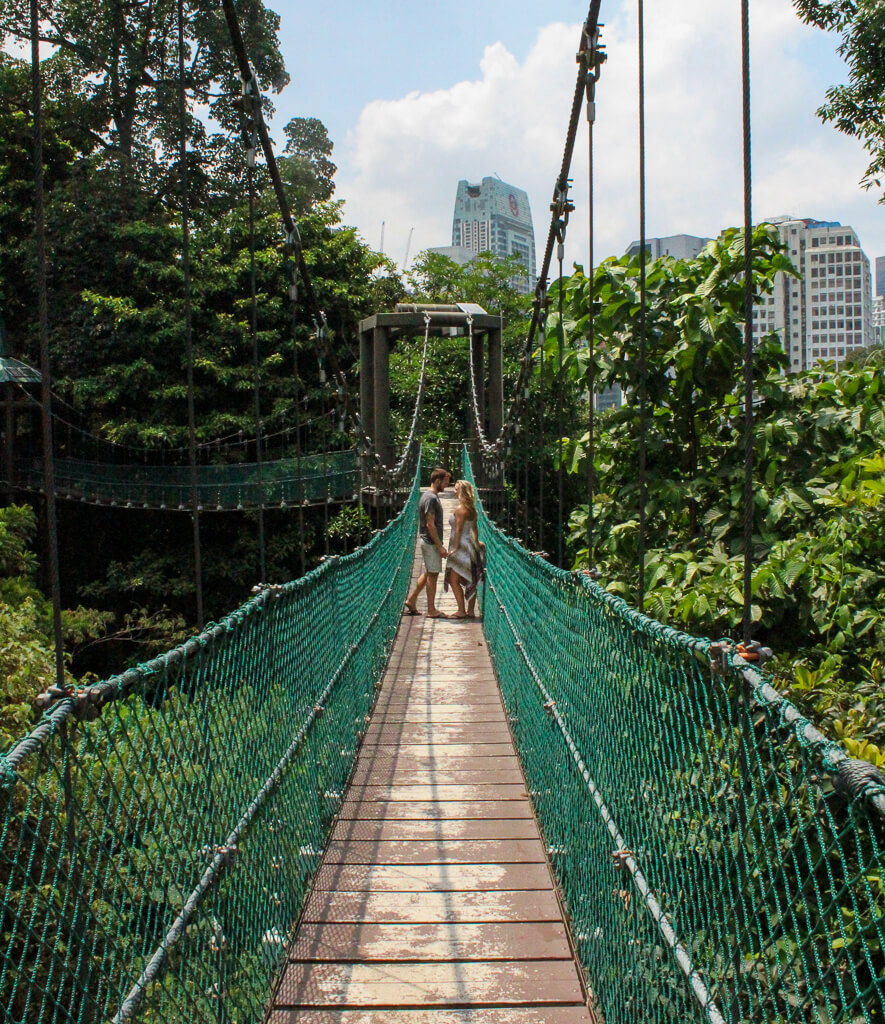 Jalan Petaling Atmosphere
Finally, it is time to check out Kuala Lumpur's second most impressive street markets, the Petaling street markets. This area is part of the Chinatown region of KL and has decoration to suit this. Lined with market stalls, selling everything from food to clothes, this area of markets is actually multiple streets all crisscrossing in a maze-like formation.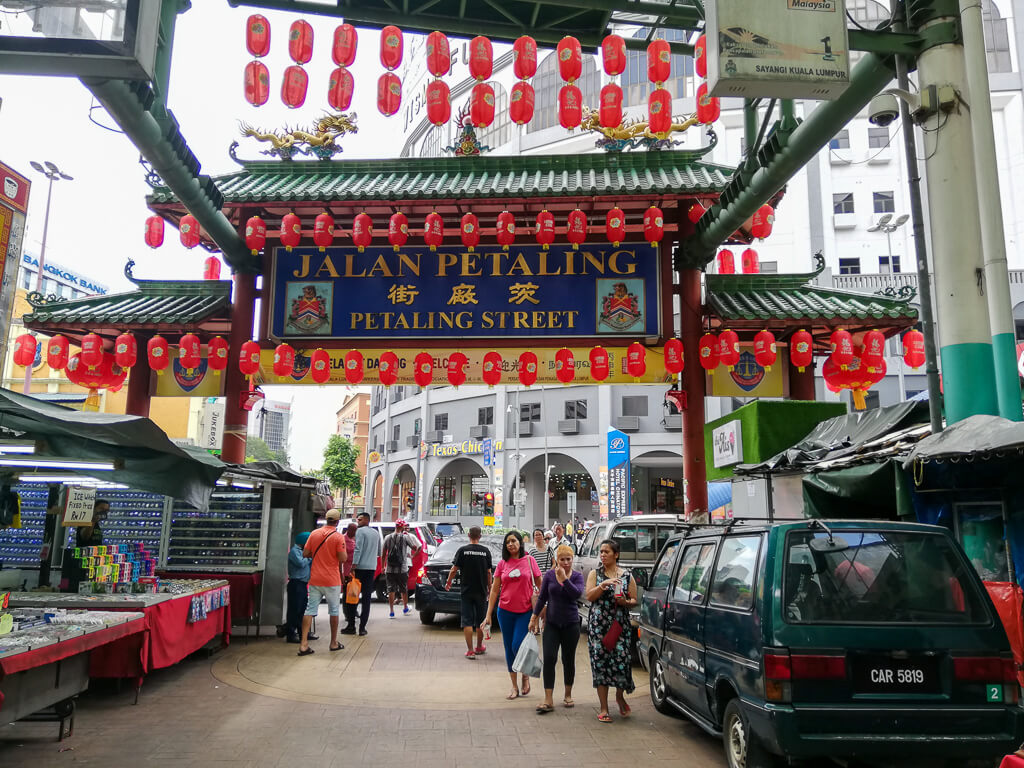 Head through the back of the market area and you will find more food stalls, all filled with locals enjoying their different meals. A lot of these food stalls (locally know as Mamaks) offer a buffet style of foodservice, where you help yourself and pay at the kiosk based on what you choose.
The street food culture in Malaysia is so important and the food is so cheap, most locals never bother to cook!
Also Read – Traveling Southeast Asia as a Couple – What We Have Learnt
Seasonal Activities in Kuala Lumpur
Throughout the year in Kuala Lumpur, there are numerous special occasions and celebrations from all of the various cultures and religions that reside in the city. From Chinese New Year to the Hindu Deepavali, the city is alive with beautiful celebrations.
These festivals and traditions happen all throughout the year and sometimes vary in time, so it is important to research the dates for this year before you plan a visit.
Batu Caves Thaipusam Ritual
Once a year, usually during January and February, Hindus from all over Malaysia flock to the city of Kuala Lumpur, all for the celebration of Thaipusam. This colourful celebration honours the Hindu god Subramanian, with most of the festival taking place at the large limestone caverns of the Batu Caves. During this festival, pilgrims inflict pain upon themselves in the form of piercings of tongue and face, as well as piercing the skin with hooks which are used to drag sledges behind the devotee.
The festivities happen over a three day period, beginning in the early hours of the morning at the Sri Mahamariamman Temple in Chinatown. From here, a giant statue of Lord Subramanian is carried to the Batu Caves, followed by hundreds of worshippers. It is here that the worshippers begin to show devotion by inflicting pain upon themselves, before pulling constructs known as "kavidis", which contain offerings, up the 272 to steps to the caves. Not all devotees do this, however, as some simply carry their offerings, like milk and flowers, up the stairs.
This festival lasts for three days, continuing all through the night as Hindus try to get to the top of the Batu Caves to give their thanks to the gods.
Despite the deep, religious significance of this festival, non-worshippers are more than welcome to attend, get involved in the celebrations and take pictures of the celebrations.
Chinese New Year
One of the largest celebrations in Chinese culture is the annual festival of Chinese New Year. Lasting 15 days, this celebration marks the start of the Chinese lunar calendar and is one of KL's largest cultural events.
During the weeks leading up to the Chinese New Year, there will be decorations, dances and much more happening around the city in anticipation of the festival. All of this stems from the legend that Chinese villagers used to be terrorised by a demon called "Nian" on the first day of the New Year. In order to scare it off, they would use loud noises and blinding red decorations over the period surrounding this date.
Other traditions include a good house cleaning, to "sweep away the bad luck" and giving Ang Pows to children (red envelopes with money inside) to ensure good fortune in the coming year.
The dates of Chinese New Year change every year, as the lunar calendar does not follow the universal calendar. Make sure you research the dates for this year before you book a trip to KL.
Bazaar Ramadahan
Throughout the month of Ramadan, you will find huge street markets around the city of Kuala Lumpur. Ramadan is the holiest month for Muslims, where participants must abstain from eating and drinking during daylight hours.
Due to the huge food culture and Muslim population in KL, Ramadan is also a massive celebration of food, family and friends. Throughout the city of KL, you will find huge night markets known as Bazaar Ramadan, where locals will meet, socialise and break their fast together, once the sun goes down.
These vibrant and buzzing food markets can stretch up to 2km in length and are the perfect place to try some of Malaysia's best foods. The atmosphere around these areas when the sunsets and the locals celebrate another day by breaking their fast is simply joyful.
Mid-Autumn Festival
Also known as the Moon or Lantern Festival, this celebration marks the start of the summer harvest season of their ancestors, as well as the fall of Mongolian rule after the uprising. On the day of this rebellion, the leaders of the rebellion delivered thousands of mooncakes around towns, all containing a slip of paper that stated the time of the uprising. On the night of the Moon Festival, this rebellion began and was successful in liberating the Chinese of these rulers.
During these festivities, celebrations include making and eating mooncakes of all shapes, sizes and flavours. People attempt to outdo each other with the fanciest designs and wackiest flavours, some of which is straight off the wall, such as durian fruit and coffee.
Festival of Lights
Deepavali, or "Diwali", is the Hindu celebration that marks the triumph of good over evil. The festival commemorates the return of Lord Rama to his wife, after 14 years in exile. During this festival, the night comes to life as lights and candles are lit throughout the city.
Deepavali is a time where people open up their houses to guests, and celebrations involve feasting on the huge range of delicious Indian food that KL is famous for. The vibrant colours, smells and sounds make Diwali a celebration that is famous throughout the world and is certainly one to consider seeing if you are planning a trip to Malaysia.
Also Read – Best Bank for Travelers – Starling vs Monzo Card Review
How to Get Around Kuala Lumpur
The city of Kuala Lumpur is actually very big, with many of the sights in this itinerary being quite spread out. Luckily, transport around the city is very affordable, with both taxi and public transport options offering very cheap rates. Here is everything you need to now about how to get around Kuala Lumpur.
Taxis
By far the most popular option for getting around the city, Taxis in KL are incredibly cheap. Using online taxi apps, such as Grab, you can order a taxi from your phone to anywhere in the city, perfect for chasing sunrises. During the mid-day sun, taxis are also an excellent way to escape the heat for 15 minutes between each sight.
When using taxis in Kuala Lumpur, you will need cash when paying, unless you set up an online wallet with the taxi apps. Having a few small bills is therefore recommended, as most of your trips will cost below 10RM.
Due to the obvious implications of city pollution that is caused by the overuse of cars in major cities, we do need to ask you to try to limit your use of taxis as much as you can whilst in KL. We tried to only use taxis when public transport was either shut or did not take us to our destination.
Public Transport
The most ethical way of getting around KL is definitely by public transport in Kuala Lumpur is also very cheap and advanced, offering a diverse network of rail and bus services around the city. Visitors can choose between the Light Rail train and the Monorail for getting around the city, and the MRT SBK line to get to sights out-with the city centre.
If you plan on using the public transport network over a couple of days, your best option is to buy a Touch 'n' Go card (TNG), which costs 20RM (including 10RM credit). This pass gives discounted travel on most of the services.
The prices of your trips will depend on where you are heading to, however, you can expect to pay anything between 1RM to 10RM for a single trip. For example, using the train to get from KL Sentral to Batu Caves will cost you as little as 2.6RM.
The best feature of the public transport service in Kuala Lumpur is the Go KL City Bus. This fleet of bright pink buses will transport you on 4 routes around the city, covering most of the top tourist attractions, and it will do this for FREE. These buses also offer a good opportunity to use the free AC and Wifi that is on board as well.
Before You Leave for Kuala Lumpur
Before you leave on your trip to Kuala Lumpur, there are a number of things you will need to get organised in order to ensure a smooth and successful trip. These include getting a visa, sorting out travel insurance, deciding on what to pack and booking a place to stay in Kuala Lumpur. All of these points are discussed in detail below.
What Visa Do You Need for Malaysia
In order to enter Malaysia, you will need to ensure you have the appropriate visa, in addition to meeting the other requirements such as proof of onward travel and suitable financial support. With regards to the visa, if you are a member of the UK, you are granted 6 months visa-free access to Malaysia. A similar agreement has been made with multiple other countries, the full list of which can be viewed here.
If you are not a member of one of these countries, a visa can be organised on this website here.
What is the Best Travel Insurance for Kuala Lumpur
Whatever type of adventure you plan to embark on, the most important purchase you can make is always travel insurance. Accidents can happen anywhere and at any time, so the last thing you want is to have your holiday ruined by extortionate medical bills. We always sort our travel insurance with World Nomad's travel insurance to ensure we are covered for a stress-free trip.
World Nomad's Travel Insurance offers incredibly diverse and inclusive policies combined with worldwide customer support, designed with backpackers in mind. The policies they offer are all very reasonably priced and can be booked from anywhere in the world, even if you are not currently in your home country.
You can get your quote before you leave on your trip right here.
What to Pack for Kuala Lumpur
The tropical climate of Malaysia ensures that there is only one temperature in Kuala Lumpur, HOT. The midday sun in KL is sweltering, with the only relief being during the daily downpours of rain that happen around 2pm like clockwork.
Thankfully, this means that packing for Kuala Lumpur is a light and simple task. Most of the clothing you will be packing will consist of floaty clothing, shorts and vests, with an exception of a waterproof for the daily monsoons that KL is subject to. We suggest packing a poncho into your day bag for when you are out and about, just in case the rain catches you off guard.
Check out our Summer Packing List for Women and Summer Packing List for Men for some clothing inspiration for your trip to paradise.
Where to Stay in Kuala Lumpur
One of Kuala Lumpur's most memorable qualities for backpackers and holiday-makers alike is the affordability of the incredible accommodation throughout the city. If you are budget backpackers like us, KL offers the perfect opportunity to treat yourself to accommodation that is normally wildly out of budget. We highly recommend taking advantage of the affordability of accommodation in Kuala Lumpur and make the most of your stay.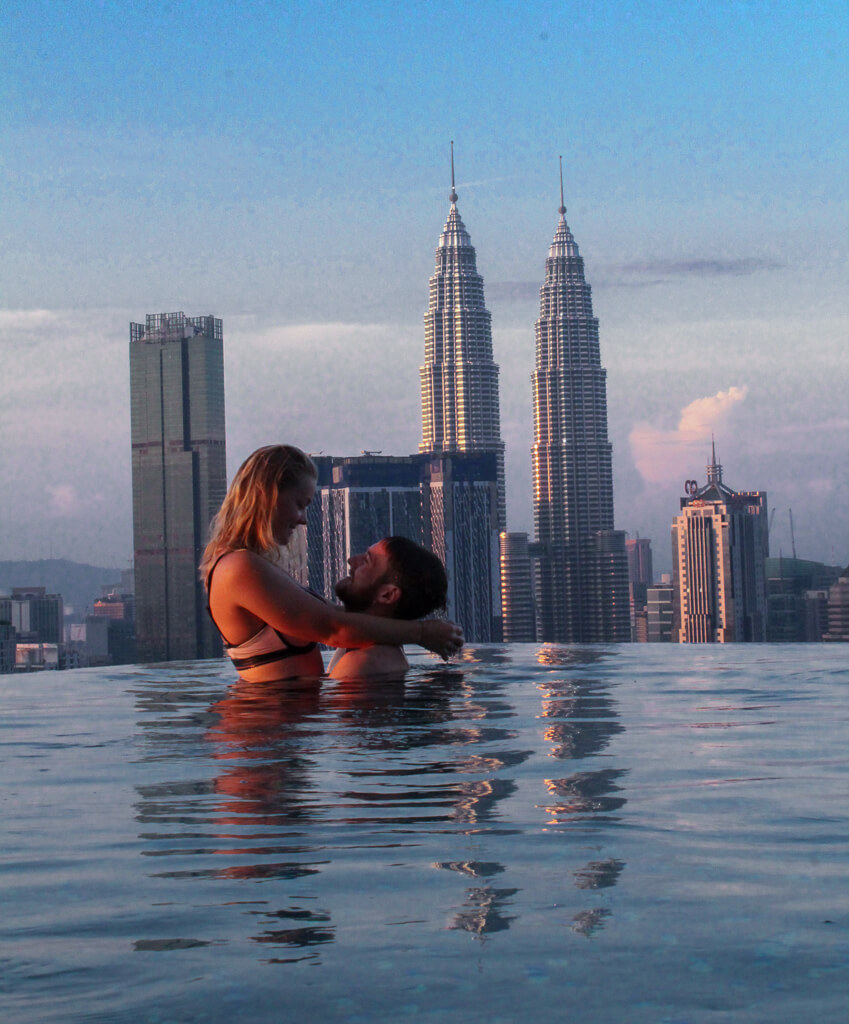 Regardless of your budget, you are going to find KL has the perfect accommodation for you. Here are the best places to stay in Kuala Lumpur for all budgets that we could find.
Luxury – For a luxurious stay in the heart of the city of Kuala Lumpur, the best place to stay is at the PARKROYAL Serviced Suites. Just walking distance from the local public transport, this hotel is perfect for exploring the city by day or night, before relaxing in the luxurious suites later. With free wifi, self-catering facilities and fantastic amenities such as a swimming pool and gym, this stay make for the perfect accommodation.
Book your stay at the PARKROYAL Serviced Suites right here.
Mid-Range – *RECOMMENDED STAY* For an affordable stay in serious luxury, the Expressionz Professional Suites by iHost Global are a backpackers dream. We stayed here for 3 nights and it was the most luxurious stay we have ever experienced, at an incredible price. The rooftop infinity pool offers surreal views of the KL skyline, which is worth the price of accommodation alone.
Book your stay at Expressionz Professional Suites by iHost Global here.
Budget – For a budget stay that also offers a comfortable time in Kuala Lumpur, Ali HomeHotel is the place for you. Situated just 8km from the Petronas Towers, getting in and out of the city is easy and you will be away from the busy city noise. With AC as standard and free Wifi included, this makes the perfect basecamp to rest your head in.
Book your stay at Ali HomeHotel here.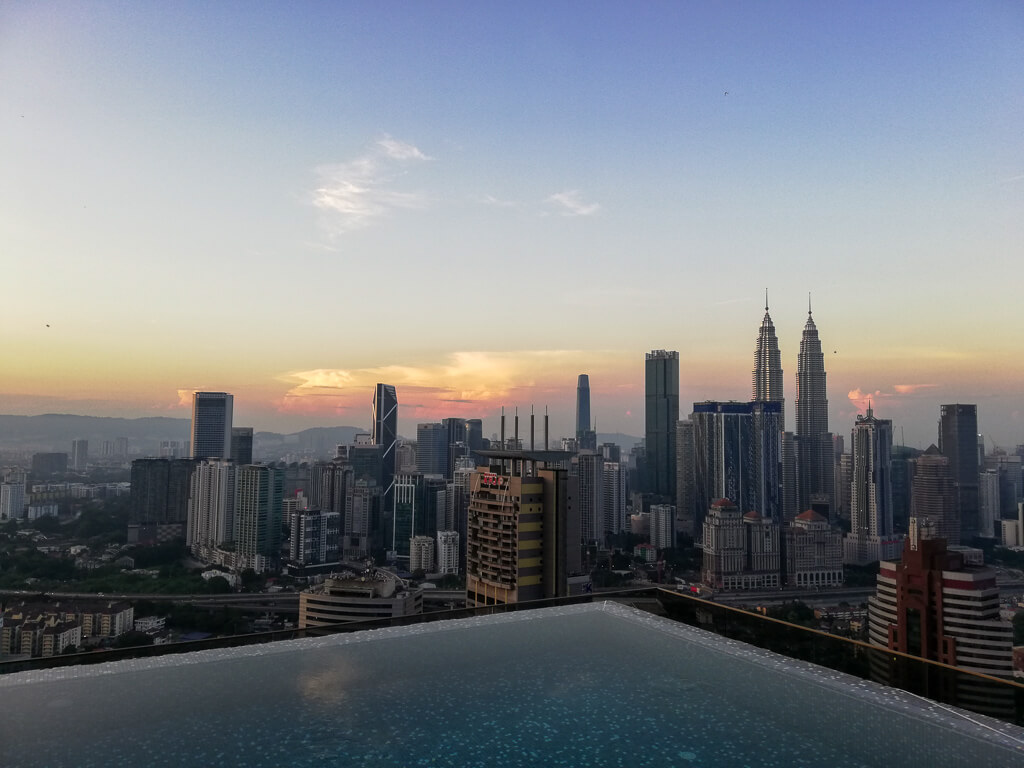 So there you have it, ultimate Kuala Lumpur Itinerary for 2 Days in the big city, with all of the best temples, markets and food stalls KL has to offer. If you have been to Kuala Lumpur recently, let us know how you found it in the comments below. What were your favourite sights? What did you think of the culture? Where was your favourite area? Let us know in the comments below.
If you are planning a full trip to Malaysia, make sure you check out the rest of our guides and Malaysia content to ensure a stress-free adventure. We will gladly answer any questions you have with regards to your trip, so either DM us or send us an email.
Don't forget that sharing is caring! Be sure to share this article with your family and friends to let them know all about your big plans. Maybe even inspire them to visit Kuala Lumpur themselves! Catch up with us on social media and see what we are currently up to. Tag us in your photos from your Kuala Lumpur adventure on Instagram so that we can share them with the rest of our community.
Now Read: 
This article may contain affiliate links that provide us with a small income. For more information read our Affiliate page.
---
Save this to your Malaysia Pinterest board for later!