If you are travelling to the UK this winter, you shouldn't miss visiting England's southwestern tip, Cornwall, encompassing crystal blue waters, splendid countryside, and high cliffs. Cornwall has been one of the most loved staycation destinations in the UK. 
While most people visit Cornwall during summer for its hot weather, beaches, and lots of surfing, some travellers visit this gem during winter. And the inspiration for visiting comes from the great things to do in Cornwall in the winter and it being a more quiet and peaceful time. It is the best place in England to be toured not only during summer only but also in winter. 
So, here is the complete guide on things you can do in Cornwall during your vacation on winter and rainy days. Just read through each heading and plan your trip accordingly.
No time to read now? No problem, save a pin to your Pinterest board for later!
Top Things to do in Cornwall in winter
Walk through the waves on the beach
Wild Swimming in Cornwall
Surfing in Cornwall
Explore the stunning Cornish villages
Travel around the tropical gardens
Witchcraft and Magic Museum
Lanhydrock House
Dark Wall
Reimagining Reality
Falmouth Art Gallery
Royal Cornwall Museum
Bude Sea Pool
Mount Edgecumbe House and Country Park
The Camel Trail
Cornwall Wildlife Trust

Preparing for your trip to Cornwall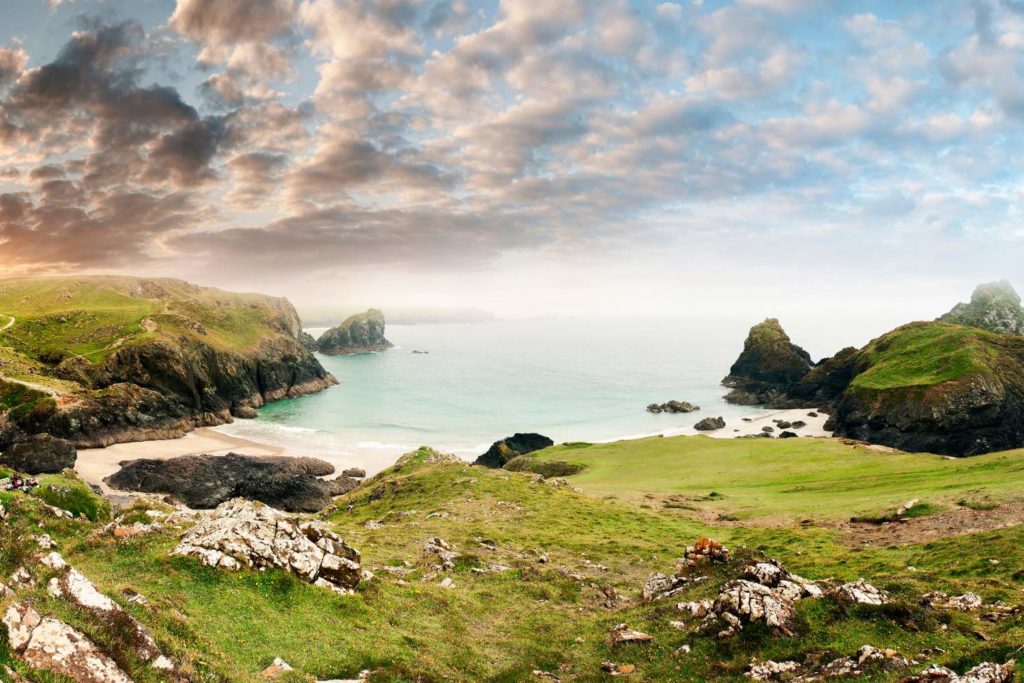 Fun wintery things to do in Cornwall
The trip to this isolated place in southwestern England can be your life's most memorable tour, filled with adventurous activities, a relaxing environment, and friendly locals. So, before planning a trip to Cornwall in winter, you should know all the fun things to do in Cornwall in the winter.
Walk through the waves of enticing beaches
You would be very brave to try and sunbathe in Cornwall in winter, however, you will still be graced with stunning beaches and potentially some pleasant weather at somepoint during the winter months. You can witness a spectacular sunset and walk around the beach with no crowd. Some beautiful famous beaches are Fistral Beach, Watergate Bay, Porthmeor Beach, Porthtowan Beach and Perranporth Beach to name a few.  
Many people don't visit Cornwall during winter so, it makes the place much more enjoyable as there will be fewer traffic jams and people. Hence, beaches will be quiet too. You can enjoy walking or sitting by the coasts with some gorgeous views.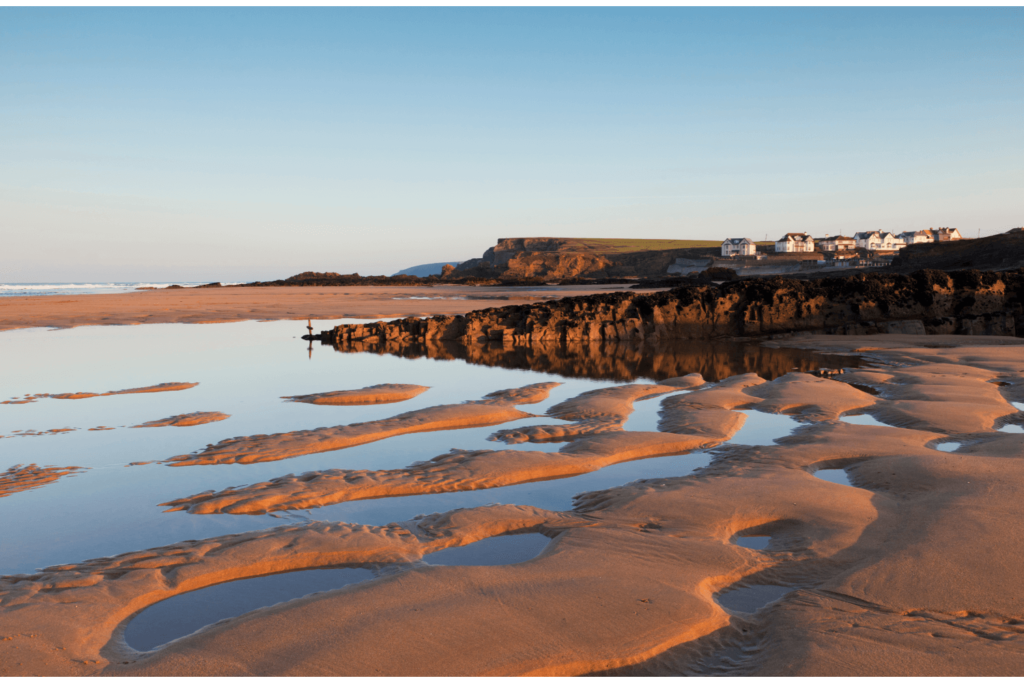 Wild Swimming in Cornwall
If you are willing to brave the cold water, wild swimming in Cornwall is very popular and a great way to get outside during the winter months.
There are many beautiful beaches and wild swimming holes that can be enjoyed in Cornwall, however, make sure that you follow these tips to keep safe in the open water.
Surfing in Cornwall
Cornwall is one of the most popular places in the UK to go surfing, and visiting Cornwall in winter is no different.
Many rental shops may be shut during the off-season, however, there will be some places around where you can find a rental board in Cornwall.
Explore the stunning Cornish villages
Cornwall is well-known for its gorgeous coastline & picturesque countryside. But what will take your breath away are the beautiful old villages in Cornwall.  Exploring these villages is one of the must-to-do things in Cornwall in the winter. 
Some of the more popular villages in Cornwall are Mousehole, Padstow, Port Isaac, Zennor, Portloe, Charlestown, Coverack, Cadgwith, and Polperro. It will be an unforgettable experience to visit these villages.
You may wish to stay in a cottage in Cornwall during the winter and there are many to choose from in these villages.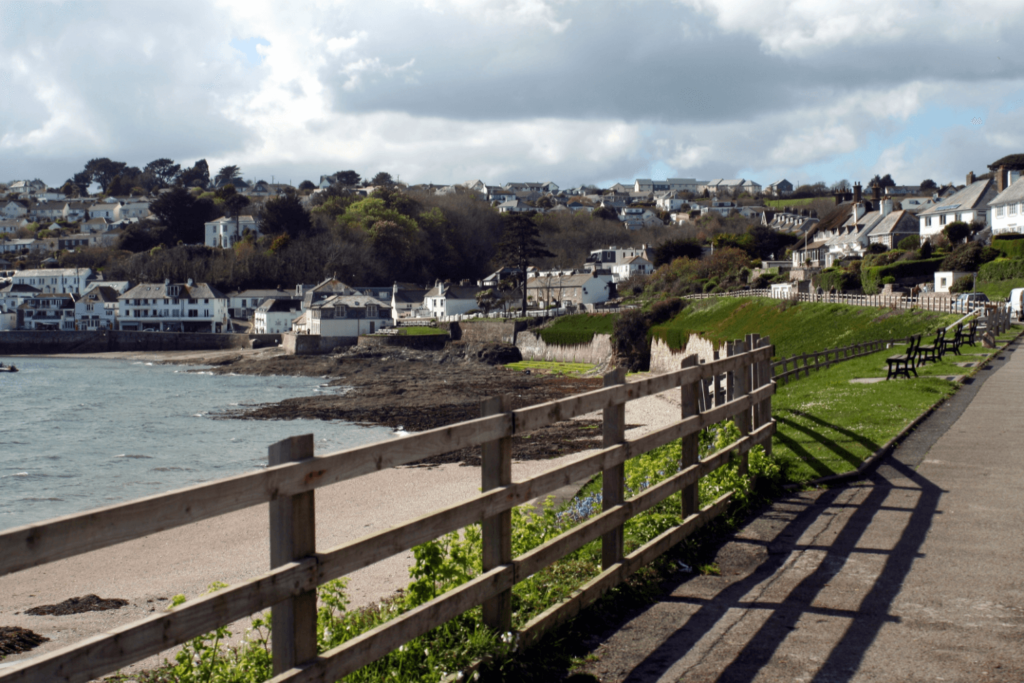 Travel around the Tropical gardens
Visiting the gardens during winter might not sound like the best idea, but if the weather is dry there are some lovely gardens to visit in Cornwall that will be luscious and green after rainfall.  Trelissick House is a National Trust Site near Truro and is a spectacular garden with a private cove and a stunning old house. Trelissick House is dog friendly.
Another magnificent place and the most popular among tourists is the Eden Project. It is dedicated to encouraging sustainability and has a giant glass of bubble-like biomes settled in a crater with various plants and flowers.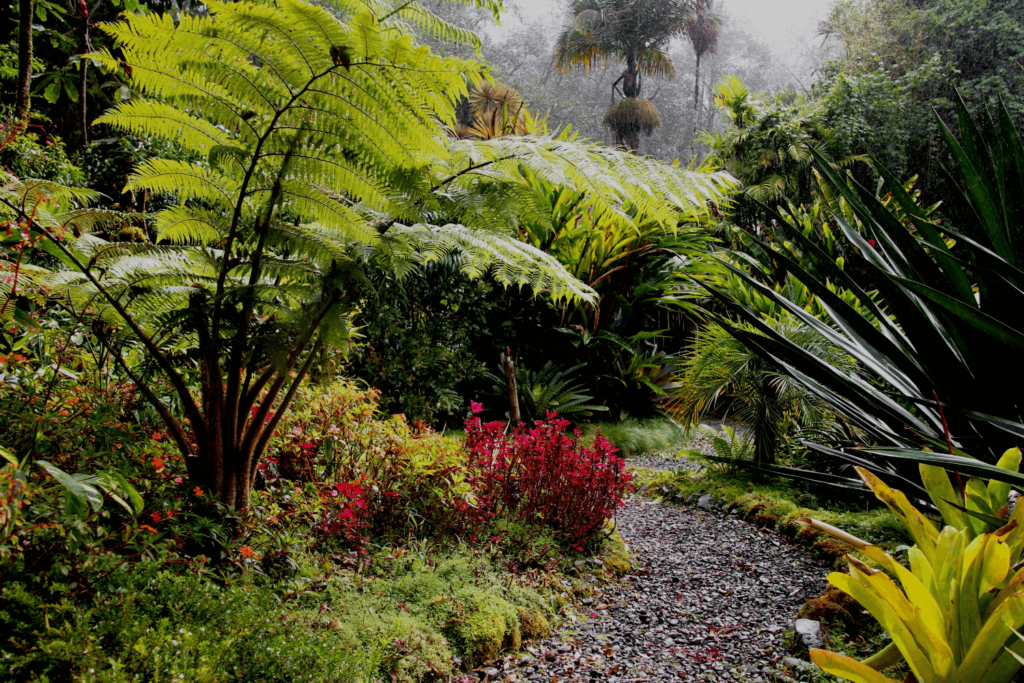 Pleasant things to experience in Cornwall during rainy days
The weather in Cornwall during winter is dynamic and highly changeable. However, even when it rains there are places that you can enjoy indoors. So, here is the list of indoor things to do in Cornwall in the rain that you must try:
Visit the quirkiest Witchcraft & Magic museum
The Boscatle's museum of witchcraft and magic is one of the most loved tourist attractions in Cornwall. The museum is one of the largest museums in the world devoted to witchcraft and is inspired by JK Rowling's Harry Potter. Although we have listed this as a winter activity, it is important to note that it closes on 31st October so will not be relevant after that.
Delve into the Victorian Era at Lanhydrock House
The Lanhydrock House is a late Victorian home nestled in heavenly woodlands in Bodmin and is another National Trust Site in Cornwall. There are walking trails and cycle routes and a park cafe onsite if you need to escape the rain. The house is dressed in the victorian era from top to bottom. There are three routes to exploring the whole house- Kitchen, family, and Lady R's Bazaar.
Experience the spooky history of Cornwall at Dark Walk
The dark walk is one of its kind places to visit when you are in Cornwall. If you are with kids, don't forget that only 10+ years of kids are allowed to get in here. This place offers the mesmeric and interactive discovery of the most haunting histories of Cornwall. Stories of this southwestern coast are retold here, and you can see yourself transported to life within the walls of 18th-century prison.
Take a definitive adventure at Reimagining Reality
Reimagining Reality is an imaginative exhibition in Bodmin in Cornwall. Here you can experience the phenomenal peculiarities of science with collective exhibits. Touring this another-world kind of gem is one of the best things to do in Cornwall in the rain. If you are not a science enthusiast, don't worry, you will become a lover of art by observing the incredible artwork here. 
Look at the awe-inspiring art at Falmouth Art Gallery
Falmouth Art Gallery in Cornwall is one of the award-winning houses consisting of significant art collections. The Falmouth Art Gallery features the work of major artists like Sir Frank Brangwyn, Grace Gardner, Sir Edward Burne-Jones, Thomas Gainsborough, and more. The artwork here is just as incredible as its surroundings. 
Falmouth Art Gallery's collection includes Pre-Raphaelite, British Impressionist paintings, contemporary prints, and children's artwork. Visit this place and fill your heart with the artistic sights of an artist. 
Engage in lifetime experiences during the trip at no cost
No matter your budget, there are still free things to do in Cornwall in the winter. Yes, you read it right. From countryside walks to discovering fascinating history, there are cheap days out in Cornwall where you can enjoy living. Below is the list of all those free things that you can venture into during your trip.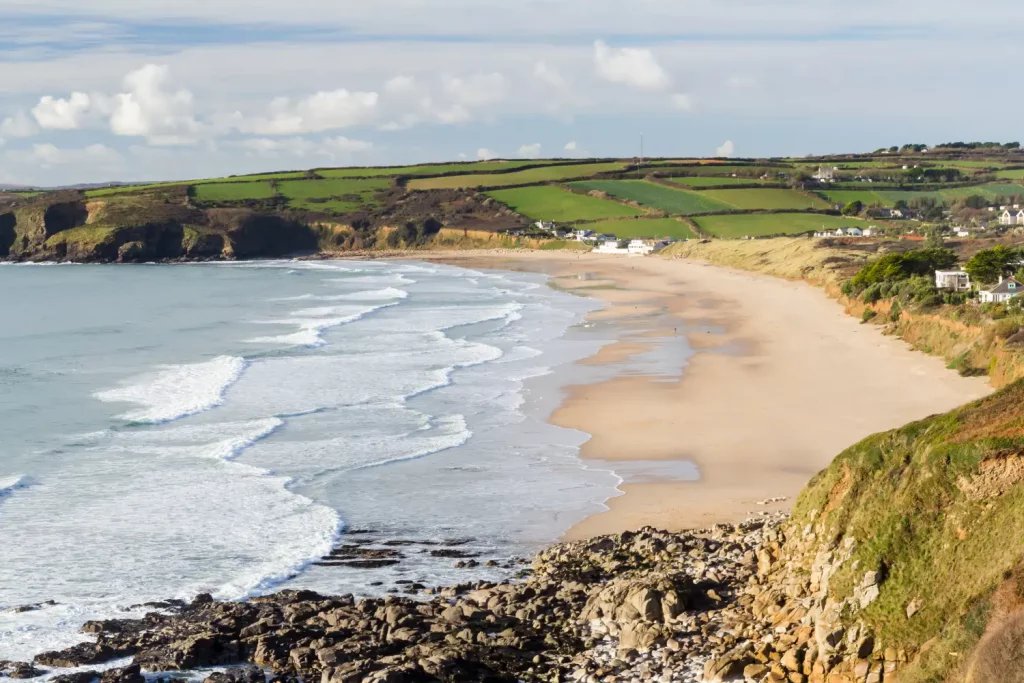 The Royal Cornwall Museum
The Royal Cornwall Museum in Truro is an ideal place to visit if you are tight on budget but still want to explore something captivating. It is a perfect day outing during rainy hours where you can discover Cornish life in different ways without spending a penny. 
You can browse exhibitions and engrossing collections to know about Cornwall's intriguing heritage. It can be a perfect day out with kids, so be sure that you don't miss this adventure.
Cornwall Beaches
Cornwall beaches are crystal treats added to your holiday package free of cost. Yes, you can visit these beaches anytime in the day without paying a single penny. These beaches are one of the illustrious assets of Cornwall and somewhere that everyone loves to visit. 
From vibrant seaside resorts to several hidden coves, a day here offers one of the cherished free things to do in Cornwall in the winter. Winter is the best time to spend a day on the beach with less crowds.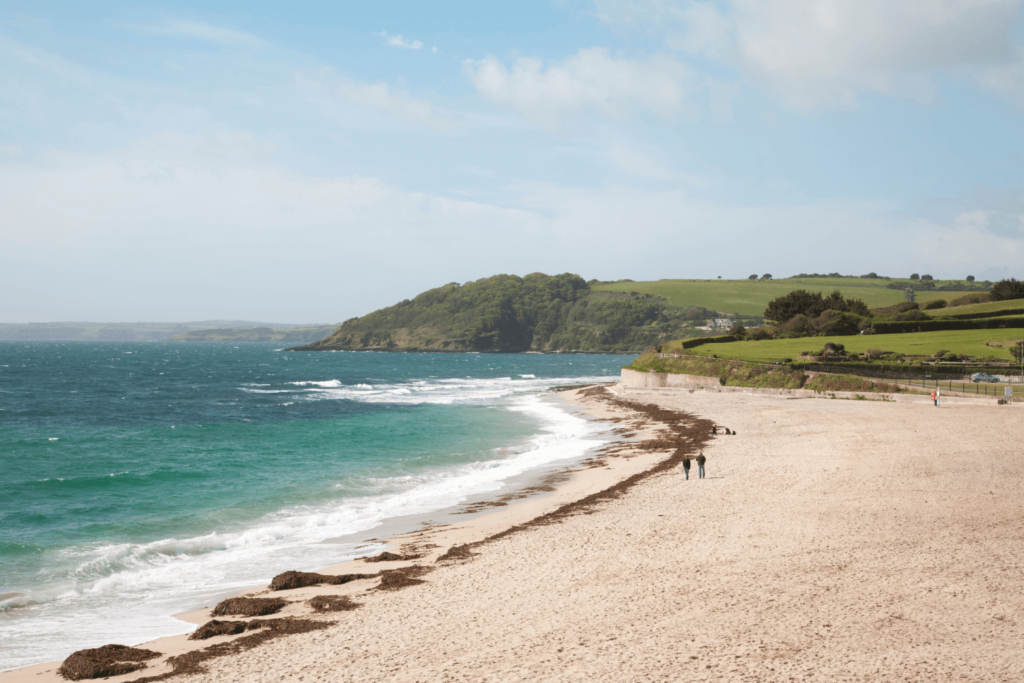 Bude Sea Pool
Bude Sea Pool offers a great day out in Cornwall. Here you can bathe safely come rain or shine. Since 1930, it's been a popular spot for a day out in Cornwall. Even during winter, it retains the summertime atmosphere with many people enjoying the cold water swimming in Cornwall. 
The Camel Trail
It is an idyllic route to explore on a sunny day in the winter in Cornwall for all thrill-seekers, cyclists, horse riders, and strollers. While walking or cycling between Padstow and Wenford Bridge, you can admire the lush green scenery past Wadebridge and Bodmin on the way. 
If you want to explore the gorgeous countryside of North Cornwall, there is no better way than a day tackling Camel Trail.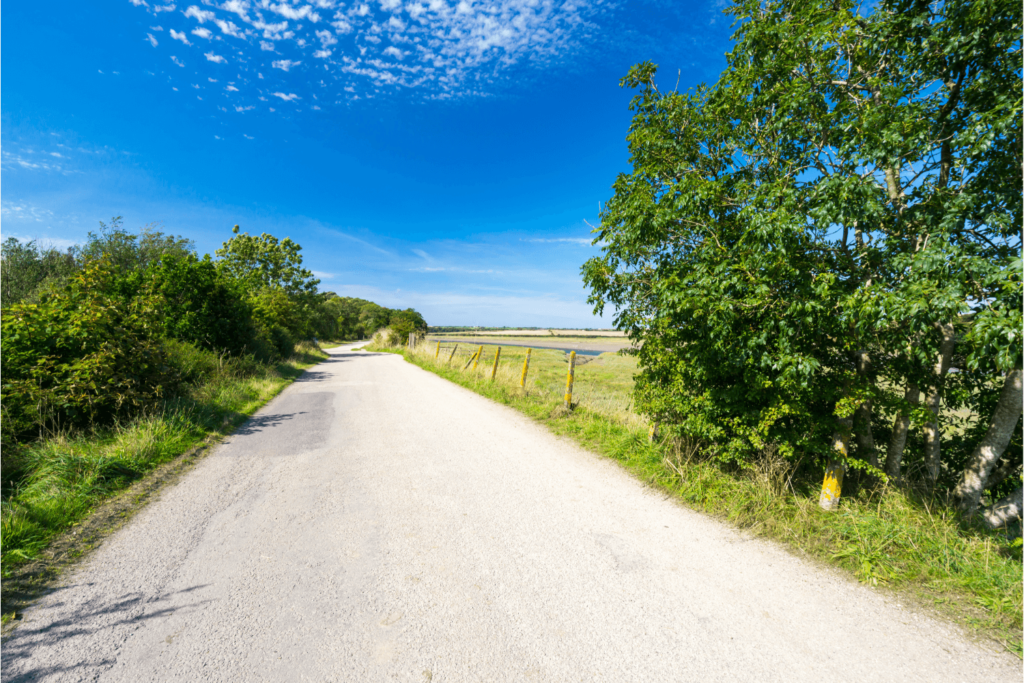 Cornwall Wildlife Trust
Cornwall Wildlife Trust is another no-cost treat for your vacation. A day out to see varied Cornish habitats that live both on land and at sea. Nestled across Cornwall having 55 nature reserves and conservation projects offers an opportunity to learn more about Cornwall and its wildlife. 
The wildlife trust is a charity, and it only relies on donations, so this is a definitive free thing to do in Cornwall. 
When is the best time to visit Cornwall?
The best time to visit Cornwall is anytime during the year. But if you want to consider coming in a particular season, that depends on what kind of holiday you are looking for. One of the chief factors that determines the best time to visit is how busy it will be at that particular time. 
So, if you plan to spend a quiet time free from crowds and traffic jams, winter is probably your season to visit. In winter, there will hardly be any tourists. Most people love to travel across this place during the summertime because the weather at that time is quite incredible. 
Cornwall has now become a year-round destination. But during winter, it is mostly empty, so if you are travelling here during that time, you are most likely to enjoy crowd-free adventures. You will find a place to stay easily, and you can enjoy Christmas and  New year in a new country with the locals. 
Well, Cornish winter is always consistent and described in three words; Warm, Windy, and Wet. Also, winter is that time in Cornwall when nature puts its most astonishing side. It is an undeniably romantic place during winter with the feeling of solitude and oneness with the landscapes you get at this time of the year. 
So, plan your trip around winter to have the best time with multiple adventures and things to do in Cornwall in the winter.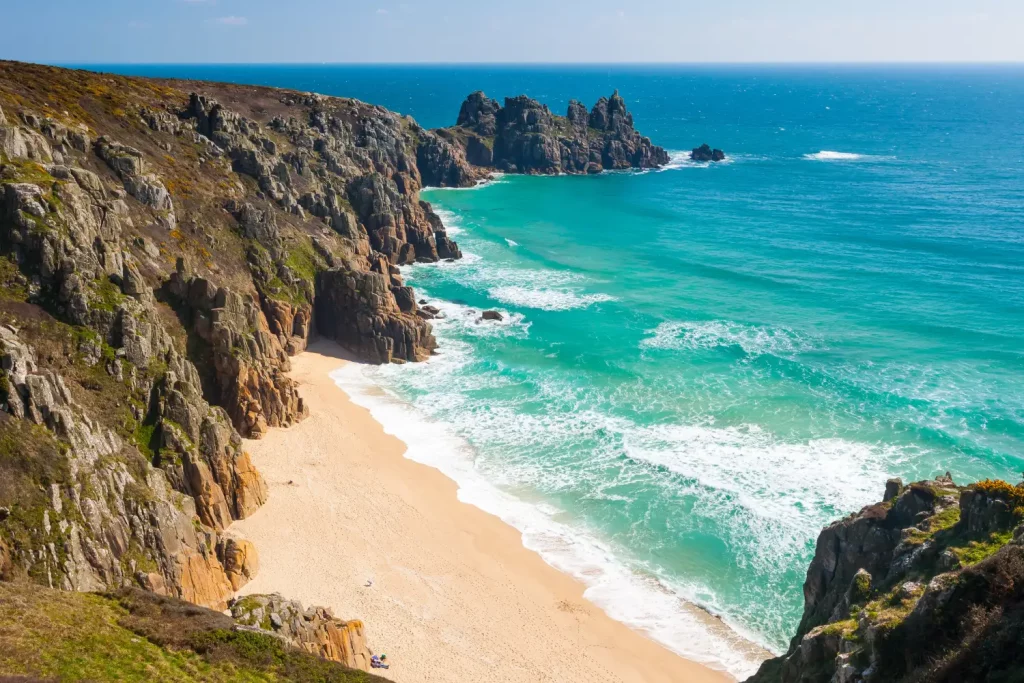 Places to visit in Cornwall for good food
Even if you have travelled to all the good places in Cornwall, a few places are still there that you should visit. And those pretty spots are the eating corners of Cornwall because you cannot carry on with your trip without eating anything. So, we have found some eateries that offer mouthwatering food and are aesthetically beautiful. 
Undoubtedly, Cornwall offers you a wealth of mouthwatering food places to eat. If you are hungry and searching for a good food place, then here are some:
Appleton's

The St Tudy Inn

Outlaw's Fish Kitchen

Fifteen Cornwall

The Seafood Restaurant
Also, you can visit some of the best coffee shops in Cornwall. More so, coffee in winter will be warmer and tastier. Just imagine you are out, and it suddenly started raining. Now, you are wondering what to do in Cornwall when it's raining. So, here is the list of a few coffee shops that you can visit and enjoy the rain while sipping the coffee;
Strong Adolfos

Island

Bread & Butter

Origin Coffee Roasters

The Yellow Canary Cafe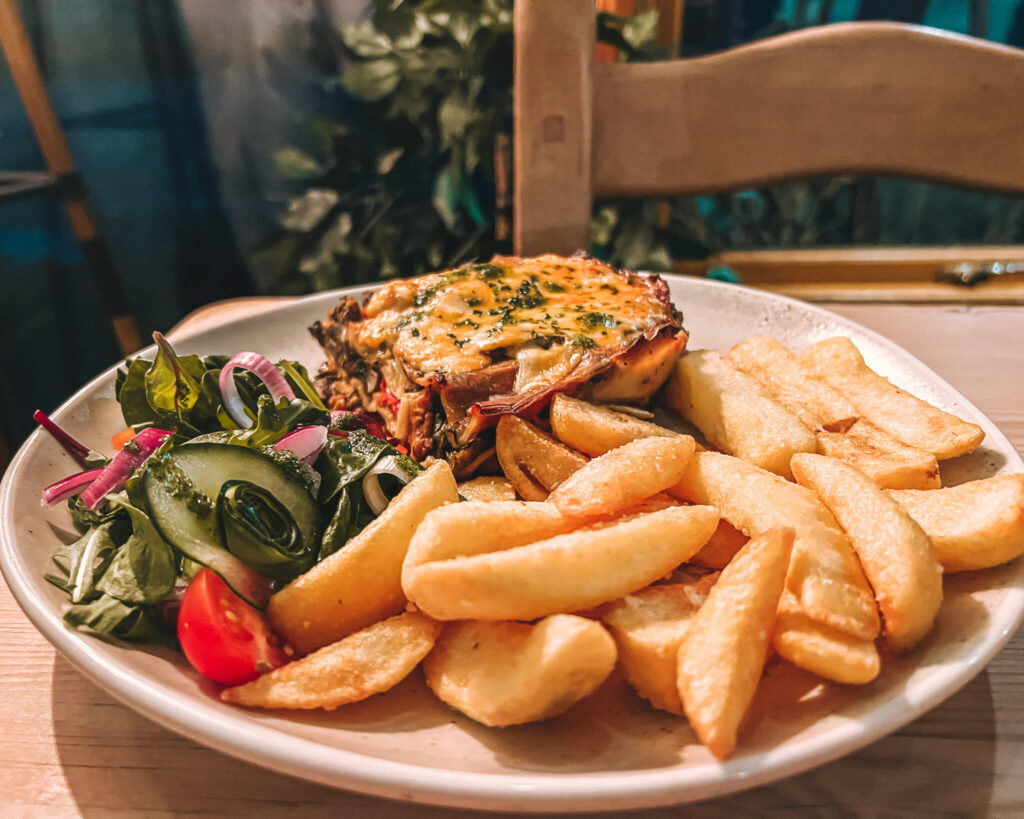 Spend a beautiful winter in Cornwall with fun adventures
Cornwall is one of the most beautiful destinations in the UK. It has marvelous coastlines, incredible landscapes, beautiful towns, fishermen's villages, and rich history. Moreover, it offers countless sights and attractions. Unquestionably, it's a glorious holiday destination for all types of tourists. 
Besides the usual places to visit, Cornwall is also known for its colourful festivals. Regardless of the month, there will be a dedicated event on boats, art, music, food, or sea shanties. You can attend a festival in Cornwall during many months of the year.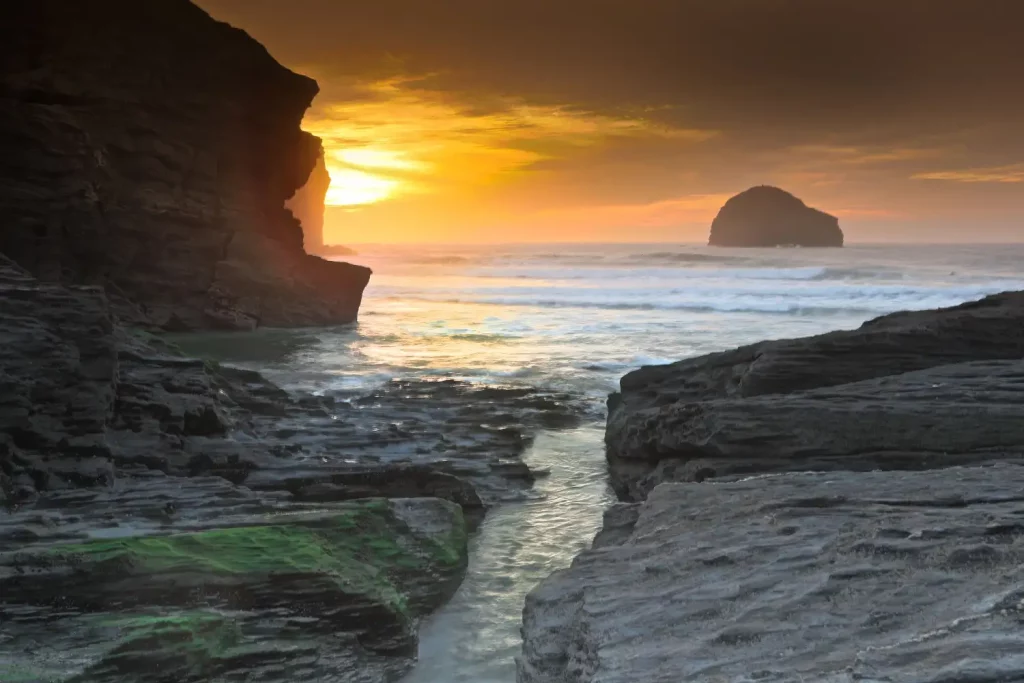 Before You Leave for Cornwall
Before you head off on your trip to Cornwall, there are certain things you will need to get organised to ensure a smooth trip. These include what to pack, where to stay and what travel insurance to book.
How Do I Get to Cornwall?
Cornwall is located in the southwestern tip of England. It is easily reachable by public transport, including train and bus, with routes that take you from major cities directly to Truro. 
If you are flying into the country, the closest airport will be Newquay Airport, however, you can still easily reach The Cornwall by bus and train from any other part of the country.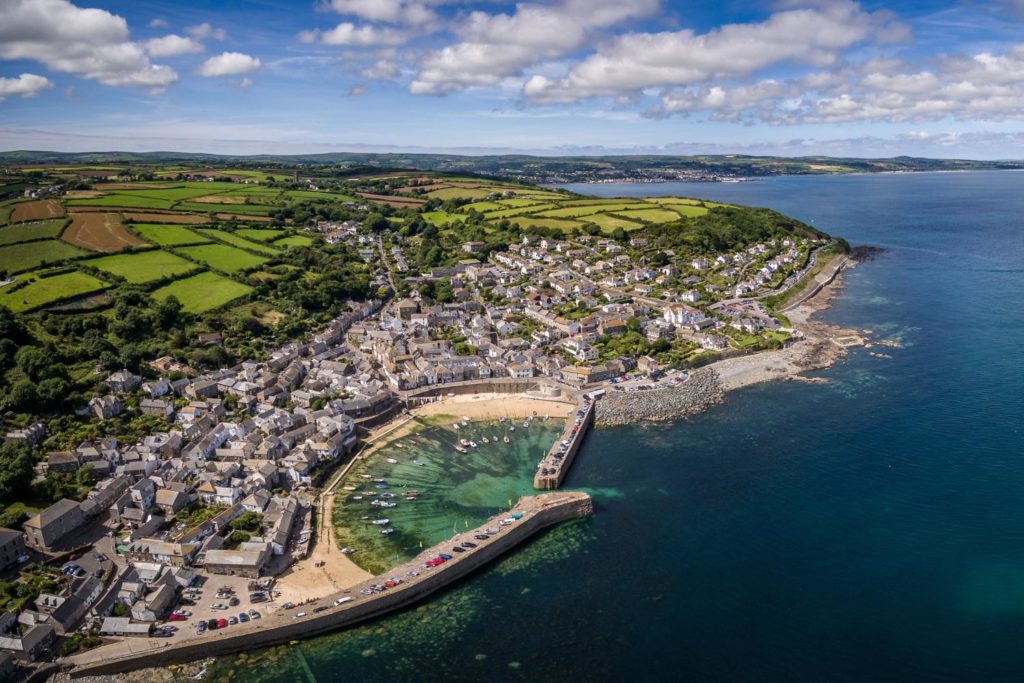 What Should I Pack for Cornwall?
What you need to pack for Cornwall will rely highly on when you make your trip there. During the Spring and Autumn months, temperatures and weather patterns vary wildly between beautiful sunny skies and freezing rain.
The temperatures generally vary from 5 oC to 15 oC during these months, with a mixture between cold, winds and warmer temperature. There are some rainy days, with maybe 10 in 16 days receiving rainfall, which might be more comfortable to have rain jacket with yourself.
During the Summer months in Cornwall, temperatures tend to range from 12oC to 19oC, with some days topping 22oC.  
If you need more inspiration on what to pack for your trip, check out our full packing guides for all-weather conditions over here.
Given the beautiful sights and scenery that you will see in Cornwall, we highly recommend packing a good camera for your trip. If you want to read more about the cameras we use and why we love them, check out the link below.
You can read what else we keep in our camera bag over here.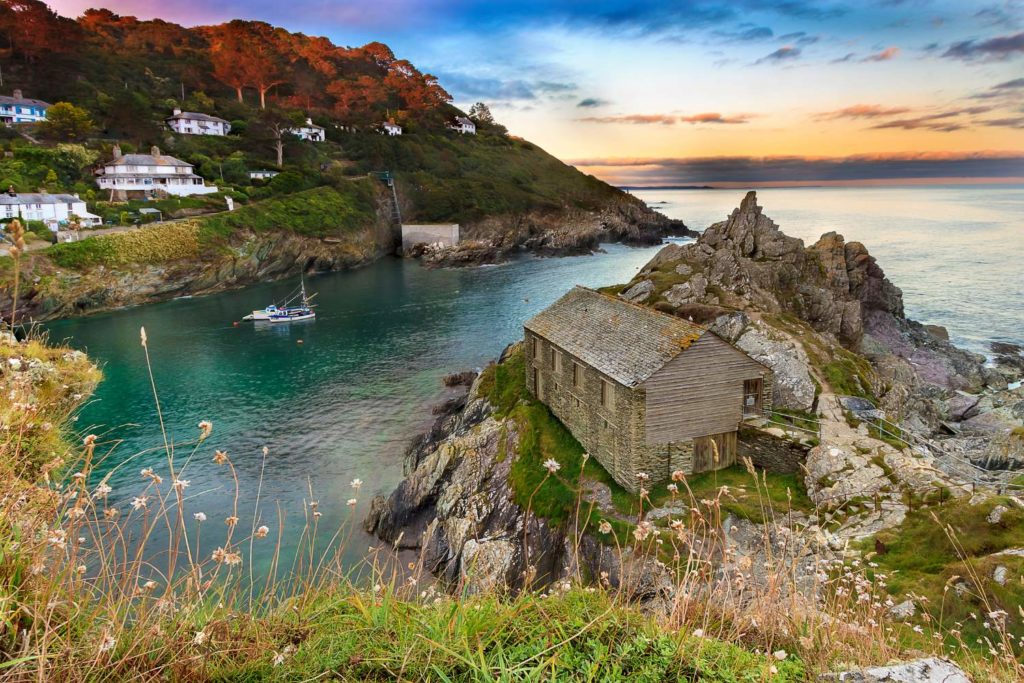 What is the Best Travel Insurance?
I know tavel insurance is the least enjoyable thing to purchase and look at when you're planning a trip, however, you wouldn't want to be without it in the event that something happened. Accidents can happen anywhere and the extortionate medical bills will ruin your trip if you are not covered.
To ensure you have a stress-free trip with no worries about potential medical bills, make sure you cover yourself when you travel. We can recommend using SafetyWing, a backpacker-friendly and cheap insurance company that provides good coverage and support. It is also nomad-friendly, unlike most other insurance companies, meaning you do not need to worry about being out of your home country for too long.
Get a quote for your travel insurance right here and get covered!
So there you have it, a guide to visiting Cornwall in winter. If you have visited Cornwall recently, let us know what you thought of the activities and beautiful buildings in the area. If you have any suggestions let us know in the comments below.
As always, sharing is caring so make sure to share this photo guide with your family and friends and inspire them to head off on their own English adventure. If you are planning the trip for yourself, make sure you have a look at the rest of our England content for more inspiration.
When you set off on your own adventure, be sure to tag us in your photos on Instagram and we will share them with the rest of our community. In the meantime, why not follow us over there to see what we are currently up to and keep up with us on our Instagram Stories.
Now Read:
This article may contain affiliate links that provide us with a small income. For more information read our Affiliate page.
---
Pin this image to your England Pinterest board for later