Kefalonia is the largest Greek island in the Ionian sea and one of the more undiscovered islands to visit. With crystal clear blue water, mysterious caves and gorgeous, picturesque towns, this  is an island that you need to visit in Greece. 
There are so many things to do in Kefalonia that you can spend 1-2 weeks here and still wish you had longer. 
In this guide we share with you some of our favourite things to do in Kefalonia.
No time to read now? No problem, save a pin to your Pinterest board for later!
Before arriving in Kefalonia, there are a few things you will need to plan to ensure you can make the most of your stay to the island. This includes where to stay in Kefalonia and how to get around. We will discuss this in more detail below as well as the following.
Where to Stay in Kefalonia

Myrtos Beach

Assos Village

Argostoli

Lixouri
Kefalonia Cruise Lady O
Melissani Cave 
Sami
Poros
Patani Bay

Preparing for your trip to Kefalonia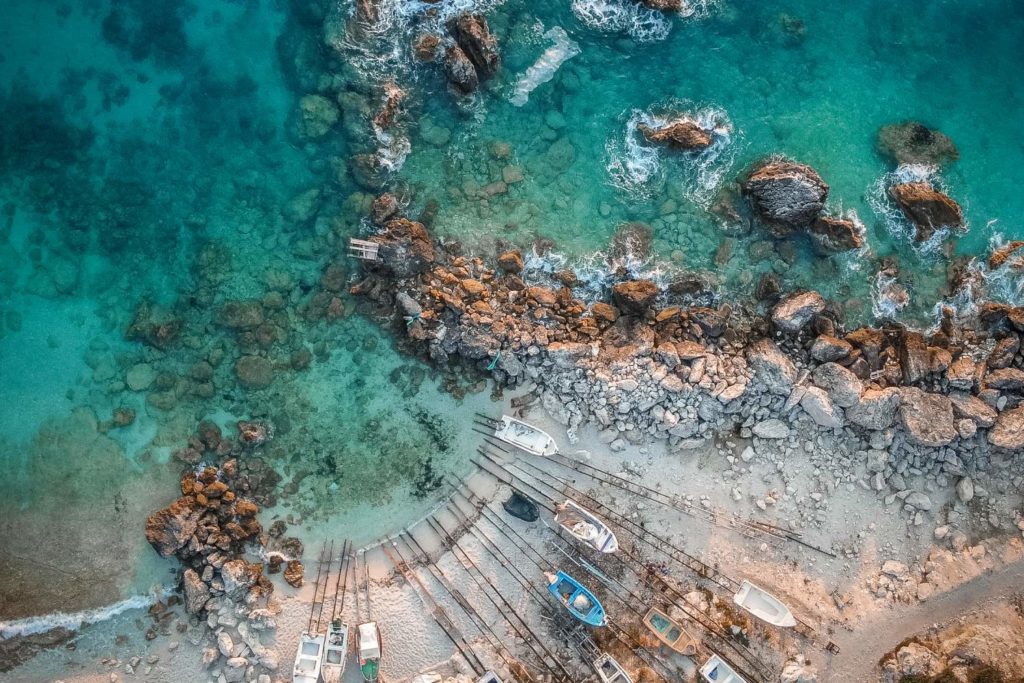 Where to Stay in Kefalonia
Lixouri – Aspasia Studios is a comfortable and conveniently located accommodation in Kefalonia. All rooms have a balcony or terrace and a small kitchenette and there is a public pool surrounded by nature. The accommodation is relatively small so it never feels to busy. Lixouri town centre and seafront is only a 10 minute walk away where you can catch a ferry to Argostoli or explore the restaurants and bars along the seafront.
Read more and book your stay at Aspasia Studios here.
Argostoli – Rouchotas Apartments is located in the heart of Argostoli, a short walk from both the centre and the beach. This accommodation has a kitchen area with a fridge, an oven, an electric kettle and a coffee machine.
It also features a garden area and a sun terrace.
Read more and book your stay at Rouchotas Apartments here.
Poros – Hotel Pavlou is located a short walk away from Neorion Beach in Poros with the rooms offering stunning views of the sea or the mountains. The accommodation features a sea-view restaurant and sun terrace. There is a buffet breakfast served each morning and a restaurant in the evening.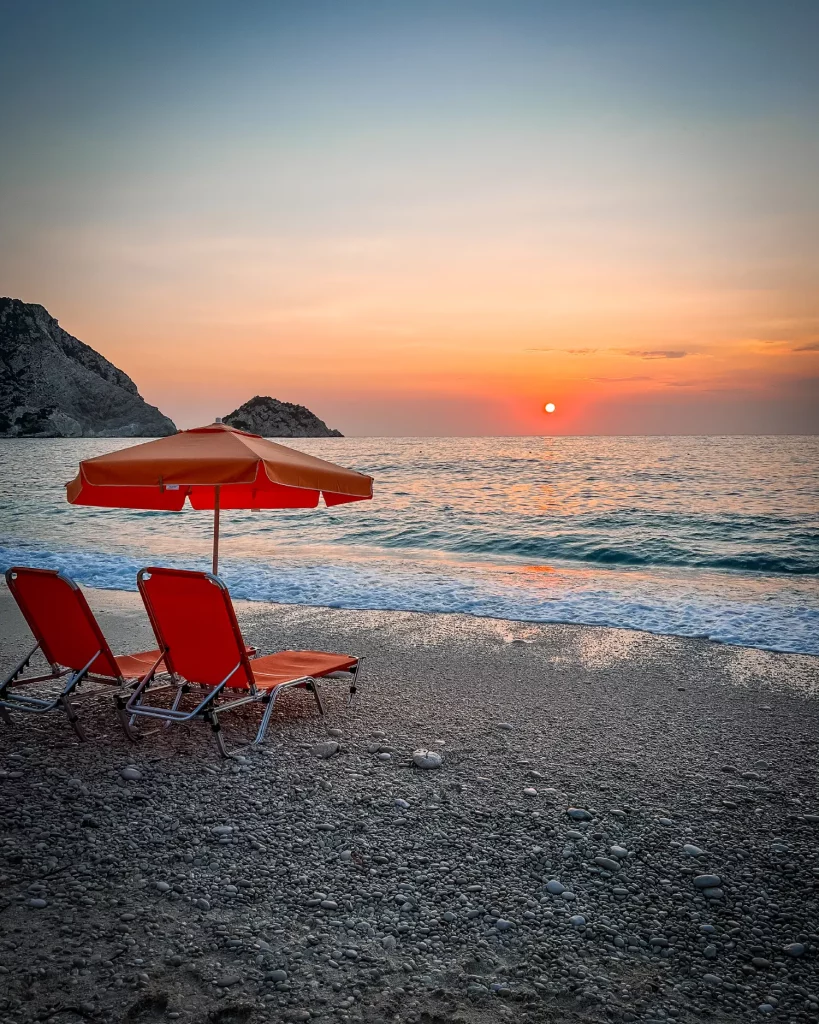 Myrtos Beach
The most well-known and recognisable spot in Kefalonia has to be Myrtos Beach. This beautiful beach is surrounded by towering cliffs with Mount Agia Dynati and Kalon Oros on either side. From the road above there is a viewpoint looking down over the turquoise blue sea that meets soft white pebbles on the shore. 
Myrtos has been named the best beach in Greece numerous times due to the stark contrast in colour and epic surrounding scenery. The beach can be found at bottom of a steep winding road where there is a large car parking area. 
There are deck chairs and umbrellas available to rent on the beach as well as toilet facilities and showers. There is a restaurant area and lifeguards are also on watch at Myrtos Beach.
At the end of the beach there is a sea cave which many enjoy going into to cool off as there is no shelter at Myrtos Beach. We were told to be aware of a strong current that can take place at this beach so take care if you do enter the water.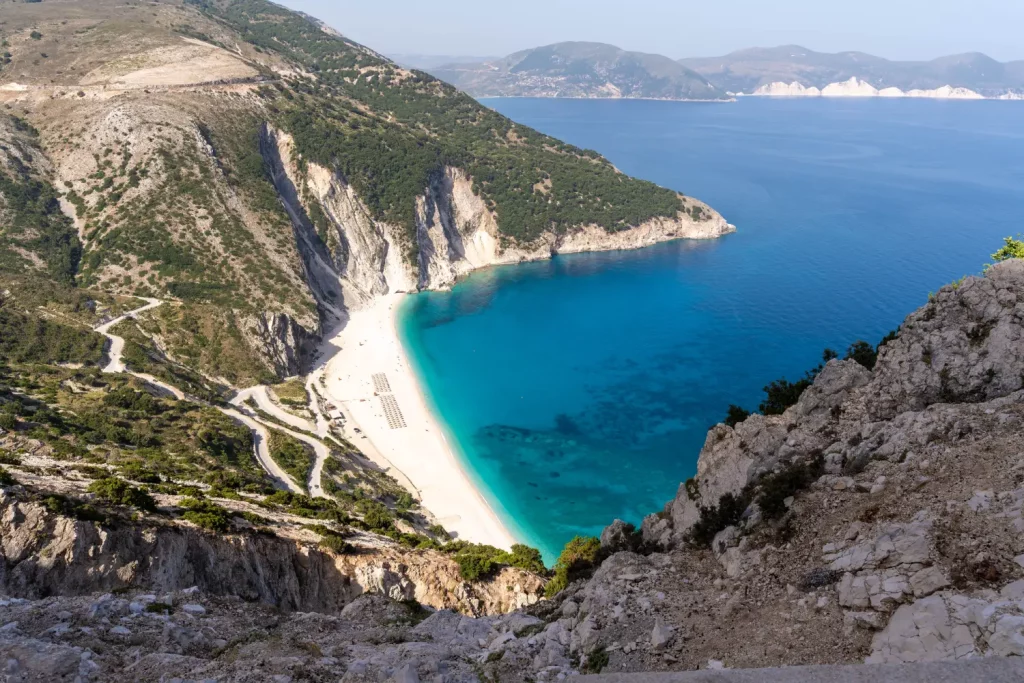 Assos Village
Assos Village is one of the cutest colourful villages we have ever seen. It can be seen from the main road and you will need to follow a steep winding road to access it where you will see a small parking area. The colourful buildings overlook the turquoise blue water making this area one of the most picturesque on the island of Kefalonia.
There are two beaches in Assos, one is smaller than the other but just as beautiful. The larger beach is surrounded by tavernas which are typically more pricey than other areas of Kefalonia due to the popularity of Assos.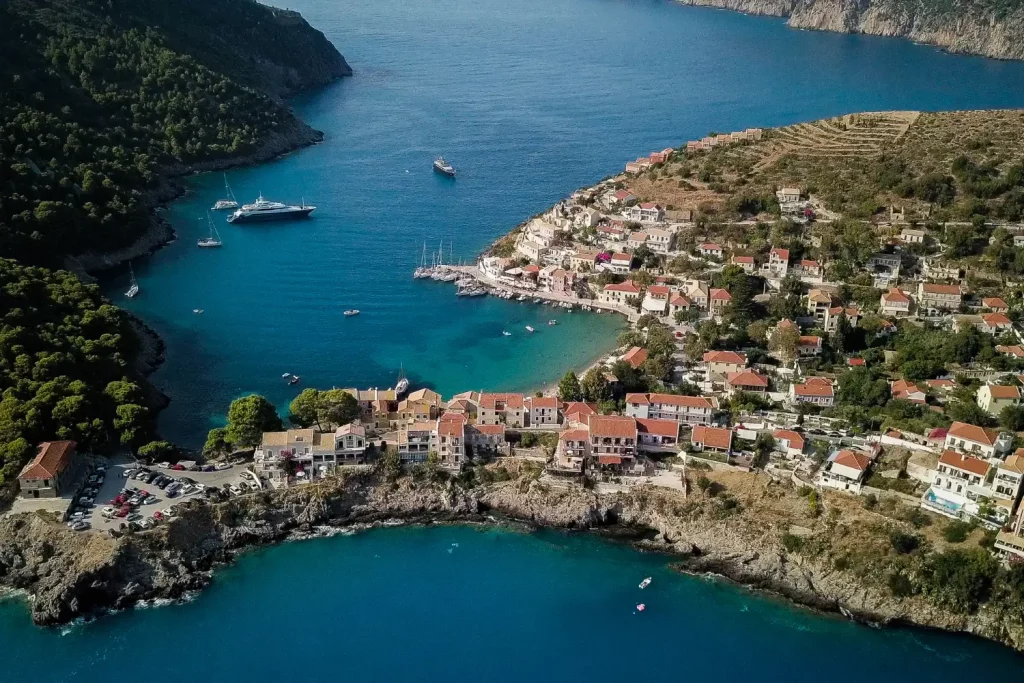 Argostoli
Argostoli is the capital of Kefalonia yet it is still a relatively small harbour town. Argostoli overlooks the water where there is a line of bout tours and cruises waiting to take tourists away for the day. 
It is common to see turtles in the bay at Argostoli and they are most commonly seen in the morning, swimming around the fishing boats.
There are also many great bars and restaurants along the seafront and across the town of Argostoli.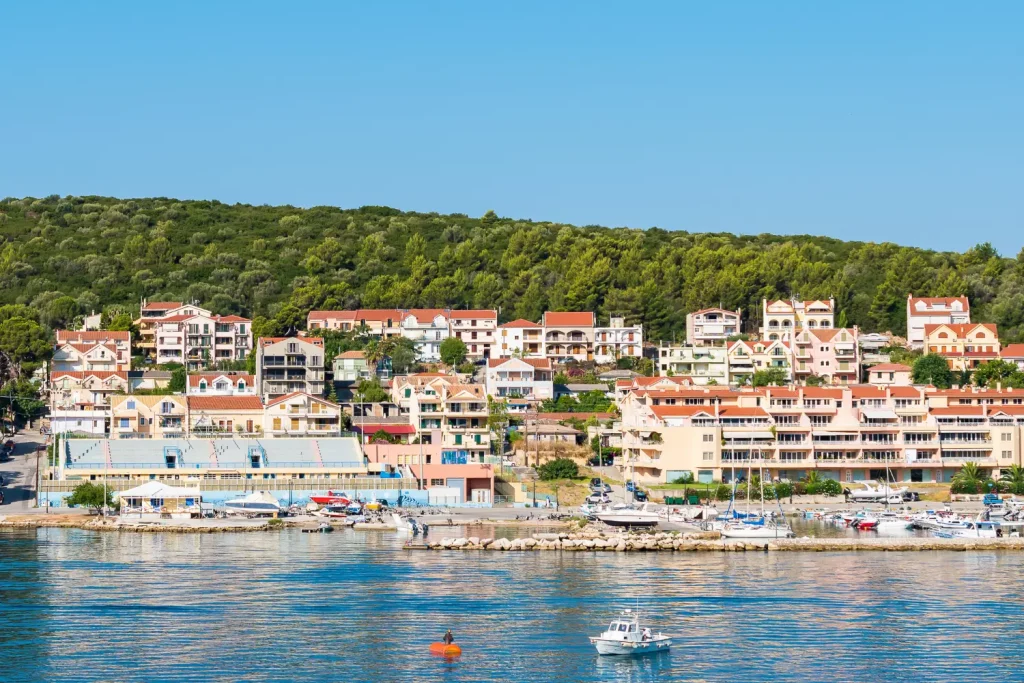 Lixouri
Lixouri is located at the end of the Palliki peninsula in Kefalonia. It is the second largest town after Argostoli and the main seafront is surrounded by bars and tavernas overlooking the sea. 
From Lixouri, there is a 20-minute ferry that takes you over to Argostoli at the cost of 3 euros per person. This is the best and quickest way to get between Argostoli and Lixouri as the drive is very long.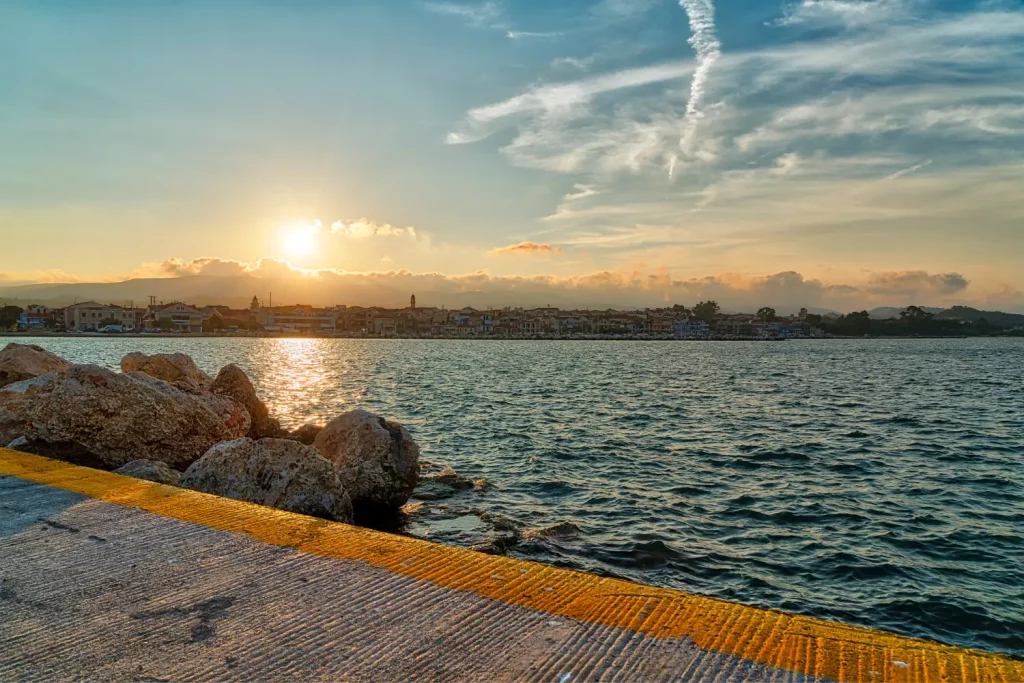 Kefalonia Cruise Lady O
One of our favourite activities during our trip to Kefalonia was going on a sunset cruise on the Lady O. The team at Kefalonia Cruise are so friendly and welcoming, putting on a fantastic trip for those that join them on their cruises. 
To begin with, we were welcomed onto the boat with a complimentary drink before sailing away out to sea. One of the crew members, Nikos, plays the guitar and sings a mix of well known and traditional music whilst the guests mingle and enjoy the complimentary wine. 
There is the opportunity to jump off the boat and go for a swim in the sea before finger food is served up with more wine. 
You will then sail to the most beautiful spot to watch the sunset before having a party on the upper deck as you sail back to Argostoli. 
This is an unforgettable experience and one we would definitely suggest you add to your Kefalonia itinerary.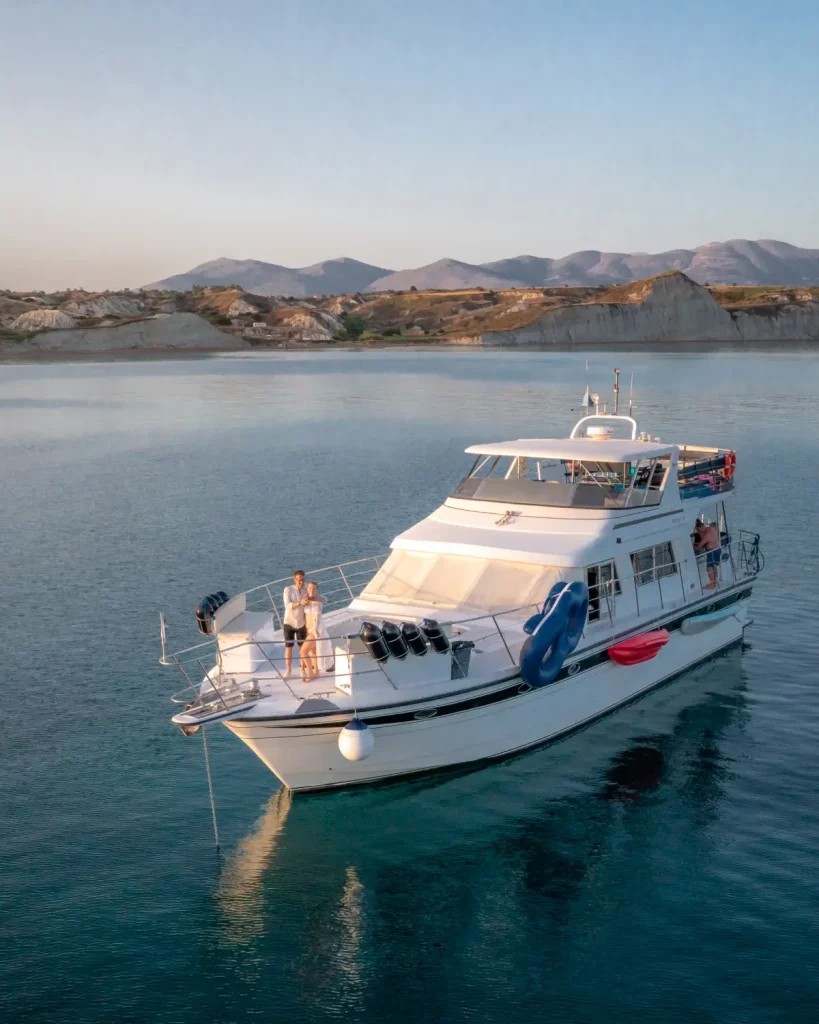 Melissani Cave
Melissani Cave is situated just outside of Sami and is one of the most fascinating places to visit in Kefalonia. There is a really bright blue lake deep inside the B-shaped cave where there are two chambers. When the sunlight hits through the collapsed roof and the bright blue water lights up you can see deep into the 20-30 metre lake.
It costs €7 and you will be taken on a short boat trip through the cave. Swimming is not allowed in Melissani Cave. It can be very busy during peak season, however there are plenty boats and it moves quickly.
Sami
Sami is a gorgeous coastal town in Kefalonia, located 26km from Argostoli. It is surrounded by mountains and restaurants line the crystal clear blue shores along the coastline. Boat trips leave from the port in Sami, however it is still a beautiful place to go swimming in the sea.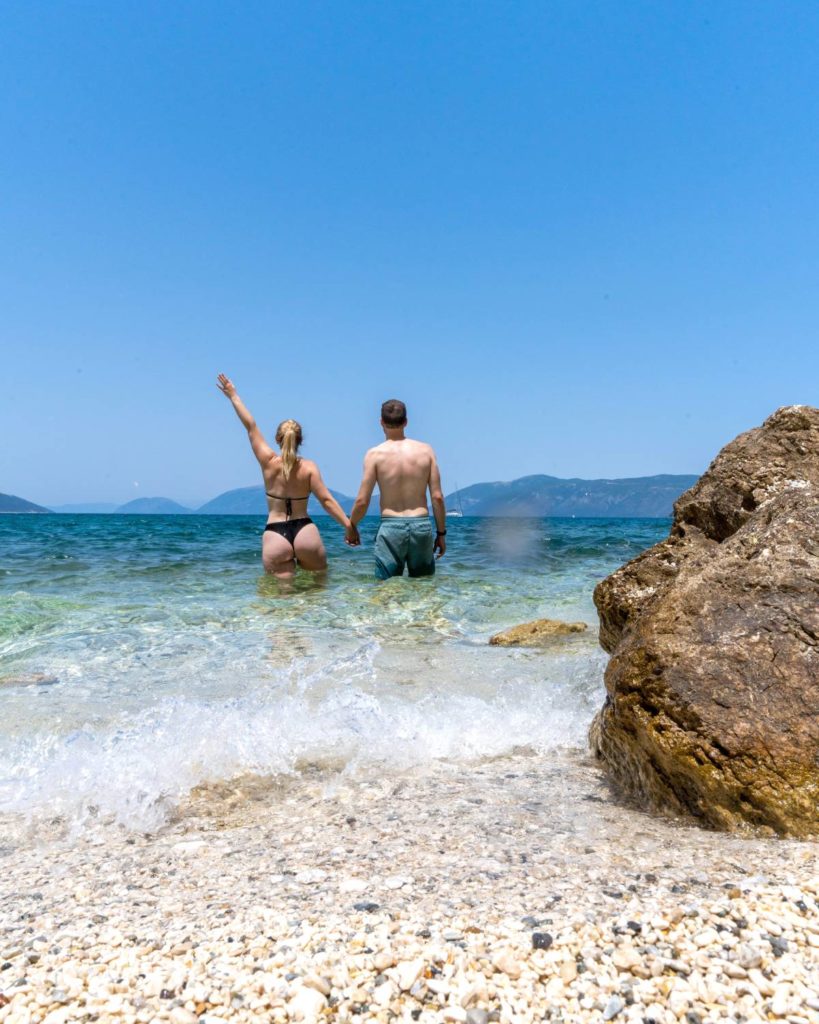 Poros
Poros is a stunning quaint seaside town in the southeast of Kefalonia, 40km from Argostoli. Poros is surrounded by mountains and one of the quieter areas to visit in Kefalonia. There are some great bars and restaurants along the seafront and the water is perfect for a swim here.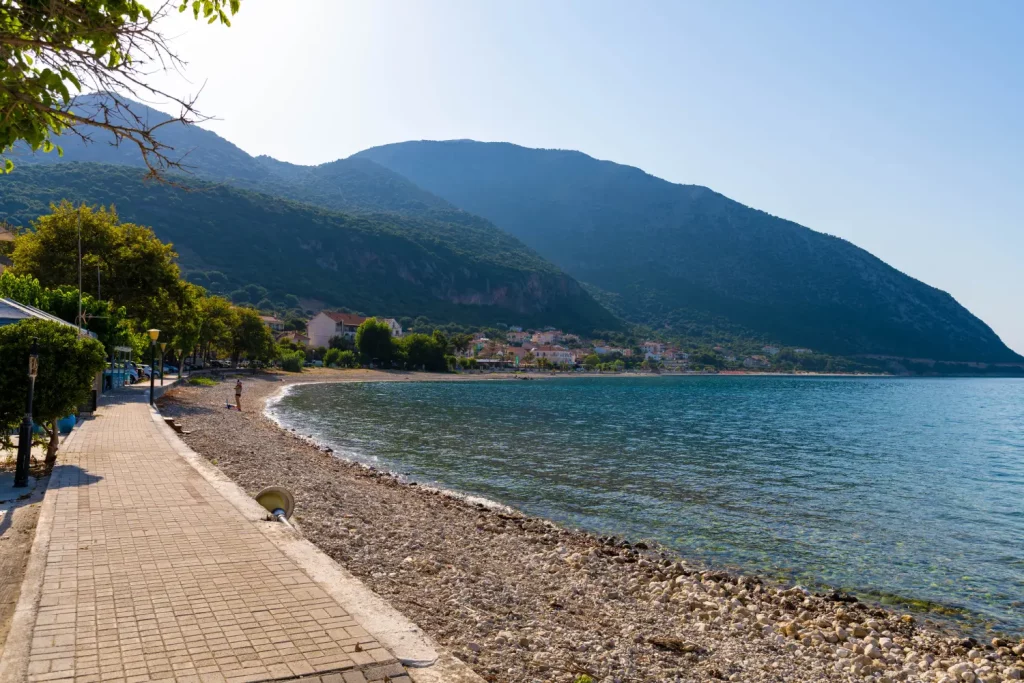 Petani Bay
Petani Bay is a beautiful beach surrounded by cliffs on the west of Kefalonia. The beach is lined with sun loungers during the day which are relatively cheap to rent, however this will change with the season. We would recommend visiting in the evening and enjoying the food and drinks from the two restaurants that sit on the beach overlooking the sea. The sunsets from Petani Bay are incredible and we spent many a night going for a sunset swim here during our time in Kefalonia.
How to Prepare for Your Visit to Kefalonia
Before you set off on your trip to Kefalonia, there are a number of things you will need to organise to ensure a smooth and successful trip. These include what to pack for Kefalonia and what is the best travel insurance for your trip. Both of these will be discussed in the following section.
What is the Best Travel Insurance for Kefalonia
Regardless of what type of trip you are heading on, one thing that is essential for everybody is good travel insurance. Accidents can happen anywhere and at anytime and unexpected hospital bills will ruin a holiday. Remove the stress from your next adventure and get covered for the worst.
World Nomads Travel Insurance provides budget reliable travel insurance that will keep you covered for any level of adventure.
You can get your quote before you leave on your trip right here.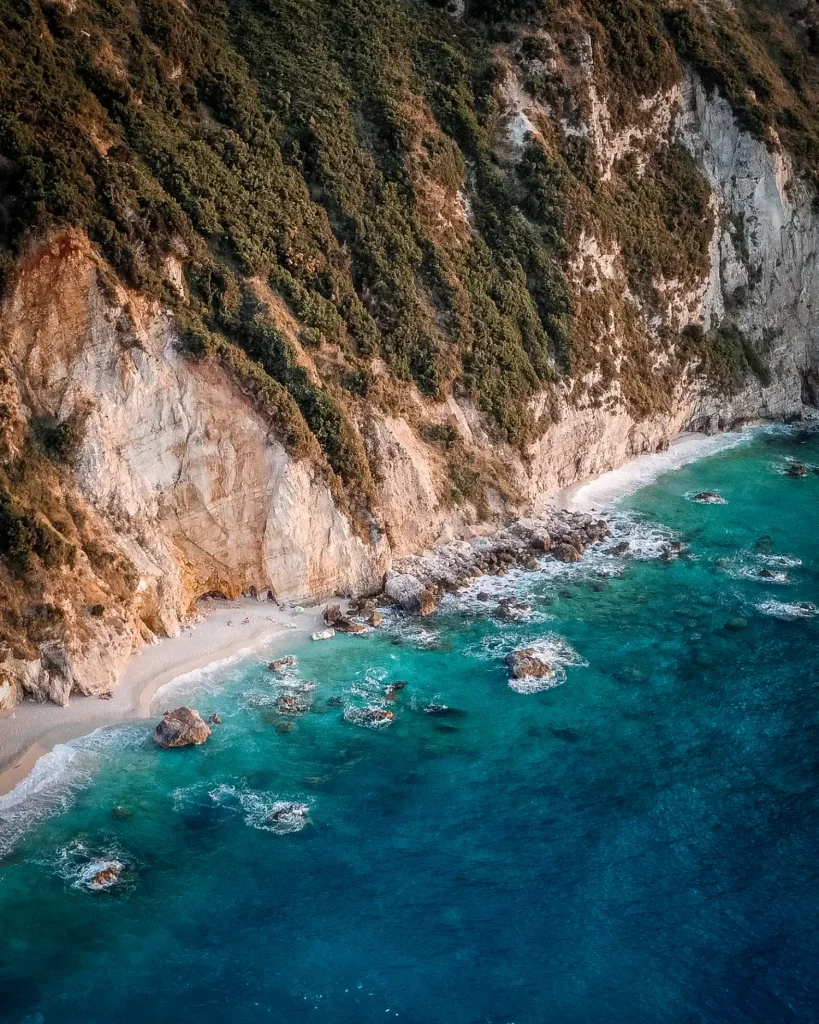 What Should You Pack for Kefalonia?
What you need to pack for Kefalonia will rely highly on when you make your trip there. During the Spring and Autumn months, temperatures and weather patterns vary wildly between beautiful sunny skies and rainy days. During the Summer, you are pretty much guaranteed nice weather with temperatures ranging from 20-35 oC. The hottest months are July and August, so these will be the most popular for a Summer holiday.
During the winter months in Kefalonia, the rain will become more frequent and the temperatures will drop to between 10-20 oc. If you need more inspiration on what to pack for your trip, check out our full packing guides for all-weather conditions over here.
When it comes to toiletries, we recommend that you don't forget to pack sunscreen. The sun in Kefalonia is very strong, especially during the summer months. Apply a lot of suncream regularly to prevent a nasty burn from ruining your trip. We use this specific sunscreen to protect us as it is not as oily and irritating as other sunscreens.
Given the beautiful sights and scenery that you will see in Kefalonia, we highly recommend packing a good camera for your trip. If you want to read more about the cameras we use and why we love them, check out the link below.
You can read what else we keep in our camera bag over here.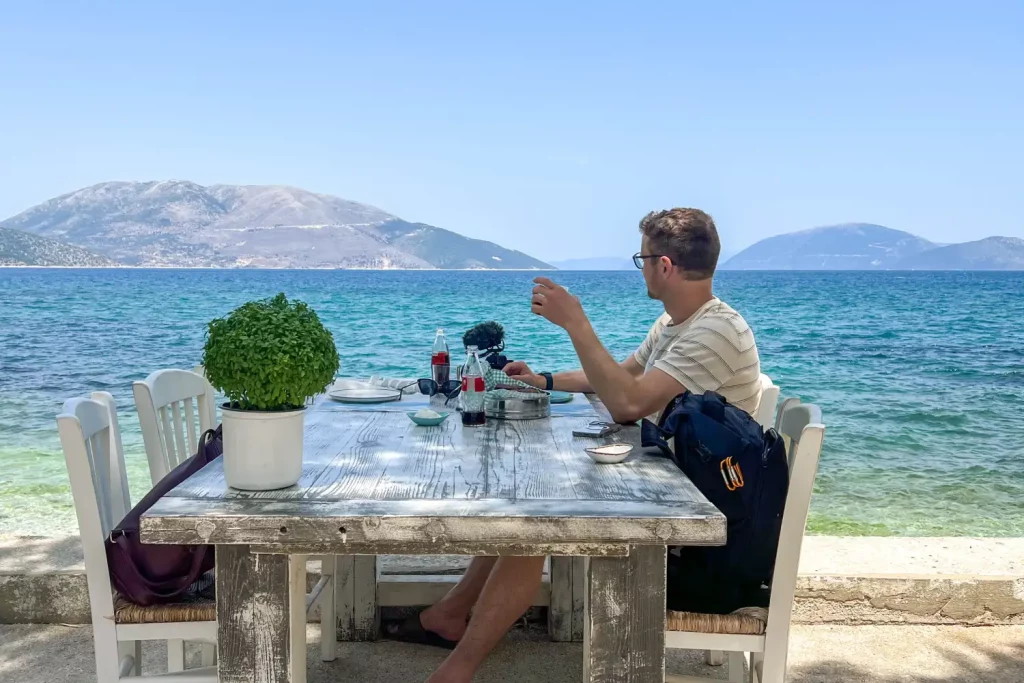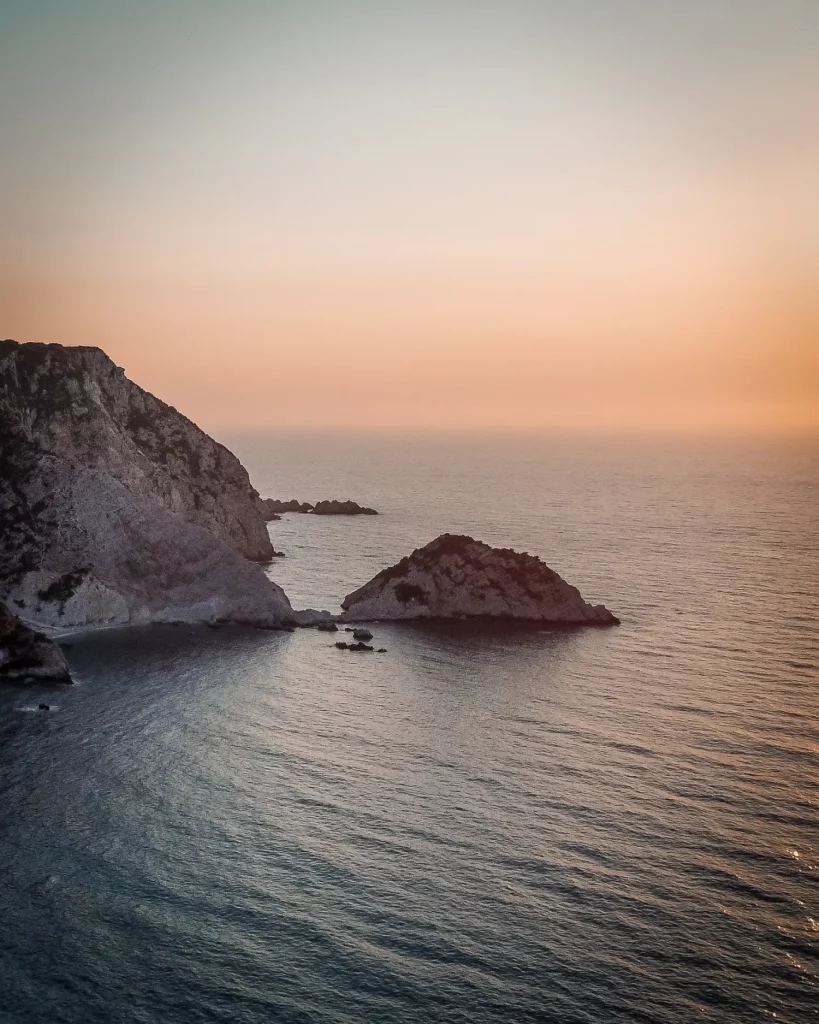 So there you have it, a guide to the things to do in Kefalonia. If you have visited Kefalonia recently, let us know what you thought of it, or if you have any suggestions let us know in the comments below.
As always, sharing is caring so make sure to share this photo guide with your family and friends and inspire them to head off on their own Greek adventure. If you are planning the trip for yourself, make sure you have a look at the rest of our Greece content for more inspiration.
When you set off on your own adventure, be sure to tag us in your photos on Instagram and we will share them with the rest of our community. In the meantime, why not follow us over there to see what we are currently up to and keep up with us on our Instagram Stories.
Now Read:
This article may contain affiliate links that provide us with a small income. For more information read our Affiliate page.
No time to read now? No problem, save a pin to your Pinterest board for later!