What comes to your mind when you hear about the Scottish capital, Edinburgh? From historic castles, rich culture, and fascinating art to towering skylines, verdant gardens, and plenty of restaurants, Edinburgh is the place where you make memories to cherish for a lifetime.
However, that's just one aspect of what this beautiful destination has to offer to tourists. To satiate your wanderlust, the city even offers some quick day gateways.
A day trip from Edinburgh can be about exploring castles and historical attractions, visiting a golf course, touring whiskey distilleries, wildlife exploration at national parks, and whatnot.
With that being said, let's fill you with all the information about day trips from Edinburgh – the beaut capital of Scotland.
No time to read now? No problem, save a pin to your Pinterest board for later!
Day Trips from Edinburgh - A Comprehensive Guide
Edinburgh is a fantastic city to visit in Scotland. However, if you are itching to get away and see more of Scotland, you may want to try some of these day trips from Edinburgh.
Glasgow

Tantallon Castle

Pitlochry

The Scottish Borders

Stirling

Dean Village
Harry Potter Sites

Preparing for your trip to Edinburgh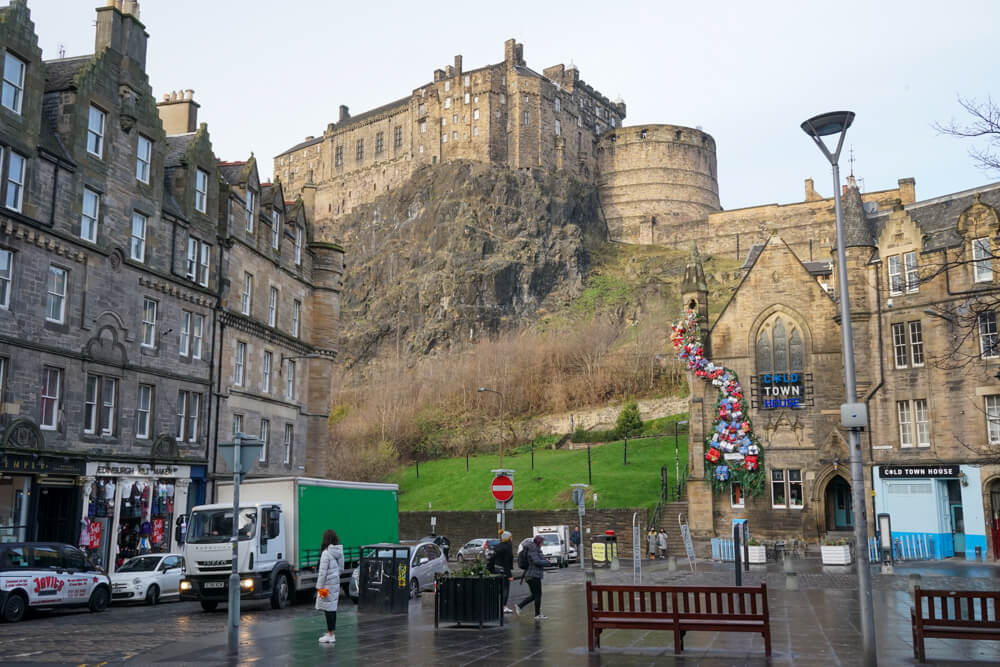 Check the prices for Edinburgh here
Glasgow
If you are looking for a day trip from Edinburgh, Glasgow has to be on your itinerary. And if we talk about the reason, well, in contrast to Edinburgh, Glasgow is a less-touristy place which is worth a visit on your trip to Scotland. 

Located 47 miles west of Edinburgh, there are plenty of places to visit and things to do in Glasgow. From art galleries to museums to stunning architectural work of Charles Rennie Mackintosh dots the entire city. In general, Glasgow is the perfect epitome of where culture meets cuisine. Therefore, you can expect to experience a lot on your day out in Glasgow.
Places to Visit in Glasgow: Glasgow Cathedral, Glasgow School of Art, Kelvingrove Art Gallery and Museum, Riverside Museum and Tall Ship, Glasgow Science Centre & Glasgow Tower, Pollok House and Pollok Country Park, Kibble Palace and Glasgow Botanic Gardens, Glasgow Green and the People's Palace, Gallery of Modern Art, The Tenement House, and The Lighthouse.
Things to Do in Glasgow: Shopping on Buchanan Street, Glasgow Tigers Speedway, Ice Cream Hunt at Nardini's, A Lunch at Tiffney's Steakhouse, The SSE Hydro, and Admire the Classics of World Cinema at Glasgow Film Theatre.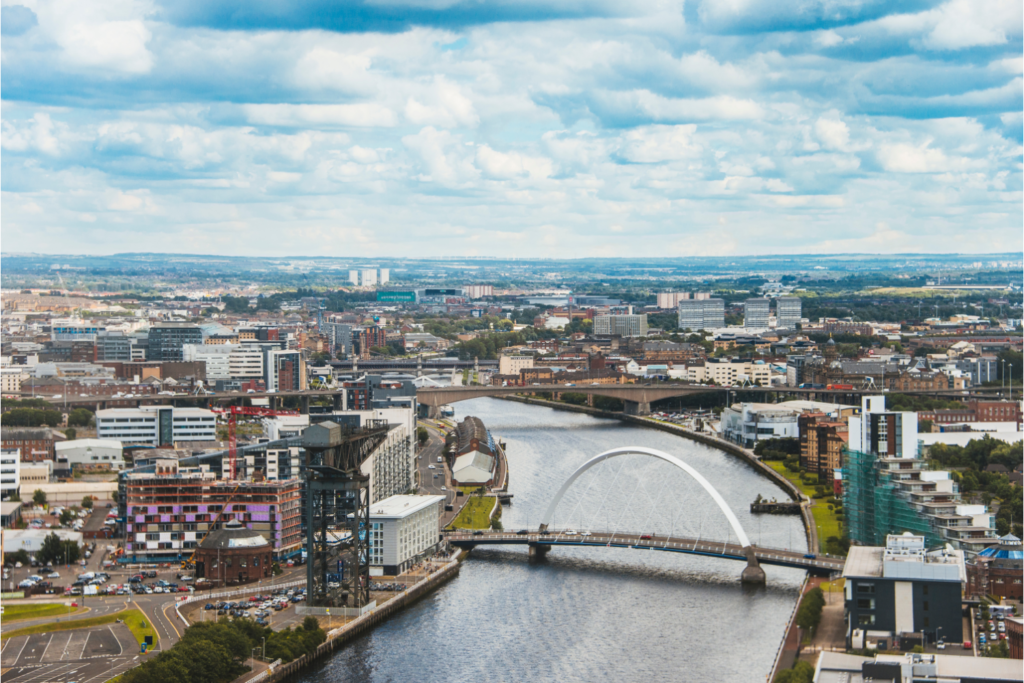 If you are looking for a good bag for your day trips from Edinburgh, we can highly recommend the Wandrd Bag PRVKE 41L if you are carrying camera equipment around the city. If you are looking for a smaller backpack, The Nest by Tropicfeel is one of the most comfortable bags I have ever owned and perfect for a city break.
Tantallon Castle
In contrast to those spectacular castles in Edinburgh, this one is a little peculiar in its own sense. Located some 30 miles east of Edinburgh. Tantallon Castle is basically castle ruins but is all worth a visit. 
It dates back to the 14th century and was captured in 1651 by Oliver Cromwell. Today, this iconic attraction serves as a perfect historical tour from Edinburgh. For the history and architecture buffs, this place is a perfect hideout to admire the stunning medieval architecture. 
From the cliff edge, you can treat your eyes to some picturesque views across the Bass Rock and Firth of Forth. From there, if you move further east, there is a hidden beach, known as Seacliff, waiting to treat you to an amazing experience. 
It is also home to the smallest harbour in the UK. Besides, there is also a cave, St Baldred's Cave. The legend has it that the cave contained evidence of human sacrifices that dates back to the Iron Age.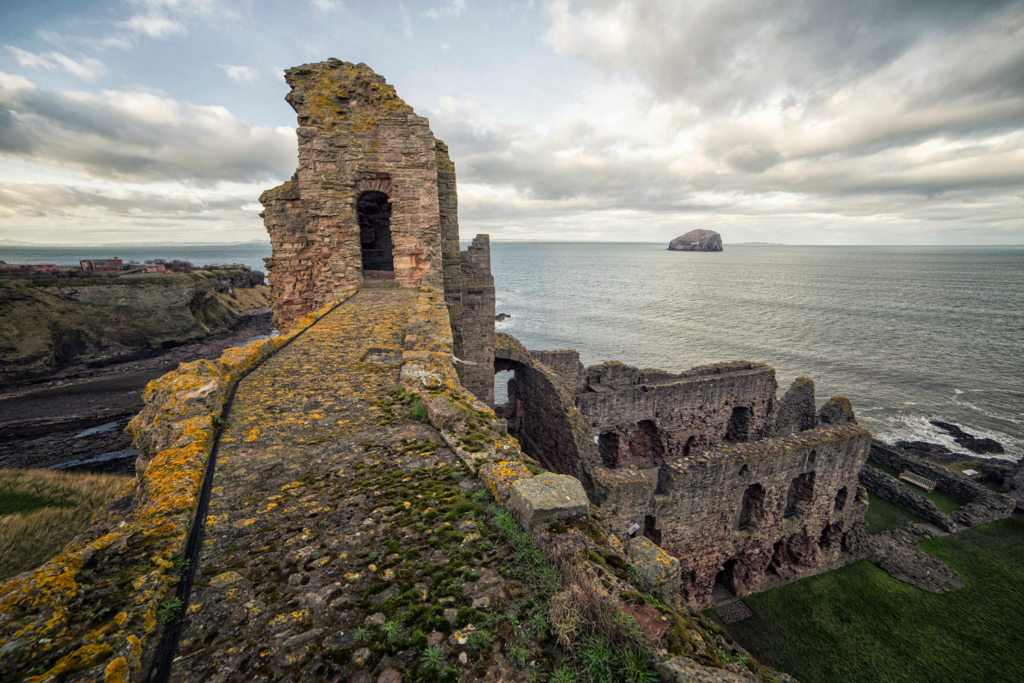 Pitlochry
Located at a distance of 73 miles north of Edinburgh, Pitlochry is known to offer a perfect nature hideout for travellers. The Victorian Townhouses and the sublime surroundings of Highland Perthshire. Along with the soothing vibe, there are plenty of exciting things to do in the beautiful town of Pitlochry. 
If you are an adventure buff, then you must visit this place as it offers plenty of opportunities to experience the adrenaline rush inside you. From quad biking to bungy jumping to white water rafting, there is enough to get you on your feet in Pitlochry. 
Amongst those outdoor things to do in Pitlochry, there is also golfing, Blair Athol Distillery, Moulin Brewery, guided walks, HeatherGems, Highland Nights, The Athol Palace Museum, and more. 
Since the town is also a perfect hideout for nature lovers, there are many places that you must cover on your day trip from Edinburgh to Pitlochry. Queen's View, Ben Vrackie, Faskally Wood, Killiecrankie Gorge, Black Spout Wood, Schiehallion, Loch Tummel, Craigower, are just to name a few.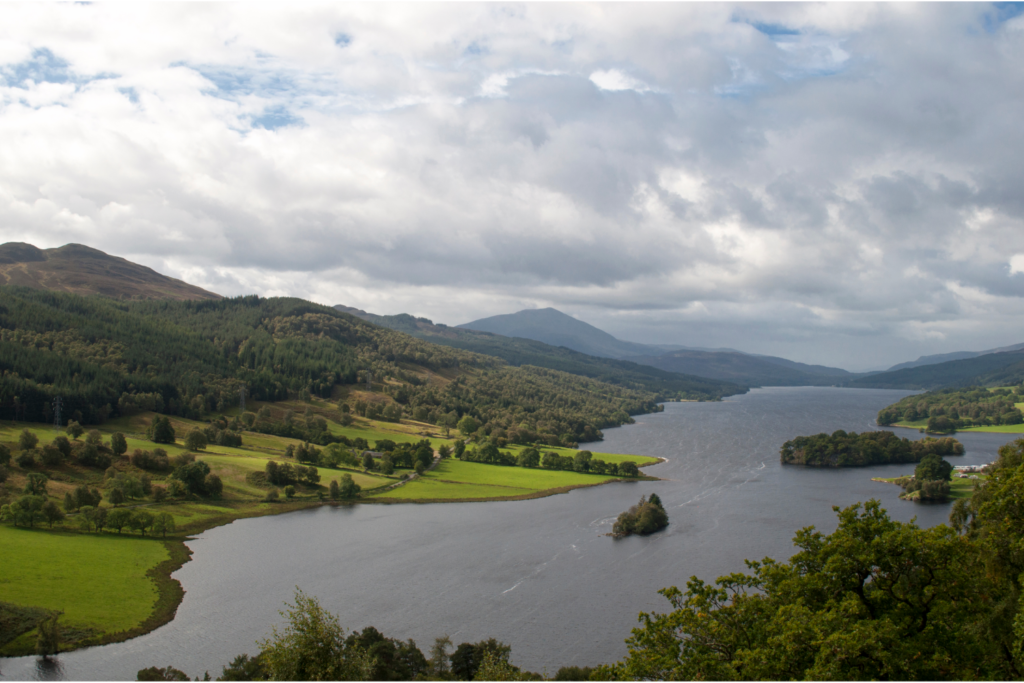 The Scottish Borders
Be honest, did you expect the Scottish Borders to be on this list of day tours from Edinburgh? No, I guess! The Scottish Borders is located in the southern region of the country and it borders England. The area was once under the ruling reign of Romans. 
It wouldn't be wrong to say that this little known place has witnessed many Scottish and English armies trying to invade the place. Now, why it should interest you, well, the place is dotted with an abundance of scenery and is home to many historical sites as well. 
There are beautiful small towns such as Melrose, Jedburgh, and Peebles that are easy to explore on foot. Along with that, there are Roman sites, castles, hiking paths, historic market towns, and much more. 
Melrose Abbey is one of the most iconic attractions in this area which is the first Cistercian abbey in Scotland. 
This beautiful part of Scotland is very charming. After visiting on a day trip from Edinburgh, you will be left wanting to return for a longer trip to soak up the the astonishing nature and rich history the area has to offer.  
Places to Visit Around the Scottish Borders: Peebles, Chirnside, Coldingham, Melrose, Dryburgh, Jedburgh, and Kelso 
Things to Do Around the Scottish Borders: Floors Castle, Thirlestane Castle, Jedburgh Castle Jail and Museum, Hermitage Castle, Mary Queens of Scots Visitor Center, Coldstream Museum, and ScotRail Borders Railway Train Ride.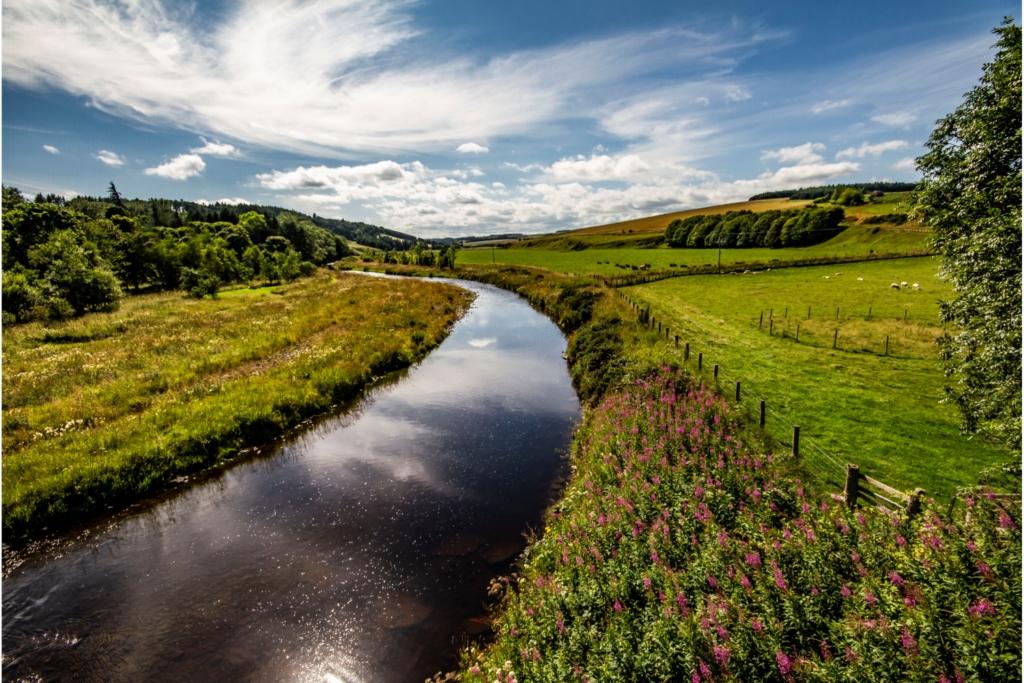 Stirling
Stirling is a similar city to Edinburgh, however, that doesn't mean you shouldn't visit it. This medieval town is worth every effort. Brimming in history and dotted with cobbled streets and stunning architectural marvels, this beautiful town sits on the banks of River Forth. 
Though it is a historical town, today, it thrives as a modern city that has everything to offer to its visitors. From casual dining to shopping to nature tours, there is so much to explore and do here in Stirling. 
Stirling Castle is one of the key attractions of the city that should be on your list of places to visit in Stirling. This iconic fortress is the place where Mary Queen of Scots was crowned. 
Stirling Castle is an award-winning attraction that hosts an amazing exhibition, decorated rooms, and fun activities for kids. There is also a museum inside the castle that is dedicated to Sutherland and Argyll Highlanders infantry regiment. 
Not only this, some of Scotland's most beautiful parks and lochs are located in Stirling. In Stirling, you can also try a unique experience such as sailing.
Places to Visit in Stirling: Stirling Castle, The Old Bridge, National Wallace Monument, Mar's Wark, Old Town Jail, Bannockburn Heritage Centre, Cambuskenneth Abbey, Ladies' Rock, Star Pyramid and the Valley, and Old Town Jail.
Things to Do in Stirling: Golfing, Distilleries & Breweries Tour, Riverside Pontoon, and Sports.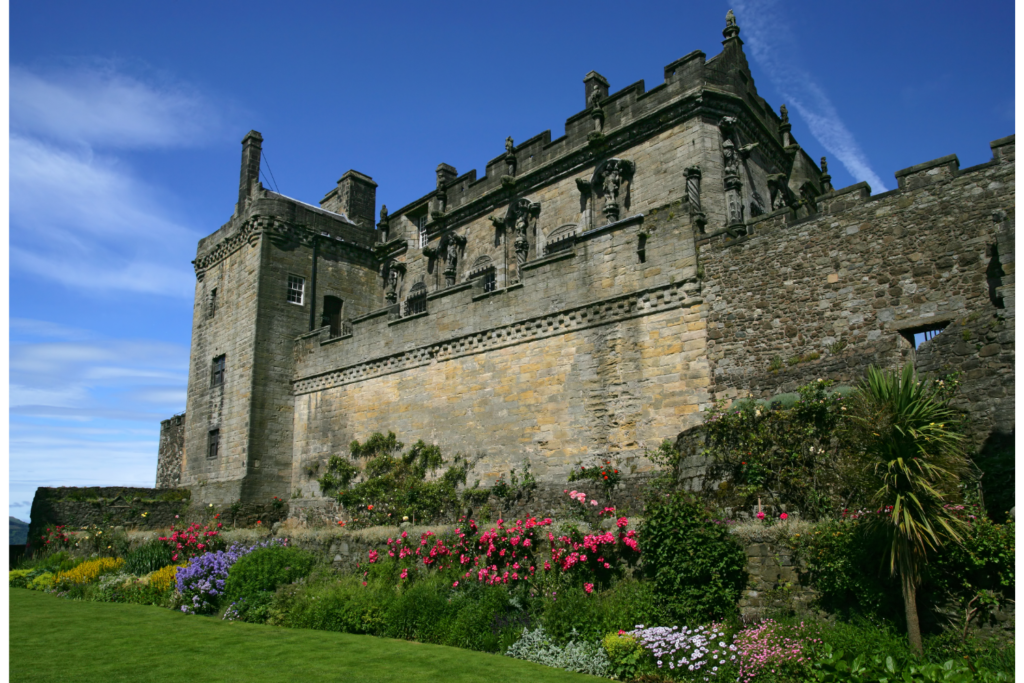 Are you planning to visit more of Scotland on your trip? Why not check out our books to help you plan your trip? 
Dean Village
In the suburbs of Edinburgh, Dean Village is another lesser-known destination for a peaceful place to spend the day. It is located at a distance of around 3 miles west of downtown Edinburgh. 
The town is dotted with sublime views which makes this place a must-visit. Go on a peaceful stroll downhill along the Water of Leith or walk down Hawthornbank Lane. 
You can also go to the Metal Bridge for more amazing views of this area. For those into photography, the town is the perfect place to capture some beautiful photos. Being located in the suburbs, Dean Village is one of those places that can be explored easily as day trips from Edinburgh by bus/train/car. 
Things to Do in & Around Dean Village: Scottish National Gallery of Modern Art, St. Bernard's Well, Well Court, and Dean Cemetery.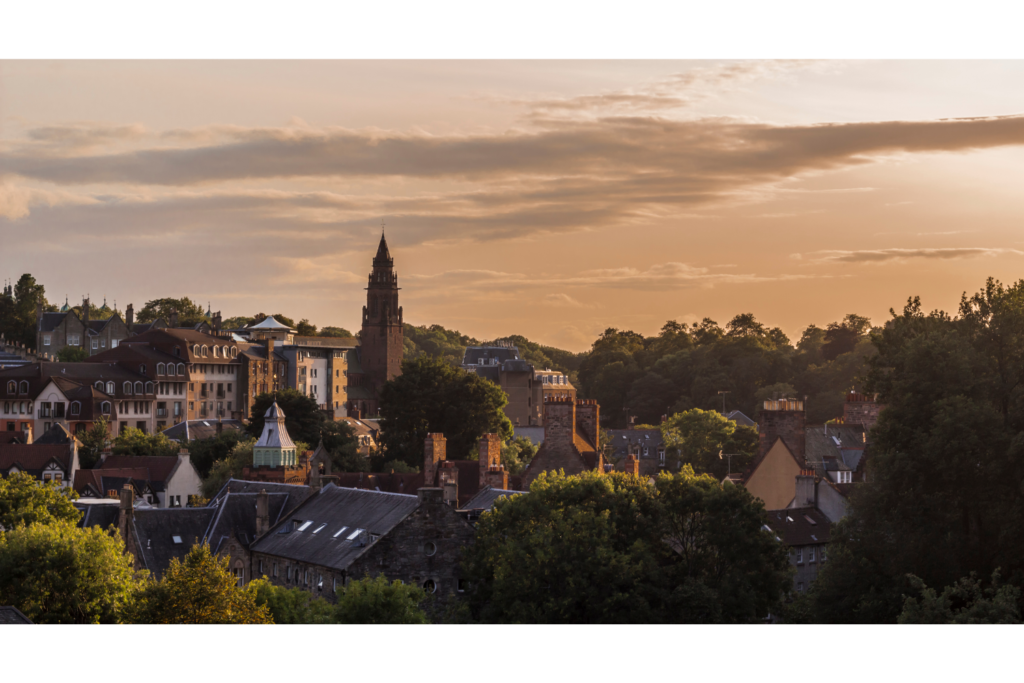 Harry Potter Sites
Doesn't matter if you're a Gryffindor, Slytherin, Hufflepuff, or Ravenclaw; what matters is are you a Potterhead? Well, if so, then be grateful you're in the country of Harry Potter. 
And the city of Edinburgh is close to those many Harry Potter sites. Well, for a fact, Edinburgh was never used as a filming location for any of the parts of Harry Potter. But, there are a number of Harry Potter sites in and around the city of Edinburgh. 
 If you're a true Harry Potter fan, here are a few iconic locations that have to be on your ultimate Scotland bucket list.
The Jacobite Train
Run by West Coast Railway, it is the same steam train used as Hogwarts Express in movies. The train runs between Fort William and Mallaig. Book the train ride and experience how it feels like to be on the Hogwarts Express.
However, we highly recommend you book the first-class compartment carriage for the best experience. The train only operates from April to October. 
Distance From Edinburgh: 134 miles (Fort William)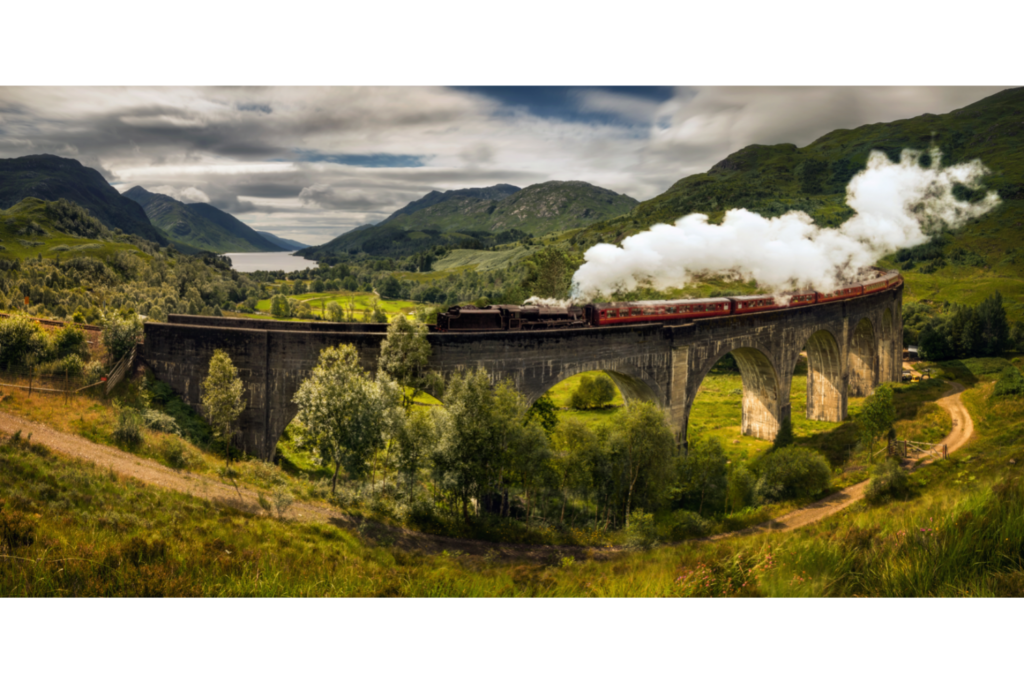 Steall Falls
Some 7 miles south-east of Fort William, Steall Falls is another iconic Harry Potter site worth visiting from Edinburgh. As a matter of fact, this is the second-highest waterfall in Scotland.
The beautiful site was used as a backdrop in a scene in Harry Potter and the Goblet of Fire where Harry fights the dragon in the Triwizard Tournament. In order to reach there, you will undergo a 45-60 minutes hike. You can find more information about the Steall Falls hike here.
Distance from Edinburgh: 141 miles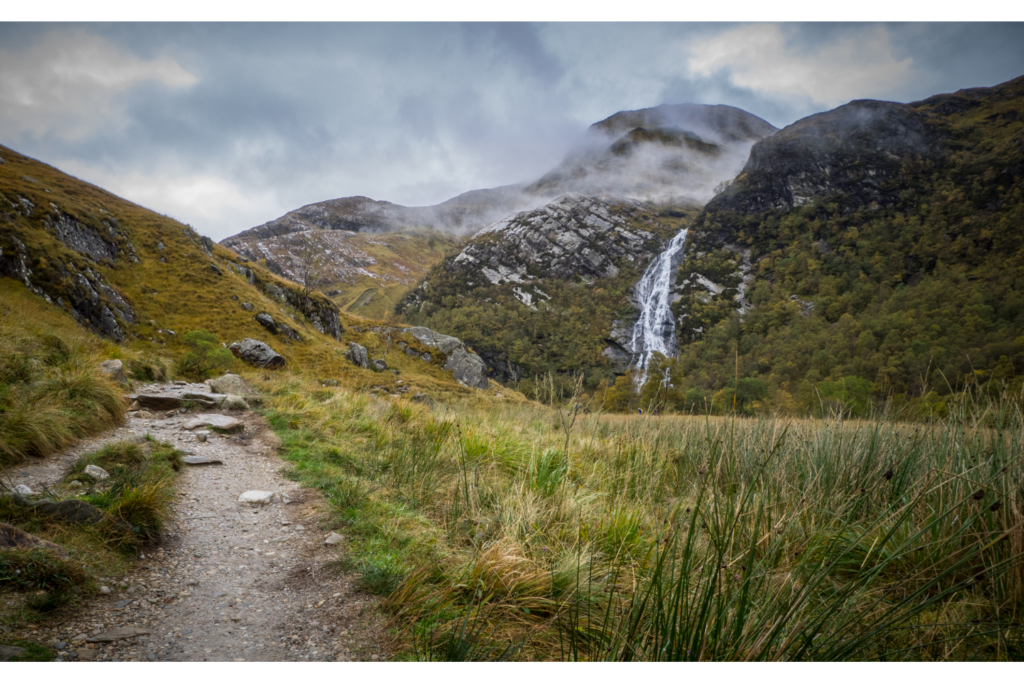 Rannoch Moor
A huge upland peat moor that sprawls from Loch Rannoch to Glencoe, Rannoch Moor is one of the most surreal locations to visit on your day trip from Edinburgh.
This is another place where a sequence was shot in Harry Potter and the Deathly Hallows Part I, where the death eaters board Hogwarts Express. Besides, being an iconic Harry Potter location, this place is also famous for its rich wildlife.
Distance from Edinburgh: 94 miles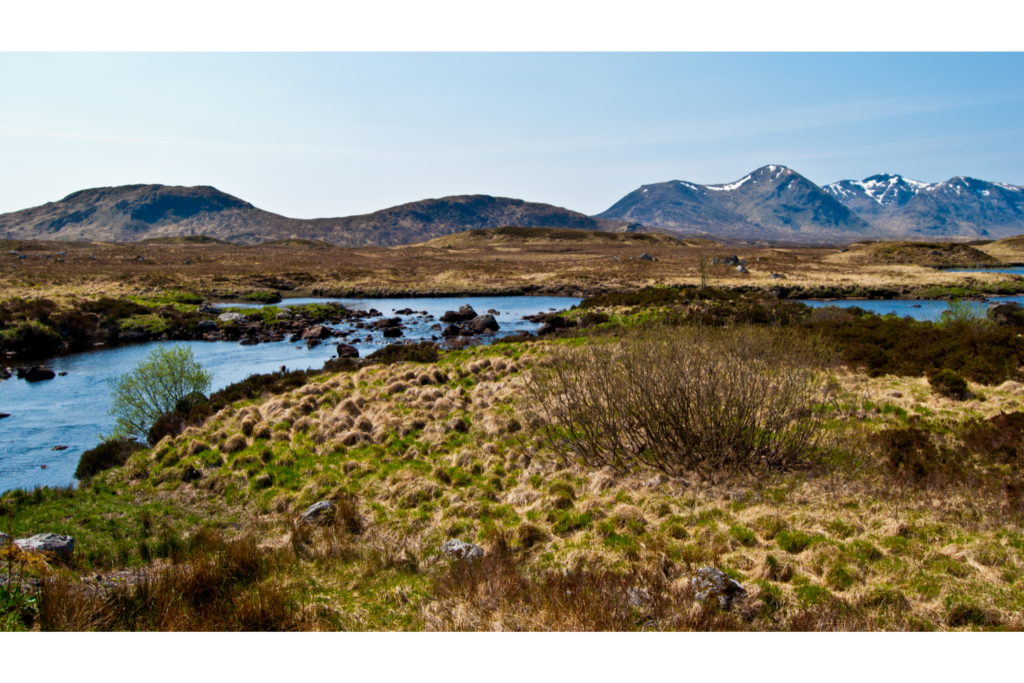 DON'T FORGET
Your trip to Scotland will be a lot more comfortable with a midge net and midge spray. These little biting bugs can be enough to ruin a trip if you don't have the equipment to protect yourself from them. A repelling candle can also be helpful if you are sitting oustide.
Glenfinnan Viaduct
On the West Highland Line, the Glenfinnan Viaduct is a viewpoint from which you can capture some breathtaking panoramas.
Referring to its connection with the Harry Potter movies, this is the bridge that the Hogwarts Express goes over. Though this place doesn't have much screentime in the movie, it makes it on the list of iconic Harry Potter sites to visit solely because of the sublime beauty that you can witness around this place. 
It is the epitome of the Victorian engineering marvel since 1901. The Glenfinnan Viaduct is also the longest concrete bridge in Scotland. 
Distance from Edinburgh: 151 miles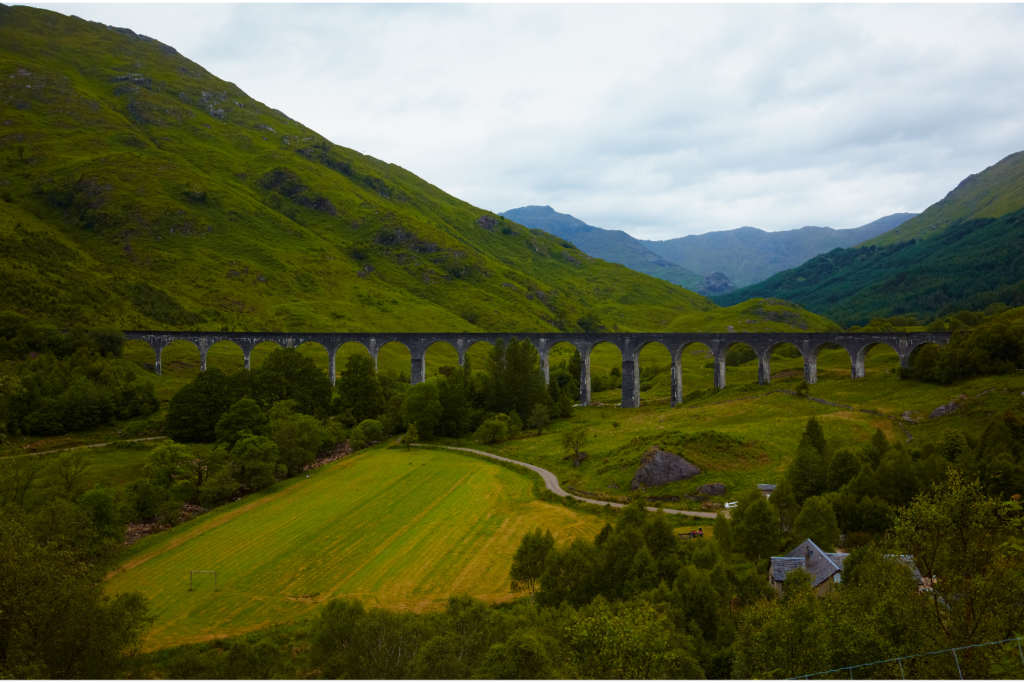 Alnwick Castle
Situated in Northumberland, England, Alnwick Castle is another beautiful attraction that has also witnessed the filming of Harry Potter movies.  The castle itself, is one of the largest inhabited castles in England and serves as the home to the Duchess and Dukes of Northumberland.
 Several scenes of the first two movies of the Harry Potter series were filmed here including the iconic scene where the Hogwarts students learn to fly on their broomsticks.
If you are a Harry Potter fan, one of the best things about visiting Alnwick Castle is that it hosts movie-related activities such as broomstick lessons. Alnwick Castle has also been used as the filming location for many other movies such as Transformers: The Last Knight, Downtown Abbey, Elizabeth, and more.
Distance from Edinburgh: 83 miles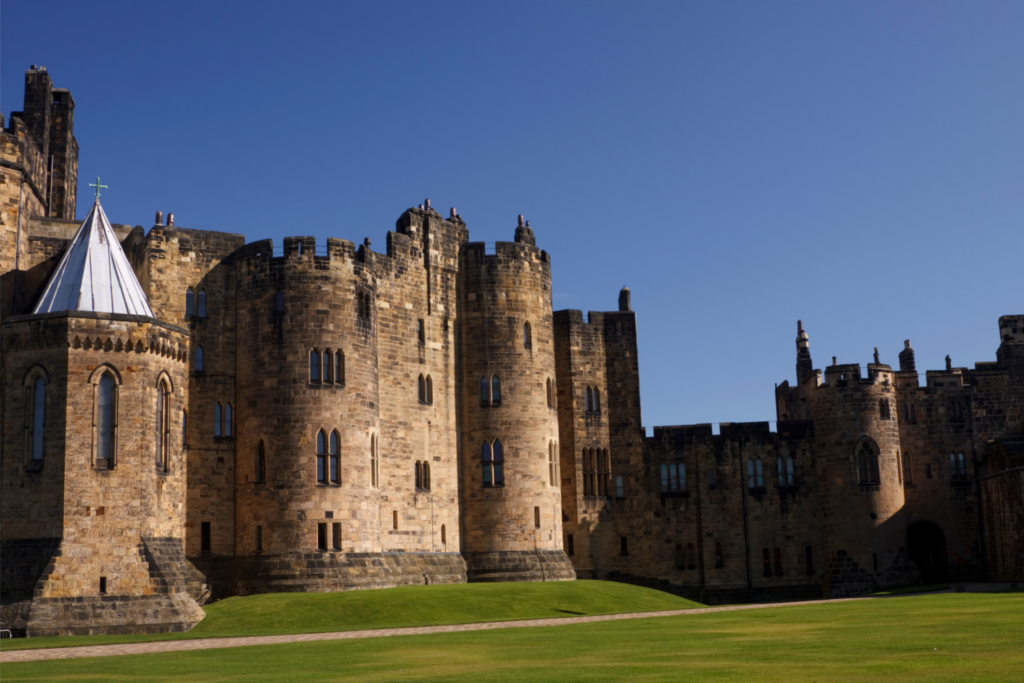 Glencoe
Glencoe is a picturesque village and a home to a deep valley and towering mountains that were formed centuries ago as a result of volcanic eruptions and icy glaciers. 
This is where the terrible Glencoe Massacre happened in 1692. Apart from its rich history and scenic nature, the place is also famous as the filming location of the Harry Potter movies. This is Hagrid's Hut was set. Though you will not get to see Hagrid's hut here today, you can still relish the abundance of scenery and wildlife present here. 
Along with Harry Potter, this location has also been featured in James Bond's Skyfall. 
Distance from Edinburgh: 118 miles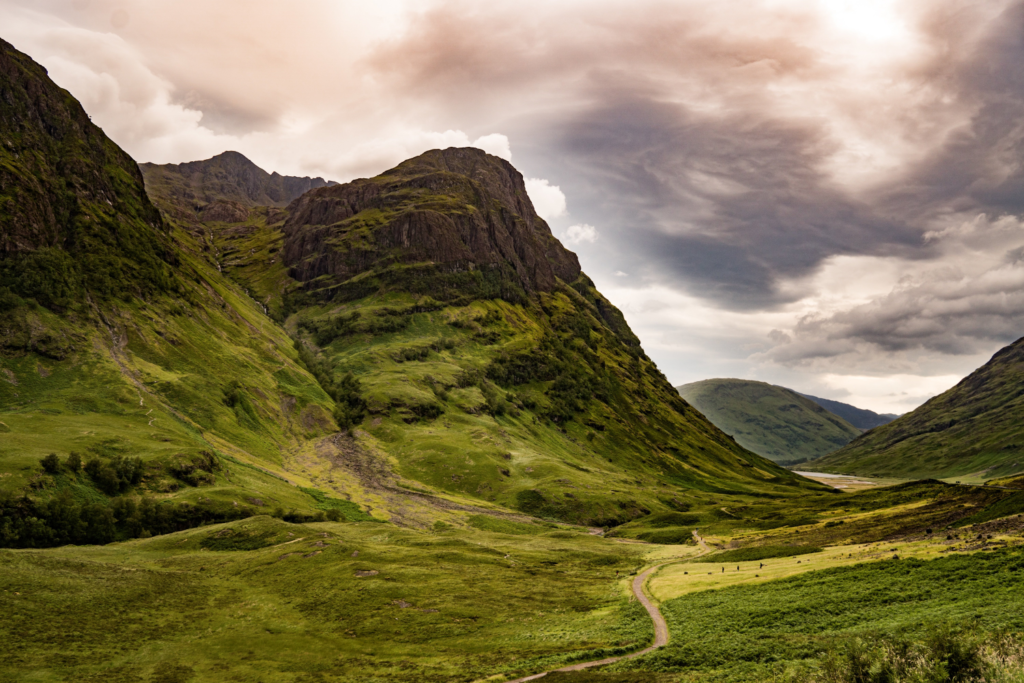 How to Prepare for your Trip to Edinburgh
Before you set off on your way to Edinburgh, there are a number of things you will need to get organised to ensure a smooth and enjoyable journey. These include what to pack, where to stay and what is the best insurance for your trip to Scotland. All of this is discussed in detail below.
How to Get to Edinburgh
When you arrive in Edinburgh, you will most likely arrive at one of the two main train stations, the bus station or the airport. If you are wanting to explore the city centre sights, such as the Royal Mile, Edinburgh Castle, and the Princes Street shops, then Waverley is the best train station for you. The Edinburgh Bus station also sits just behind Princes St, so it is perfect for arriving into the city.
Haymarket Station sits slightly further from the city centre, and the airport itself even further out of the city, however, there is a very simple and reliable tram system that runs around the city. You can catch a tram from Edinburgh Airport directly into the city centre, passing through Haymarket, in just 35-minutes.
For this itinerary, any of these options will be fine for getting you into the city centre, however, most of the sights are based around the castle so Edinburgh Waverly or the bus station are the closest stations.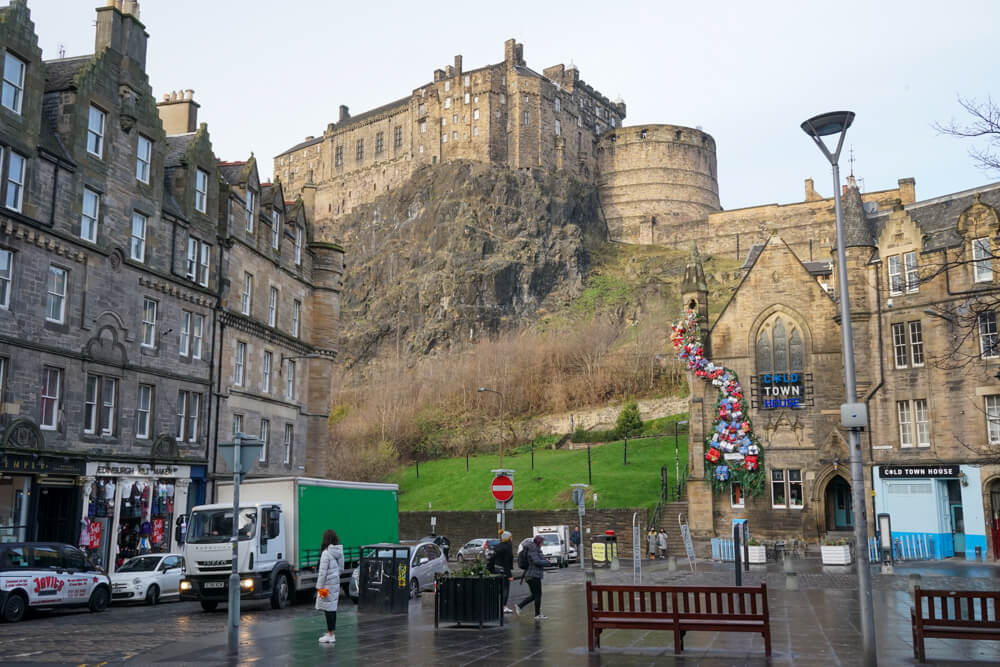 Where to Stay in Edinburgh
There is a wide range of accommodations available in Edinburgh, so you will not be short on options. Here are our top suggestions for the best places to stay in Edinburgh for any budget.
Luxury – Sitting less than 500m from one of Edinburgh's main stations, Edinburgh Haymarket, the Leonardo Royal hotel is a fantastic choice if you would like a bit of luxury. The spacious and comfortable rooms at this city-centre hotel are complete with a large TV, tea and coffee facilities and work away.
Book your stay at the Leonardo Royal Haymarket here.
Mid-Range – For a more reasonably priced stay in the city of Edinburgh, without crimping on comfort, the Haymarket Hub Hotel is the best choice for you. This comfortable and central hotel is just a 15-minute walk from sights such as the Edinburgh Castle and the Royal Mile.
Book your stay at the Haymarket Hub Hotel here.
Budget – For those wishing to make the most of their time out in Edinburgh and don't plan on staying long inside the accommodation itself, the High Street Hostel is your best choice. The building that hosts this hostel dates back to 1564 and sits right on a high street just off the Royal Mile.
Book your stay at the High Street Hostel here.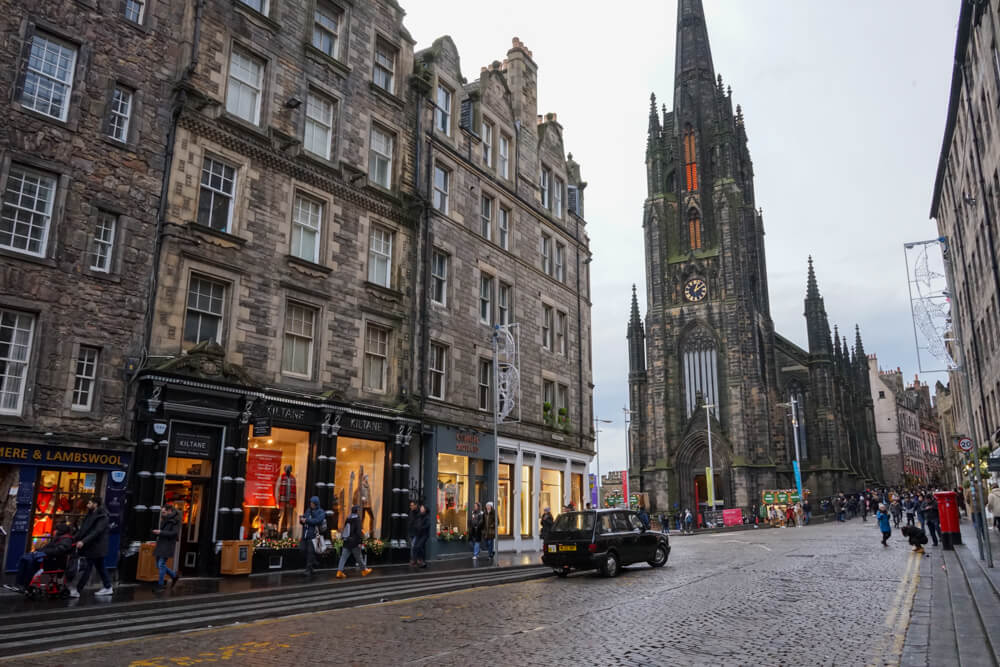 What to Pack for Your Trip to Edinburgh
When it comes to packing for a trip to Scotland there is one item of clothing that you are going to need all year round: a waterproof. It rains in Scotland on average 250 days a year, meaning that during your trip to the Isle of Skye, you can expect rain at some point. Due to this, the number one item on your packing list is a good waterproof jacket.
Second to that, another item to not leave home without is a good pair of warm and, if possible, waterproof boots. A lot of the best sights on Skye require a bit of walking to reach them and the conditions underfoot can become very muddy. You do not want to ruin a good pair of white trainers so pack some sturdy boots.
You will definitely need a hat and gloves during the winter months as the wind chill can be bitter.
For our full list of items that we pack no matter where we go in the world, check out our full packing guides over here.
Given the beautiful sights and scenery that you are no doubt going to see around the Isle of Skye, we highly recommend packing a good camera for your trip. If you want to read more about the cameras we use and why we love them, check out the link below.
You can read what else we keep in our camera bag over here.
Photography Equipment
What is the Best Travel Insurance for Scotland
I know travel insurance is the least enjoyable thing to purchase and look at when you're planning a trip, however, you wouldn't want to be without it in the event that something happened. Accidents can happen anywhere and the extortionate medical bills will ruin your trip if you are not covered.
To ensure you have a stress-free trip with no worries about potential medical bills, make sure you cover yourself when you travel. We can recommend using Safetywing, a backpacker-friendly and cheap insurance company that provides good coverage and support.
Get a quote for your travel insurance right here and get covered.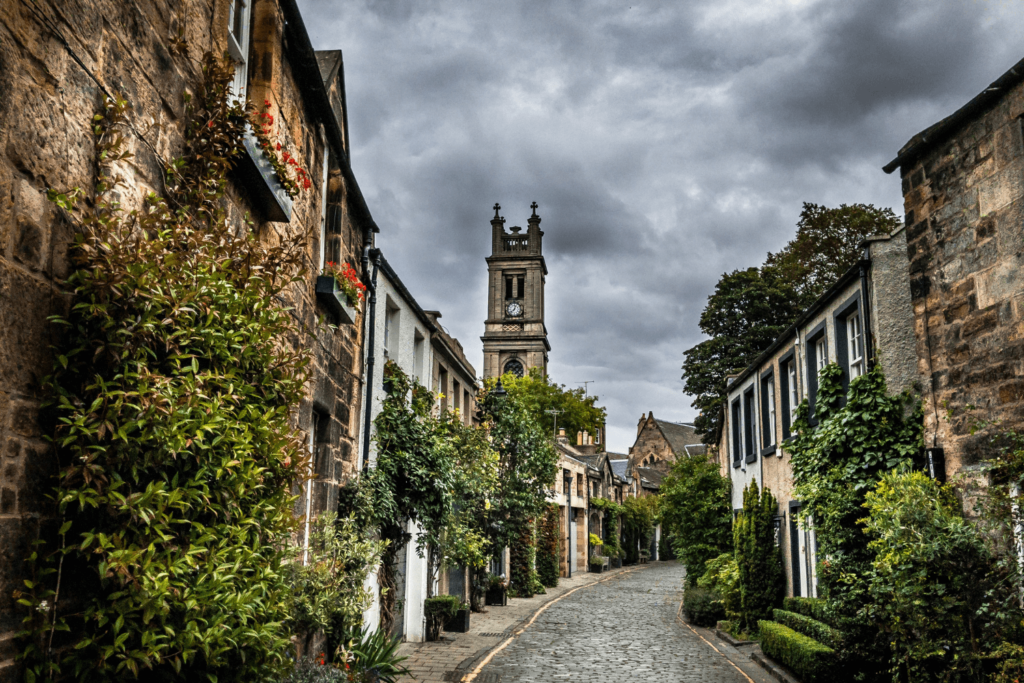 So there you have it, your complete guide to day trips from Edinburgh, including castles, mountains, and movie locations. If you have visited the any of these sites recently, let us know what you thought of them, or if you have any suggestions let us know in the comments below.
As always, sharing is caring so make sure to share this photo guide with your family and friends and inspire them to head off to this part of Scotland. If you are planning the trip for yourself, make sure you have a look at the rest of our Scotland content for more inspiration to our beautiful home country.
When you set off on your own adventure, be sure to tag us in your photos on Instagram and we will share them with the rest of our community. In the meantime, why not follow us over there to see what we are currently up to and keep up with us on our Instagram Stories.
Now Read:
This article may contain affiliate links that provide us with a small income. For more information read our Affiliate page.
Pin this image to your Scotland Pinterest board for later