By reading this I confirm I am over 18 years of age. 
  The Barossa Valley is a wine lover's paradise, with over 50 wineries to taste and indulge your senses. Despite what most of the reputation of most wine tasters, exploring the Barossa Valley and tasting the delicious wines on offer is actually an incredibly affordable, fun and easy activity to do. This one-day itinerary to the Barossa Valley takes you through some of the
best wineries in the north of the Barossa region
. When we explored the
Barossa Valley
and sampled the best wines we have ever tasted, we did it by bicycles that we rented from the local tourist centre. This is just one way of getting around the region and is definitely the most budget-friendly and (in our opinion) also the most fun. All of the other modes of transport will also be discussed in this guide, so make sure you read on!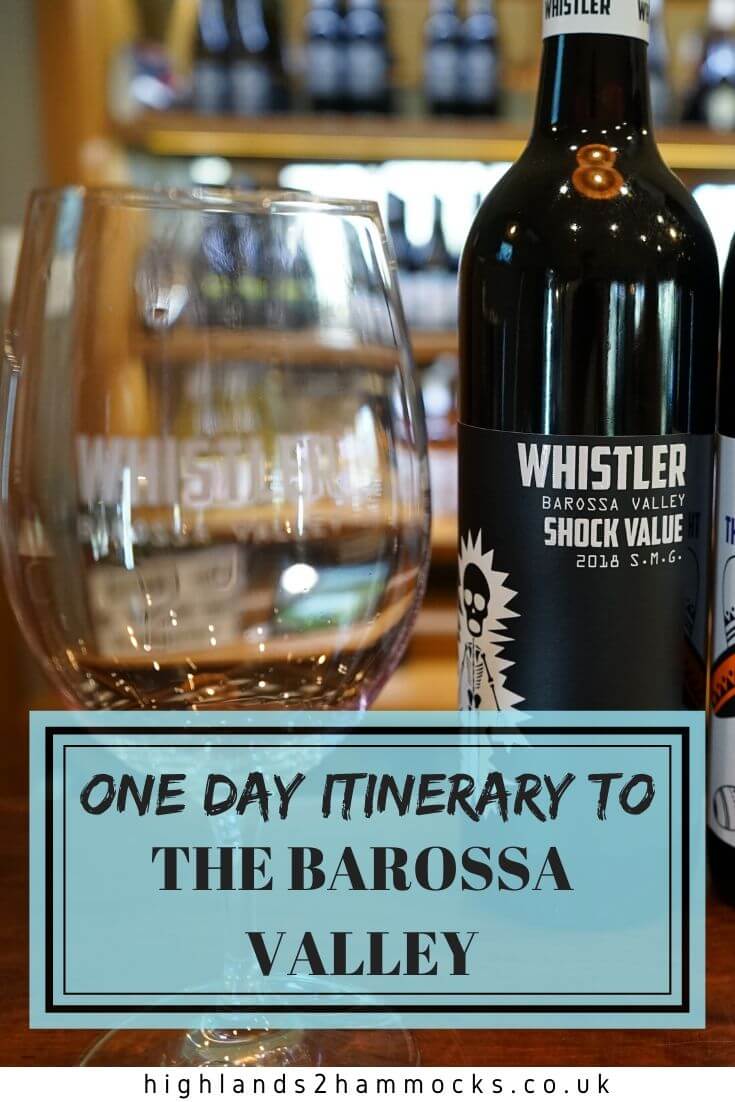 In this guide, all of the below points will be discussed in greater detail. We will also go into how to get around the Barossa Valley, where you should stay in the Barossa Valley and what the best wineries are.
Full Itinerary for the Barossa Valley

Tscharke Wines
Whistler Wines
Murray Street Vineyard
Kalleske Wines

How to Get Around the Barossa Valley
Where to Stay in the Barossa Valley
What to Pack for the Barossa Valley
Other Sights and Attractions in the Barossa Valley
One Day Itinerary to the Barossa Valley – A Complete Guide
The following guide is based on cycling between the wineries on the list, however, if you have a designated driver or are tasting and spitting the wines then you can also follow along. It should be noted that cycling under the influence of alcohol is illegal and should not be done. When you have had more than the recommended amount you should push your bike.  
Arriving into the Barossa Valley
We would advise arriving into the Barossa Valley as early as possible for this itinerary. it is likely that you will find yourself spending more time in each winery than you intend too; the locals love to chat with the visitors and the conversation about the history of the wine and the vineyards will always arise. There are some fascinating stories to listen out for! Most wineries open their doors at 10am, so if you are planning a full day tour we advise that you try to arrive in time for this.    
Starting Your Wine Tour in the Barossa Valley
As mentioned above, it's best to start this tour as early as possible to make the most of your day. The first winery on your itinerary opens at 10 am, there's nothing like being too keen to get in when they first open the doors right? We would recommend having a good-sized breakfast before you start this wine tour to ensure your stomach is lined for the day ahead. The best part about wine tasting is that you don't have to feel obliged to purchase anything. Out of the four wineries we will be visiting in this itinerary, three of them are free and offer you no obligation to buy anything. If you want to make a purchase (which you most likely will), you can either do this by completing a form and collect them the following day or wait until you have tried all the wineries and pick your favourite up the next day.  
Tscharke Wines
Tasting Fee – FREE
The first stop on the itinerary is
Tscharke
, a winery located just off Seppeltsfield Road, around a 20-minute cycle from Greenock. You will be welcomed into the winery by the friendly staff who will give you the history of the vineyard and the winery. The main tasting room is a very attractive wooden hut, with an upper story and a cozy, low ceiling. This winery has recently offered a unique selection of Mediterranian wines, due to the type of grape suiting the current climate. These wines, along with others, are available to try on the free tasting list.  These wines were a selection of white and rose and were very refreshing on the palette. Feel free to try as many wines as you wish off of the tasting list, if you do choose to buy a bottle the prices range from $10-20 and are the cheapest in the region. This is mainly due to the fact that the only place you can purchase these wines are from the cellar door, meaning they save money on redistribution.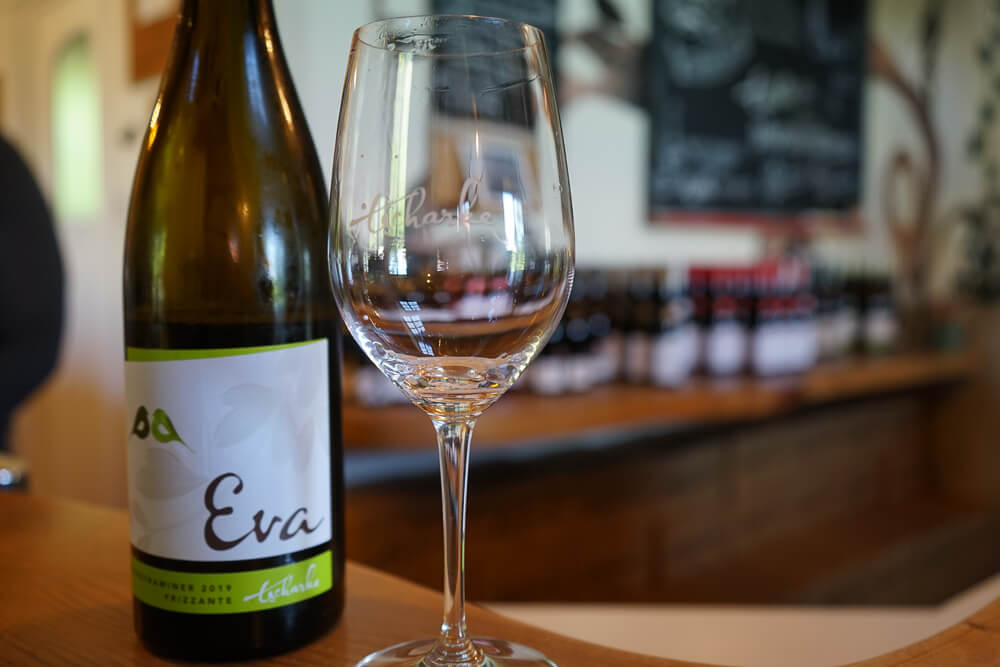 Whistler Wines
Tasting Fee – $10 (redeemable on purchase)
Whistler Wines
winery sits hidden down in amongst the vineyards on Seppeltsfield Road, hidden from the busy main road. It is $10 per person to sample the wines from the tasting menu in Whistlers and it is well worth the money! If you buy a bottle, this money will be deducted from the cost. Whistlers offers a selection of wines that are light in style and easy to drink. The grounds outwith the cellar door and large and beautiful if you want to stretch your legs and take a wander. Make sure you say "hi" to the rescued kangaroos before you leave, who can be found sunbathing not far from the tasting room.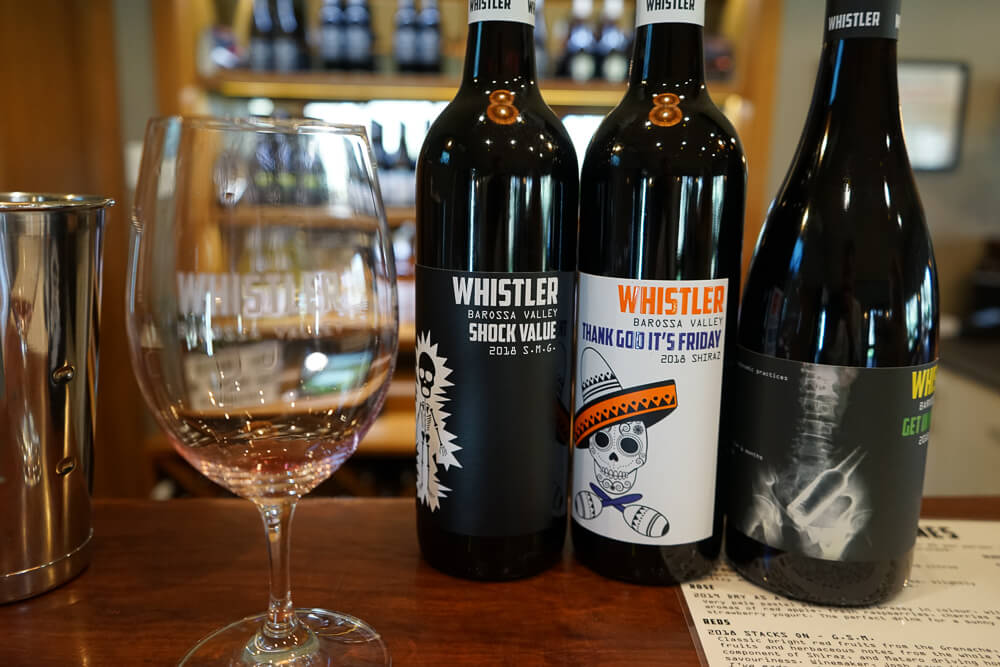 Murray Street Vineyard
Tasting Fee – FREE
Murray Street Vineyard
is the next winery on your itinerary and I can bet you're starting to feel the wine in your system. Well, this next stop you can choose to sit outside in the beautiful garden area overlooking the vineyards, and the tasting options that suit your choice will be brought out to you. The friendly staff will tell you about the history of the wine and those wines that will age better than others. This tasting is free and just like the other wineries, you will be given a sheet to make notes of your favourites and order if you wish. It would be wise to collect any wine you would like to buy the following day in our opinion, otherwise you are making your cycle heavier than it needs to be.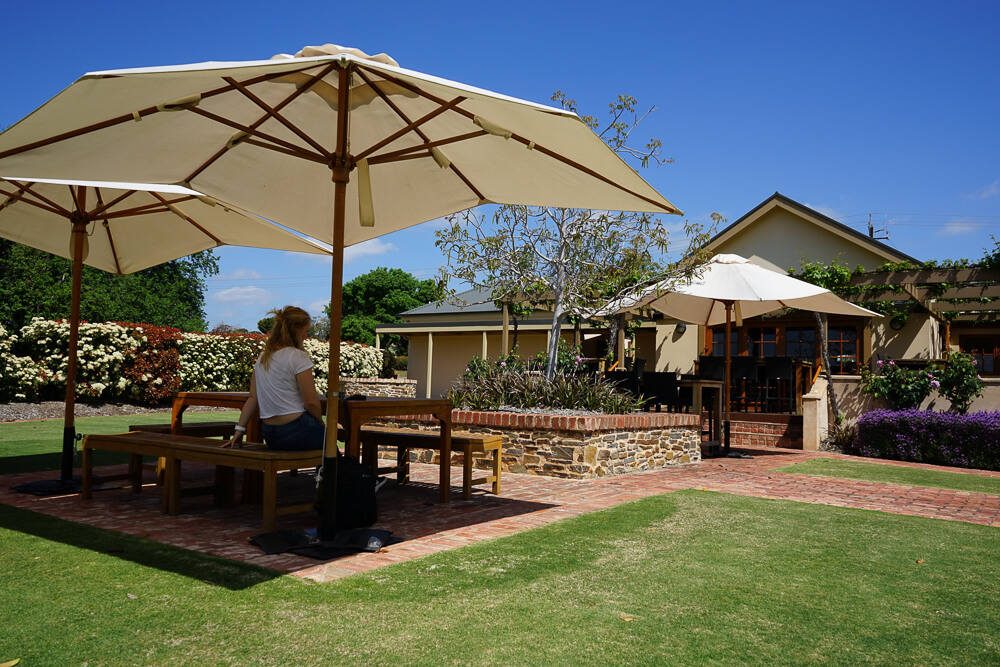 Kalleske
Tasting Fee – FREE
By now, you must be feeling peckish for a late lunch?
Kalleske
is the perfect spot for that to sit back and relax after a busy day. This is another free wine tasing session and we are sure you will find one you love. Out of their huge selection you will be ale to taste around 8 red wines, 2 whites and a rose. Our favourite was the Lorraine Semscato and we enjoyed a bottle of this on a picnic rug in the garden with one of their cheese platters. There are two platters you can choose from, either a cheese platter for $12 or a larger platter for $20 that contains a selection of meat and cheese.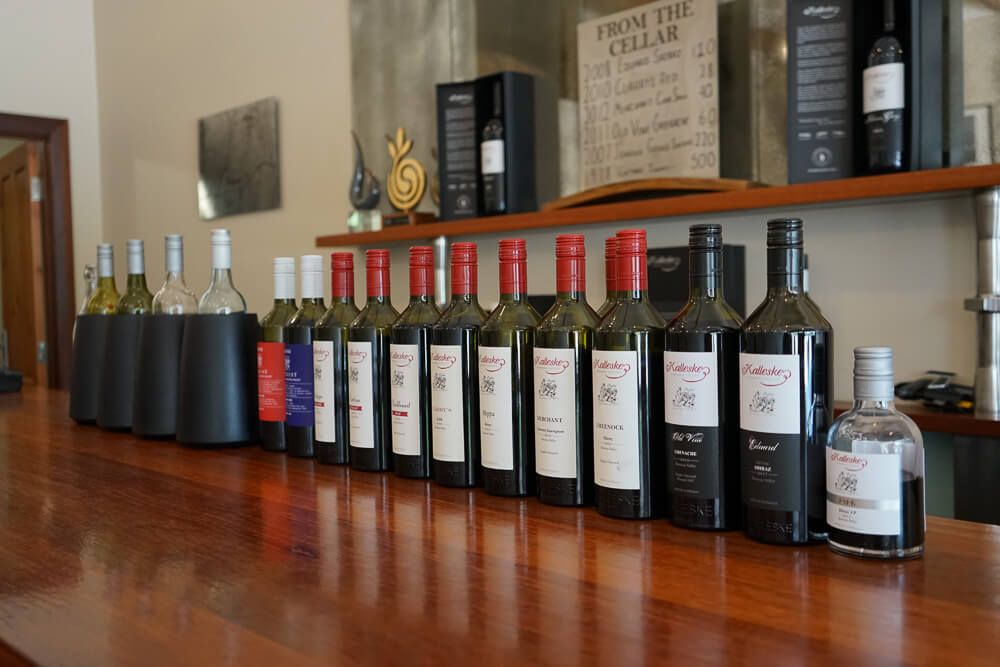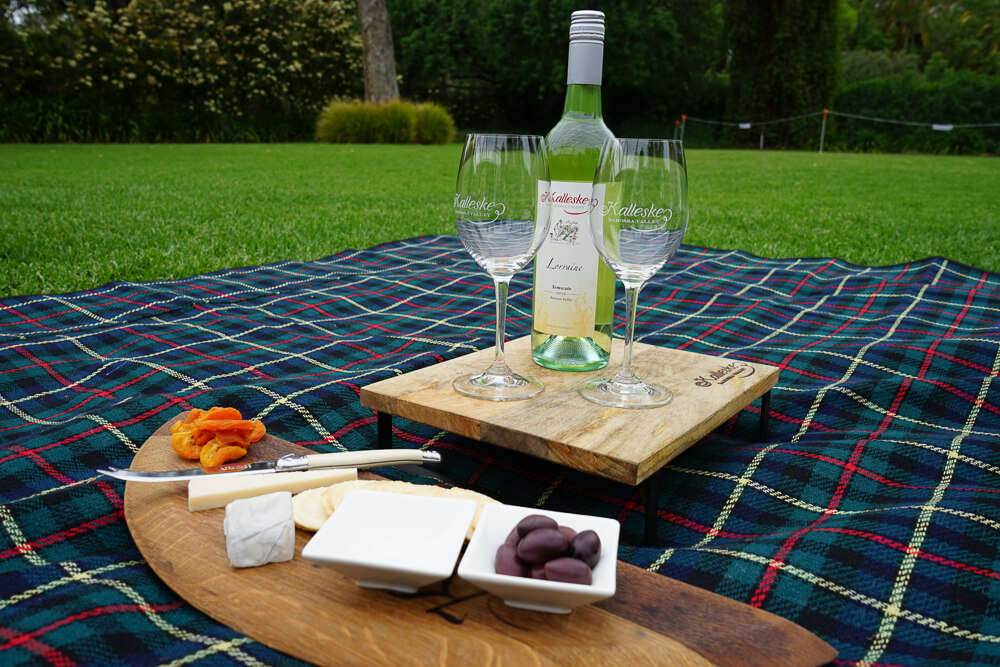 Most wineries will close at 5pm, so this gives a good time to get around and take your time enjoying the experience at each one. If you are looking for food in the evening, the Greenock Tavern sells a selection of pub foods and is a nice way to spend the evening.    
Other Sights and Activities in the Barossa Valley
In addition to the wineries around the Barossa Valley, there is also a huge selection of other beautiful sights and activities that we highly recommend you check out.  
Seppeltsfield Road
Take a drive down the beautiful Seppeltsfield Road and transport yourself to the vibrant streets of Hollywood. This incredible area has all of the streets decorated with tropical palm trees, catching the morning sun perfectly and giving you a beautiful sunrise view. Head here first thing in the morning and start your day off perfectly in the Barossa Valley.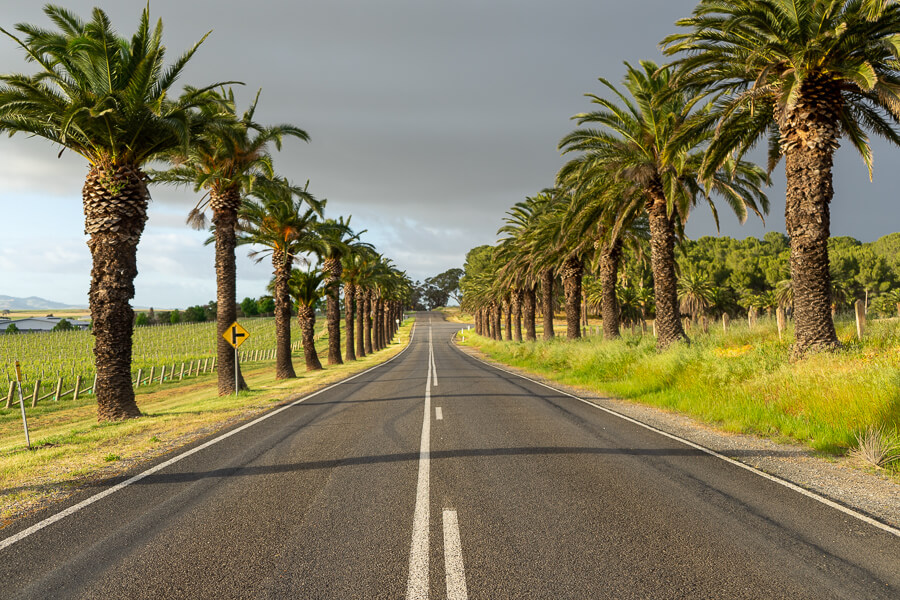 Mengler hill
Without a doubt, the best sunset spot in the Barossa Valley is Mengler Hill. High above the region, Mengler Hill offers spectacular panoramic views over the surrounding area. There is also a small art project at the lookout point, perfect for an afternoon stroll to admiore the beautiful view. Pack a picnic and a blanket and come to this sunset point for the perfect end to the day in the Barossa Valley.
Barossa Valley Chocolate Company
Once you have satisfied your tastebuds with the delicious wines that are on offer around the Barossa Valley, it is time to endulge on the sweeter side of the region. The Barossa Valley Chocolate Company is the perfect afternoon spot for anyone with a sweet tooth, offering free tasters, a huge range of chocolate treats and gifts and a cute cafe spot with a view to relax with a hot drink. Book yourself in for a huge range of experiences involving wine and chocolate pairing, as well as chocolate making and decorating.
Read more about the activities available at the Barossa Valley Chocolate Company right here.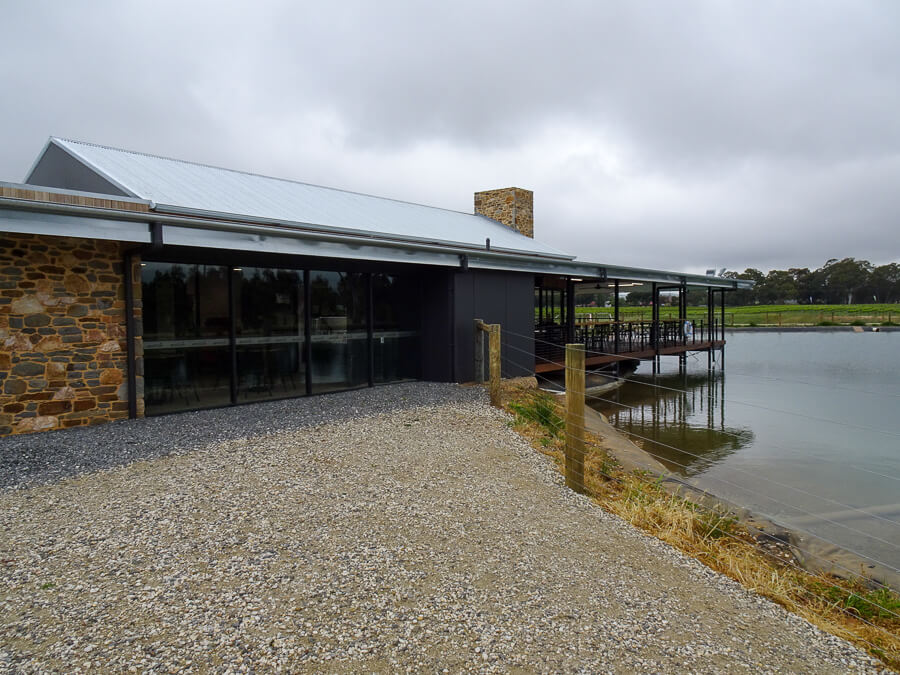 When to Visit the Barossa Valley
The best time of year to visit the Barossa Valley is definitely during the Autumn months of March through to June. This is when the harvest has just finished and wineries are preparing for the amazing Barossa Vintage Festival. This 9-day celebration is filled with food, live music and, of course, great wine. The Sping months of September through to December are also a fantastic time to visit, with the temperatures starting to pick back up after the long winter. You will also start to see new leaves and buds starting to grow on the vines of the old vineyards, a truly beautiful sight.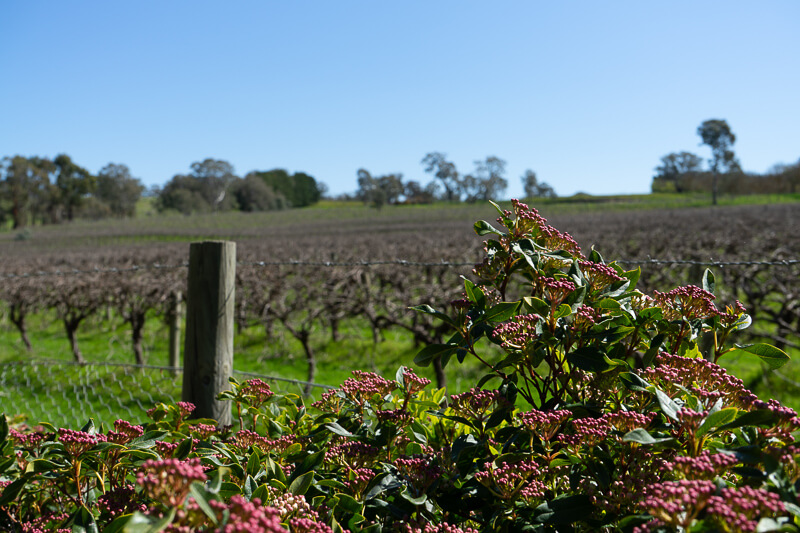 Before You Go to the Barossa Valley
Before you head off on your trip to the Barossa Valley, there are a few things to organise to make sure your trip runs as smooth as possible. These include getting around the Barossa Valley, what to pack for your trip and where to stay during your trip.  
Applying for an Australian Visa
If you have yet to leave for Australia then this is a section of interest for you. There are a LOT of different visa options for people arriving into Australia, from tourist visas to permanent residence visas. The most common visas, however, are the 3-month tourist visa and the Working Holiday Visa. If you are only visiting Australia for a short period of time then a tourist visa is your best option. These are easily obtained and relatively cheap, costing roughly $140AUD, and allow you to stay in the country for up to 12months.
These can be applied for on the government website here.
  If you wish to work and travel in Australia, a working holiday visa is your best option. These cost around $480AUD and allow you to stay in Australia for up to 12months, whilst working and earning money to travel. This visa also gives you the opportunity to extend your stay in Australia by up to 24months by working in certain job sectors.  
For all of the information you need to know about the Australian Working Holiday Visa, read our full guide over here. 
What to Pack for the Barossa Valley
Depending on which season you visit the Barossa Valley, what you will need to pack will vary drastically. During the summer months of December to February, temperatures around South Australia can reach blistering highs well into the 40s. The average temperature around the hills of Adelaide is around the mid-20s and is very much summer clothing only, as there is very little rain. During the other months, temperatures and weather around this region is very temperamental, with frequent fluctuations between 30oC and 10oC. We highly recommend that you pack a rain jacket and some warm layers, however, also pack some light and summery clothing for the days blessed with sunshine.   If you need more inspiration on what to pack for your trip,
check out our full packing guides for all-weather conditions over here
.   When it comes to toiletries, we recommend that you pack as much sunscreen as you can. The sun in Australia is strong, and even the darkest skin tones can get easily burnt. No matter what the season is or how warm you may feel, you should always wear sunscreen in Australia.   Given the beautiful sights and scenery that you are no doubt going to see around Barossa, we highly recommend packing a good camera for your trip. If you want to read more about the cameras we use and why we love them, check out the link below.
You can read what else we keep in our camera bag over here.
What is the Best Travel Insurance for the Barossa Valley
Regardless of what type of trip you are heading on, one thing that is essential for everybody is good travel insurance. Accidents can happen anywhere and at anytime and unexpected hospital bills will ruin a holiday. Remove the stress from your next adventure and get covered for the worst.
World Nomads Travel Insurance
provides budget reliable travel insurance that will keep you covered for any level of adventure.
You can get your quote before you leave on your trip right here.
How to Get to the Barossa Valley
The Barossa Valley lies 60km northeast of Adelaide city centre and is easily accessible by car. If you have your own vehicle then this makes for a very straight forward trip to the Barossa and you can read on below to find out the best places to stay in the region. If you don't have your own vehicle, you can either hire one or book a tour guide. We highly recommend the former as it means you can explore the area at your own pace and follow these fantastic itineraries as you do so, however, if you are in a rush or want a more stress-free adventure, a guided tour is the way to go.
View the best prices for car rental right here.
  See below for the best wine tours in the area that will save you the hassle of organising the trip yourself, and will also get you to and from your accommodation quickly and easily.    
How to Get Around the Barossa Valley
Getting around the Barossa Valley is a challenging thought for some, considering it's a wine region and many people like to visit and taste the wine. If you are on a guided tour then it is not something that you will need to worry about, however, if you are wanting to tour Barossa by yourself you will need to find a way to enjoy both. If you are driving yourself around the Barossa Valley it is always possible to nominate a designated driver who can choose not to taste the wine, or even to taste and spit the wine. Of course, this is not nearly as fun as it should be, so it is not a popular choice for most people. There is also the option to hire bicycles in the area, which is how we chose to get around and recommend as the best way to tour the Barossa Valley. This will allow you to explore the beautiful countryside, soak up the gorgeous weather at a leisurely pace and taste the best wines the region has to offer. Bikes can be hired from the Barossa visitor centre in Tanunda at $44 for 24 hours or $35 for 4 hours. This option gives you the freedom of going where you want when you want to. The full-day rental also offers the opportunity to explore around the local towns the next morning before you return the bike.
NOTE – It is illegal to cycle under the influence of alcohol. If you do wish to drink more than the recommended amount then you will have to push your bike instead.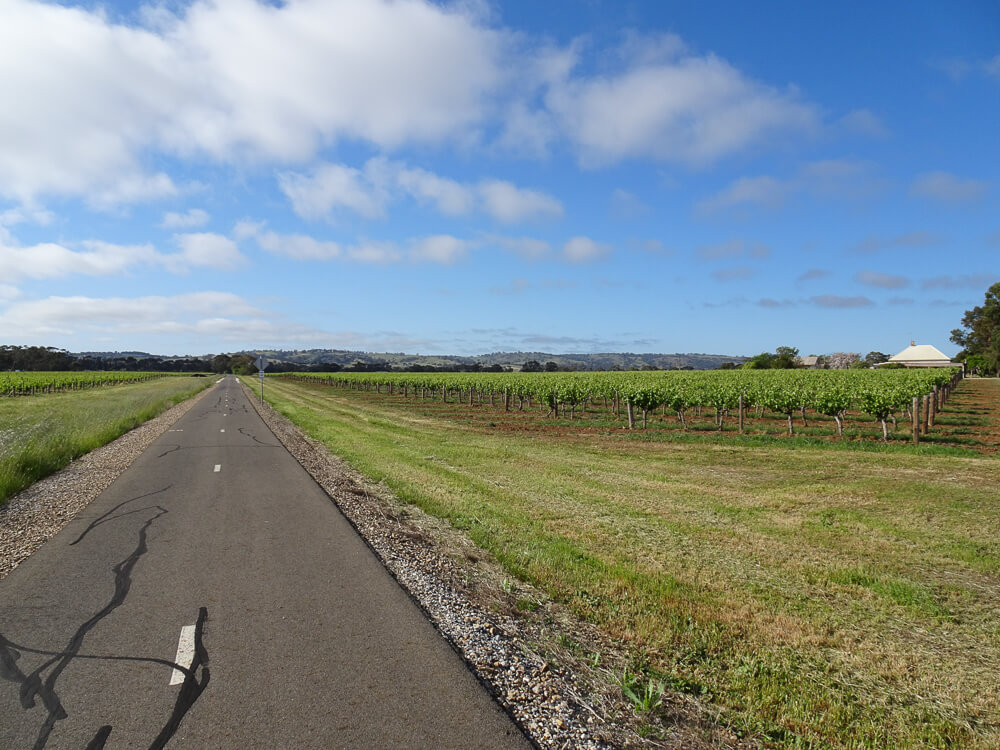 Where to Stay in the Barossa Valley
There are many beautiful places to stay in the Barossa Valley that will suit any budget. We were surprised to pay as little as
$5 a night
when we were there! Whether you like luxurious villas, cozy cottages or enjoy a little bit of camping, the Barossa Valley has the perfect place for you.  
Luxury
–
The Louise
is a top class luxury hotel in the Barossa Valley. The suites include a patio and spa bath as well as an outdoor shower and access to the gym and sauna.
You can book your stay at The Louise here.
Mid-range
–
Greenocks Old Telegraph Station
is the perfect location for your trip around the Barossa Valley. This cottage was built in the 1800s, this self contained cottage offers a spa bath, private patio and fireplace. Breakfast is also included.
You can book your stay at Greenocks Old Telegraph Station here.
Budget
–
The Seppeltsview Cabins
offer a self-contained accommodation complete with a kitchenette. Enjoy the beautiful sunrises the Barossa Valley has to offer with the spectacular Seppeltsfield Road right on your doorstep.
You can book your stay at The Seppeltsview Cabins here. 
Camping
– If you choose to camp around the Barossa Valley, there is a range of campsites available. For a cheap stay, head to Greenock and camp up in the Oval for a $5 donation. There are toilets on site and if you need a shower, there are showers available at the Barossa Visitor Centre for $1/3mins. There are many wineries within walking distance of Greenock to explore and even a local tavern to wind down the day and enjoy some of the local wines you tried earlier.
If you want to follow our route, check out our one-day cycle itinerary to the wineries around the Greenock and Seppeltsfield area.
Caravan Park
–
The Barossa Valley Holiday and Caravan Park in Tanunda
 is great caravan park if you are looking for something a little bit extra during your stay in the Barossa Valley. At this park, you will have access to a waterpark and swimming pool as well as free wifi.  A great place to cool off in the warmer weather. If you are wanting to base yourself in Nuriootpa,
BIG4 Barossa Tourist Park
also has a swimming pool as well as a fire pit and even wine tasting is available.  
    So there you have it, your
one day itinerary to the Barossa Valley
. If you are visiting this breathtaking place and have any other questions on what to expect, leave us a comment down below. We love to chat about this stuff! If you have already been, let us know how it was! What was your favourite part of the Barossa Valley? What wineries did you visit?
Let us know in the comments below
! Also remember to share this with your friends and family that you are going to tour with. 
Sharing is caring
 and we want to inspire as many people as we can to visit this unbelievable part of the world. If you are planning an Australia trip soon then check out our 
other Australia content right here
. Come and 
find us on social media
to see where we are currently exploring. Tag us in your photos from the Barossa Valley and we will share them with the rest of our community of explorers and backpackers.    
Now Read:
This article may contain affiliate links that provide us with a small income. For more information read our Affiliate page.
---
Pin it for later!