Spread all throughout the beautiful city of Budapest, you will find many of it's world-famous thermal bathes. With some dating back hundreds of years, to the days when personal hygiene facilities were not available in every household, these baths have an incredible history to them. Their beautiful architecture is just of the many reasons why you need to visit at least one. During our
short visit to the vibrant city of Budapest
, we visited two different thermal baths,
Lukacs
and
Szechenyi
. Both of these baths were similar, yet completely different when it came to the size, facilities, architecture and general enjoyment factor. But before we dive into the details of these centres of relaxation, let's talk about why we decided to go and what to bring!
Save this image to your Budapest Pinterest board for later!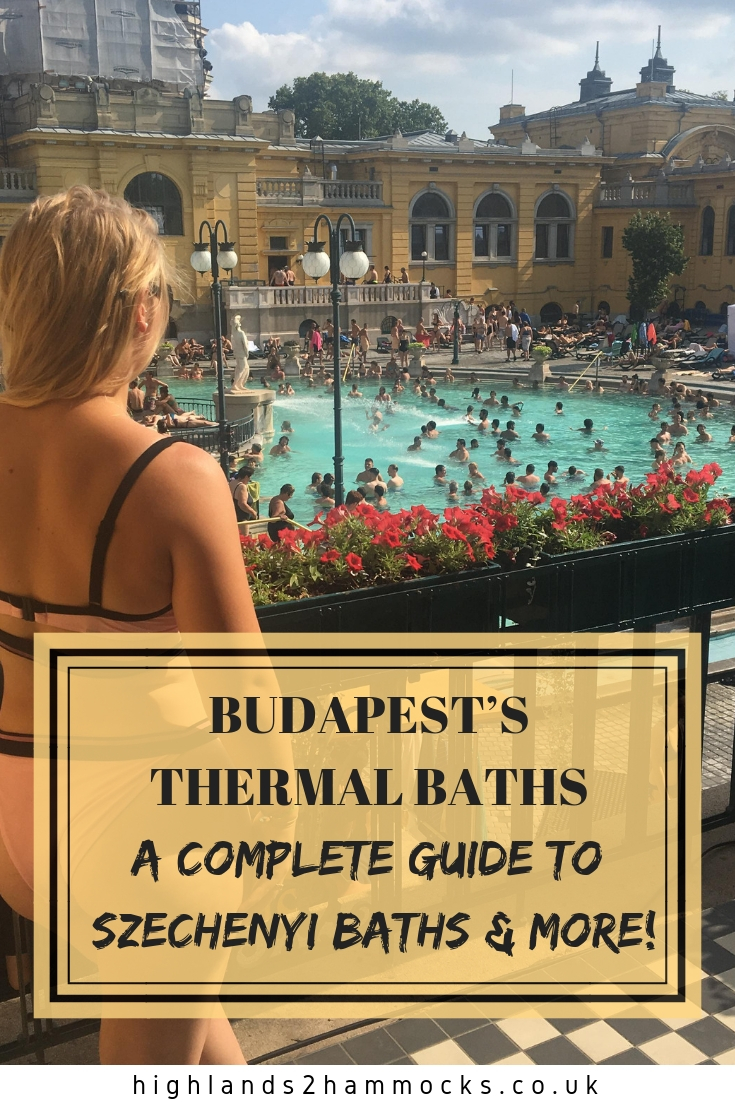 Budapest's Thermal Baths – A Complete Guide
Why Visit the Baths
As I said before, the thermal baths of Budapest are famous throughout the world. No visit to this incredible city is complete with spending an afternoon relaxing in at least one of the baths. Whether your visit to Budapest is to
drink in the culture
, learn the fascinating history, relax in the sun or indulge in the (rather cheap) local beers, you will find all of the above at the baths. Our main reason for visiting the baths was due to the incredible heat Budapest was experiencing, as well as the fact that we were living out of a tent. Once we were finished wandering around Budapest in the 35oC, soaking up the
top things to do in Budapest
, we decided to pack up our swimsuits, towels and a packed lunch and
spend the day relaxing
in and out of the water. Time to get zenned out!

What to Bring?
During your visit to the baths you will require, the very least, a swimsuit and towel, however, we recommend you bring a few other items as well. There are bar and restaurant facilities, shoe rentals, towel rental and even shops selling bathing equipment, such as goggles, caps, towels, dressing gowns and much more. However, all of this added together will prove to be a very expensive trip, so we suggest packing them yourself and saving the money for more important things (beer..). During our visit, we packed the following-
Swimsuit
Goggles
Towel
A good book
Soap and shampoo
A packed lunch and water bottles
With all of the above, you will be able to spend an entire day here, enjoying the many fantastic facilities, without spending a penny above the cost of entry. Now let's talk about the baths themselves!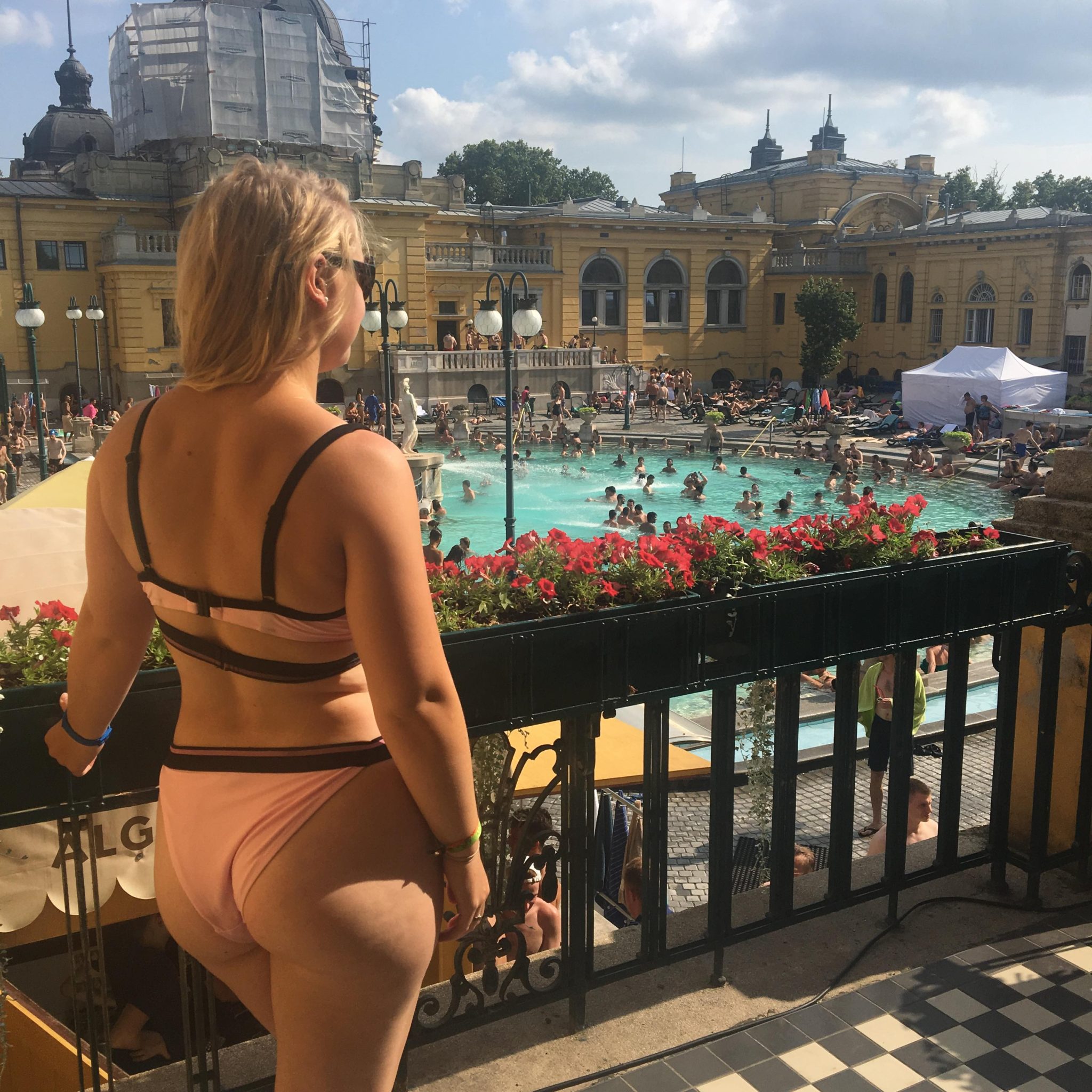 Budapest's Thermal Baths
Lukacs Thermal Bath
The first bath we visited was the
Lukacs baths
, located on the Buda side of the river. Although this is one of the smaller baths available, we highly recommend a visit! Thanks to our
Budapest Cards
, our entry to this bath was completely free. We spent the afternoon relaxing here, enjoying its many hot and cold pools, the steam room and saunas and most of all, the Jacuzzi seats and lazy river on the outdoor section of the baths. Lockers are included with the entry to the bath and cabins are available to rent if you have larger bags, so don't worry if you are a backpacker like us!
Szechenyi Thermal Baths
The second bath we visited is located on the Pest side of the river, in the centre of the City Park. The
Szechenyi thermal baths
are possibly one of the grandest and most popular baths in Budapest. The splendid architecture of these baths makes it one of
Budapest's top Instagram spots
. The huge complex consists of three large, outdoor pools, as well as multiple indoor pools of varying temperature. There are multiple saunas and steam rooms, as well as plunge pools to cool off in. Spend the day lounging by the outdoor pool and topping up on refreshments at the many bars surrounding the complex, before finishing off with a sauna, a steam and even a massage if you want!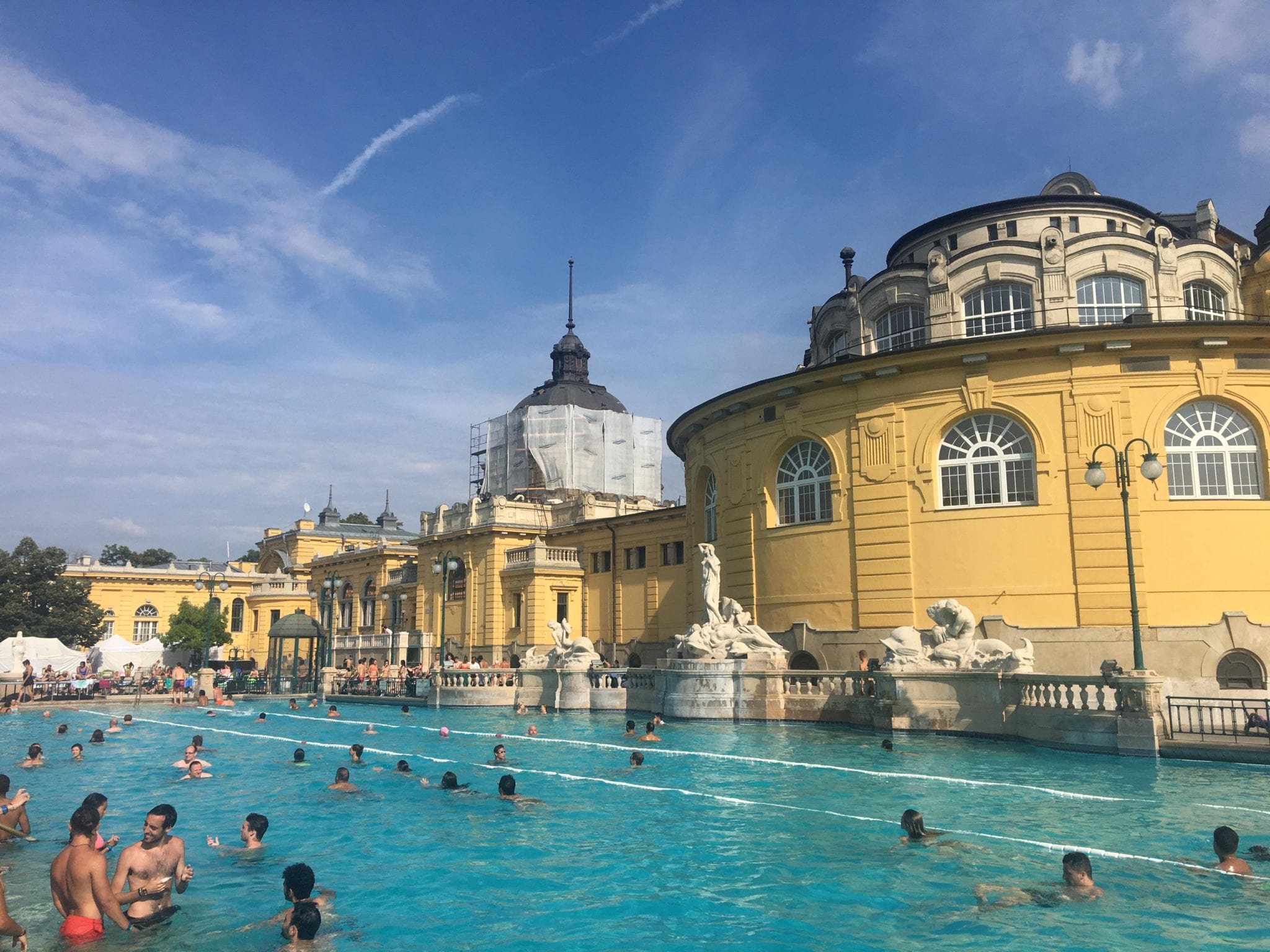 When we visited this bathhouse, it was a Saturday and therefore extremely busy. We would recommend going during the week and during office hours, to avoid the heavy traffic of locals enjoying this spectacular sight. Once again, lockers are available on the standard ticket and cabins are available for rental. Since we were visiting these baths on our way to the train station, we had our entire luggage with us. We therefore decided to rent a cabin, which proved to have plenty of room for all of both of our bags.
Which One to Choose?
Overall, we would have to rate the first baths we visited, the
Lukacs bathhouse
, as our favourite. This may be because of how busy the other thermal baths were, but it is also due to the wider range of attractions available. The thermal pools felt warmer and cosier and the Jacuzzi seats were amazing! In addition to this, the tickets were also cheaper, which would have been a big deal to us if they weren't included in our
Budapest Card
anyway. We thoroughly enjoyed our visits to the bath houses and can recommend them to all backpackers, whether you be budget or luxury, for your visit to beautiful Budapest.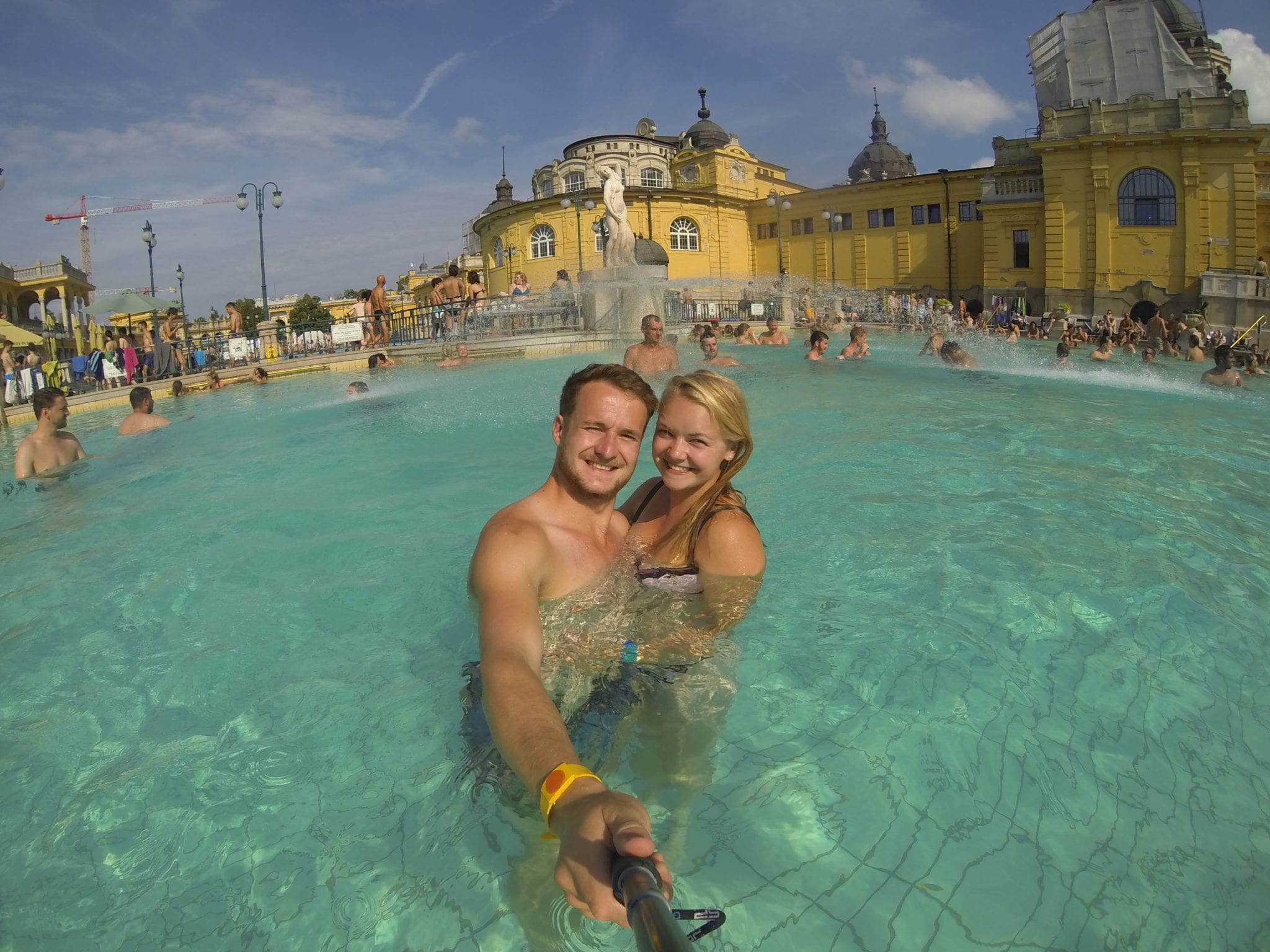 Before You Leave for Budapest
Before you set off on your trip to Budapest, there are a number of things you will need to organise to ensure a smooth and successful trip. These include where to stay in Budapest, what to pack for your trip to Hungary, and what is the best travel insurance for your trip. All of these will be discussed in the following section.
What is the Best Travel Insurance for Budapest?
Regardless of what type of trip you are heading on, one thing that is essential for everybody is good travel insurance. Accidents can happen anywhere and at anytime and unexpected hospital bills will ruin a holiday. Remove the stress from your next adventure and get covered for the worst.
World Nomads Travel Insurance
provides budget reliable travel insurance that will keep you covered for any level of adventure.
You can get your quote before you leave on your trip right here.
What Should You Pack for Budapest?
What you need to pack for Budapest will rely highly on when you make your trip to Hungary. During the Spring and Autumn months, temperatures and weather patterns vary wildly between beautiful sunny skies and rainy days. During the Summer, you are pretty much guaranteed nice weather with temperatures ranging from 20-35 oC. The hottest months are July and August, so these will be the most popular for a Summer holiday.
During the Winter months in Budapest, the weather can go as low as freezing, so make sure you wrap up warm if you are coming between October and April. If you need more inspiration on what to pack for your trip,
check out our full packing guides for all-weather conditions over here
.
When it comes to toiletries, we recommend that you don't forget to pack sunscreen. The sun in Hungary is very strong, especially during the summer months. Apply a lot of creams regularly to prevent a nasty burn from ruining your trip. We use
this specific sunscreen
to protect us as it is not as oily and irritating as other sunscreens.
Given the beautiful sights and scenery that you will see in Budapest, we highly recommend packing a good camera for your trip. If you want to read more about the cameras we use and why we love them, check out the link below.
You can read what else we keep in our camera bag over here.
Where to Stay in Budapest
No matter what your taste in luxury might be, from campsites to 5-star hotels, Budapest has the perfect place for you to rest your head at the end of the day.
Luxury – The Four Seasons Hotel Gresham Palace Budapest has an incredible and view and enjoys an incomparable location in front of the Chain Bridge. This hotel offering luxury units, an infinity-edge pool, a fitness room as well as a restaurant and bar.
Book your stay at the

Four Seasons Hotel Gresham Palace Budapest

here.
Mid-range – Lanchid 19 Design Hotel is the perfect mid-price range accommodation to stay in in the heart of Budapest. With everything, you need within walking distance and the most spectacular bathtub views. You can also enjoy some of the delicious Hungarian food that is served in the restaurant here. 
Book your stay at the

Lanchid 19 Design Hotel here.
Budget – If you are visiting Budapest on a budget and are looking for somewhere central to stay, Centric Lifestyle Apartments is a great option. There is free wifi in this spacious apartment as well as an excellent city view. 
Book your stay at the

Centric Lifestyle Apartments here.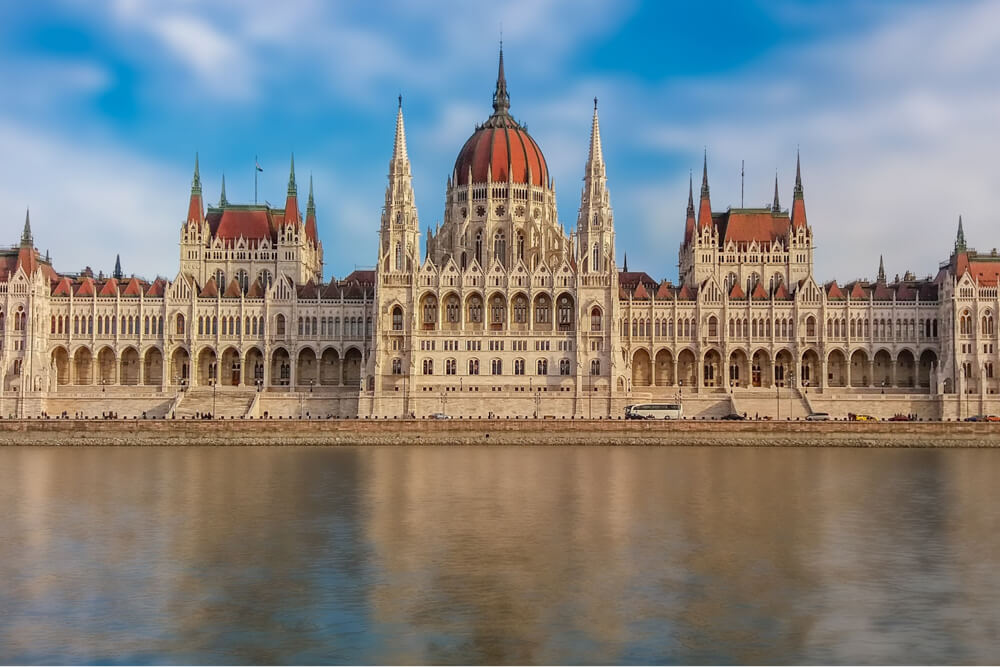 With this, we come to the end of this Budapest 2-day itinerary. There is so much to do in this amazing city so the chances are after a couple of days there you will be bound to have left some places unexplored. Always a good excuse to visit again though right? 
If you have visited Budapest, let us know what you thought of the sights listed above, or if you have any suggestions
let us know in the comments below
.
As always, sharing is caring so make sure to share this travel itinerary with your family and friends and inspire them to head off on their own Italian adventure. If you are planning the trip for yourself, make sure you have a look at the rest of our
Budapest content
for more inspiration to our beautiful home country.
When you set off on your own adventure, be sure to tag us in your photos on
Instagram
and we will share them with the rest of our community. In the meantime, why not follow us over there to see what we are currently up to and keep up with us on our Instagram Stories. 
Read Now: 
This article may contain affiliate links that provide us with a small income. For more information read our Affiliate page.
---
Save this image to your Budapest Pinterest board for later!