Wanagiri Hidden Hill's is one of the most Instagrammable spots in Bali. As the sunrises over the Twin Lakes, the colours turn golden and the surroundings sparkle. This area in the north of Bali is becoming more and more popular for tourists as attractions such as the famous Bali swing and birds' nests pop up.
This complete guide to Wanagiri Hidden Hill has all the information you need for your trip to North Bali.
Also Read Before You Go – 10 Day Bali Itinerary – The Best Sights for First-Timers Visiting Bali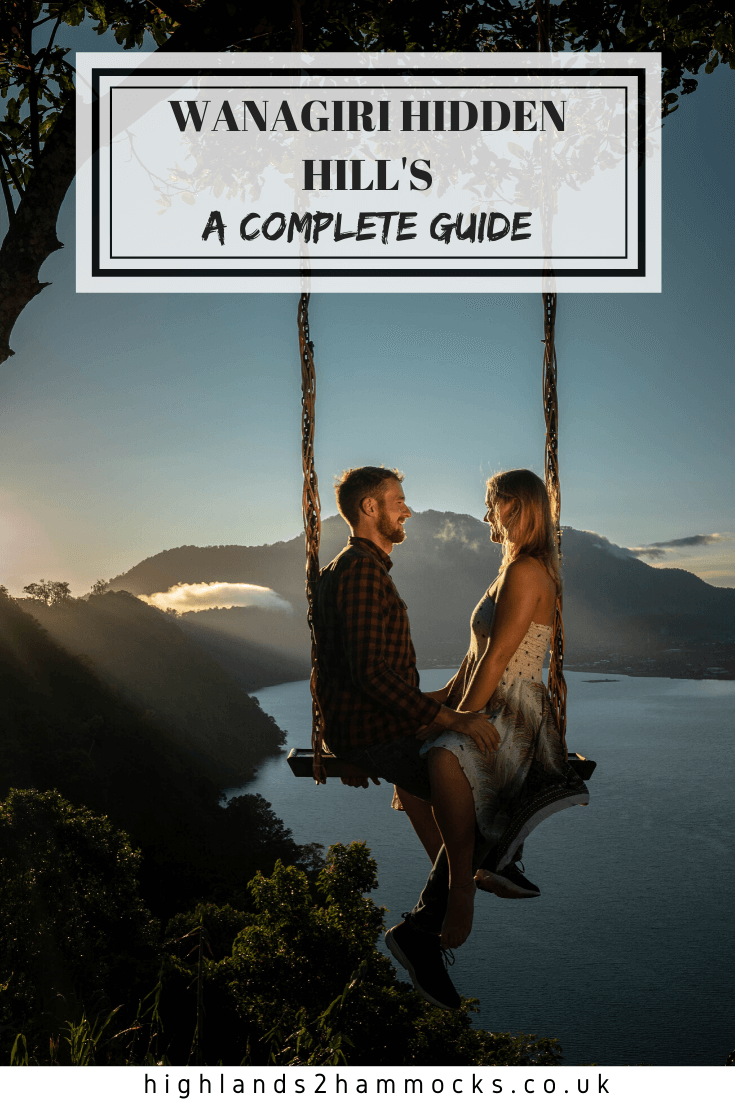 Wanagiri Hidden Hill's Bali – A Complete Guide
What is the Wanagiri Hidden Hills Viewpoint?
Sitting high above the twin lakes in the northern region of Bali is the manmade wonder of the Wanagiri Hidden Hills viewpoint. This bamboo decking provides one of the most spectacular views in Bali, with a panoramic view of the lowlands below.
The viewpoint is a paid entry area, which provides access to the multiple photography props that Bali is famous for. You can choose between a reinforced swing, a birds nest and a bamboo, "titanic balcony" (?) to take a photo with or simply admire the incredible view from.
How do You Get to Wanagiri Hidden Hills?
Wanagiri Hidden Hill is located in the Munduk area in the north of Bali, around a 1.5-hour drive from Canggu. The easiest and cheapest way to get to Wanagiri Hidden Hill is by renting a scooter and driving to the north, as it is easy to follow on Google maps. The other option is to rent a driver for the day to take you to your chosen attractions on the island.
As you reach the top of the hill, the Hidden Hills entrance is at a small gate on the left-hand side. Keep an eye out for the large signs, especially if you are arriving at night.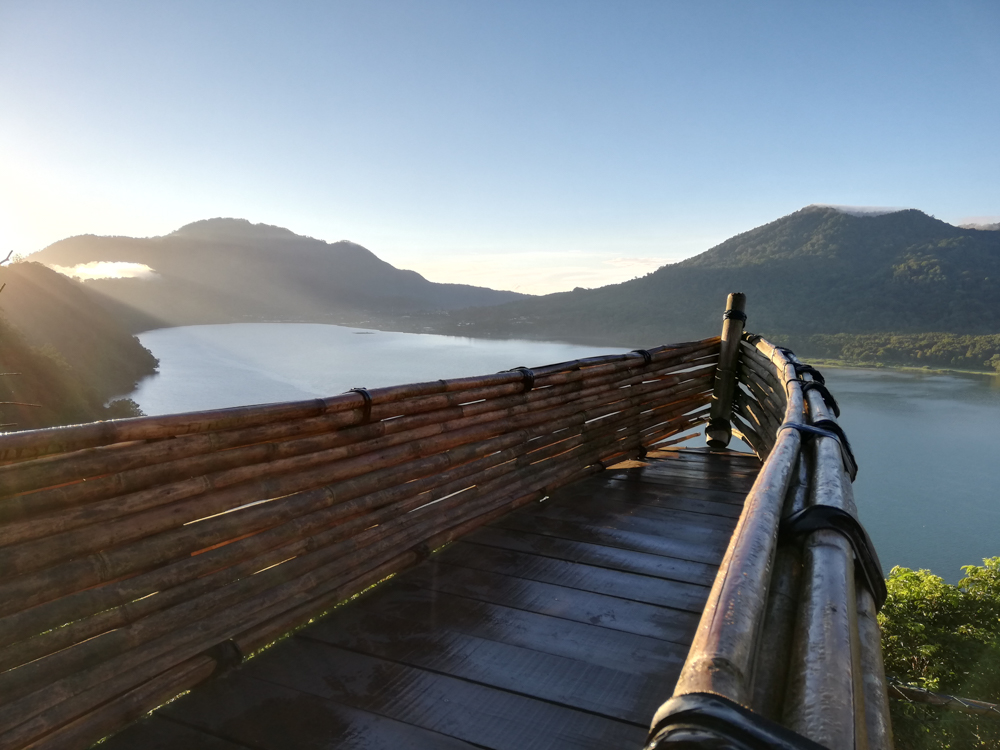 What is the Wanagiri Hidden Hill Entrance Fee?
The cost to enter into Wanagiri Hidden Hill is 100k rupiah. This is typically paid on entry, however, if you arrive there before the station is open to pay then you can pay when you are leaving. It may seem expensive but the view is worth every penny when the sun begins to rise.
Have a look at our Wanagiri Hidden Hills experience here.
What to expect at Wanagiri Hidden Hills?
When you arrive at Wanagiri Hidden Hill, expect to see a display of different bamboo attractions. There is a selection of swings, birds nests and other structures, perfect for a photo overlooking the Twin Lakes. If you are on your own or need someone to take photos of you and your group, the staff there are more than happy to help. They will even bring reflective pads to ensure you get the perfect lighting for your photo.
In our opinion, the best time to go to Wanagiri Hidden Hill is at sunrise. The golden colours over the lake are stunning.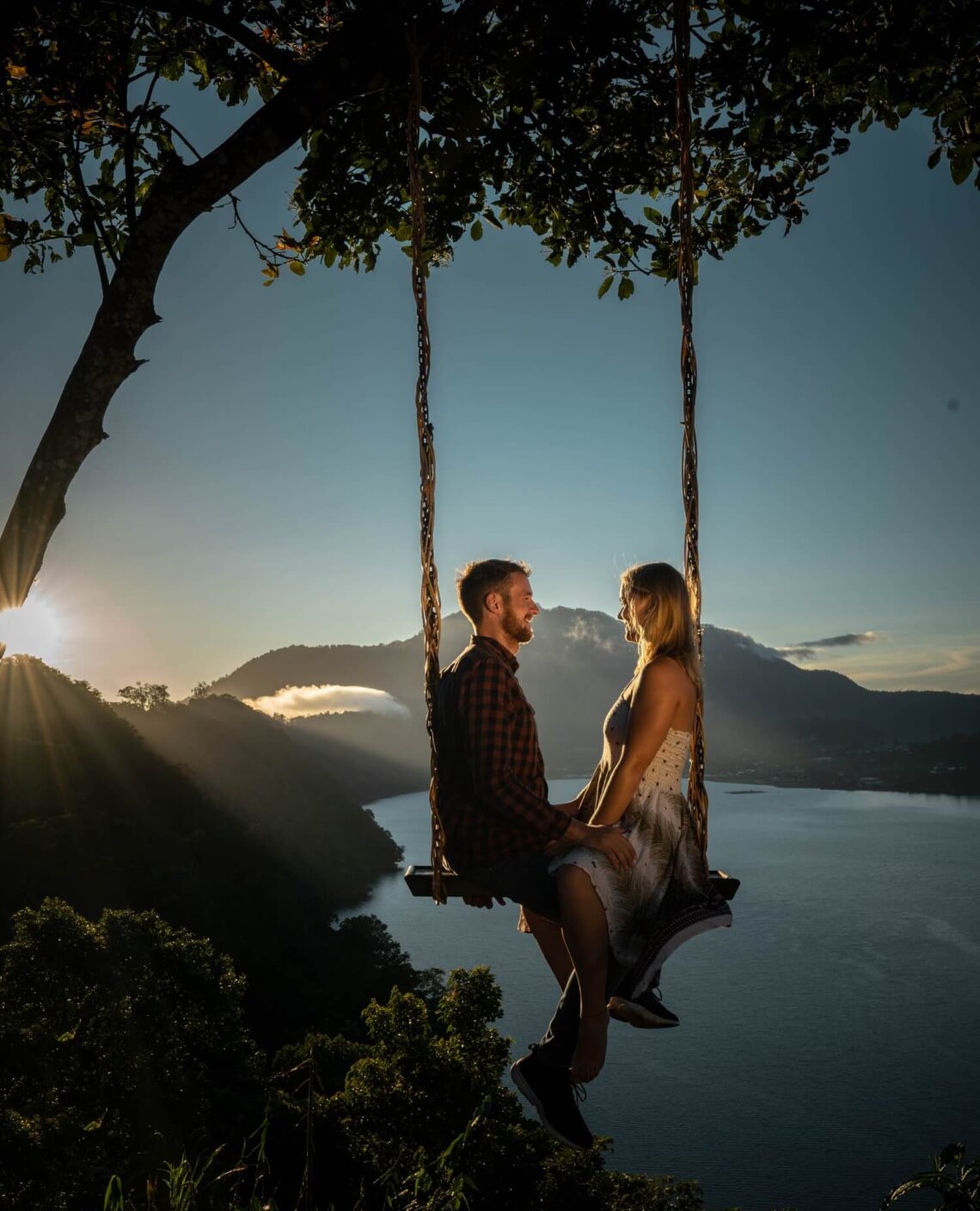 Where to Stay Near Wanagiri Hidden Hill
All throughout Bali, there are many beautiful places to stay amongst the jungle, where you can experience luxurious living for a cheaper price. If you are still all about the tight budget, it is perfectly easy to do that too. There is accommodation for any budget in Bali. We used booking.com for most of our accommodation in Bali and we can recommend that you book with them too.
Luxury – Munduk Moding Plantation Nature Resort is a luxurious accommodation with an infinity pool and stunning scenic views over the mountains and rice terraces. There is also a spa and a restaurant onsite.
Book your stay at Munduk Moding Plantation Nature Resort here.
Mid-range – Ekommunity is a beautiful accommodation situated in the Munduk area. Stay here and enjoy the mountain views surrounding the local area.
Book your stay at Ekommunity here.
Budget – Puri Sunset Homestay is a great budget find in the Munduk area. You can make use of the onsite restaurant overlooking the mountains in this beautiful area.
Book your stay at Puri Homestay here.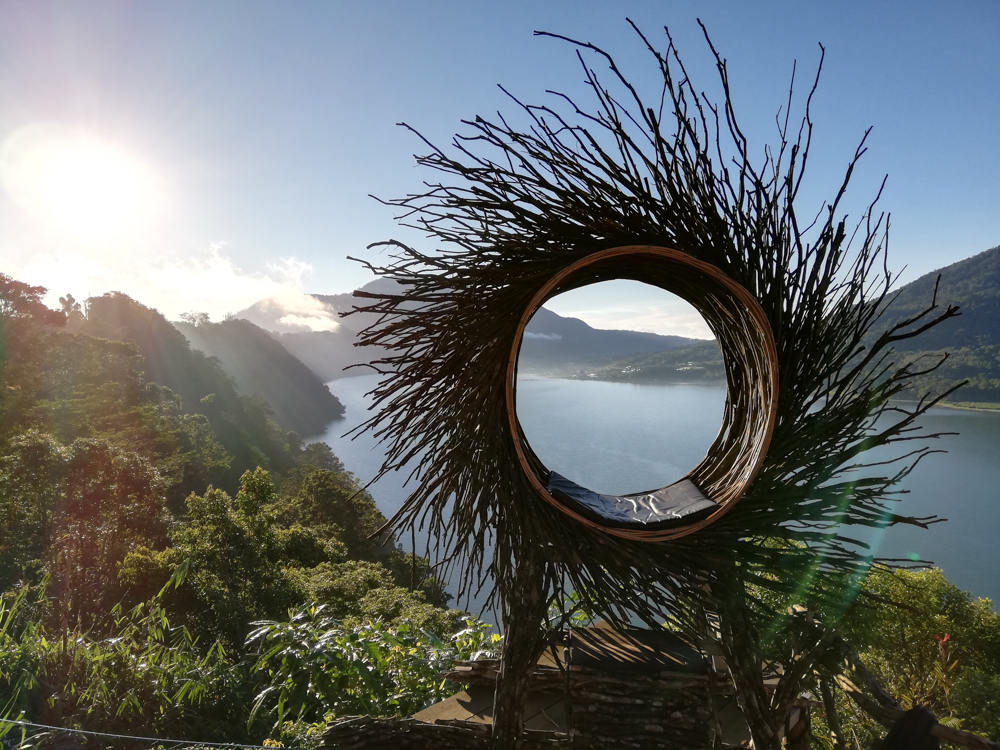 Before You Leave for Bali
Before you set off on your trip of a lifetime to Bali, there are a few things you will need to get sorted out for a stress free and enjoyable trip. These include what to pack, what visa to get, what insurance is best and where to stay. These are all discussed below.
How to Get an Indonesian Visa
If you are travelling to Indonesia for less than 30 days and you are from a country on the Visa on Arrival List, you don't need to worry about a visa. You will be automatically granted access into Indonesia for 30 days upon arrival at immigration.
If you wish to extend your trip in Bali and want to stay in Indonesia for over 30 days, then you will need to purchase a Visa on Arrival (VOA) on your entry into Bali. This is easily done and should not be stressed over. Once you are in the country, you can then either hire a visa agent or complete the paperwork yourself to be granted a further 30 day visa.
You can read more about obtaining an Indonesian Visa and using a visa agent here.
What is the Best Travel Insurance For Bali
As you would do when you are travelling any country, it is important to make sure you have travel insurance before leaving for Indonesia. Medical bills are expensive and it's not worth forking out the money for any accidents that may happen.
We recommend using World Nomads Travel Insurance for the best and cheapest coverage, as they offer a huge range of cover, fantastic customer support and all at a very reasonable price. Always make sure that you are covered for all of the activities you will want to take part in whilst you are away.
You can get your quote before you leave on your trip right here.
Also Read – Travel the World – Money Saving Tips
What to Pack for Bali
As with the rest of Indonesia, Bali is blessed with tropical weather year round. This means there are two seasons: wet season and dry season. The temperature during both seasons remains a steady 30oC pretty much all year, so we would recommend that you pack light clothing and a light waterproof. Lucky for you, this makes packing a lot easier and your luggage a lot lighter.
Check out our Summer Packing List for Women and Summer Packing List for Men for some clothing inspiration for your trip to paradise.
When it comes to sun protection in Bali, sunscreen purchased on the mainland and the smaller islands is extortionate. A small, 200mL bottle of sunscreen will cost you as much as £15. We therefore recommend packing as much sunscreen as you can before you leave for Bali.
As you may be aware, Bali is one of the most photogenic places in the world, so you definitely don't want to forget your camera. No matter where we go in the world, we always ensure our camera bag is fully topped up.
If you would like to know more about what is in our camera bag, click right here.
Don't forget to subscribe and follow our journey on Youtube here.
How to Get To and From Bali Airport
Bali is an island in Indonesia so if you are travelling from outside the nearby islands, the easiest way to get there is by flying into Denpasar Airport. When you arrive at the airport, you will be greeted by swarms of people holding signs with their customers name, waiting for them to arrive. These are airport transfers, some are genuine, but most are only there to overcharge and rip you off.
For a stress-free arrival, you can organise with your accommodation for a transfer to your hotel from the airport.  For a transfer to the southern part of the island, this will cost around £12, which might sound cheap for an airport taxi, however it is actually expensive for Bali.
Another option is to bag yourself a cheap, local taxi (a Bluebird taxi). This can be done by walking out of the airport to the nearest hotel and flagging one down. The cost of these taxis is much lower, costing almost half of that of a prebooked transfer.
The cheapest option for getting from the airport is an online taxi company such as a Grab or a Go-Jek taxi. These taxi companies are not allowed to enter the airport, however you should be able to order one from outside the grounds. The easiest way to do this is walk 10 minutes from the arrivals lounge to the nearest hotel and book it from there.
Grab and Go-Jek are the cheapest taxi options in Bali and you can ask for either a car or a scooter. You can download the apps for these companies on your smartphone.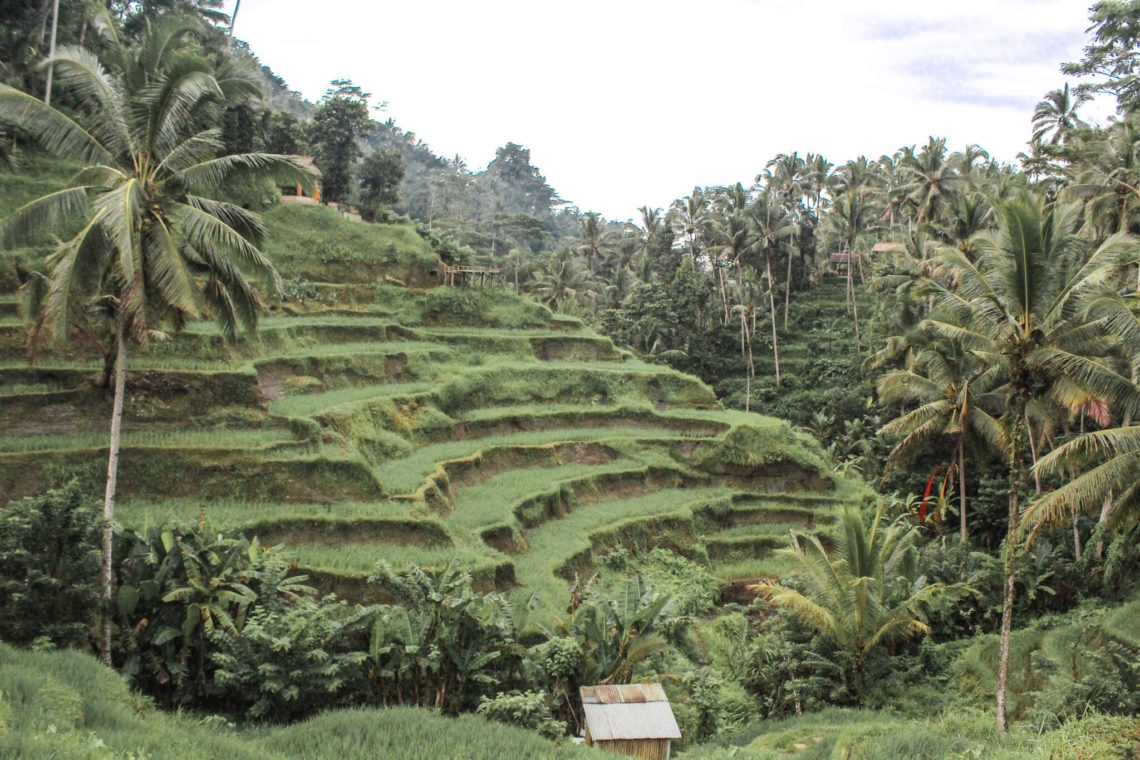 Also Read: 10 Day Bali Itinerary – The Best Sights for First-Timers Visiting Bali
What is the Best Way to Get Around Bali
Renting a Scooter
The easiest and cheapest way to get around Bali is by renting a scooter. You can rent one from your accommodation for around £2.50 a day. It is important to make sure you are also given the required number of helmets with your scooter rental, whether there will be one or two of you riding on the scooter. If this is the method of transport you choose to use, make sure you wear a helmet and drive safely as the roads in Bali can be quite chaotic.
It can be common that the police (or someone pretending to be the police), will spot a tourist and fine them for not having an Indonesian driving license. It is a good idea to have an international driving license, which you can purchase from a main post office for £5. To purchase this you will need to show your passport, driving license and a bank card.
Renting a Car
Another option for getting around Bali is to hire a driver for the day. There are many drivers that will take bookings for 6-8hrs, providing you with a personal tour guide for the day. They will drive you around to all of your chosen sites, and even act as your personal photographer, all for a set price. You can book these drivers through your accommodation, or with people that you will see on the street advertising taxi services.
Unfortunately, this price usually tends to be very expensive due to lack of bartering and haggling by tourists. The cheaper option is to use internet taxi companies such as Grab and GoJek, who offer a much more standard day rate.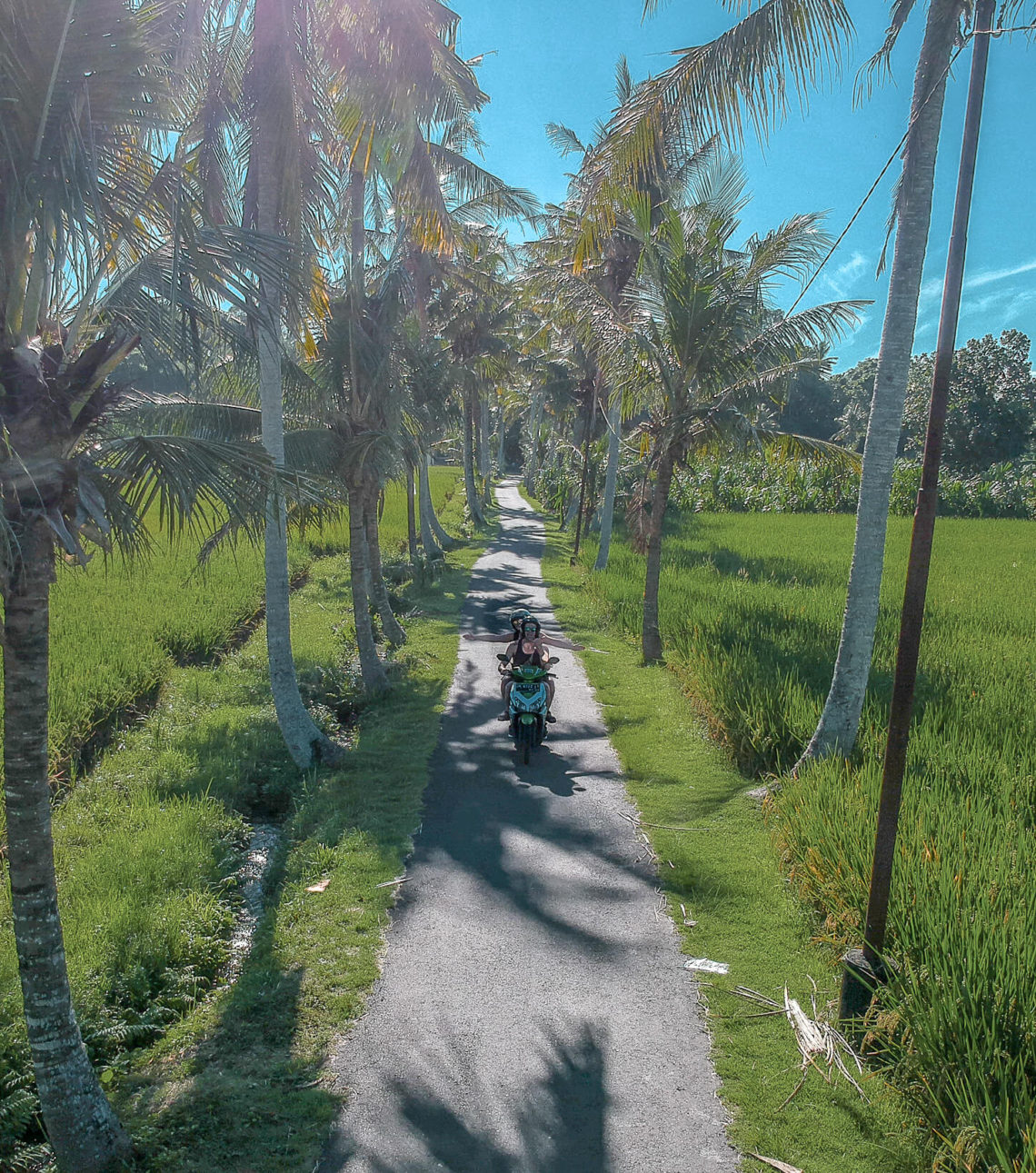 Also Read – Visa Extension Bali – Everything You Need to Know about Your Visa Extension Indonesia
There you have it, your complete guide to Wanagiri Hidden Hills in Bali. If you have recently gone on a trip to Bali yourself, let us know your favourite sights and activities in the comments section below. Where was your favourite part of Wanagiri Hidden Hills? What other activities did you do there? Is there any advice you wish you knew before you left?
You can also check out our Bali Youtube series, jam packed with information and inspiration for your trip!
Also remember that sharing is caring! Share this post with your family and friends, so they can get planning a trip of their own to this beautiful part of the world.
If you found this guide useful, check out our other Indonesia content to plan the rest of your trip over here. Catch up with us on social media and tag us in your Bali photos and we will share them with our community of adventurers.
Also Read:
This article may contain affiliate links that provide us with a small income. For more information read our Affiliate page.
---
Pin it for later!