As the sunsets over another day in the paradise island of Gili Trawangan, the only way to end the day is with a visit to the famous sunset swing. Floating above the crystal clear blue waters, surrounded by the colours of an Indonesian sunset, the Gili T swing is guaranteed to have you head over heels for this island (as if you weren't already!).
In order to help you make the most of each and every day in paradise, we have put together this complete guide to these swings and the best places to watch a Gili Trawangan sunset. This guide has all the information you will need to make your time on the Gili Islands an experience you will never forget.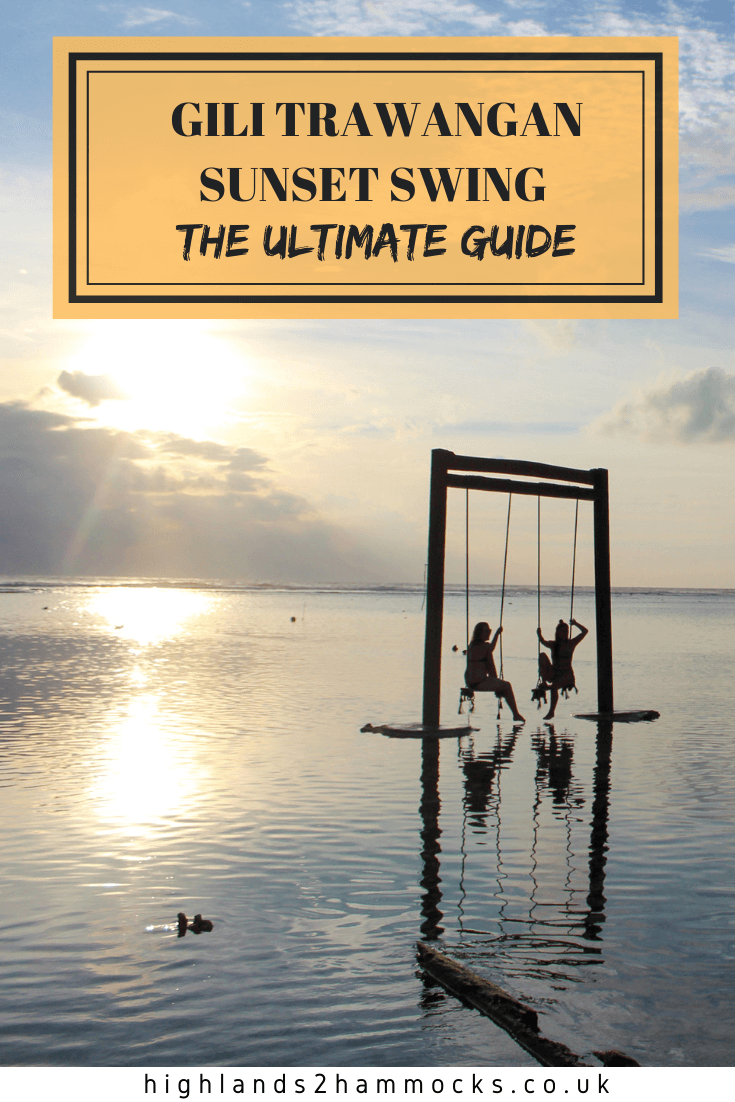 Watch more of our Youtube videos over on our channel here!
Gili Trawangan Sunset Swing – The Ultimate Guide
What Are the Gili T Sunset Swings
If you are on social media, I am sure you will have seen and heard of the Gili Trawangan sunset swing. It is possibly one of Indonesia's most iconic photographs and is a well-known Instagram hotspot. Bali and the surrounding islands are filled with these manmade structures that have become popular photo spots and the Gili Islands are no different.
The famous swing itself sits about 10m off the beach, planted in the sand in two huge, concrete blocks and sits either just below the water or just above it (depending on the tide). This is known as the Ombak Sunset Swing, as it sits outside the site of the old Villa Ombak hotel, which sadly collapsed in the 2018 Lombok earthquake. As of 2019, it is currently being rebuilt bigger and better than ever and will soon enough be open for business once again.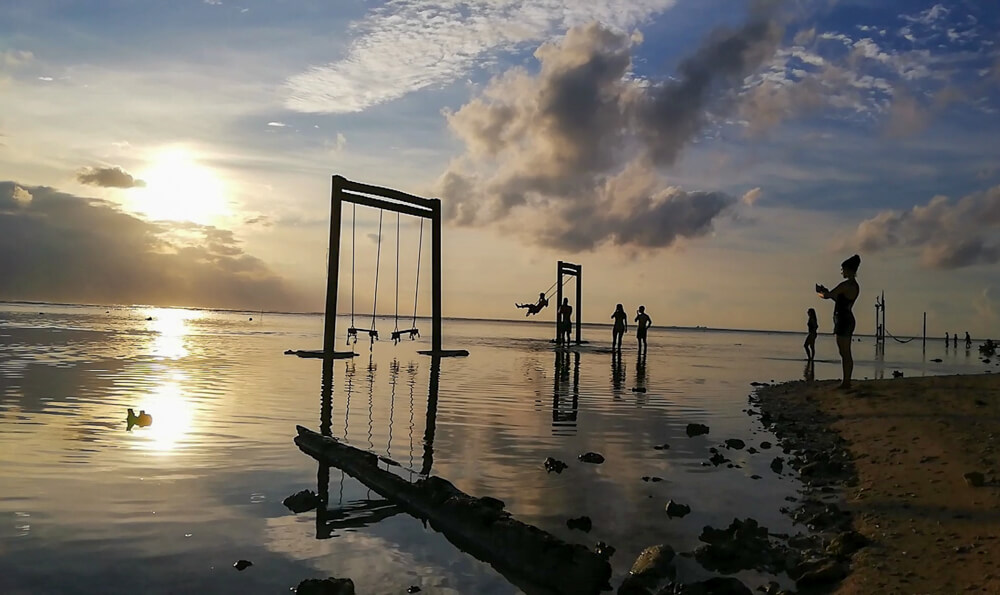 This, however, is not the only swing on the island. As a matter of fact, there are actually a number of different swings scattered across the island, most of which on the western side. These all started popping up when the local businesses realised how popular they were and how much they attracted people for a sunset view, drink and dance.
You will therefore not struggle to find the perfect swing for you and you may even find one that you will have all to yourself.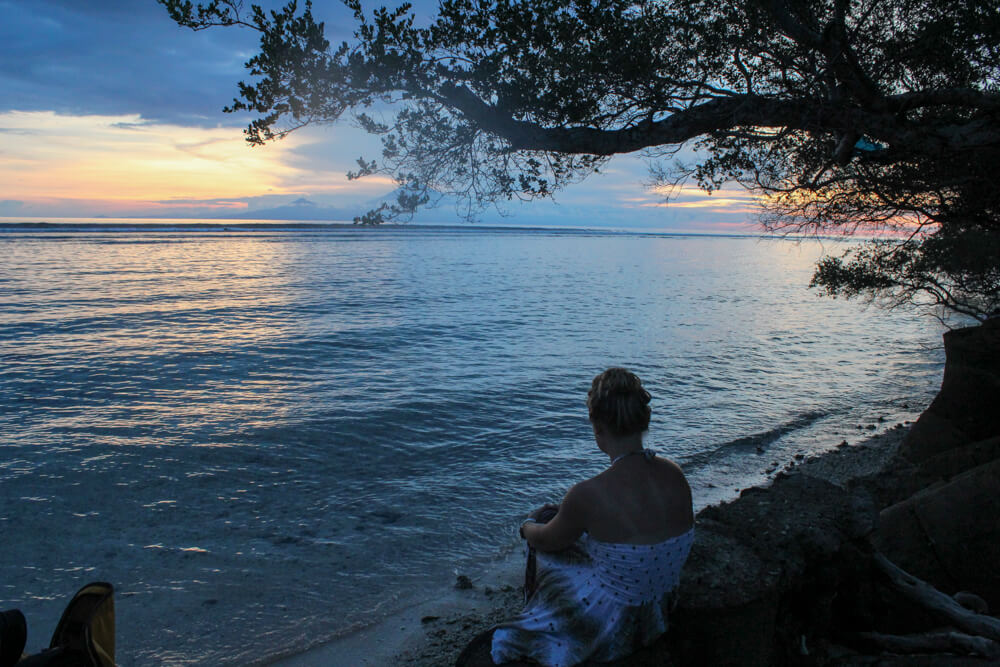 Where are the Sunset Swings
As I said, most of these swings are situated on the western side of the island, as this side tends to be more popular due to the sunset. As you head around to this side of the island you will see countless bars and restaurants all with their own version of the swing off the shore of their beach.
It is obviously up to you which one you would like to go for, however, the iconic Gili T swing sits at the Hotel Ombak Sunset on the western coast of Gili T. This beach bar stretches for about 400m along the beach and is completely lined with comfy bean bags for you to chill out in.  It also has a selection of three sunset swings to choose from, which is very handy as during the peak months this island (and this spot) will get very busy.
The exact location of the beach bar can be found at the coordinated below.
8°20'59.8″S 116°01'41.4″E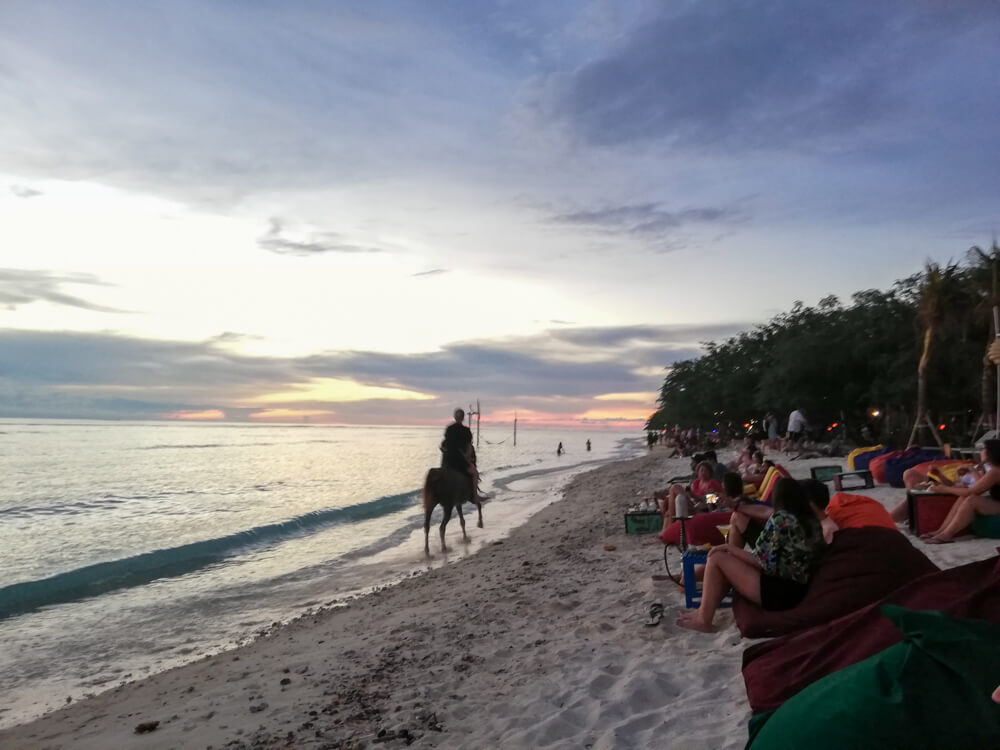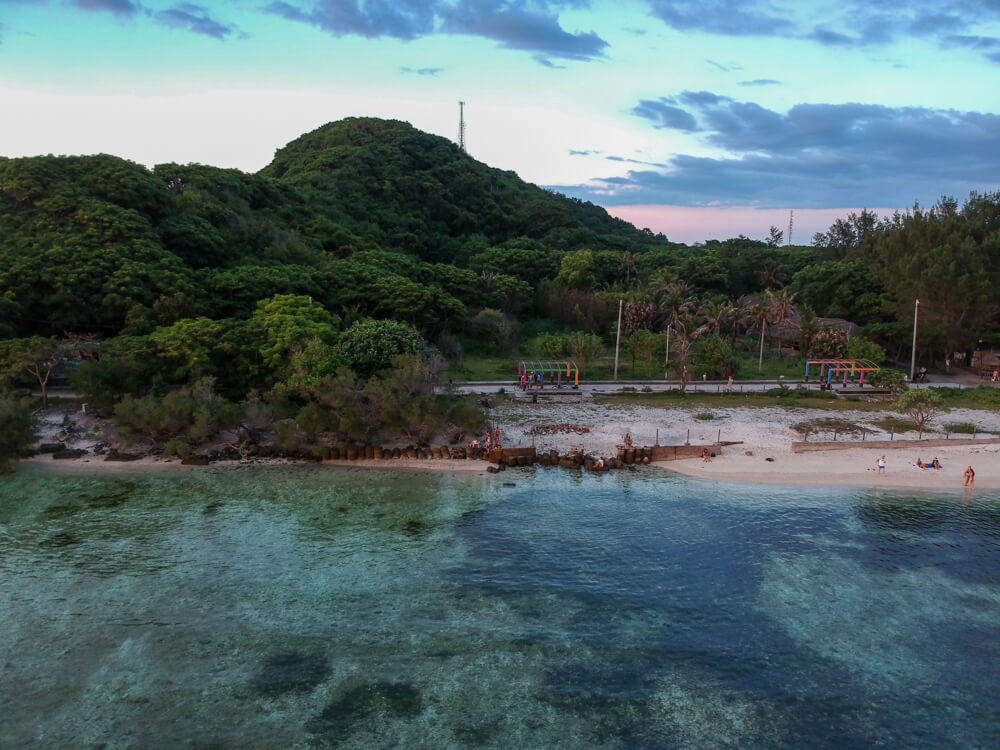 How to get to the Sunset Swings
No trip to the amazing island of Lombok is complete without a flying visit to the collection of islands off its western coast. The Gili islands are quite a unique place in this part of Indonesia as there is no motorised vehicle on any of the islands. This means that in order to get around the island you have three options, one of which you should absolutely avoid.
Starting with the one to avoid, when you arrive on Gili Trawangan you will no doubt notice the number of horses that are used for transporting local goods and tourists around the island. These horses are not always kept in the best conditions and are known to be overworked to the point of collapse and even death.
Of course, we understand that some people are more able to walk than others, however, we ask that you try your best to avoid using these taxis and use the other options instead.
Try your best to avoid these taxis as it is promoting and justifying cruelty to animals.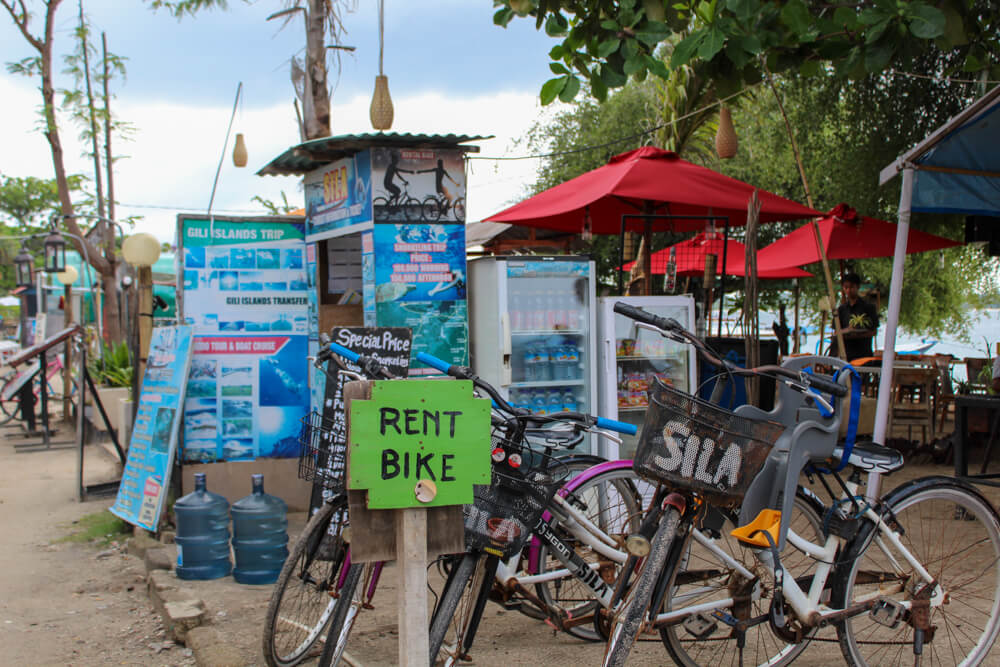 Instead, you have two other options for getting around the island, cycling and walking. Bicycles are available to rent all across the island for very cheap prices, costing roughly £1.50/day. Gili Trawangan takes about an hour to cycle around at a very leisurely pace, although there are parts of the island that cycling is not possible due to the sand. This means that you will need to push the bike at certain points.
The other option is to simply enjoy the view of the beach and walk around the island. If you were to walk all the way around Gili T it would take you 2-3hours, which might be a lovely activity for one of your days on the island. If you are simply wanting to get to the sunset swings, if you leave the Gili T harbour and walk with the sea on your left it will take around 20-30 minutes to walk to the swings.
As there are so many sights, beaches and cheap bars along the route, we recommend leaving about two hours before sunset and stopping off at some of the other swings for a drink. This means you can make the most of your time enjoying the views and the warm water.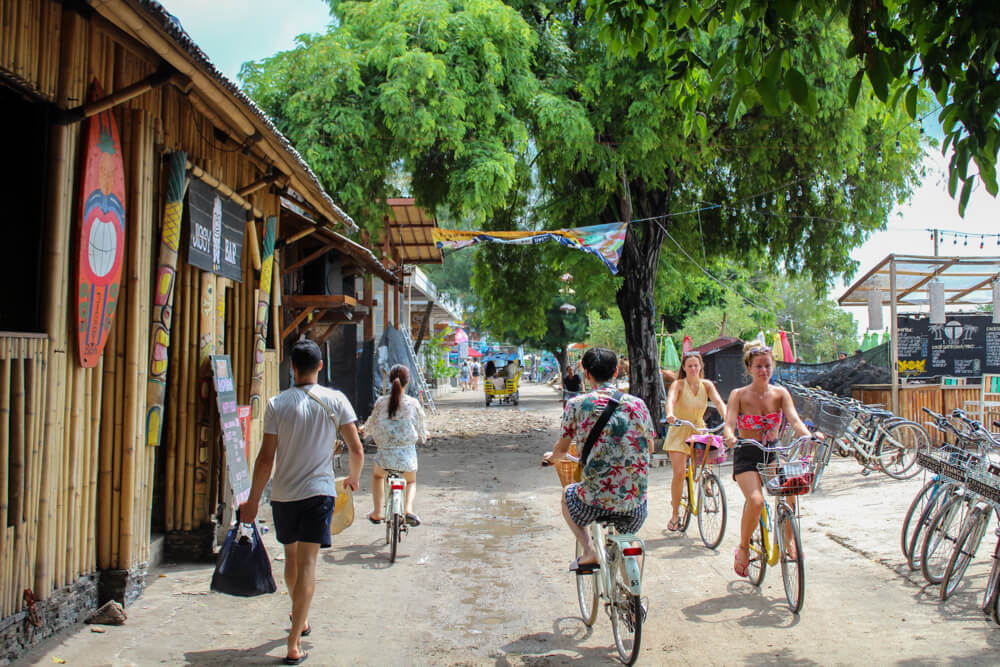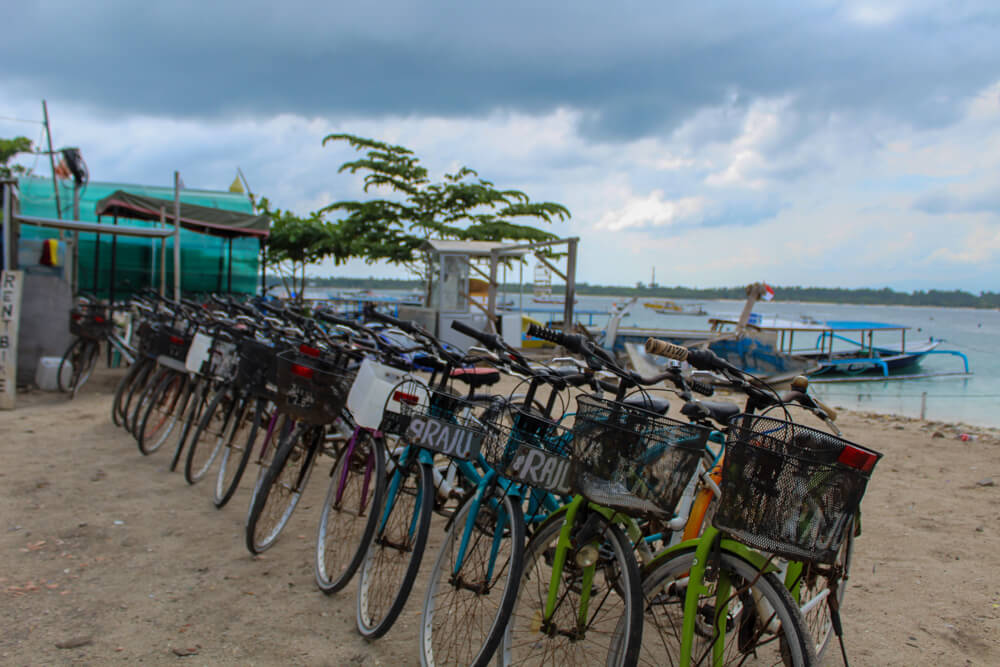 How to Photograph the Sunset Swings
As you might expect, during the drier seasons the island of Gili T becomes swarmed with tourists. Gili Trawangan is the largest of the Gili islands and is the most popular for backpackers and other tourists. As a result, the bars and beaches on the west side of the island are also filled with people, all wanting to capture a photo with the sunset swing.
This will most likely mean that when you arrive at the Ombak Hotel beach bar, you will see a queue of people all wanting to get that iconic sunset shot. Don't worry about not getting your shot, however, as most people will simply take the photo and make way for the next person.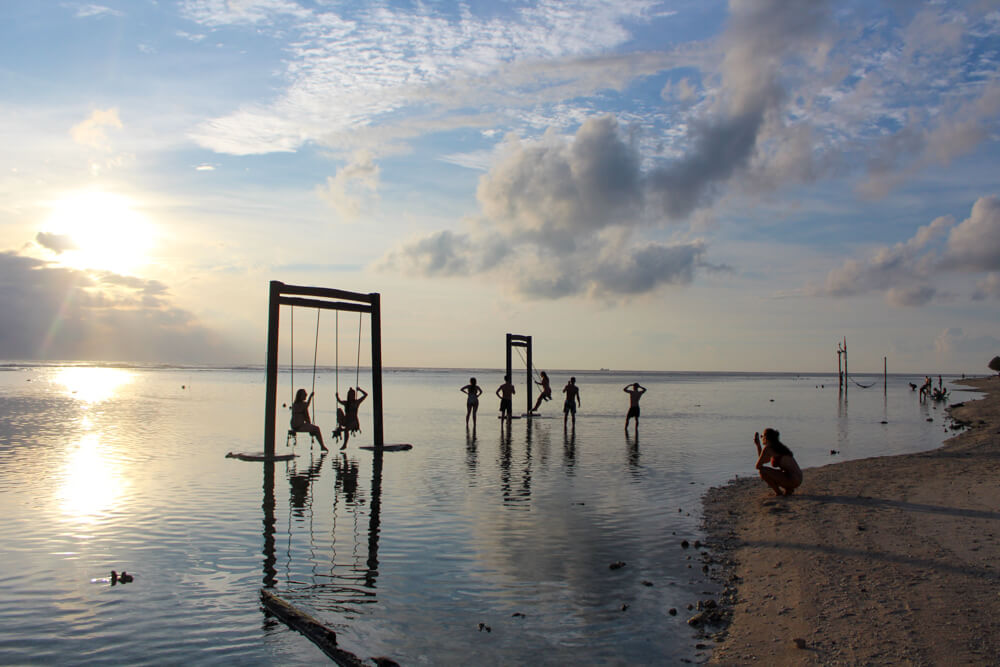 If you are wanting a group photo on the swing, you can either ask one of the other queue-ers to take the shot for you, or you can set up your camera stand before it comes to your turn. We used a camera stand (as we are quite picky with our style) and simply asked a friend to press the button to capture.
When your turn comes to get on the swings for your photo, prepare to get wet. You will need to wade out to possibly knee to hip deep water (depending on the tide) to get to the swing. The swing itself may also be sitting underneath the surface of the water depending on when you visit, so we do not suggest that you wear your fanciest outfit.
If you are not willing to wait in the queues, there are plenty of other beautiful sunset swing areas around the island. The Exile Gili T has a double swing, solo swing, and a hammock, which is also a popular sunset spot. It is ever so slightly cheaper to chill out on the beach bean bags here and wait for sunset.
 

View this post on Instagram

 
How to get to Gili Trawangan
Depending on where you are coming from will depend on how you can get to Gili Air, whether you are going from Bali to Gili Air or Lombok to Gili Air, there is an easy option for you.. It is possible to go by fast, private boat or by using the Gili Island's public boats. The private speedboats are obviously the faster of the two options, however, it is also an expensive option.
The public boats between the islands are cheaper, although they only tend to run twice a day, and only leave when they are full. Make sure you are aware of the timetable for the public boat to Gili Air to avoid finding yourself stranded until the next departure.
Public Boat to Gili Islands
If cheap is what you are looking for, then the public ferry is your best option for getting to Gili islands from Bali. It takes around five hours to get from Padang Bai in Bali to Lombok. Here you will disembark and wait for the next public ferry to take you over to your chosen Gili Island . In total this trip could take around eight hours, however, it will cost you much less than the faster boat options (roughly £3 in total).
The public ferry from Padang Bai to Lombok will cost you roughly £2, and the public ferry from Lombok to Gili Trawangan roughly £1. From here you can catch a public boat to the other two Gili islands for about the same price.
Flying from Bali to Gili Islands
We can recommend flying to Lombok from Bali and spending a few days there before heading out to the islands. If you aren't wanting to do that, you can get a taxi to Senggigi or Bangsal harbour where you can catch a boat to the Gili Islands. You can then catch one of the ferries that head from Gili Air to Lombok and back again.
The cheapest airline is Lion Air and it takes around 30 minutes. If you are flying, make sure to have your ticket printed before hand or you may not be allowed to board your flight.
Also Read – Living in Bali – All You Need to Know for One Month in Bali
Fast Boat to Gili Islands
This is the most convenient way to get to the Gili Islands and you can expect this trip to take around 4 hours. In general, the fast boats will travel from Sanur to Gili Air, via Lombok and the Nusa islands. There are a few different speed boat options to get to and from Gili Air to Bali and the Nusa Islands.
Check out these companies below.
Check out the latest routes and prices for Gili Getaway here.
Check out the latest routes and prices for Blue Water Express here. 
Check out the latest routes and prices for Ocean Star Express here.
Check out the latest routes and prices for Patagonia Xpress here.
Check out the latest routes and prices for Scoot Fast Cruises here.
If you have booked a ferry, make sure you have your tickets printed, as some companies will not let you board without a paper copy. We have asked in hotels and doctor's surgeries before, and they have both printed off the documents we required. Good to keep in mind if there is no print shop nearby.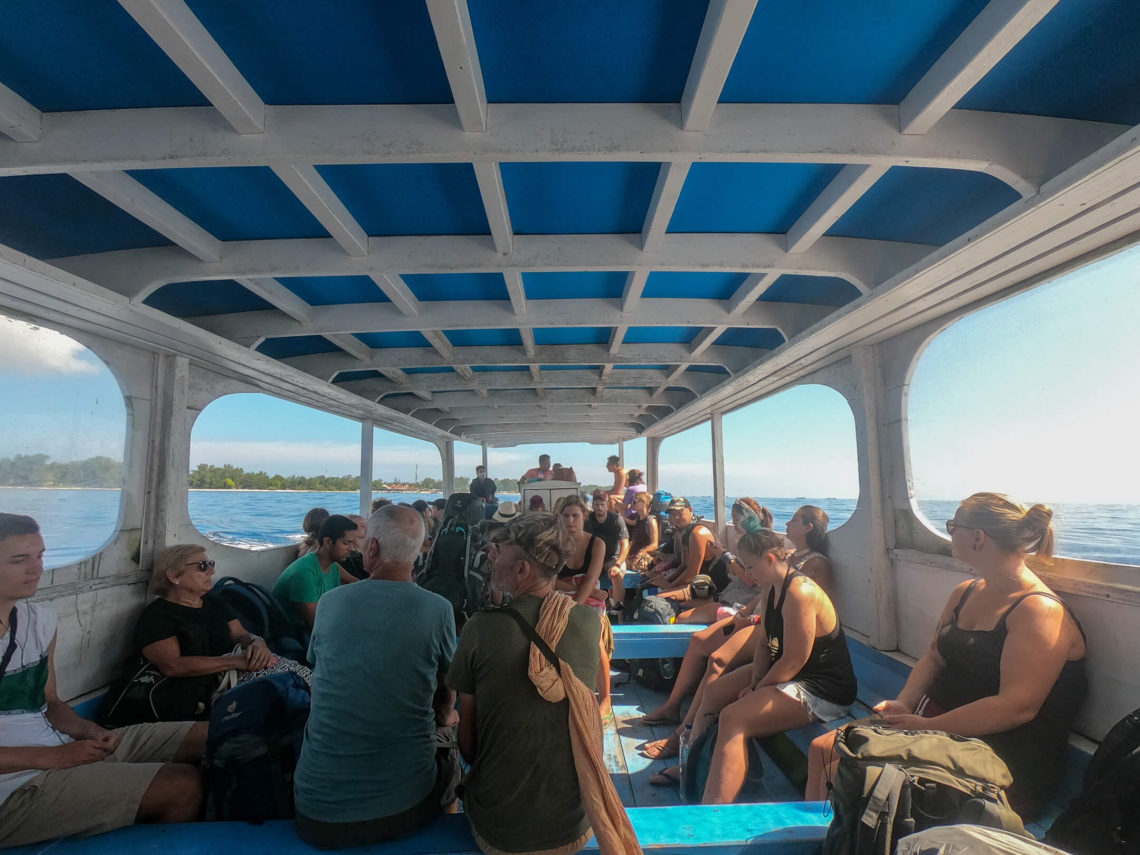 Before you Go to Gili Trawangan
Before you leave on your trip of a lifetime there are a number of things you will need to get organised to make your trip a memorable and stress-free experience. These include where to stay, what to pack and what is the best travel insurance for your trip.
What Travel Insurance Should You Get?
As you would do when you are travelling any country, make sure you have travel insurance before travelling to Indonesia. We can recommend using World Nomads Travel Insurance for the best and cheapest coverage. Always make sure that you are covered for the activities  you will want to take part in whilst you are away, from white water rafting to snorkelling Indonesia.
Get your travel insurance quote before you leave on your trip right here.
What Visa Should You Get?
You will still be covered with your Indonesian Visa when you visit the Gili Islands. If you are travelling to Indonesia for less than 30 days, you don't need to worry about a visa. You will automatically be granted 30 days access to travel around Indonesia, plenty of time for some Gili snorkeling.
If you are planning to stay longer, you will need to apply for a Visa on Arrival before you leave the airport. Your passport must be valid for more than 6 months for you to fly to Indonesia.
You can read more about how to extend your visa in Bali here.
What Should you Pack for Gili Trawangan?
As with the rest of Indonesia, the Gili Islands are blessed with year round, tropical weather, rarely dipping below 30oC and showering the islands with a refreshing, warm rain every day or so. For all-intensive purposes, the weather on the Gili Islands is pretty much perfect. It also makes packing for your trip a LOT easier, as there is no need for big, bulky and heavy  clothing items.
When packing for locations such as these, we try to stick with the Wash one, Wear one and Dry one principle. This means we aren't carrying 10 extra pairs of socks that you will never even wear. For a full idea of what to pack, have a look this Summer Packing List for Men and Summer Packing List for Women.
As you may be aware, Bali is one of the most photogenic places in the world, so you definitely don't want to forget your camera. No matter where we go in the world, we always ensure our camera bag is fully topped up.
If you would like to know more about what is in our camera bag, click right here.
Don't forget to subscribe and follow our journey on Youtube here.
Best Accommodation on Gili Trawangan
There is a huge range of accommodation on the Gili T island, from hostels and Lumpungs, to resorts of all levels of luxury.  The value for money is exceptional in Indonesia, so if you are wanting to experience high-end, lush and nominally out-of-budget accommodation, Indonesia is the place to do it!
Luxury – One of the most beautiful accommodations on the island is Villa Ombak. Located on the port side of the island this place is easily accessible to the beach, ferry and plenty of bars and restaurants.
You can book your stay at Villa Ombak here. 
Mid-range – Uber Scuba offers cheap accommodation and the option of taking a variety of scuba diving courses during your stay.
You can book your stay at Uber Scuba here.
Budget – If you are willing to share a room with others, you accommodation will set you back around £5 per night for 2 people per night. Little Woodstock Homestay even has a pool!
You can book you stay at Little Woodwork Homestay it here.
If hostels are more your scene then good news! Gili T is chock full of funky, cheap and some down-right mad hostel accommodation options.
Browse all of the best hostels right here.
So there you have it, the ultimate guide to the Gili Trawangan sunset swings. If you have recently visited Gili Trawangan, let us know how you found it in the comments section below. What were your favourite sights? Did you see any turtles? What was your favourite island? Let us know in the comments below.
You can also check out our Bali Youtube series, jam packed with information and inspiration for your trip!
Also remember that sharing is caring! Share this post with your family and friends, so they can get planning a trip of their own to this beautiful part of the world.
If you found this guide useful, check out our other Indonesia content to plan the rest of your trip over here. Catch up with us on social media and tag us in your Bali photos and we will share them with our community of adventurers.
Now Read:
This article may contain affiliate links that provide us with a small income. For more information read our Affiliate page.
---
Pin it for later!