We're still in limbo 🤷🏼‍♀️🤷🏽
Happy Friday guys!
Hope you have had a great week so far!
If you have been following us on Instagram, you may have seen that we weren't sure what to do with ourselves this week. We have some appointments at home next week leaving us with not that long to get away and create some content.
We still managed to visit some new places and finally see some sunshine, however, today we had an unexpected turn of events that has brought us back to limbo.
If you're not already make sure you head over to our Instagram or Facebook page to follow our stories and see what we get up to on a day to day basis.
Instagram – www.instagram.com/highlands2hammocks
Facebook – www.facebook.com/highlands2hammocks
We also have a Patreon, where you can sign up to receive discounts, monthly live chats and more! This support helps us out a lot with the daily running costs of highlands2hammocks and we would love to have you join the tartan clan over there for more exclusive content.
For the full details, check out our Patreon by clicking here.
Highlights of the Week
Ayrshire
Our initial plan for this limbo period was to explore around Ayrshire, swimming at the seaside and wandering around the seaside towns.
However, we quickly felt that this area wasn't going to be easy for exploring in the van. We struggled to find water taps and waste disposal so it just wasn't going to work for us. We did manage to squeeze in one sea swim here though before we left. It was a beautiful sunrise and we were feeling all the spring/summer vibes! The temperature didn't cooperate with that though!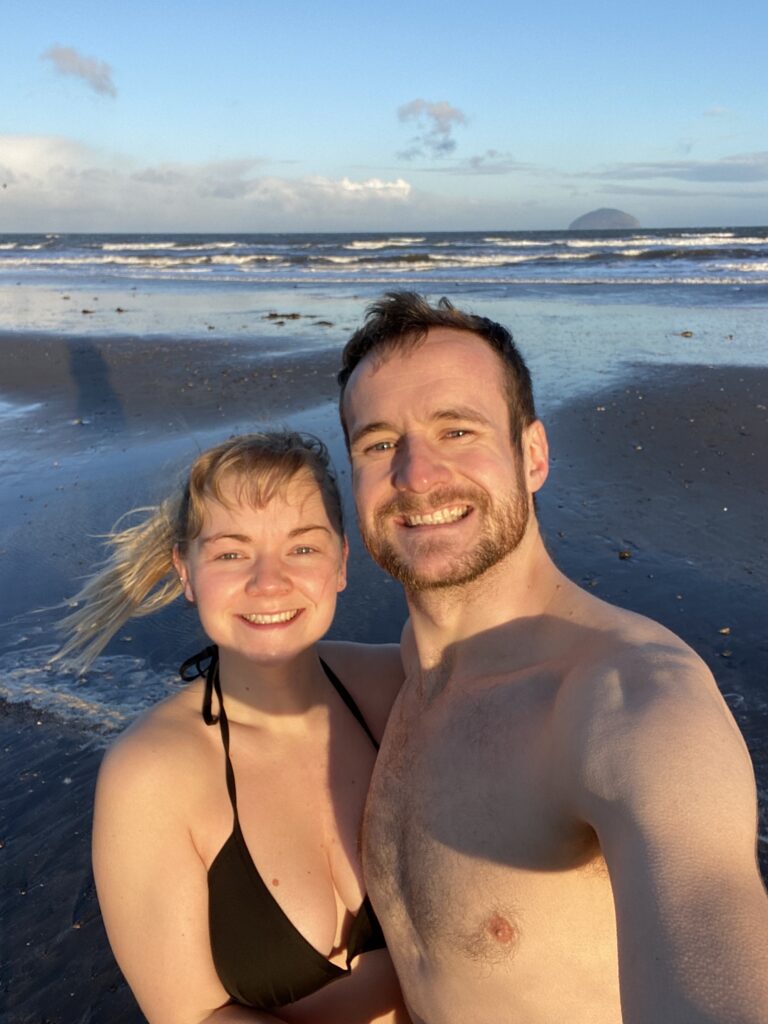 Mull of Galloway Lighthouse
We made our way south to Dumfries and Galloway, an area where we really haven't spent much time (and no time at all in the van). We were recommended plenty of great things to do in the area and we were really excited to get stuck into them.
Our first stop was Mull and Galloway Lighthouse, the most southerly point in Scotland. We were lucky that the sun was shining and the sky was clear so we had incredible views of the beautiful coastline and across to England and Wales.
There is also a restaurant/cafe there with panoramic window views of the coast. We couldn't say no to a wee coffee and slice of malteaser cake with that view.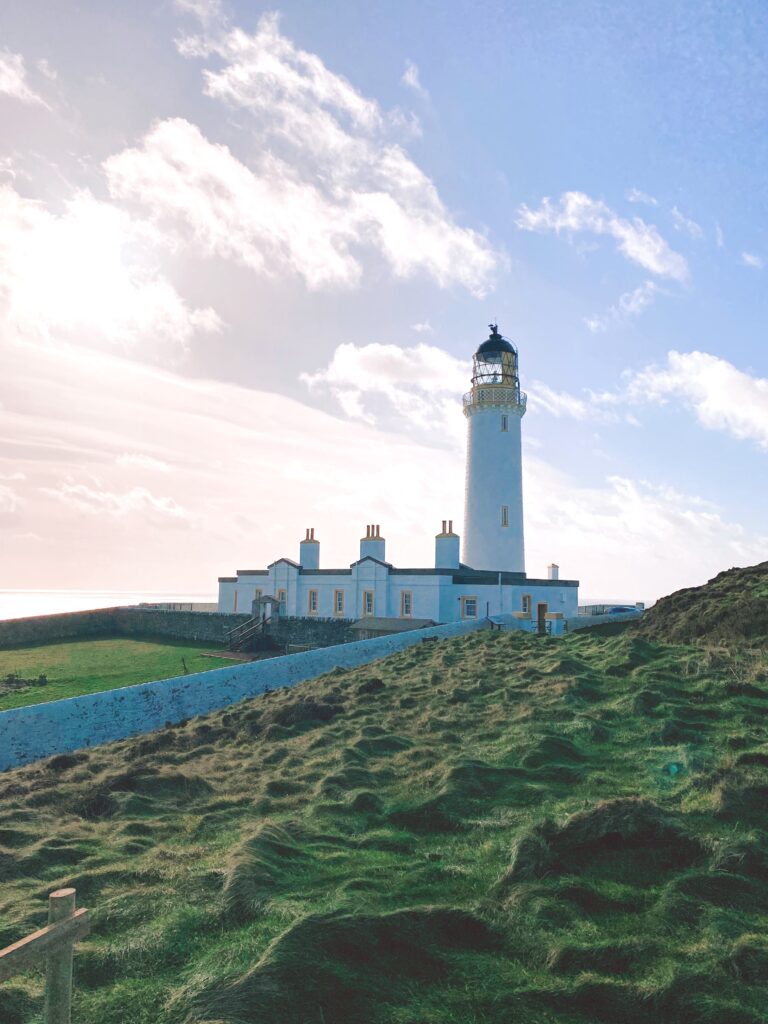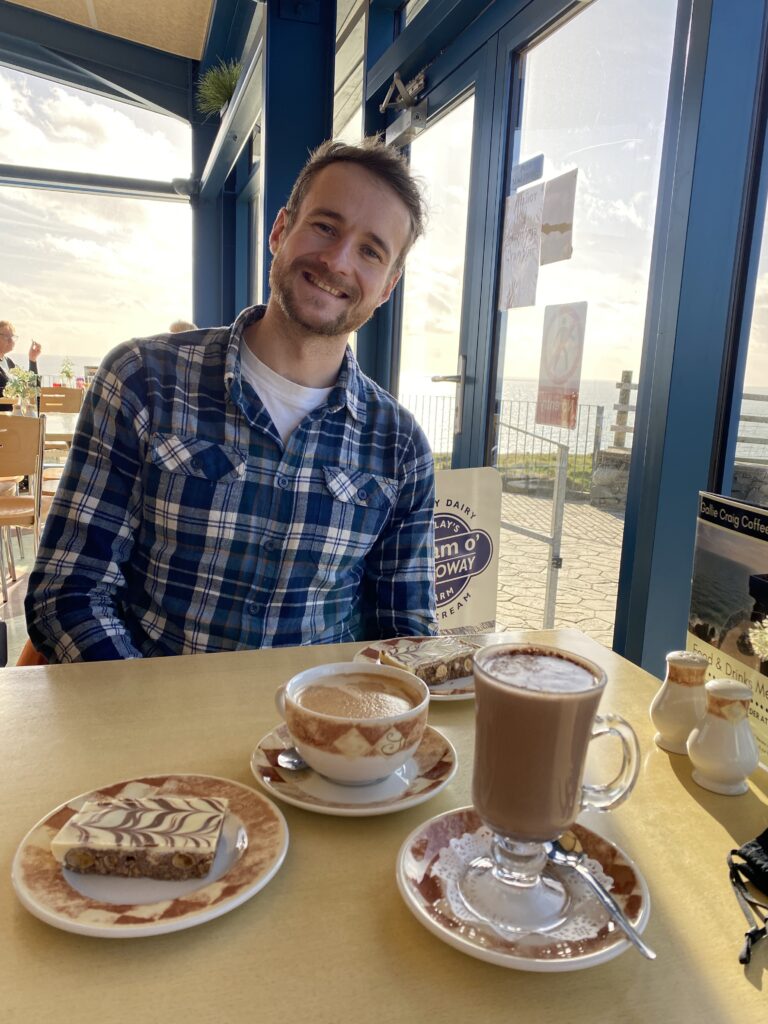 Galloway National Park
We explored a few more sights around the coast, the beautiful white sandy beaches and St Ninians Cave.
The weather converted back to it's usual ways of extremely unpredictable (snow, sun and heavy rain within the space of half an hour) and the wind was not getting any lighter by the coast. We also had pretty much no signal and we had a lot of work to catch up on, so we decided to head back inland to the Galloway National Park.
There are many cool places to visit in the National Park (which is also a dark sky park making it a great place for stargazing)! We enjoyed the wild goat park and red deer park where you can see these animals roaming around on the hills. We were lucky enough that some of them had come down to say hello!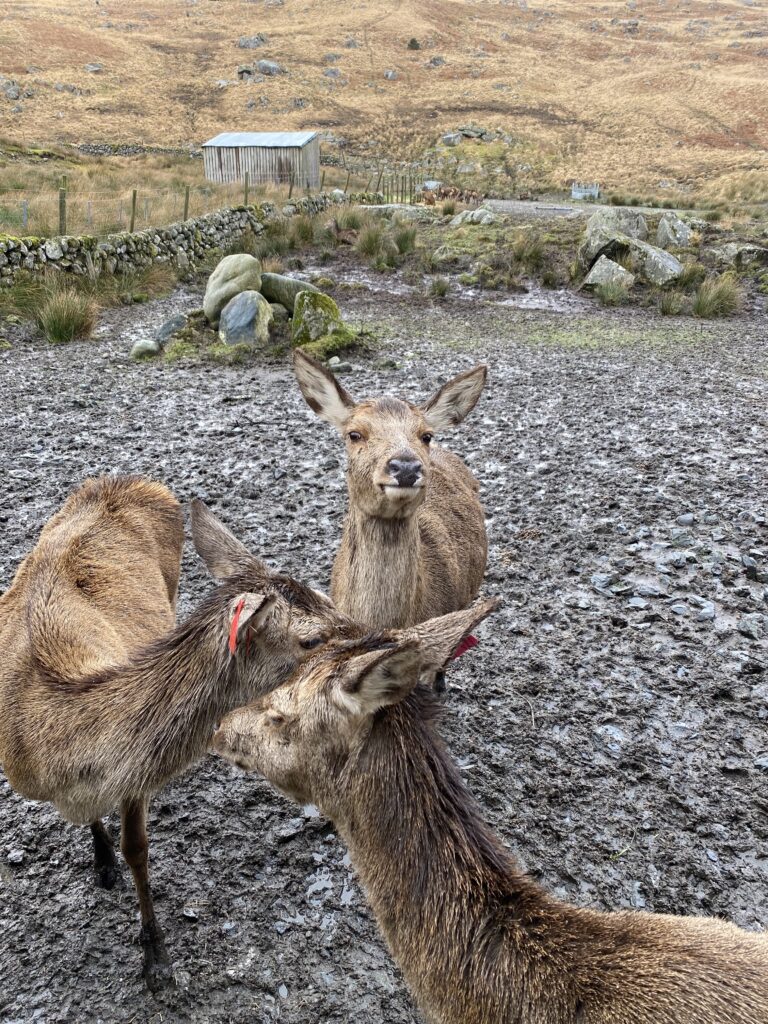 Our trip came to an abrupt end, however, as we had the chance of proofing a physical copy of our book from the new printers. It was a no-brainer for us to come back and check it over to make sure everything is how we want it.
For the next few days, we're going to be catching up on work and making more plans for the year. Of course, we won't forget to squeeze in the rugby over the weekend.
Have a great week you lovely lot ❤️ Gemma and Campbell x