Before we get into this week's newsletter, we have some incredibly exciting news!
We are going to be hosting our FIRST EVER GROUP TRIP!
That's right, we have decided that the best way to kick off 2023 will be by bringing a group of you on an exciting adventure with us to somewhere new (and hopefully somewhere warm and sunny..). This trip will include some exciting activities, fascinating sights, and plenty of good food, and is perfect for either solo travellers wanting to meet other adventurers on a fun expedition, or couples and friends who want to travel together on a stress-free, fully organised adventure. We are currently planning on doing the trip in Spring 2023, with dates to be confirmed.
We have been on plenty of trips like this in the past and know exactly what makes or breaks a group trip of this fashion, and we are VERY excited to create our own unique experience that will make memories for a lifetime.
We are currently gauging interest on where this trip should be and we would love to hear from you about what type of trip you are interested in and where it should be. Let us know by clicking THIS LINK and filling out a very quick survey (<2 minutes).
Would you like to join us on an unforgettable adventure?
Back to this week's newsletter!
After a forecast of oncoming storms in the north and east of Ireland, last weekend we decided the time had come to bid Northern Ireland adiue and head west to begin our Wild Atlantic Way adventure.
Since then, the past week has been full of stunning coastal views, towering cliffs, beautiful sunsets, and some pretty spectacular park ups. Read on to find out more about the best sights to see in the Donegal region of Ireland.
If you're not already make sure you head over to our TikTok, Instagram or Facebook page to follow our stories and see what we get up to on a day to day basis.
Instagram – www.instagram.com/highlands2hammocks
Facebook – www.facebook.com/highlands2hammocks
TikTok – www.tiktok.com/@highlands2hammocks
If you are interested in joining our Patreon community, where we have live calls and share some more behind the scenes, you can read more about it at the link below 😊 our next Patreon zoom chat is tomorrow 😁
For the full details, check out our Patreon by clicking here.
Beach Days in Northern Ireland
Are we in Ireland or Australia?! 
This was a question we repeatedly asked ourselves as we spent last weekend relaxing on an endless stretch of golden sand, surrounded by people enjoying the gorgeous sunshine, and (rather bizarrely) HUNDREDS of cars.
The beaches on the northern coast of Northern Ireland are perhaps some of the most unique we have seen in the UK as they permit cars to park on them, a characteristic we haven't seen since we were down under in South Australia.
Last Sunday, we spent the day relaxing in the sun and jumping in and out of the water on the stunning stretches of sand of Port Stewart Strand and Benone Beach.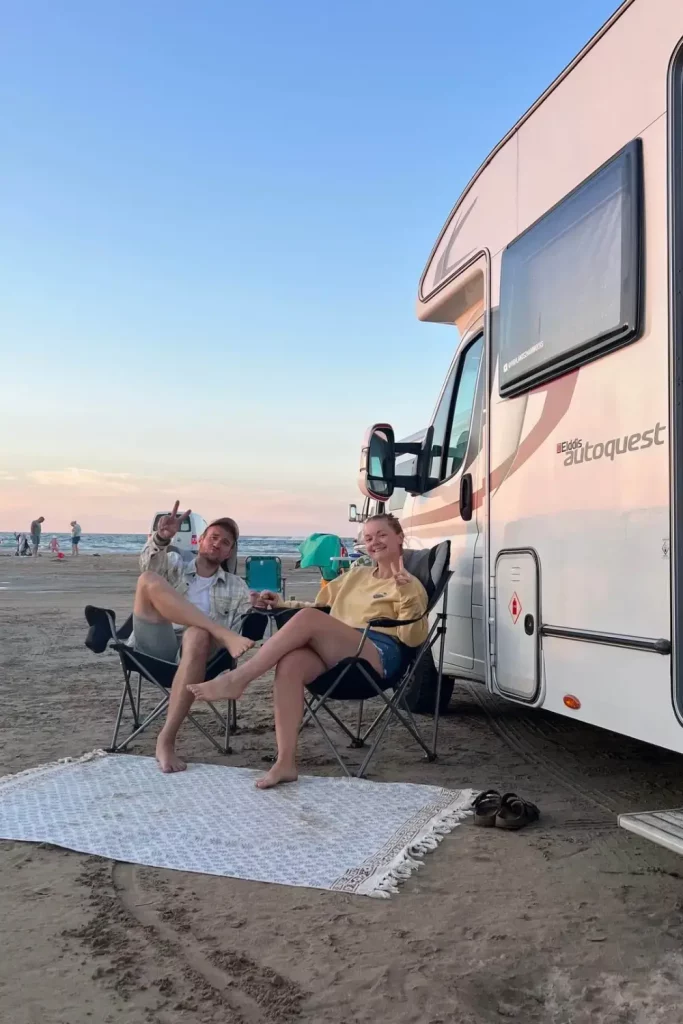 Hiking the Devil's Thumb
Overlooking the northern coast of NI sits the natural phenomenon of the so-called "Devil's Thumb", a rock stack at the edge of the Binevenagh hill. This towering rock structure and its surrounding cliffs have a beautiful resemblance to the magnificent Quiraing mountain range on the Isle of Skye and the Old Man of Storr rock stack.
The hike to the top took about 2 hours and was reasonably easy-going with steep sections at times. All of this effort was worth it, however, as the view from the top across the sea to Co. Donegal was simply spectacular.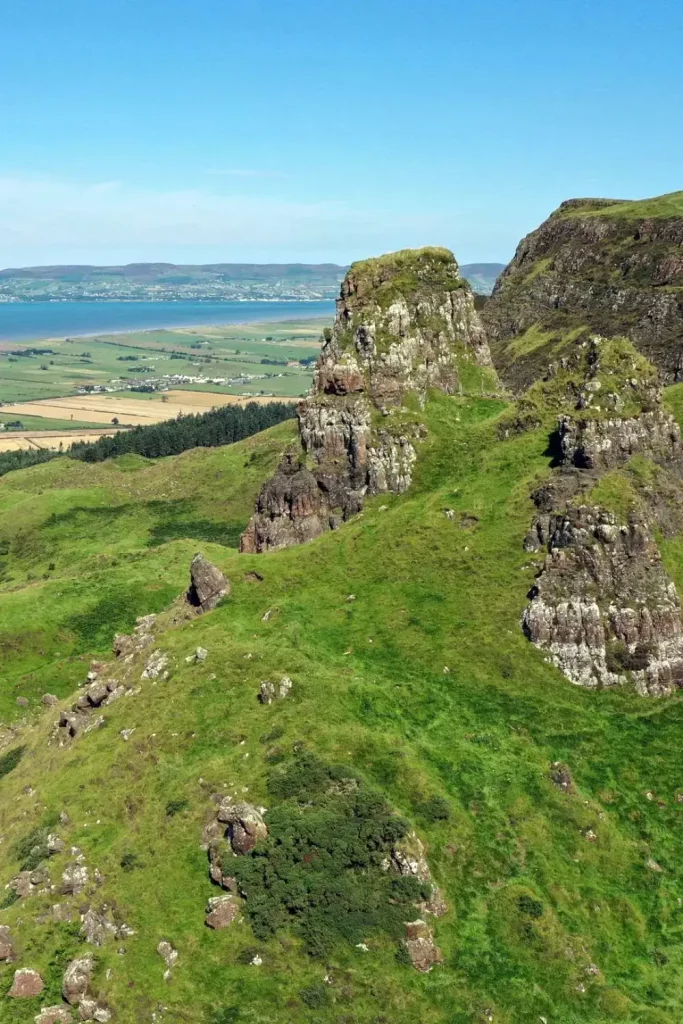 Mountcharles Pier Parkup
After this hike, we began to receive warnings of the impending thunderstorm heading our way, and so we began our journey west into Southern Ireland and onto the world-famous Wild Atlantic Way road trip.
As the sun set over the ocean, we found our park up for the night, just outside of the town of Donegal, at the tranquil harbour of Mountcharles Pier. This parkup cost 10 euros, which went into the local coffee shop and animal rescue petting zoo that they run. Here we enjoyed a peaceful and relaxing night and woke up to stunning views over the still waters of Donegal Bay.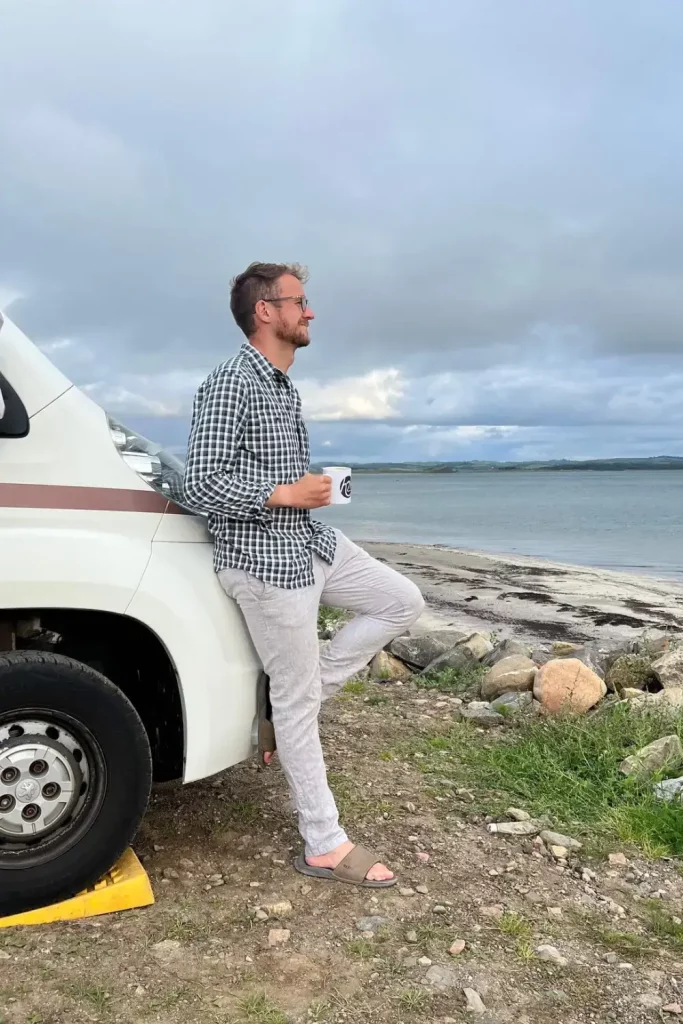 Europe's Tallest Sea Cliffs – Sliabh Liag
Towering a total of 601m over the Atlantic Ocean, the Sliabh Liag cliffs were our first (and possibly most impressive) stop on our Wild Atlantic Way road trip. Just along the road from our Mountcharles parkup, these cliffs sit at the edge of the world, with stunning views over the endless horizon of the Atlantic Ocean. We parked Ellie in the Sliabh Liag visitor centre and jumped on the minibus tour (costing just 6euro return pp), which dropped us off at the viewing platform of the spectacular cliffs.
Given that the highest cliffs we had visited before this were on Scotland's most northeastern point, the Duncansby Stacks, the Sliabh Liag cliffs were simply mind-boggling. Nothing could quite prepare us for just how impressive this section of Irish coastline was and no pictures can truly do the height of the mountain peaks and crashing waves justice.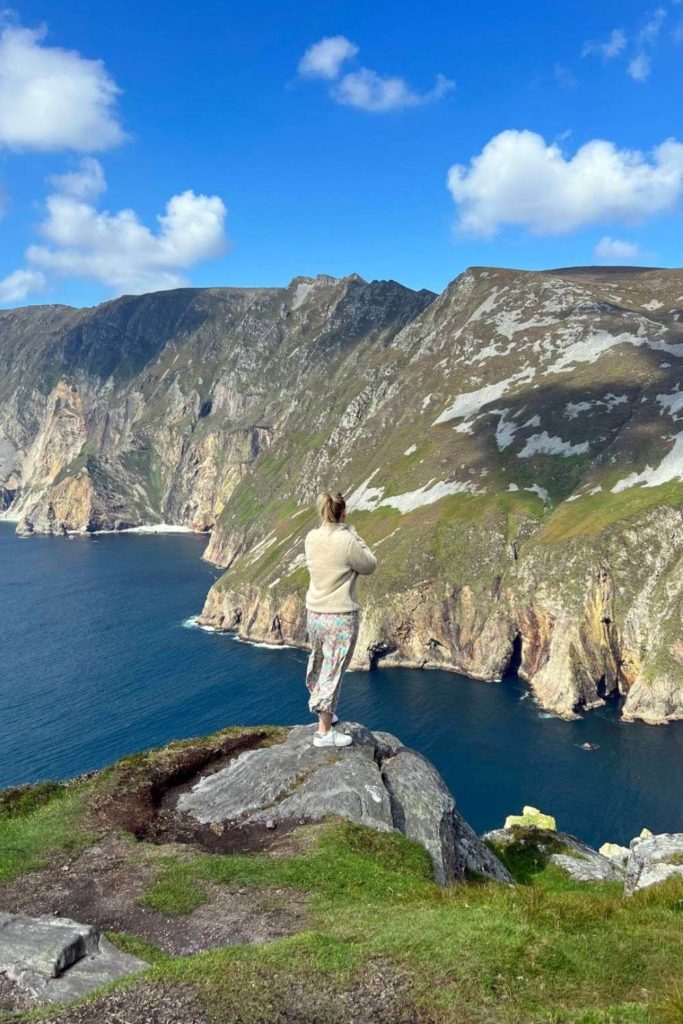 Since then, we have continued our journey south along the coast, with our eyes set on the bustling town of Galway in one week's time, before we need to head to Dublin and begin our journey back to Belfast. If you have any recommendations for activities and sights to see between Sligo and Galway please let us know!
Until next week, thank you very much in advance for your feedback and safe travels!