If you have ever visited Melbourne, then you will know that this is a hard guide to write.. Not because there is a lack of street art, but because there is so many beautiful pieces of art to choose from! Between the 1970s and 80s, the youth of
Melbourne took huge influence from the graffiti of New York
, and began to turn the blank canvas of Melbourne into the colourful metropolis you see today. In addition to the many other
incredible free things
to do around the city of Melbourne, it is easy to get lost exploring Melbourne alleyways. As one of the best self guided walking tours Melbourne has to offer, you do not have to wander far to discover many of the beautiful, funky and
rather weird pieces of art
scattered around the city. So much so in fact, the Melbourne murals around the city and surrounding suburbs have become world famous, drawing tourists from all over to admire the Melbourne street art.  
Download our FREE full guide to arriving in Melbourne and getting yourself set up. This includes how to setup a bank account, superannuation and so much more!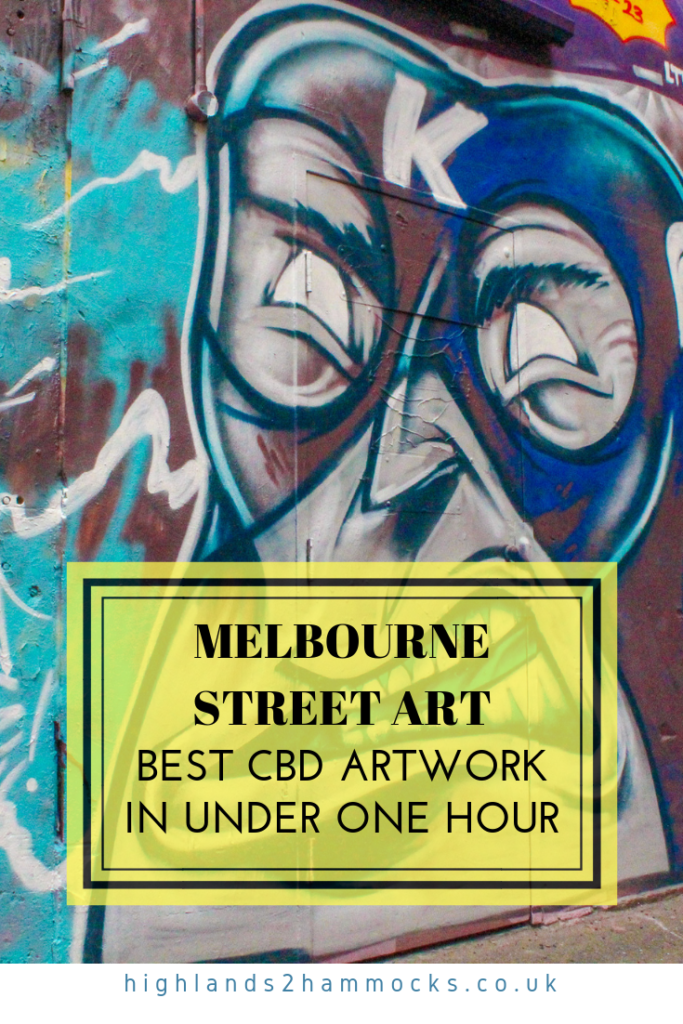 Also Read – The Ultimate Melbourne Itinerary – Five Days in the City
Street Art Tours, Melbourne – The Ultimate CBD Street Art Tour
The Turbulent History of Melbourne Street Art
As in any city, the street art scene of Melbourne has not always been accepted as openly as it is today. Street art, graffiti, or "vandalism" as some people prefer to call it, most likely tutting as they spit the word out with disdain, has always had
a mixed response from locals and tourists alike
. Often seen as dirty and abusive to the city, a vandalism that should not be tolerated, the street art around Melbourne used to be concealed to mainly underground train tunnels and dark laneways. In 2008, Florida's Disney World opened a new exhibit showing off the colourful and artistic laneways of Melbourne. This exhibit was soon removed after the Victorian Premier John Brumby took exception to this display,
stating graffiti was "a blight on the city"
and that it was "not something we want to be displaying overseas". Despite displaying the artwork throughout multiple tourist books, guides and advertisements, some of which by
Tourism Victoria
itself, in 2007 the local government introduced harsher laws regarding anti-graffiti and possession of spray paint "without a lawful excuse".   The unique layout of Melbourne alleyways and laneways meant that this graffiti was easily placed just within sight by the general public, without getting caught by the police. Thanks to this, the young  Melbourne artists pushed the boundaries of getting caught, jousting for the most prominent and visual spots around the city. Each year, Melbourne street art became more and more visible to the general public. A revolution was coming. In the early 2000's, the street art genre of
Stencil Art
began to gain popularity. The act of cutting a design into card and quickly painting it onto a wall quickly took over the city, with more and more stencil designs cropping up around the Melbourne streets. This new and exciting type of street art quickly put Melbourne in the global street art spotlight, with
Melbourne being named the "Stencil Art capital of the world".
This resulted in artists from all over the world coming to Melbourne to add their two cents to Melbourne's colourful laneways.   In 2003, the world-famous artist Banksy left a series of famous stencil artworks around the streets. These Banksy prints were quickly painted over as the forever changing canvas of Melbourne continued to evolve and grow. In 2004 the world's first Stencil Art festival was held in Melbourne, showcasing work by many major international artists. Even though it is still illegal to graffiti in Melbourne, as well as all across Australia, the street art scene is alive and growing faster than ever. Every week, you can walk down the same lane in Melbourne and feel like you are in a completely different part of the city. The constant fluidity of Melbourne street art is what makes it such a wonderful place to explore; it is literally impossible to get bored in Melbourne as there is always new art to admire.    
Also Read – Moving to Melbourne on a Working Holiday Visa
Where to Find Street Art in Melbourne
As I said before, you can quite literally take a wander down any street in the Melbourne CBD district and find a new tag, stencil art or large mural decorating the walls. Even in the surrounding suburbs of Melbourne, street art brightens the walls, shop fronts and old train carriages, both illegal and paid for. However, Melbourne's self-guided walking tours around are largely based around the centre, where it is more popular for street artists, both beginner and expert. These are just some of the streets that are included in this self-guided walking tour.
Hosier Lane.
Centre Place.
AC/DC Lane.
Keith Haring mural.
Caledonian Lane.
Croft Alley.
Duckboard Place.
Rankins Lane.
Self Guided Walking Tours of Melbourne
This is a short tour of the best spots around the central business district of Melbourne, starting at Flinder's Street Station and
taking roughly one hour to complete
. This tour will take you through the best laneways in Melbourne to see street art, sometimes even from the most famous artists in the graffiti scene. If you are only spending
one day in Melbourne
, then this is an activity you cannot miss. Pack your camera, get on your comfy shoes and get ready to discover Melbourne street art! If you want a tour of the city by a knowledgeable local, there are plenty of choices for a
face to face tour from a Melbourne street art expert.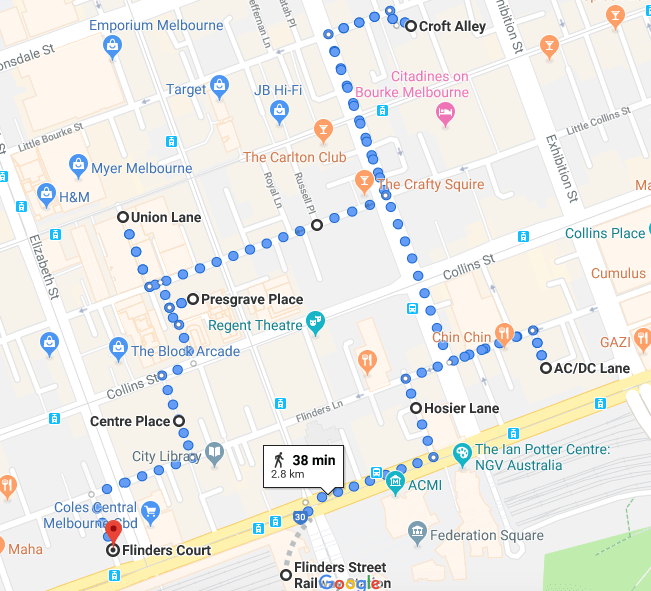 Rutledge Lane
Heading northeast from Flinders, the first stop is Rutledge Lane. This small street branches off the more famous, Hozier Lane, and is usually packed with tourists. In 2013, this lane was completely coated in a baby blue, named
Empty Nursery Blue
. While many were outraged by this, it did not take long for Meburnians to decorate this newly blanked canvas.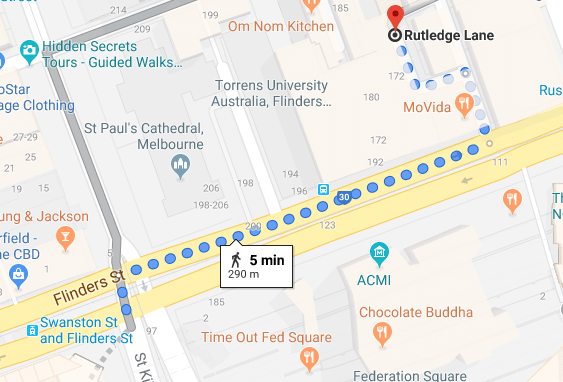 Hosier Lane
The second stop on this self guided walking tour of Melbourne is perhaps the most famous street for artwork in the world. The street that brought Melbourne into the spotlight of world street art, Hozier lane is Melbourne's most famous canvas. Wander along the cobbled street and catch a selfie or two with the many pieces of artwork. Just be ready to fight off the crowds, as this lane is always busy with tourists all bustling to see the famous Melbourne street art. This lane is just beside Rutledge Lane, and is an easy spot to snap some amazing Melbourne street photography. Make sure you look up as well, or you might just miss some of the more impressive murals painted on the sides of the upper buildings.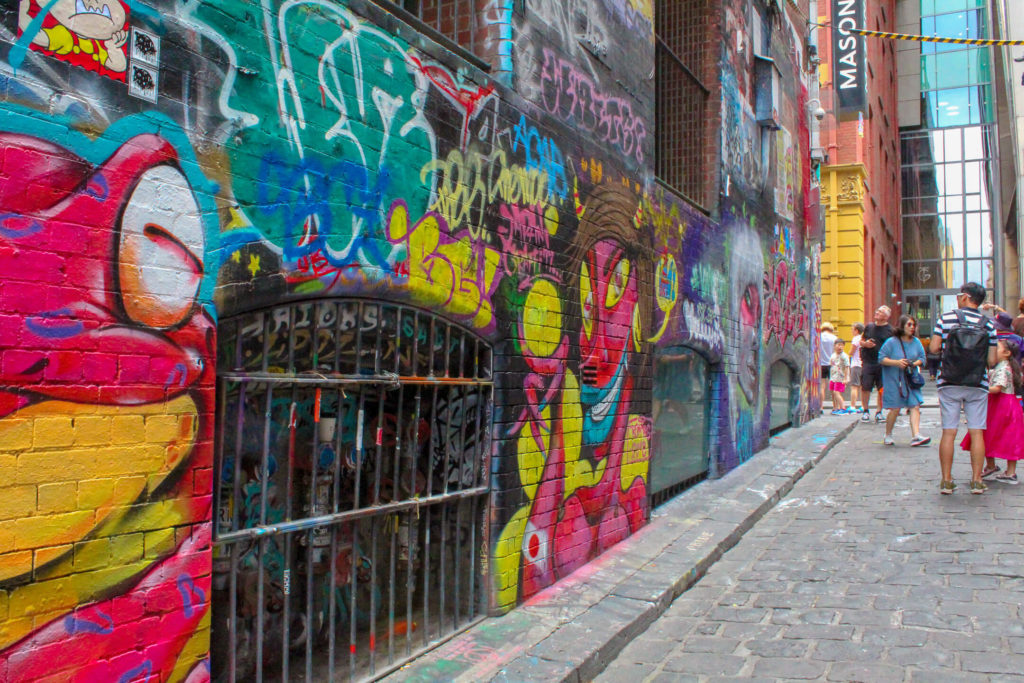 ACDC Lane
In honour of the Australian musical heroes, ACDC, this lane is another colourful spectacle of Melbourne. From sharp suits to ripped jeans, this is where the people of Melbourne gather to enjoy the incredible food it has to offer. The infamous Cherry Bar continues to carry the torch of back alley indulgence, while the vibrant walls tell the stories of the local artists.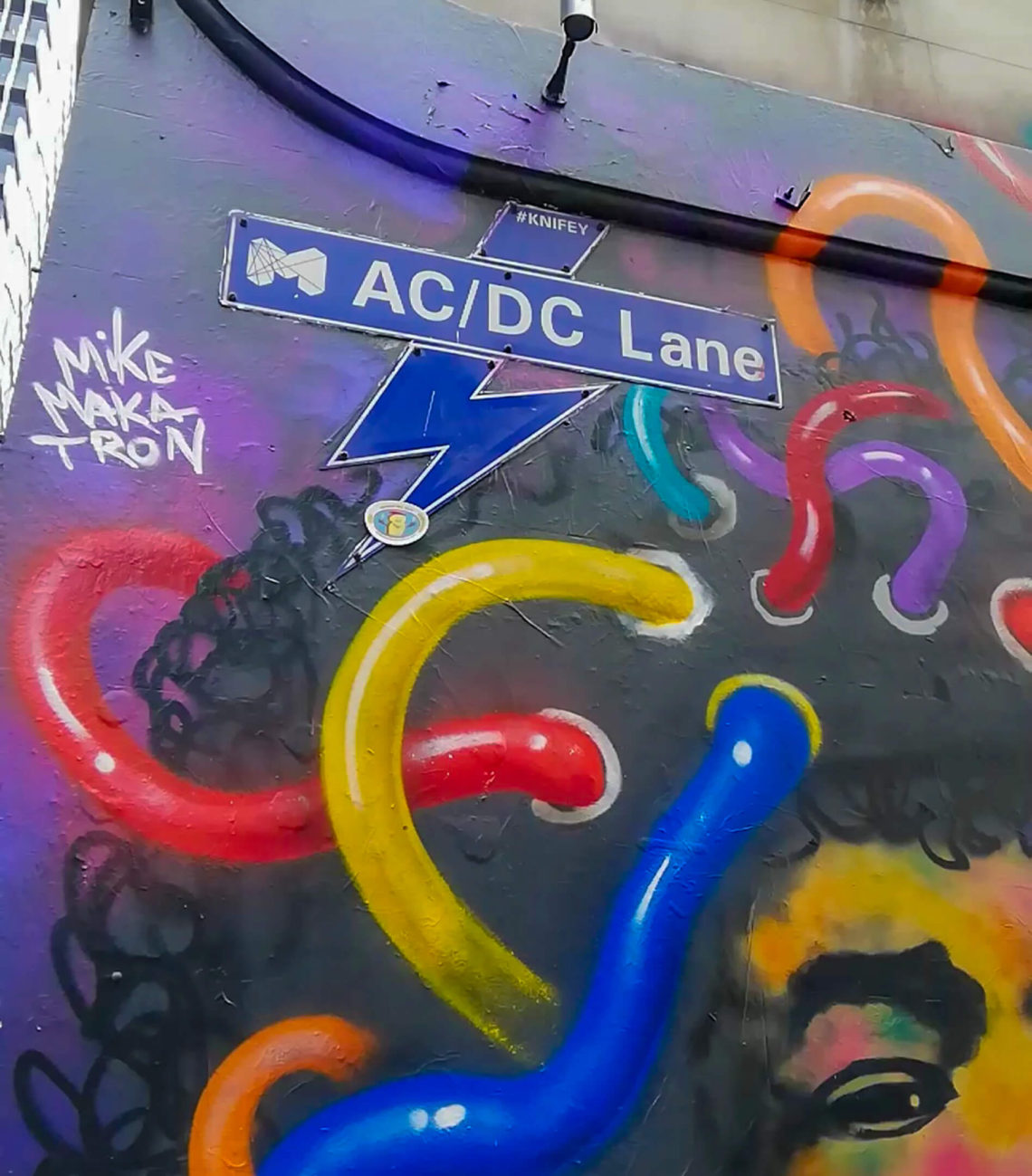 Duckboard Place
Adjacent to the famous ACDC lane, Duckboard place is another street art phenomenon. Once used as a
watering hole for WWII soldiers
, this lane is now covered head to toe in artwork. There are still a few quirky and memorable bars and restaurants to grab a bite to eat in, so rest your feet here before we head off to the next spot.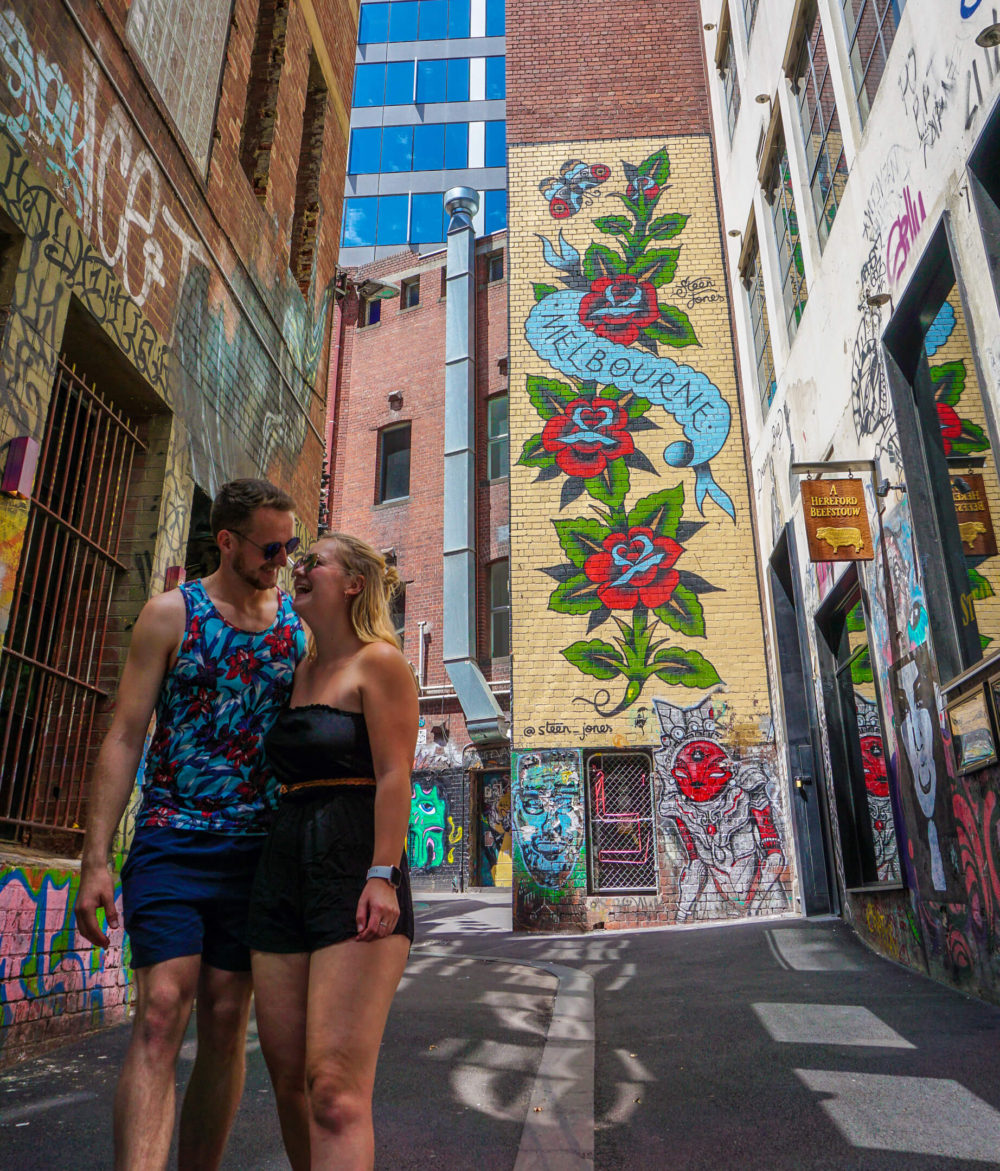 Croft Alley
What is seemingly a quiet, almost foreboding laneway, Croft Alley is actually a hotspot for Melburnians. The deserted alley of the day time turns into a thriving, party destination as the night falls. Croft alley is home to one of Melbourne's very first laneway bars, making it a very special spot offering best of both worlds; an easy photo opportunity during the day, and full of thriving nightlife later on. If you want to see more of the beautiful Melbourne laneways,
walking tours
are a fantastic way to get to know the city. Not only are they
extremely cheap
, but they also give you a chance to learn about the city through the eyes of a local.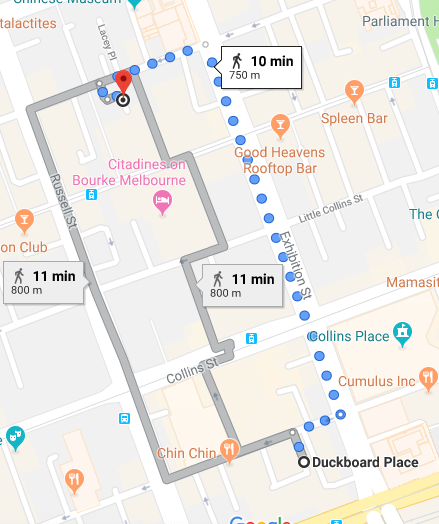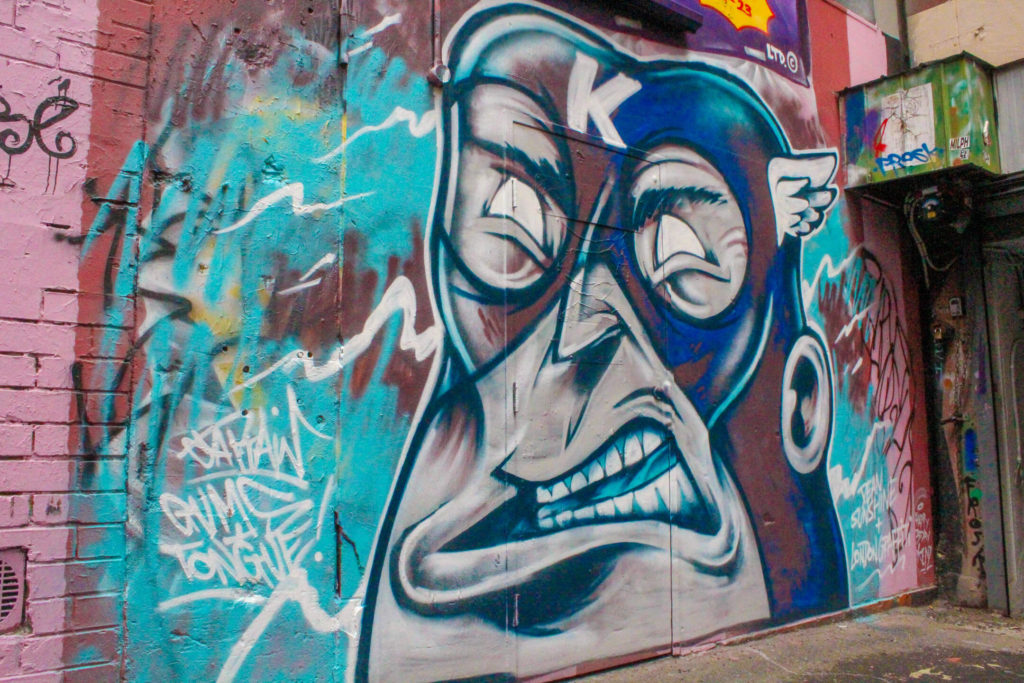 Russell Place
One of the oldest corners of the city, Russell place is now filled with fancy jewellers, cute coffee shops and (of course) vibrant artwork. Hidden in plain sight, the artwork here took a little while to find, but if you walk north along Russell Place, you will find the colourful Bar Ampere on your right and an enormous mural on the side of the building across the road.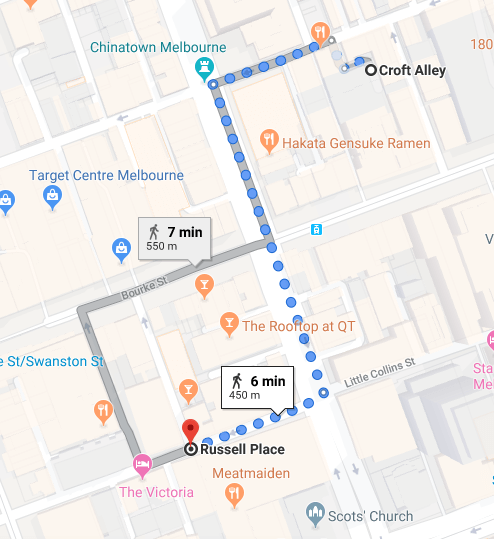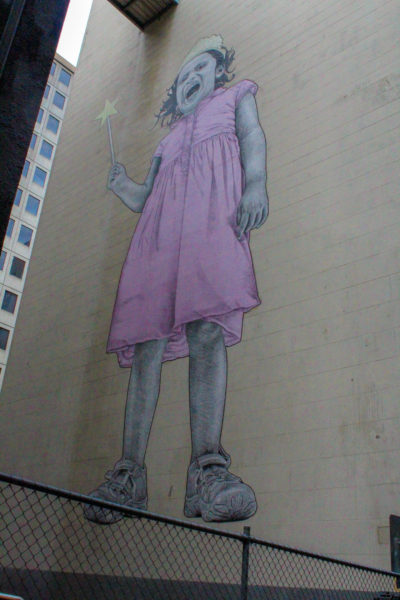 Here is the perfect spot to take a break from the self guided walking tour, away from the hustle and bustle of the Melbourne streets in Bar Ampere and soak up the vibrant atmosphere of Melbourne's cafe culture. We didn't stop at this cafe, but the artwork in the porch is simply amazing.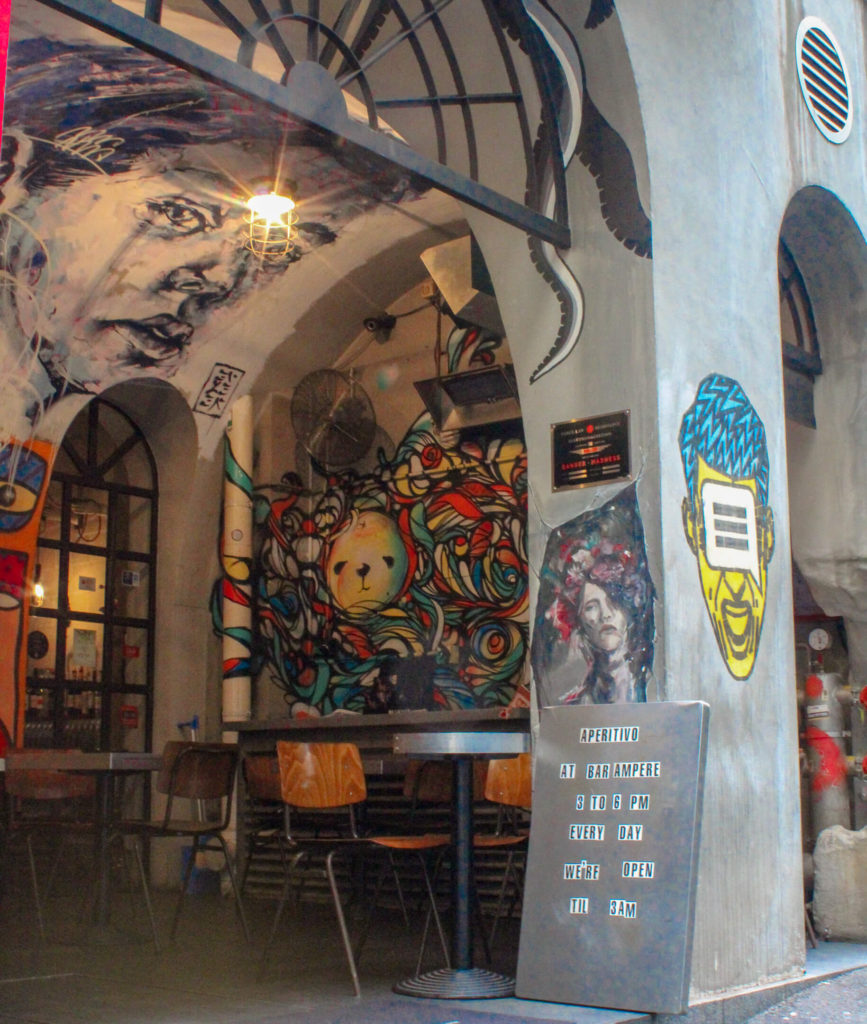 Union Lane
Next up you will step off the bustle of Bourke Street onto the quiet laneway of Union Lane Melbourne. This quiet lane cuts through to Collins Street and is brought to life by the rainbow of colours decorating the walls.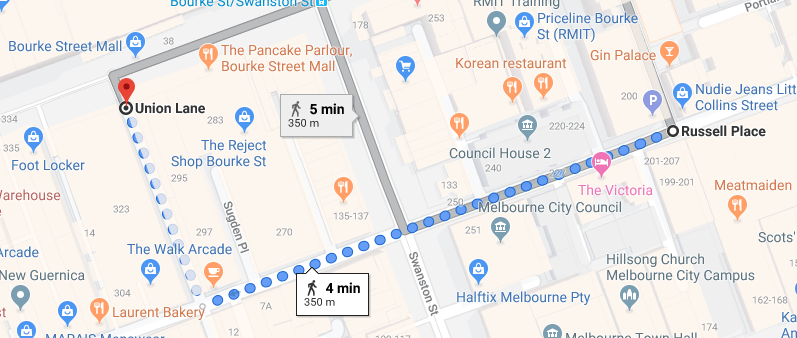 Around the rest of the city there is an unwritten rule that you must not paint over another artist, unless you can do a better job. This is why this lane is special, this rule does not apply here. This lane is seen as the starting point for all amateur street artists, all painting over each other and practicing for bolder artwork elsewhere. If you look closely at the wall, you will see the thickness of the layers of paint. Some parts of the layered artwork is peeling off in layers of up to 5mm! It is due to this that Union lane is forever changing its skin.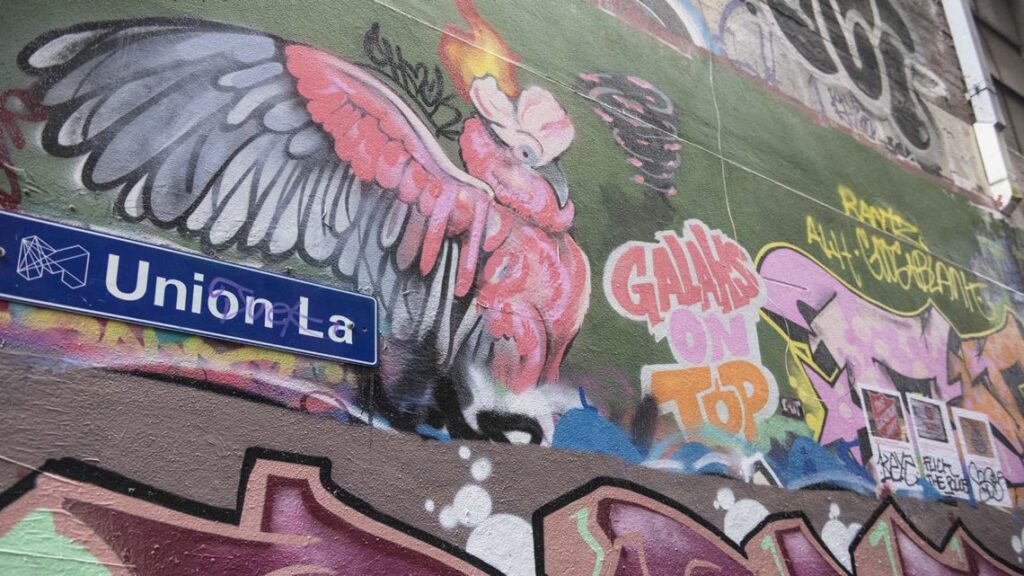 Presgrave Place
Presgrave place is the perfect example of why Melbourne street art is so unique. Majority of the artwork on this quiet laneway is either sticker art or framed artwork. Rather than painting directly onto the brickwork, artists have decorated the walls with quirky and bizarre picture frames.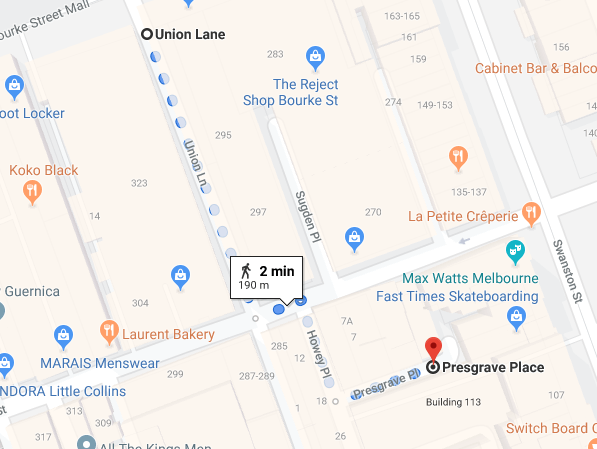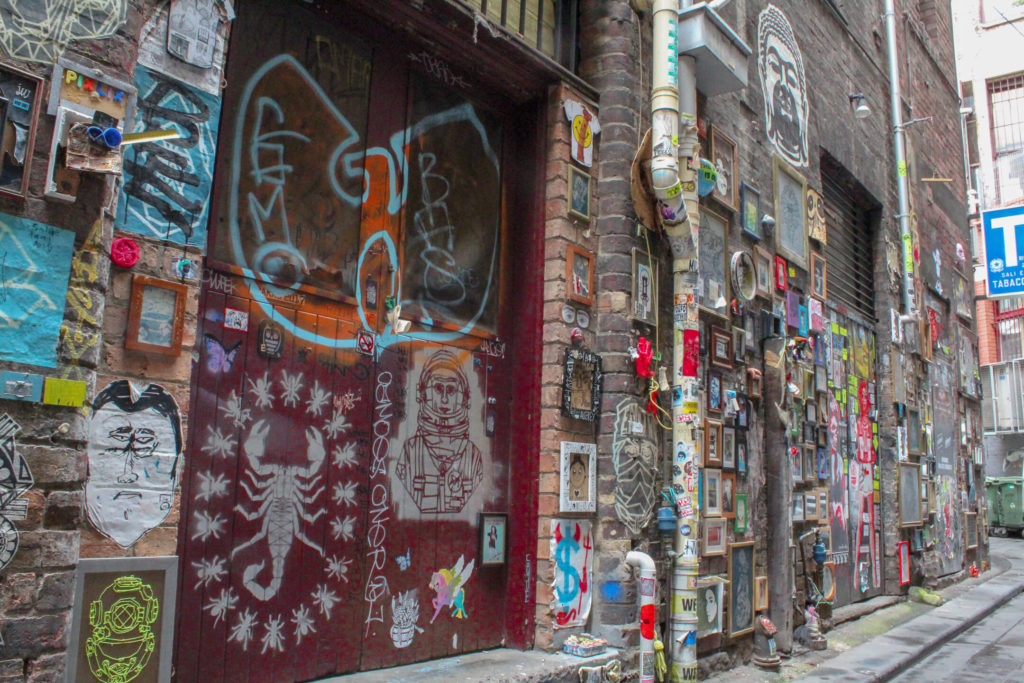 Centre Place
One of the most vibrant streets in the CBD, Centre Place has two, very beautiful side to it. During the day, the bustling streets are filled with locals and tourists alike. Once the sun sets and the
cafes and restaurants
close up, the walls come to life as every shutter door is decorated with artwork.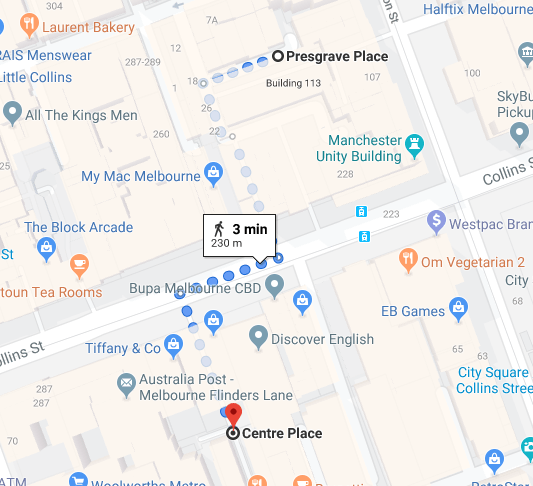 If you are exploring during the day you, will still be able to find graffiti and murals spread over the shops and alleys around Centre Place. And of course, there are plenty of cute cafes with delicious bites if you want to take a quick break and soak up the famous Melbourne Cafe Culture.  
TOP TIP: The happy hour deals around this area are quite surprising, so keep your eyes peeled for $5 beers!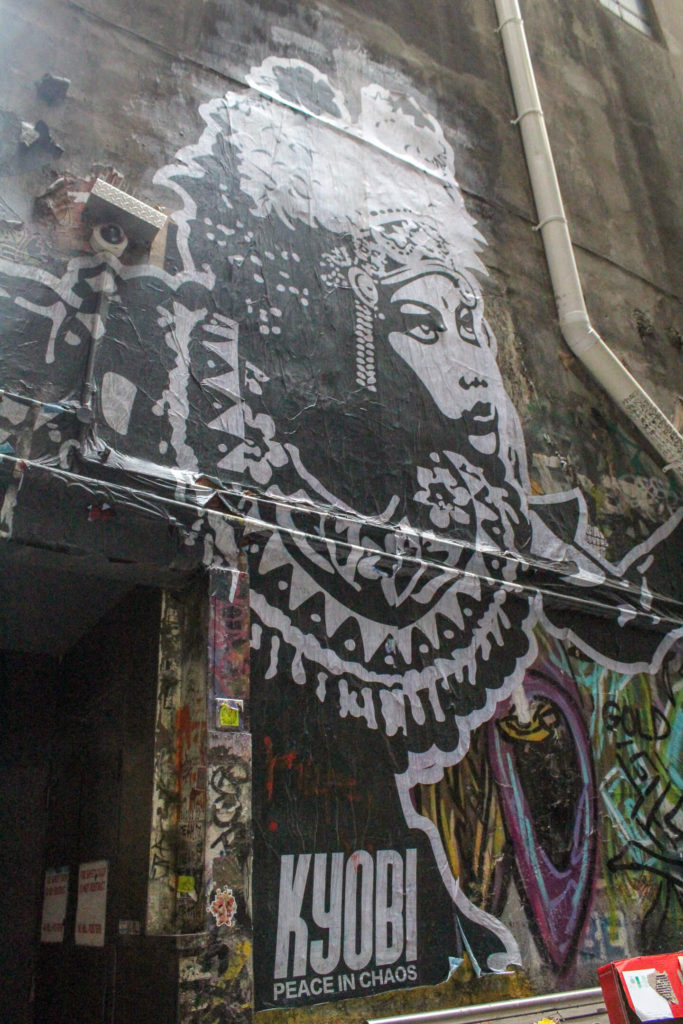 Flinders Court
The last stop of Melbourne's self guided walking tour is Flinders Court. This dark laneway is once again transformed into a masterpiece by the colourful street art. The rainbow of colours lights up the surrounding area and makes the dingy alley a charming place to visit. Snap your last few pictures to finish off your street art tour.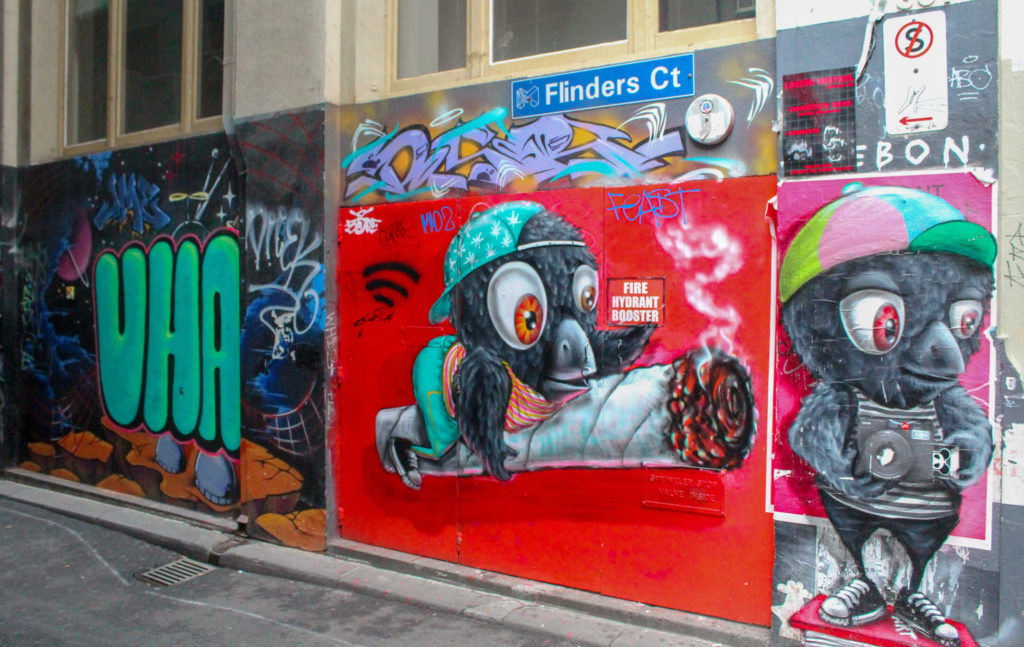 Out of all of the street art in Melbourne, this tour covers about 5% of it. It is quite unbelievable just how much laneway art there is out there, jut waiting to be found. From the bustling CBD district, to the quiet suburbs, it is literally everywhere. This is definitely one of the many reasons we love Melbourne so much. The colourful walls, shutter and alleyways breath life into what could be just another concrete jungle. Our passion for street art began in the summer of last year, when we
visited Berlin
for the first time. Since our free street-art walking tour, we have begun to notice murals everywhere we go. Isn't it amazing how one experience can open your eyes to the rest of the world?!    
Before You Go to Melbourne
Before you leave for Melbourne, there are a number of things you will need to sort out to ensure a smooth and enjoyable trip. These include what to pack, what travel insurance to get and where to stay in Melbourne. All of this is discussed below in greater detail.  
Download our FREE full guide to arriving in Melbourne and getting yourself set up. This includes how to setup a bank account, superannuation and so much more!
Applying for an Australian Visa
If you have yet to leave for Australia then this is a section of interest for you. There are a LOT of different visa options for people arriving into Australia, from tourist visas to permanent residence visas. The most common visas, however, are the 3-month tourist visa and the Working Holiday Visa. If you are only visiting Australia for a short period of time then a tourist visa is your best option. These are easily obtained and relatively cheap, costing roughly $140AUD, and allow you to stay in the country for up to 12months.
These can be applied for on the government website here.
  If you wish to work and travel in Australia, a working holiday visa is your best option. These cost around $480AUD and allow you to stay in Australia for up to 12months, whilst working and earning money to travel. This visa also gives you the opportunity to extend your stay in Australia by up to 24months by working in certain job sectors.  
For all of the information you need to know about the Australian Working Holiday Visa, read our full guide over here. 
What to Pack for a Weekend in Melbourne
When we travel, whether it is for a weekend break or a month-long expedition, we always like to pack as light as possible. Not only does this save baggage fees, carbon emissions and unnecessary stress, it also means we are not wasting our energy carrying around a huge bag. Win win win for everyone! For our full guides on what to pack for your next trip,
have a look at our packing guides
, including what to pack for men and women in both summer and winter. Also check out the backpacks we will swear by till our final days, our
North Face Duffel Bags
.    
What Travel Insurance Should You Get?
Deciding on which travel insurance is always a stressful task. What cover is best? What inclusions should I get? Is the excess too much? Well,
World Nomad's Travel Insurance
is designed with all of these questions in mind and is specifically designed for backpackers, holiday-makers and nomads alike.
Get your free quotation for World Nomads Travel Insurance right here.
Best Places to Stay in Melbourne
When it comes to visiting Melbourne, the accommodation is most likely going to be your largest cost. As a large, state-capital city, the cost of living in Melbourne (especially the price of real-estate) is very high. Nonetheless, there are accommodation options for travellers of all budgets, be it shoestring budget travel (like us) or luxury holiday goers. For finding the best accommodation in Melbourne, we find it easiest to use
Booking dot com
, which offer the best rates and the nicest places to stay in the city.   Another option is always
Airbnb
, where people rent out their entire home or just part of it. We have a lot of experience in staying with Airbnb hosts and can highly recommend it.
Check it out right here and you will even get £25 off your first stay!
  Off course, i hostels are more your cup of tea then there are also plenty of social hubs available for solo backpackers.
You can browse the hostels Melbourne has to offer here
.    
Download our FREE full guide to arriving in Melbourne and getting yourself set up. This includes how to setup a bank account, superannuation and so much more!
  So there you have it, your ultimate guide to the
the best artwork in the Melbourne CBD
. If you are planning a trip to Melbourne soon, make sure you check out the rest of our
Australia content
to make the most of your trip. If you have recently visited Melbourne,
let us know how you enjoyed it in the comment section below
. What was your favourite part of the city? Did you try the famous coffee? What street art did you see? Let us know down below. Also remember that sharing is caring, so be sure to let all your friends and family know about this guide to Melbourne so they too can plan their own trip. Save this guide for later by Pinning it and make the most of your adventure to Melbourne when you visit. If you found this guide useful, make sure you
check out the rest of our Australia content
so you can plan your trip to its maximum potential.
Catch up with us on our social medias
and tag us in your Melbourne photos so we can share them with our community.    
Now Read:
This article may contain affiliate links that provide us with a small income. For more information read our Affiliate page.
---
Pin it for later!