The Old Man of Storr is one of the Isle of Skye's most popular tourist attractions and an incredible iconic sight not only to the island but also to Scotland. This natural phenomenon is clearly visible (and to be honest quite difficult to miss) as you make your way north from Portree to Uig. As you head along this road it is tricky to resist pulling in to get a closer look right? So park up and brave the climb to the Storr viewpoint, you will not regret it!
Sitting proudly on the mountain top, the best view of the old man involves a (pretty steep) walk up the hill to the viewpoint and in this guide, we're going to take you through exactly how you do this, including how long it takes and what else to look out for.
Get planning your ultimate Scotland Road Trip with our 10-day Scotland itinerary to all the best sights!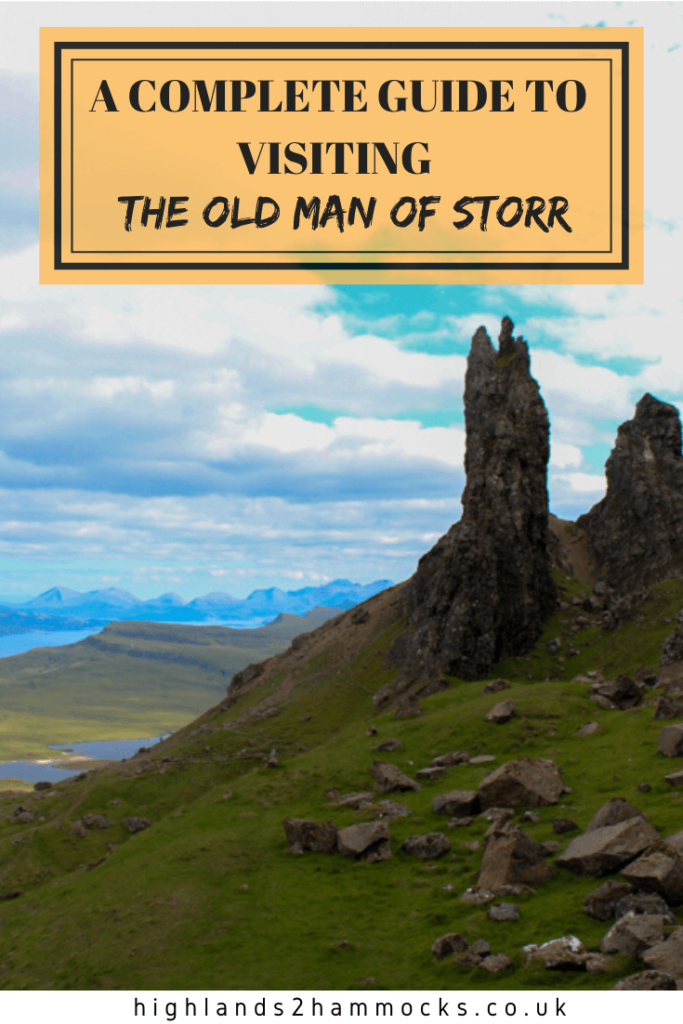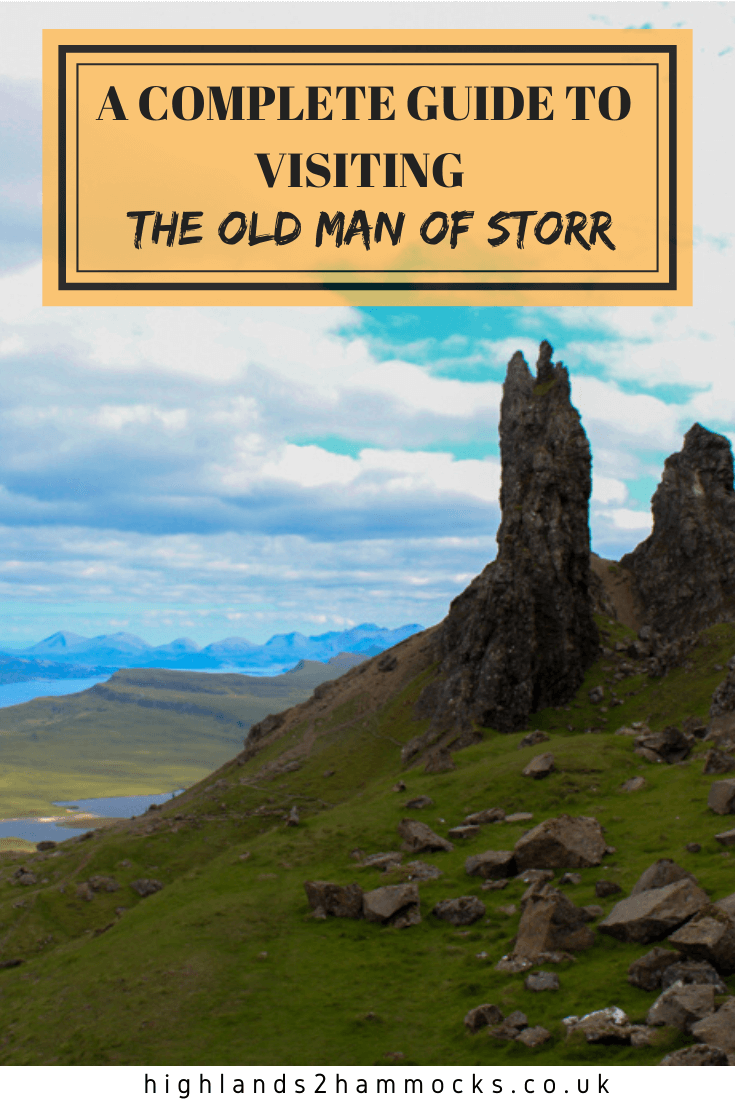 A Complete Guide to Visiting the Old Man of Storr
What is the Old Man of Storr?
The Old Man of Storr is a large standing rock on the Trotternish Ridge, a peninsula in the North-Eastern part of Skye, sitting 719m high. This
world-famous landmark
is located a 10-minute drive, 6.8miles of the island's capital, Portree in the centre of the island. This incredible geological phenomenon was created thousands of years ago as a result of a massive landslide. The resulting rock features were then shaped and worn away over centuries of punishment from the harsh weather conditions in this part of the world.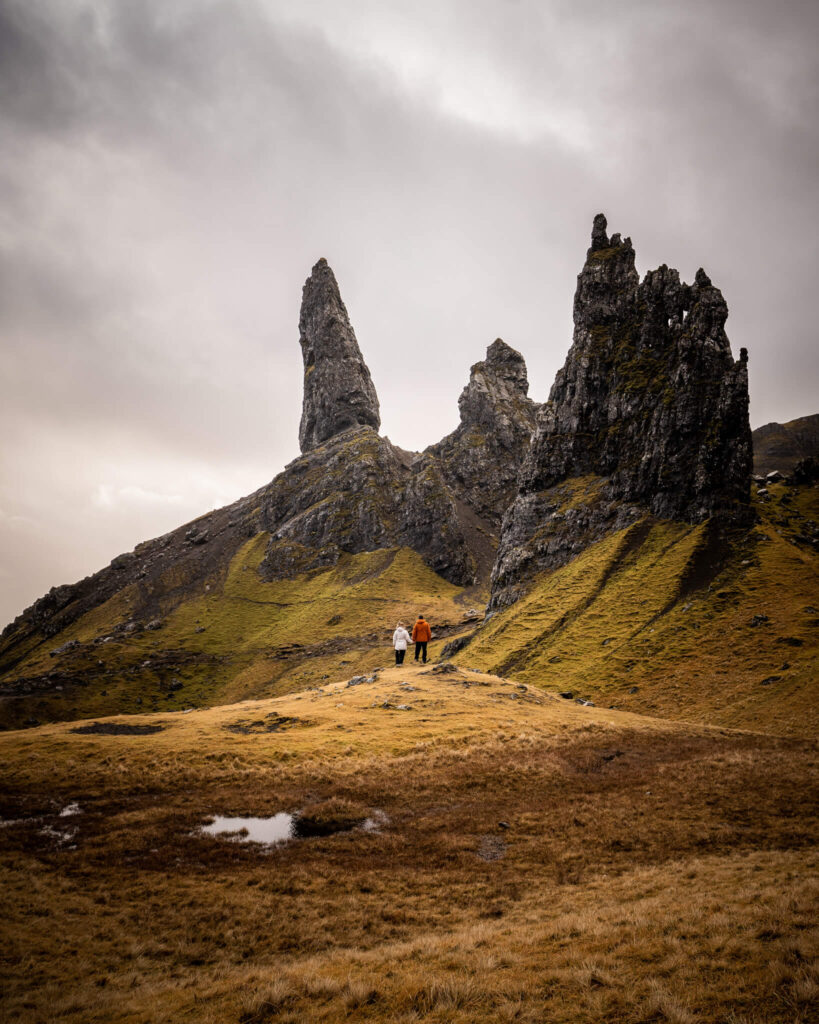 Why is it Called the Old Man of Storr?
Rumour has it that the Old Man of Storr gets its name as the standing rock resembles the face of an old man. The Storr is the name for the surrounding pinnacles surrounding the Old Man.
What to Pack and Wear to the Old Man of Storr
The walk up to the Old Man of Storr is steep, cutting directly up through a logging forest path. For comfort and safety, we would recommend that you wear a good pair of hiking boots to improve your grip. If there has been heavy rain, the track can become muddy and extremely slippy therefore if you have water-resistant boots, this would be the best option.
A waterproof jacket along with layers is another requirement for this walk. Depending on what the weather is like when you visit, you could experience sunshine or heavy rain. Even in the summer months, you can expect to see 4 seasons in one day on the Isle of Skye, so a warm, waterproof jacket will keep you dry and protected.
When you are walking up to the Old Man of Storr, we would advise you to bring a small backpack with you with the following essentials:
water
snacks
head torch
camera
extra layer
The path up to the Old Man of Storr is visible and the walk tends to be busy with other tourists. However, we would always advise when going hiking, you take a map and compass. If you plan on heading off the beaten track it can be very easy to get lost and conditions change in this area quickly.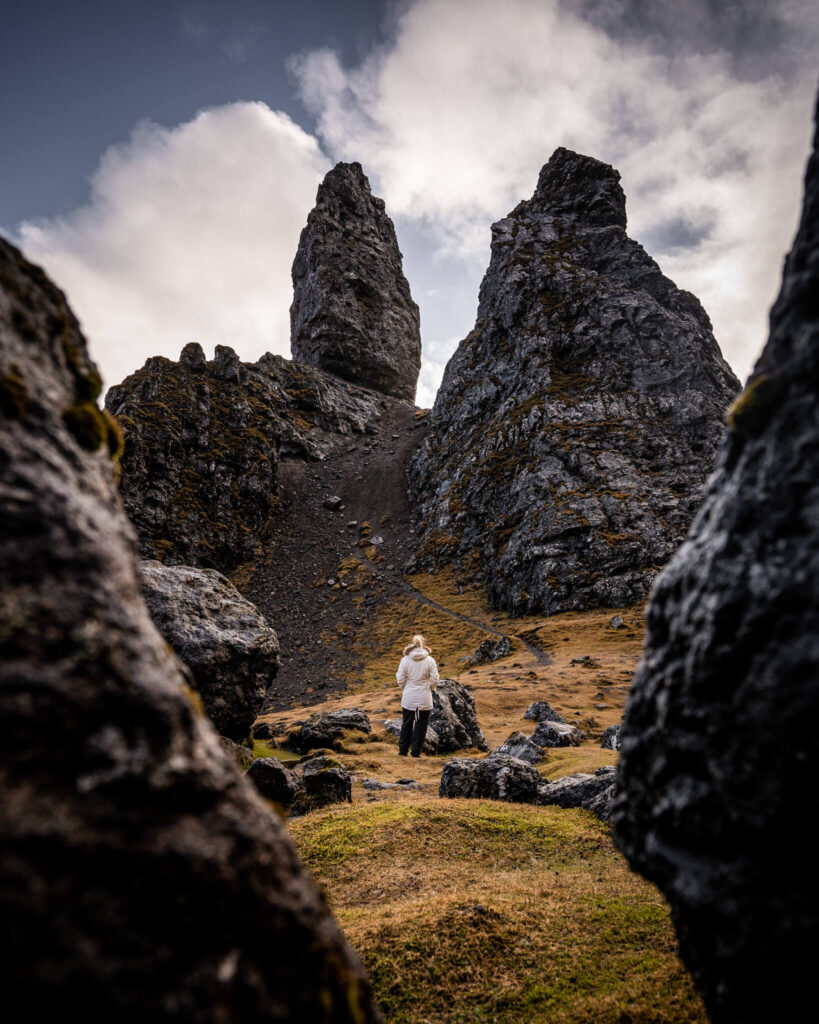 Walking Up to the Old Man of Storr
Now for the fun part, the hike up to see the Old Man.
Parking 
To get a closer view of the Old Man of Storr, there is a walking trail that takes you up the hill. If you only have the time for one hike on the Isle of Skye, this is the one we would recommend.
The route is 3.8km long and starts from the main road A855, just north of Portree. There is a large car park beneath the hill wih plenty of car parking through a 2m height barrier and motorhome parking along the road. This parking is pay and display and you will need to pay at least £3 to park here. 
Don't make the mistake that we did and forget to pay in the excitement of a clear weather window, you'll most likely come back to a hefty fine!
There are new facilities at the base of the Old Man of Storr. This includes chemical waste disposal and water taps as well as toilet facilities (50p charge) and a bike rack.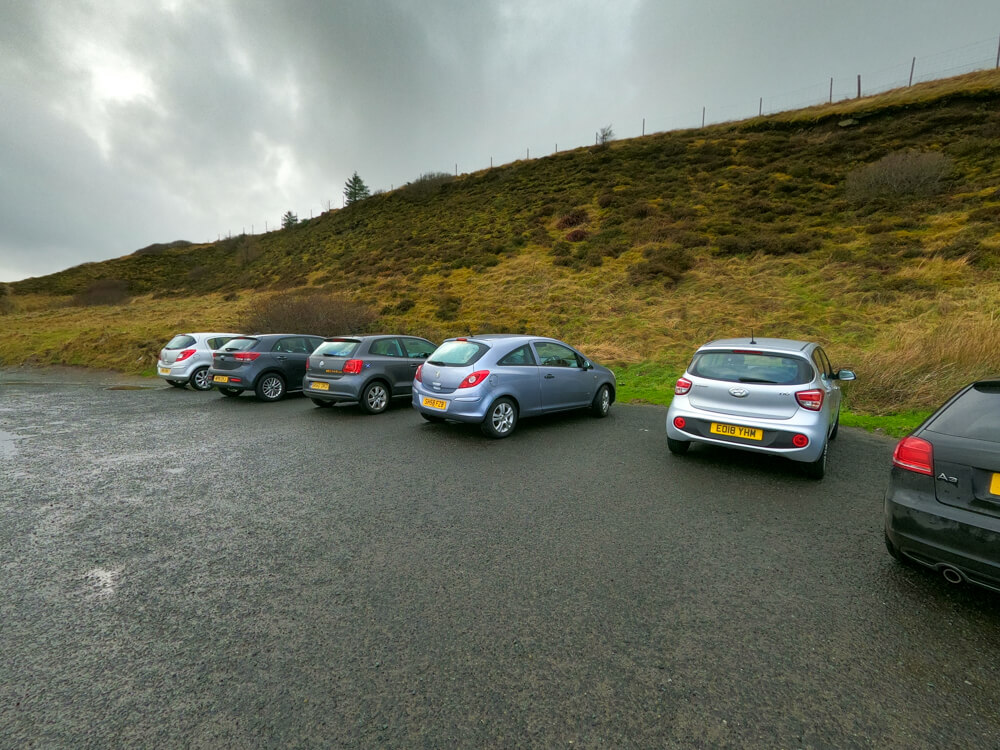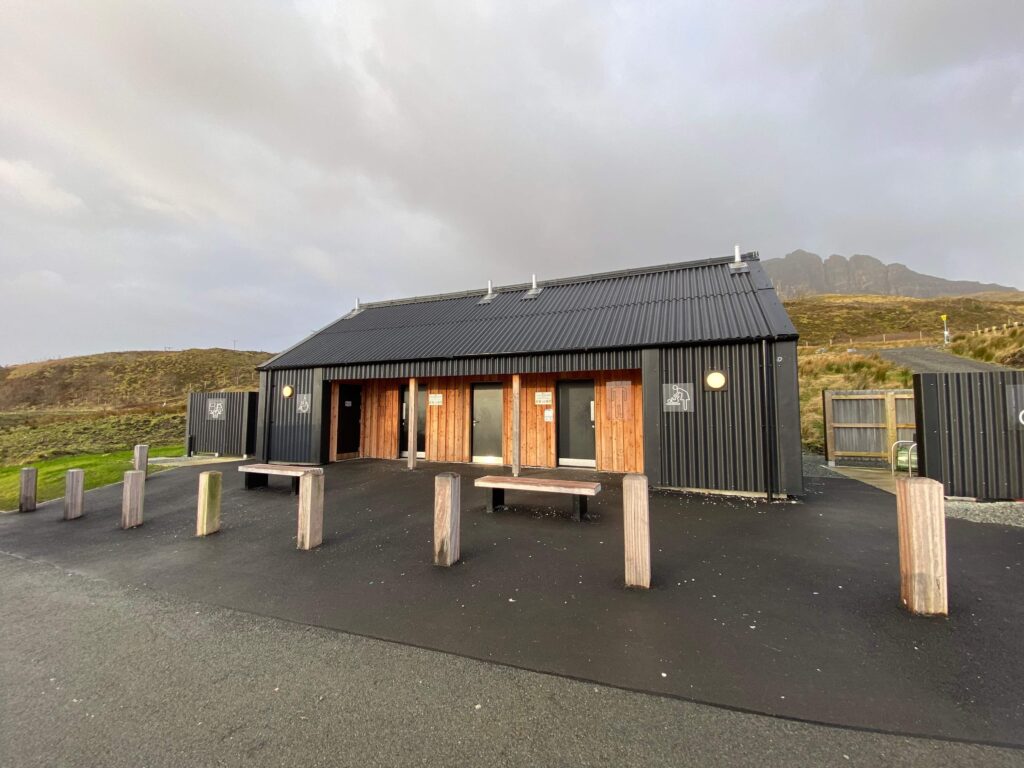 The Walk
The entrance to the walkway begins through the large gate beside the map. You will come across many gates on this walk, these are designed to keep deer out of this area so please make sure you close the gates behind you.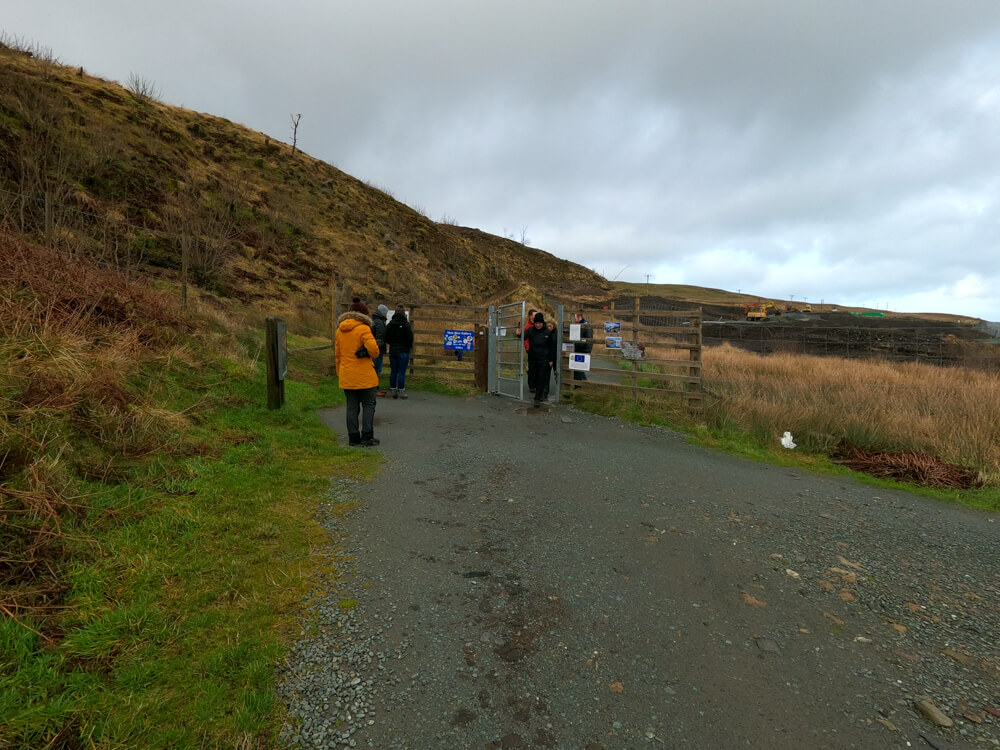 There are two options for which route you take, a steady climb to the left, which will take a couple of hours longer and adds an extra 4km and 400m ascent onto the journey. Or you can take the steeper climb which is a lot quicker, taking approximately 45minutes to an hour each way (depending on how many times you need to stop).
Both of these routes follow a gravel path and then join together at the half waypoint. Here the walking conditions become poor as the pathway ends and the track becomes more rocky and muddy.
In the winter months, this can become extremely slippery and wet. Be careful you don't fall. There is also a risk of stacked rocks falling from the hills if there has been heavy rainfall, so always be aware of the conditions around you.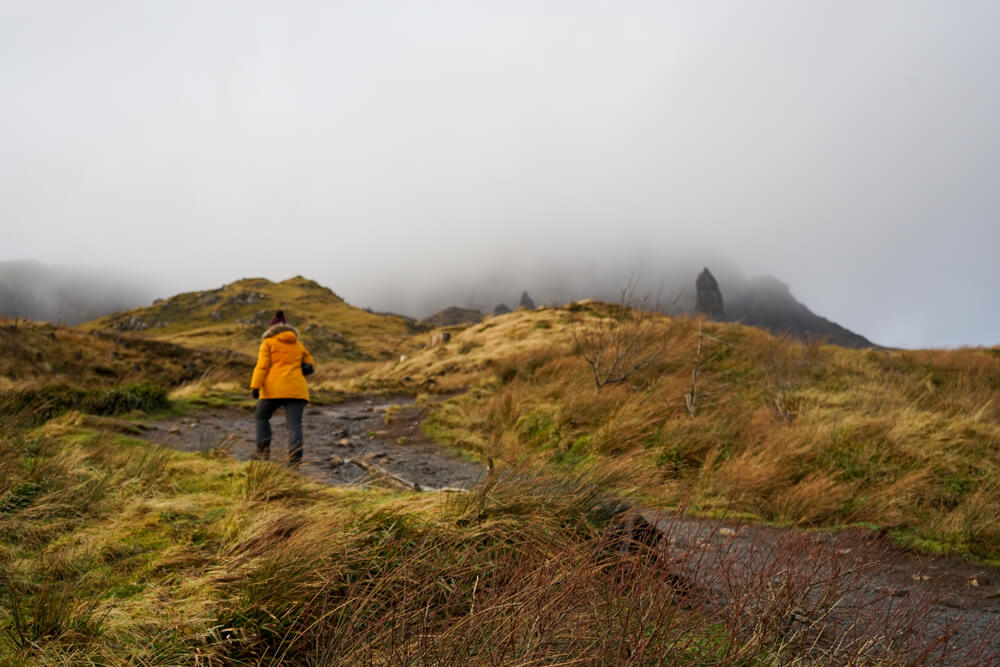 When you begin to see the Old Man of Storr, keep following the trail to the right. This will take you towards the iconic viewpoint at the top where you will have the best views of the old man and the surrounding scenery.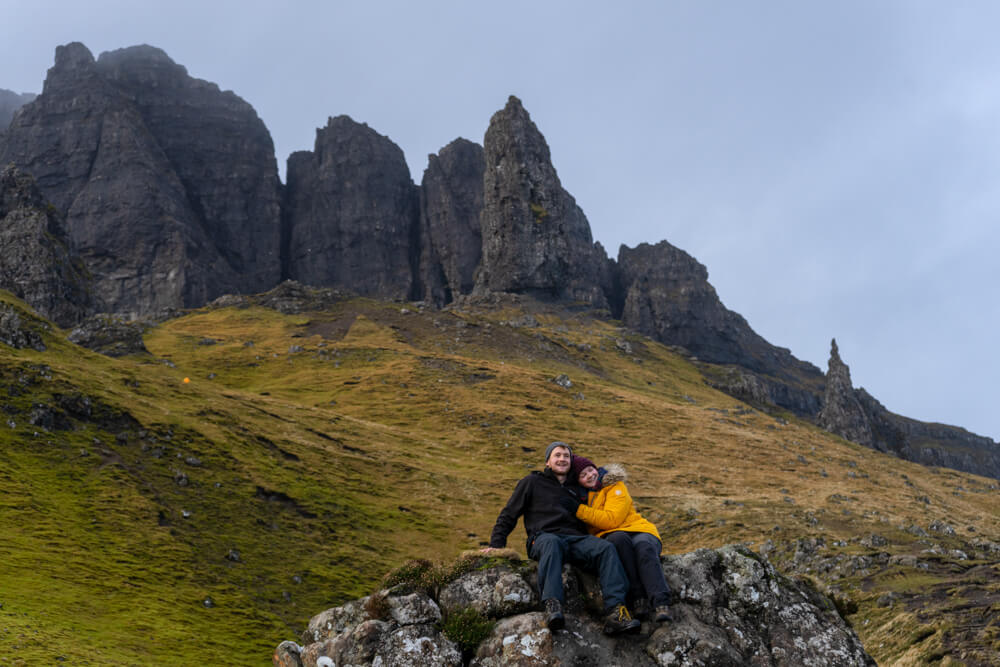 From the top, you can see out to the Sound of Raasay, as well as the Isle of Raasay and the Isle of Rona. On a really clear day, you will be able to see all the way to the Applecross peninsula on mainland Scotland. The panoramic views are out of this world from this spot.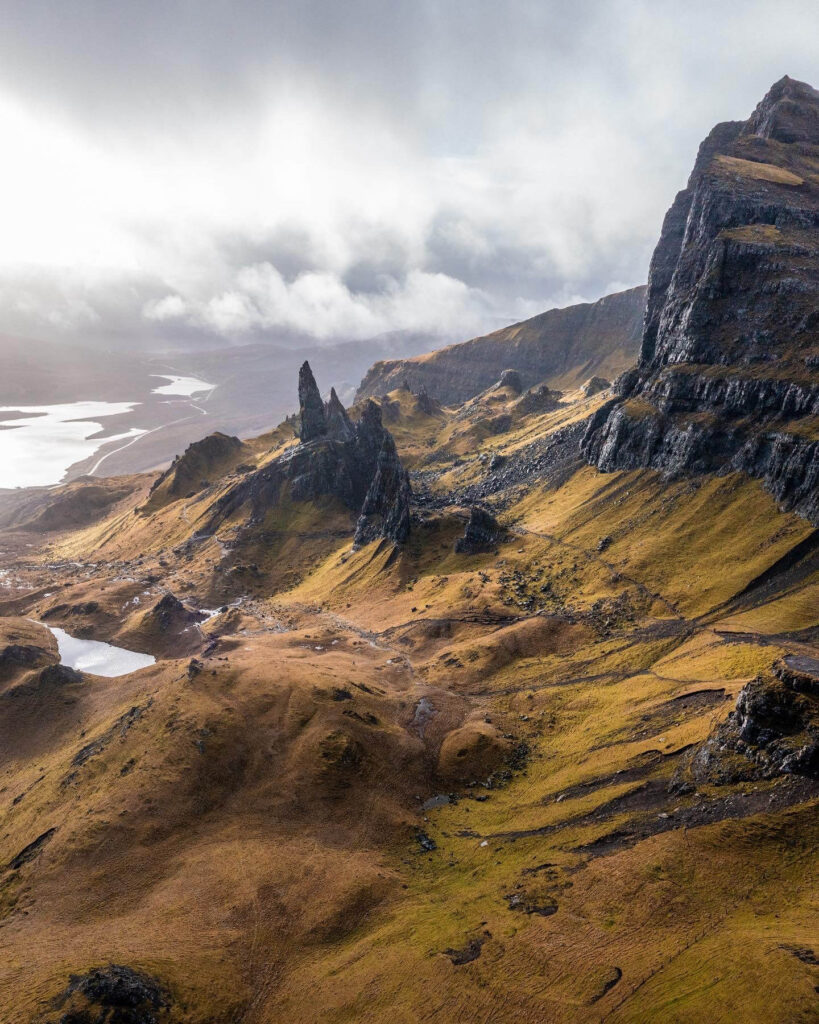 How Long Does it Take to Walk the Old Man of Storr?
If you see yourself stopping off to take some photos, admiring the view or even just stopping for a breather, we would advise allowing yourself at least 2 hours for this walk, if you take the steeper path. The alternative path that is not as steep will add 2 hours to the return loop.
Make sure you soak up that gorgeous view on the way up as well as at the top.
Other Sights to See on the Isle of Skye
Whilst you are in this fascinating part of the world, why not check out some of the other amazing places to see in the local area.
The Fairy Glen in Uig
Just outside of the small, port village of Uig is another one of Skye's natural wonders. The Fairy Glen is a small valley that is the result of a landslip, similar to that of the Storr. The land around the glen has then been smoothed by glacial movement, which has created a mystical and breathtaking landscape.
Despite the name, there is no evidence of folklore or local tales linking the area to Skye's fairies and it is believed that the name comes from simply how beautiful and mystical the landscape looks.
Read our full guide to the Fairy Glens on Skye over here for all you need to know.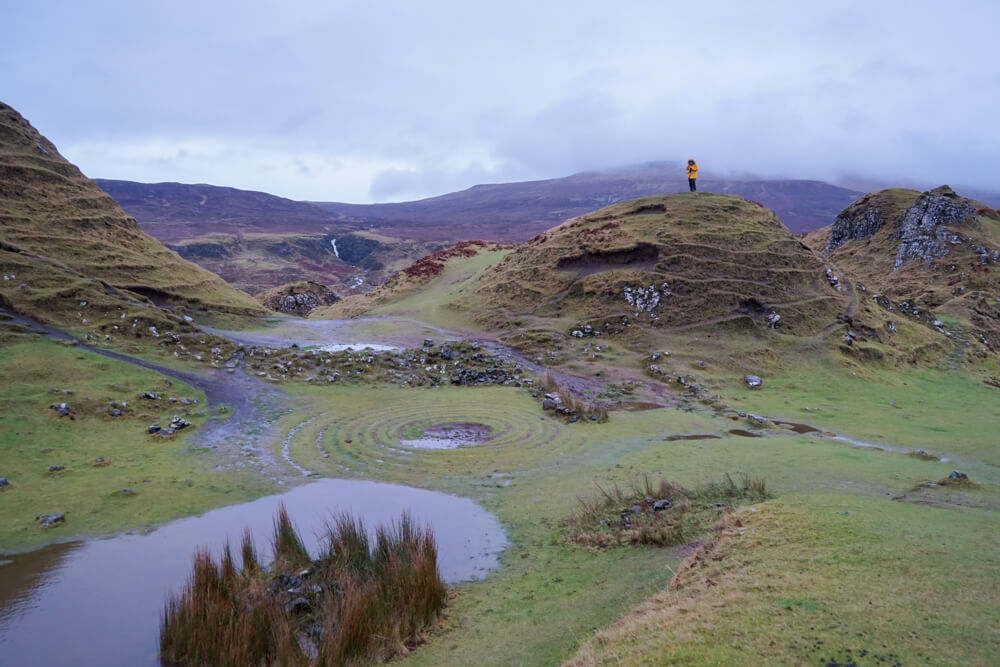 Kilt Rock and Mealt Falls
Kilt Rock is a seacliff between Portree and Staffin, formed by thousands of years of punishment by the powerful ocean below. The cliff itself gets its name from its resemblance to a kilt (a traditional Scottish skirt worn in Scotland by men and woman),  with the vertical basalt columns forming the plaits and the varying colour seen as the tartan.
In addition to the stunning sea view and the beautiful cliffs leading up to them, there is also a rather unique waterfall here that tumbles directly into the ocean. Mealt Falls is 55-metres tall and is a mesmerising sight to watch, especially if there has been a lot of recent rain.
This is a highly popular stop on the Isle of Skye, presumably due to its ease of access in comparison to a lot of other places. As a result of this, you will struggle to have this place to yourself, especially during the busy, summer months on Skye.
If you are feeling the need for a quick break and some food, there is a Dinosaur Museum close by Kilt Rock where you can see footprints of dinosaurs that once roamed the area. This museum also has a cute cafe that serves delicious, hot drinks and a range of snacks to fill you up.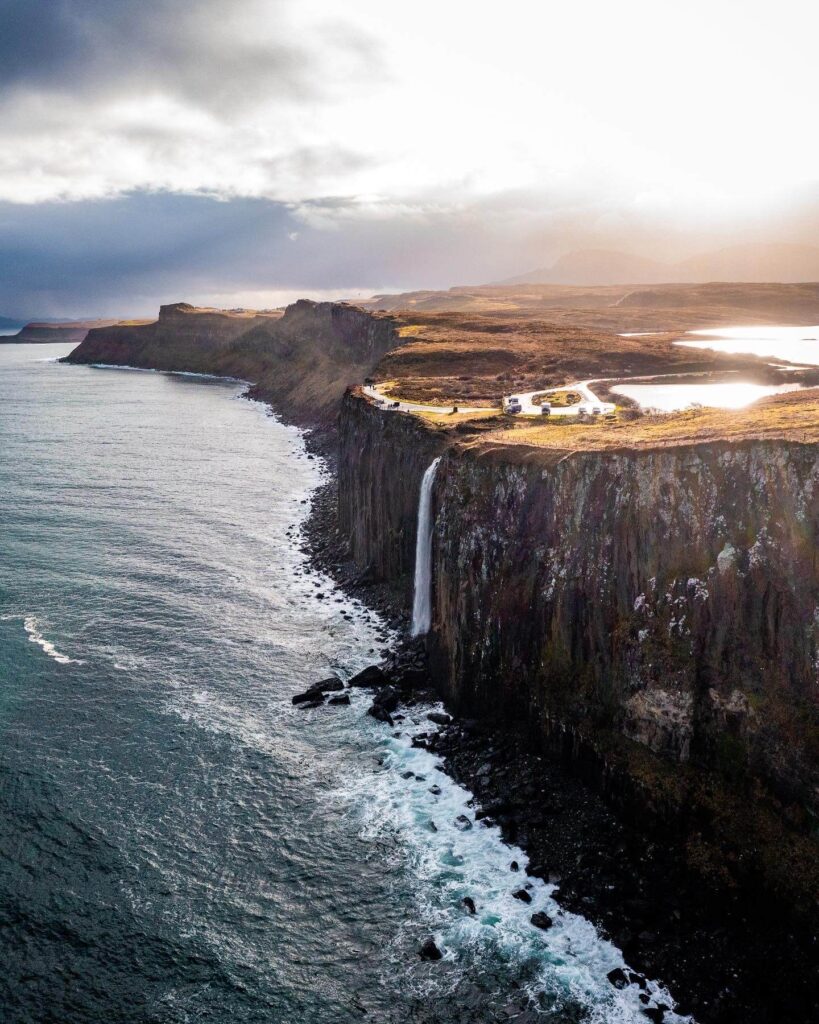 Before You Leave on Your Trip to the Isle of Skye
Before you leave on your trip to the Isle of Skye there are a few things you will need to get organised to ensure a smooth and enjoyable trip. These include how to get there and around the island, what to pack and where to stay, all of which are discussed below.
How to Get to the Isle of Skye
Drive
The Isle of Skye is connected to mainland Scotland by the Skye Bridge, a free road bridge, from Kyle of Lochalsh to the village of Kyleakin on the island. In high winds, the bridge will close to high vehicles and on days of particularly extreme weather, the bridge may close to all vehicles.
Ferry 
Another option is to get the ferry over to Skye which typically takes around 30 minutes, leaving from Mallaig on the mainland to Armadale. You can check the timetables online as there is typically only a morning and afternoon ferry running.
Bus
If you are travelling to Skye without a vehicle, buses run from Scotland's major cities, Glasgow and Edinburgh direct to Isle of Skye's capital, Portree. Buses to the Isle of Skye run from other areas in Scotland and you can plan your bus journey to Skye here.
Once you are on the island, you can book onto a tour that departs from Portree and takes you around the best sights that there are to see on the island. Read more about this tour and book your place right here.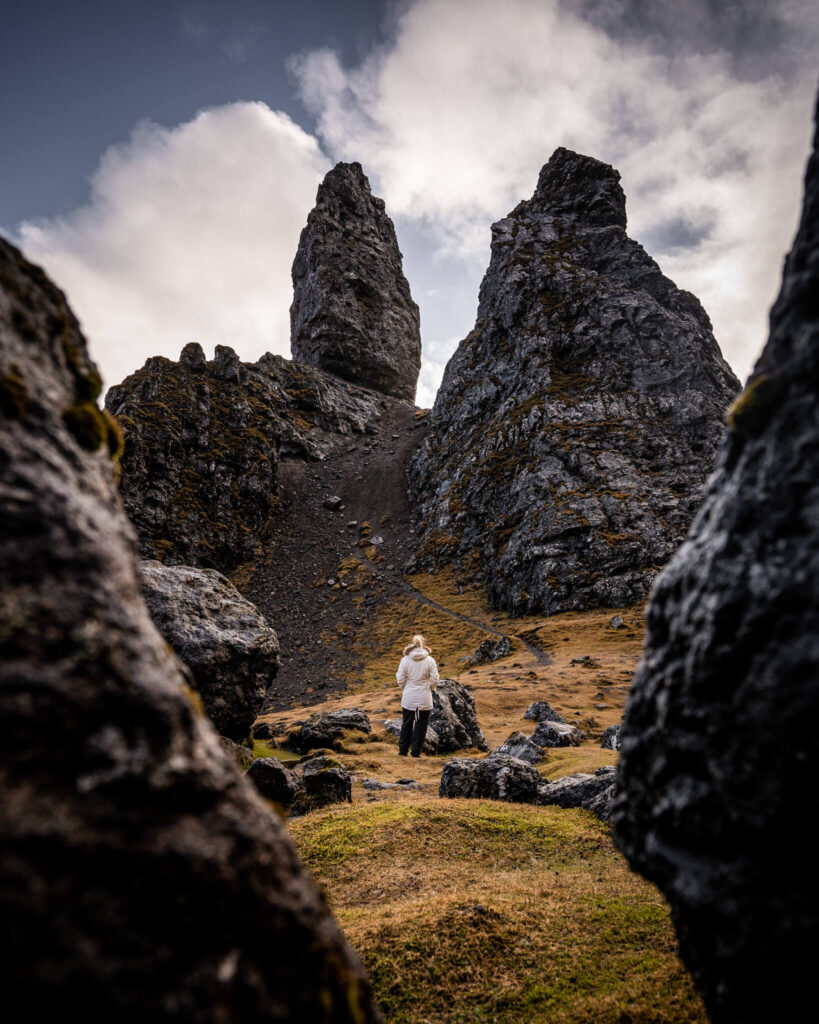 Where to Stay on the Isle of Skye
These recommendations may vary depending on what activities you are wanting to do whilst on the island. We have based these accommodations close to the centre of the island and near Portree. In the summer Portree is extremely busy and we would recommend that you look to stay elsewhere if you want to avoid the crowds and traffic.
In the winter months, however, Portree is a pleasant and central location from which it is easy to get to many of the sights around the island.
Luxury – If you are looking for a comfortable apartment stay to come home to after a day exploring, Quayside Apartment is the perfect place for you. With spectacular views and a good central location, this accommodation is comfort plus for your next trip to Skye.
Book your stay at the Quayside Apartments right here.
Mid-range – The Portree Hotel is a great central location for your stay in Skye. This hotel overlooks the main square in Portree and during the winter months, there are wood-burning stoves to keep you warm after a day of exploring.
Book your stay at the Portree Hotel right here.
Budget – If you are looking for a budget place to rest your head but still have a great view, The Pink House is the place to stay just for that. A continental breakfast is included in your stay and you can book a room with a great view out to sea.
Book your stay at the Pink House right here.
If hostels are more your scene, you can check out the hostels available in Isle of Skye here.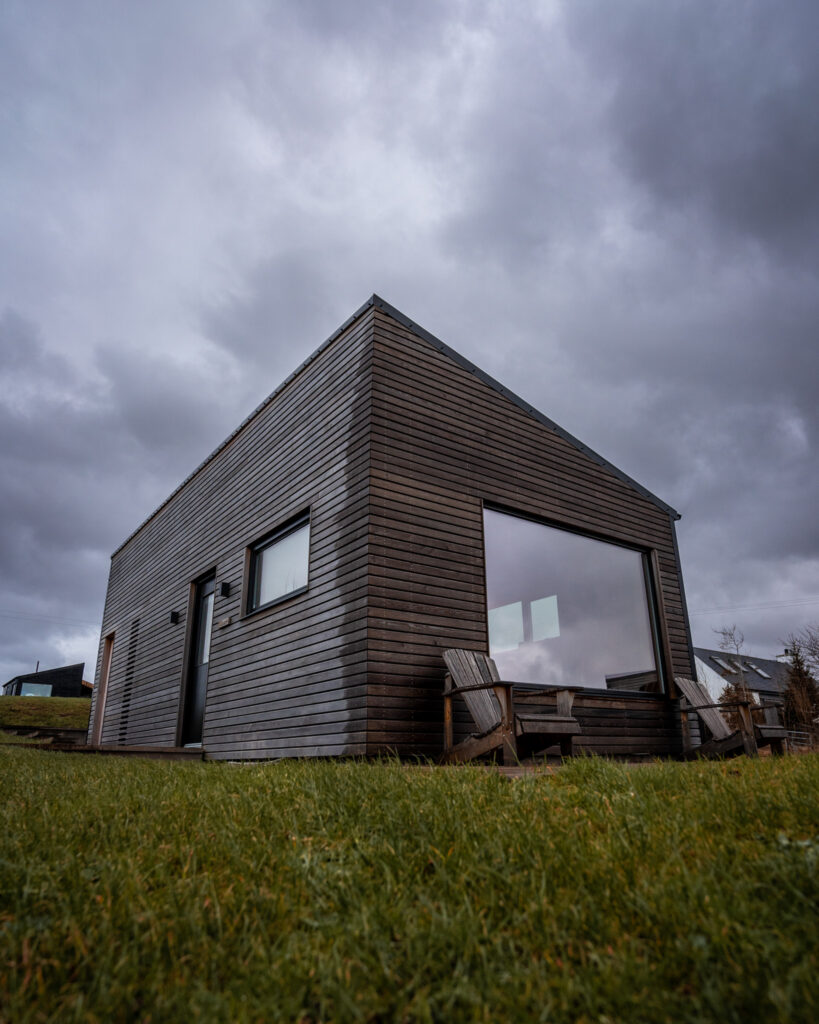 What to Pack for the Isle of Skye
When it comes to packing for a trip to Scotland there is one item of clothing that you are going to need all year round: a waterproof. It rains in Scotland on average 250 days a year, meaning that during your trip to the Isle of Skye in winter, you can expect rain at some point. Due to this, the number one item on your packing list is a good waterproof jacket.
Second to that, another item to not leave home without is a good pair of warm and, if possible, waterproof boots. A lot of the best sights on Skye require a bit of walking to reach them and the conditions underfoot can become very muddy. You do not want to ruin a good pair of white trainers so pack some sturdy boots.
You will definitely need a hat and gloves during the winter months as the wind chill can be bitter.
For our full list of items that we pack no matter where we go in the world, check out our full packing guides over here.
Given the beautiful sights and scenery that you are no doubt going to see around the Isle of Skye, we highly recommend packing a good camera for your trip. If you want to read more about the cameras we use and why we love them, check out the link below.
You can read what else we keep in our camera bag over here.
What is the Best Travel Insurance for Scotland
I know travel insurance is the least enjoyable thing to purchase and look at when you're planning a trip, however, you wouldn't want to be without it in the event that something happened. Accidents can happen anywhere and the extortionate medical bills will ruin your trip if you are not covered.
To ensure you have a stress-free trip with no worries about potential medical bills, make sure you cover yourself when you travel. We can recommend using World Nomads, a backpacker-friendly and cheap insurance company that provides good coverage and support.
Get a quote for your travel insurance right here and get covered.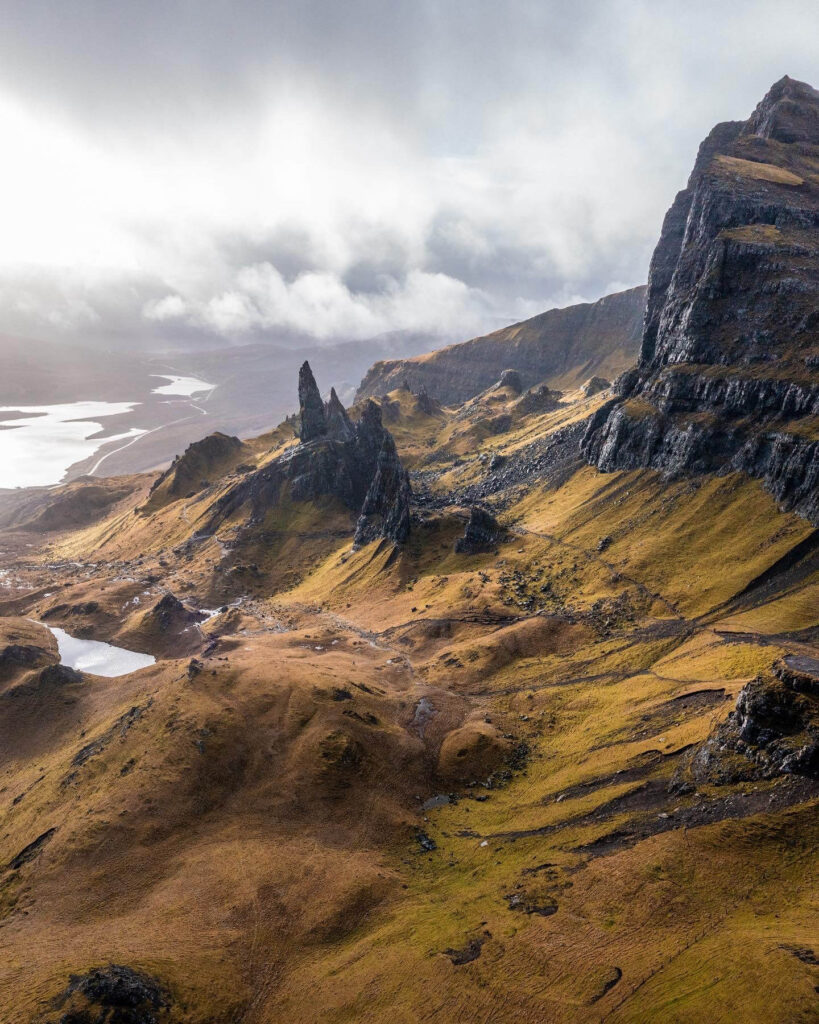 So there you have it, your guide to visiting the Old Man of Storr. If you are visiting this incredible place and have any other questions on what to expect, leave us a comment down below. We love to chat about this stuff! If you have already been, let us know how it was! Did you get a clear day to see the sights? Did you manage the trip without getting caught in the rain? Let us know in the comments below!
Also, remember to share this with your friends and family that you are going to share this amazing experience with. Sharing is caring and we want to ensure that everyone is fully prepared to maximise their experience completing this stunning walk.
If you are planning a Scotland trip soon then check out our other Scotland content right here. Come and find us on social media to see where we are currently exploring. Tag us in your photos from your stay and we will share them with the rest of our community of explorers and backpackers.
Read Now:
This article may contain affiliate links that provide us with a small income. For more information read our Affiliate page.
---
Pin it for later!